The celebration of Halloween on 31st October is prevalent among many western countries around the world. In Christianity, Halloween is celebrated to commemorate the departed souls including martyrs and saints. The concept of organizing themed parties on Halloween's day has been a popular trend among youngsters and kids. However, elders also prefer joining Halloween parties to enjoy the fun activities and games. The decoration is an unavoidable part of celebrating Halloween as it contributes to the spooky vibe of the festival. This year, if you are planning to hold a grand Halloween's party at home or anywhere else, then make sure to add the 40 spooky Halloween party decoration ideas below:

Easy Halloween Party Decoration Ideas
Welcome Trick-Or-Treaters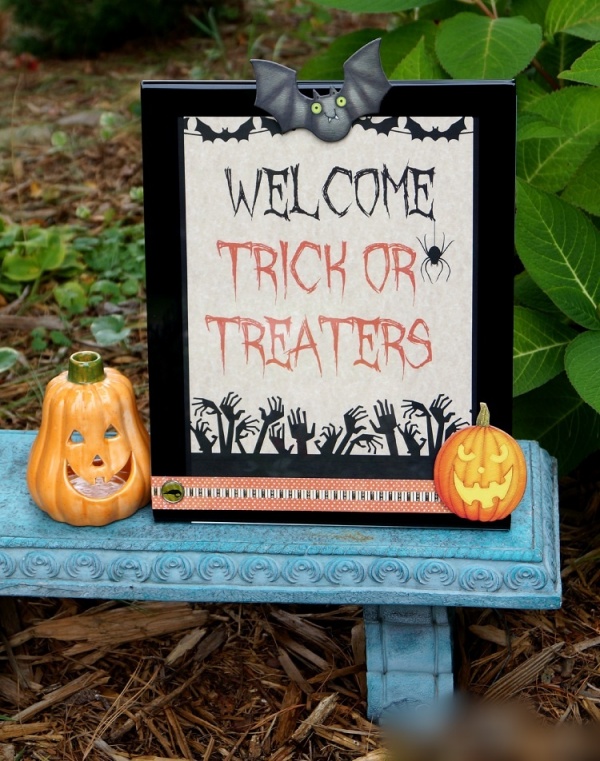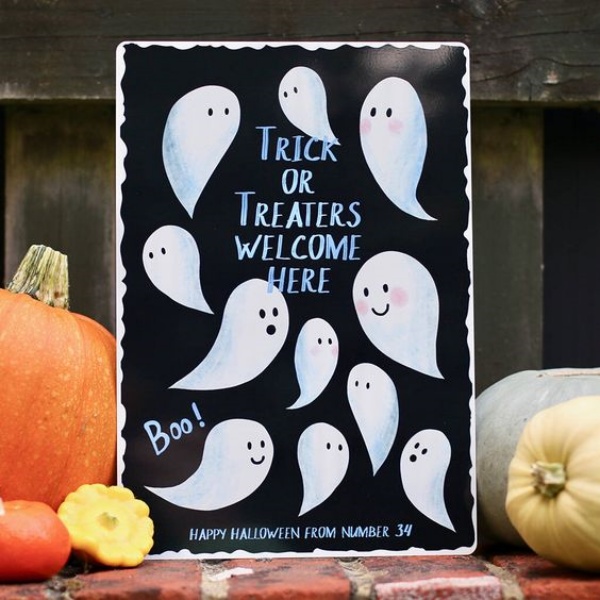 Trick-or-treaters are genuinely the best part of Halloween and deserve a spooky welcome too! When thinking of decorations for your door on Halloween, there are some creative ideas that you could try. Using a jack-o-lantern at the door or pasting its image or a printout on the door is the least you could do. Another way of giving a creative welcome is by arranging some plastic bones at the door and sticking them together with cello tape or wire. Additionally, some fairy lights can brighten up the look. You can also opt for making huge cat eyes and a large tooth out of craft papers and paste them on the top of your door.
DIY Bug Art Display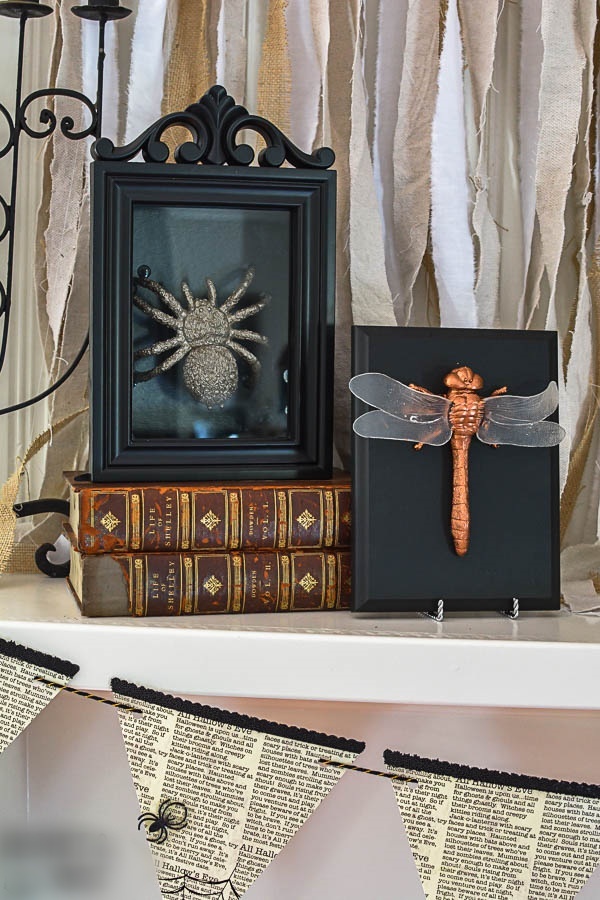 Although the idea of Halloween decorations can sound creepy, you can incorporate your creativity for some Halloween party decoration ideas which are super cute. One of the pretty things worth trying is a bug art display. You will need a foam board or thick cardboard as the base on which you have to paste a colored paper. You may use some plastic bug toys and paste them on the board, or you can get a printout of the pictures of these bugs and paste them. If you are good at painting, you may paint these bugs too. Finally, a delicate border needs to be made for a complete look.
Spooky Hanging Paper Lanterns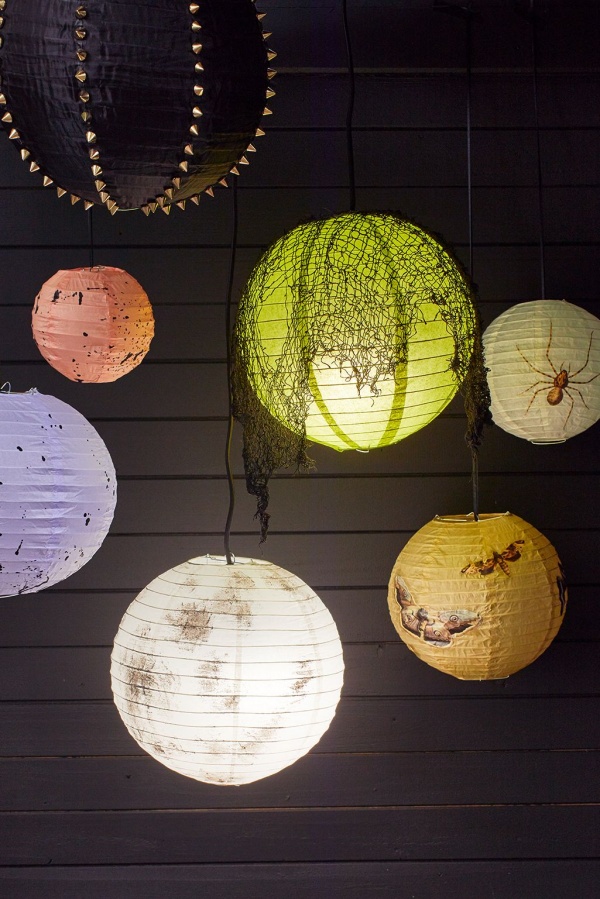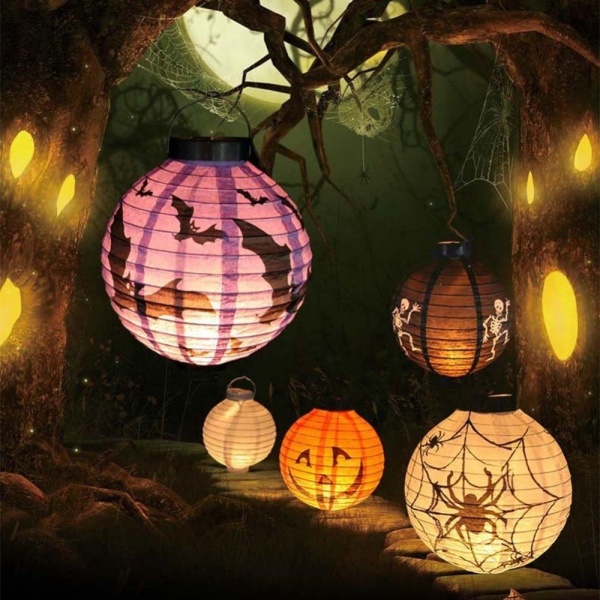 Paper lanterns are indeed one of the simplest of all other decoration ideas for Halloween and can be made very quickly at home. With a single sheet of A4 paper, you can make one paper lantern in no time. The first step you must take is to create a ½ inch crease on one end of the paper, holding it in the landscape position. Then, fold the paper firmly into four equal strips. Once the ruffle is made, fold another 2 inches on the bottom of the paper. You may make paper cutouts or paint Halloween-relevant shapes. Then, fold the paper following the crease and secure it firmly. On the open edge of the lantern, attach a twine for hanging the lantern.
Countdown Calendar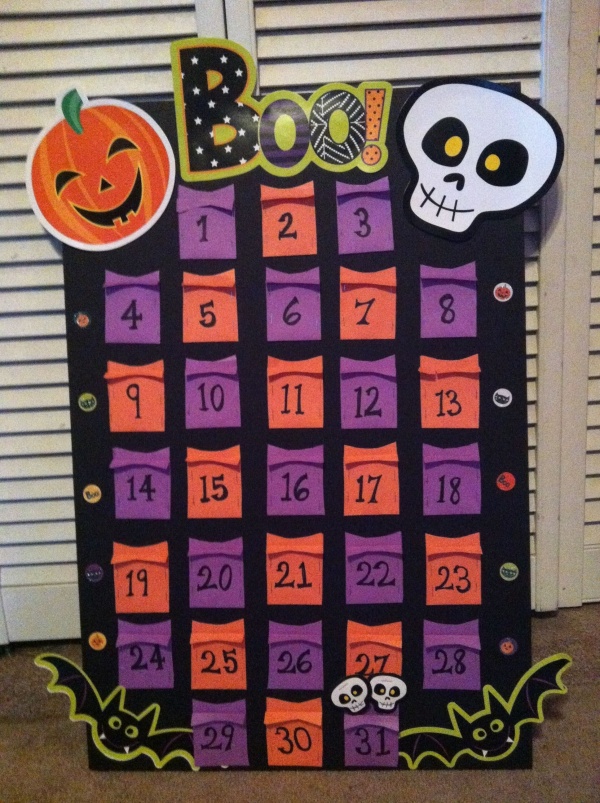 If you cannot stay calm and hold your excitement for Halloween, you must make a countdown calendar. There are multiple ideas for creating a countdown calendar. The simplest is using a cardboard base and pasting a craft paper on top. Now you may draw, print, or do some paperwork to make a jack-o-lantern or any other Halloween-related design. On the bottom end, write "Days Until Halloween" in any font of your choice, and on top, you can either secure square papers holding numbers with pegs or use two or three rings with ten papers containing numbers 0-9, representing the days left for Halloween.
Picture-Frame Lanterns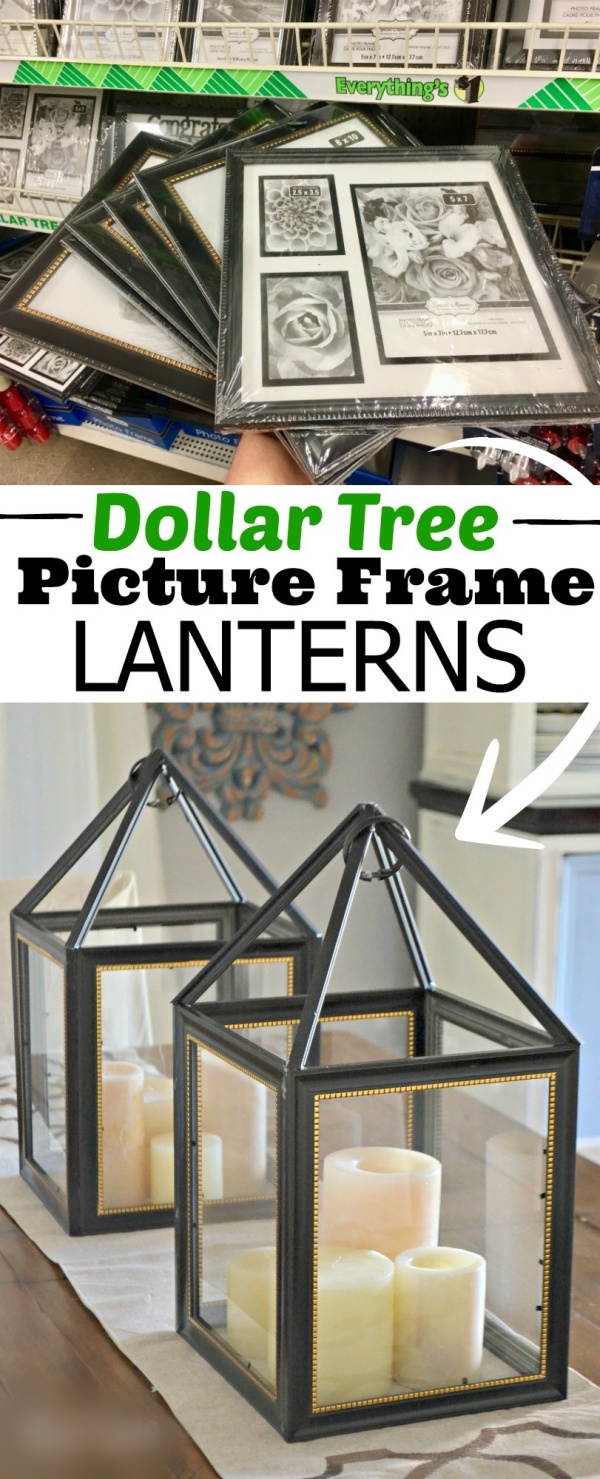 Making lanterns out of picture frames is one of the best ways of making lanterns for Halloween. These lanterns can be made quite quickly at home and look superb too. All you need is 3, 4, or 5 picture frames of equal size and the same color. Hold these frames vertically and glue one edge to the other to give it the shape of a lantern. Now, you can use a piece of wood or cardboard for the base. Lighting some candles within these lanterns is a great idea.
Specimen Jars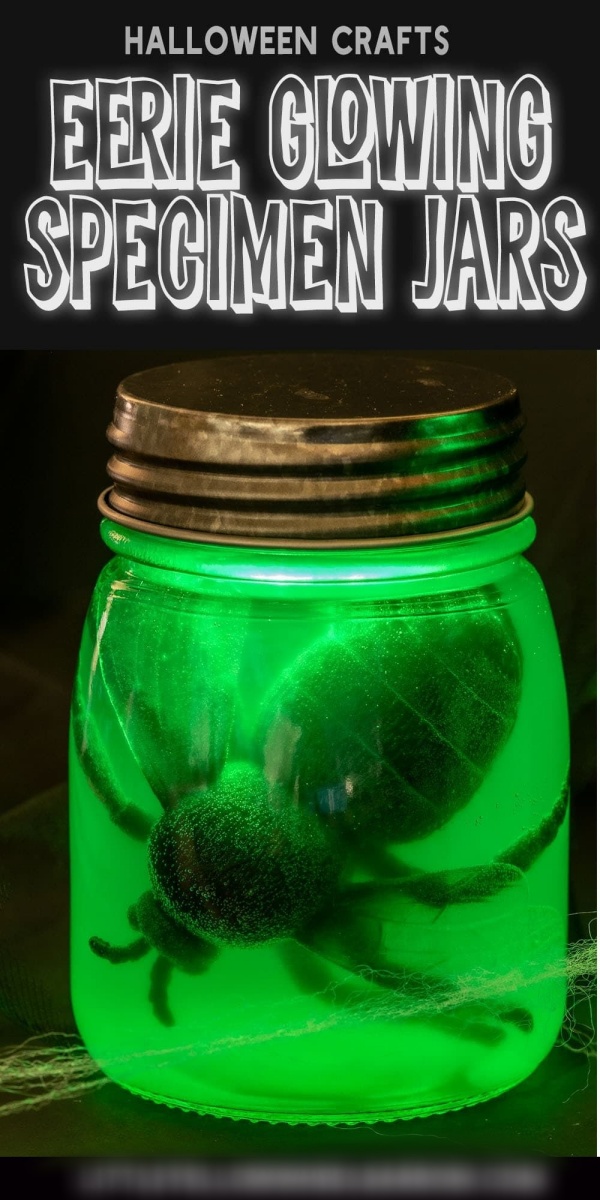 Although there are uncountable Halloween party decoration ideas making some creepy decoration ideas is a must. One such bizarre decoration idea includes a specimen jar. First, take a jar and wash it thoroughly. Now fill it with water and add the food color of your choice such that it appears translucent. Now, just put any plastic insect inside and secure the lid tightly.
Creepy Terrariums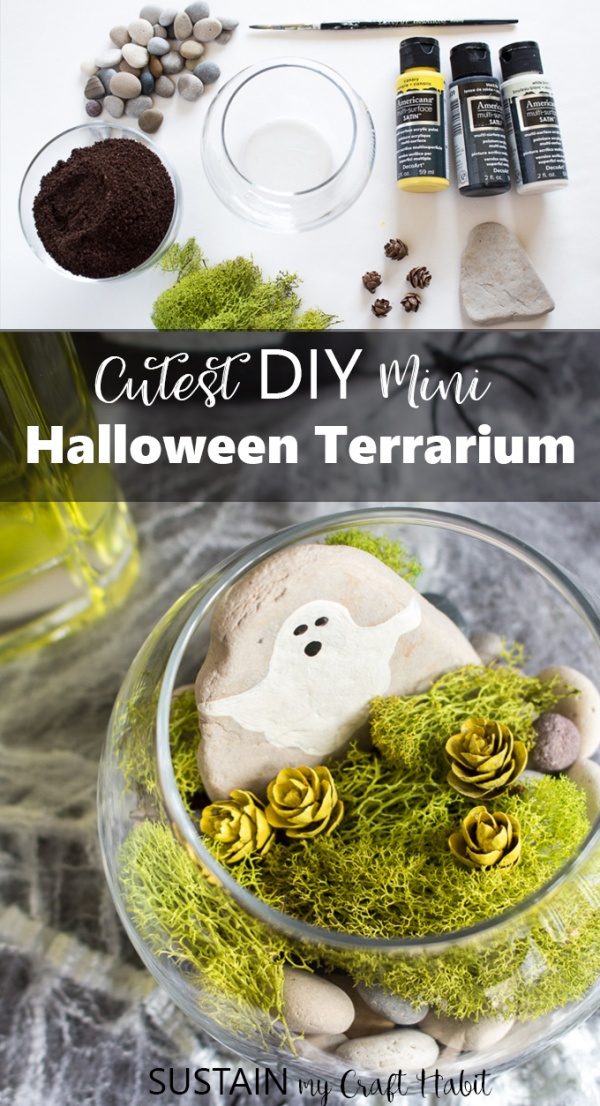 Creepy terrariums serve as one of the most incredible Halloween party decoration ideas. They are extremely simple to make but look fascinating. The basic materials include a glass vase which needs to be filled with pebbles, tiny rocks, coffee grounds, and artificial moss and plants. When the base is ready, you can be as creative as you want to. Stones can be painted into skulls and bones, or a miniature skeleton toy may be used. Spiders are the creepiest creatures that you can add to these terrariums! Splashing a few drops of red food color can work wonderfully.
Cobweb Cover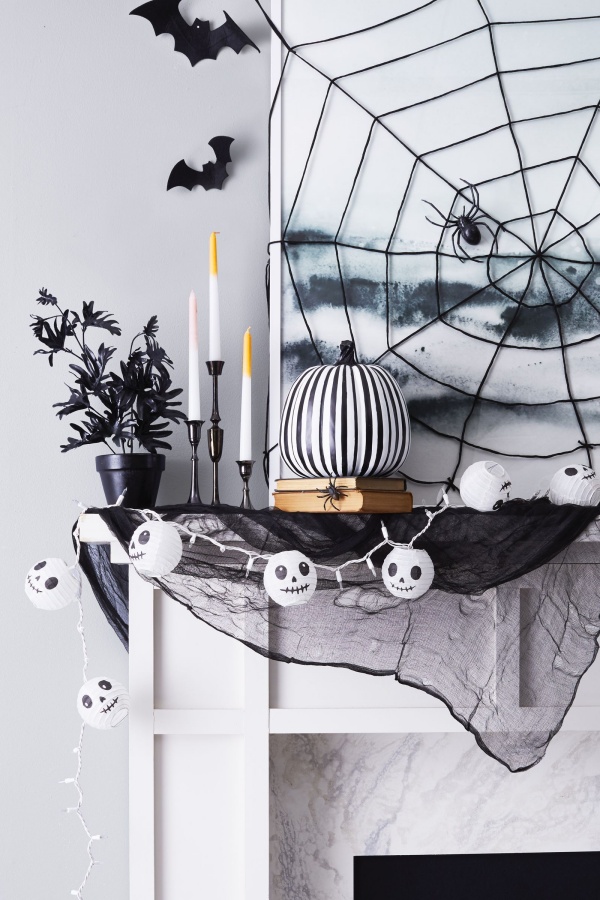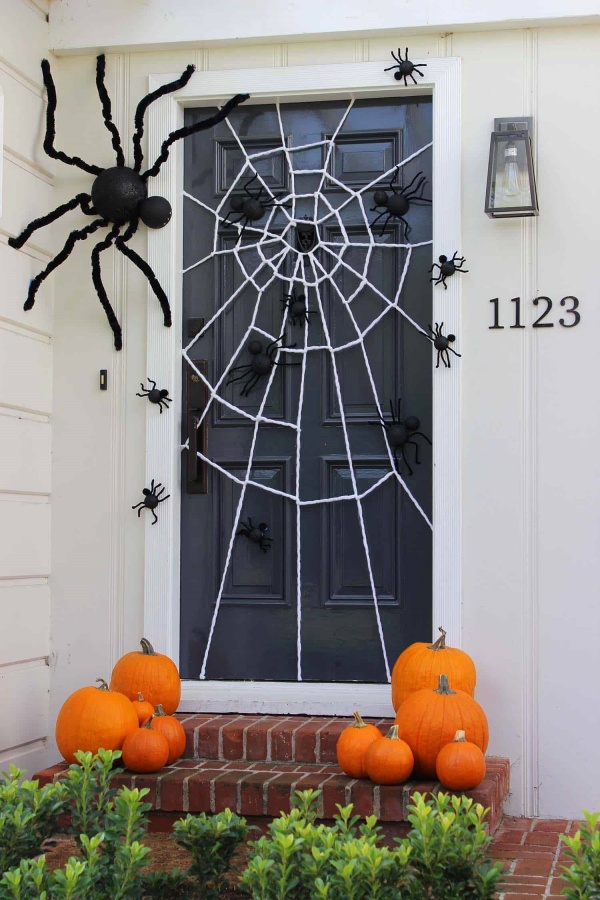 When it comes to decorating your house for a Halloween party, cobwebs are something that you should not miss out on! It is totally up to you whether you want to make these cobwebs appear creepy or cute! You can simply use a sheet of paper and draw cobwebs with a black marker. Additionally, adding multiple colors to it is a great idea. Otherwise, some twine can be used for making these cobwebs. Paper cutouts for cobwebs are great too.
Mummy Candy Cans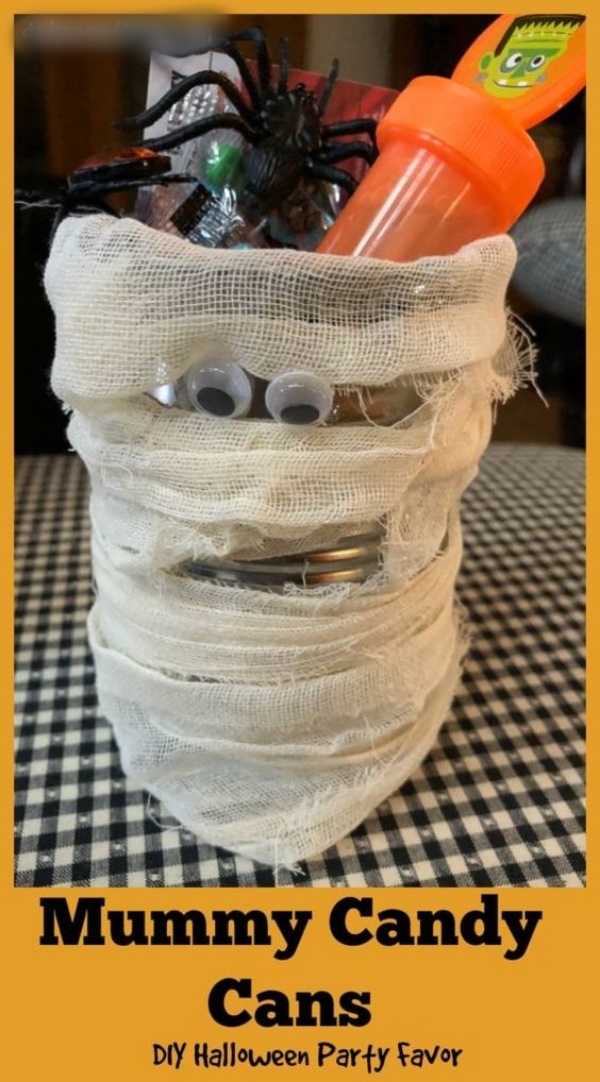 Mummies are extremely relevant Halloween decoration items that obviously cannot be made very quickly at home. However, this concept of mummies can be used for decorating candy canes. White cheesecloth is an ideal choice, or you can also use bandages. Wrap them around the cans in such a way that it looks like a mummy. Do leave some hanging ends for enhancing the look. Furthermore, you may spray some red paint here and there and even paste some beads or googly eyes on these mummy candy cans.
Monster Cupcakes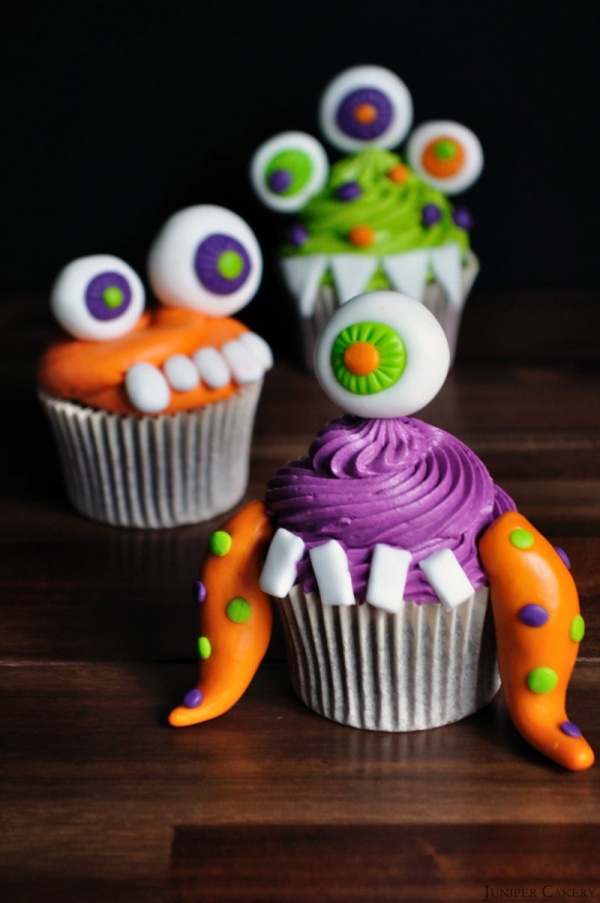 Monster cupcakes are more cute than creepy. All the creativity that you will need in making these monster cupcakes is in the icing. You can use buttercream icing and mix different food colors for making these monsters. Once the cupcakes are baked and cooled down, use different nozzles to give different textures to the cupcakes, whether spiky, grooved, or plain. A scary mouth and eyes can be made using fondant. You may use candy eyes too.
Eight-legged Cake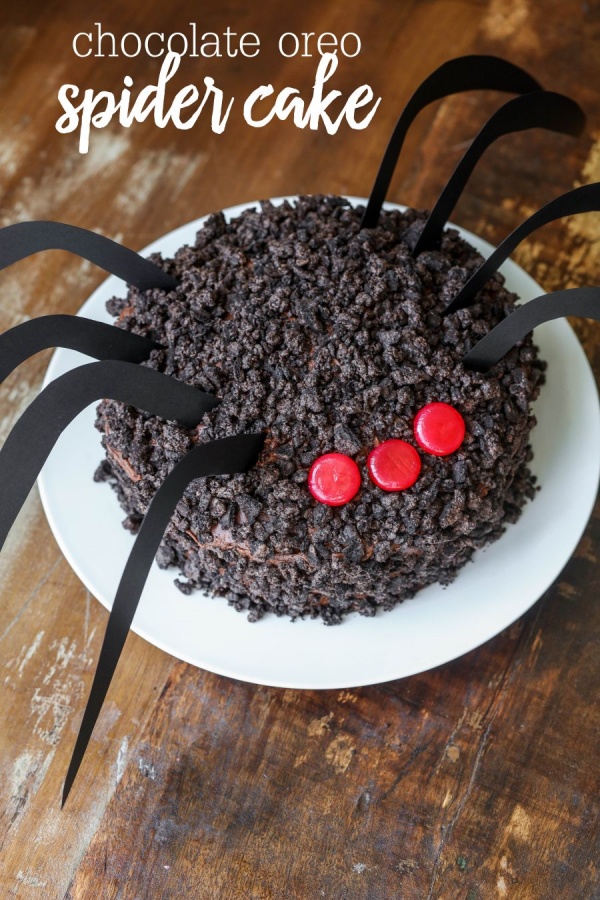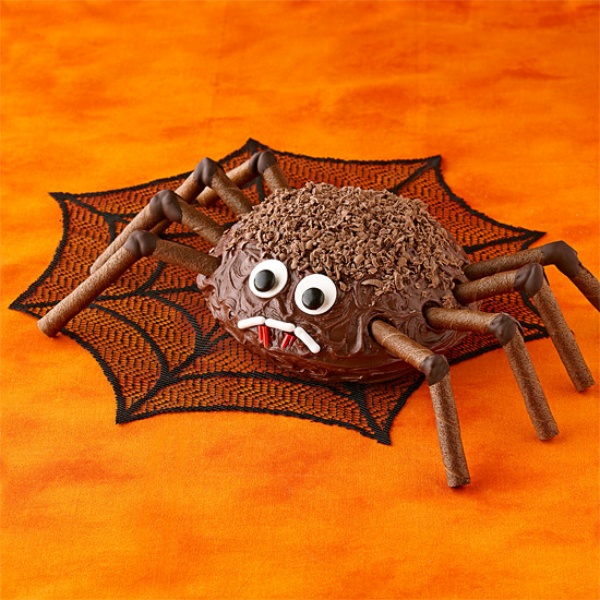 Cakes, too, can be made creepy by adding eight legs to it! It is a well-suited idea for a Halloween theme party. All you need to do is bake a cake of your choice and allow it to cool down. Your creativity must be implemented for making the legs of the cake. You can make the legs out of chocolate sticks or fingers or skewers. The icing can be used on the skewers to give thick legs to your cake. You can cover the entire cake in a plain or spiked look with icing. Additionally, you may make eyes and mouth too.
Cameo Cookie Display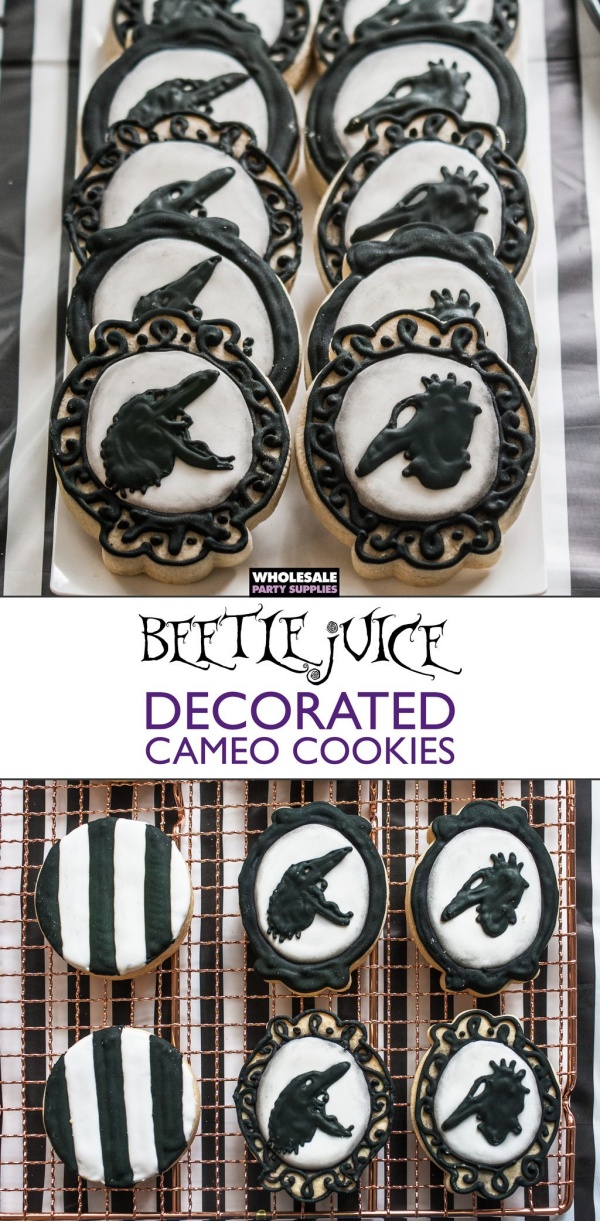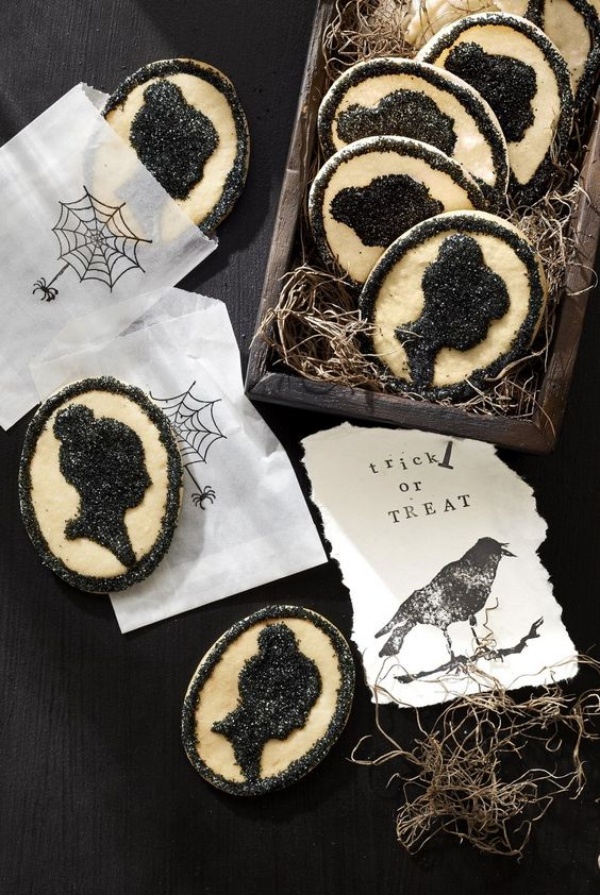 There are so many ways in which you can decorate your cookies for a Halloween party. There are many Halloween-themed cookie cutters that you can use for making these cookies. Even if you make regular cookies, you can use some icing for making scary eyes and mouth or spider web and silhouette of Halloween relevant animals on these cookies. Furthermore, there are innovative ideas for displaying these cookies too. You can opt for a simple on-tray display, or use a small bucket painted with Halloween creatures or use a jack-o-lantern, or just half a pumpkin.
Batty Balloons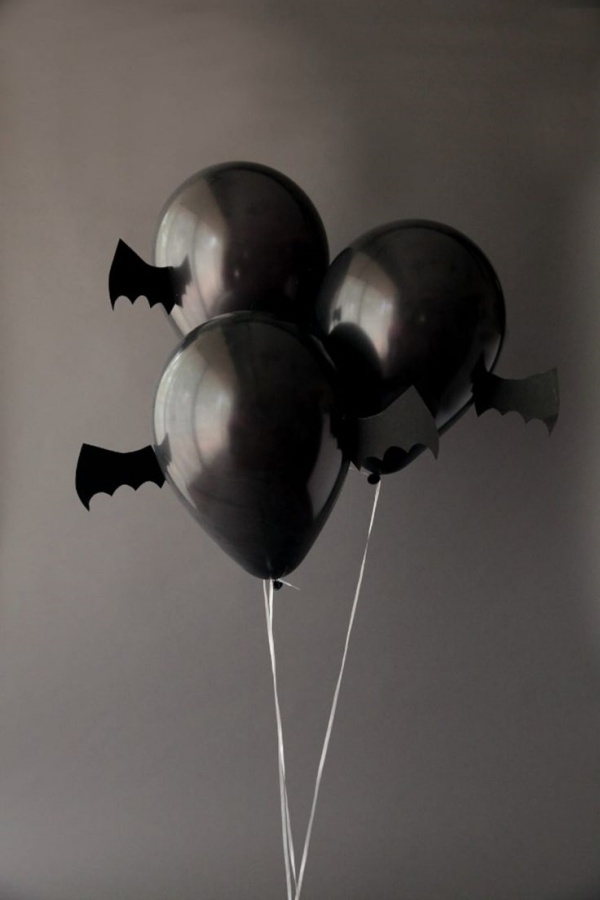 Balloons are an essential part of party decorations. But, when it comes to a Halloween party, a simple balloon décor doesn't seem exciting. So, you can make some batty balloon decorations at home by using some black balloons. Blow these balloons, cut out bat wings from black craft papers, and stick them on either side of the balloon. Additionally, you can also draw or use paper cutting for making eyes and mouth in the balloons. You can also use different colored balloons for a funky look.
Branch Centerpiece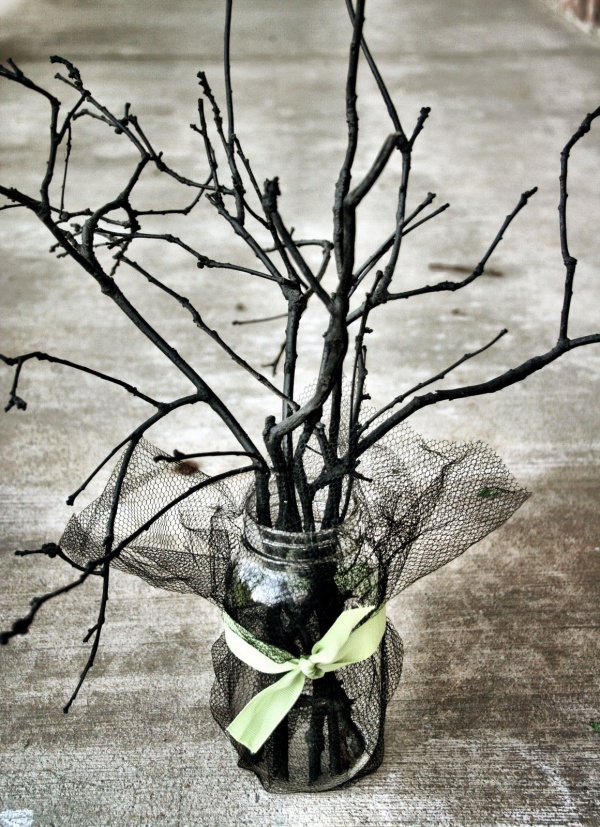 Among the various Halloween party decoration ideas, a branch centerpiece is still the simplest of all. It not only looks impressive but also enhances the decorations of the Halloween party. Just get hold of some tiny branches and twigs and paint them black. When dry, put them inside a jar or vase. Further decorations can be done by making bat cutouts and pasting them on the branches or adding fairy lights. Also, a relatively more significant piece of the branch can be painted black and displayed on the table or with some fairy lights.
Snake Wreath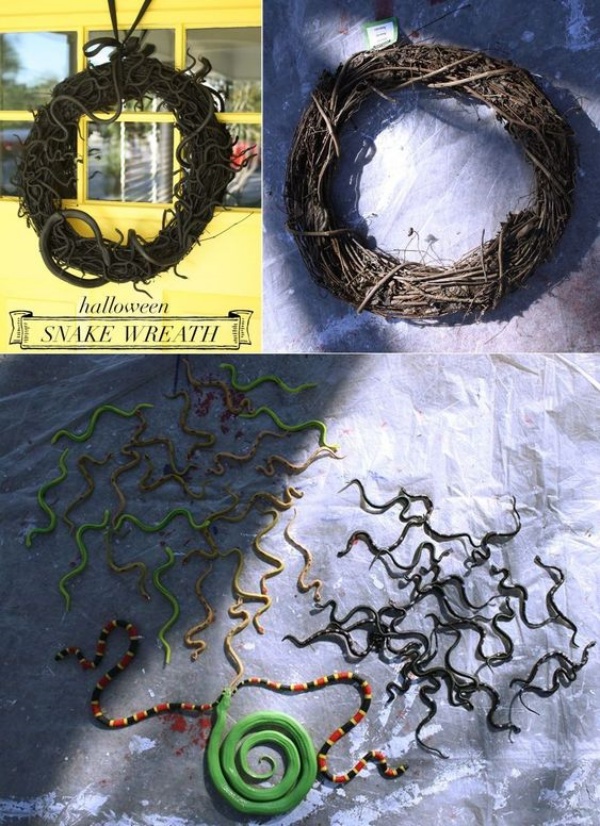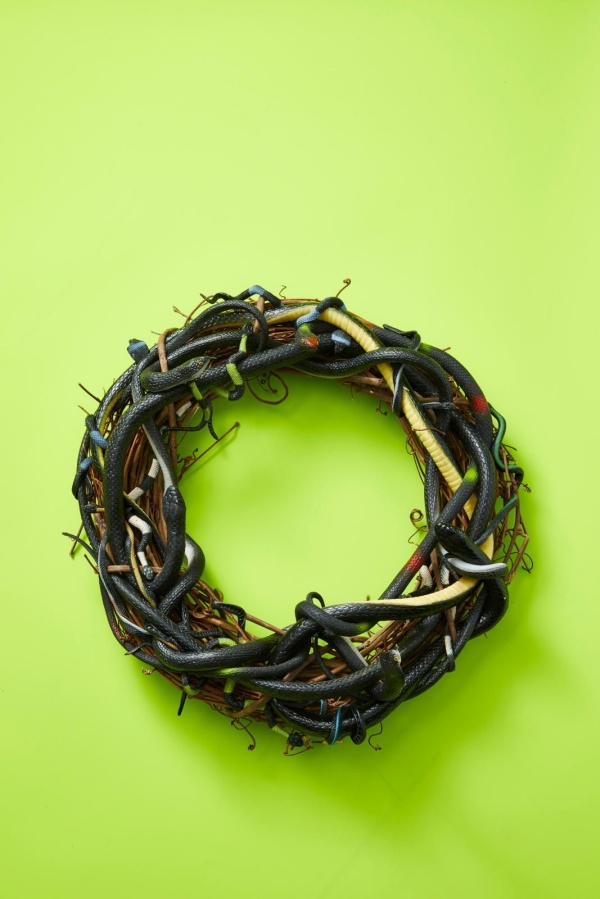 A snake wreath is another great idea for Halloween party decorations. All you have to do is get hold of some twigs and tiny branches or use some artificial greenery and shape them up into a hoop, securing them with wires. Similarly, artificial snake toys should be attached to these wreaths. Now, paint these wreaths with the help of spray paint and let them dry. Finally, hang this snake wreath on the door or a wall.
Bleach Pen Napkins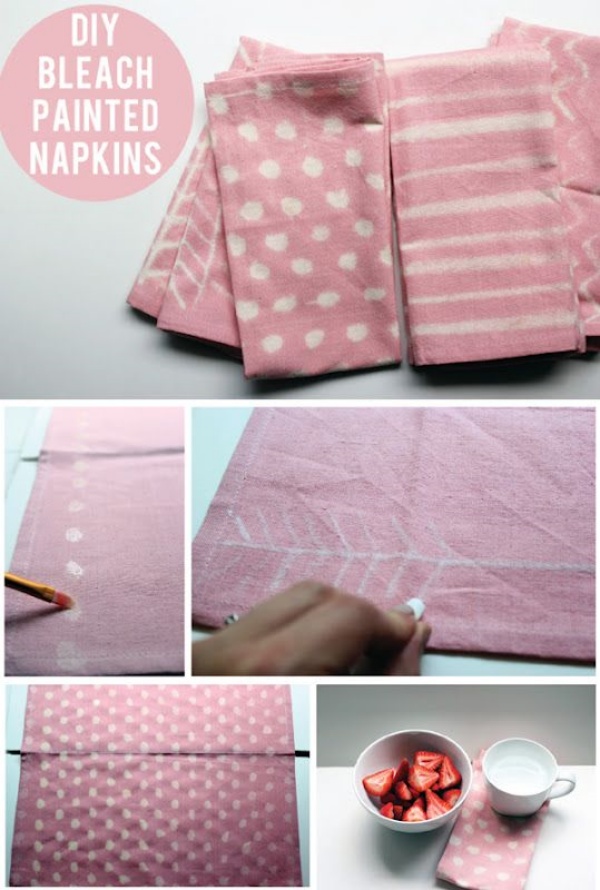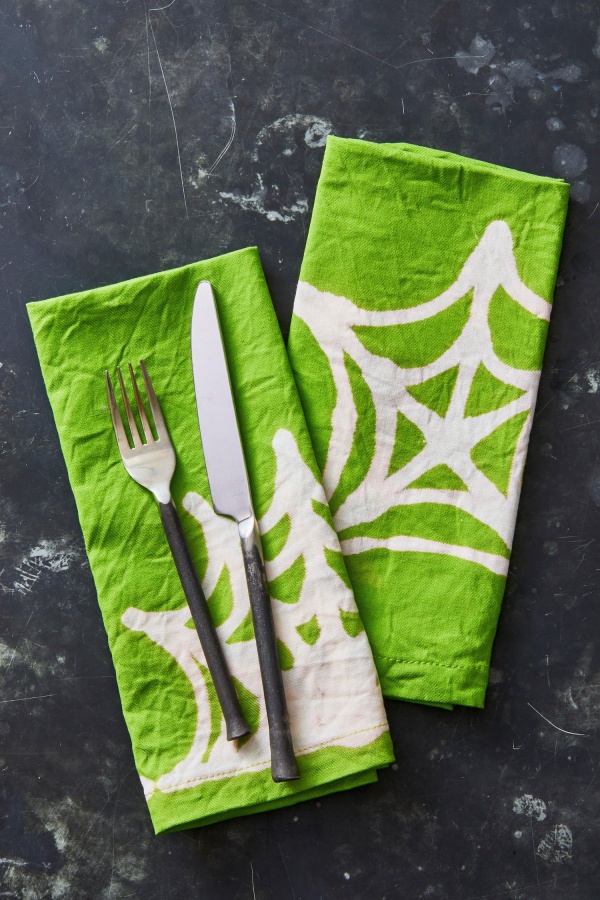 With Halloween-related patterns on them, napkins also contribute to being brilliant among Halloween party decoration ideas. A unique way of doing so is by using bleach pens. Spread a newspaper and on top of it, spread your napkin. Now, with the help of these bleach pens, draw any pattern of your choice. The simplest of all can be a spider web. Or you can make monster faces too. Silhouettes of animals related to Halloween are great too. You can also use a stencil with the relevant pattern. Let them dry before using them.
Witch's Brew Drinks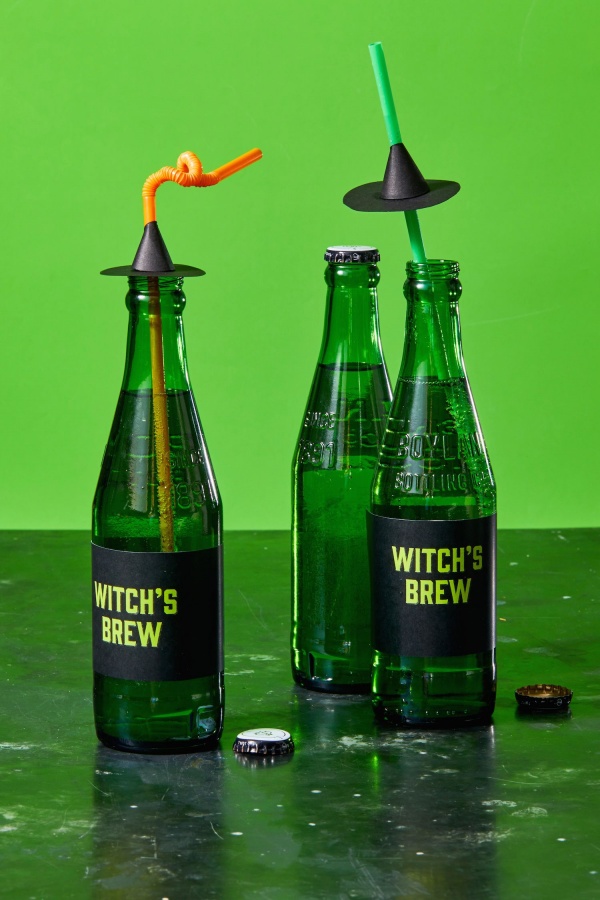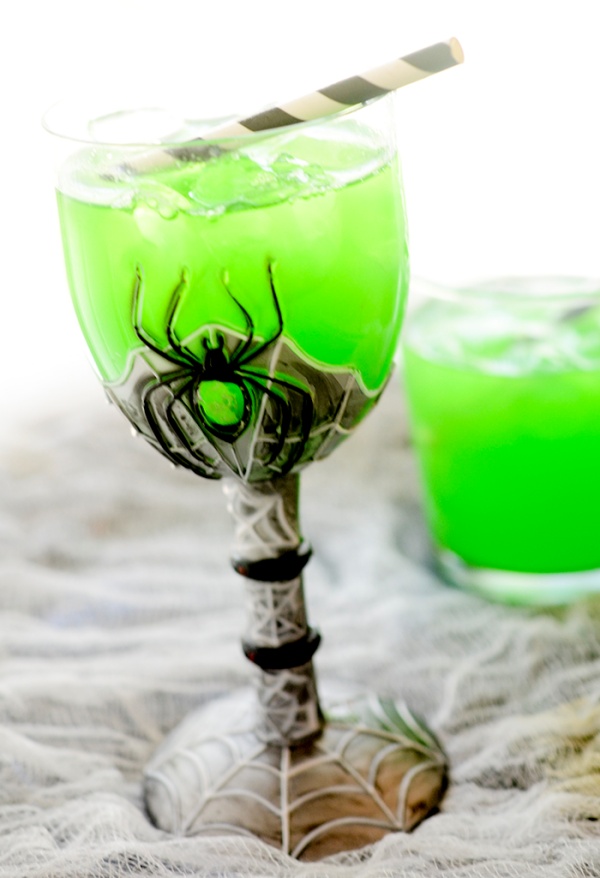 If you are still stuck on adding to the Halloween party menu, then witches brew drinks are something you should not miss. You can add any cocktail, mocktail, or punch of your choice to the menu. Adding some colors to these drinks makes them different from regular mocktails. Now, coming to the best part is you can add some dry ice to these drinks. It will give rise to a lather of smoke that makes it a perfect witch's brew drink!
Puff Paint Spider Web Glasses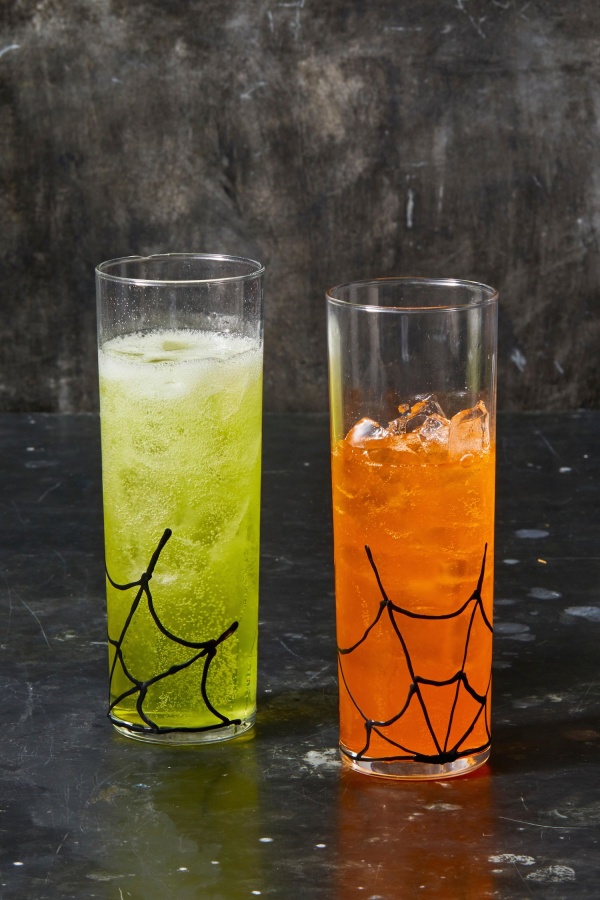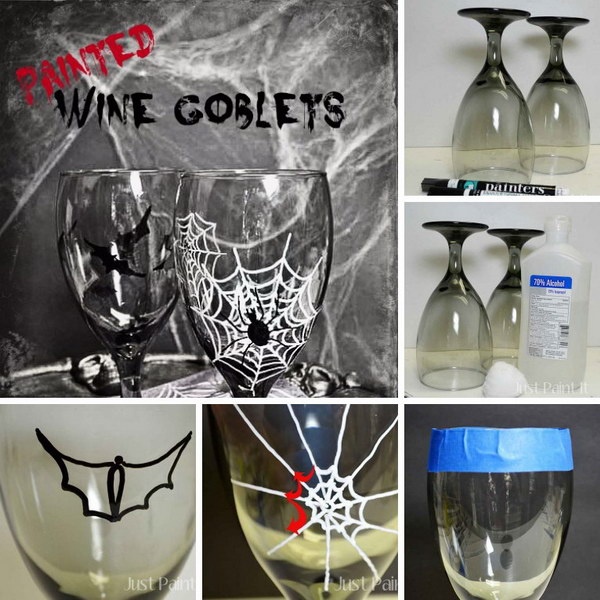 Even the dishes and utensils you use at the Halloween party can be decorated in a Halloween-friendly manner. For example, glasses can be puff painted and painted with some spider web to suit the theme. First, make the puff paint using shaving cream, glue, flour, and food color, preferably black. Now, pour this puff paint into a piping bag. Now, you may either draw a spider web using a marker and then use the puff paint to overline it or directly use the puff paint and draw the spider web on the glass.
"Dripping" Candles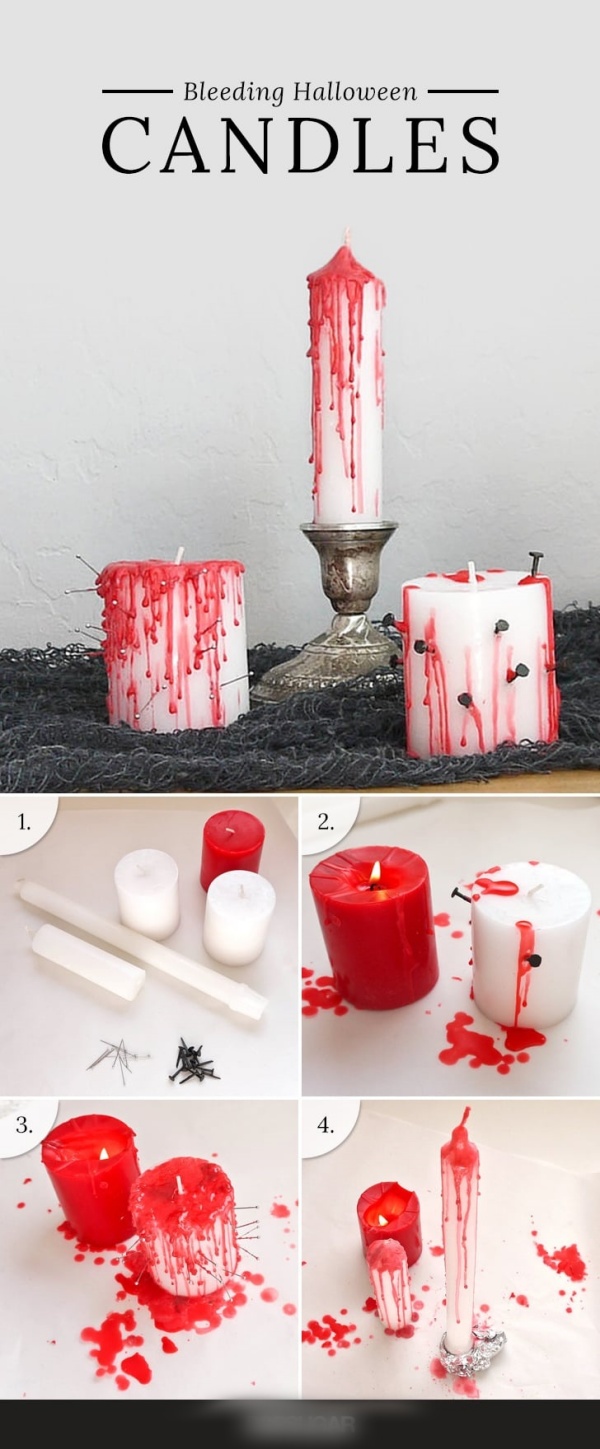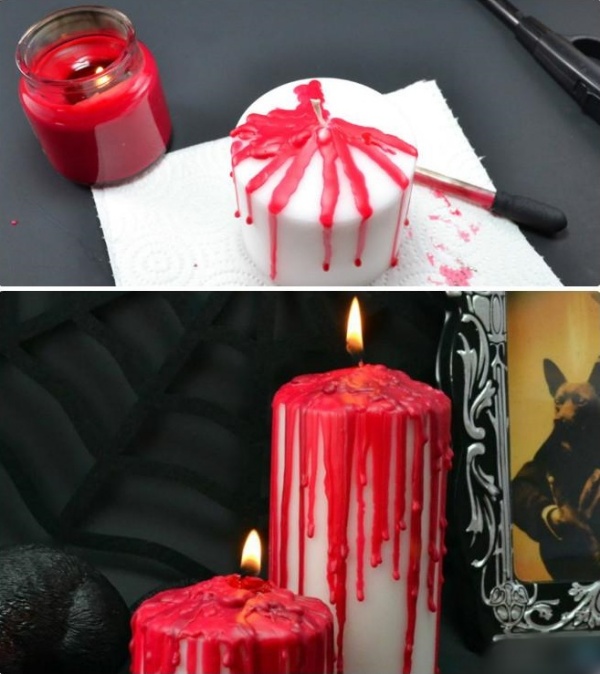 Candles are an essential piece of decorations for a Halloween party. But, making dripping candles for the Halloween party is a better idea! These wonderful dripping candles can be made very quickly at home. You will need a few white candles and some red candles or red wax crayons. Light the white candle and then hold the red candle or crayon over the flame. Let the red wax melt and drip on top of the candle, and flow from all the sides. Blow off the candle when the candle has got a sufficient amount of red drip.
Mummy Yard Sign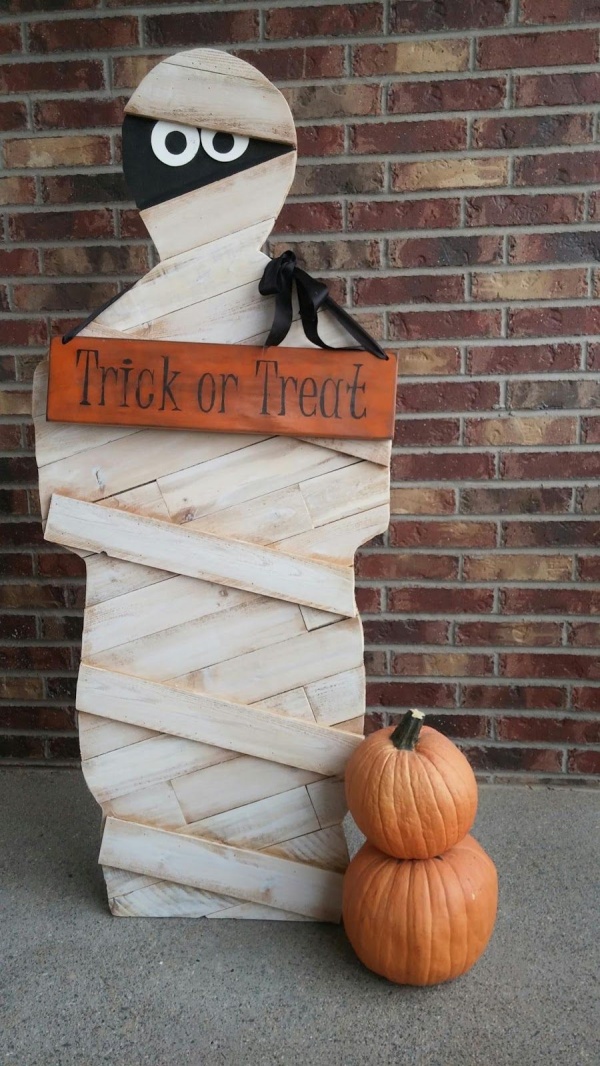 A yard sign is also an excellent way of welcoming guests for a Halloween party. You can be very creative in making these yard signs. One great idea is to create a mummy yard sign for the Halloween party. You will require a plank or a scrap piece of wood and cut it roughly into the shape of a human figure. With the help of white cheesecloth or bandage, wrap this wood cutout firmly. Leave some loose ends in between to give an authentic mummy look. Once done, you can paint some blood splashed with red paint. You may write anything that you want to in this and place it in the yard.
Eerie Entryway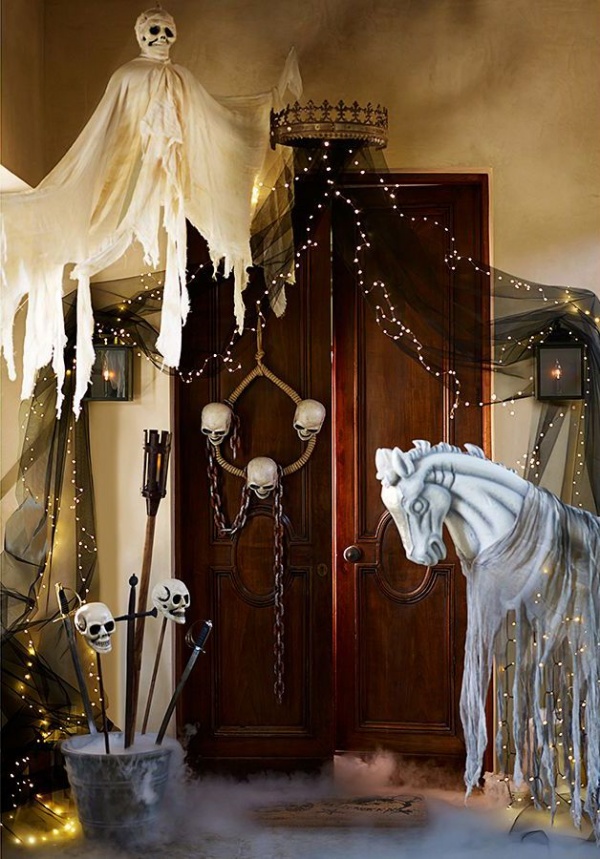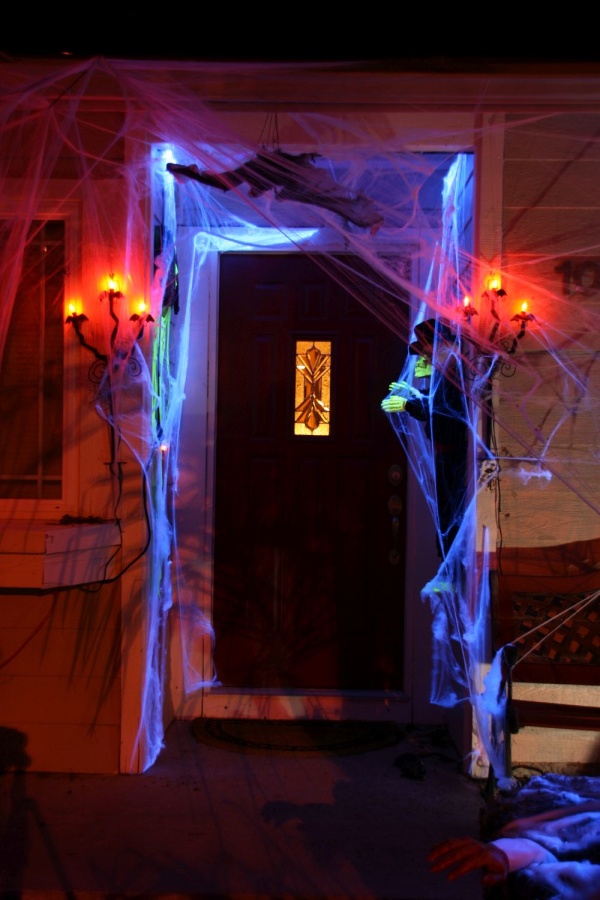 Giving an eerie look to the entryway is what throws great Halloween vibes. There are some great ideas for this. If you have a bushy plant near the entry, you can use a mannequin leg and wear an old pair of pants or a pair of socks. Some red pint for painting blood is good too. Halloween masks can also be the line in the entryway for a creepy look. Other decorations like fixing some plastic bones or an axe with blood or even a jack-o-lantern are incredible. A spooky ghost can be set up by using a white chicken net and some fairy lights too.
Eerie Orbs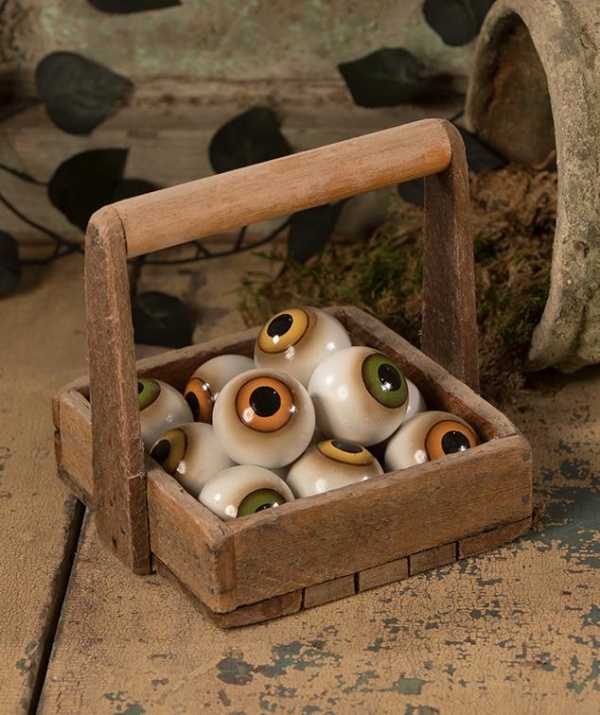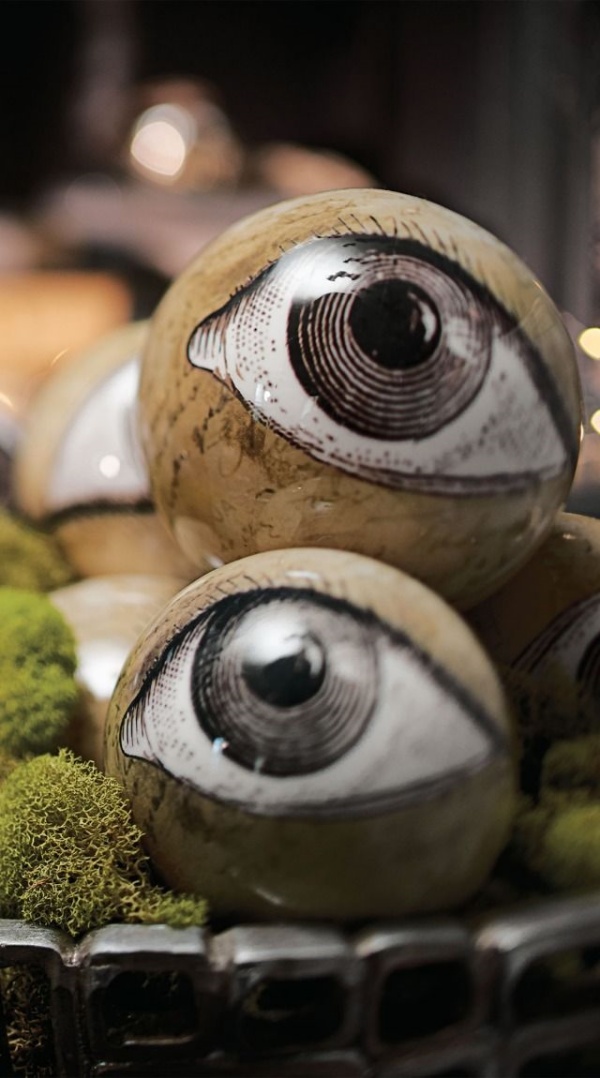 Eyeball décor can be incorporated in making Halloween party decorations too. These are incredibly creepy and well-suited for Halloween. However, making it less more mysterious is up to you. One such idea is using clear plastic balls that split apart or glass globes. Take a printout of an eyeball or paint one on a sheet of paper and secure it inside the ball or glass globe. You may also use bulbs and paint creepy eyeballs with dripping blood on them. Another idea is to make these eerie orbs by using some clay.
Ghostly Wine Bottles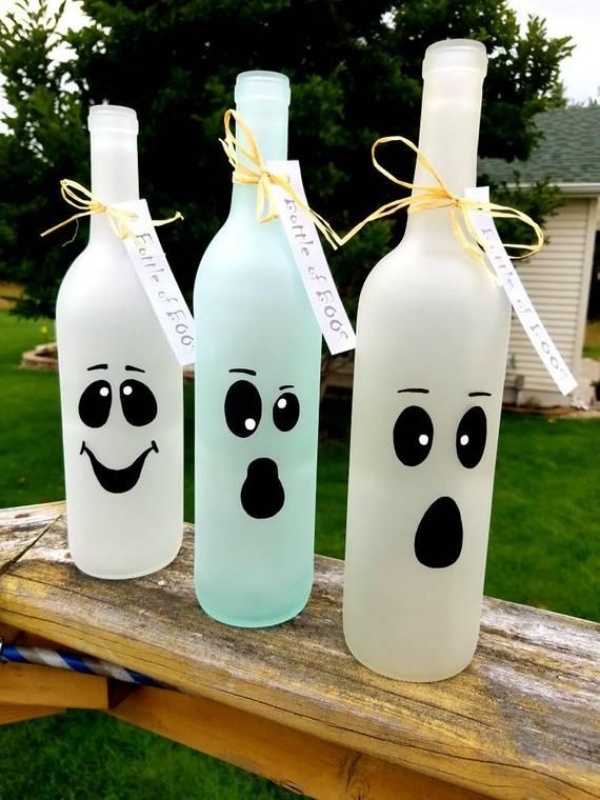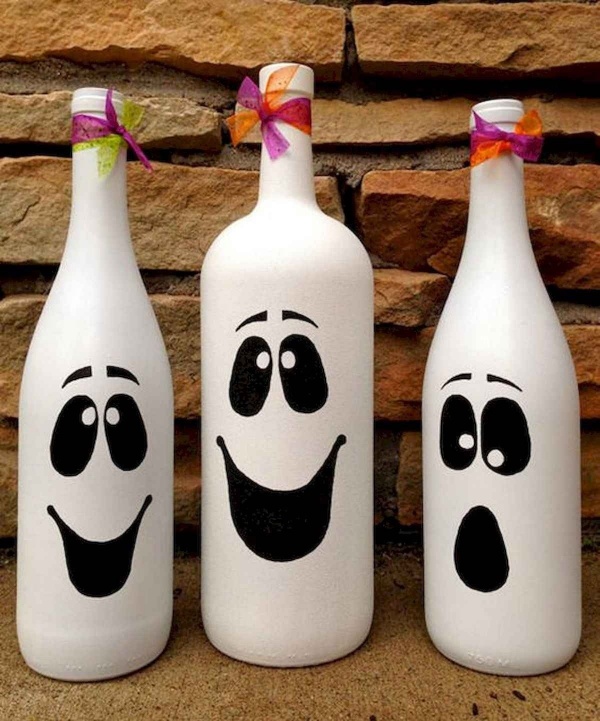 Wine bottles can be used for making some great Halloween decoration items. You can make a cute one by painting these wine bottles white and making pretty ghostly faces with black paint. Otherwise, you can also give it a creepy ghost face. Further decoration can be done by painting some spider webs or tiny spiders in the neck of the wine bottle. A dripping blood mouth will look great as well.
Ghostly Graveyard Decoration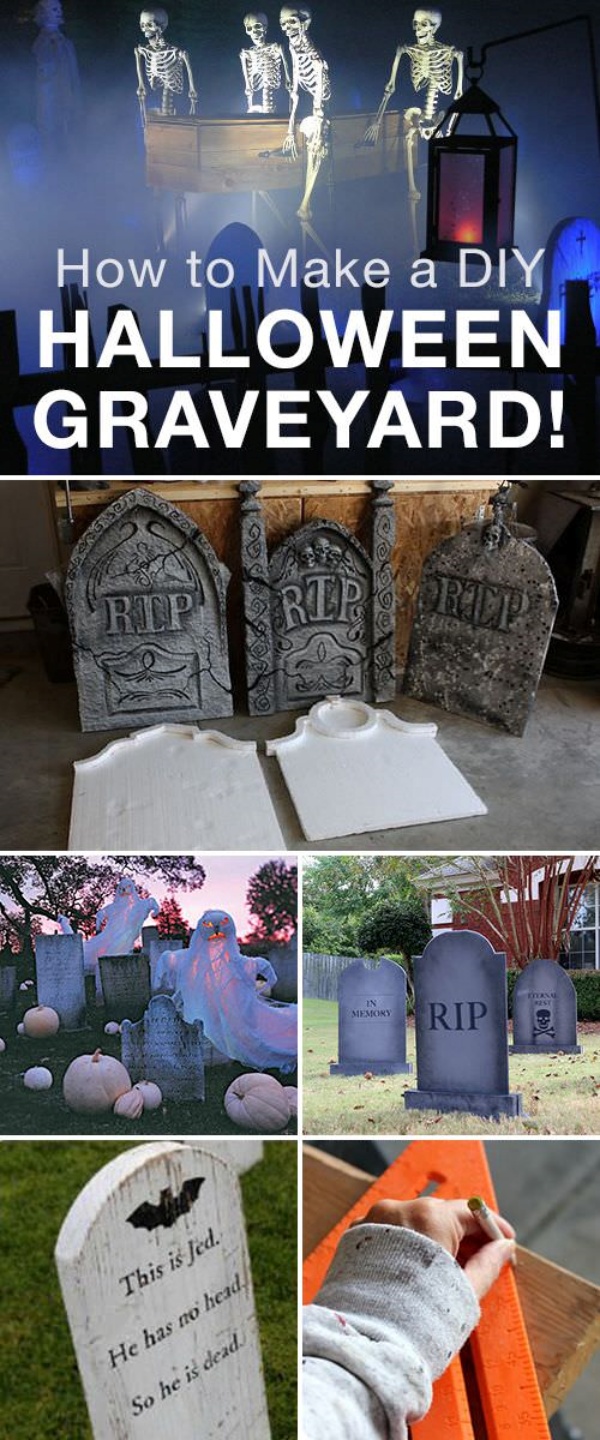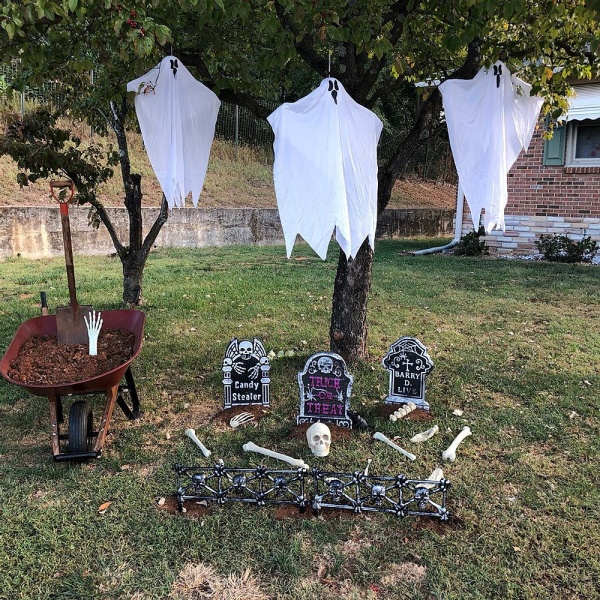 If your Halloween party is being held outdoors, then making a graveyard area should not be missed! Some spooky ideas to turn your yard into graveyards include using a foam base for making tombstones. Shape up the foam and use paint to make these tombstones and secure them to the ground. Plastic skulls, bones, and skeletons can be places randomly too. Also, some paper bats and spiders can be hung from branches of trees in the yard. A mummy décor will add to its look. Finally, use some dry ice to build some smoke in the yard.
Bewitching Greeter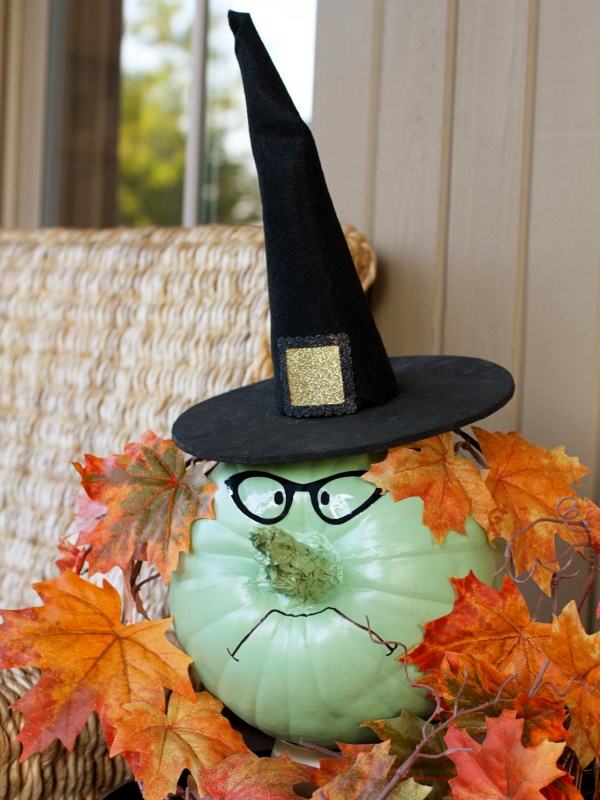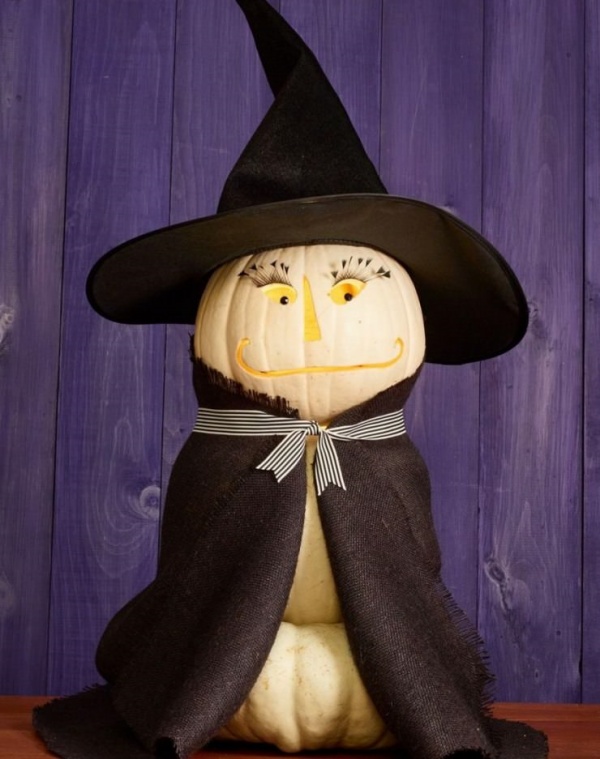 You cannot stay at the door all the time to greet and usher the guest. So, why not build a bewitching greeter for welcoming your guests? How about using a dummy and putting on a creepy black dress with a pumpkin head or no head? Or maybe wrap up the mannequin with white cheesecloth and turn it into a mummy! Another idea is placing three pumpkins, one on top of the other, and craving a face on the top one and just wrapping a piece of black cloth from the back, plus putting a witch hat on the head.
Lace-dressed Pumpkins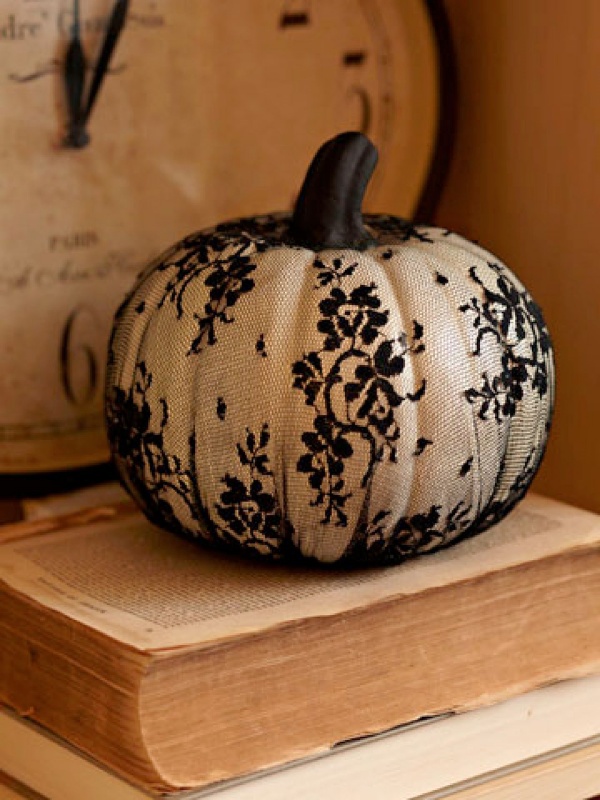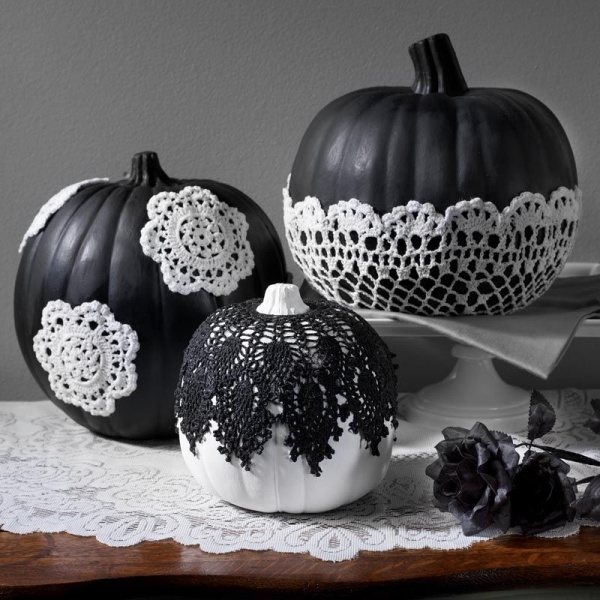 Laces are something that adds an aesthetic appearance to anything and everything. If you are looking for Halloween party decoration ideas that are not very creepy, then lace-dressed pumpkins are a brilliant idea. You can either paste up a black lace on the bottom end or randomly on the pumpkin or first paint the pumpkin into white or any other color of your choice and then paste the laces. A fully lace-dressed pumpkin also looks very pretty.
Halloween Mask Wreath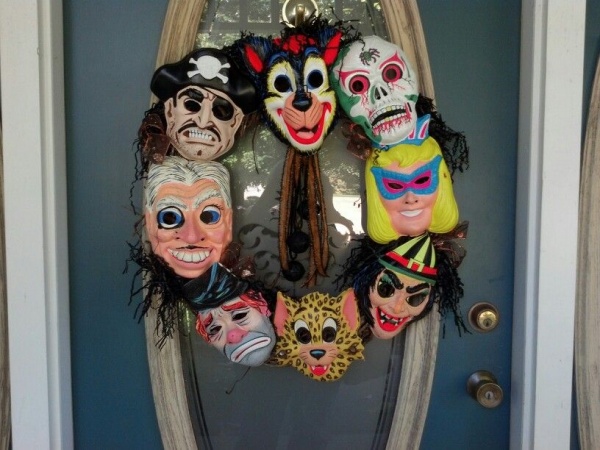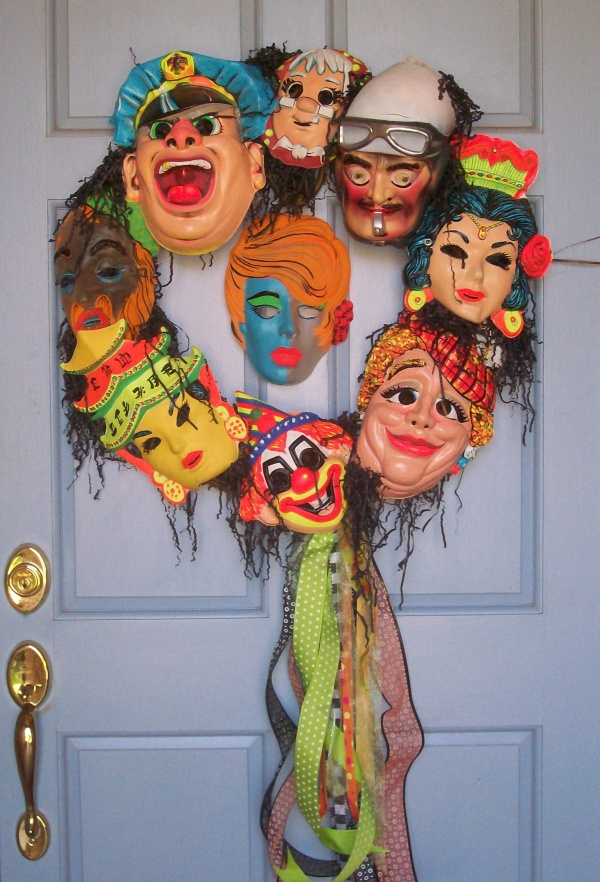 Multiple types of creepy masks are available in the market and serve as a great source of Halloween decorations. However, using these masks in making a wreath is pretty creative. One way of making a Halloween mask wreath is by using a wooden hoop and pasting a few of these masks all over it. Otherwise, you can paste one mask and add other decorative items like some twigs, plastic spiders, paper cutouts of bats or other animals, and so on.
Morgue Door Décor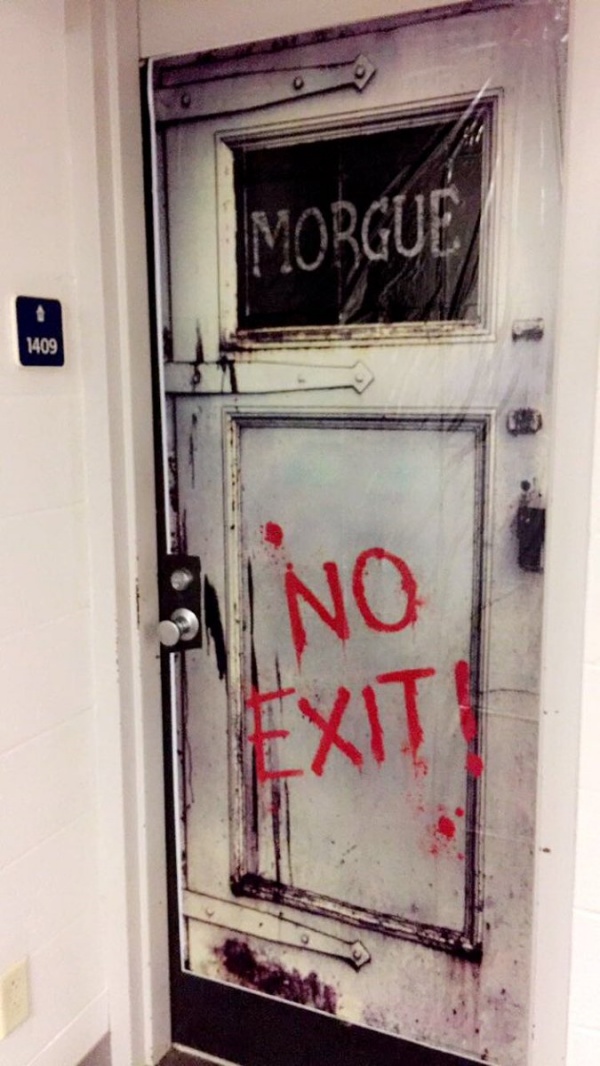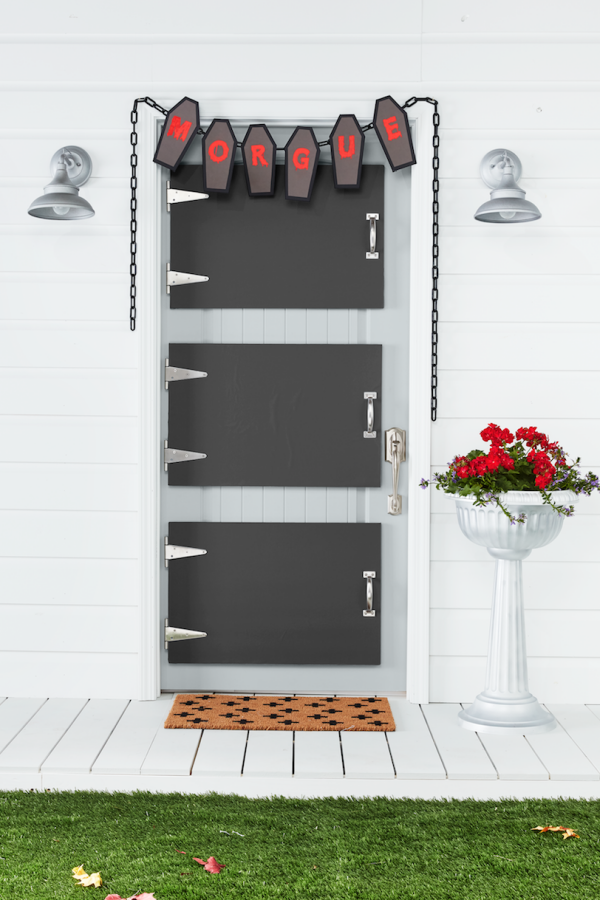 If you have been thinking about what to do with the windows and doors of your house for Halloween decorations, then making a morgue door décor is what you should opt for. A quick and straightforward way of making this is by using some black or silver craft paper and cutting them in a rectangular shape. Next, cut 3-4 such sheets and paste them on your door. You can now be as creative as you want to give this morgue door a Halloween-friendly look. For example, you can make a creepy hand hanging from one of the compartments or paint some blood on them.
Candy Corn Toss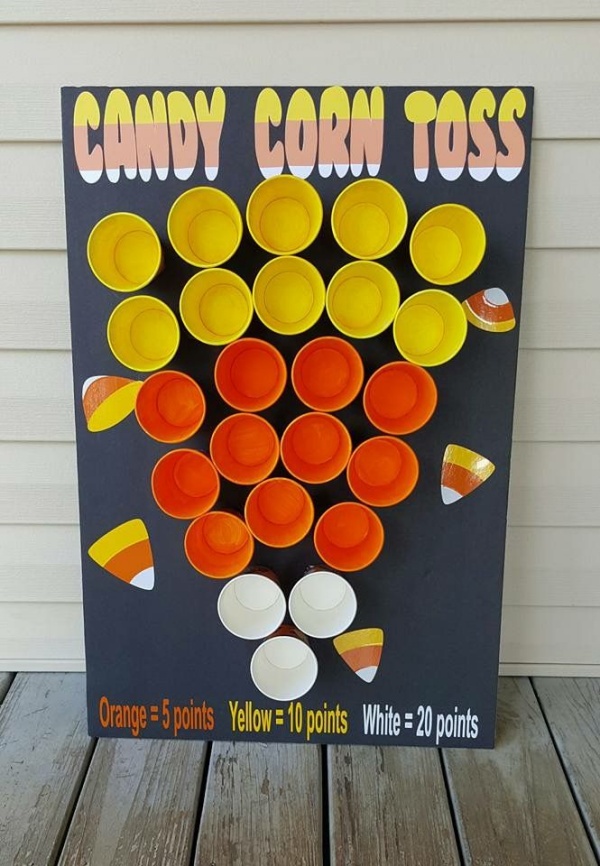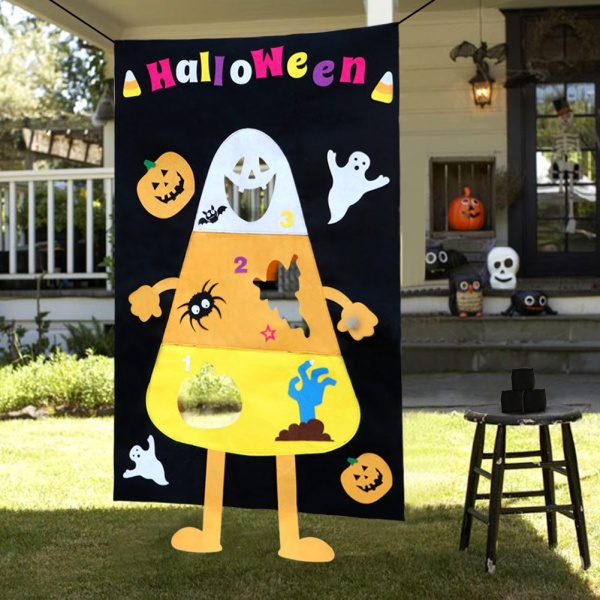 A Halloween party seems hugely dull and boring without any games for the kids. So, why not plan a Halloween-friendly game? A corn candy toss is a Halloween-relevant game that can be built for these kids. Just purchase some orange plastic safety cones and spray-painted yellow at the bottom and white at the top of these safety cones. Let them dry into a giant corn candy. For executing the toss game, you will need some rings. You can purchase these rings or make them with glow necklaces.
Witch Crash Front Door Décor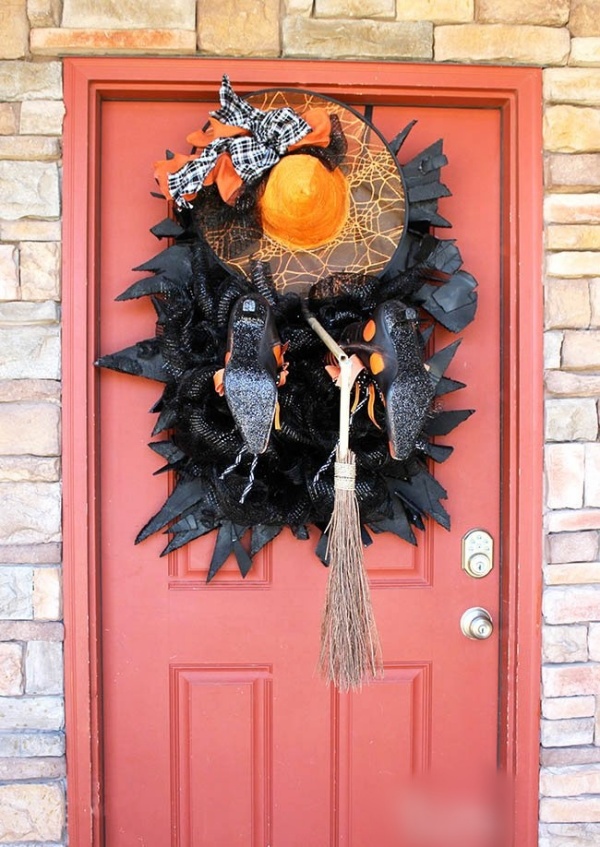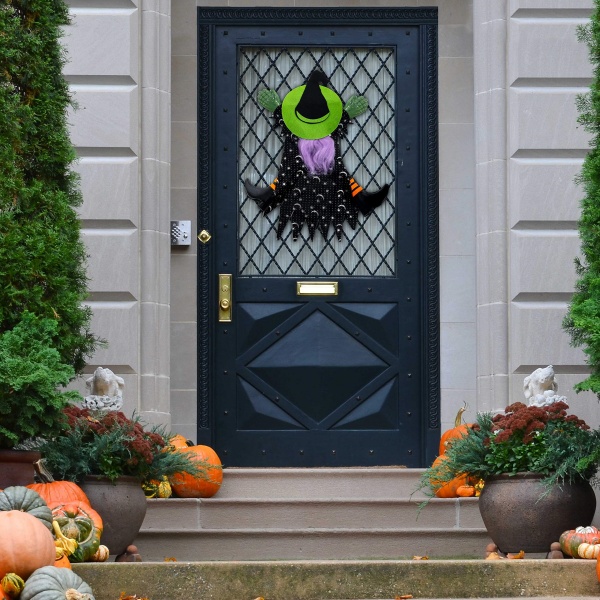 Although there are many variations of decorating the front door for valentine, a witch crash décor is never out of fashion! You will need two cardboard rolls or pool noodles painted black, or you can roll craft papers. Now, either paint some bright color stripes or use craft papers for doing so. Otherwise, you may use a pair of Halloween tights. Now on one end of each roll, fix a witch boot or any other boot. Now, on a foam base, cut two holes of the size of the other end of the rolls and fix these rolls on them. Finally, decorate the foam board with relevant Halloween decorative items. Do not forget to select a broken broom for the witch. Also, set a witch's hat on top of the foam.
Googly Eye Halloween Treat Bags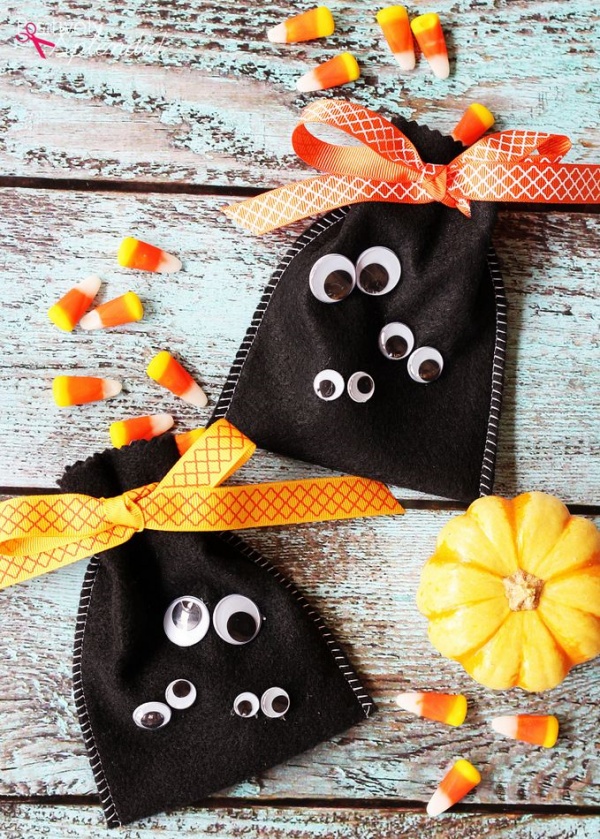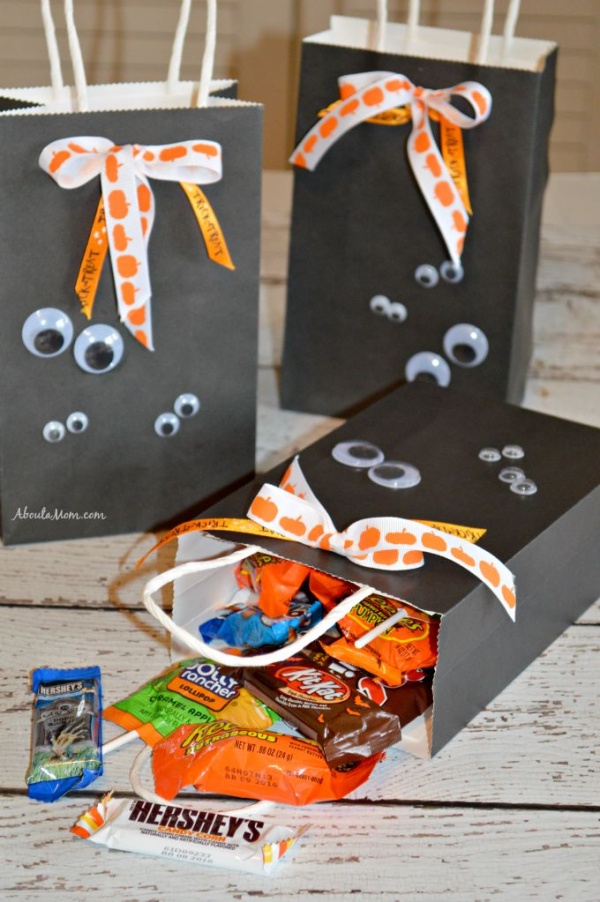 Treat bags for your little guests are a must. So, be creative when making these treat bags to please the kids. For example, googly eye Halloween treat bags are super cute. Just make a simple treat bag and paste two or even more than two googly eyes on them. Furthermore, you can make a crooked smile or teeth using paper cuts. A tiny bow as well can be pasted on the top end of these treat bags.
DIY Halloween Party Poppers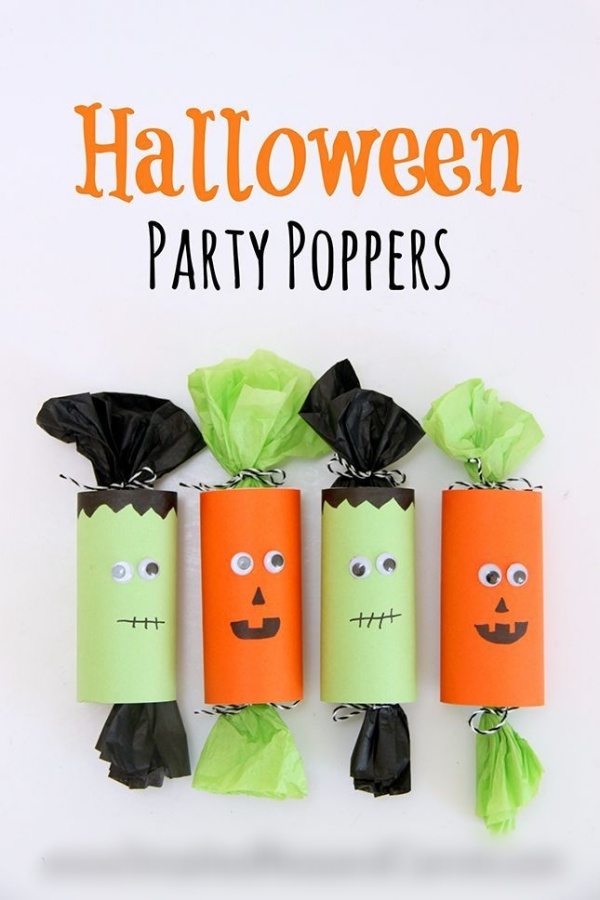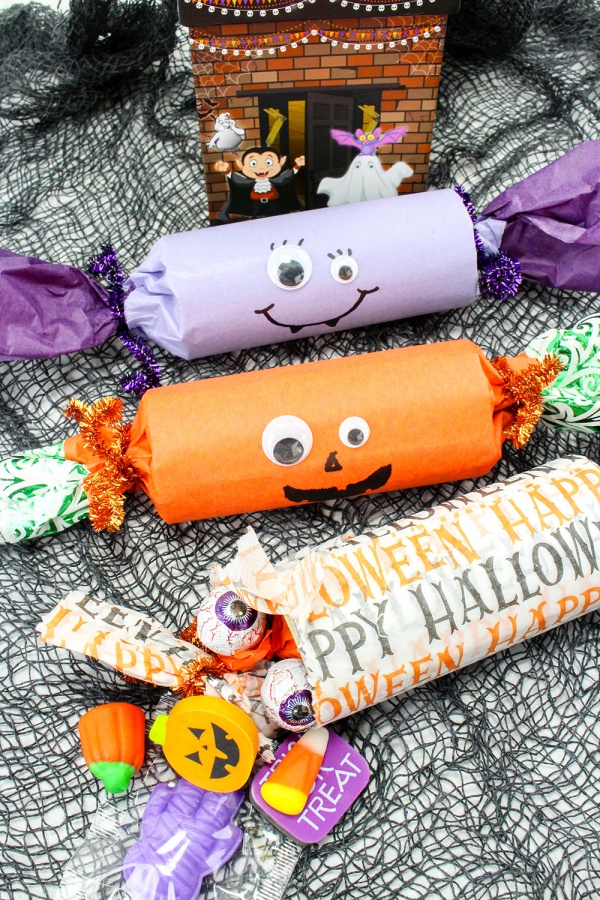 Every party is incomplete without a party popper! So is a Halloween party. You can make a Halloween party popper at home. First, wrap a tissue roll with craft paper. Now, use a more extensive length of craft paper and wrap the roll again. Fill in the roll with some candies and toys, and then twist the extra edges of the raft paper on both ends like a toffee wrap. Glue the edge together and secure the border with a wire or twine.
DIY Tea Light Witch Décor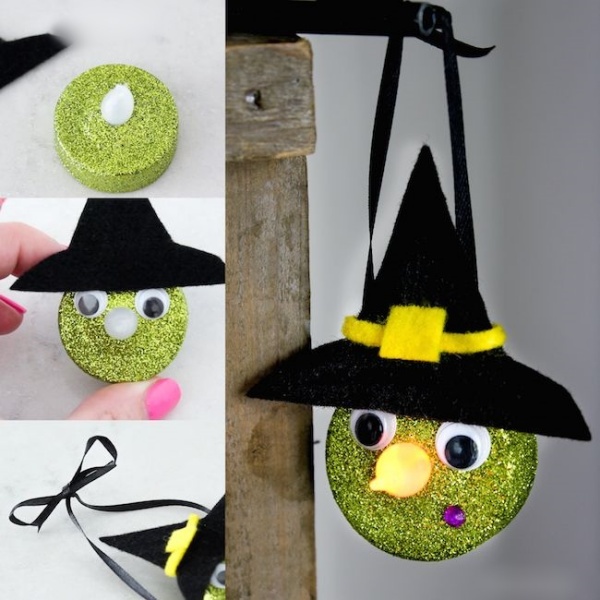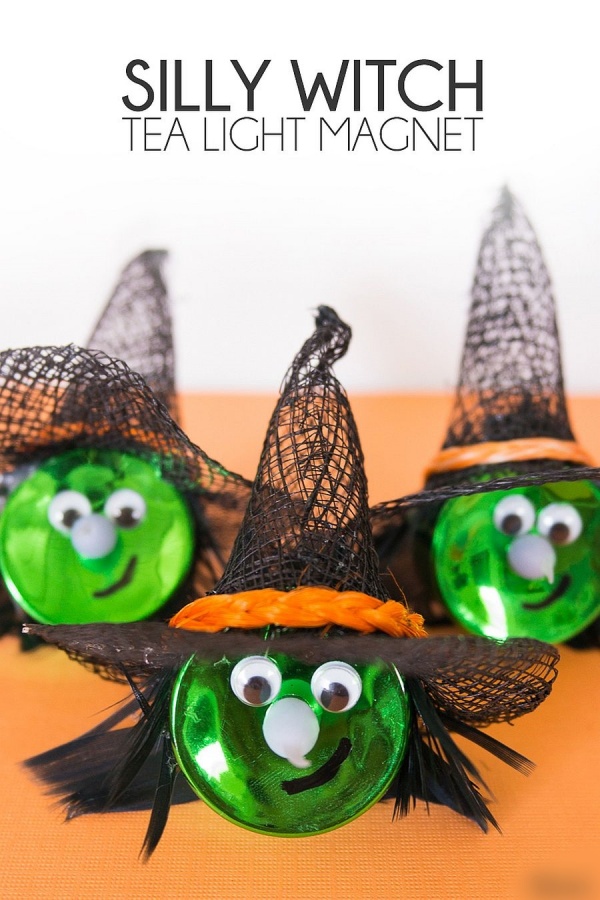 Witch décor is among the highly underrated Halloween party decoration ideas. However, using some tea light witch décor is an excellent idea for Halloween party decorations. First, take a tea light candle and paint the base into any color of your choice, avoiding the tea light. Now, stick googly eyes in the front of the candle and paint a crooked smile. Finally, make a paper cut witch hat and stick it on the top.
Witch's Broom Chandelier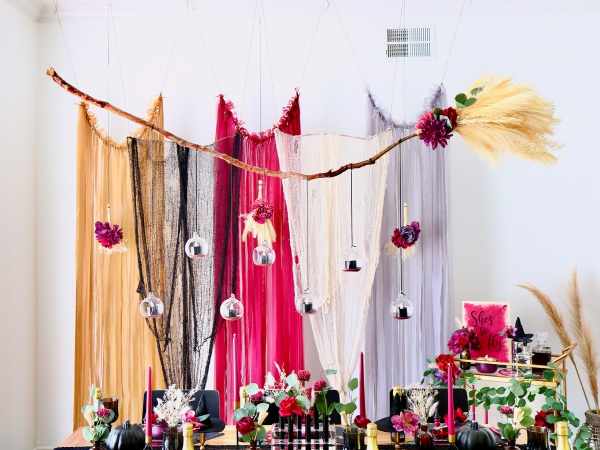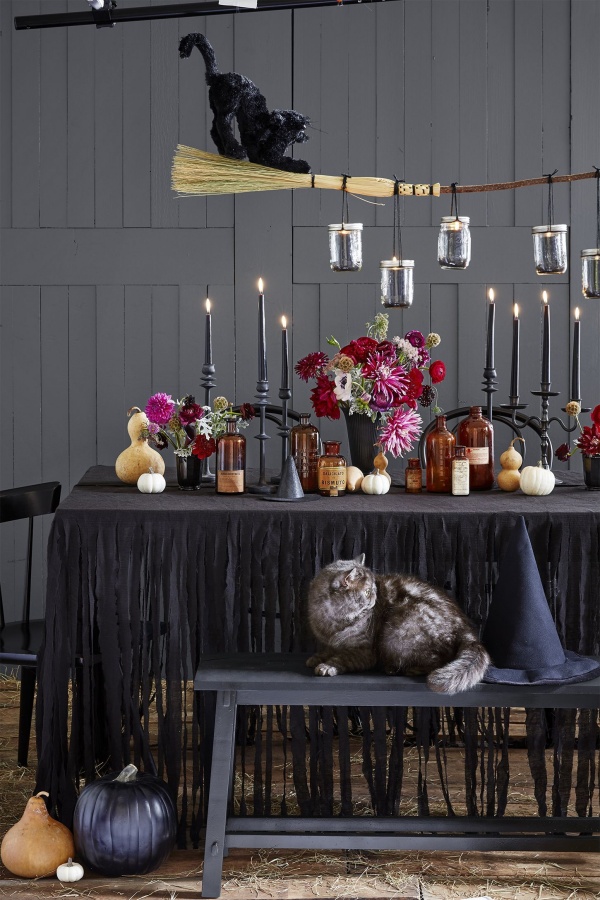 Making a witch's broom chandelier is a great Halloween decoration idea that can be very pretty. To make one, you will need a branch as the broom's stick area on the edge of which a big bunch of artificial or dried grass should be fixed very securely. This broom can now be decorated simply with colorful artificial flowers and leaves, or you may use some plastic insects. Further, some glass globes can be hung from the branch with a thin ribbon or twine. Tea light candles, dry flowers, or plastic insects can be places within these glass globes.
Spooky Halloween Balloon Garland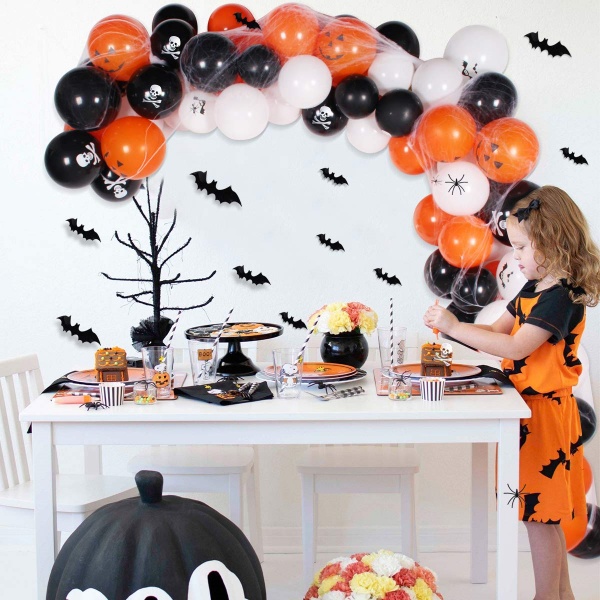 Balloon garlands are a charming and elegant way of decorating your house for any party. A spooky Halloween balloon garland account as great Halloween party decoration ideas too. First bow balloons of black and orange color or even white color. Tie four balloons together with the help of a balloon tape or twine and make as many of these as possible. Now secure these balloons in a long twine. When the desired length is reached, hang this garland from the ceiling. Additionally, you may add some bat, pumpkins, witch's hat and other shaped paper cutouts, spider webs, and so on.
Diy Halloween Chandelier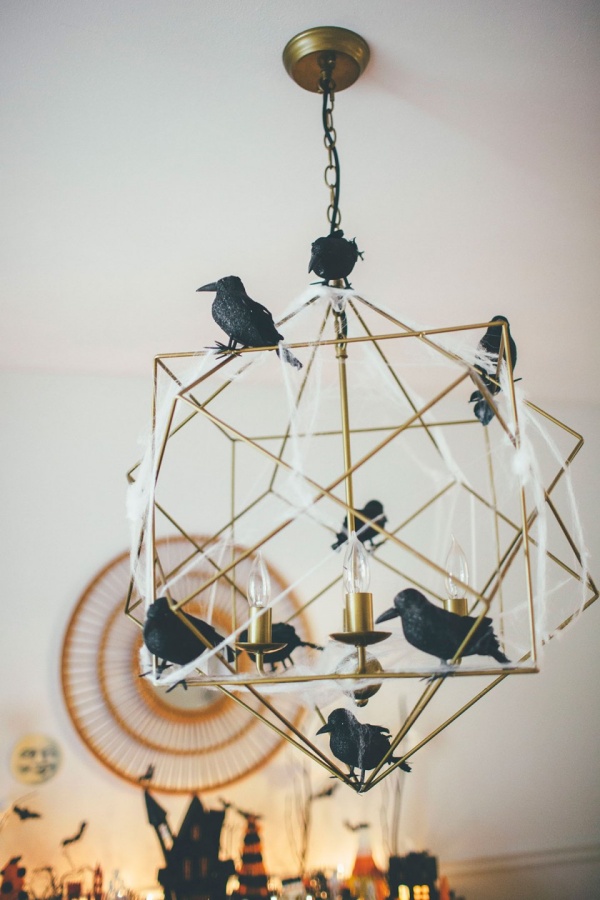 Some Halloween party decoration ideas can be incorporated into making Halloween chandeliers. Plant hangers work as great bases for these chandeliers. On this plant hanger, you can use black beads of different sizes and wrap them around the wires of the hangers. Leave some beads hanging from them too. You may also use wooden beads for the purpose and spray paint them black. Apart from beads, you can also attach plastic skulls to these plant hangers with the help of wires. Hanging bat shape paper cutouts or some plastic insects make grand chandeliers too.
Witch Hat Pinatas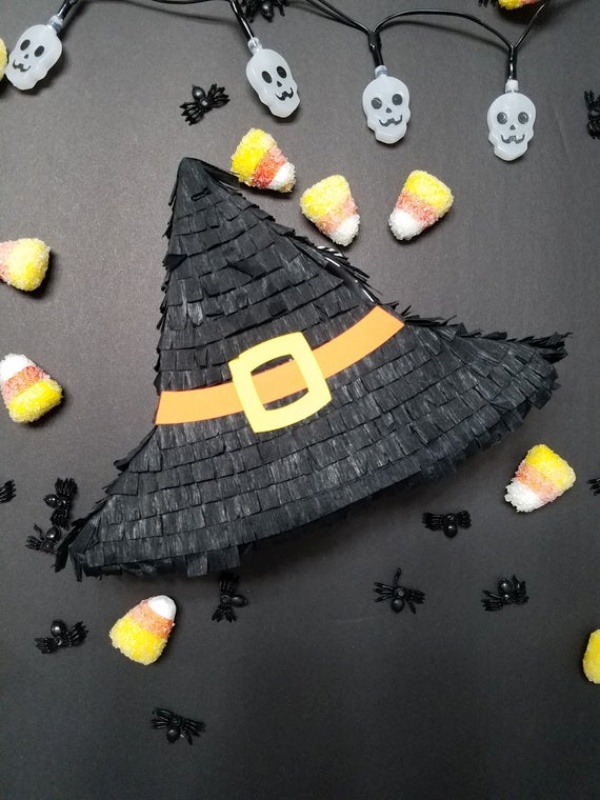 Parties without a piñata become really, very dull and plain. So, why not look for some other Halloween party decoration ideas like making a witch's hat in piñata style! Use black craft paper to make a cone and make a ribbon loop on top of the cone. After that, on a cardboard outline the circle of the size of the cone. Cut a circle that is 3 inches beyond this hole and cut a tiny hole in the middle. Now, paste a black craft paper on this board and cut it in the same shape. Glue the cone right at the center of this circle. Now cut some fringe streamers and fill the cone. Add some treats to them too. Next, cut a circle from the craft paper of a size bigger than the hole, and make a ribbon pull. Paste this paper cutout on the outline of the hole.
Spooky Elizabethan Crows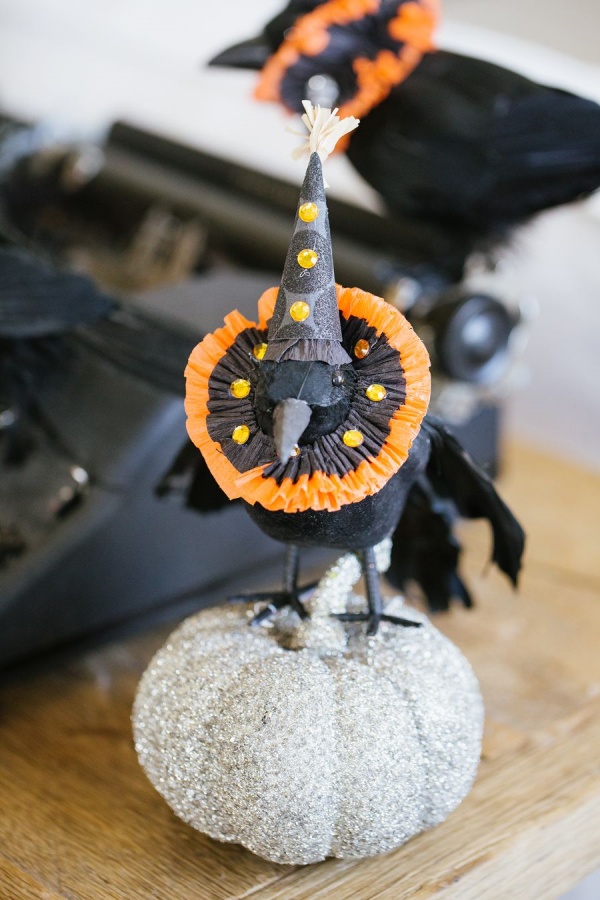 How can we miss the spooky crow when thinking of all the possible Halloween party decoration ideas! Crow toys are very readily available in the market. All you have to do is use your creativity to spook them up. You can use butter paper or crepe paper and cut them into one or 1.5-inch stripes. Fanfold these stripes and paste one ruffled edge throughout a twine or wire. Now, wrap it up around the neck of the crow toy. You can repeat this process more than once. Furthermore, you can make tiny paper cones and add some frills at the bottom edge of them. Then, use it as a hat of the crow.
Pine Cone Spiders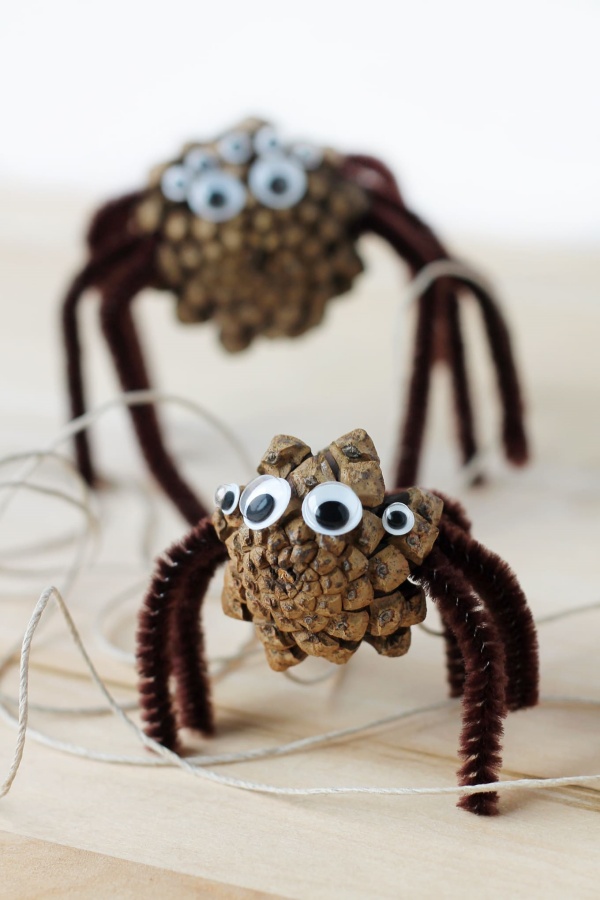 Spiders are creepy little creatures that are good Halloween decoration ideas. Although spider toys are available in the market, you can make these spiders at home. All you need is a pine cone and some brown pipe cleaners cut into eight equal lengths. Bend them halfway and paste four on each side of the pine cones. Two googly eyes then are to be pasted at the front. You can use many googly eyes of different sizes to give your pine cone spider a creepier look.
Eyeball Cake Pops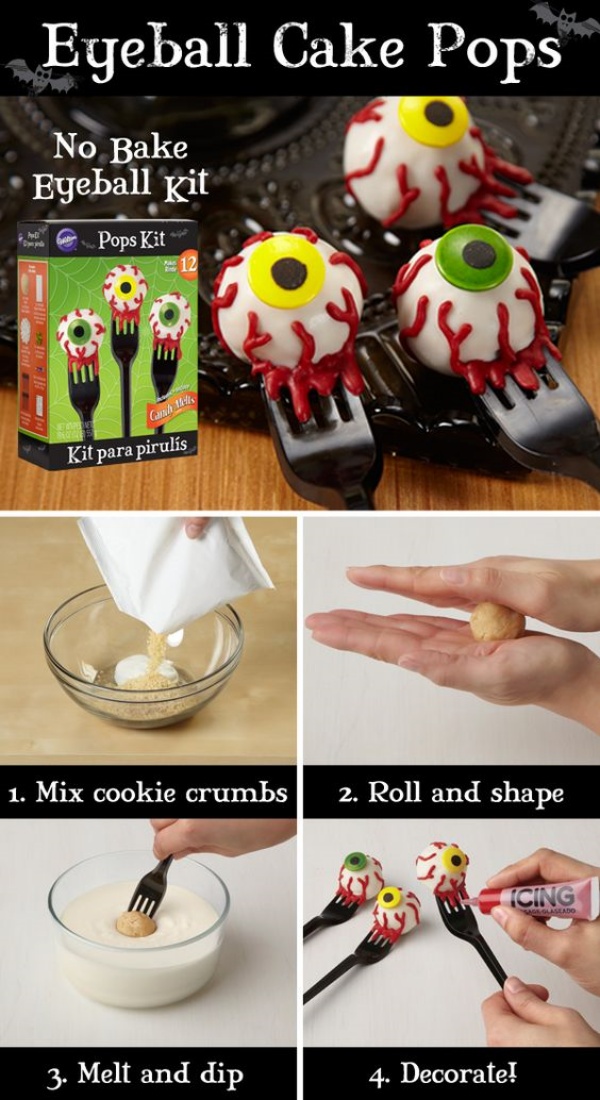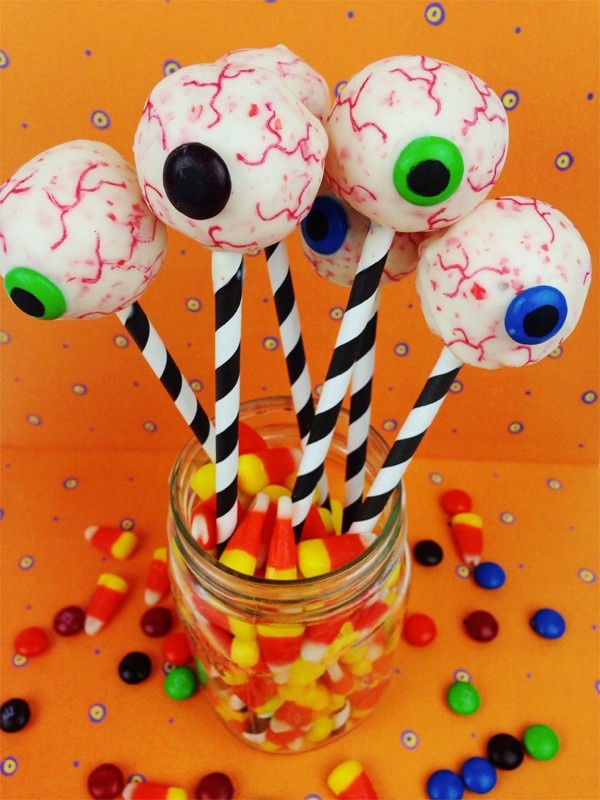 Cake pops are delicious desserts loved by people of all ages, whether kids, teens, or adults. When making cake pops for a Halloween theme party, it will be innovative to make eyeball cake pops. One advantage of making eyeball cake pops is that you can use any flavored cake for making these cake pops. Crumble any cake of your choice into a bowl, add some melted chocolate of your choice, and mix them well. Now, roll them into balls of the size of cake pops. Refrigerate them until they turn firm.
Conclusion
Meanwhile, melt some white chocolate in a bowl. Now, insert skewers or plastic forks in these cake pops and dip them in the hot chocolate mix. Refrigerate it again. Finally, make the pupils with gel icing or melted candies. You may even add blue or red veins. While you are trying to organize a great party for Halloween, the one thing that you cannot neglect is its decoration. Our Halloween party decoration ideas are pretty simple to execute by using some easily available materials. So, offer your Halloween party the perfect eerie look with these decoration ideas and celebrate the spooky day with your friends and family.
Related: