'Trick or treat?'- Did we ever miss out on our chance of heading towards the best Halloween party in town? Don't think so. Now, while discussing some of the sexiest Halloween costume ideas for women we would be spoilt with choices.
Let's say from the sexy little dressed-up wonder woman to the wicked witch with Dracula teeth, the scarier you look, the more points your costume would score. So, what's your pick on that line?

Of course, we all know that Halloween is quite far now, still, there's no end of prepping up well, right? I, mean, we can always think of all the exotic costumes that would occur as the biggest surprise for the next Halloween party.
On that note, let's bring out some of the brightest ideas. Have you thought of some? In case, you haven't then here we have your 'go-to' list describing some of the sexiest and coolest Halloween costume ideas for women.
All excited, right? Same for me as well. Now, browse through the list, have a deep understanding, and pick the style that makes you the scariest. Now, that was spooky.
Easy Halloween Costume Ideas For Women
Black Widow Costume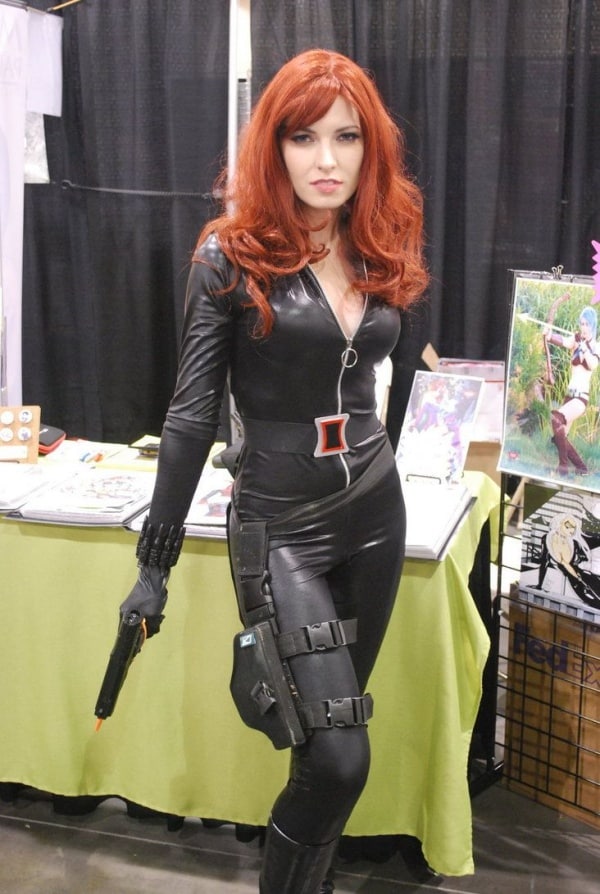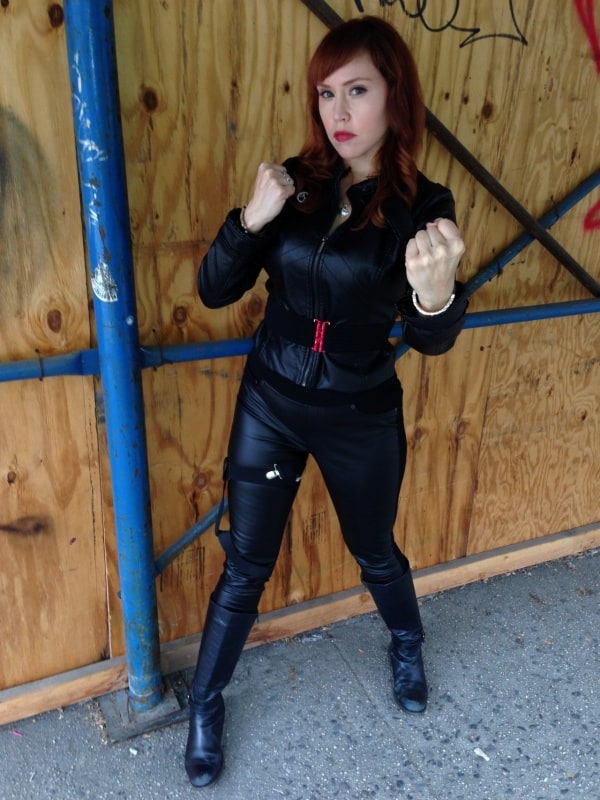 Any costume selected from the Avenger group is a hit, and the black widow costume is no exception. Ladies would love to sport this one, and the primary reasons for that being the color black, and secondly, the dress that makes the figure appear sexier than before. Besides, you don't need to work much on the make-up stuff, as all you need to do is to wear the dress, and then get fixed on the make-up that has an abundance of black. Smokey eyes would be a great one with light-red lip color.
Shuri Costume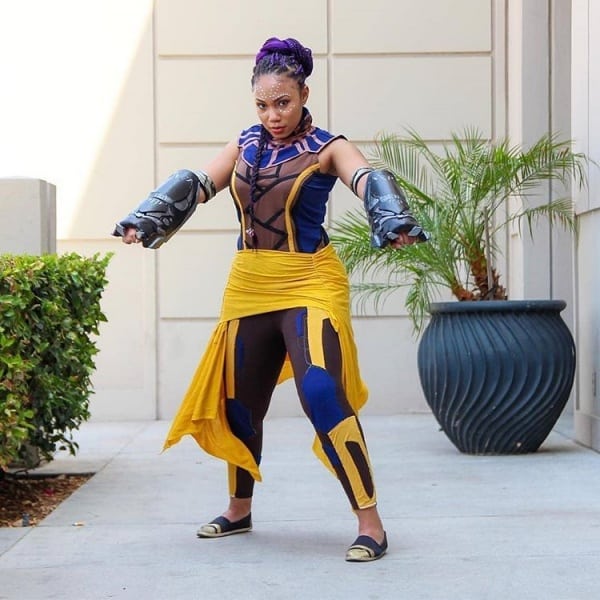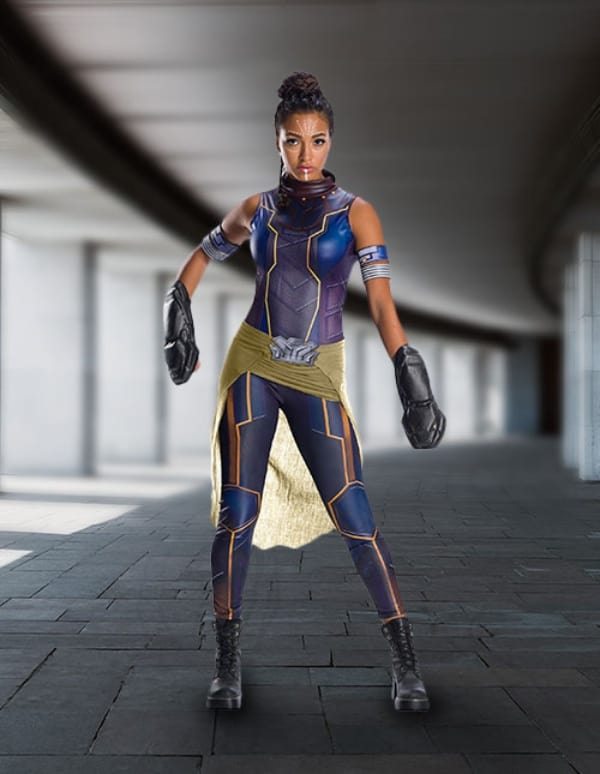 Here's your chance to double your Halloween excitement with the help of this newly evolved Black Panther Shuri costume. It quite supports the daredevil nature, where the costume includes a catsuit blended in blue and bronze, with armbands, gloves, and a belt attached with a sash. The entire costume is filled with electric colors and is the reason why it has become everyone's favorite. It is strikingly attractive, looks appealing to the eyes, and thereby, a great one for the party next.
Wednesday Addams Costume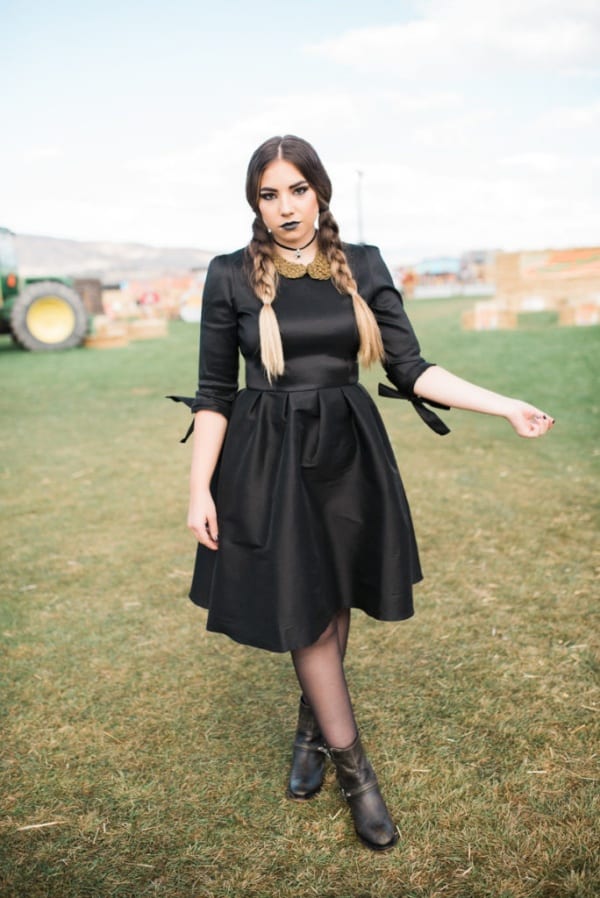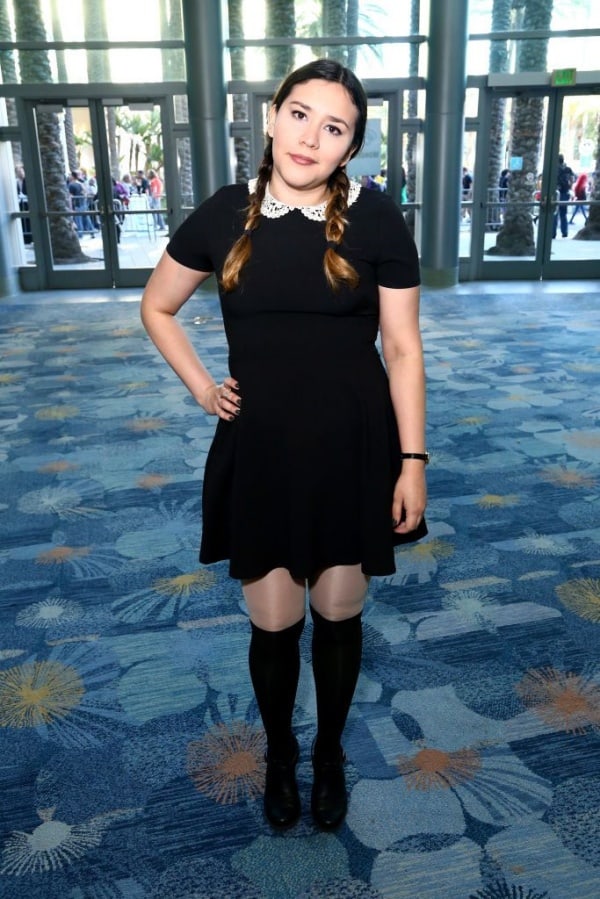 This is one of the coolest DIY Halloween costume ideas for women. This is also one of the easiest to get, as all you need is a small black skirt, a full- sleeve black sweater, with boots, and two long braids hanging from either side of the head. Of course, the entire appearance makes it an easy name to attempt from the list. For inclusion, think of making your eyes black with the deepest kajal, or eyeliner, and yes, you are all set with your desired look.
Beatrix 'The Bride' Kiddo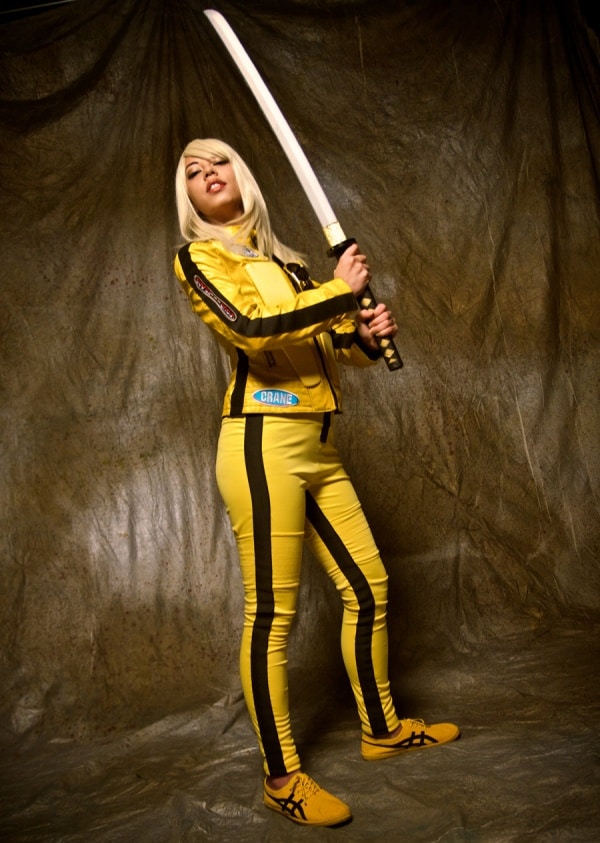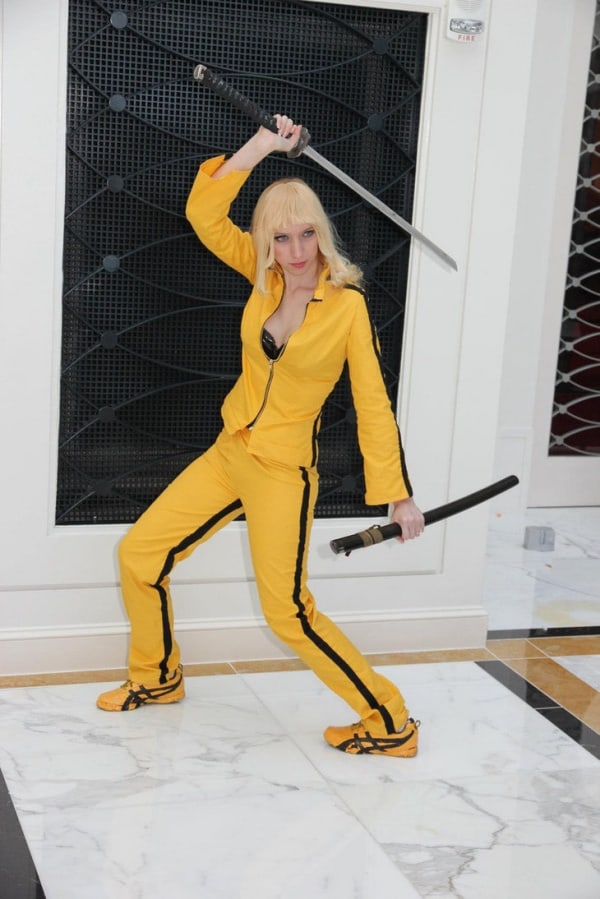 Who would miss the chance to become one of the 'deadliest women on the planet'? Yes, we remember the antics of Uma Thurman, thereby girls would be more drawn towards the costume. Her one-piece suit in Golden and black is not difficult to create. They ensure comfort to a great level and are easy to wear. Besides, you can also go blonde if you want. The best part remains that you don't need to think much regarding footwear. Grab your favorite pair of white sneakers and yes, you got that.
Katniss Everdeen Costume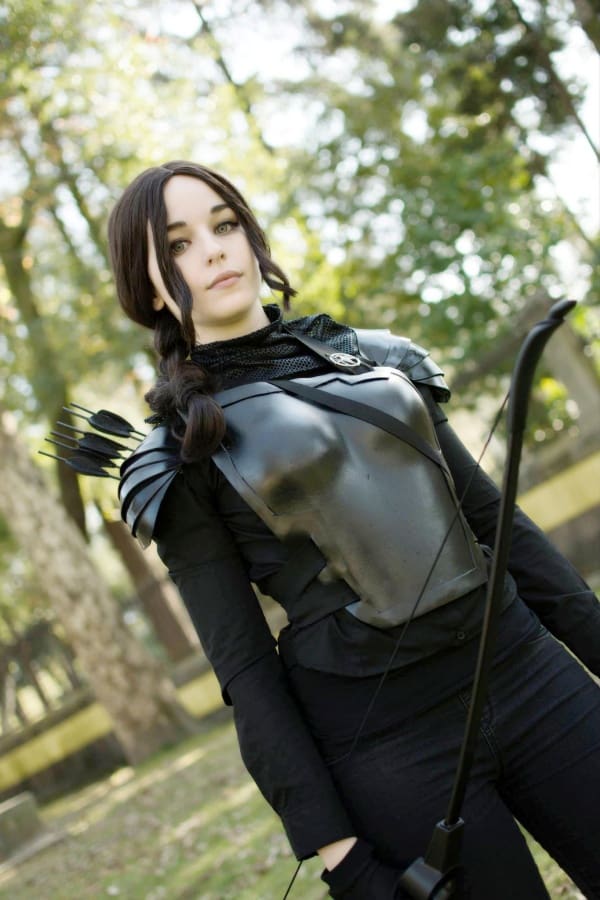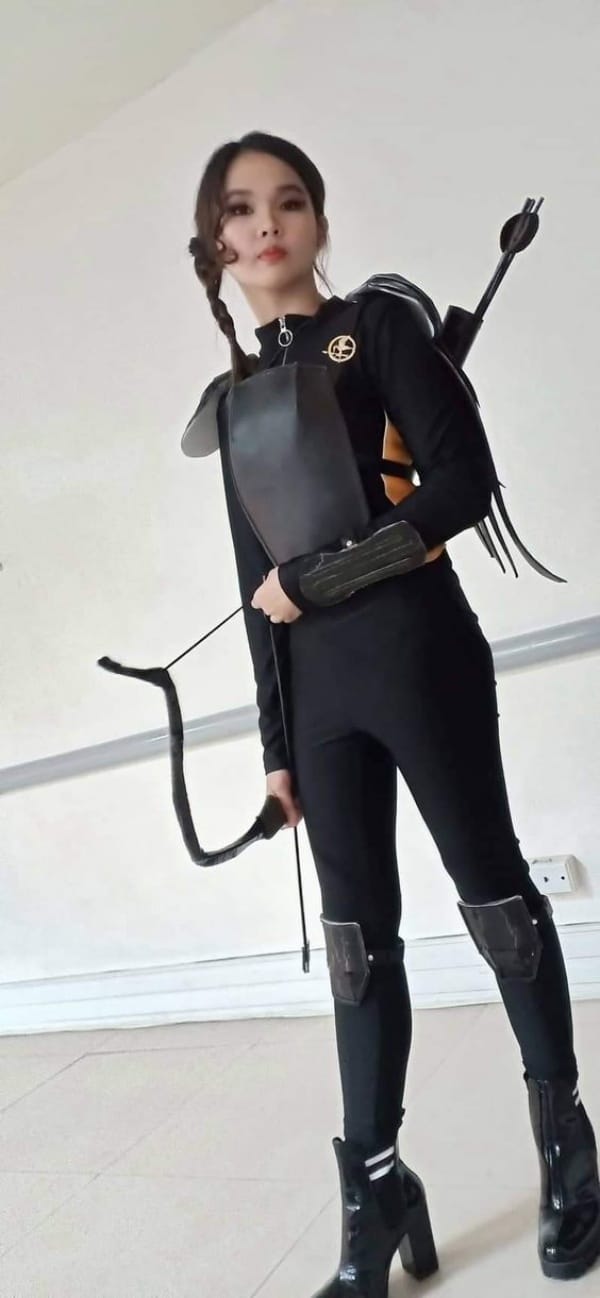 To dress up like Katniss Everdeen, garb a pair of olive jeans and then combine it well with a long-sleeved black t-shirt, for a great start. For enhancement, add a leather jacket with brown combat boots to get you well on your way to becoming the 'Girl on Fire'. In the end, don't forget to take Katniss's signature braid, with the bow and arrows. The dress is quite attractive with the flame design, including a lot of gems in red, yellow, white, and bits and pieces of blue.
Catwoman Costume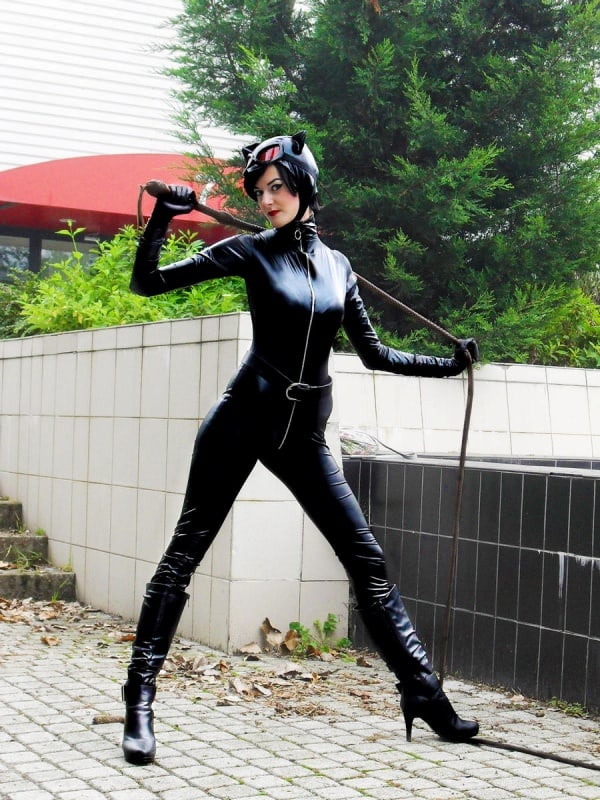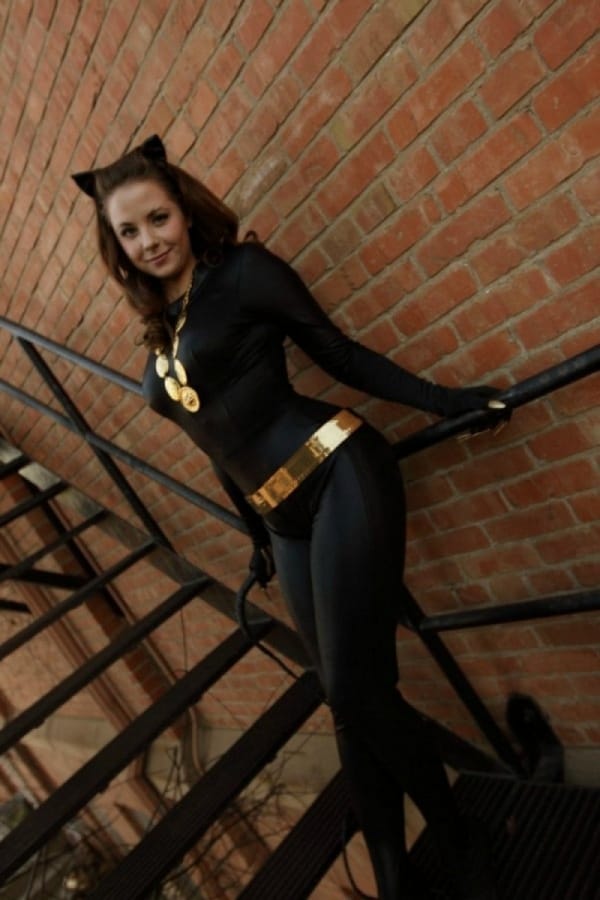 One of Batman's most famous companions, the Catwoman is mostly known for her mask and costume. However, while you are pining for this one from the list of Halloween costume ideas for women, you can't afford to miss the tail. The black eye mask, the hood, the ears are also part of this ensemble get them in order, place them well, and wear the costume in style. Besides, it is also quite flexible, thereby another reason why women would love to wear it.
Princess Leia Costume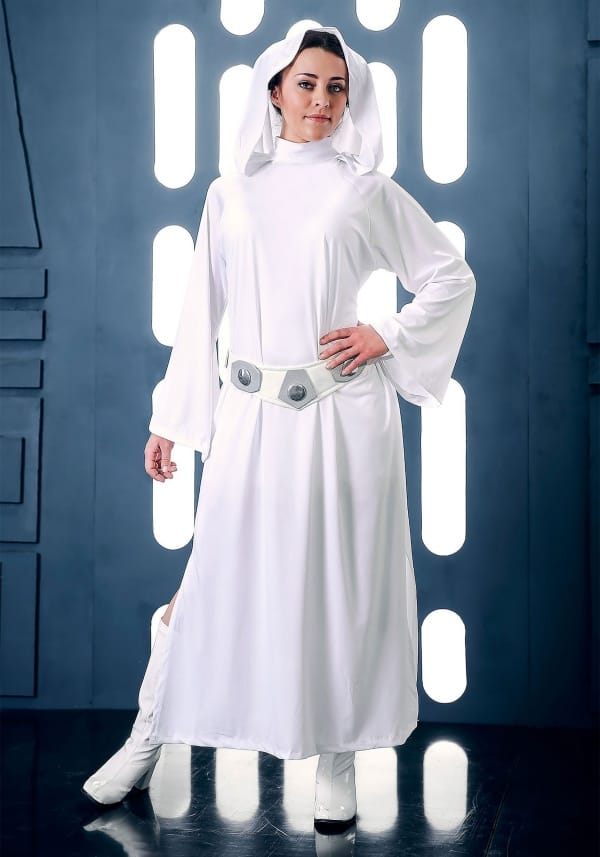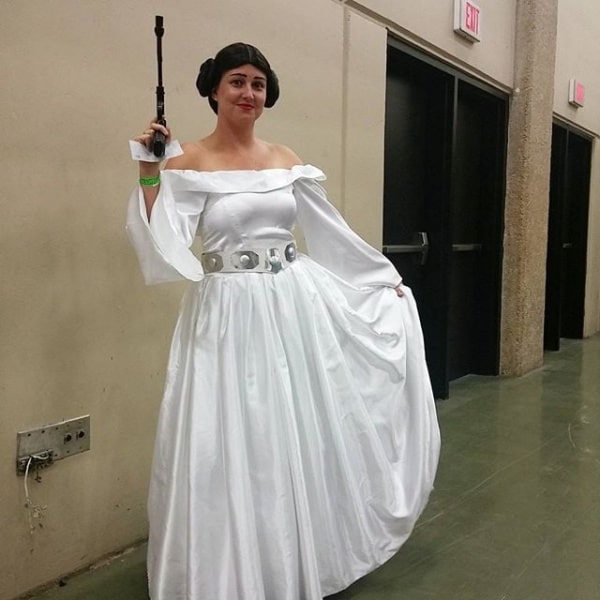 A big shout out to all the Star Wars fans out there. Be it Princess Leia's costume or her hairdo, we had loved her in every bit. Thereby, while aping the Leia costume think of the white, loose-fitting gown, that also has a hood with long, flowing sleeves. Try to accessorize it with a silver belt in the mid-rife. Now, we also have another option where Princess Leia wore the iconic golden and red bikini. In the last bit, you would also need red-colored knee-high boots to complete the look.
Daenerys Targaryen Costume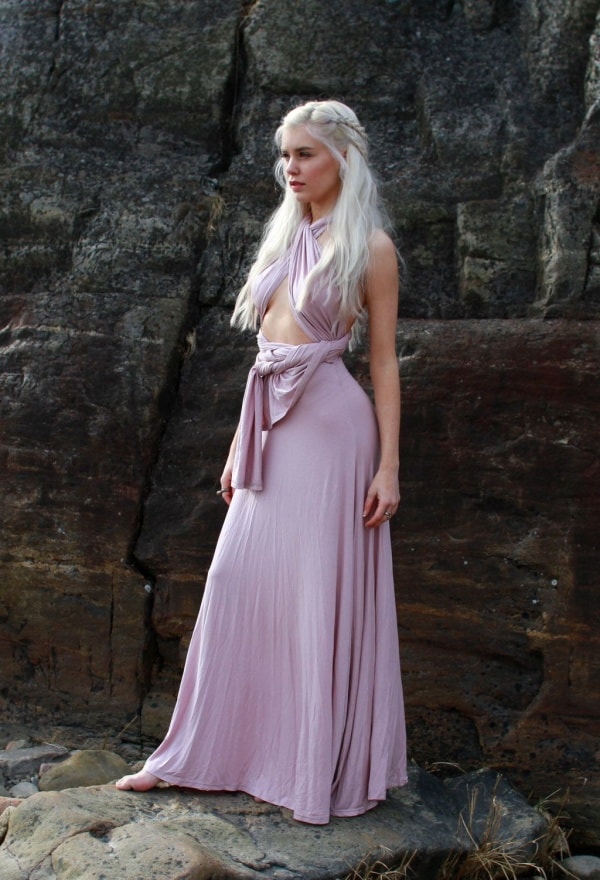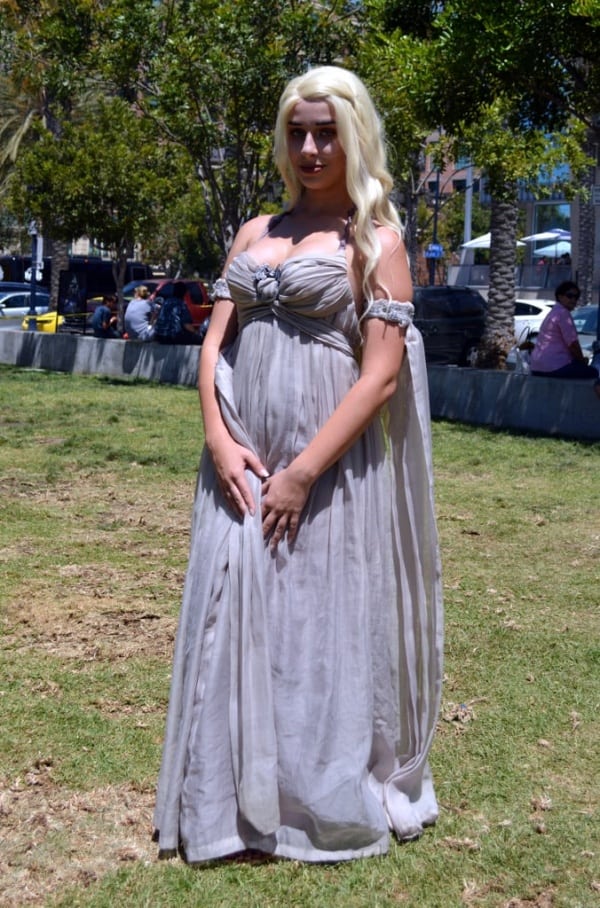 How many of you can already hear the GoT theme music being played in the background? Well, count me in. Khaleesi was an iconic character from the show, and so we need to mention her black fur coat. Like any other costumes from the show, this one is not quite extravagant, however, has its beauty with long stockings and shoes. Besides, while planning on for this one, you can't afford to miss out on the white long strands, or should I say Khaleesi's famous hairdo.
Sandy Olsson Costume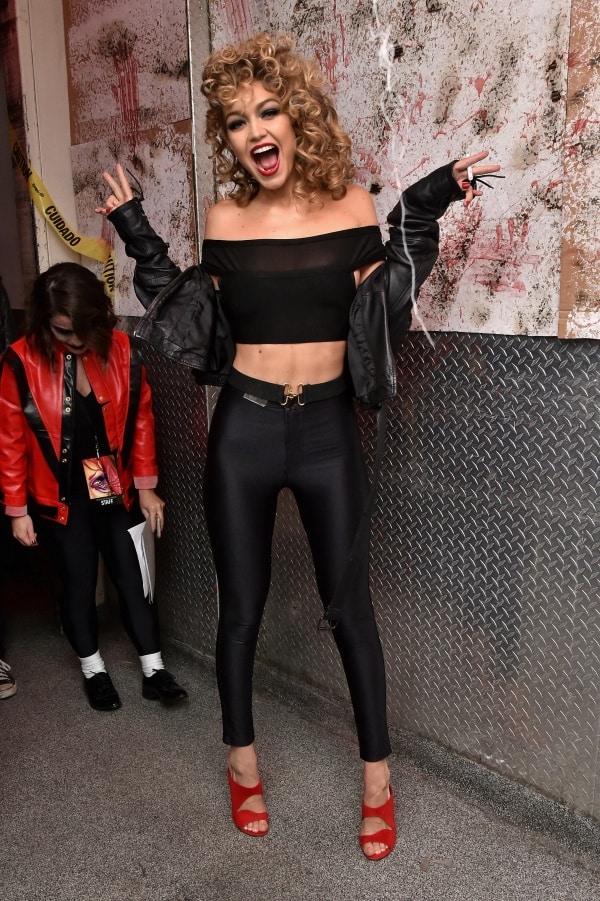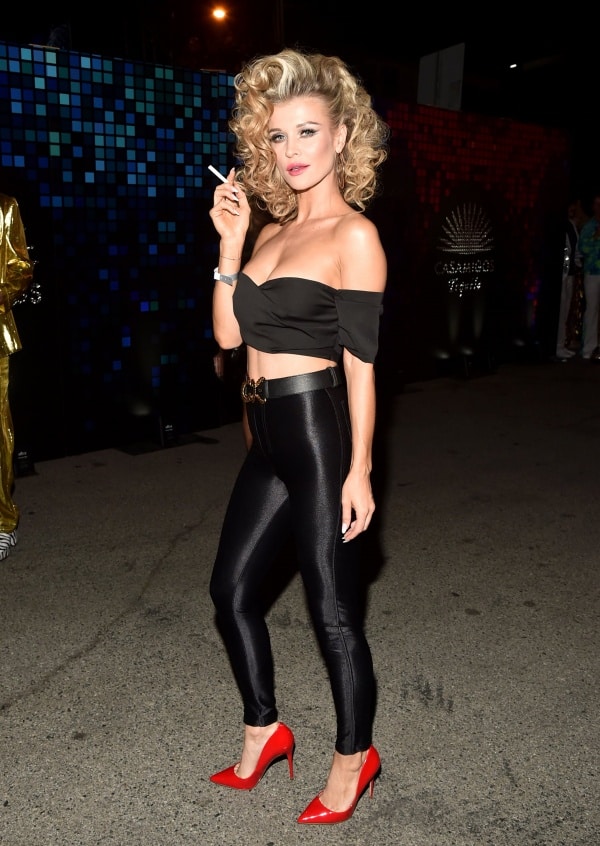 Even if the costume looks more like a Summer special attire, yet you can consider this as one of the Halloween costume ideas for women. It's also quite easy to create as it involves a black catsuit, with a jacket, and of course, an attached belt. The yellow looks bright enough to steal the show, thereby you don't need to put an extra effort into the hair or makeup. Think of placing the curls well, a deep-hued lip-color, and that's enough for rocking the look.
Princess Anna Costume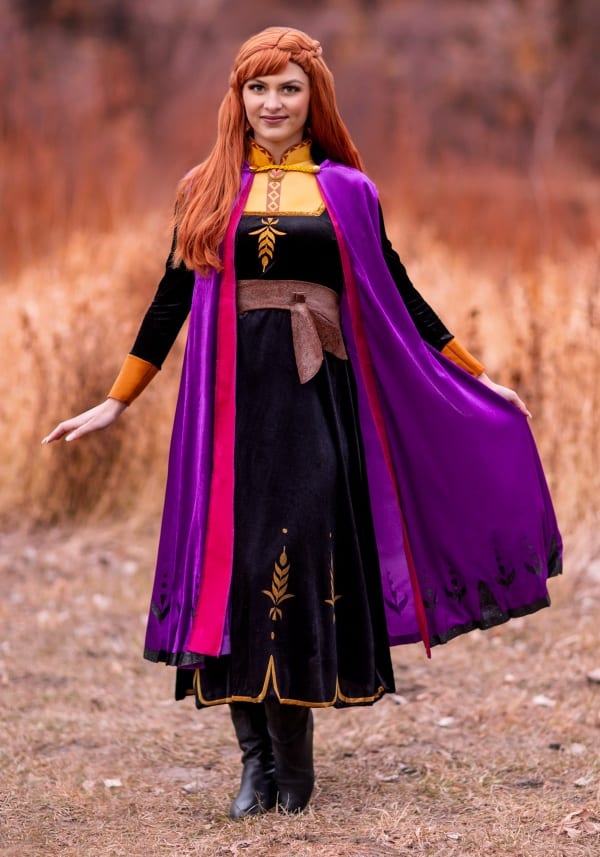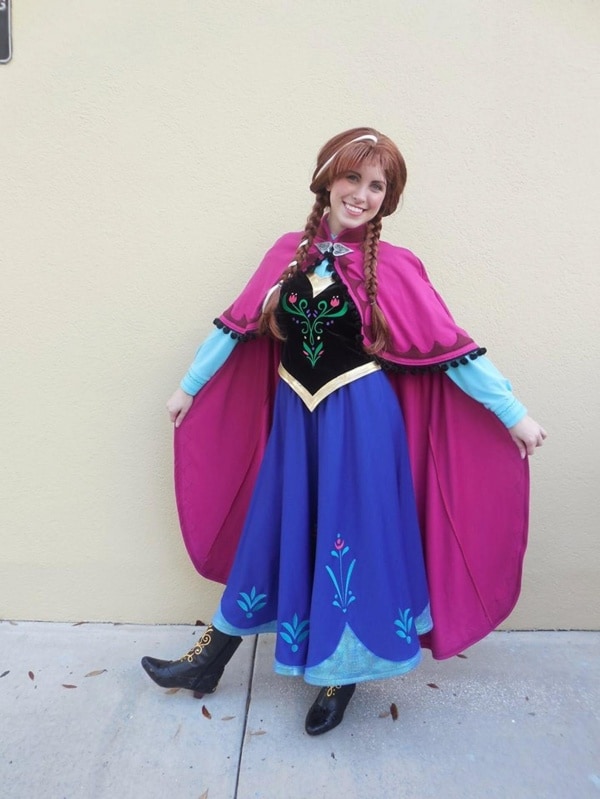 This one is sure to hit a score, especially for the children's Halloween costume party. They would love to imagine them as the adventurous Princess Anna, sporting her shimmering blue skirt, which is topped by a black sequined bodice with a rosemaling filigree, and also including a fur-trimmed satin cape. The entire look is quite scintillating, and thus, would be loved by the kids while they wear it. Pair up the ballerina shoes well, ask them to put on the most joyous smile, and let the spotlight be fixed on them.
Edna Mode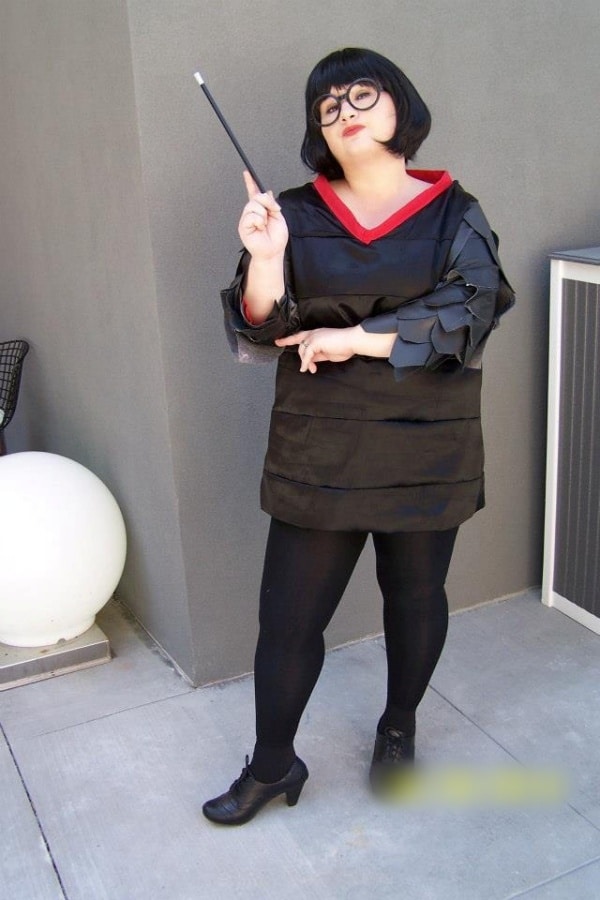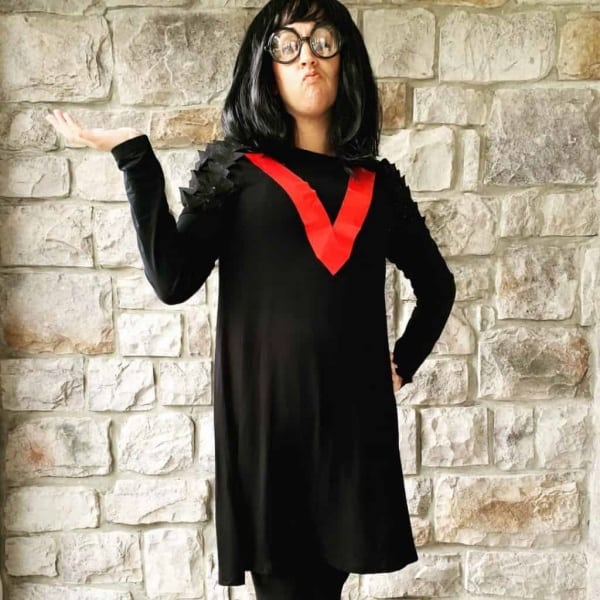 Edna Mode is the coolest nerd ever. So, while you are seeking the simplest Halloween costume ideas for women, this is the ideal one for you. Now, staying in the super chic pad might appear to be a little bit chilly so just like Edna, it's better to choose a pair of black leggings. Edna wears a black skirt to add an extra layer to her outfit, so you can try the same. For more, you can also wear the black understated flats, while for a pop of color, you can also a triangular red collar.
Ghostbuster Costume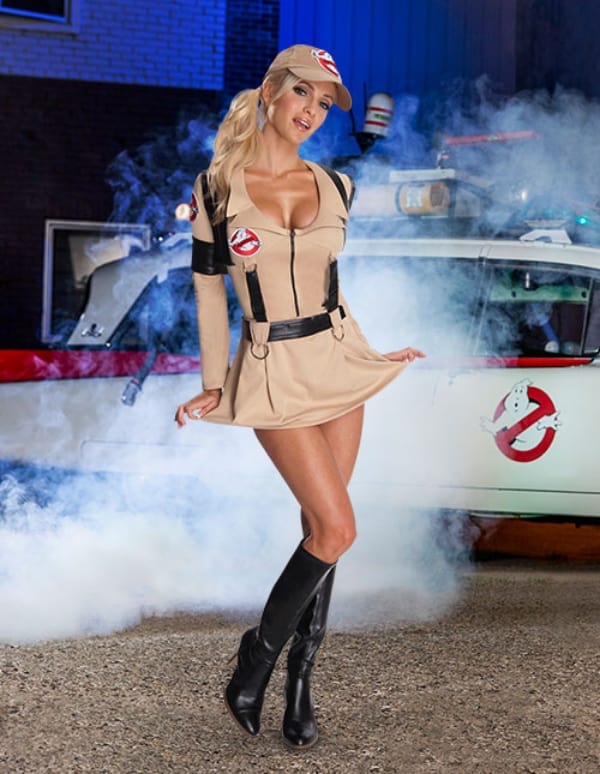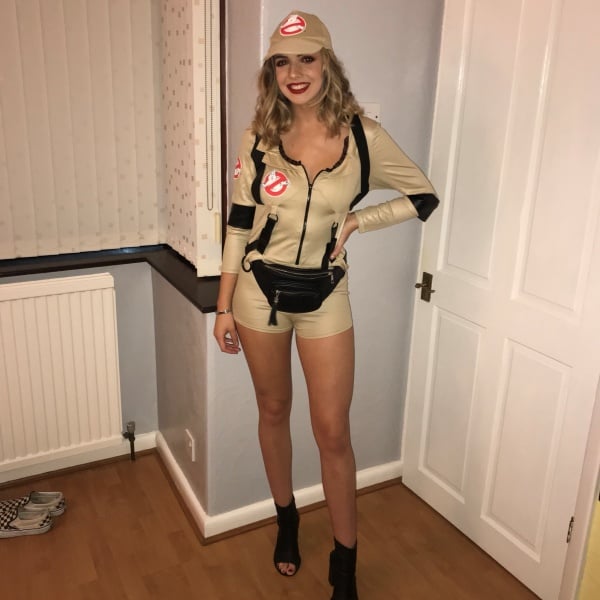 I can already hear the humming of the Ghostbuster tune right in my head. This is one of the Halloween costume ideas for women that might be a tad bit hard to find. However, if you are determined of getting this one, this one is sure to make you the show-stopper. The entire package consists of jumpsuits with a front zipper, the screen-printed Ghostbuster emblem, and the 'proton pack' backpack made from vinyl or plastic. The backpack is certainly the most important attribute with the gun.
Xena: Warrior Princess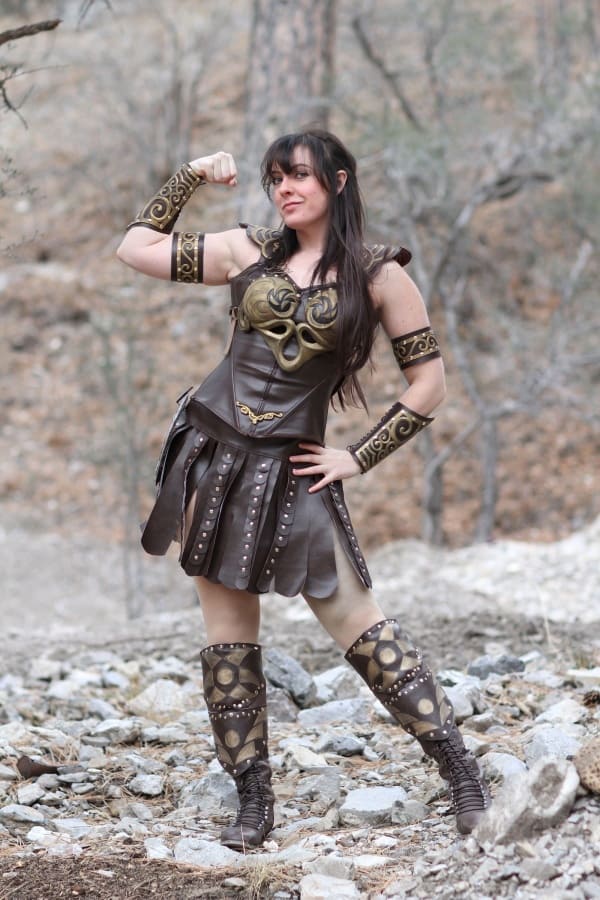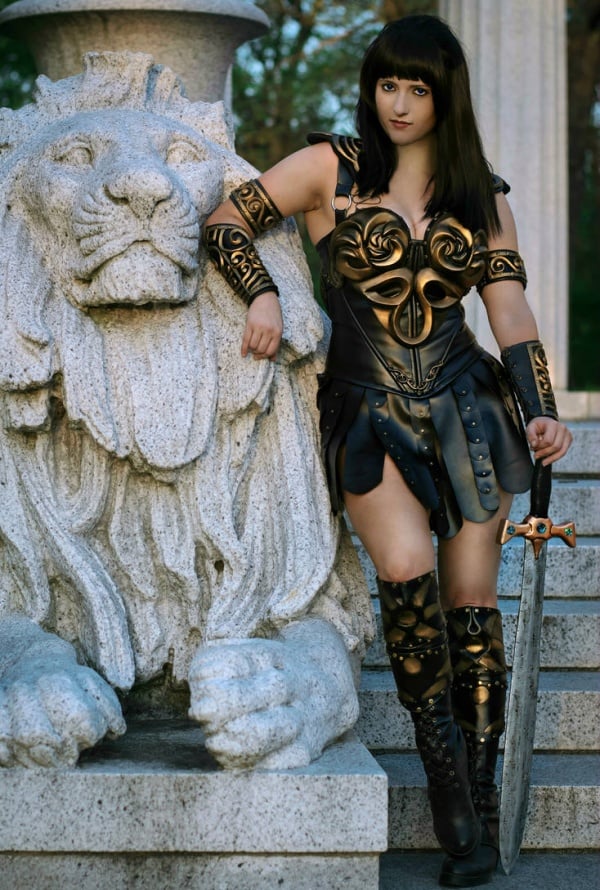 Girl, grab your chance to dress up well with the Warrior Princess costume. The Xena Warrior Princess Costume lists a printed armor, Xena Dress, along with the golden printed gauntlets, armbands, and sexy knee-high boot covers. Lift your spirit by getting the accessories like a brown-round locket and similar earrings. To make it sultry, think of getting the best eye make-up with a nude-toned lip color. Yes, the entire look is edgy and tough, and that's how you become the rustic beauty.
Louise And Tina Belcher Costume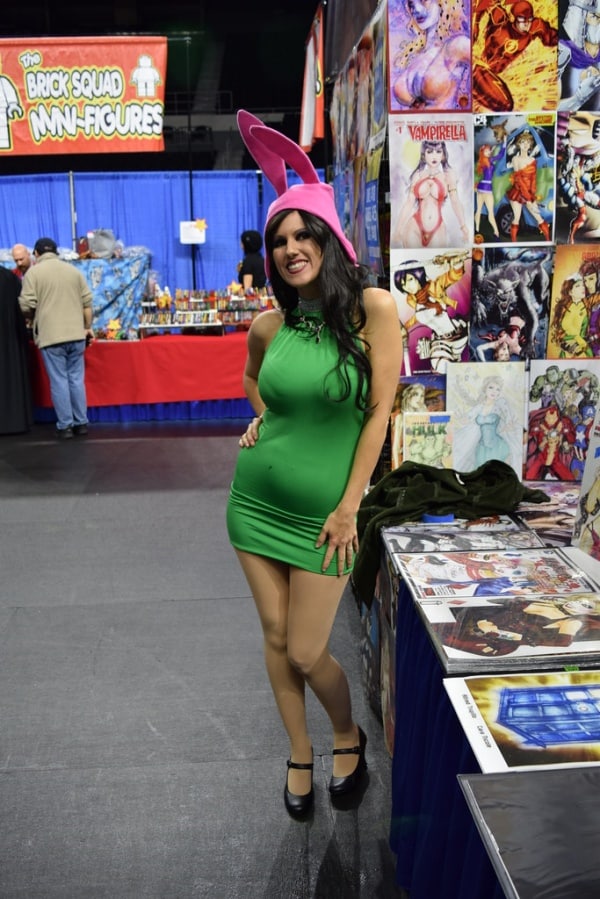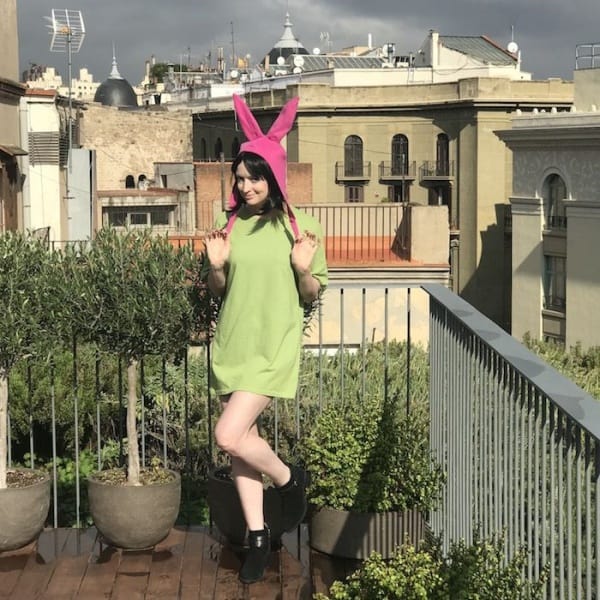 Here, is the best idea to hit a Halloween costume party with your best friend. Both of you can get dressed in either of the two costumes and be the coolest out there. If you are wearing a short green dress with pink big ears, ask your friend to get donned in a blue top and short skirt, and of course, knee-length socks and sneakers. If the idea seemed perfect, then you have got your style for the next party that you would be hitting.
Sailor Moon Costume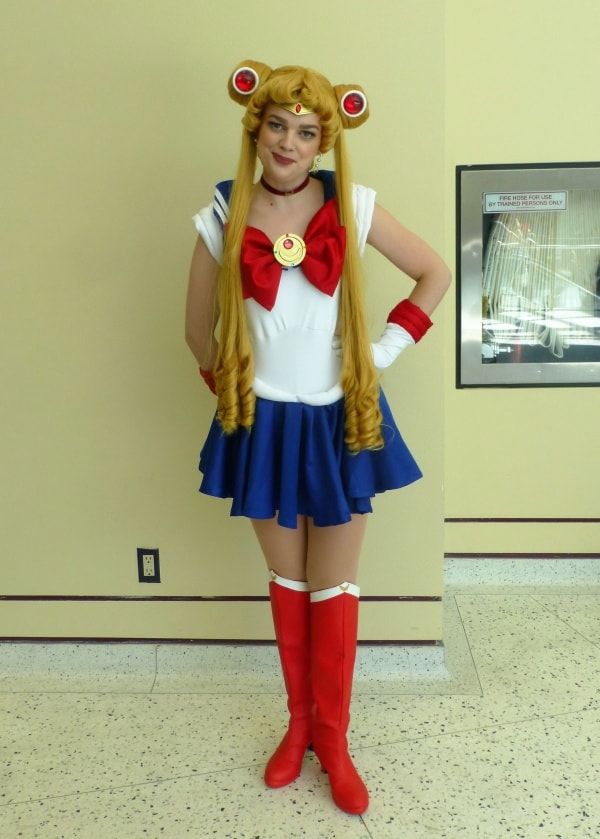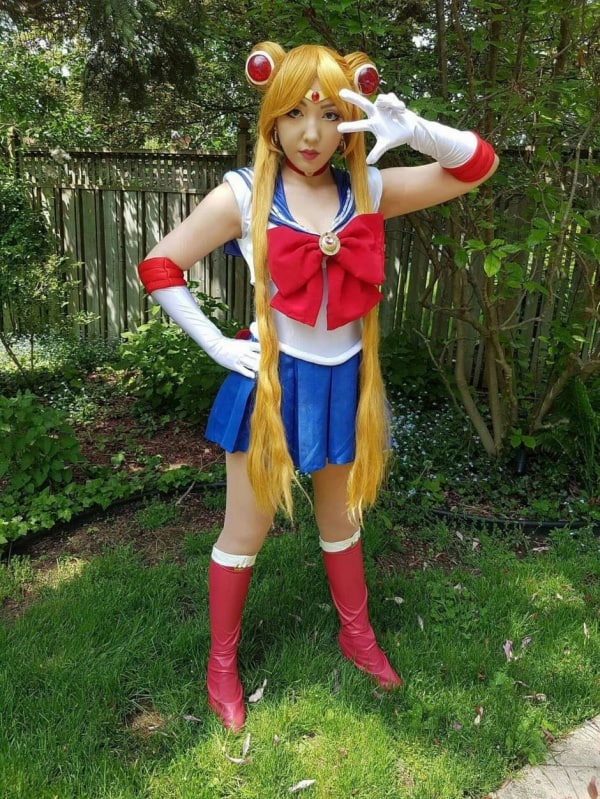 Sail your life's ship through the turbulences of life. But, for that don't we need a sailor? Well, if not in reality we can always think of dressing up as a sailor as one of the Halloween costume ideas for women. If yes, is your thought then opt for the knee-length white and blue scout dress that also has the typical red scarf shaped perfectly. Of course, there are the red-colored long boots with white hand gloves that also touch the elbows. Wasn't that cool? Then get it one for yourself.
Rosie The Riveter Costume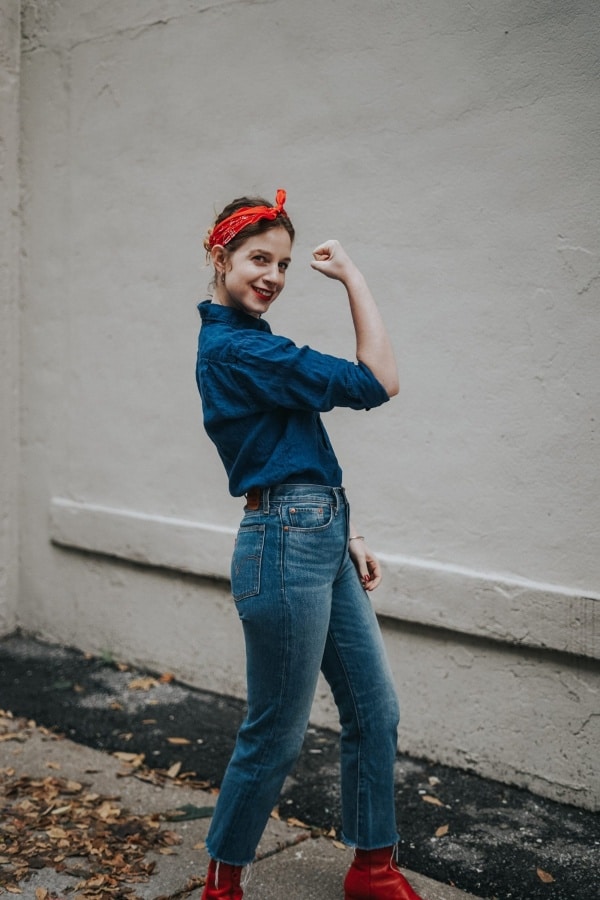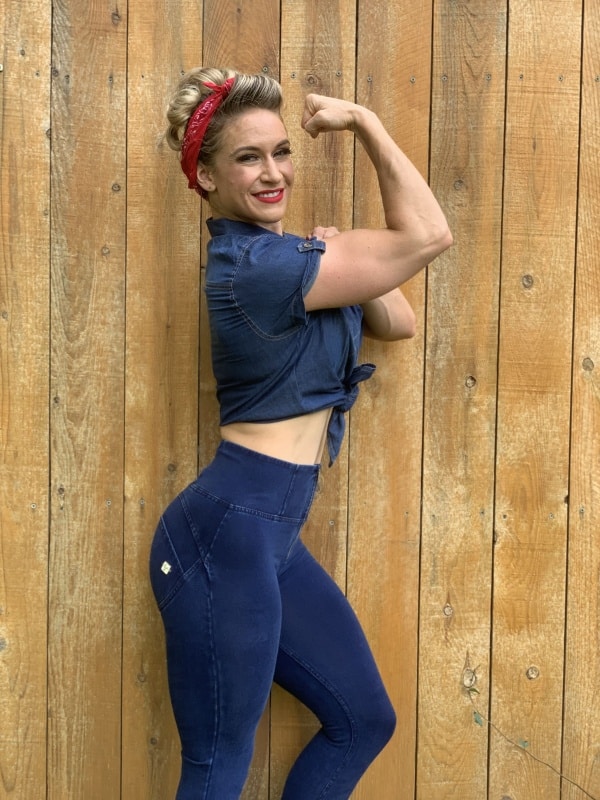 Deep down somewhere in their hearts, every girl aspired to become like Rosie the Riveter. Can we ignore that? Certainly not. To start, we have the blue coveralls or a dark blue work shirt with jeans. With that, we must also have the black or brown work shoes to be counted as a part of the ensemble that would help you to become Rosie. Yes, we have got her to look. Now, comes her famous posture that has hit the frontlines ever than before. Of course, you know it better so get it right.
Arya Stark Costume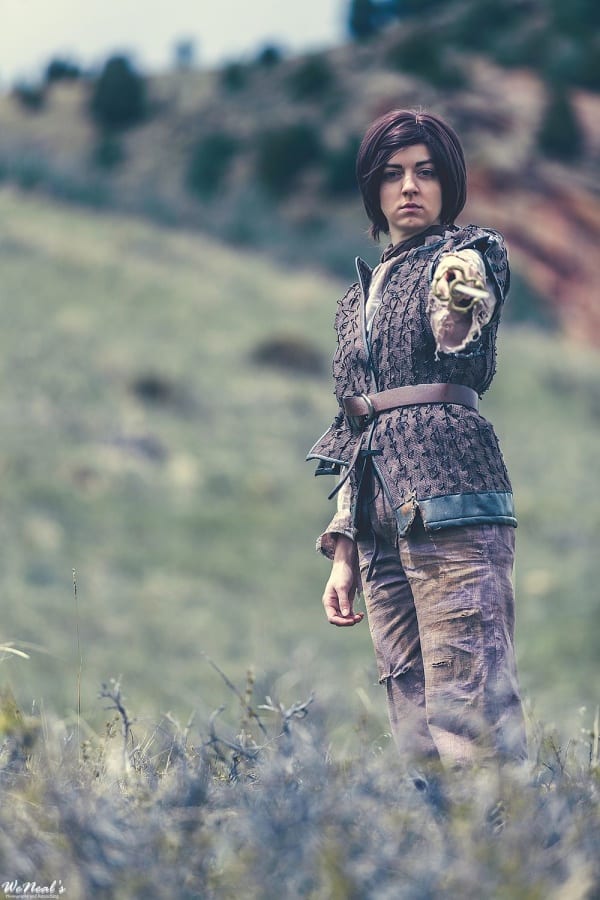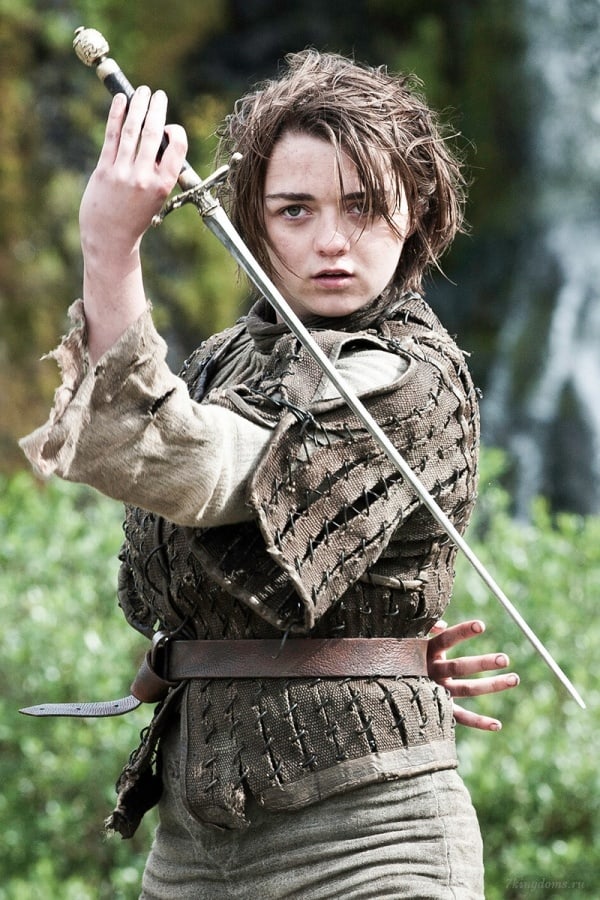 Yes, another Easter Egg for the GoT fans. Now, it is not easy to ape the costume of the Stark's younger daughter, especially when it became more complicated in the latter days. However, still you can try her costumes from seasons 7 or 8. There she was seen wearing an ensemble of Cloak, Coat, Pants, Skirt, Belt, Scarf, and gloves. Yes, you would also need inclusion of boots and weapons for the complete look. To try on more experiments, you can always think of the wig in case you don't have long black hair.
Elaine Benes Costume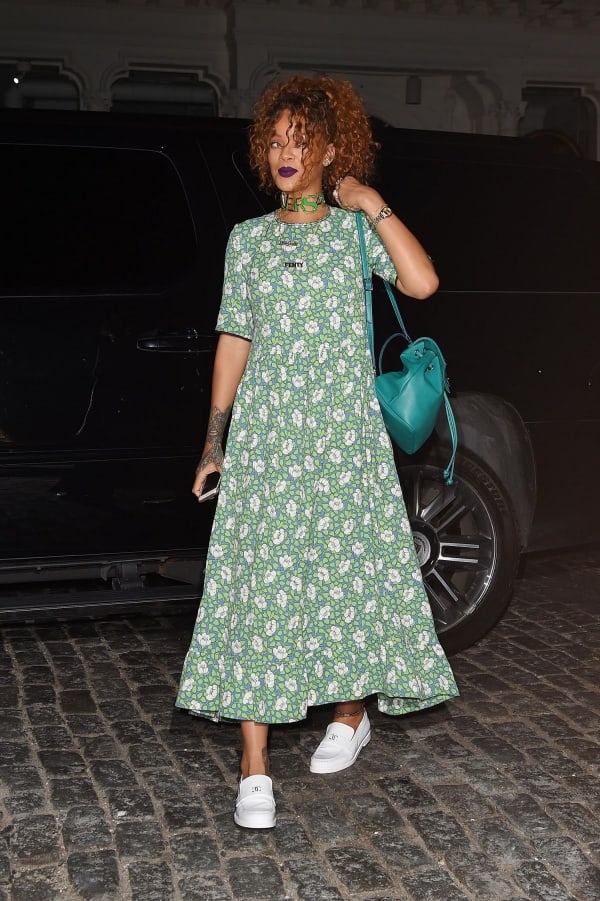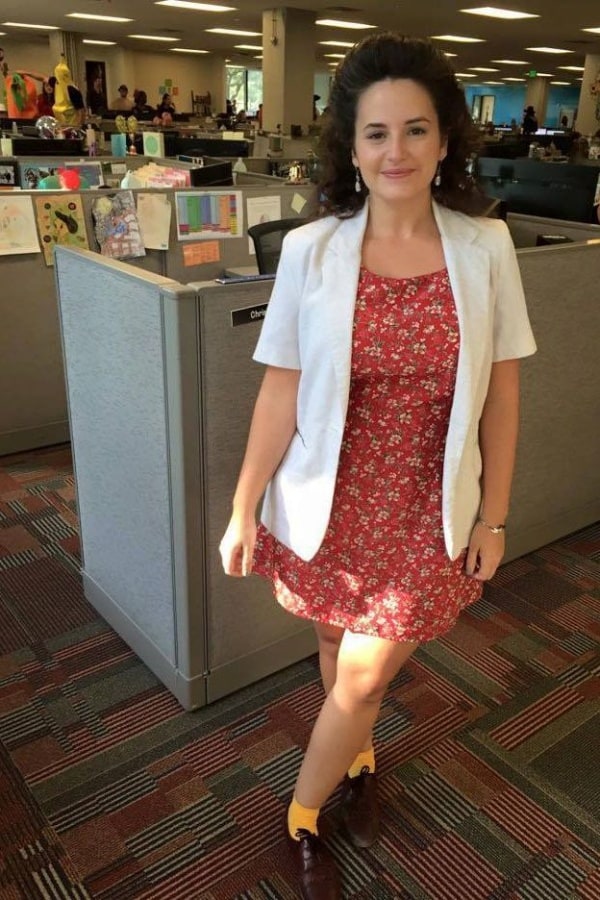 Now, we are turning back to the Seinfeld, and thereby welcome one of the most well-dressed and loved female characters from the show, Elaine Benes. Besides, this is one of the easiest to wear Halloween costume ideas for women. The best thing remains that you don't need to buy external things for dressing up properly. Turn onto the 90's vibe with any floral-patterned dress, simple shoes and socks, and the perfect curls.
Gamora Costume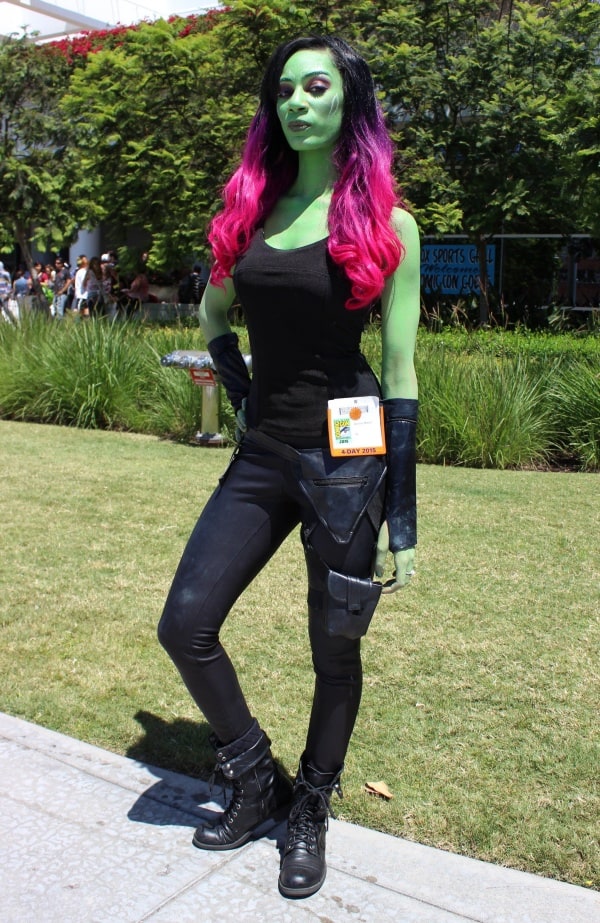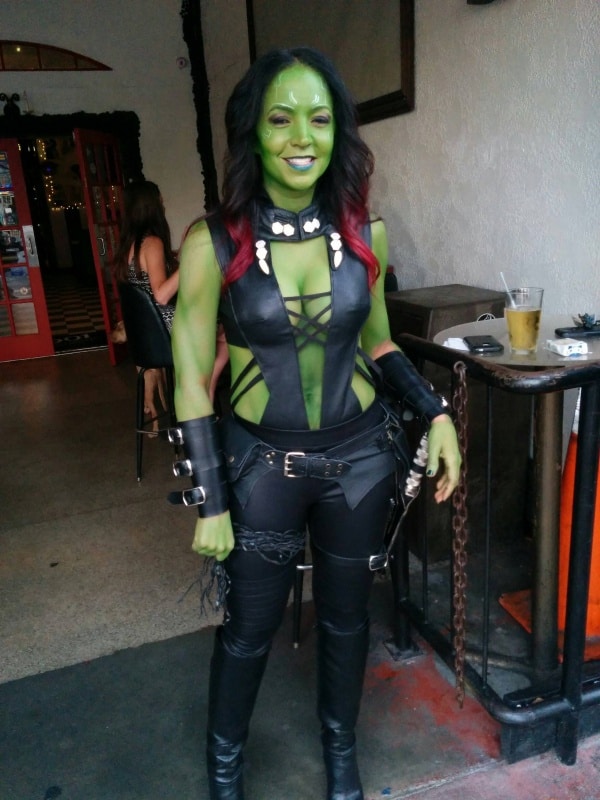 Gamora's outfit is quite exotic as it looks more like a mix between explorer and goth. It also seems that she is in love with her leather. She is also known for a black bustier, with black pants, black boots, and a dark long coat which stands out against her green skin perfectly. A major part of her costume is her green skin and red hair, so be careful in doing the same with your skin and hair.
Pink Power Ranger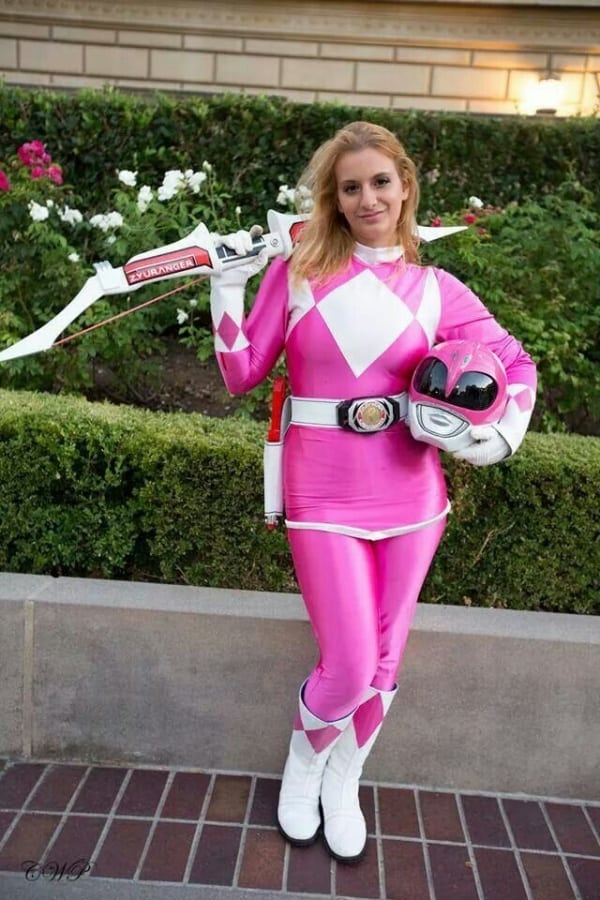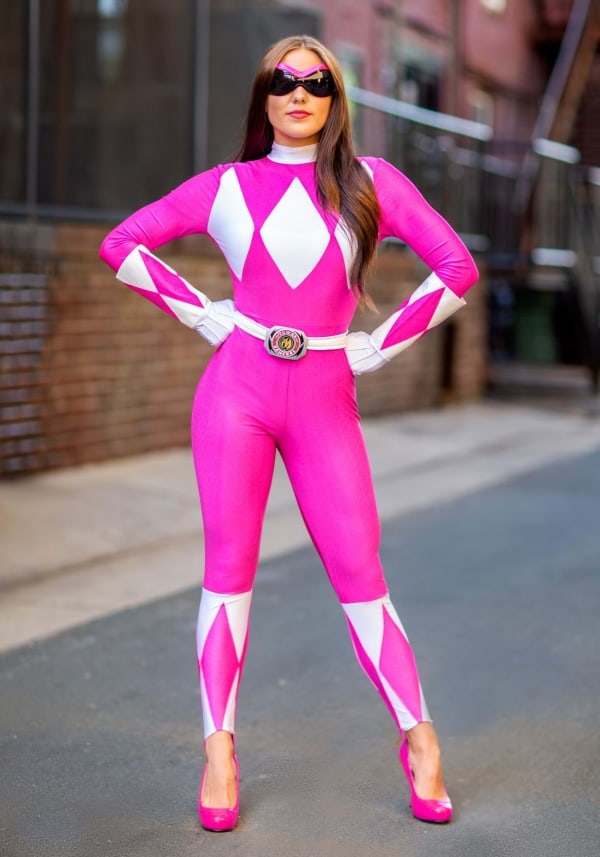 Kimberly Ann Hart seems to be everyone's favorite for her pink and white costume. Of course, the costume also has tinges of silver to highlight the entire attire. Besides, the entire dress seems more like a jumpsuit where the pink dress is held with a silver belt, and silver high boots. You can also think of the big, black shades as a part of the dress. So, we are cool with the dress, right?
Starfire Costume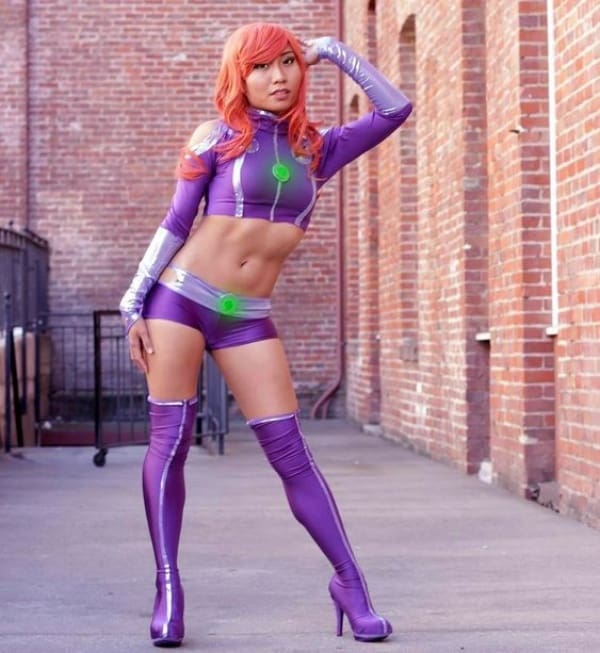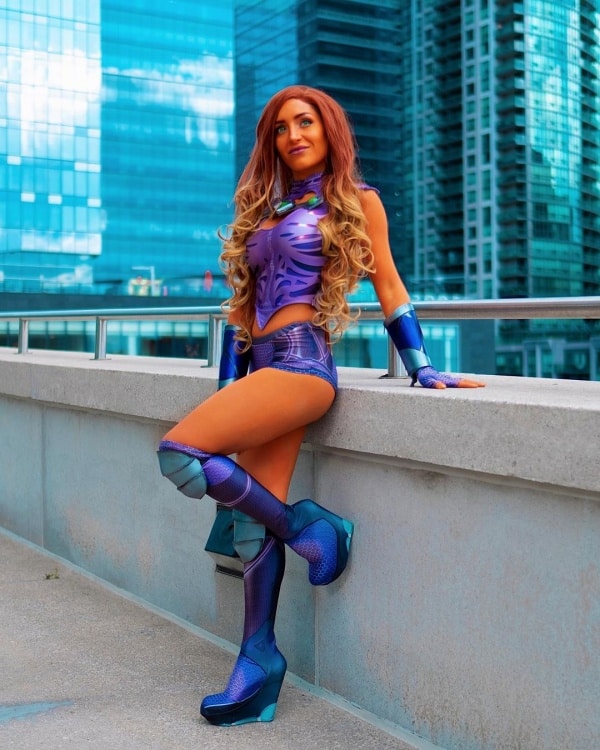 Seeking one of the boldest Halloween costume ideas for women? Then, you have reached the right spot. The Starfire costume is thought to accessorize with the sparkly stuff–an emerald necklace, with a gem-studded gauntlet, and also a grey armband. You can also complete the look with a pair of vivid green contact lenses if you don't share the same eye color as Starfire's. Her powers match the boldness of her looks, so try the same.
Patriotic Popsicle Costume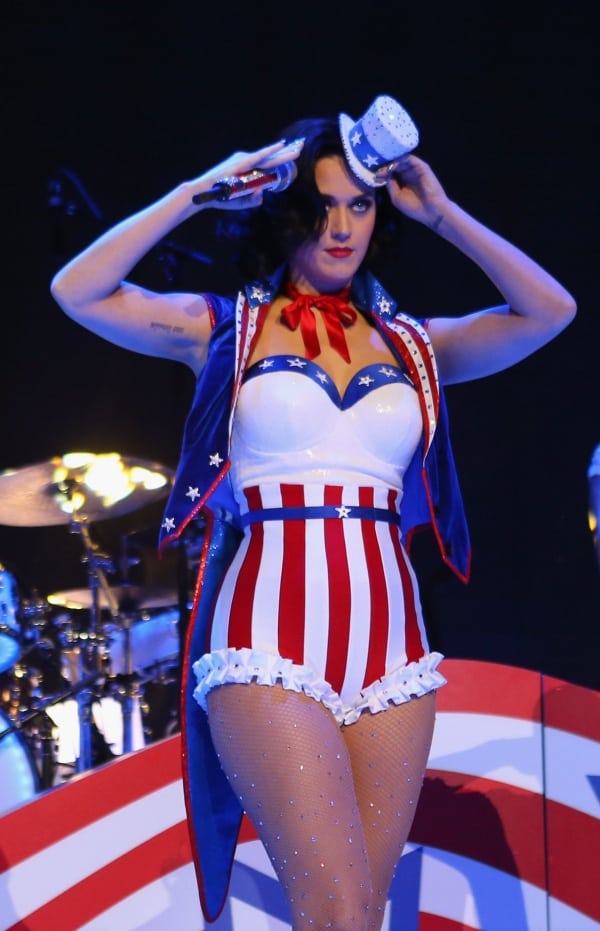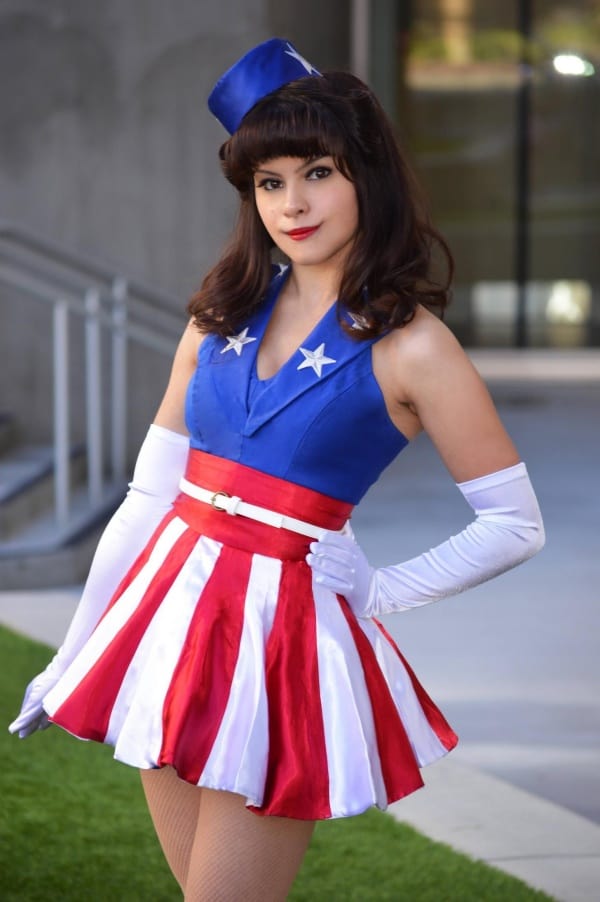 Imagine yourself dressing like a popsicle and entering the party. Won't it be both funny and shocking enough? But then, that would also make you the star of the evening. Besides, you can also experiment with various hues like red, white, pink, and blue. You can also match a bow-tie on one end of the hair with a color that matches perfectly with the dress color. You can always try this trick on your babies and make them cuter.
Picnic Blanket Costume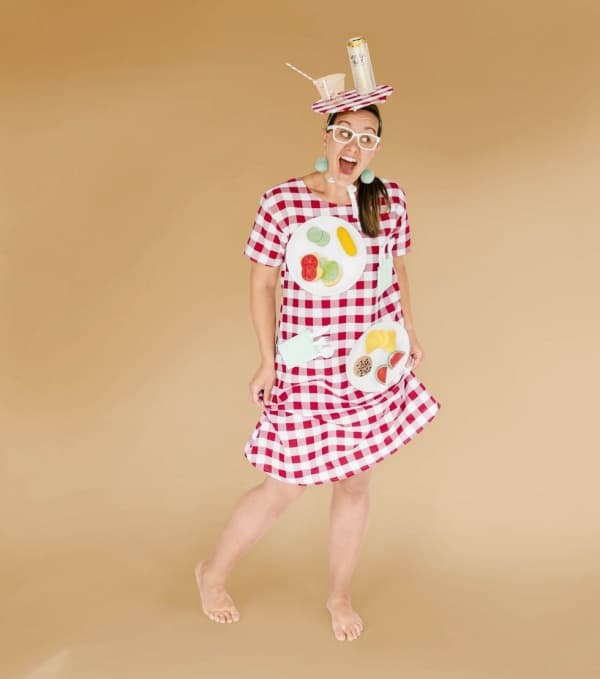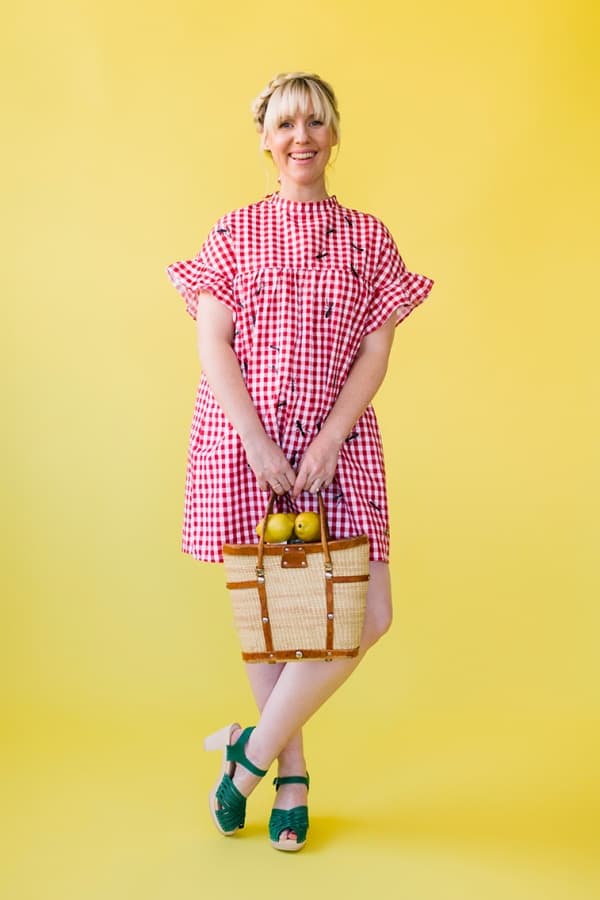 This can become one of the coolest DIY hacks to be used as a dress. Take a picnic blanket, cut it accordingly as per your clothes' size, and wear it just like you would wear a cover once you visit your hairstylist. For creating new style hacks, you can also place various designs on the picnic blanket and take credits for your ideas. Care for a pro-tip? Try for a picnic blanket that's filled with a red and white cross.
Bat Costume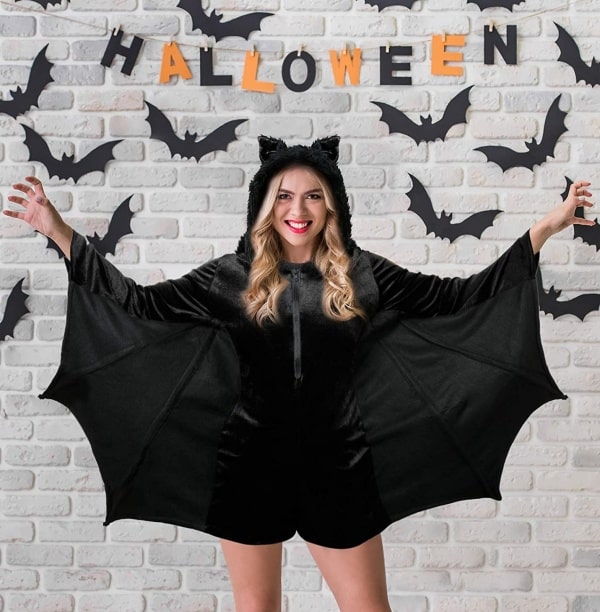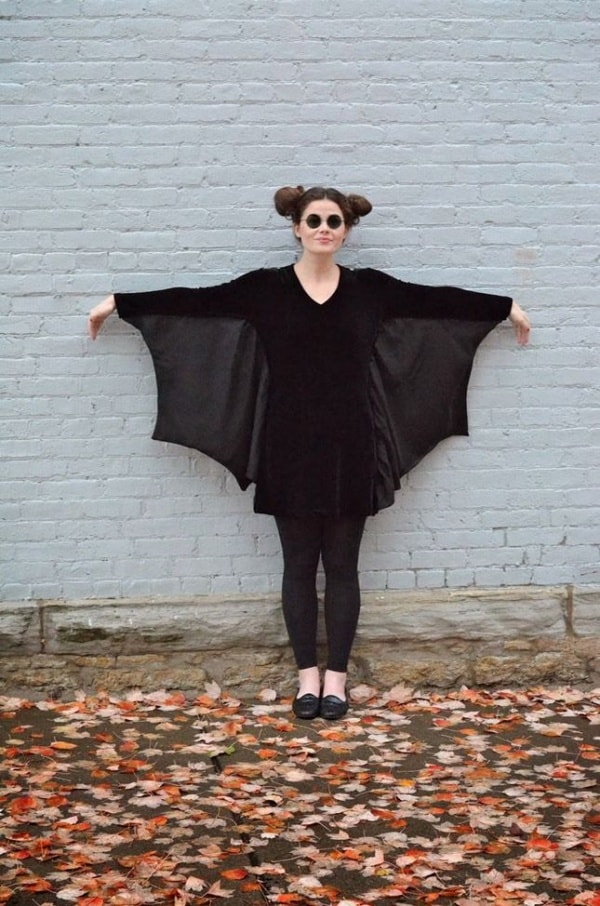 The Bat wings are the uniquely styled thing that makes the dress immensely creative. Besides, this is one of the coolest dresses that can be made out of a plastic bean bag, cut, and styled well. Just remember to spread your wings well, and use the bat ears well.
Conclusion
So, this is how we would be ending the list of Halloween costume ideas for women. Halloween, as we have already stated is one of the coolest parties where you can be your wildest and coolest self. So, here is your scope of running your imaginations wild, turning on the thinking cap, and bringing out the best of your creativity. While we are done with that part, let's get on to the list that we have already mentioned.
So, which were the ideas on the list which you were thought were the best? Rather, where would you find your creativity emerging at its peak? Either, you can think of getting one or the whole list at one instance. So, here comes your time to be with the best. Be the Supergirl, Batwoman, or the youngest member from the Stark family, the party's spotlight is sure to be fixed on you. Also, you are welcome.
Related: