Christmas is one of the most favorite holidays of a majority of people around the world. The beauty of Christmas lies in the tunes of some happy music, decoration of the Christmas tree, and relaxing in some cozy PJs. We all try to keep inventing ideas to spice up the more-than-usual Christmas party with time. Even in 2022, we are looking forward to some elements which can elevate the whole celebration. So, what can be better than exciting our Christmas celebration with some crazy manicure styles? Among the plethora of ideas on Christmas nail art designs, it is possibly difficult for someone to stick to the best ones. 

Nothing can beat the feeling which a good manicure brings in. There are tons of ways one can ditch the traditional colors and get along with a crazier remix. The thought that you want your nails polished to festive perfection is what makes you land in a position of doubt of which style to choose and which not to. However, if you are confused regarding your nail art idea for December 25th, you are at the right place.
We have picked on a handful of beauties that would earn you good attention at the party as one of the best nail art designs for sure. Whether you choose to stick to the simple and cute ones and make your nails look nice or you go for the chic and sleek ones because you prefer the naughty look is now entirely up to you.
Festive Christmas Nail Art Ideas To Try
Santa Nails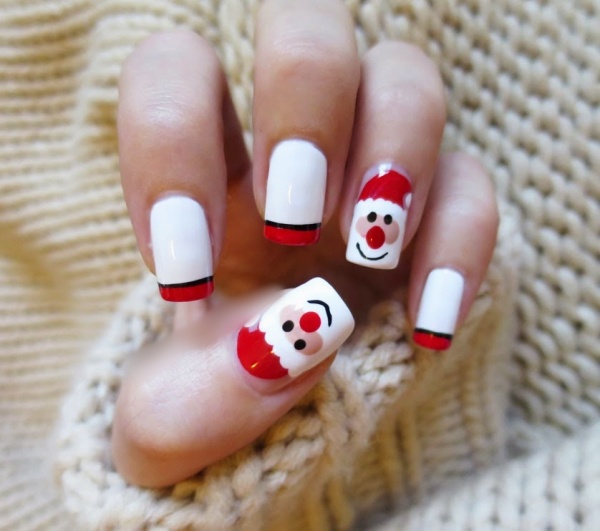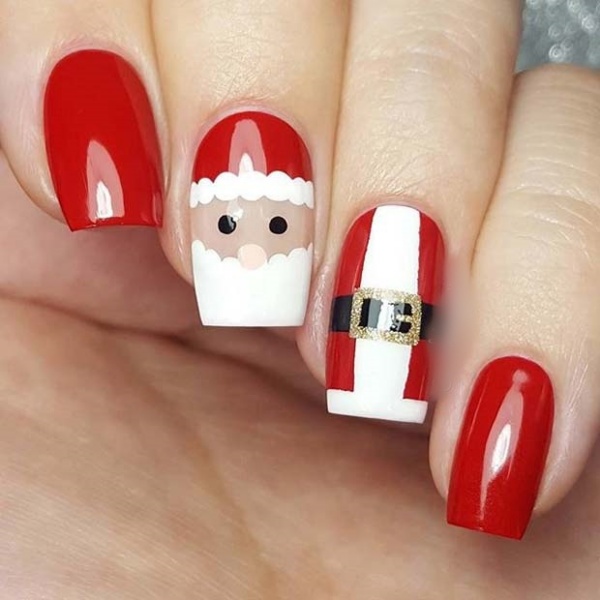 What is Christmas without the mention of Santa Claus? Oh, come on, we all have spent at least some part of our life where we believed that Santa would drop our desired gift in the pair of socks we kept hanging down the Christmas tree. So, if Santa has been your favorite character during childhood, grab some red and white shades and paint your imagination down your nails. Paint the red and the tips with white. Draw a white line through the middle and your buckles with some black streaks. You can also use some stickers over your base coat directly.
Snowflake Nails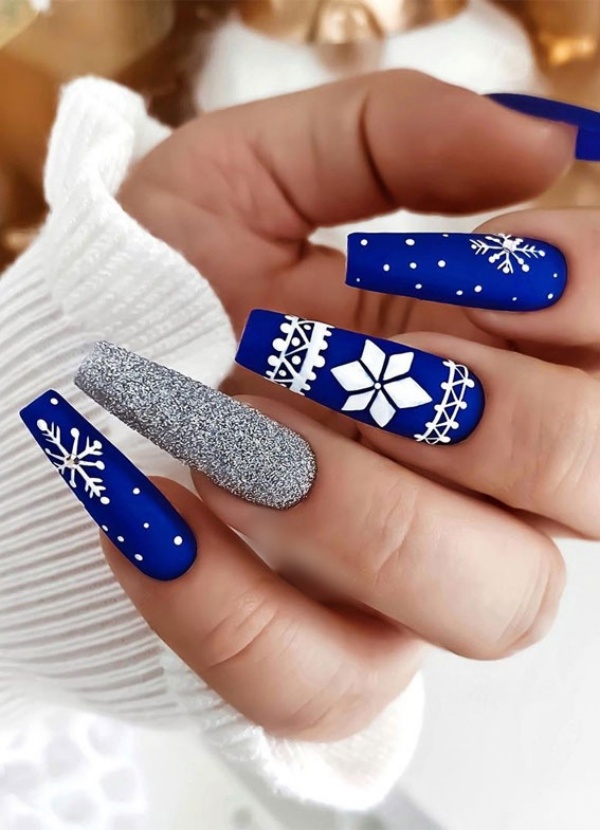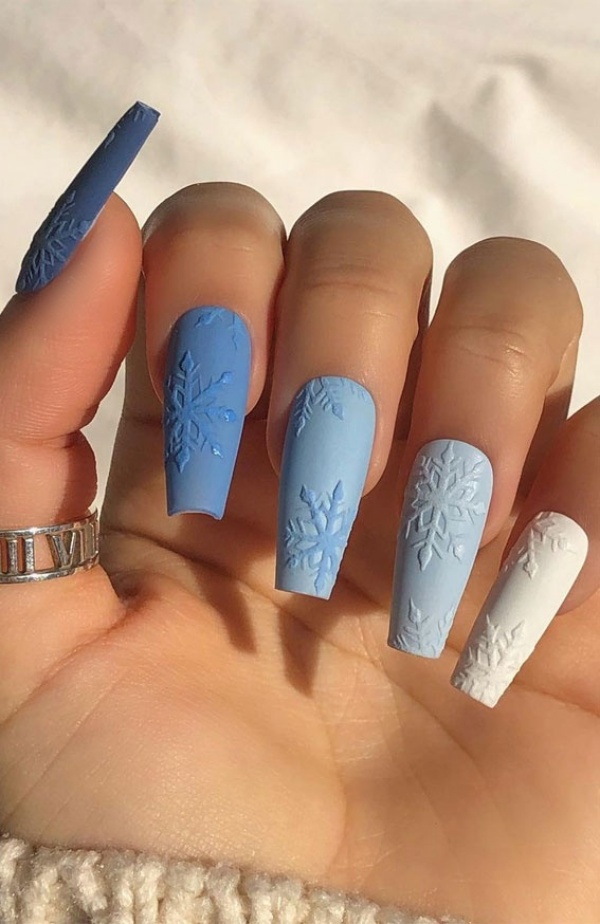 If you have a fascination with the idea of some cool Christmas nail art designs, you should try the snowflake nails without fail. For easy snowflake nails, try using tiny sticks to carve out snowflake patterns over your base nail polish. You can use some glitter paint or keep it to the simple shades of white and blue. Your winter wonderland-styled nails would just fit in more perfectly than you can imagine.
Skittles Nails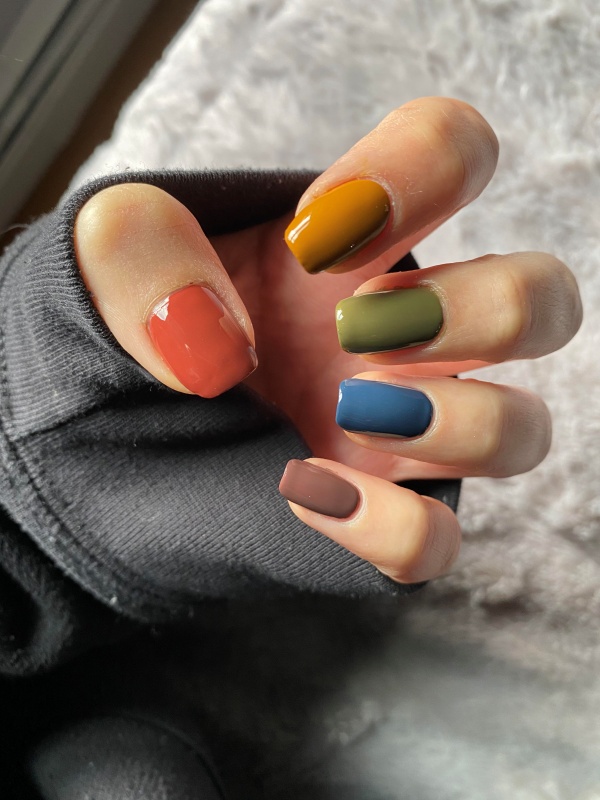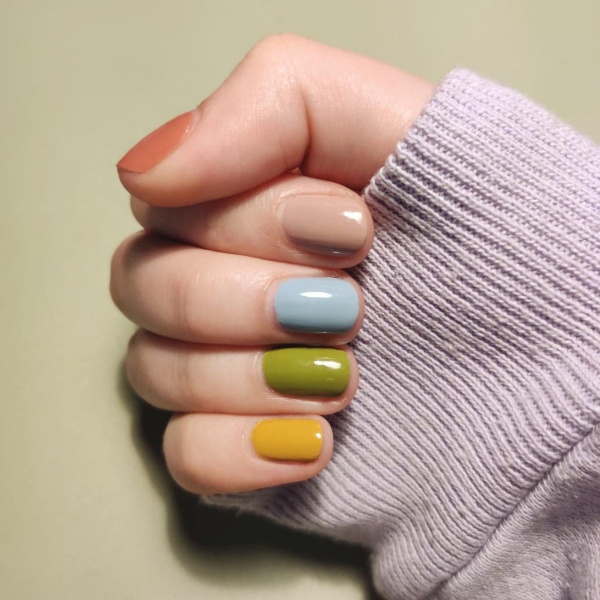 Probably, it is one of the easiest and time-saving options to get some beautiful nails. You can stick to the basic shades of red, white, and green or give it some lovely twist with some unexpected shades. The skittle style is simple, but it is on-trend because of the fancy of wearing a different shade on each nail. Skittles nails look pretty and are the easiest because all you need is to paint your nails, each in a different shade. These nails give you a subtle look, and they look pretty even without the heavy add-ons. Make sure you grab hold of the best color combination for your skittles nails this year so that all heads turn on to you.
Elf Nail Art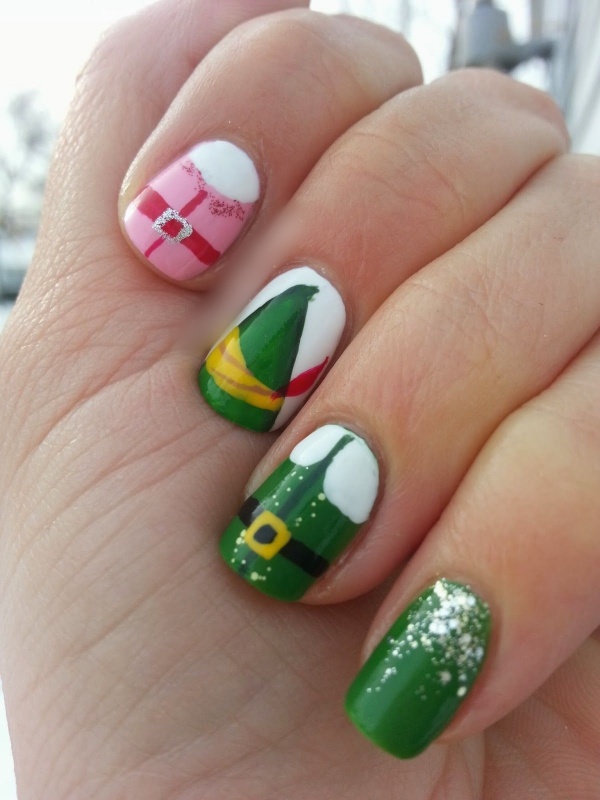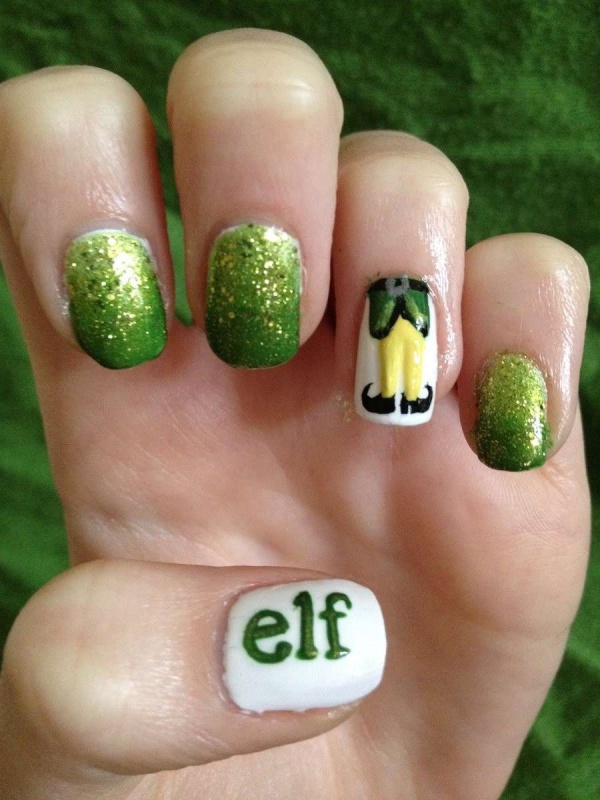 If you also loved to watch Elf movies as a kid and cannot help being obsessed even now, then this design is the one for you to choose. When your friends at the party behold your Elf nail designs, they would not be able to resist themselves and would recite their favorite Elf movie quotes. You need mainly white nail polish as the base color coat and green as the primary need of the designs. If you are confident enough about your hand at designs, then carve it out with the implementation of other shades such as yellow and black. However, you can also use nail design stickers and paste them.
Marble Nail Art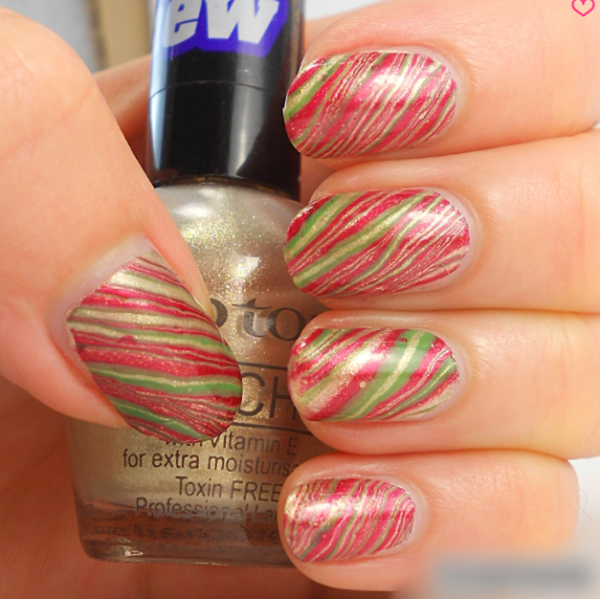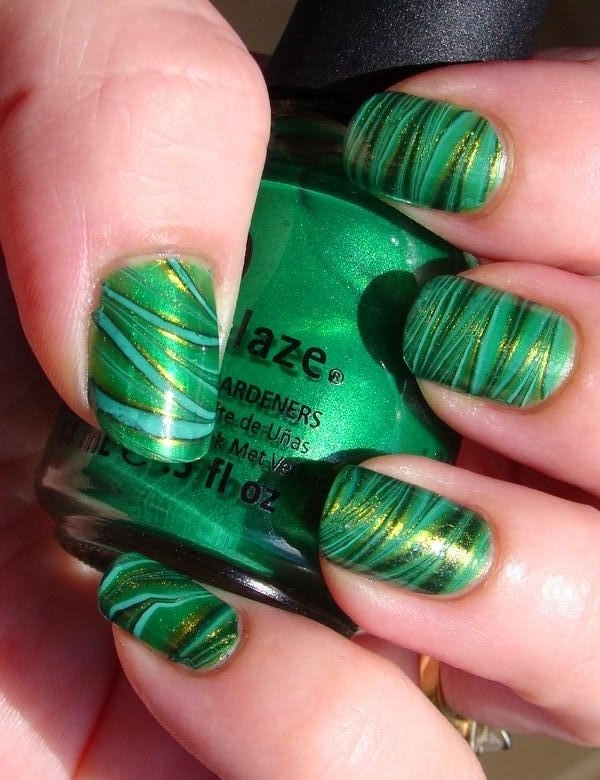 A high-shine marble finish for your Christmas indeed makes a statement. Even if you get along with some green-toned marble tips and make your nails look festive and pretty. However, if you are ready to ditch the traditional Christmas nail art designs' traditional color code, try your marble-styled nails in shades of black and white. This matte marbled combination can be extraordinary and classy at the same time. Use a dotting tool for spreading the topcoat over the base coat to achieve the marble design.
Christmas Lights Nail Art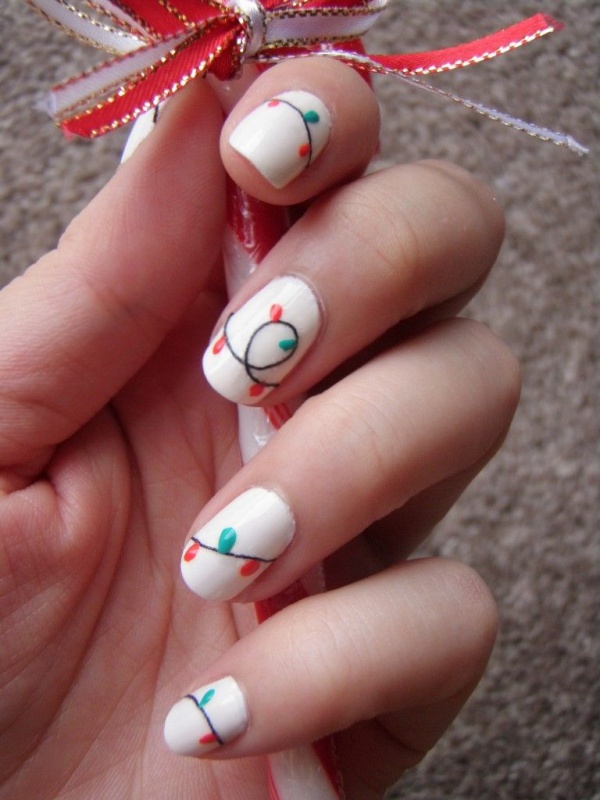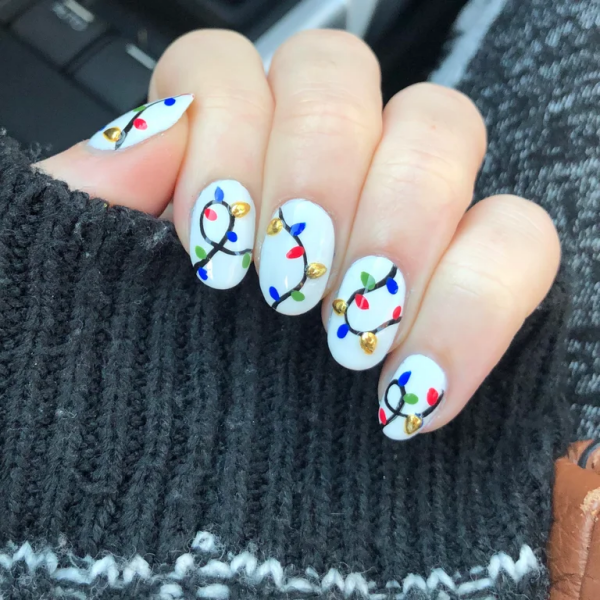 The moment you choose to stand out among the usual and boring styles is when you need to try the Christmas lights nail art. With this design, your nails will be perfect and "lit" for the party. Use your creative skills to bring on some light to your nails. Paint your base coat and decorate the lights as you want, be it some chain lights or standing lines. The tangled strings of light would look great over a dark-shaded base. You can also use tiny stick-on gems to mimic twinkling lights. Also, if you want a little bit of glittery appearance, sprinkle on some glitz over your twinkling lights.
Christmas Tree Nail Art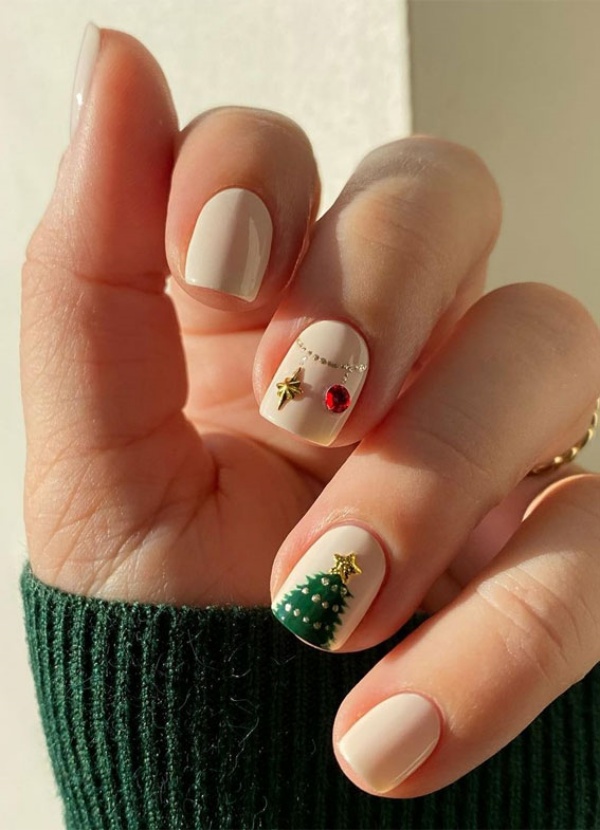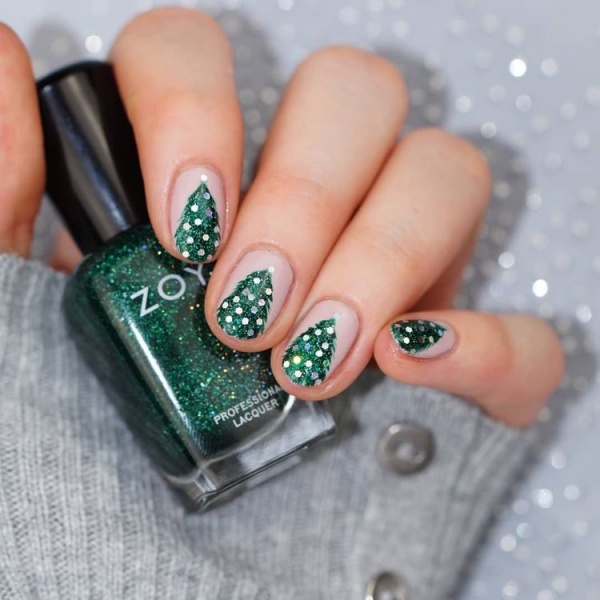 Christmas trees are among those elements, without which Christmas would turn incomplete. So, why don't you paint your nails the same? It is as easy as pasting some readymade stickers on your hand over your base coat and top with some glitters. Or, if you are crafty enough, choose your preferable base polish color combination and turn your nails the best with your beautiful designs.
Gift Wrap Nails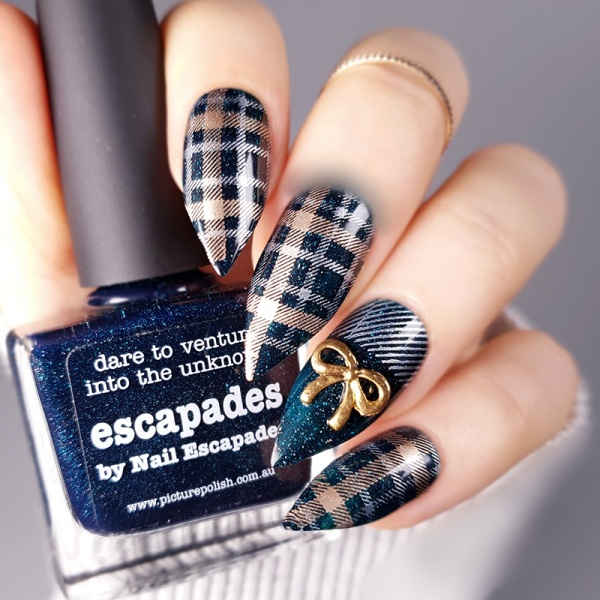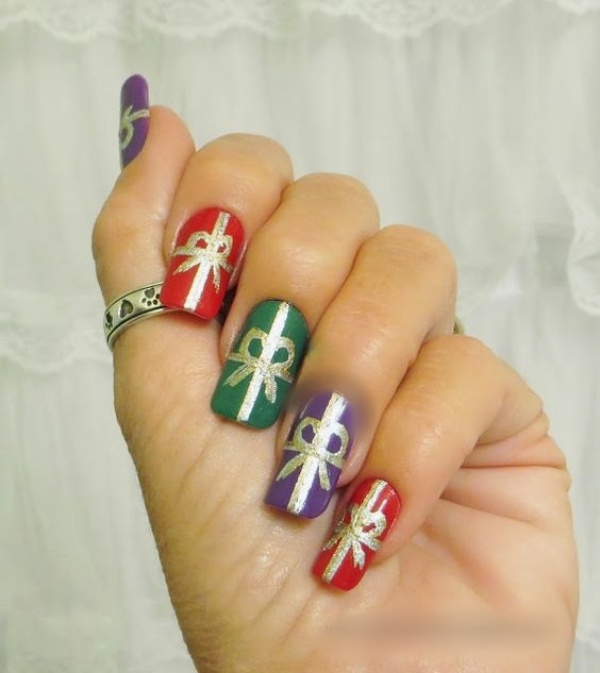 Christmas is all about gifts and presents. What may be better than painting your nails with some gift-themed nails? Top off your Christmas look with this easy and sleek nail art which will feature some festive stripes along with a big red bow. All nails necessarily may not look the same. You can dry different add-ons over your painted nails to elevate the appearance. However, if you think you lack enough creativity to give a suitable finish to the design, try on some readymade available stickers.
Cactus Nail Art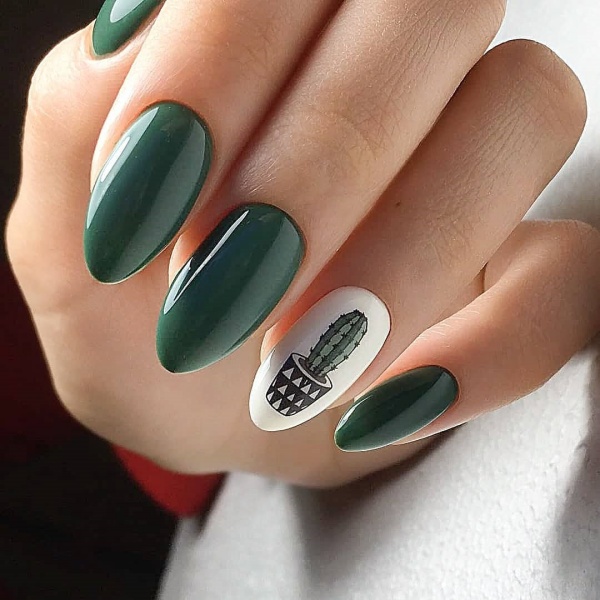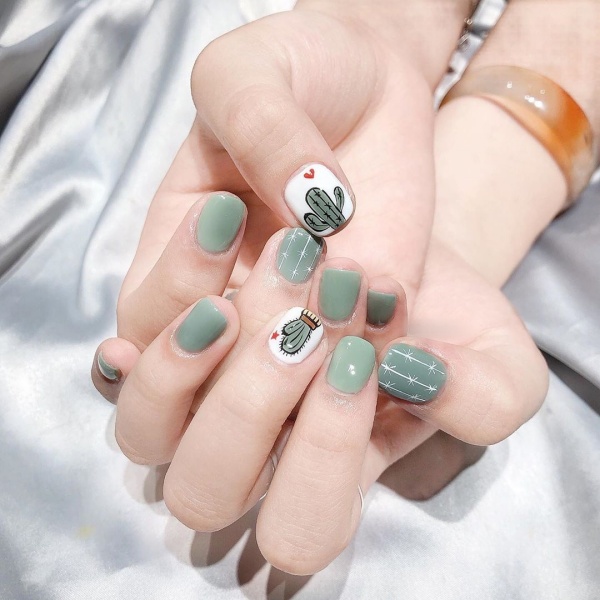 If you love plants, then this design is for you. This colorful and cute little cactus nail art stands out among the ordinary Christmas nail art designs. Paint some cute and crazy tiny structures over the base nail paint or stick some stickers. Grab on some glitter paint and put it over to make sure that your nails make a statement. This look stands just in between being subtle and chick. It gives you freedom how you choose to make it stand out among others. The base color plays a huge role in deciding the finishing look of this nail art design. You can stick to the traditional red or white for the base of your tiny little cacti or try out something experimental.
Jolly Reindeer Nail Art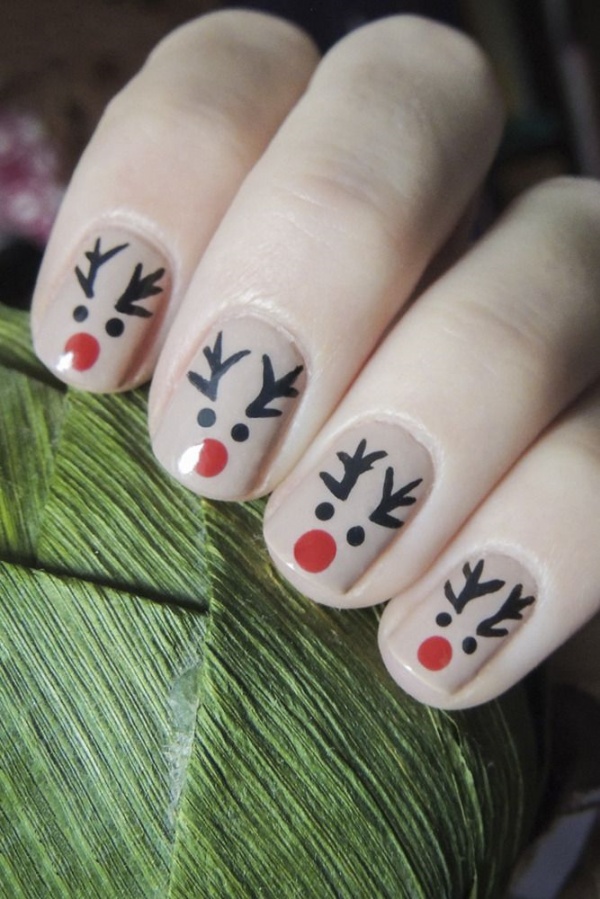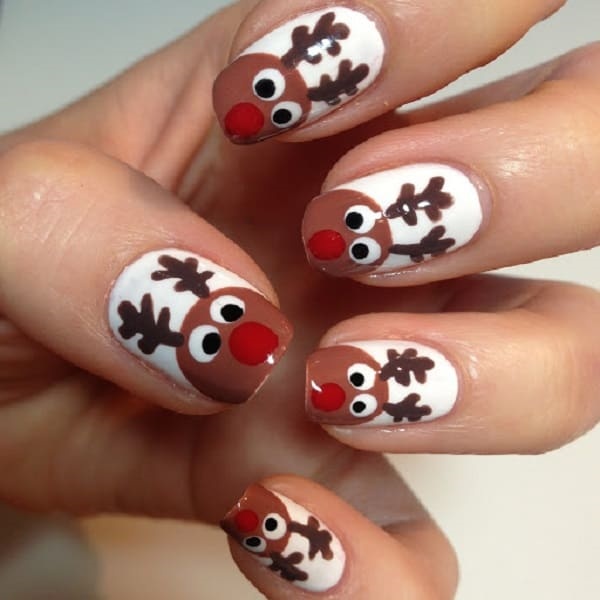 Reindeers are one of the most important elements of Christmas. A super cute Rudolph accent nail will surely elevate an ordinary manicure. Use some dotting tools for making the designs or stick readymade stickers over your base coat. Reindeers on your nails would not fail to turn every head on you. You can have reindeers on each nail in different positions or make only one nail painted with them and keep the rest plain and simple. Either way, your nails are meant to look outstanding because these cute reindeers are jolly enough to make the festival's mood joyful and cheerful. So, head out wearing your jolly reindeer mani and please everyone who happens to take a look at your nails.
Frosted Tips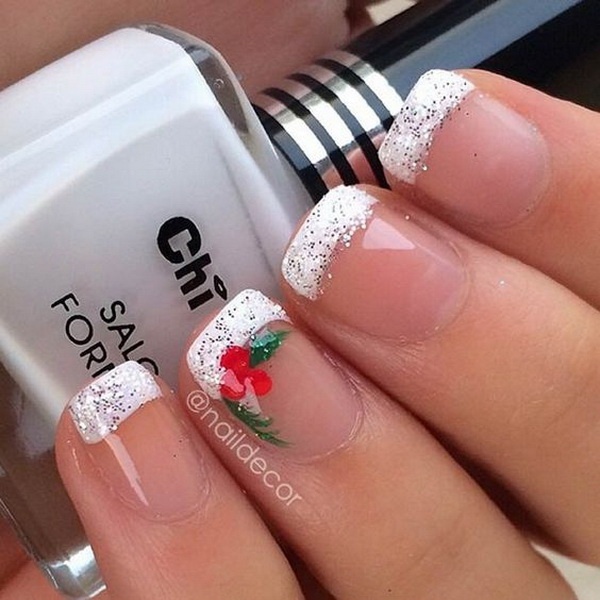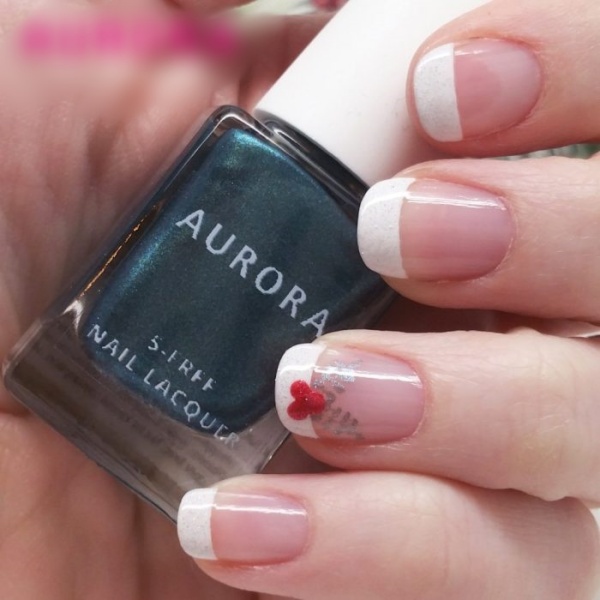 If you want your nails to show off some sparkly tips at the Christmas party, then frosted tips are the style to try on. These pretty, punk and pointy tips will surely make your nails look bolder. You can play along with the colors you want as your base. Top up with some frosty tips with glittering shades or embellishments according to what you prefer. It is one of the easiest manicures you can pull over for a festive look. The glitzy tips will surely help to take your manicure to the next level.
Poinsettia Party Nails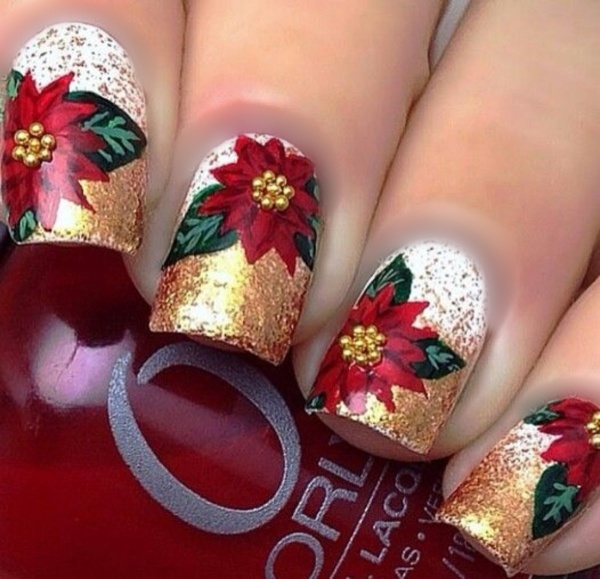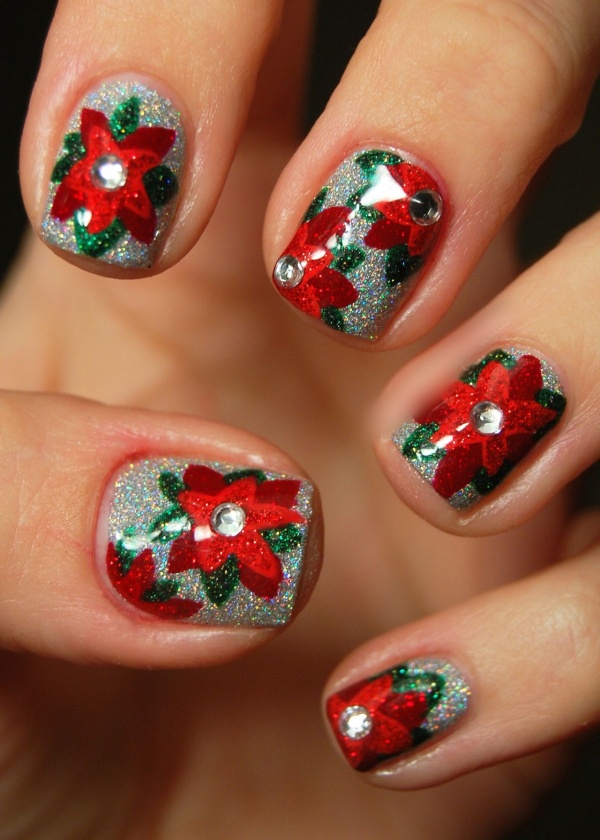 You already feel it is time for Christmas when someone puts a poinsettia on the table. This festive flower itself heightens the basic mood we have for the festival. So, you can efficiently channel the festive flower with some good manicures. This party nail will surely elevate the levels of your subtle manicure. If you wish to make it pop, try keeping the rest of your fingertips red. The choice to put some add-ons is entirely up to you. Whether you choose to remain subtle or give your nails a chic finish is your preference. You can make your nails stylish and sleek by adding on some beautiful embellishment or keep it modest and straightforward just by painting the flower.
Snoopy Christmas Nails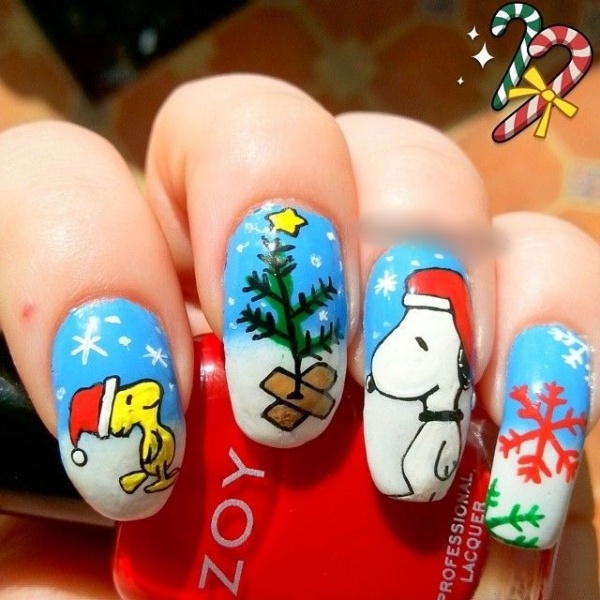 If you admired the gang of Snoopy, then this is the exact pick for you. Celebrate your particular party for 25th December with Snoopy, Woodstock, and his friends painted on your nails. Also, how can we possibly forget our iconic Charlie Brown Christmas tree! It would exactly be the dream design for anyone who would like their manicure to be just not-so-normal. This fusion of an extraordinary and inclined towards childhood memories will make sure nails leave a statement without fail. Your snoopy Christmas nails will be the perfect choice for making anyone jealous of your beautiful manicure.
Festive Two-tone Glitter Nails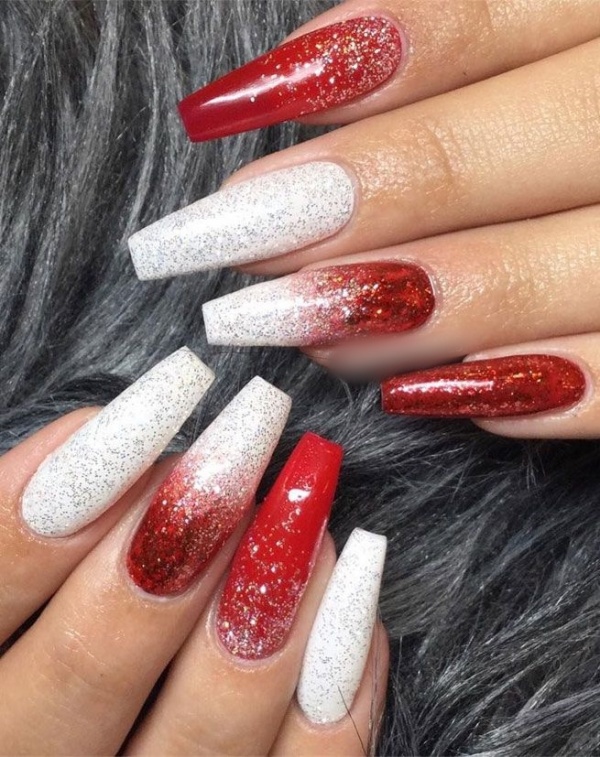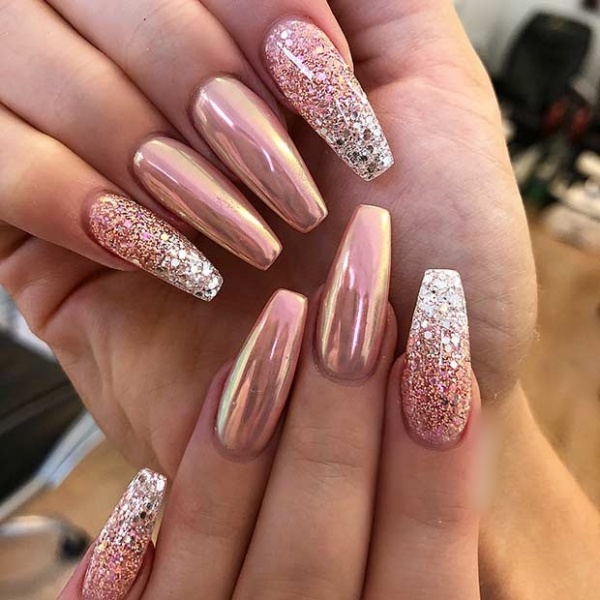 Two-toned nails always stand out in a range of ordinary festive manicures. Try and amp up some burgundy shades with layers of shimmer. You can experiment with other shades, too, for sure. It ultimately depends on whether you choose to stick to the traditional or try something experimental for your base color. This manicure will surely add a festive feel to your nails, and they are bound to make a statement. Choose any base color coat according to your choice and glitter them over, and you possibly won't ever regret it. It is one of the easiest and swiftest methods to get your nails done for the occasion. Pull on this glitzy look to stand out during your party for December 25th.
Cute Candy Cane Nails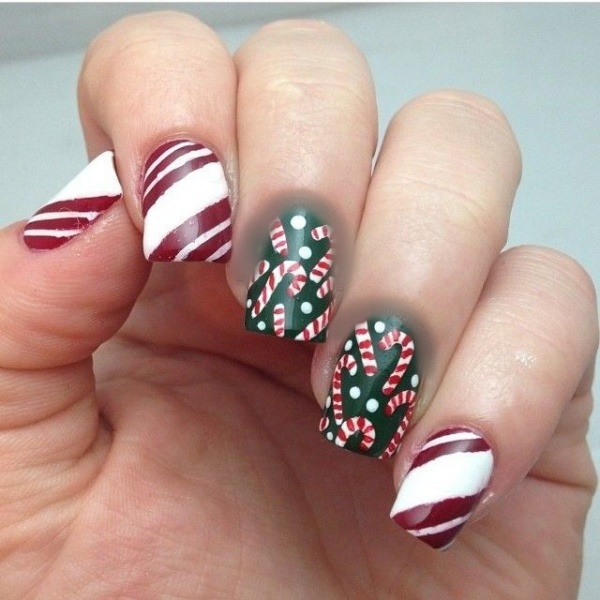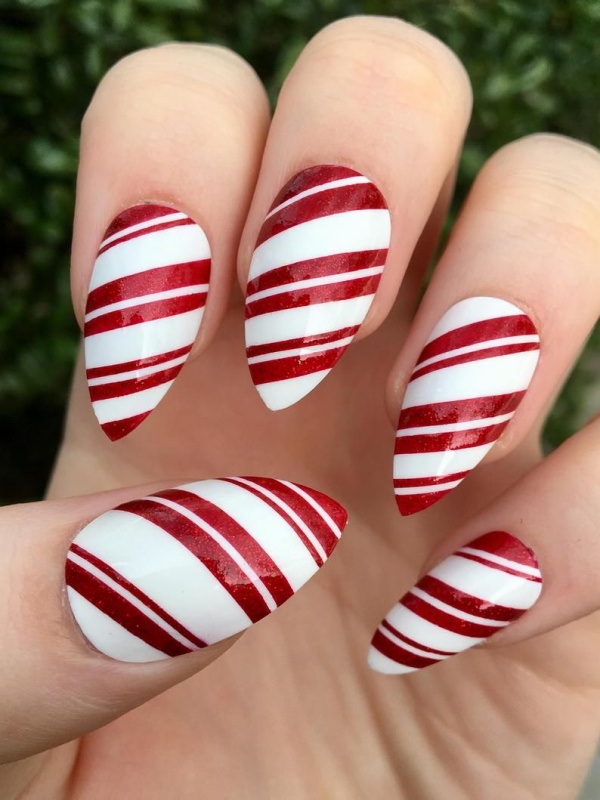 If you are up for some cute Christmas nail art designs which will be a perfect match for your cozy pajama outfit, then these pretty candy cane nails are a must-try. These itty-bitty candy cane nails look so cute and sweet that one would want to eat them. A fresh mint-green background would perfectly suit the design.
Nutcracker Nails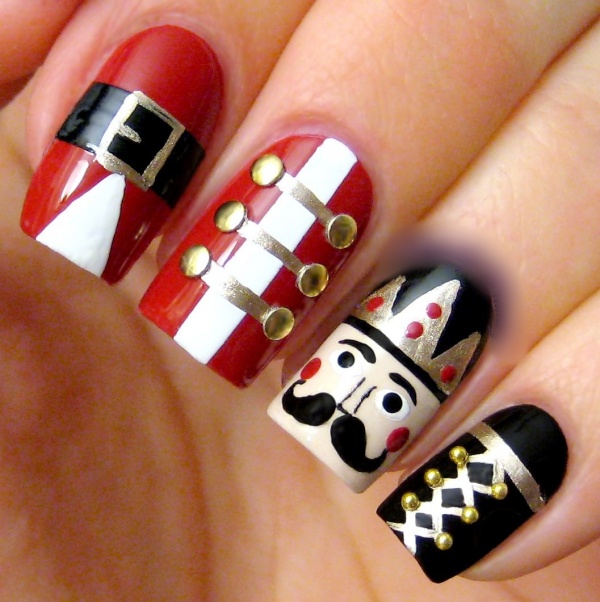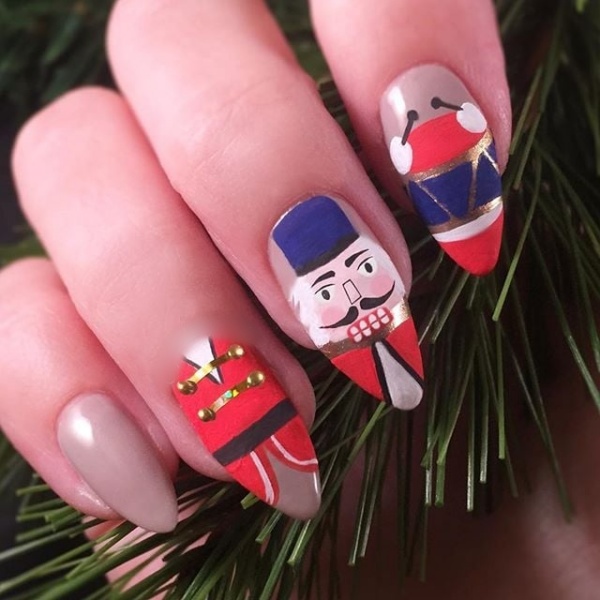 Nutcracker nails are perfect for the ones who demand a classy manicure for the festival. If you are inspired by the Gucci color scheme for your favorite Christmas time ballet, then this is the exact pick for you. You can range along putting some glitter shades and pinning on some gems and other embellishments to add on the effect of your manicure.
Wavy Stripes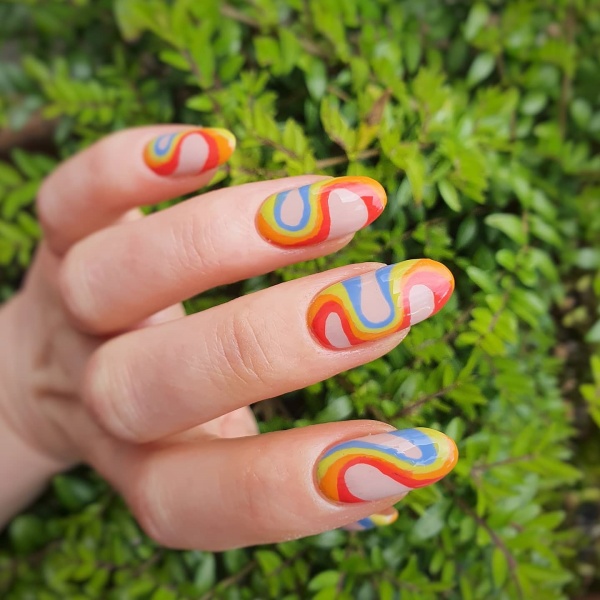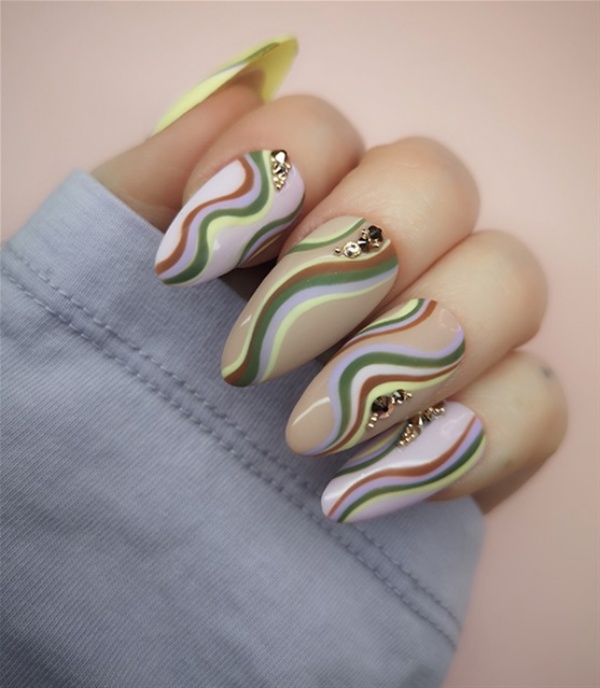 The effect some wavy stripes would add to your nail will indeed look sleek and subtle. Try this curved and curling beauty on your nails with a thin brush. You can quickly try out this style at home just by making sure that each wave dries up before you move on to the next one.
Blizzard Nails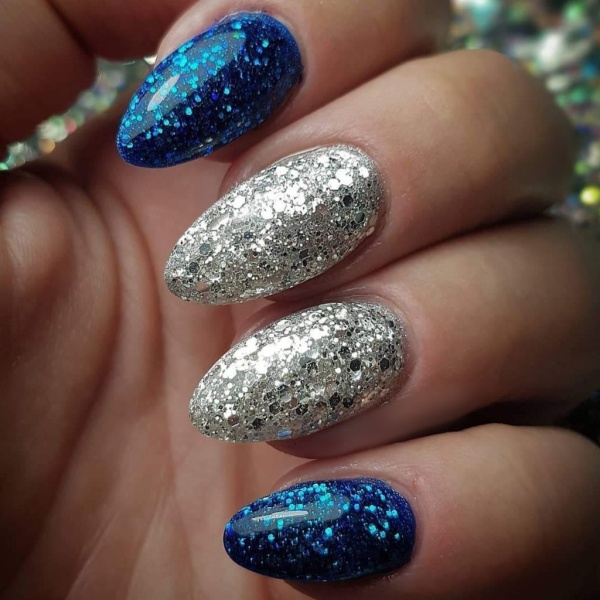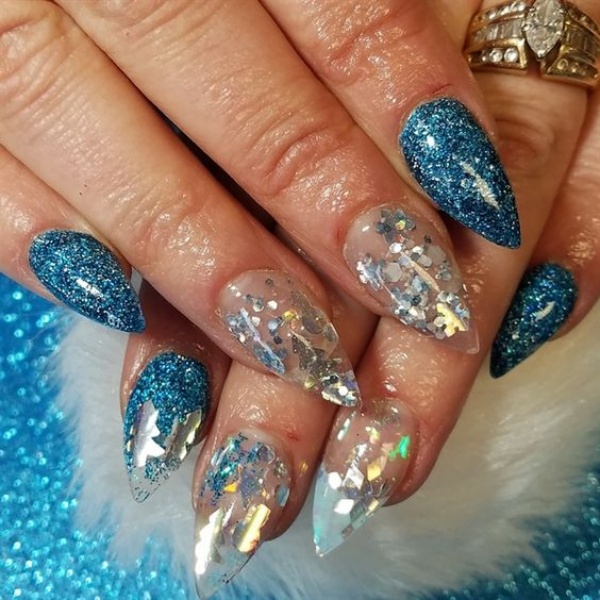 This nail art is typically one of the subtle yet one of the sleekest and pretty designs. With some flecks of glitter, which can be both big and small, you can easily carve out the look you prefer. You can add up some snowflakes and let your nails show off a dreamy white Christmas nail design.
Ugly Sweater Nails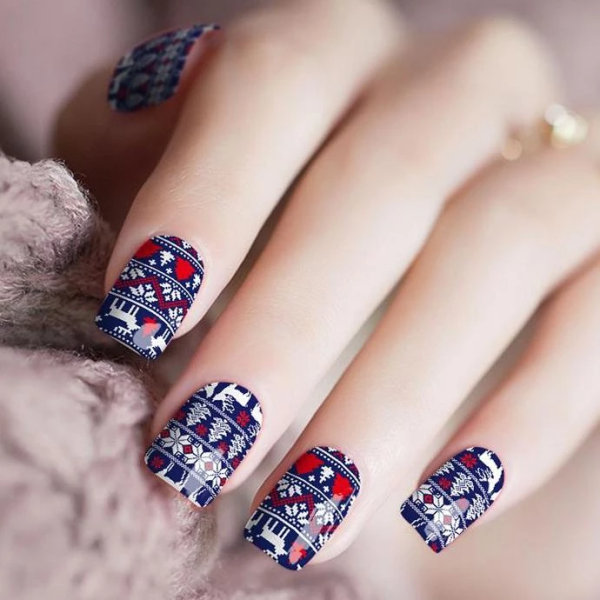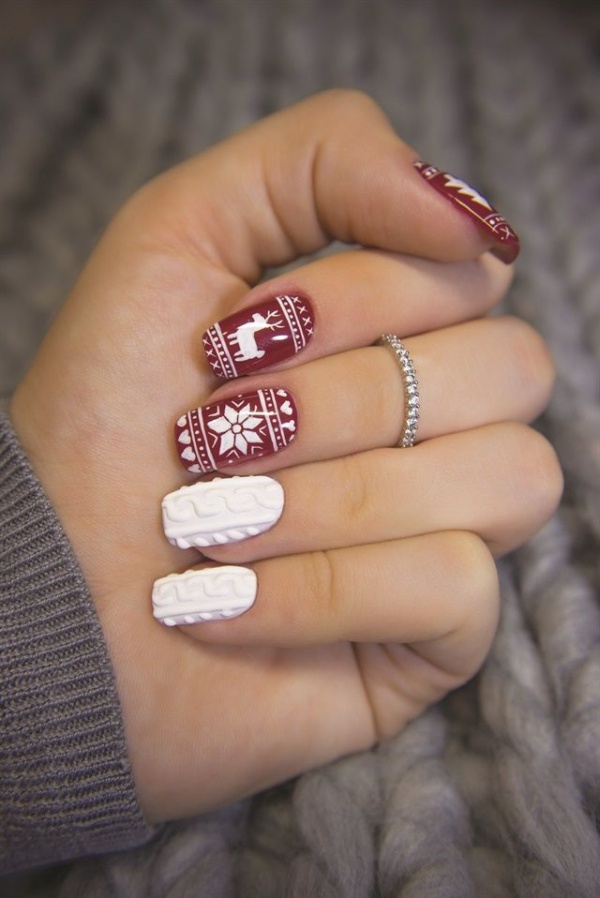 This style entirely does justice to its name. You can easily pull out the sweater you consider to be the ugliest in your closet and get inspiration for your manicure. Among all the other Christmas nail art designs, the beauty of this design is that you can play with the colors. You can let your imagination out on your nails without hesitation. Any fashionable outfit would look great with these crazily styled nails.
Buffalo Plaid Nails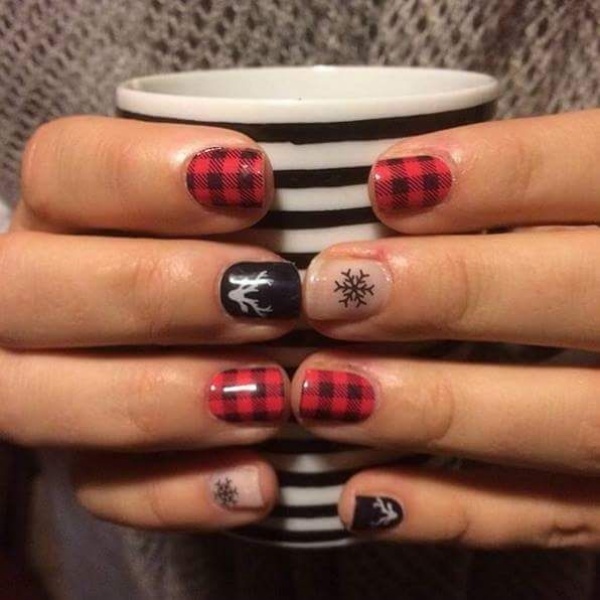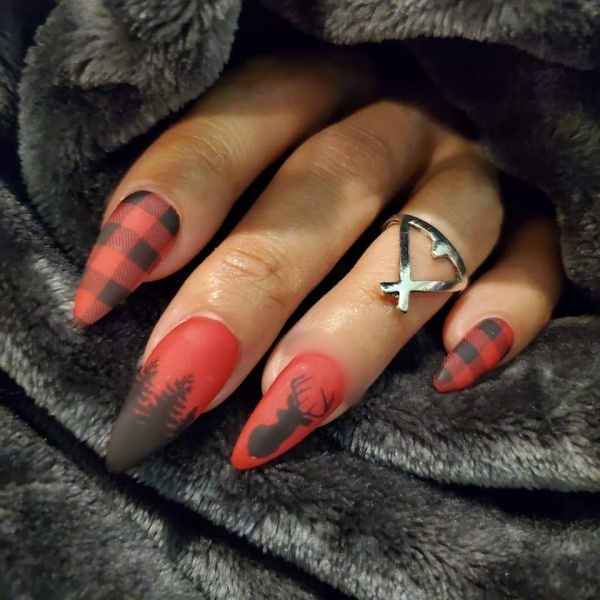 Plaids are one of the most classic patterns for the winters. The fresh ways to wear plaid is what keeps it exciting and worth trying on. It will surely remind you of the coziest Christmas plaid sweater you loved wearing as a kid as you sat by the tree. It is simple and can make your holiday nail art look more cheerful due to its classic and subtle appearance. Your buffalo plaid nails will give the ultimate cozy print a festive update. If you want to experiment with something beyond the classic, then try a pop of blue on the thumb. It surely would make the design much more exciting and will add up to the overall winter vibes. You can easily pull off this holiday design freehand just if you are crafty enough.
Polar Bear Nails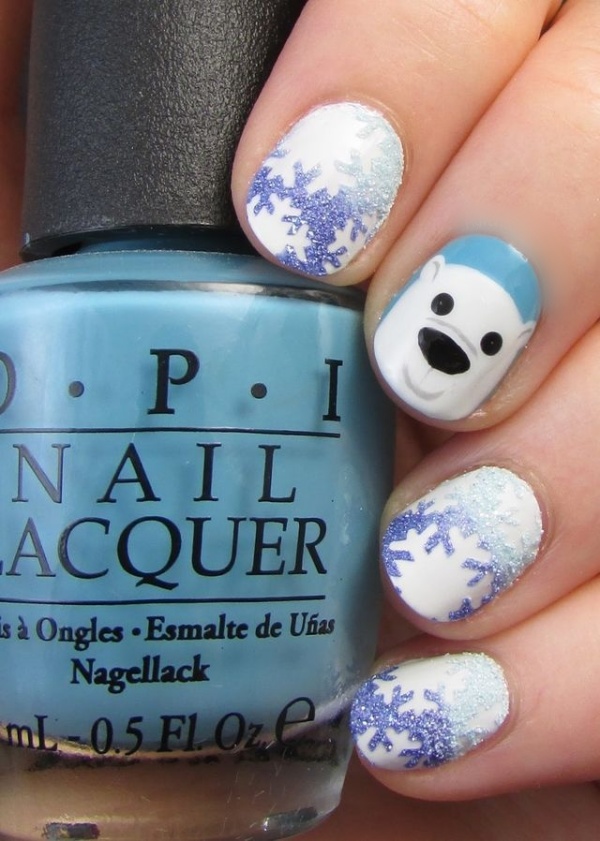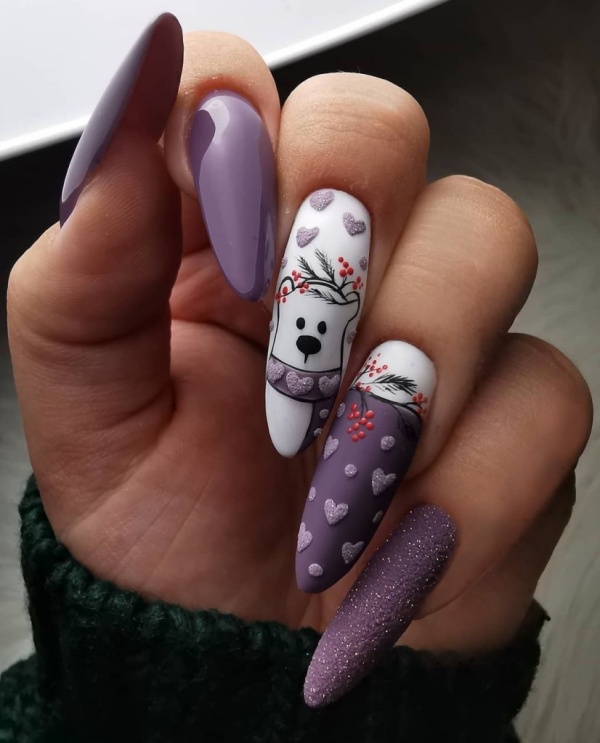 Polar bear nails can turn out to be the cutest choice for your Christmas nail art designs. An adorable polar bear popping out on your fingers would look unique and cute. If you want your manicure to look snow-shaded, then this is the exact design you should choose. This white snowy nail art with a cute polar bear would be the dream design for many. Thus, pull on this cute nail art idea with one of your cute outfits and make everyone go "aw" on them.
Winter Wonderland Nails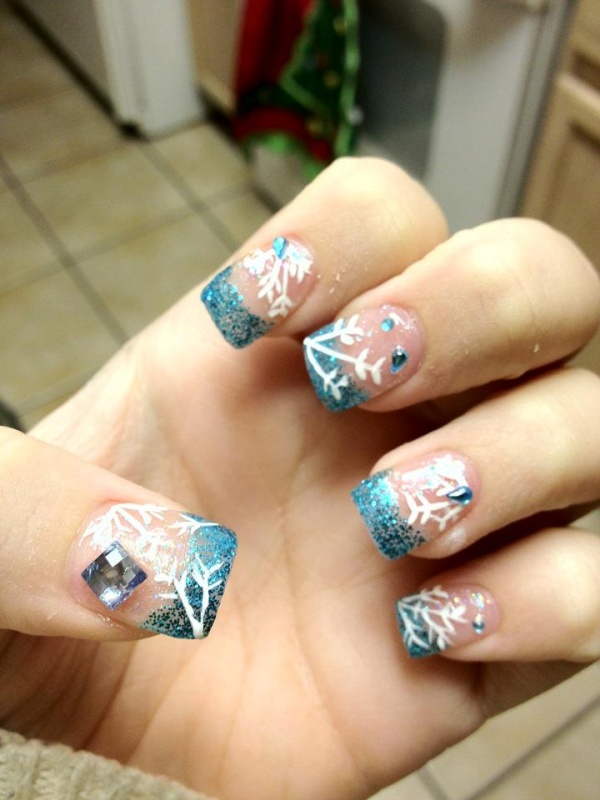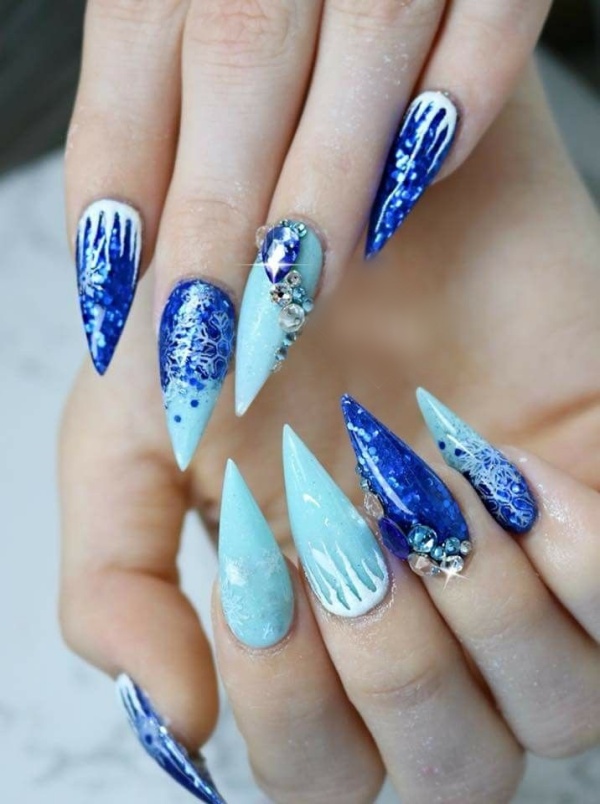 The moment you decide to ditch the traditional fashion is to understand that you are ready for some winter wonderland nails. Try giving a pop of pastel shade to your classic designs of trees and transform your hands into a whimsical wonderland. You can add on some embellishment to elevate the entire fashion your nails will enjoy.
Christmas Foil Nail Art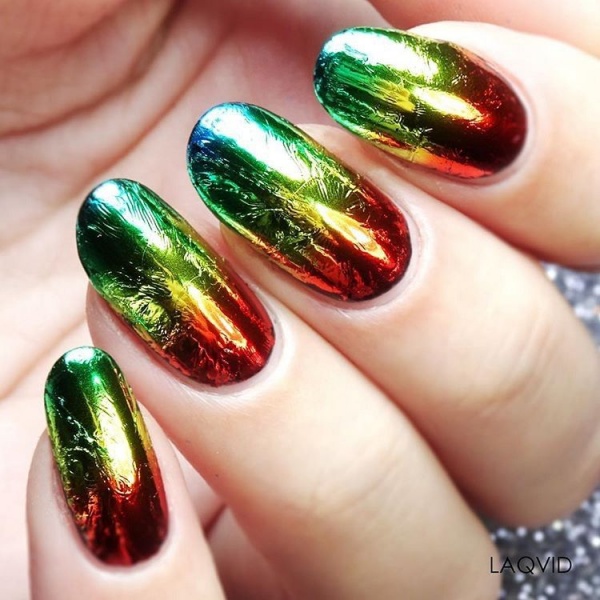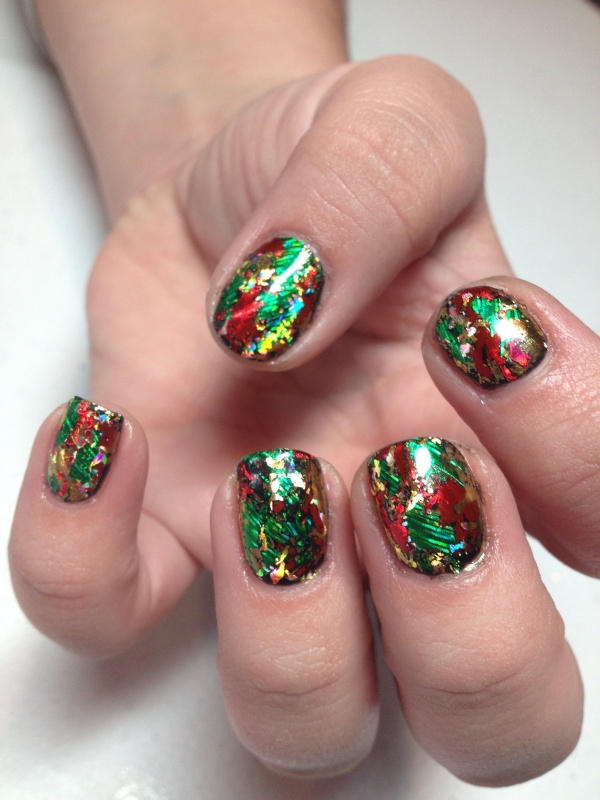 Christmas foil nail art has been one of the manicures which rule over the other Christmas nail art designs. This style stands out because it is ultra-glamorous. This nail art design for your Christmas party will surely lighten up the night. This chic fashioned look is bound to make a statement and is often preferred by most due to the bold and sleek finish.
Subtle Snowflakes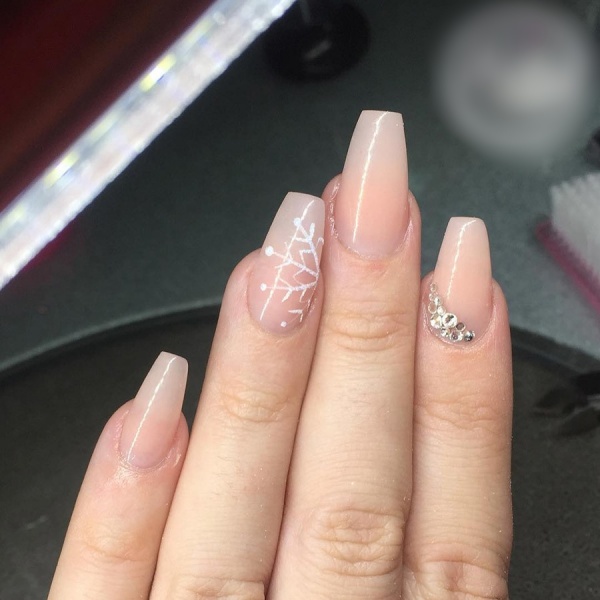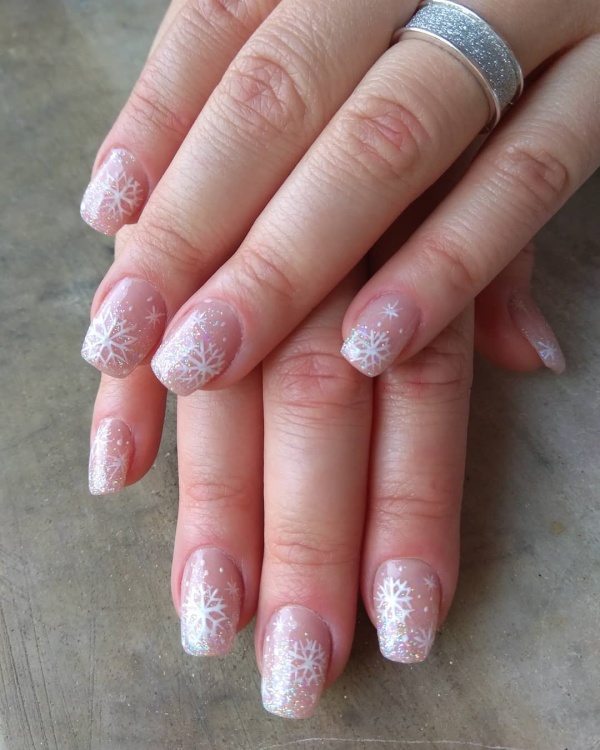 What is Christmas if it is not watching the snowfall sitting by the casement? However, it is easier than you can think to bring such an effect to your manicure too! Add some subtle glitter and teeny snowflakes to your nude base, thus keeping it simple because the fine, the better. You can carve some snowflakes with your dotter tool or a thin and pointed brush. Also, you have an open choice of shades you would want as your base color. There is a range of shades available that lets you choose if you will stick to the traditional or move on to something creative and experimental. Also, you can easily use your bare neutral nails and add some holiday glam to them.
Holographic Tips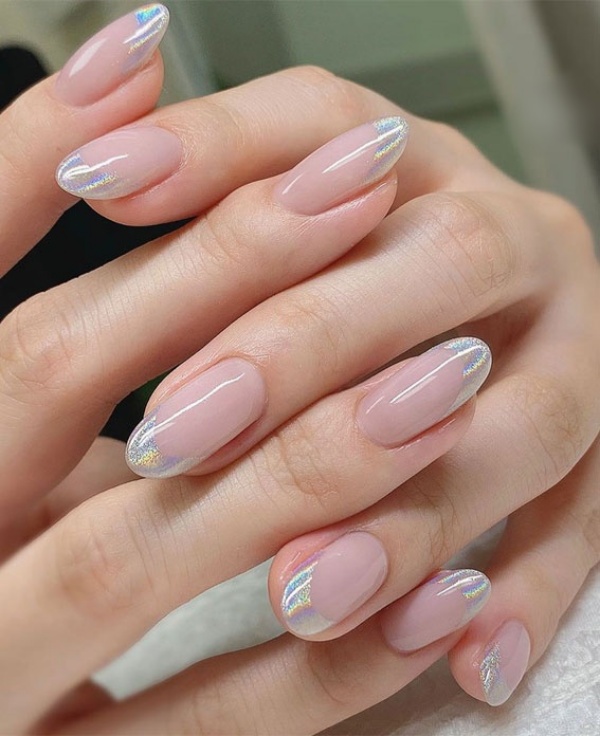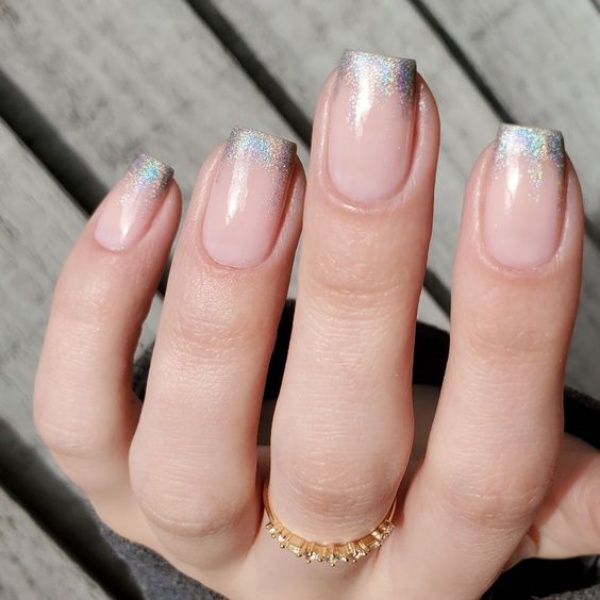 Holographic nails are meant to keep your festive manicure sparkly and subtle. If you are not a fan of substantial showy glitters and gems, it is the right pick. These fine glitter particles will reflect light and make your nails look sleek and simple.
Green And Red Nails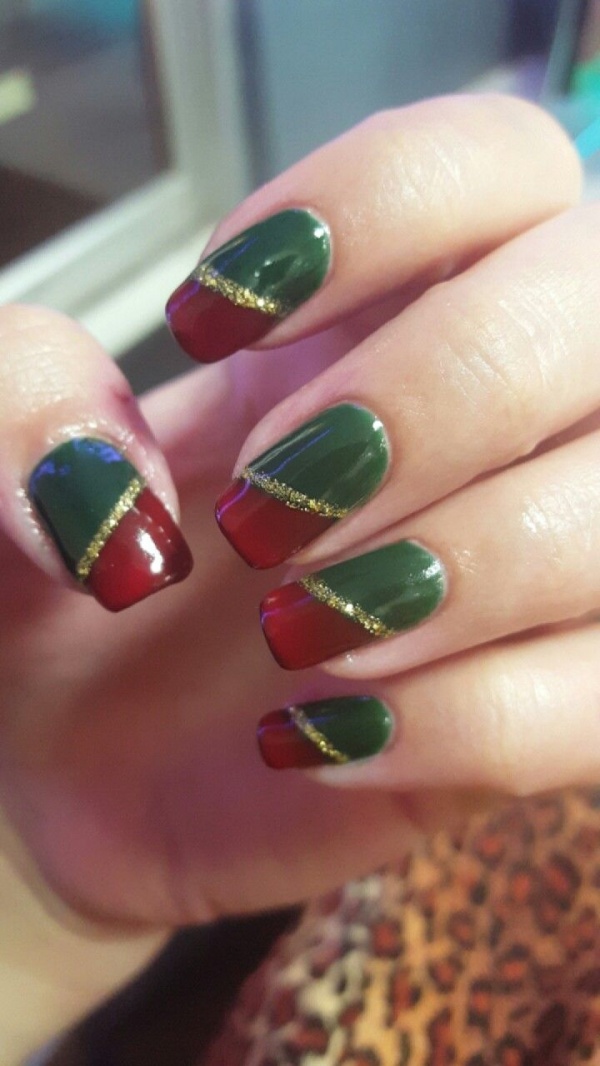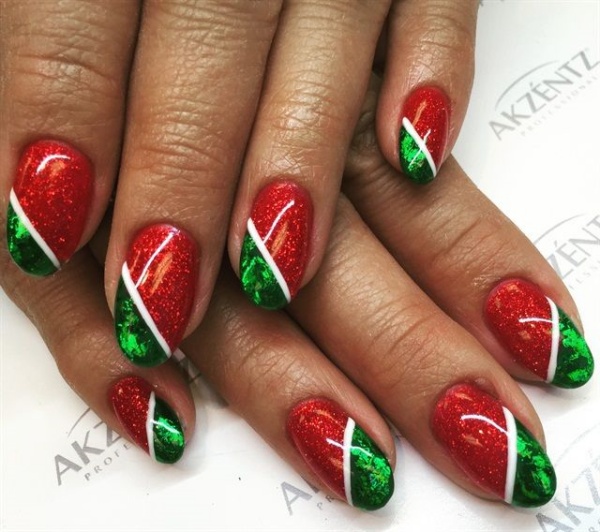 There is a common misconception that traditional shades are supposed to look ordinary. However, classic Christmas colors are not always supposed to be boring. These geometric green and red nails ultimately prove how basic geometry can add life to an ordinary manicure. Make sure you keep some negative space if you want to keep it subtle. Fill in with thin gold lines for complimenting the look.
Subtle Red Tips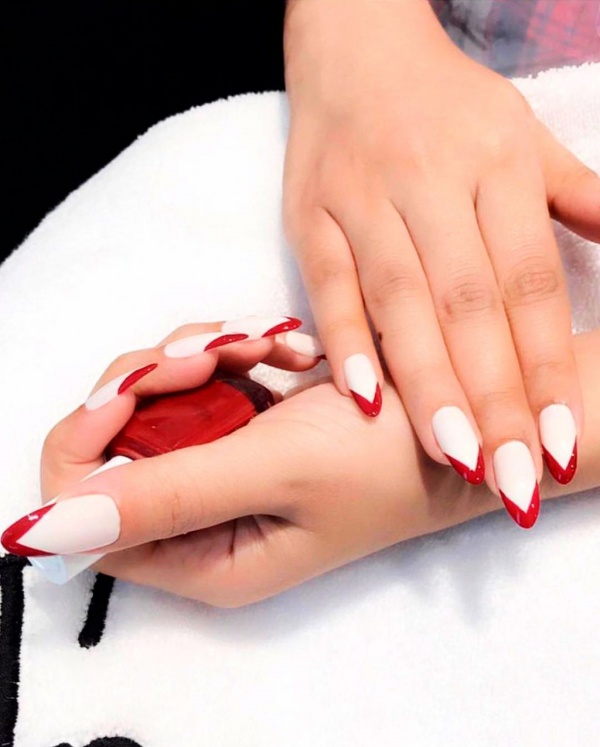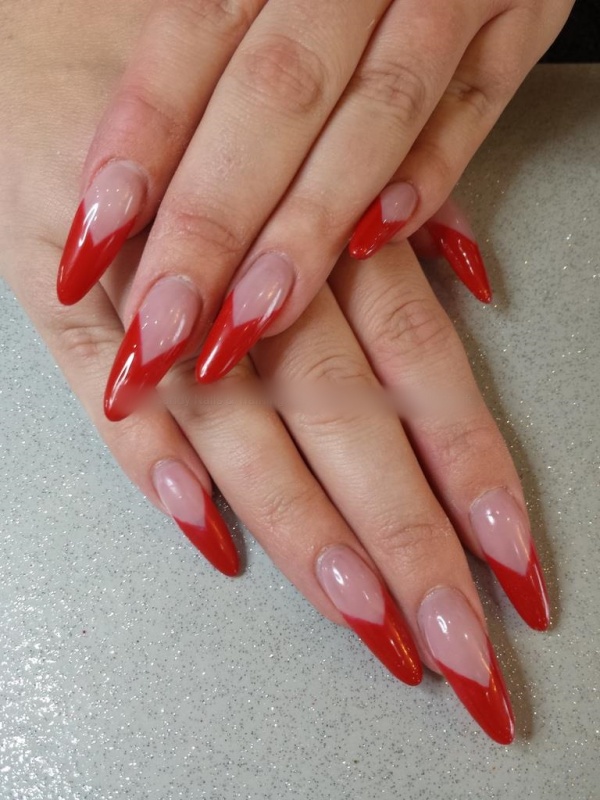 There are plenty of options when you choose red color for the Christmas nail art designs this year. One of the subtle ways of getting super cute nail art done for you is opting for the fine red-tips nail art. This red French manicure nail design looks perfect for a simple and cozy Christmas. A coat of nude nail paint is required for the base coat. After that, lining the tips of your nail gives it the perfect and simple look. Furthermore, adding a layer of shimmer right below the red tips adds to the beauty of your nails in no time.
Stary Nails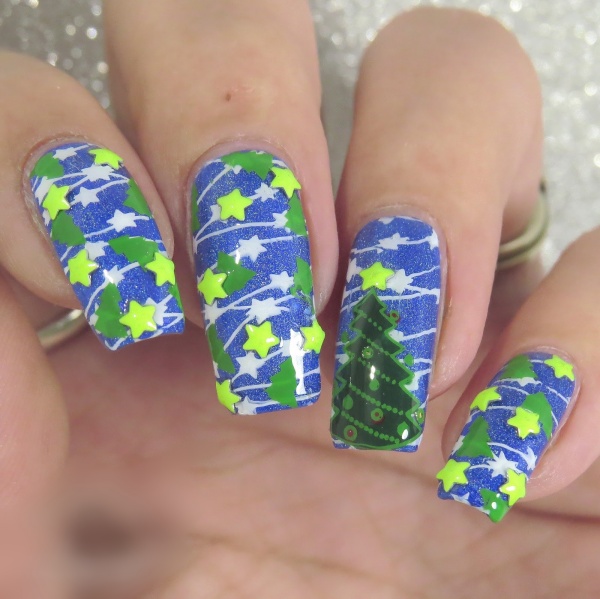 What can be better than getting starry nail art done for Christmas? This stellar nail art can be done by putting in minimal effort, but the final result is completely mesmerizing. You can pick up any color of your choice for the base coat and then add the star detailing. For this, you can use star stickers and paste them on your nails as you prefer. Otherwise, you can use star glitters and place them on your nails very carefully when the nail paint is still wet, and then leave it to dry. Once dried, add a layer of transparent nail paint.
Christmas Llama Nails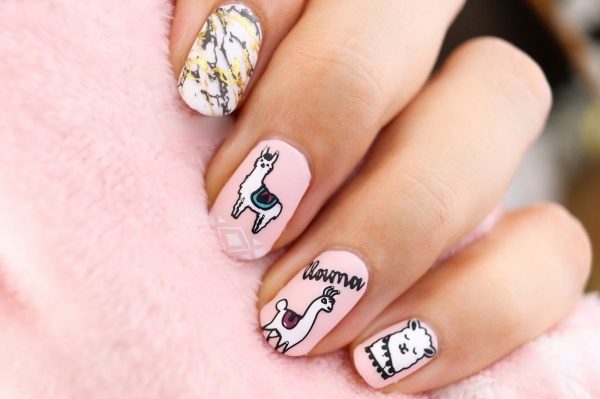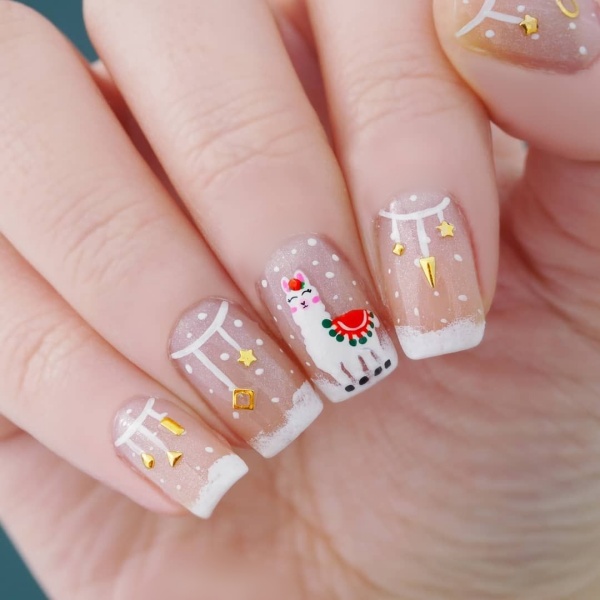 The long-necked llamas are one such animal that is being loved and accepted for various decorations at Christmas, so why not incorporate this idea in doing your nail art? A unique yet classy nail art idea, Christmas lama nails are worth trying this year. All you require is to paint a cute llama head on your nails by using a white or beige nail color. The eyes and mouth can be painted by using black nail paint. You can be creative in painting these llamas by giving some cute outlines to them. Another option of getting Christmas llama nails is by llama nail stickers or even press on nails.
White And Black Christmas Tree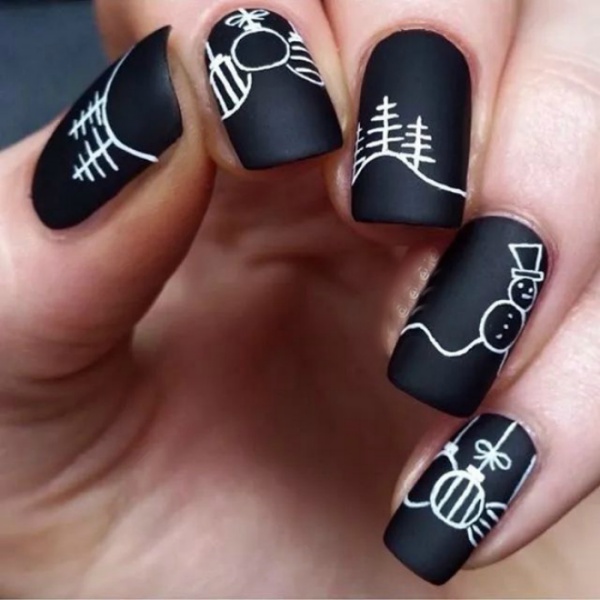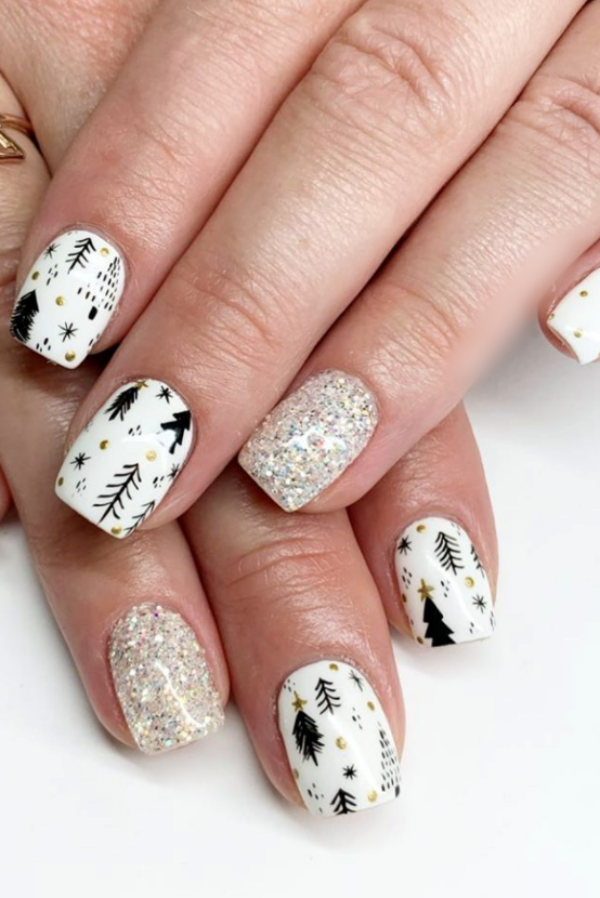 One of the most prevalent types of Christmas nail art designs is that of painting a Christmas tree. While a traditional and classic green Christmas tree decorated with fairy lights and stars, bows, bells, pine cones, and like is usually painted on nails, using a black and white combination Christmas tree nail art will be a unique alternative. So, you may use black nail paint at the base and paint the Christmas tree us9ing white nail paint. A matt finish will look very beautiful.
Abstract Holly Green Nails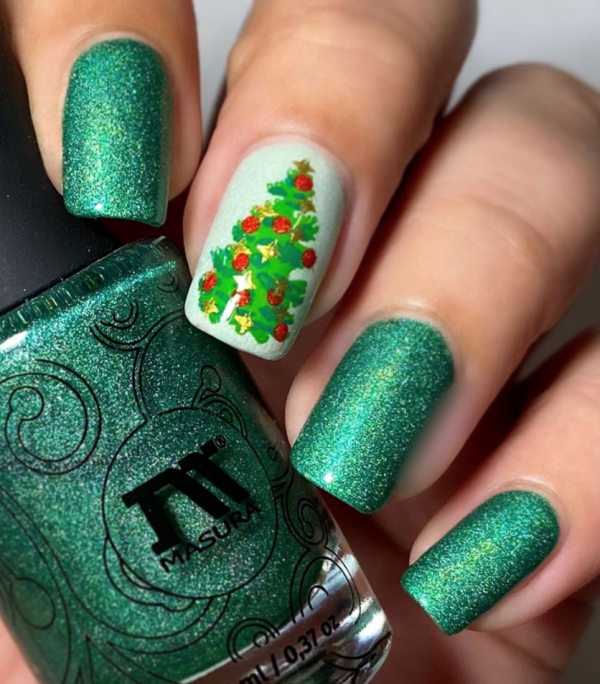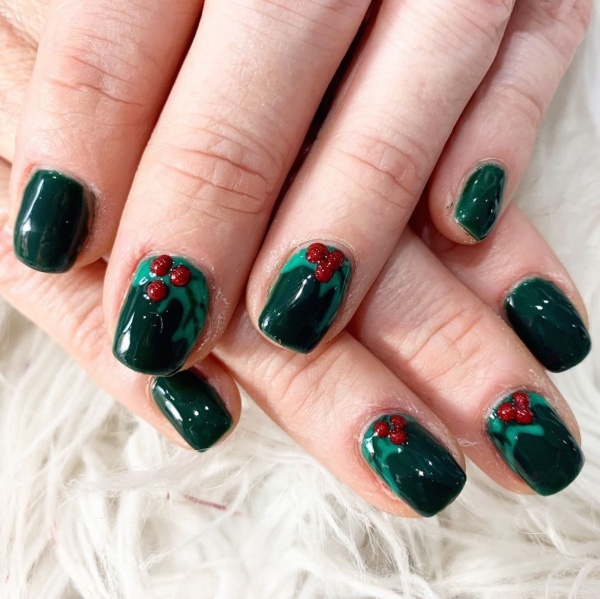 While holly nail art is one of the simplest and cutest ideas of nail art at Christmas, painting your nails following an abstract pattern makes the simple holly look even better. Holly leaves and berries always look good, no matter how you incorporate them for Christmas. So, a base coat of white or golden with one or two green hollies painted randomly looks pretty for Christmas nails. Furthermore, all green nails with some berries and leaves painted with a darker shade of green are great ideas.
Festive Dots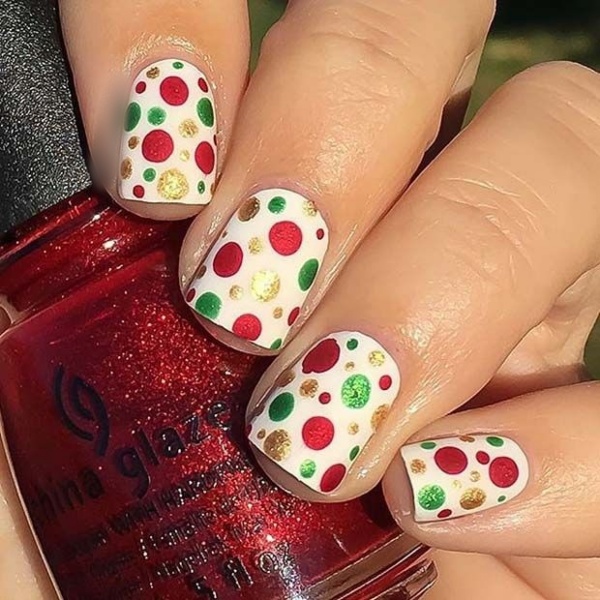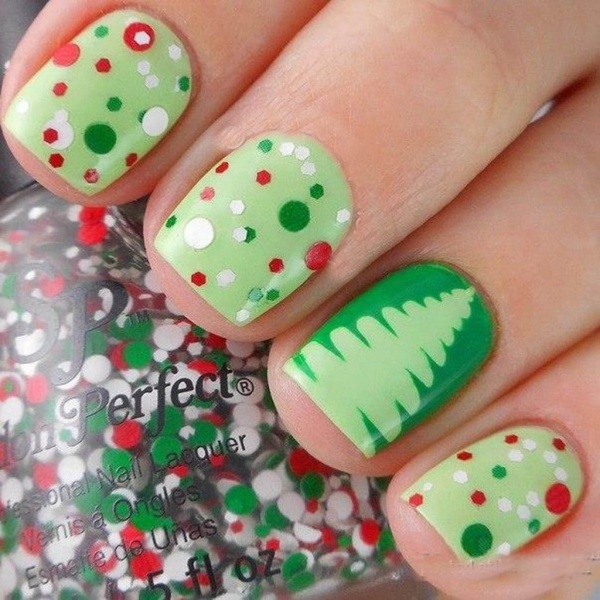 One of the simplest ways to do nail art for yourself is by decorating your nails with dots. Polka dots enhance the look of one's nail in no time by putting a minimal effort! A tip to follow here is to paint polka dots of various sizes and a few different colors. An ideal festive dots nail art is that these polka dots of different colors and sizes are painted with a white or a silver or golden background. You can either use a mandala dotting tool set or simply toothpicks to make these dots. Furthermore, red, green, and yellow colors are the best for scattering polka dots all over your nails.
Blue Ombre Nails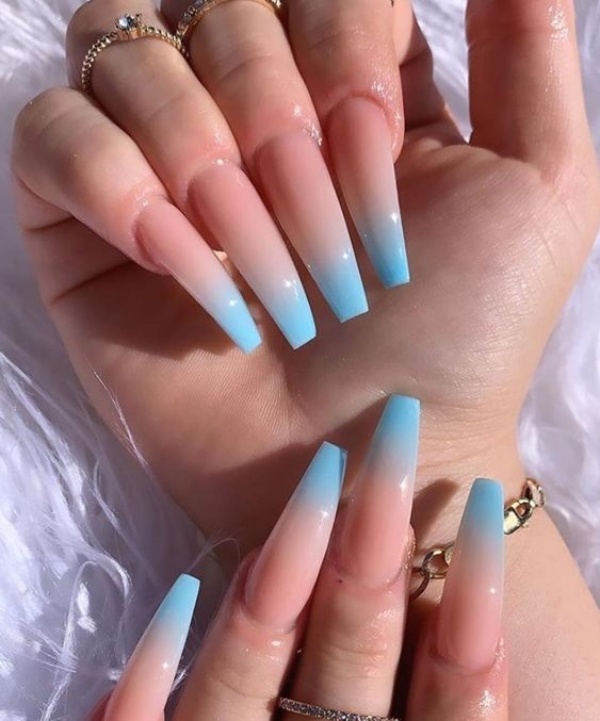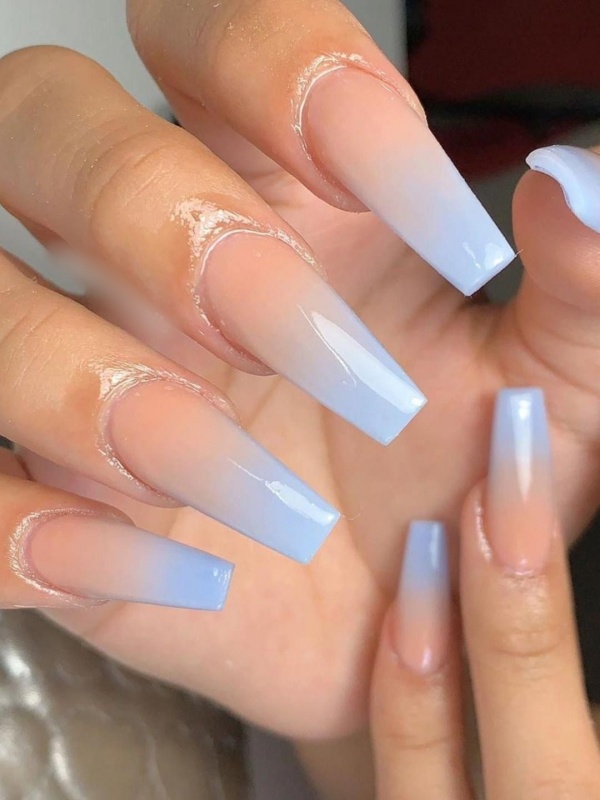 Although a little difficult to master, Ombre nails are one of the most mesmerizing forms of nail art that can be performed at home. Thus, if you are not looking for any artistic Christmas nail art designs, trying your hands on ombre nails is a must. Blue ombre nails top the list as there are several options for doing this nail art, but this nail art looks soothing to the eyes. You will need a piece of fresh sponge on which dark to a light shade of blue nail paints needs to be painted layer after layer and then immediately transfer onto your nails by dabbing the sponge on your nails very carefully. Repeat this process for every nail to get the perfect blue ombre nails.
Hanging Ornaments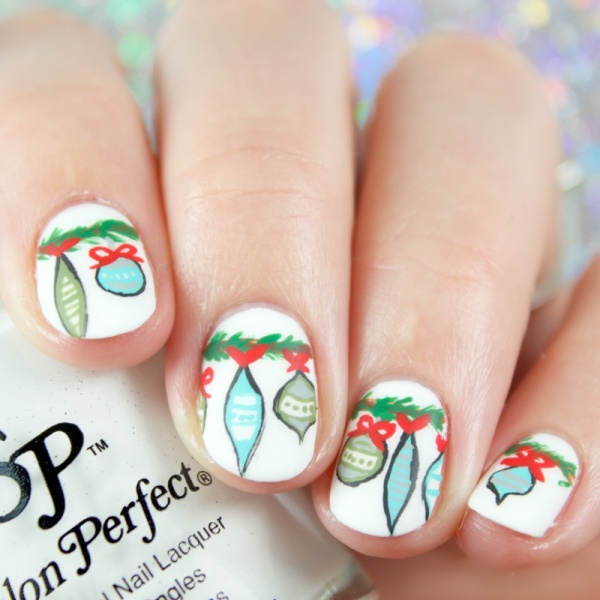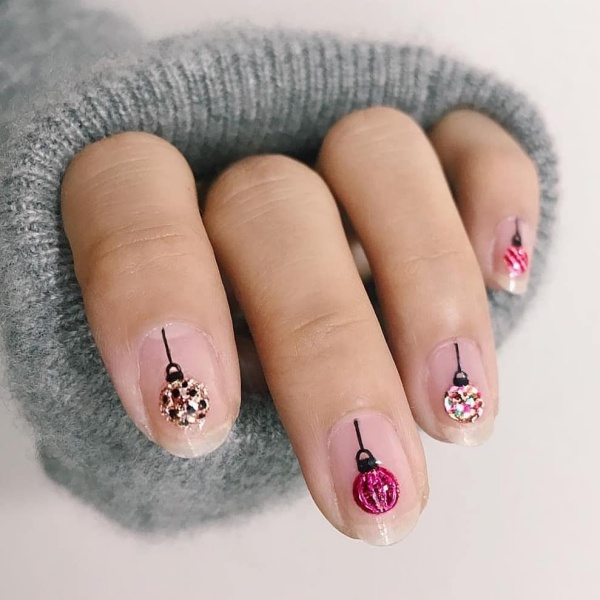 Christmas is incomplete without some hanging ornaments. So why not make these simple and classy Christmas hanging ornaments on your nails? So if you are looking for a simple nail art look, then choose a nude nail paint for the background, or else white, silver, and gold can work wonders too. Hanging ornaments like Christmas balls are the easiest to make with a mandala dotting tool or a toothpick. Otherwise, stars, one, or bows can also be caused by using some other nail paint.
Glittery Green Nails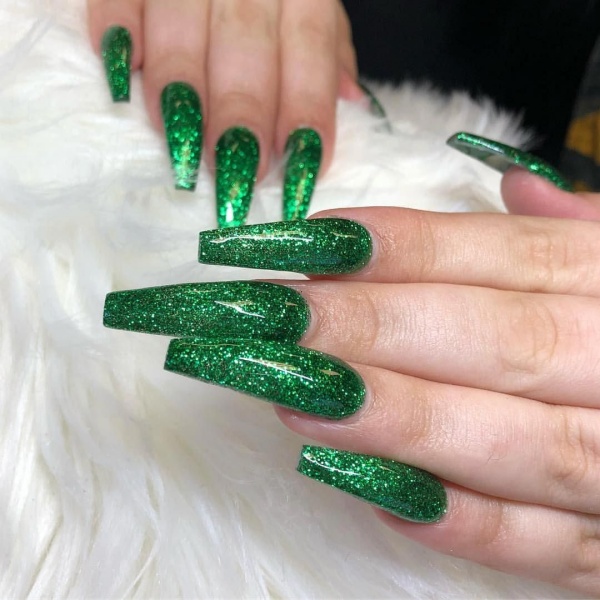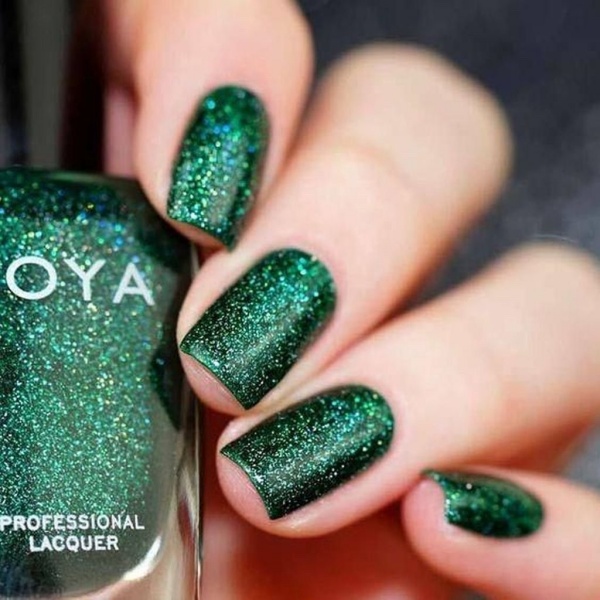 When you are too lazy to get your nails done correctly, there is always a backup option of simply painting your nails in any color like red, white, nude, green, or any other color of your opinion. Well, to enhance this simple nail idea is by using a glittery shade of nail paint. A glittery green one looks as impressive as ever. Although gold and silver rule the glittery world, a glittery green shade of nails is super unique and pretty. These nails can be done in no time and yet yield simple and beautiful results!
Christmas Kittens Nail Art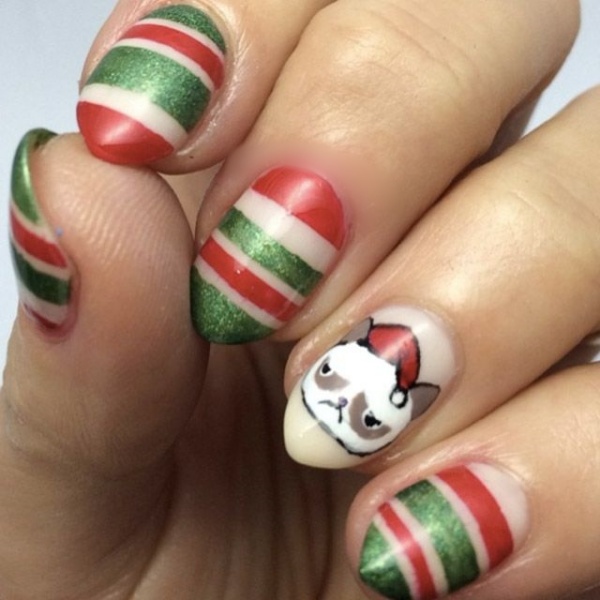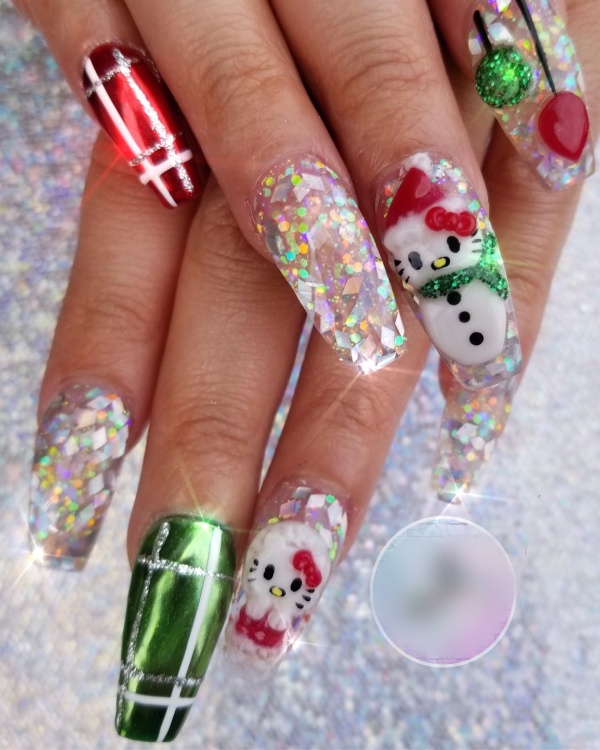 Anyone can go all "aww" on seeing a cute little kitten. So why not use the imagery of a Christmas kitten for your Christmas nail art designs this year? There are several ideas for painting a kitten on our nails, like utilizing a background shade of any color of your choice and then painting a kitten's head. Make two cute eyes and a tiny mouth on this kitten, and added little cat whiskers too. Finally, an outline over this creature elevates its look. Other options include painting just a pair of cat eyes, painting kitten eyes and two ears, or just a cat-like figure on the nails. All these ideas look super cute and can be incorporated together for different nails!
Minnie Mouse Nails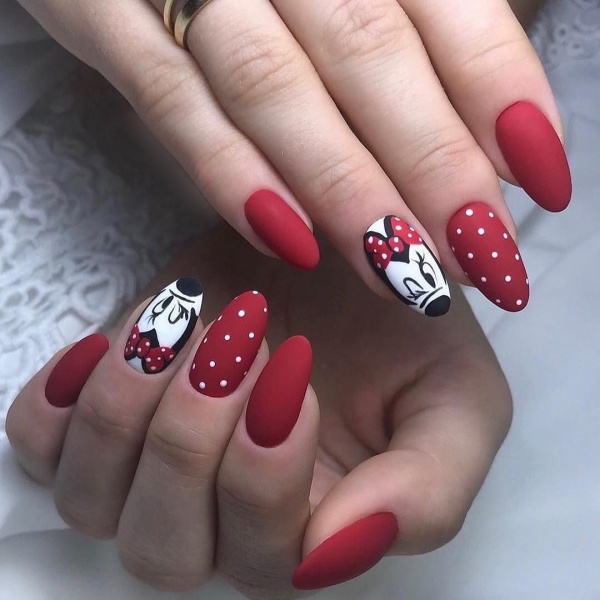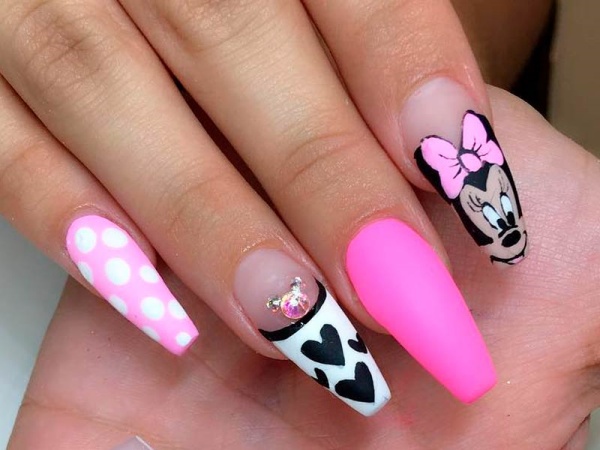 No matter how much a mouse looks creepy to you, Mickey and Minnie mouse will always be the mouse you love. If you have still not painted your nails in a Mickey or Minnie mouse nail art, you should try it out this Christmas. A Minnie mouse nail can be done in several ways, like painting your nail pink and painting the face of Minnie on your finger. You may use a black or white background for other fingers and paint the pink bow of Minnie mouse, the head of Minnie mouse, along with the bow, or simply an all pink nail with tiny, white polka dots spread throughout!
Mr. And Mrs. Claus Nails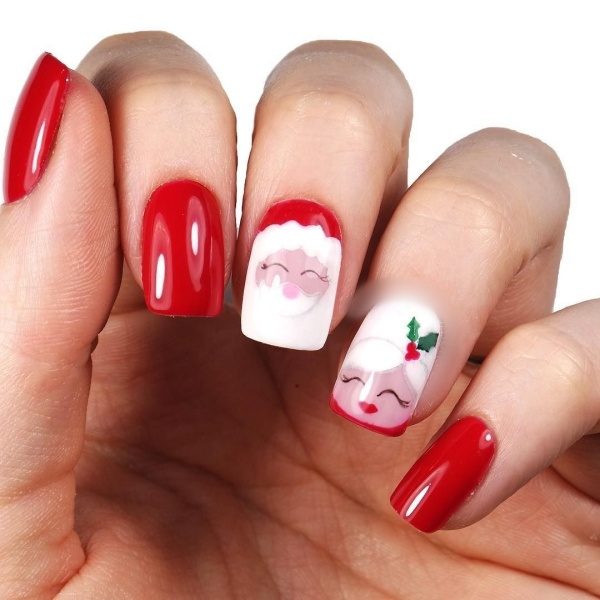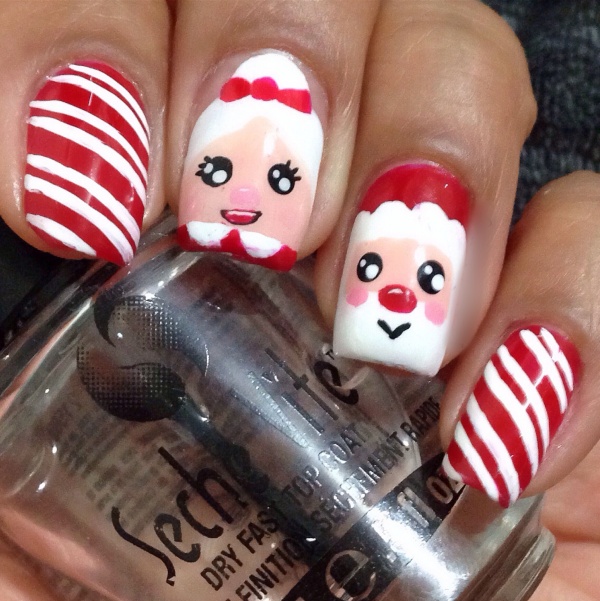 The first thought that hits everyone's head when thinking of Christmas is Santa Claus. Many people do their nail art by painting a pretty figure of a Santa Claus on their nails, but you can do your nail art differently. Instead of just painting Santa, why not paint both Mr. and Mrs. Claus together? Choose any two adjacent nails for carrying out this nail artwork, paint a cute Santa with his white beard and mustache and his cap, and on the adjoining nail, paint Mrs. Claus with white hair tied in a bun and fastened with a red ribbon. Make two beady eyes and give them both a wide smile. The remaining nails can be painted with the all-red clothes of Santa, or his substantial red gift bag, or some gifts too.
Pop The Champagne Nails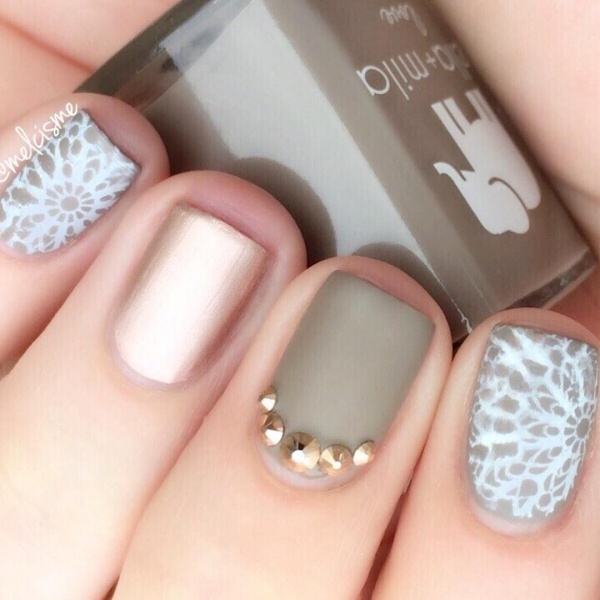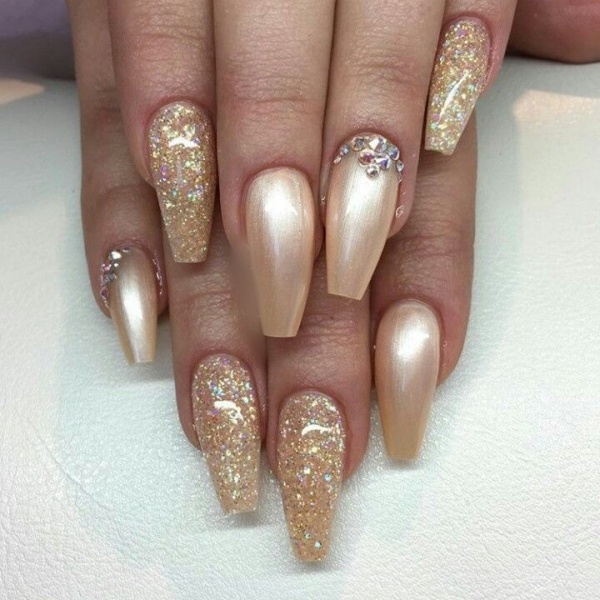 Christmas is incomplete without popping the champagne bottle. Painting this scene on your nails will account for one of the unique Christmas nail art designs. Choose a light shade background and then paint the champagne bottle; make sure to paint its nozzle popped out and the champagne coming out of the bottle like a tiny fountain! You may just paint the champagne bottle or its neck pouring champagne like a fountain to make the other nails look different. Otherwise, polka dots of various sizes can be used to represent bubbles from the champagne.
Holly And Berries Nail Art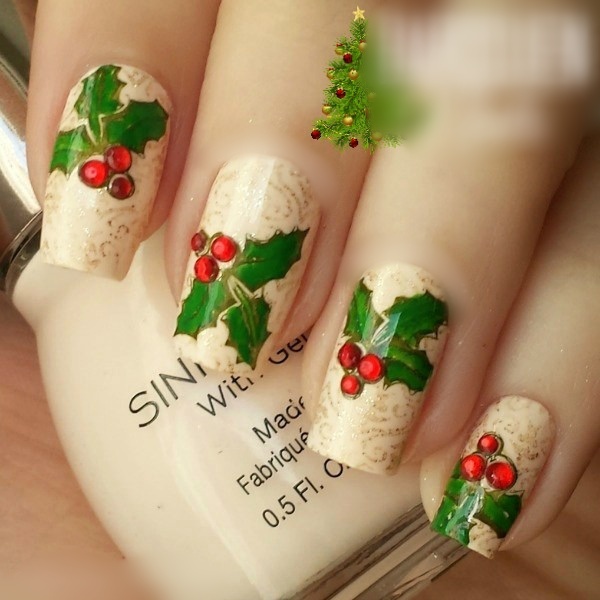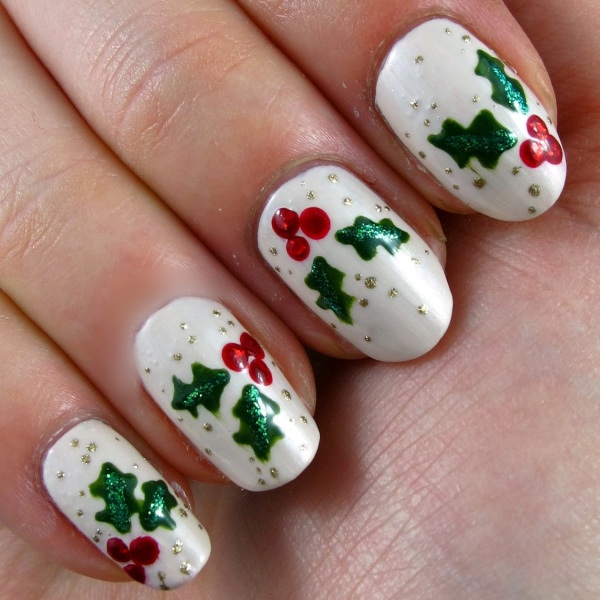 Holly and berries are super cute Christmas items that can be used in several ways. So if you love this holly and berries for the Christmas decoration, then nail art of a similar pattern can be a great idea. On a nude, white, silver, or golden base, these holly and berries can be painted very conveniently. These holly and berries look great even if they are painted on every nail the same way. Otherwise, randomly painting this holly and berries in different positions on different nails makes your nails look dazzling pretty.
Stained Glass Nails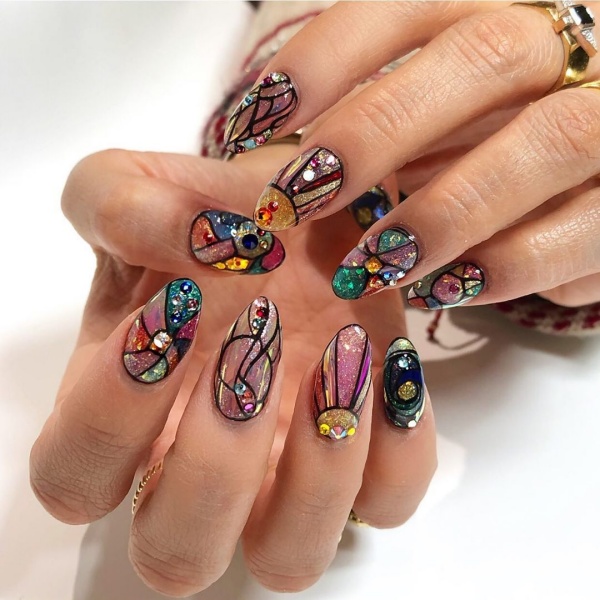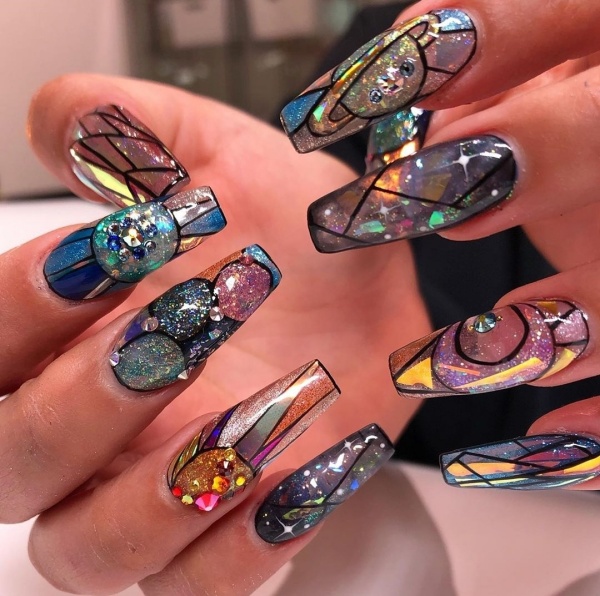 When thinking of some drool-worthy nail art ideas for Christmas, stained glass nail art shall never back off. Although a little complicated to carry out, stain glass nails look classy! These geometric shapes follow a random pattern and form a beautiful design that looks like authentic artwork. The use of different colored nail polishes on different geometric shapes is the trick here. Gel nail polish is highly recommended to give your nails an authentic stained glass look! Or else, transparent nail polish with colorful shimmers can be used too, but on a black base.
Colorful Gems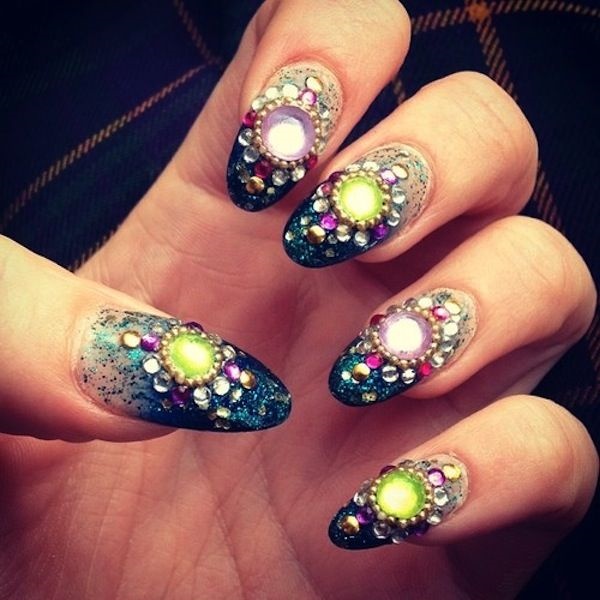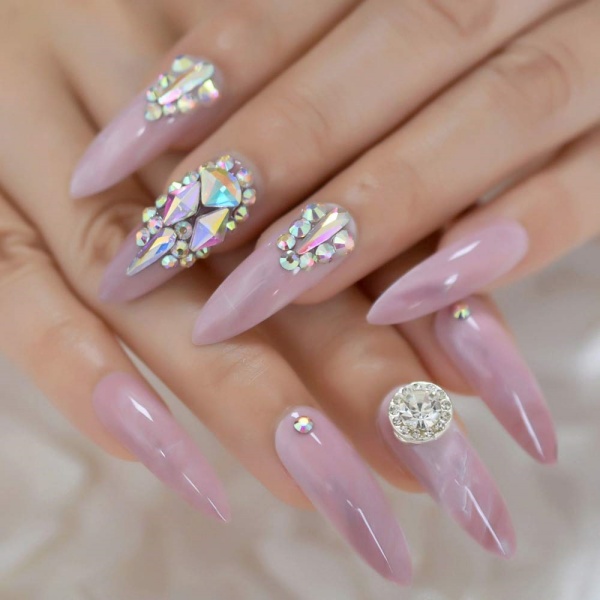 Gems on nails are yet another trend which if you have not followed yet, then this Christmas is the time you should try it out. Colorful gems look perfect for any festive occasion and are worth trying this year! You may paint your nails in any shade for the base. An ombre nail art contributes to an excellent idea for the bottom of three colorful nail art gems. Pasting these colorful gems on the roots of your nails or the nail tips is completely your choice. Furthermore, you may fully cover your nail with these colorful gems too. You can also use these colorful gems of different shapes for a much prettier look.
Sleigh-inspired Nails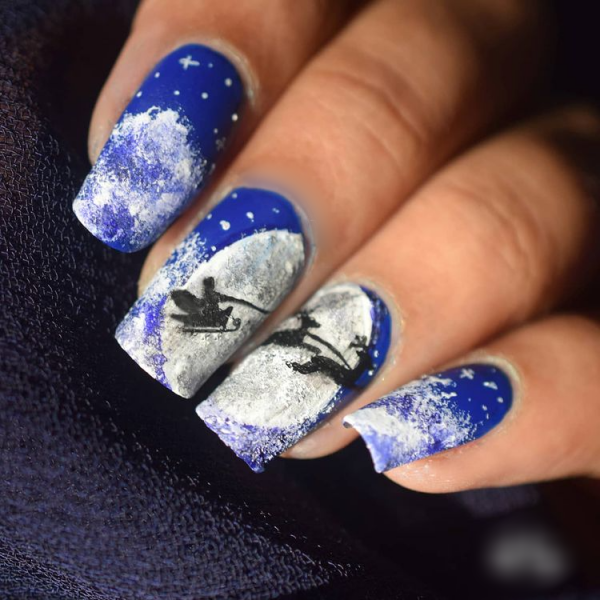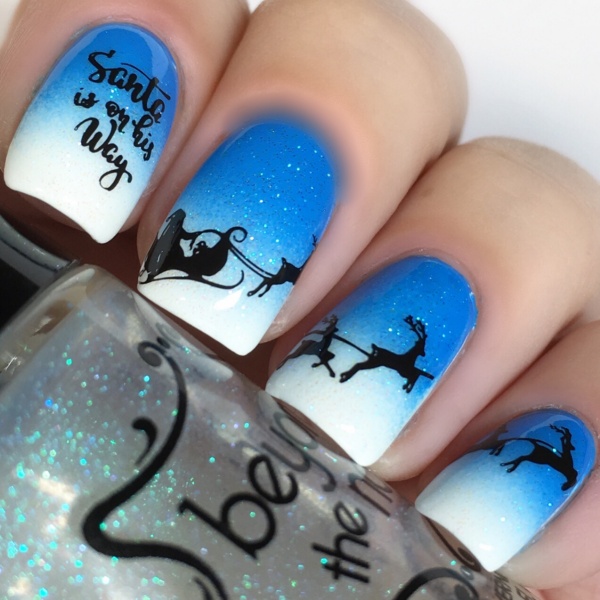 If Christmas makes you think of Santa, gifts, and reindeers, then sleigh is something that cannot skip your thoughts either! So Christmas nail art designs can be sleigh inspired too. If this idea seems tedious, then you can club it with a Santa sitting on this sleigh or reindeers pulling the sleigh through the starry sky. Once the starry sky is painted, making this sleigh becomes very easy. Use the brown color nail paint for painting this sleigh and make a little Santa sitting on it. On another of the adjacent nails, you may paint the huge red gif bag that Santa carries and the reindeers who take the sleigh all through the sky. If any nail is left, then Christmas trees and snowman can make their entry too.
Pearl Nails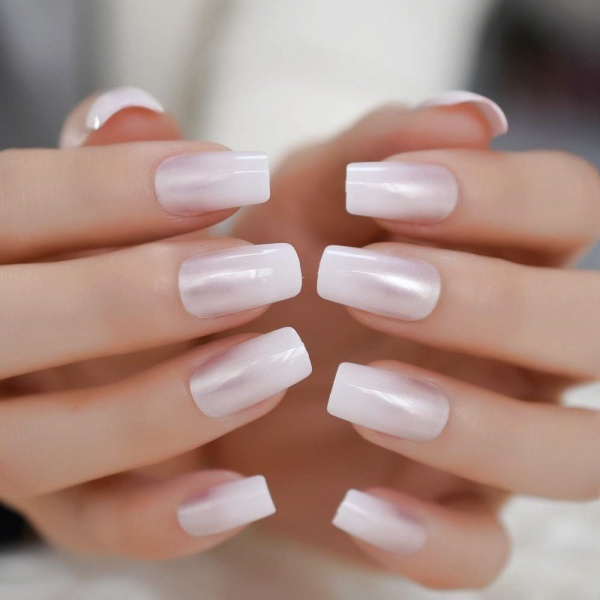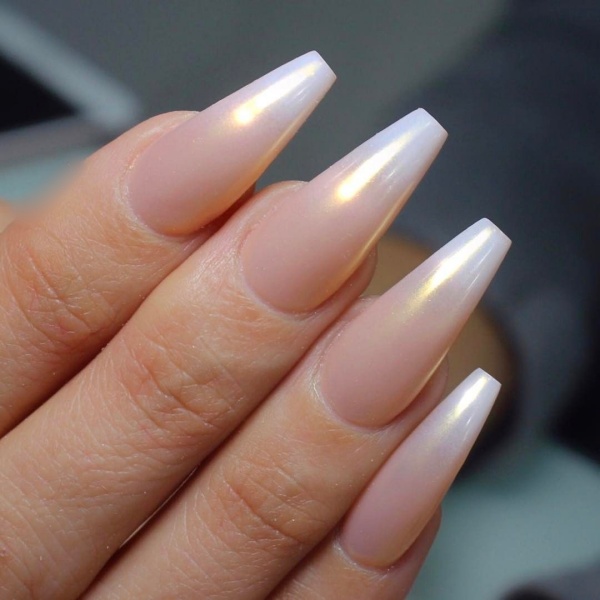 Pearls are something that everyone loves. These tiny, beady items are simply beautiful and enhance the beauty of anything they are put on. So, pearl nails contribute to a great idea for this Christmas. One of the simplest ways of creating a pearl nail is using a pearl shade nail polish to give your nails a simple, pearl-like look. Or else, you may get a more party-like nail art by painting your nails nude or with white tips and then paste a few half pearls on your nails. You may use some silver gems along with these pearls to give your nails an artistic appearance.
Retro Shapes Nail Art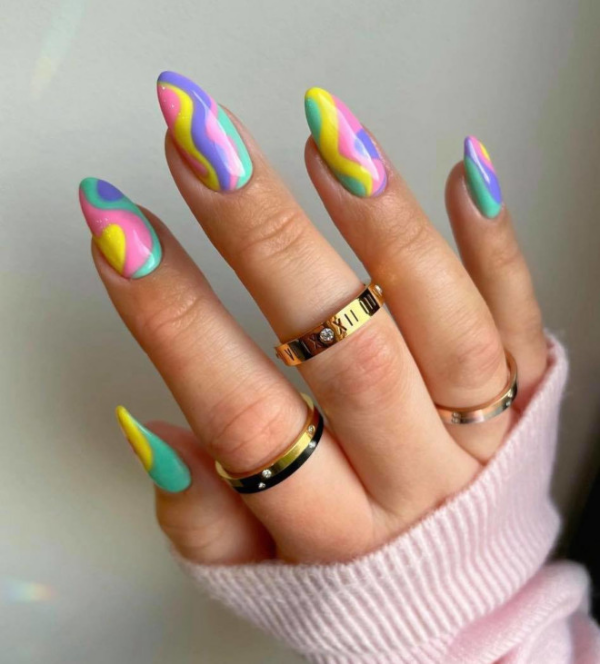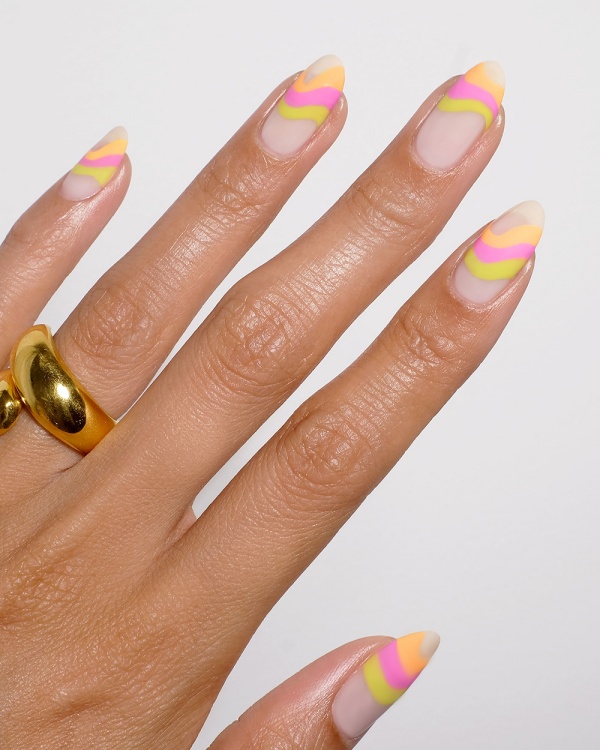 Retro shape nails are another trend that is worth the try this Christmas. These nails are beautiful and a great nail art idea that can be executed at home with very little nail art equipment. All you need to do is be very careful, apply the base coat, and leave it to dry completely. After this, two to three layers of transparent or sheer nude nail polish needs to be applied to all your nails, and then a drop of nail polish of a light shade on top of these layers and with a striping brush follow a wavy pattern and then repeat this process with one or a few other nail colors too. Finally, leave your nails to dry and flaunt your retro-inspired nails.
Festive Penguins Nails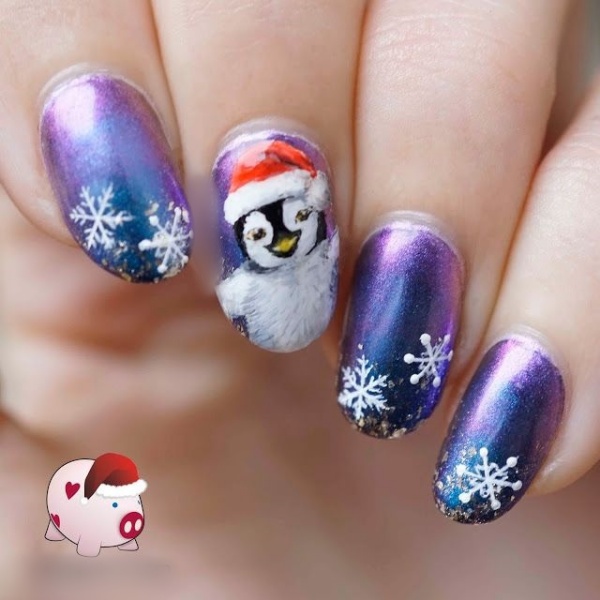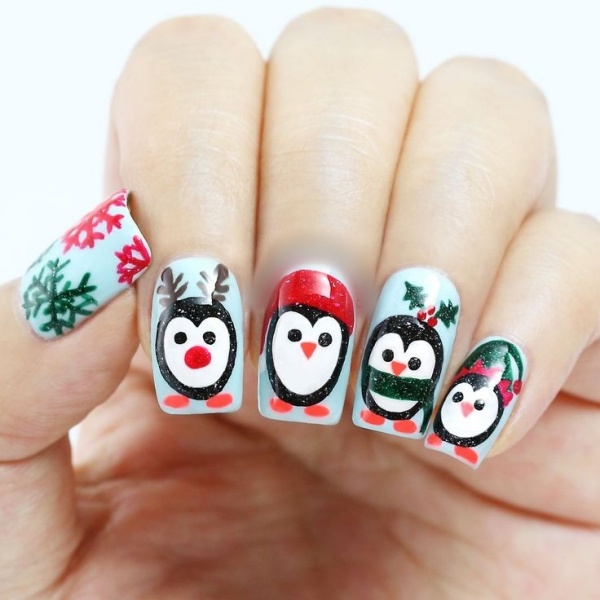 One f the cute creatures on earth is a penguin, which can be a great source of inspiration for various decorations and, in fact, for making some great food too! This tiny bird can conveniently hop into festivities and spread cuteness. Festive penguin nails are thus a great idea. An advantage here is that these cute penguins can be painted very easily. You may or may not bother with a background, the outer layer will be in black, and the inner one will be white. Two tiny, round eyes, a little orange beak, and even two cute little feet are painted very quickly. To add to the Christmas looks, you may draw a Santa cap on its head.
Grinch-inspired Nails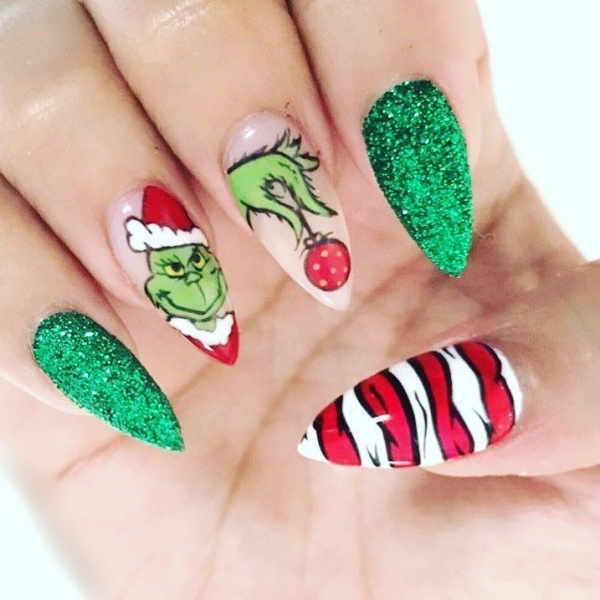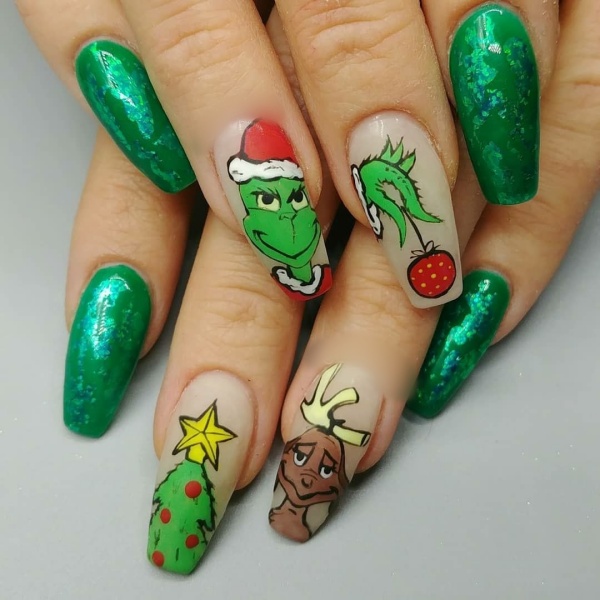 How about Christmas nail art designs that are more cartoonish? Well, then Grinch-inspired nail art is what you should try this Christmas season. Do not worry, as this nail art is not very difficult to carry out. A white background seems perfect for this nail art. The Grinch's face is effortless to draw and can be outlined with black and painted green, with a pair of tiny eyes and a wide smile. Other characters like Max, Whos, Little Cindy Lou, and Donna Lou may be painted accordingly. Adding details like a Christmas cap will throw great Christmas vibes too!
Christmas Criss-cross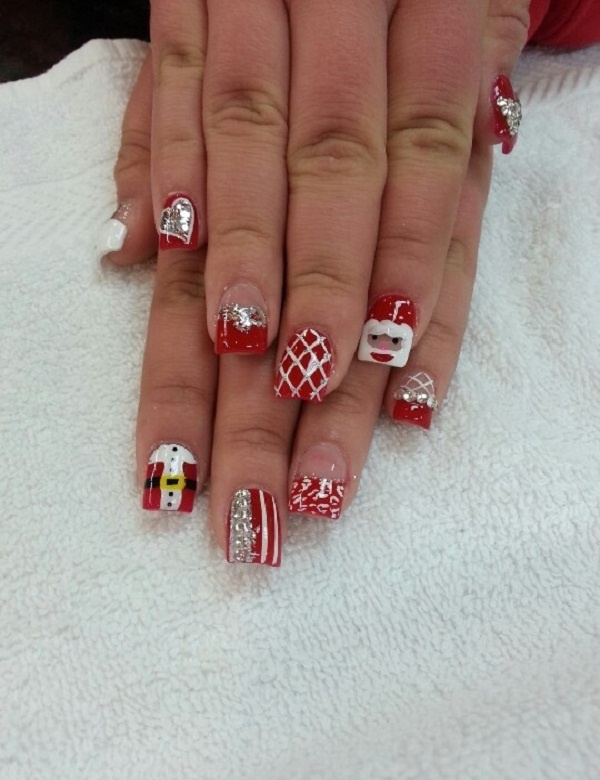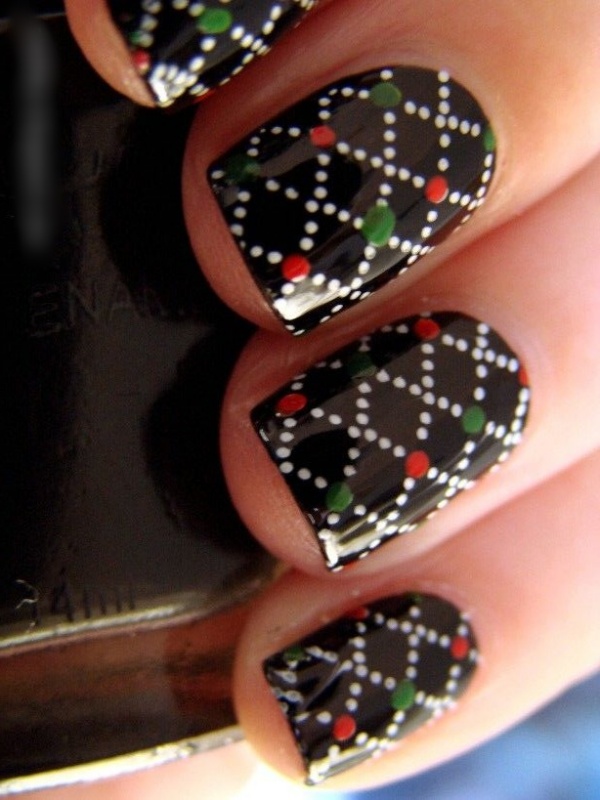 Have you been planning so much for Christmas that you are left with no time or energy for doing the perfect Christmas nail art? Well, do not leave your nails plain, as Christmas criss-cross designs can be done on nails by putting in minimal effort and even takes significantly less time. The most straightforward idea here is to keep either a nude background on which thin lines of black may be painted in a criss-cross pattern. Some star stickers or tiny gems may be used too. Golden likes look effortlessly beautiful as well. Another Christmas-friendly simple idea uses a white background on which thin red lines may be painted crisscrossing each other.
Christmas Hats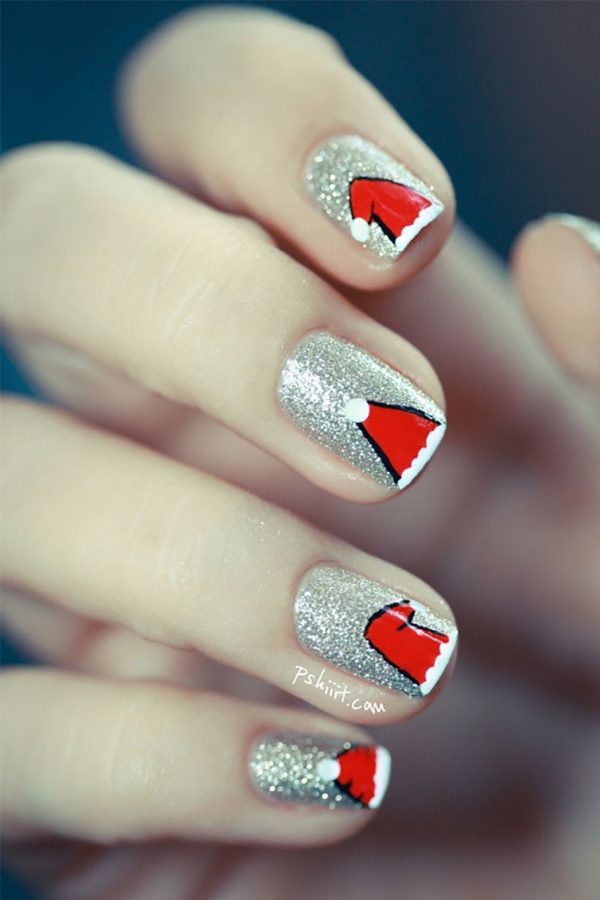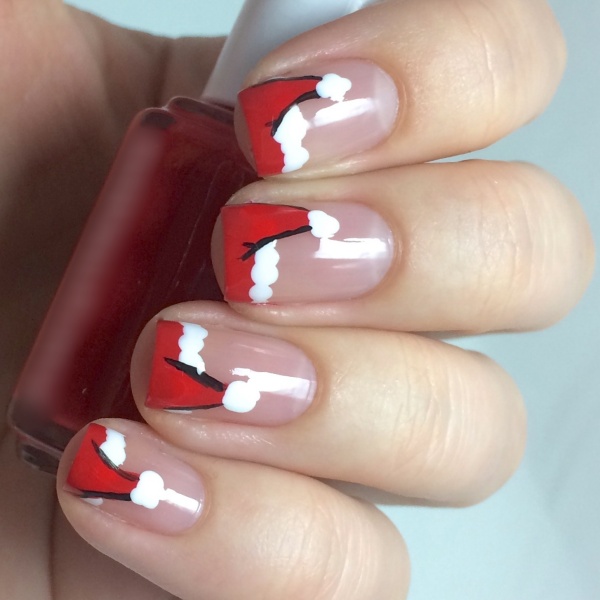 Are you thinking of doing a simple and catchy nail art this Christmas but want to add items that are Christmas-friendly? Well, a Christmas hat nail art is thus what you are looking for! This nail art can require you to paint a transparent glossy or matte background. A silver background looks beautiful too. Then, a triangular red shape for the Santa can need to be drawn, after which the base of the hat has to be lined with white nail paint and the tip of the hat painted with a white polka dot. This Christmas hat may or may not be outlined. Using glittery red nail polish will enhance this look.
Mix-match Christmas Nail Art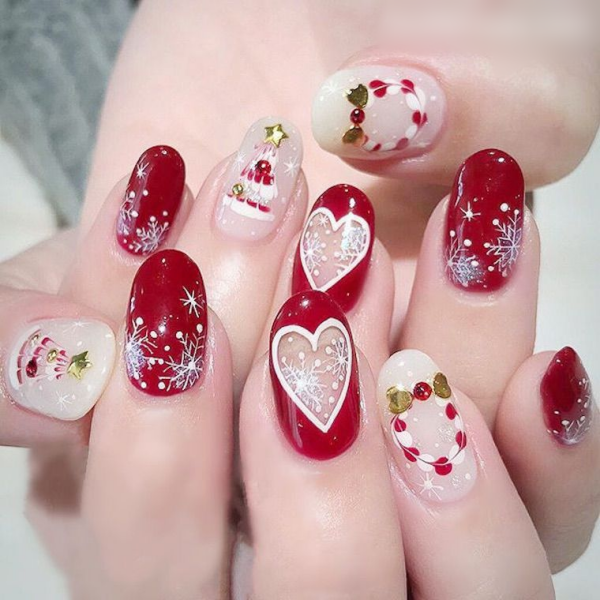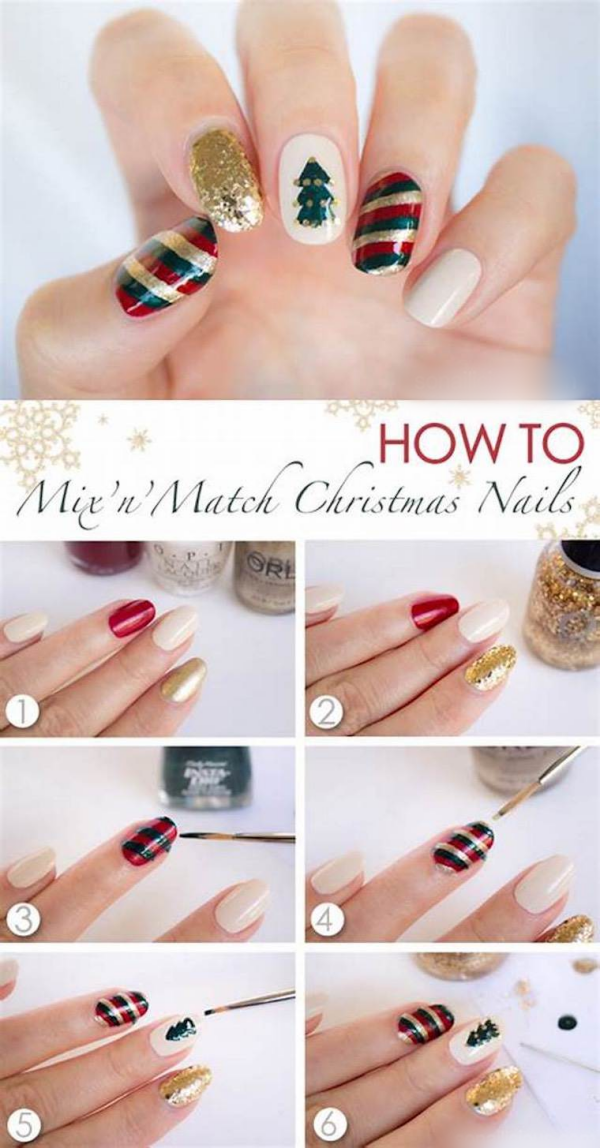 Still undecided about which idea to incorporate for your Christmas nails 2022? Why not have a Christmas mix-match nails! You may include various details on different nails, starting from a Christmas tree and fairy lights, Christmas bells, and balls, to Santa Claus and holly and berries! A candy cane or a full red and white striped nail will surely augment the look of this Christmas mix and match nails. A Christmas-friendly mix and match nail art is a super cute idea for getting the perfect nail art for Christmas with every detail you need.
Conclusion
Christmas is the festive season everyone waits for eagerly. We all want everything about Christmas to be perfect and on point, with all the decorations, our Christmas dresses, the menu, and everything else. So, why neglect your nails? Many Christmas nail art designs are effortless and can be done very quickly at home. This article includes a list of simple and a little effort-consuming nail art ideas which you will fall in love with.
You will indeed require some tools for painting your nails into a Christmas theme nail art, like some nail brushes, dotting tools, sponge, scotch tape, nail filers, tweezers, and so on. But with only these essential tools, some incredible nail art can be done very quickly. Among these varieties of nail art ideas, you can choose the best one you love the most for Christmas 2022. Even if you have short nails or very long ones, some of these ideas will definitely suit you.