Has the cupid's arrow struck you with the advent of February, and you are all set to go on a super romantic date this Valentine's Day? Going on a romantic day with your companion on that particular day is a great feeling. Still, it also gives some dose of anxiety as you often get overwhelmed with the idea of how to dress up perfectly. Besides your clothes, your makeup also decides the charm of your appearance. While you are focusing on your facial makeup, your nail colors should not be overlooked as it also fulfills a significant role in finishing your look for the date. Our mainly selected valentine's day nail art designs will enhance your appearance on the coming 14th February with their beauty and cuteness. The nail art designs are effortless enough to try on your nails with some basic tricks and achieve a fresh look for your romantic date. So, read on to know how you can give your Valentine's Day look a touch of extraordinariness.

Valentine's Day Nail Designs You'll Actually Love
Red Heart Tips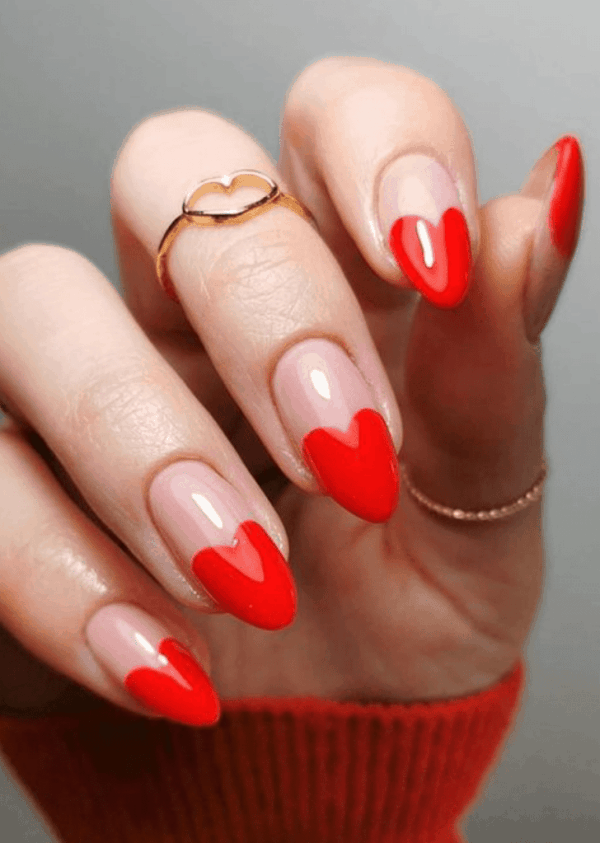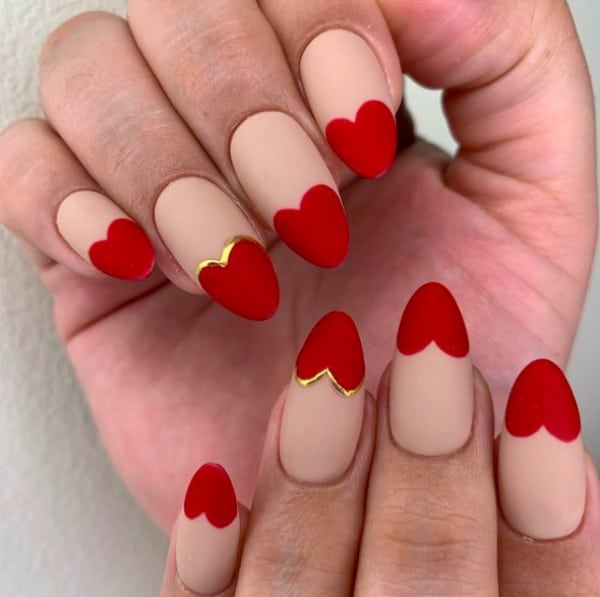 When valentine's day is near, and all your plans for outfit and hair are fixed, the only addition you need is a perfect manicure. For your valentine's manicure, use your classic red nail paint to do something unique and adorable, such as recreating French tips with some bit of red hearts. This red heart tip is just as easy and attractive, and there is no way it won't be the perfect match for your valentine's outfit because red themes on valentine can never go wrong. As we all know, the ideograph heart is a symbol of affection and romantic love for its cute and pleasant shape. Thus, the classic red heart tips will bring a cute feeling with excellent details. You can quickly bring on these pretty red heart tips using a brush or even a dotting tool. Heart nails rendered in the shade of red always connect to romantic and hot love, and thus this is bound to be one of the unique ideas for your valentine's day nail art designs.
Kiss-Print Nail Designs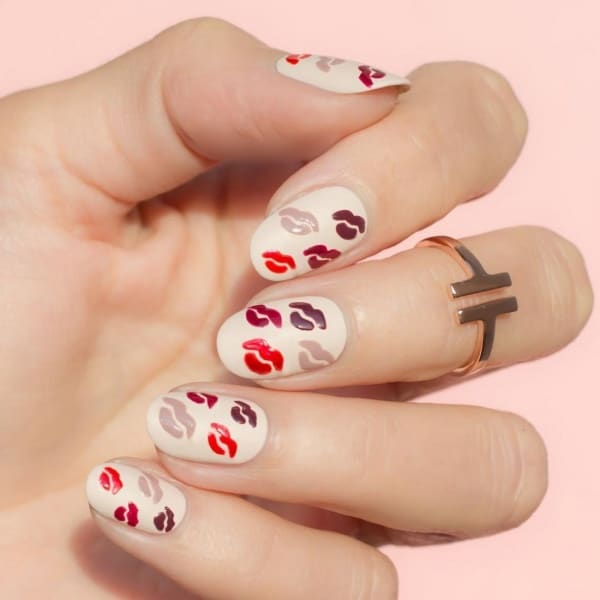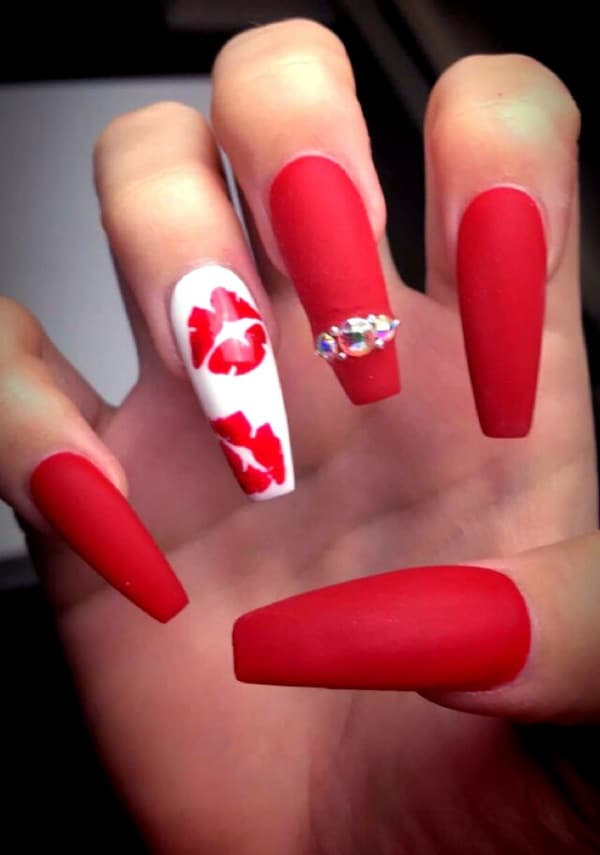 Kiss print nail designs are the classic and traditional combination for anyone getting their nails ready for Valentine's. For someone who thinks that lips are the most attractive part, painting some sexy lips down their nails to create some kiss-print nail arts is all you need. This nail art will help you show love from the bottom of your heart and give your nails a chic and cute look. The kiss-print nail designs would look best if rendered in the shades of pink or red because that would surely add a romantic vibe for the special day. Beginners feel it quite tricky to pull over this style because it is pretty hard. Readymade stickers are widely available for people like them, which makes it possible and relatively easy. All they need is to stick some ready-made stickers over their primary coated nails. However, people who are good at detailing and drawing can easily print some kisses on their nails.
Red To Black Ombre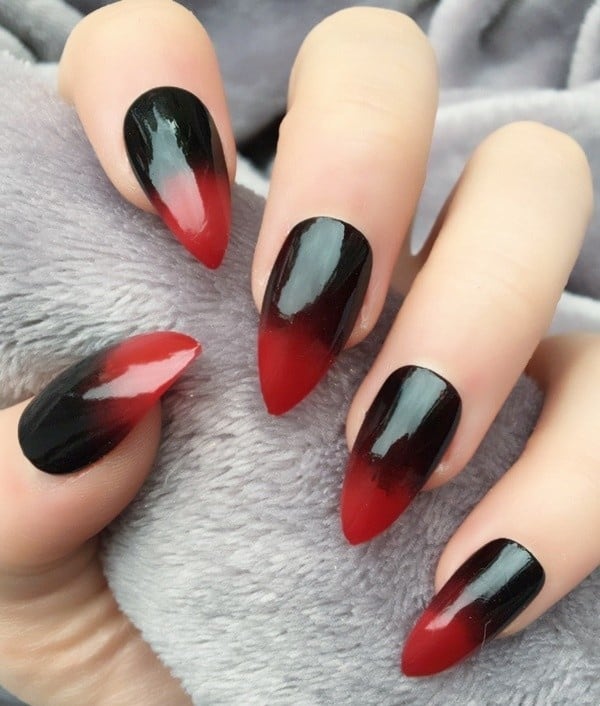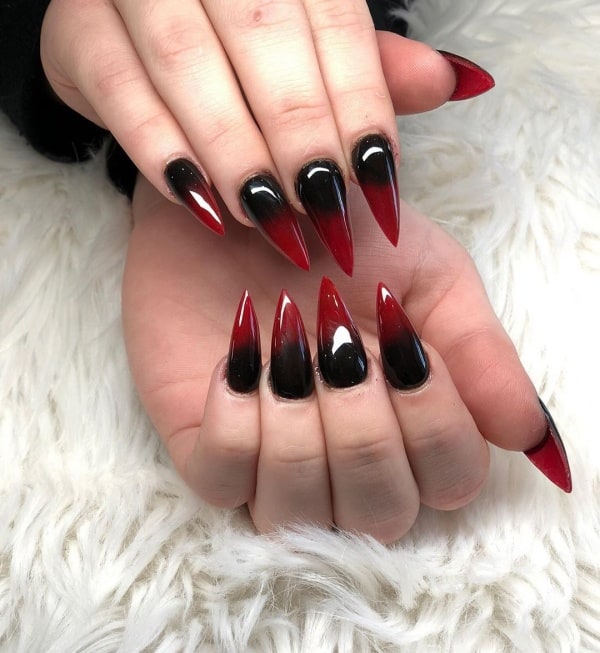 Red and black is the shade one would prefer for valentine's night. The reflection of your desires can easily be painted onto your nails, and there is no way this can go wrong. Red and black is the exact mix of fire and passion. If you prefer a darker, more dangerous style, you will go crazy over these red to black ombre designs. Start the black at the cuticle or the tip, create the focal point with red, or go for a darker shade to portray the black as the show's star. You can keep it matte or even make it shiny with glitters or glowing paints. No matter what style you want to try, you can never really go wrong with red and black ombre nails.
Red Flames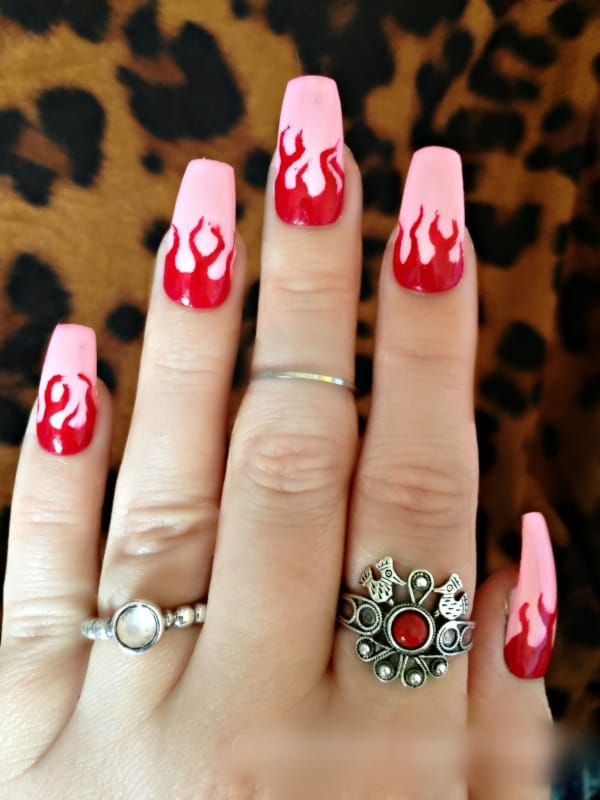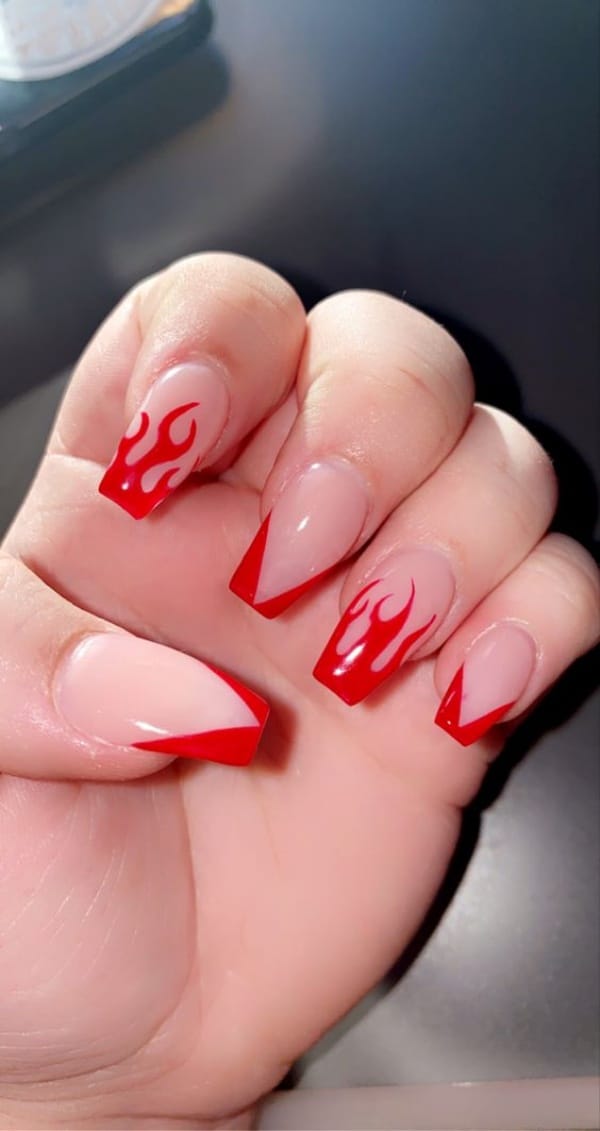 Flame nails are among the hottest and popular nails. The fiery flames on your nails are bound to set the hearts on fire in the lovely and passionate occasion of Valentine. Red flame nails are fantastic because of their fierceness and style. This nail art design can give your pretty manicure a modern edge and a chic look. It is nice to hand paint the flames, use stencils, or even buy stickers. Red flames look extraordinarily good on a nude base. It is an easy-to-wear version of the trend because red is a classic nail color, and it complements the nude base beautifully. You can even recreate this mani or glam it up a little with some red glitter.
"Bee Mine" Nails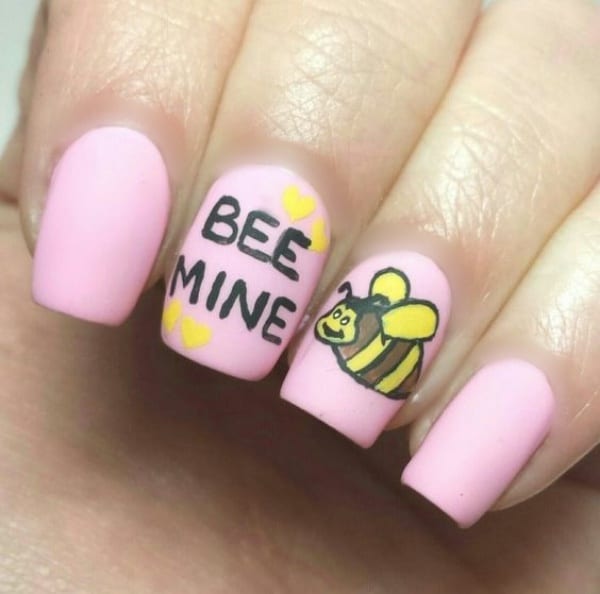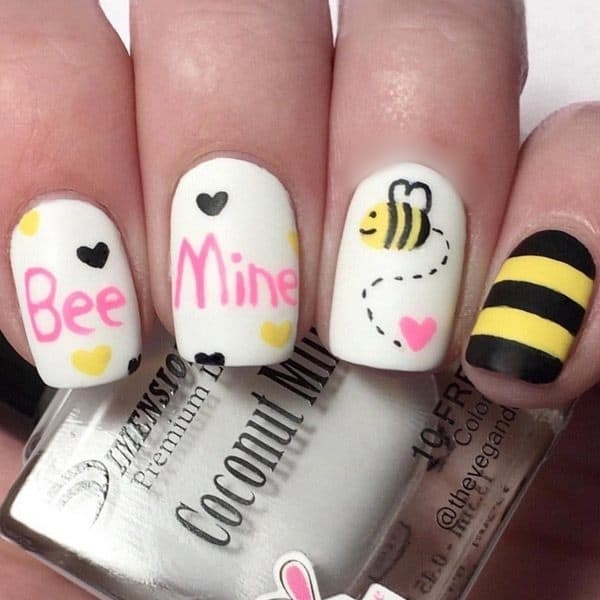 For someone who prefers a cute texture over some hot and sexy looks, 'bee mine' nails are the exact pick. Start with painting your nails with a lighter shaded cute primary coat (for example, pink, white, or silver). If you are not an experienced nail artist or do this alone at home, try drawing the black silhouette for the bees at first. Next, add on the white face, wings, and yellow face with acrylic paint. Finally, try on writing a classic "bee mine" on your thumbnail. You can quickly master the art with a nail art pen or even a thin nail art brush. It is easy to set hearts to flatter with these valentine's day nail art designs.
Love Text Nails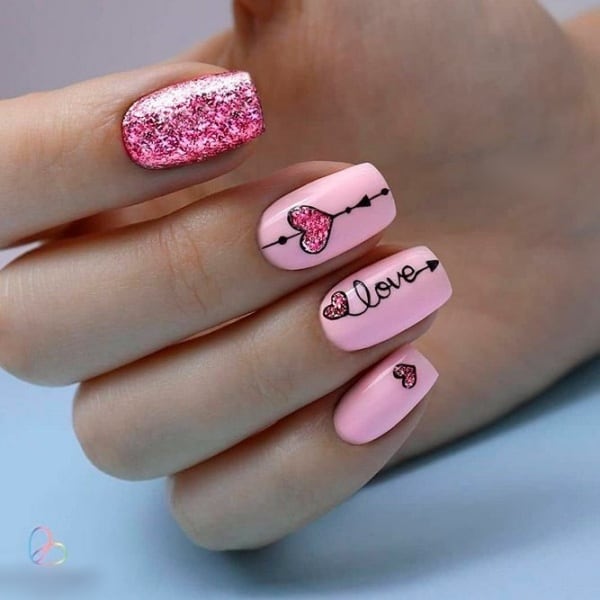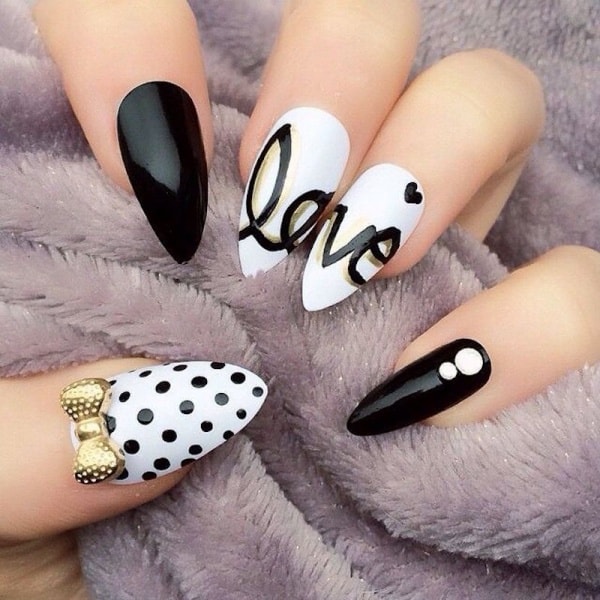 Is there a more suitable time to bust out bold and cute nail paints than on February 14th? If you check out for some ideas to take your standard manicure to the next level, love text nails are just what you need to try on. Try them in shades of matte or shiny textures, and you can even try elevating your palette from primary red and pink. However, subtle shades of pink or bold shades of red with love texts can never fail to stand out, at least on the occasion of Valentine's day. With adventurous shapes, sugary hearts, and that classic pink, red and white nail polish color palette, these love text nail designs will have you feeling the love in no time.
Polka Dot Valentine's Nail Design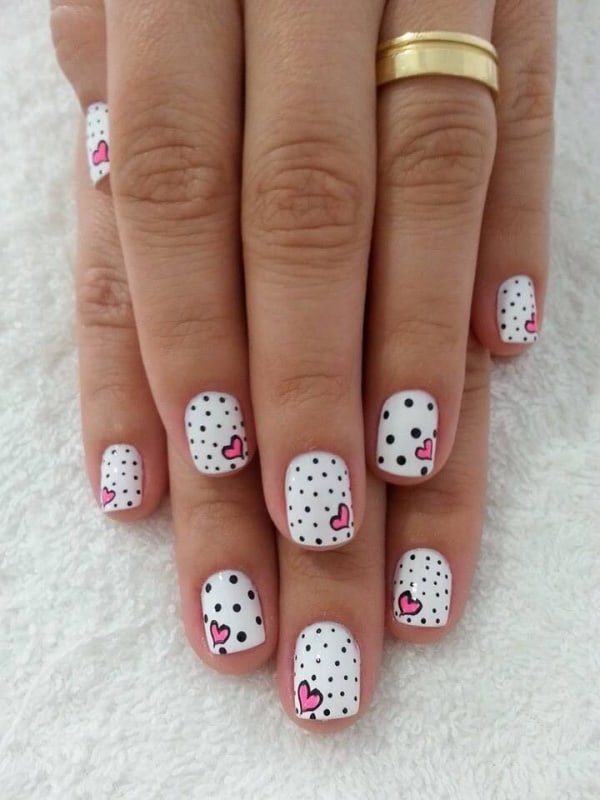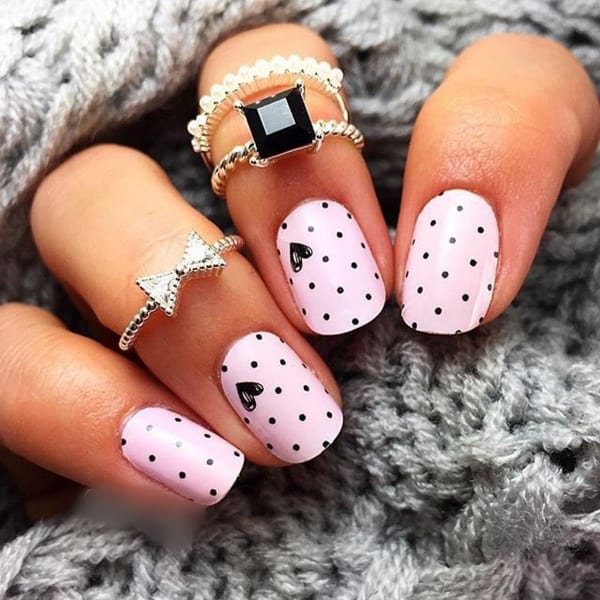 Polka dots nails are easy and adorable nail designs. A polka dot valentine's nail design will unbelievably make your romantic date much more special. So, if you are looking for some cute and lovely valentine's day nail art designs, this is a sure pick for you. You can recreate this look with some heart designs or even an alternate matte finish. Try on this cute nail art design in plain shades and pin on some polka dots of a contrasting color with a thin brush, and you are good to go.
Confetti Hearts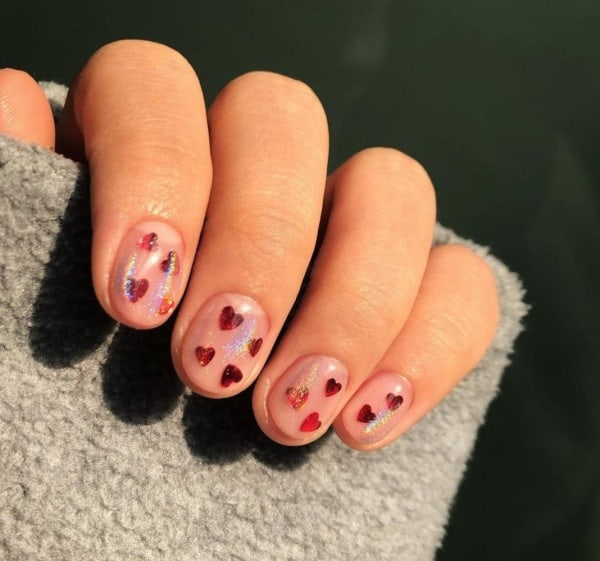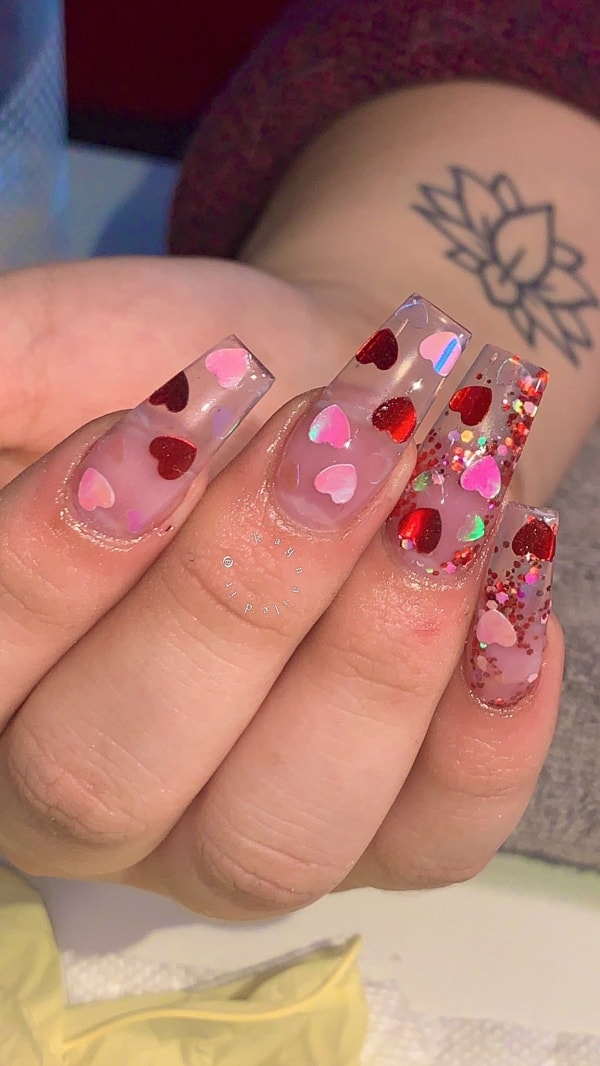 When you look for a classic nail art design with a modernish tinge that is easy and good to carry with every outfit you pull over, what can be better than one glitter nail polish? Confetti hearts stand out among the nail art ideas, which are easy and time-consuming and can be carried by everyone. You can bring your heart to your nails with this glamorous nail art. Try some subtle color as the primary coat, for example, baby pink and topcoat with some iridescent glitters, and you are ready to steal the show.
Alternating Reds And Pink Nails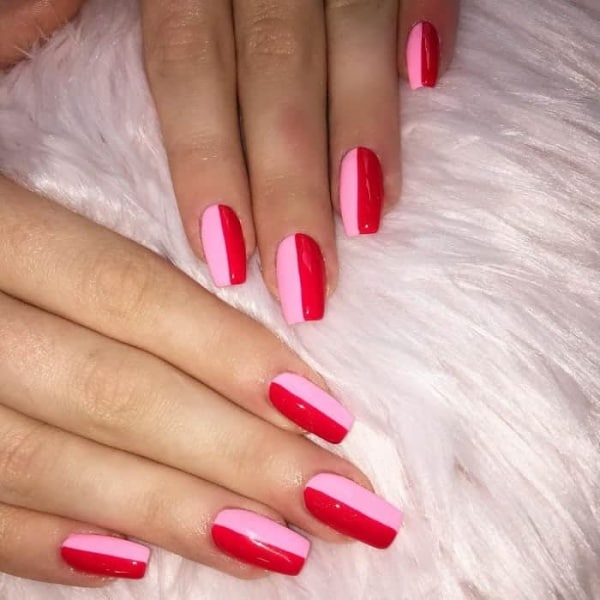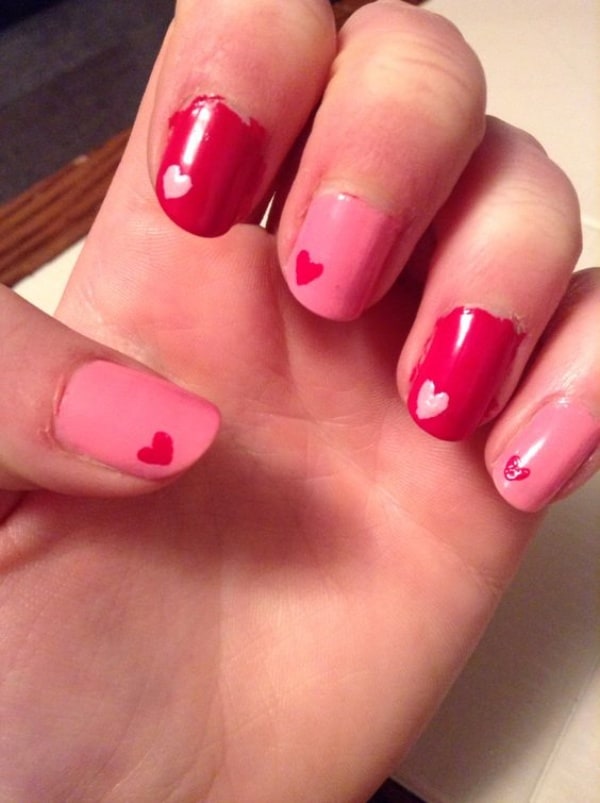 If you have the mood for some mismatched nail art ideas for this Valentine, then alternating red and pink nails is the exact pick for you. And if you are already bored with the traditional nail paints, then this is the time you start experimenting with them. Try implementing reverse French, break the stereotypes and take a fun spin on a French manicure with this alternating light and dark shades of red and pink.
Ombre Glitters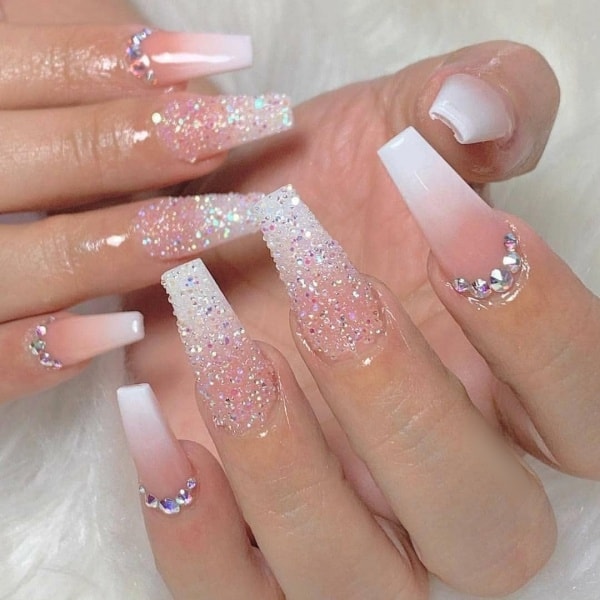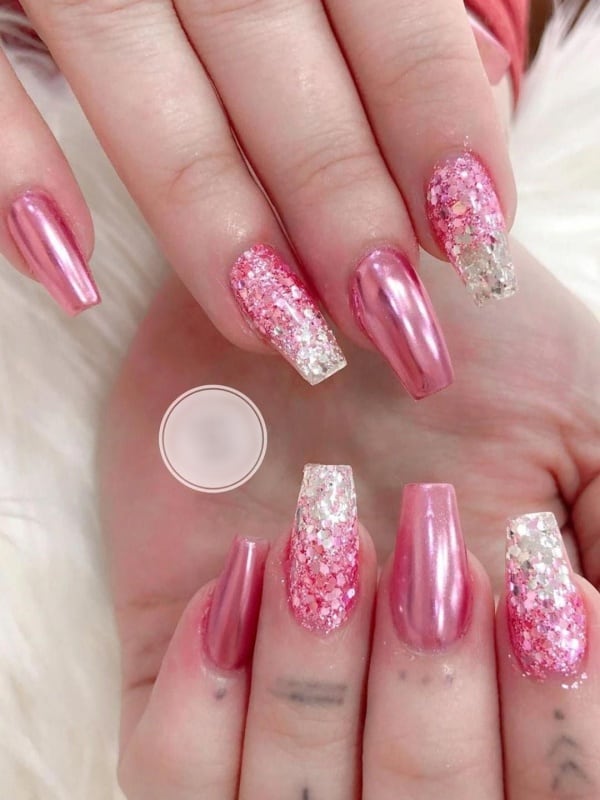 Ombre nails tinted with glitters might result in being a fantastic match to your clothes and accessories. Glitter is the universally accepted superior nail shade, so one can never go wrong with ombre glitter nails. This Valentine, try introducing a touch of shine and sparkle to your nail repertoire with this gorgeous glitter ombre. Unlike full glitter nails, ombre glitter nails feature a fade of glitter either from the tip down or cuticle up. File and buff your nails and apply the base coat. Paint it with your favorite color and sprinkle some glitters and finish off by building the layers.
Rose Nail Designs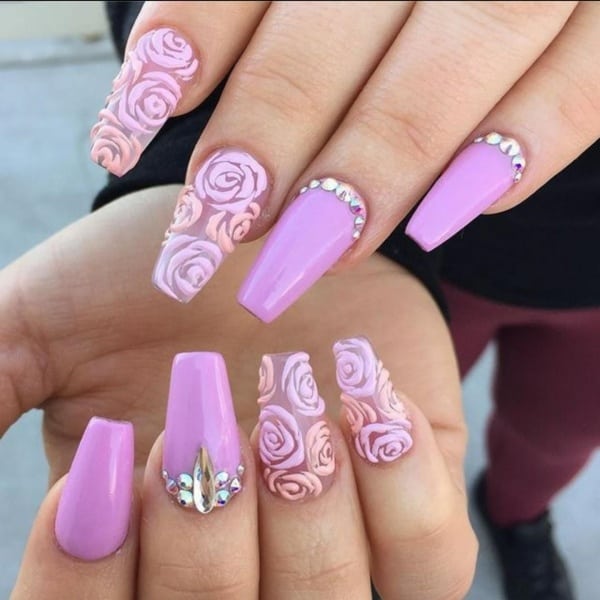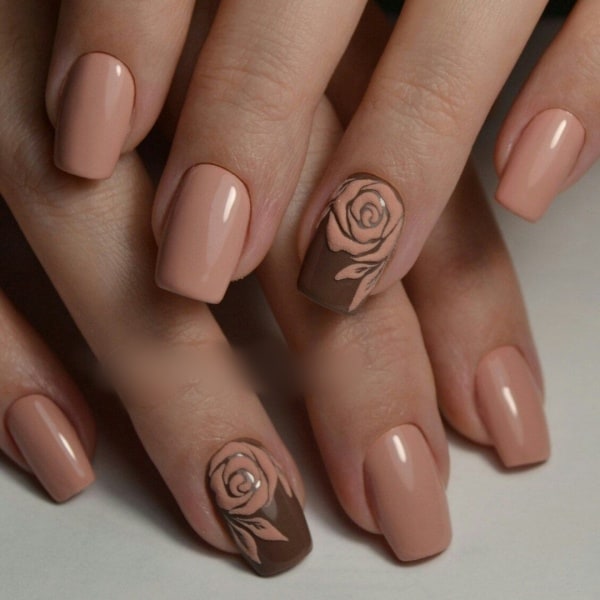 What can be more significant and symbolic of Valentine's Day than roses? When your gift boxes and outfits feature rose prints, why should your nails stay behind during the race? If you are looking for some lovely nail art designs, floral designs would be the best choice. Apart from the various other flowers, roses are most famous as the love flower. On valentine's day, we often prefer to send roses to our loved ones and wear outfits featuring red roses; it would be truly unique if you wear some roses on your nails too.
Music To My Nails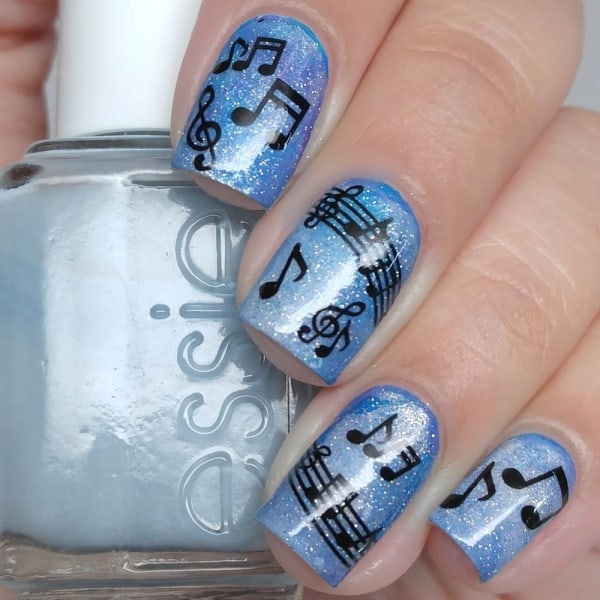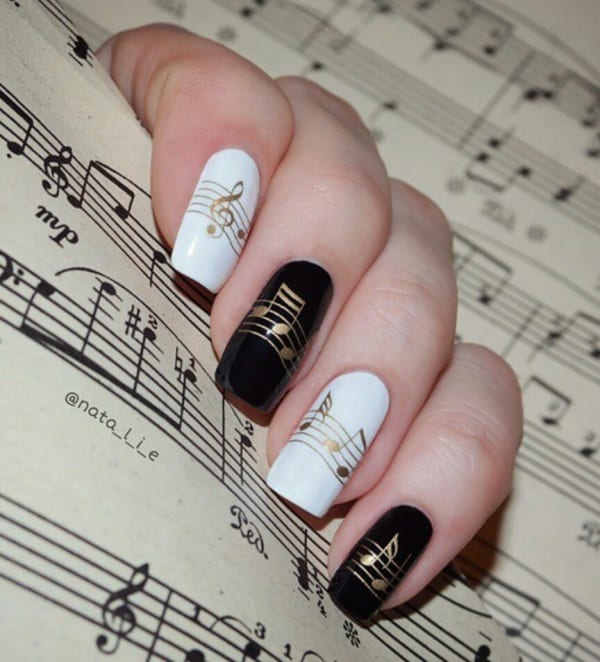 With valentine's day approaching, one needs to elevate their designs from the classic and traditional pink, red, and white shades. One of the cutest and coolest ideas of implementing a nail art design while the recreation of the classic shades is to add musical note designs over the primary coat. It is an up-gradation of a French tip with a subtle base (baby pink or cherry red) and musical notes of a contrasting color on top (black or white). Maybe this would lead you to manifest a mixtape from your valentine; who knows?
Cute Cherry Nails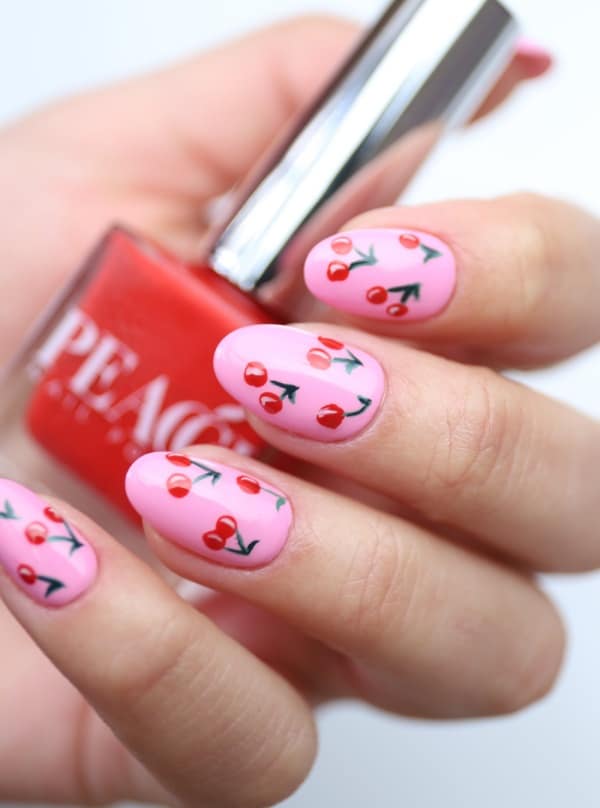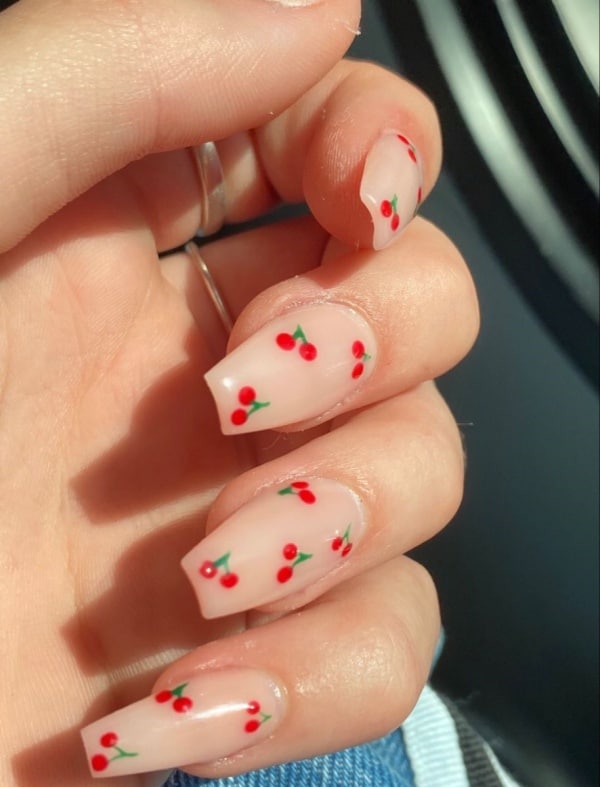 Among the various other fruits which can make a great manicure, cherries are among the top preferred choices because they are cute and cool. Cherry nails are among the cutest nail art designs you can pull off for your valentine's day nail art designs. It will be pretty fun and exciting to paint lovely cherry on your nails. Most of the cherry nails are featured with a pretty light pink shade, which is being able to make them famous and welcomed among girls of all ages, especially young girls. Besides, you can also find out some cherry nail art designs in other shades such as purple, red, and orange. Anyway, all of them would give your nails a gorgeous finish for the special day.
Neon Pop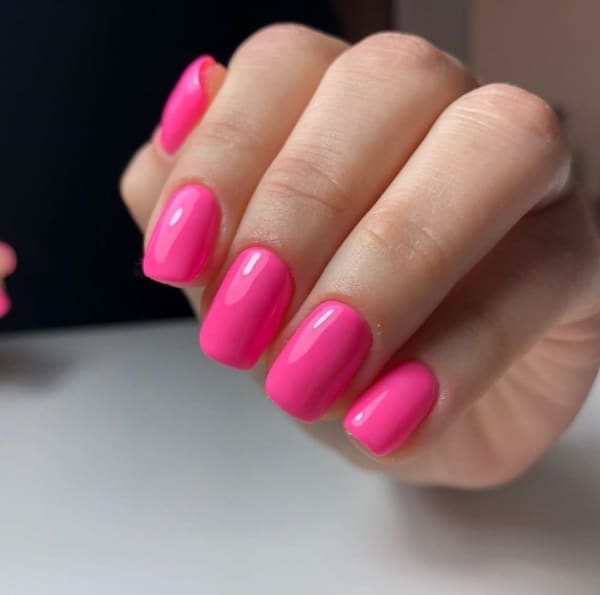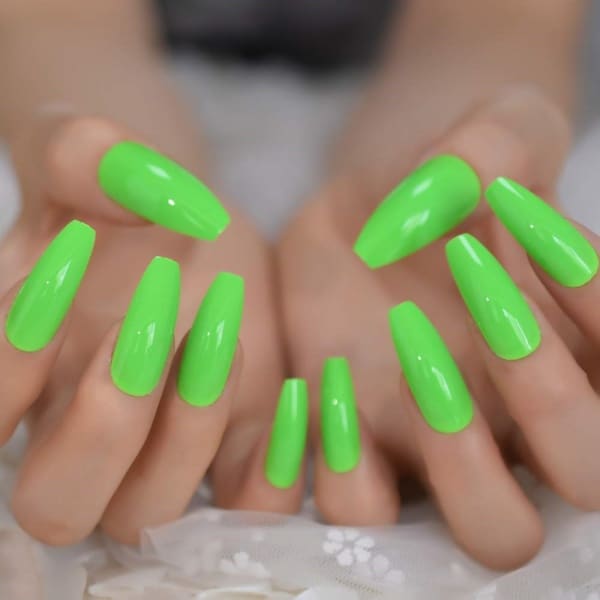 Valentine's day is one of the special days in the year for the love birds. With your matching outfit all ready for the day, your nails need a cute manicure too. So, why not try implementing some attractive and fascinating, and gorgeous design on your nails? Of course, you cannot go wrong with some neon pops down your claws. A nude-shaded nail with a neon french tip is just what a look needs for a hint of electric flare. Make an essential nude nail extra with a pop of pink and crystal accents, and watch your nails stealing the show.
Dotted Heart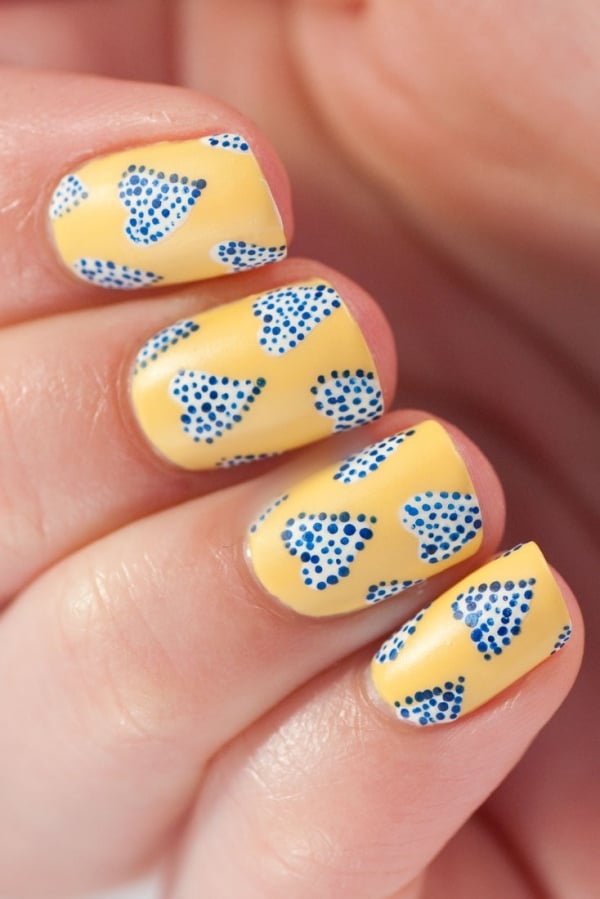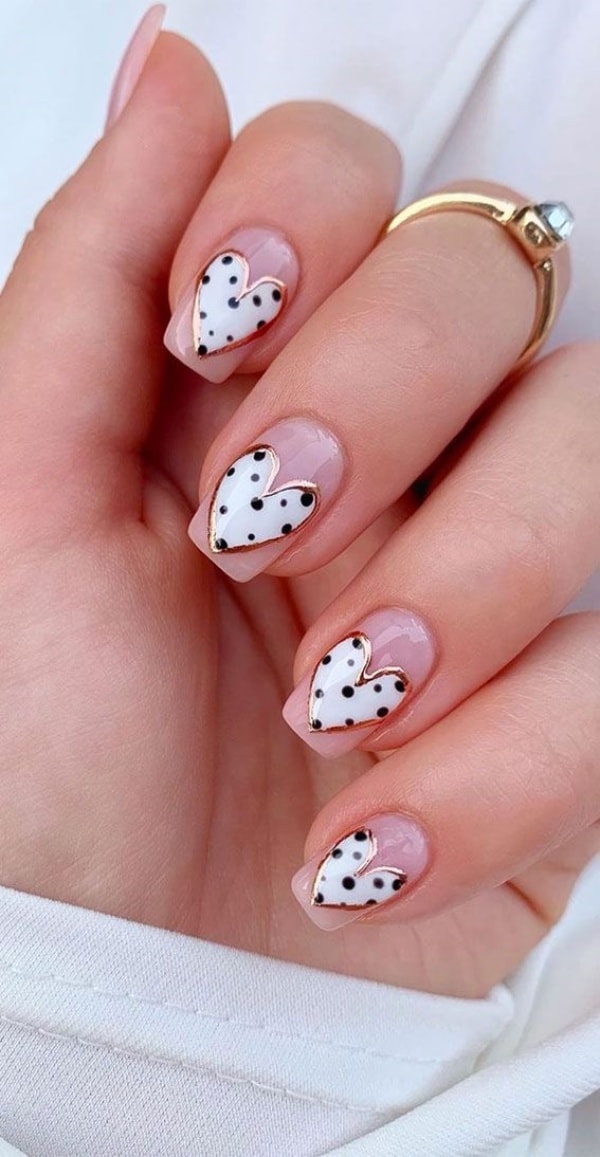 Every girl prefers to be noticed the small details of their outfits, accessories, and even their nails. Nail art with hearts is perfect when you want your nails to look romantic and lovely. A dotted heart nail art design is more than just perfect for valentine's day. Try on your fundamental nude base with this dotted heart top coat. You can quickly try this at home with some dotting tool or a thin brush.
All About The Arrows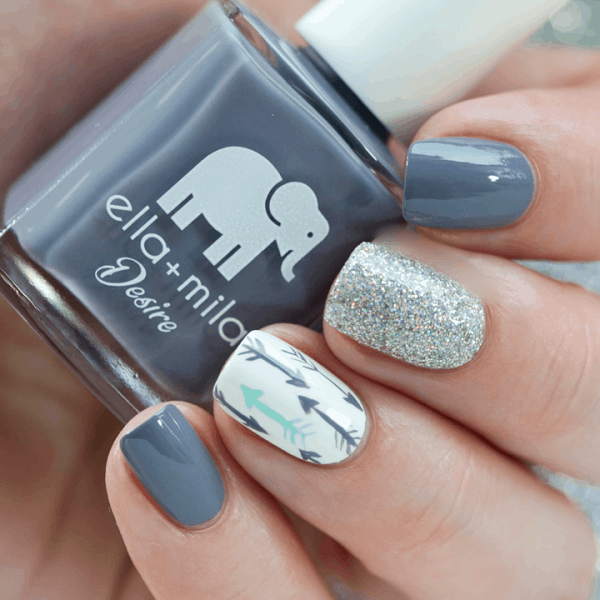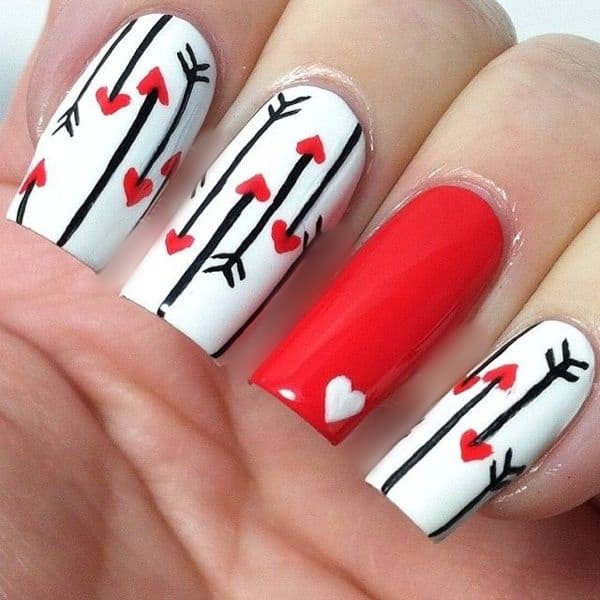 Valentine's is the day of love where everything around you feels to be affected by Cupid's arrow. Thus, your nail art should also show how the same arrow also wounds you as your partner. Paint your nails in a subtle primary shade and try love texts with arrows. You can also go around implementing styles such as red French tips along with golden arrows. You can even elevate your valentine palette with shades of avocado, coral, green and white, and try the negative space arrow design.
Groovy Hearts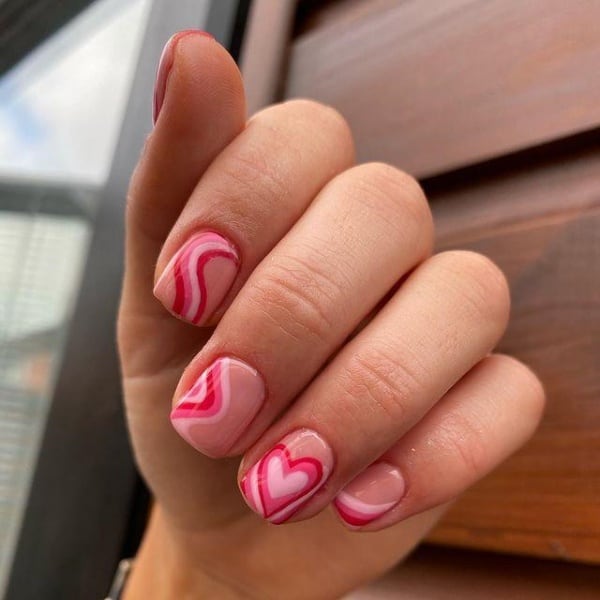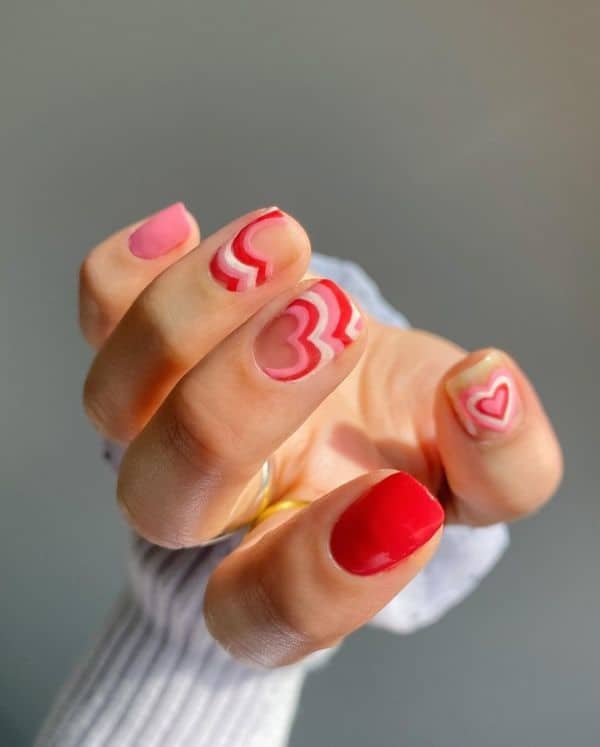 Valentine's is the perfect time to finally file, buff your nails, and decorate them with some shades and glitter. And when the occasion is of love, what can be better than some heart designs? If you have been a Powerpuff Girls fan at heart, then this design is for you. 70s fashion and beauty trends have been picking up steam, and they have made their way to nail art. This incredible and lovely design is super groovy with a subtle texture and play of shades of pink or red or white. Apart from long nails, this incredibly is a top pick for people with short nails too.
Cute Characters Valentine's Day Nail Design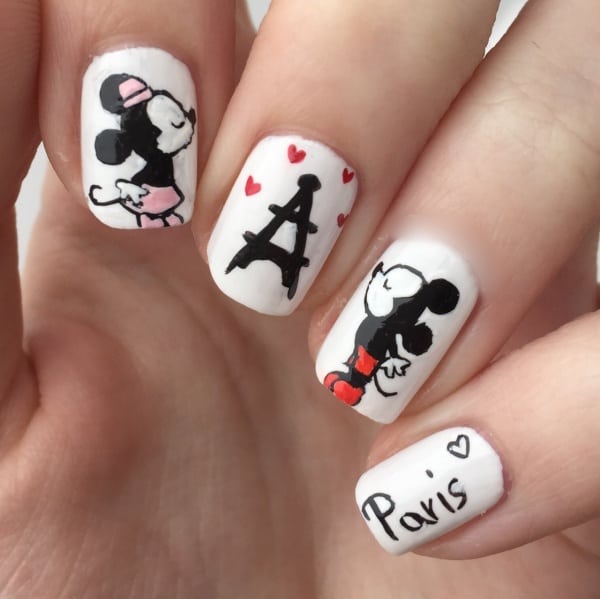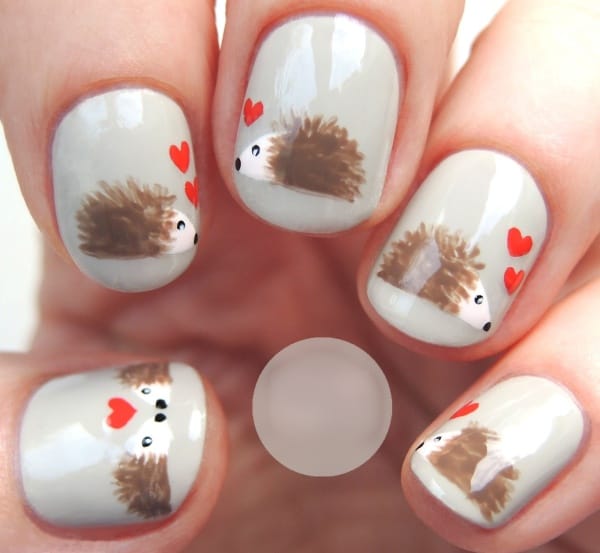 Apart from heart and roses, other designs can also be perfect for your nails for the valentine's theme. Even there are plenty of other options apart from negative space manicures to fingertips decorated in hearts. If you are playing with some super cute and playful designs on your outfit choice, the design especially suited for you is the cute characters playing on your nails. It would surely add some fun to your fingers. If you are not someone with a steady hand, just use some stickers over your essential primary coat.
Cupid Nails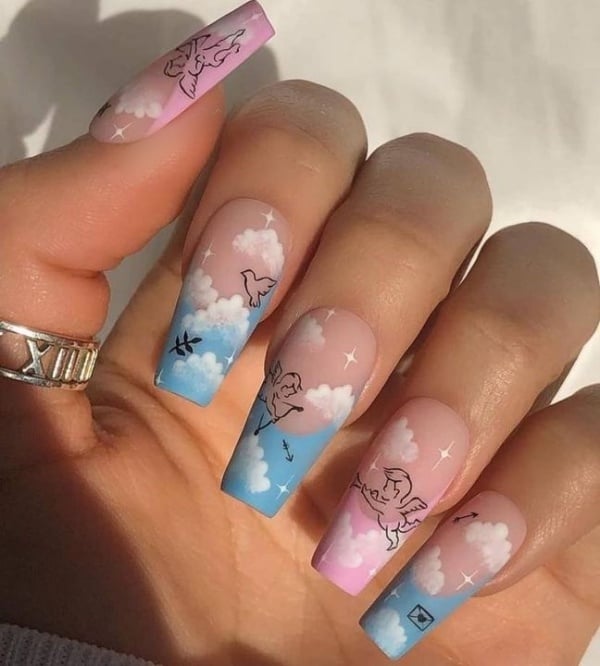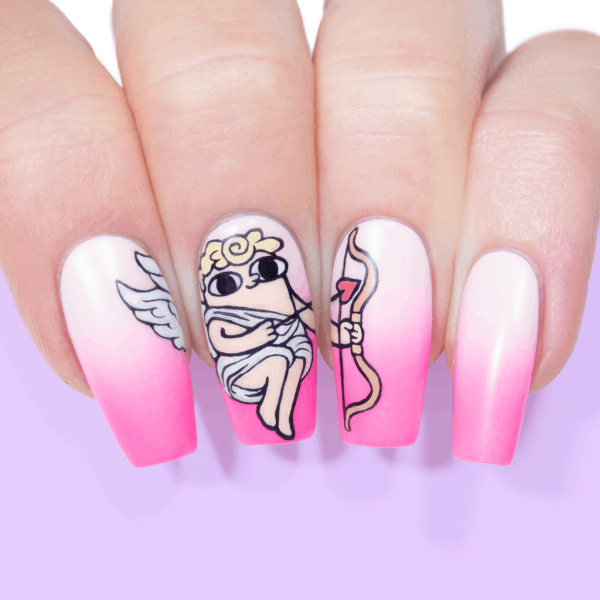 Have you ever thought of having a cupid nail art to represent your love for Valentine's day? Cupid nails are the cutest among valentine's day nail art designs. The portrait of a flying baby with his bow and arrows can instantly make even the most cynical people think of love! Red and white can be considered the perfect colors for cupid nail art designs. These designs can be painted freehand or nail decals, stickers, glitter, charms, and nail stamping kits can be used too.
I Love You Like Xo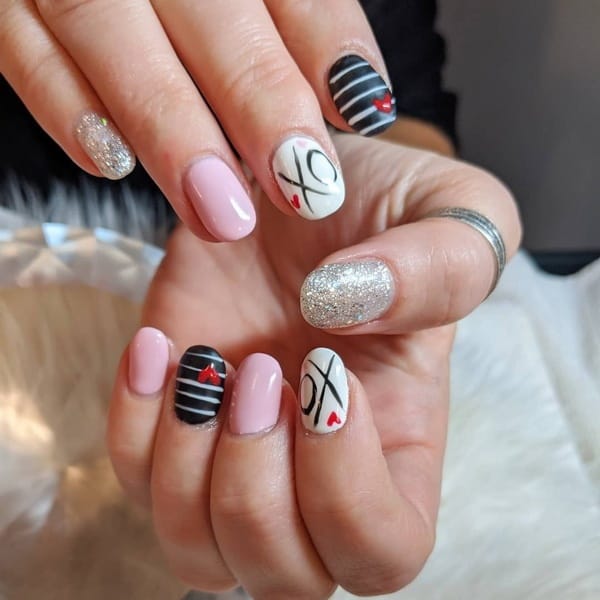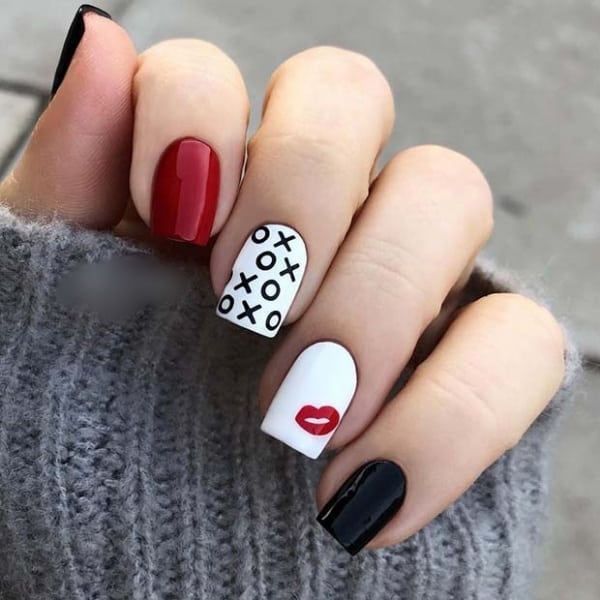 Love has innumerable expressions. When love is in the air during the season of valentine's season, what can be better than painting your nails with the love theme? Pick your favorite shade and get going in the process of giving your nails a beautiful outlook. Red is an unannounced official color of valentine's day, but you can even play with shades of pink and white. Stick some nail decals or glitters and paint some texts saying "I love you like Xo" with a thin brush, and you are ready to go.
Sexy Fishnets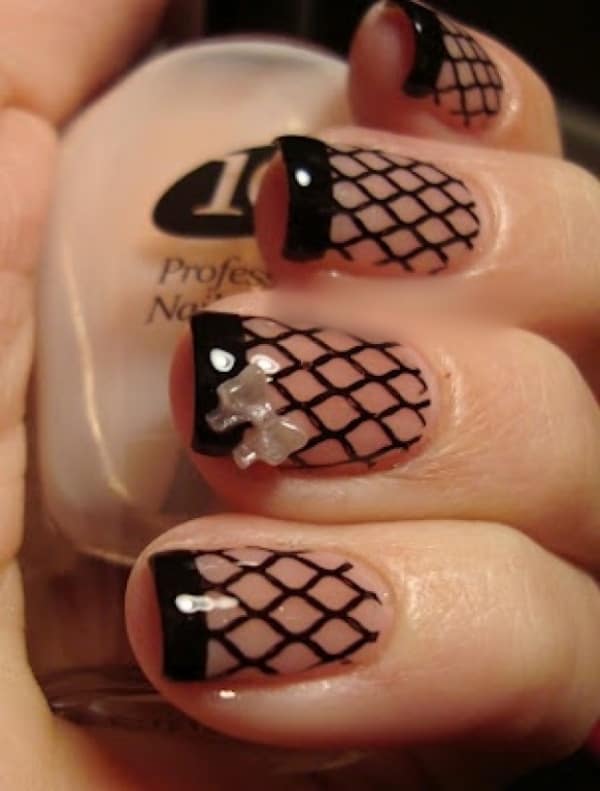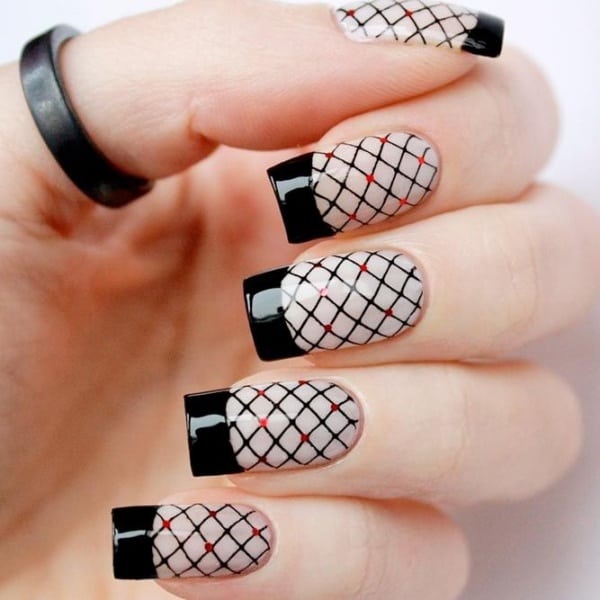 If you are looking for some awesome sultry and sexy nail art designs to try on for your valentine's day nail art designs, then fishnet nails might just be the exact thing for you. Fishnet nail art designs are reminiscent of sexy sheer fishnet stockings. They are quite an exciting and unique design to try also can be recreated using various shades. The easiest way to create fishnet nail art is by using a nail art stamper with a fishnet design plate. However, it can also be painted freehand or added with thin nail striping tape. Embellishments like rhinestones and nail art studs can also add some excellent finishing to your fishnet art.
Wild Neon Zebra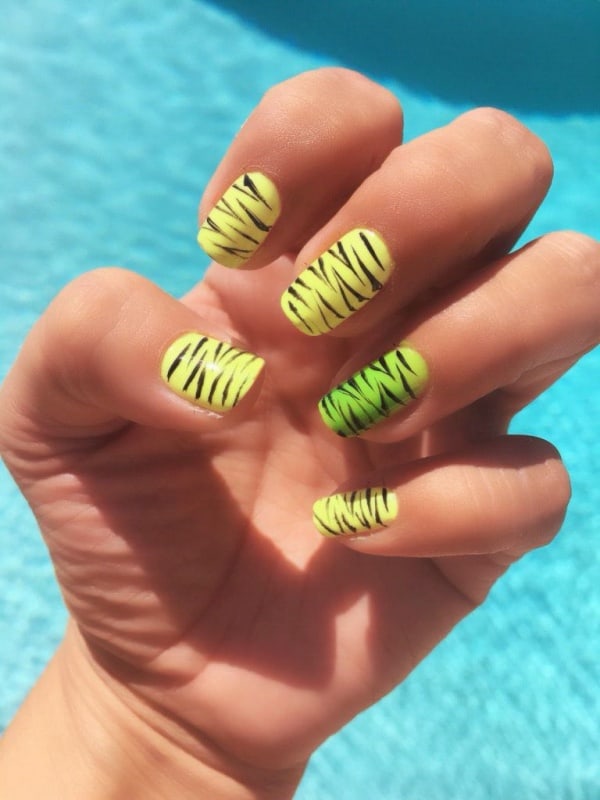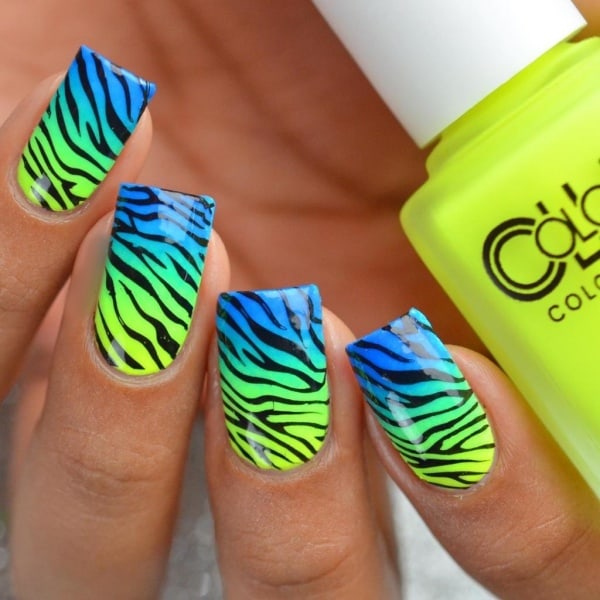 Animal prints are exciting and fun, and they seem pretty well contrasted with several outfits. Neon shade is among the hottest nail paint to try, and if you try on a zebra print with neon, it would be the exact shade to pull off both cute and dashing outlook for your nails. You can range from an essential mix of monochrome to implementing other shades such as neon yellow or orange. Paint your nails with the base and primary coat, and then use a thin brush to make the detailing. Draw short angled lines to imitate the zebra pattern. Use thicker or thinner strokes according to your choice. Once it dries up, pull over the base coat again, and you are all set.
Simple And Chic Nails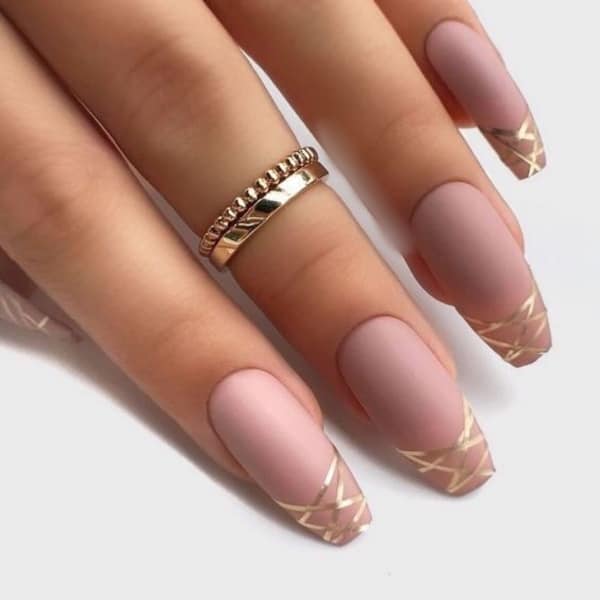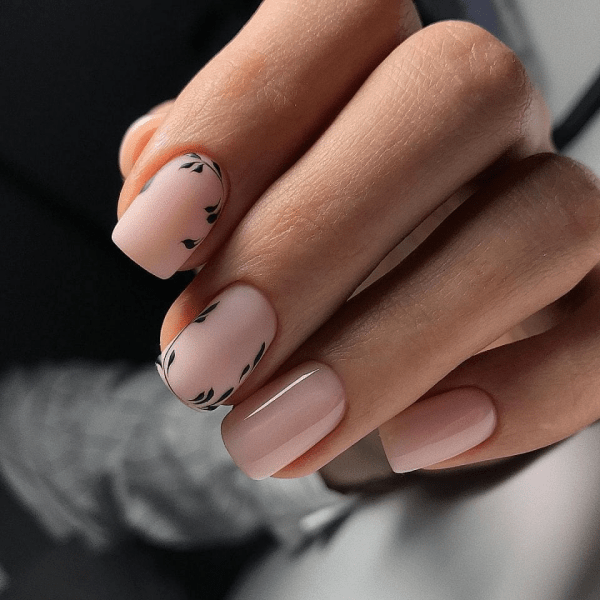 If you are not into overdramatic and time-consuming nail designs, then the best style to stop by is chic and pretty nails. Simple nails are a beauty on their own, and they are enough to create a statement. You always do not need a creative go-through for matching outfits. Simple shades are a perfect match with any outfit you put on. Simple and basic shades are aesthetic and eye-soothing. Try on subtle colors and paint your fingernails in the simplest way possible. Match with your chic outfit, and you are ready to turn heads.
Cute Strawberry Nails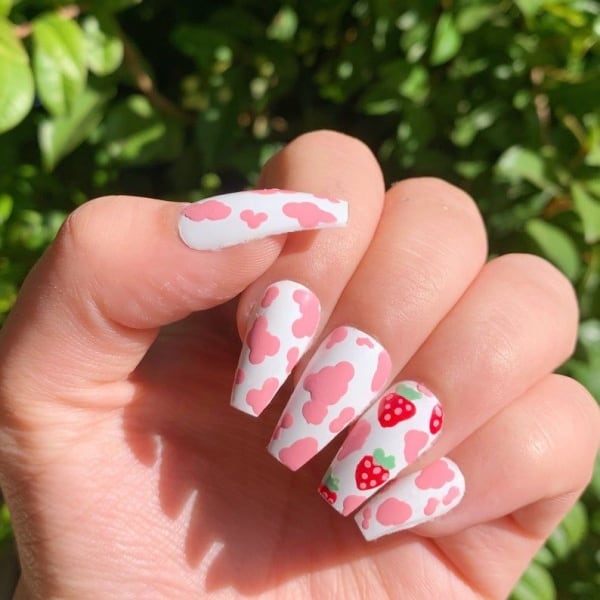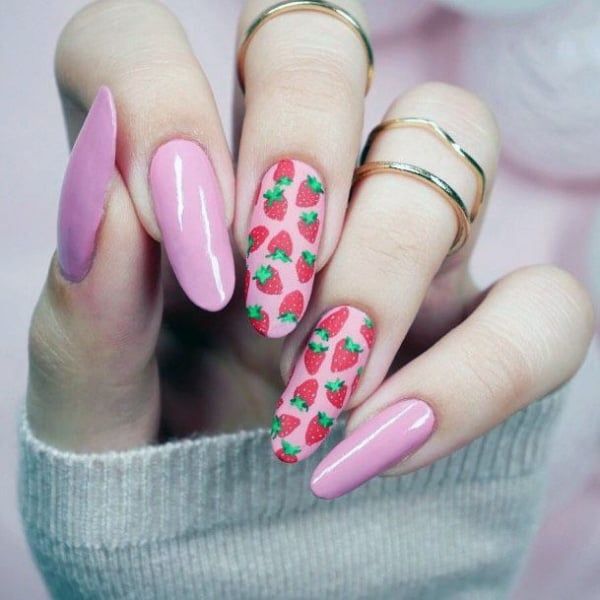 You don't need to love strawberries to admire cute strawberry nails. However, when the theme is Valentine's, and you are up for some fruity-styled manicure, a red strawberry is the best design to choose. Strawberry nails are humble and cute and match perfectly with the little red dress you chose for your Valentine's. Choose according to your preference and paint whatever you like, be it the baby pink complemented with black dots, the bright elegant red with a curly green stem, or a fresh take of strawberry lemonade.
Tic-Tac-Toe Valentine's Nail Design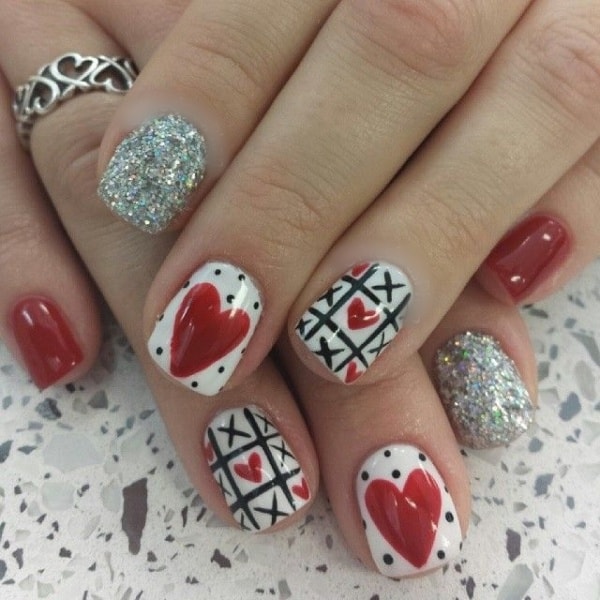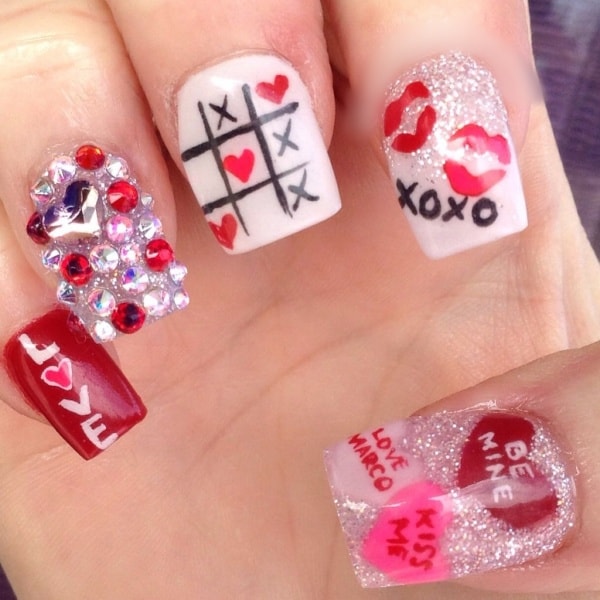 If you are up for some funny and lovely idea for your valentine's day nail art designs, a basic tic-tac-toe design can never go wrong. Show off your artistry with a steady hand with the scattered hearts and tic-tac-toe design. They would indeed prove to be some fire conversation starters. This super cute board game nail art design is bound to steal hearts.
Elegant Pink Valentine's Nails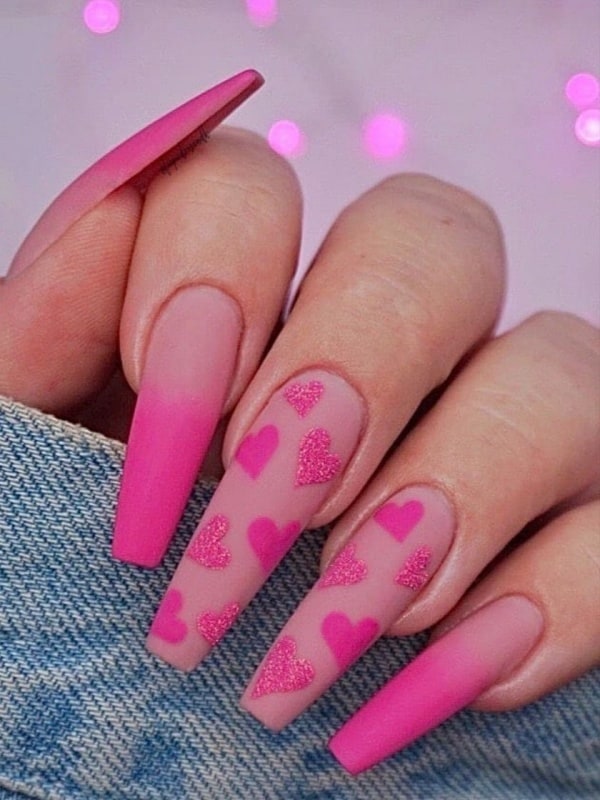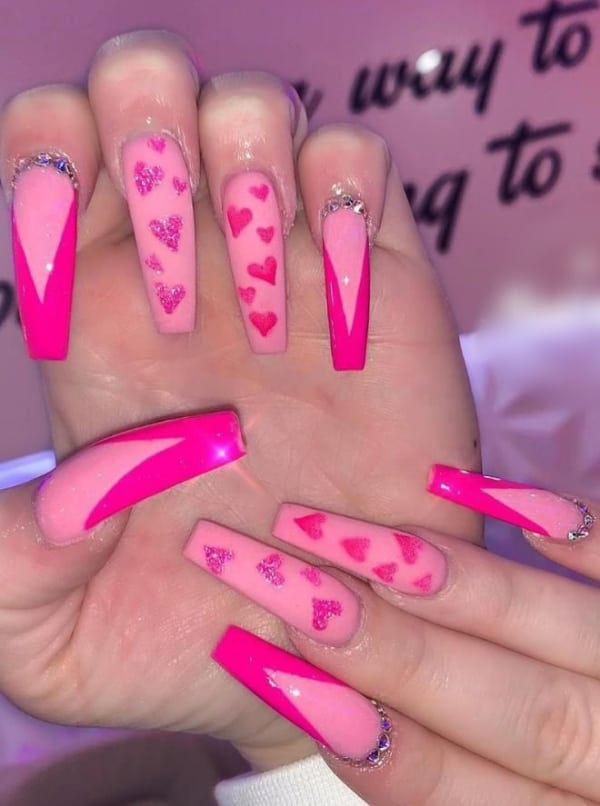 Who does not admire the shade of pink and shape of hearts when it is Valentine's? There will undoubtedly be no competitor if you introduce some hearts to your fingertips with a manicure of elegant pink, which is so fresh, beautiful, and loving by itself. You can recreate this with some pink glittery dust which will add a perfect sparkle to your traditional pink manicure. This design showcasing the elegant pink nails is ideal for the romantic vibe of the day with the loveliest of colors.
Hearts And Stripe Nails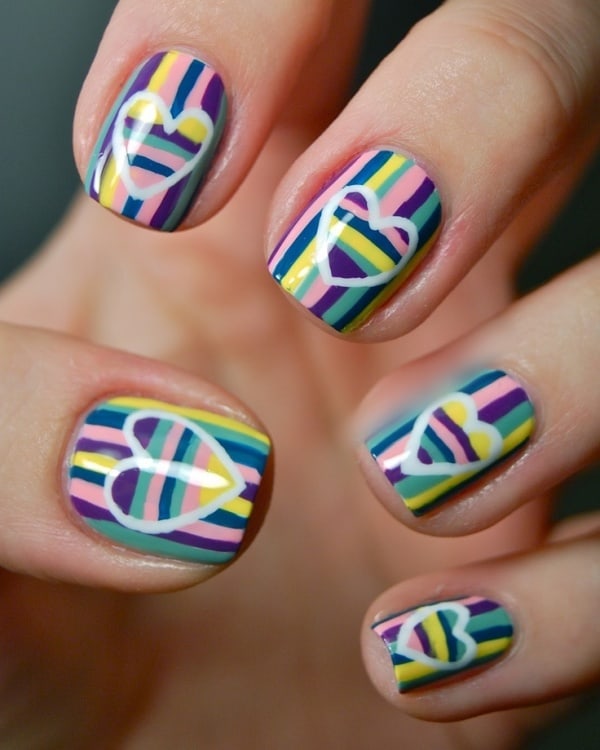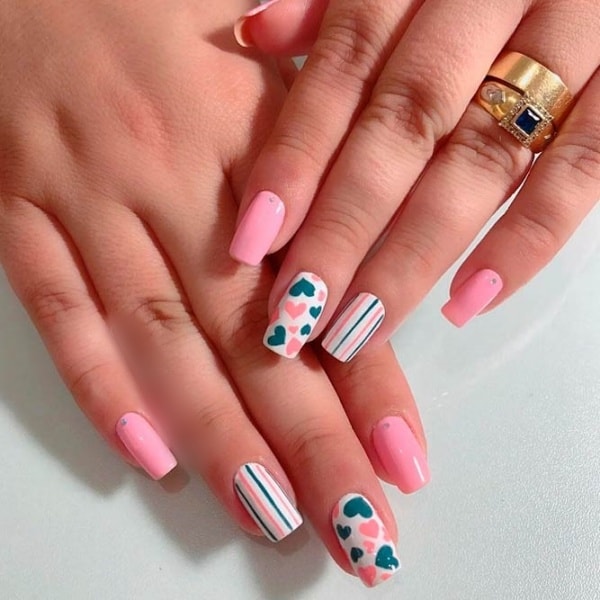 When it comes to Valentine's nails, heart designs reign supreme, Valentine's Day is the apparent holiday to show off cute heat designs on your nails. Combine your classic pink and red, or try implementing other subtle colors such as shades of white and grey. First, cover your nails with a primary coat and draw in stripes with a contrasting color. Then, draw hearts at alternate nails or scatter them un-uniformly. You can also try on some embellishments, such as glitter over the topcoat.
Romantic Scene Nails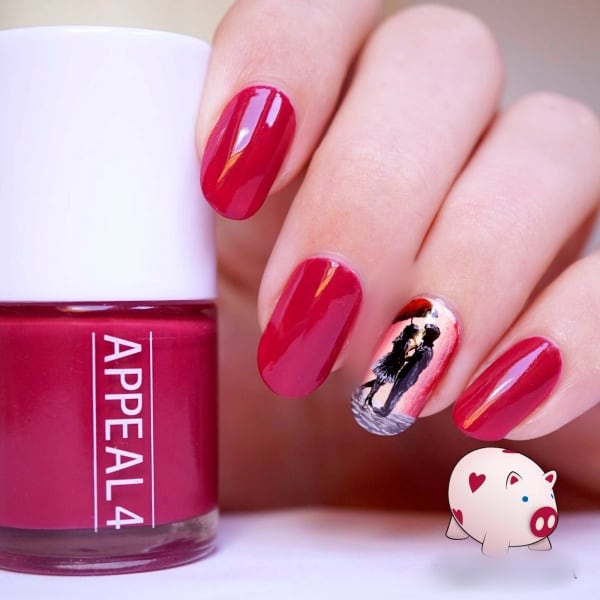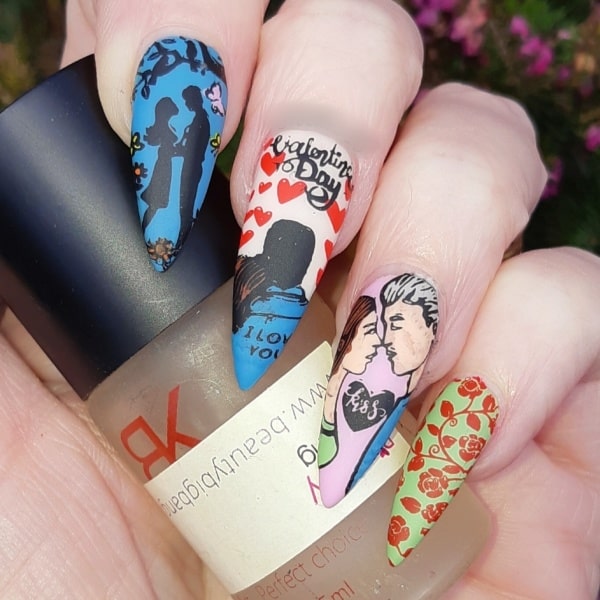 Valentine's Day is a day of romance. So, what can be better as valentine's day nail art designs other than some romantic scene on your fingernails? However, these designs would be pretty hard to pull over if you are not an expert painter. But, for beginners, nail decals or stickers and even artificial nails are available. So, try on your favorite romantic scene from your top-picked movies or books and paint them on your nails.
Subtle Black And White Love Nails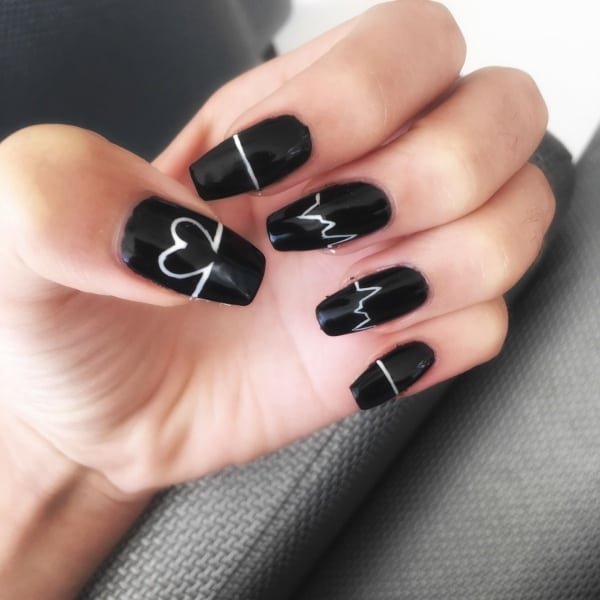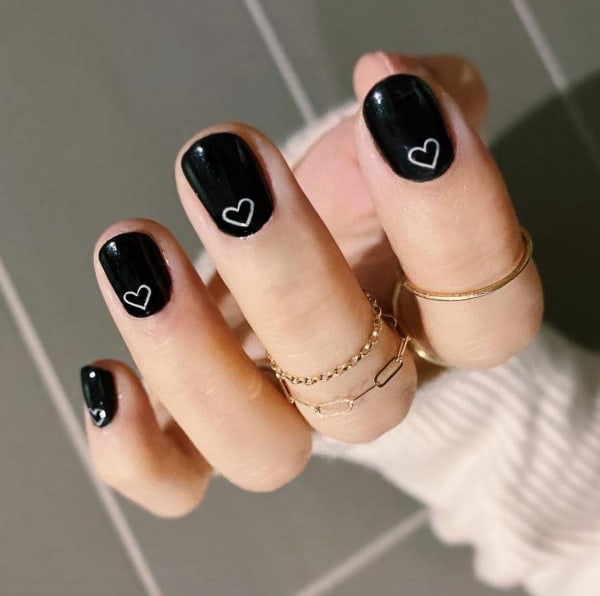 Not all Valentine's Day manicures should be focused around red and pink. For people who are monochrome lovers by heart, this pick is precisely for you. As we all know, a combination of black and white can never fail to impress people. It reveals the darkest and most profound secrets of love that easily surpass the classic red and pink shade. You can fearlessly point out any style you prefer while choosing subtle black and white nails. There is no way this combination can go wrong. Be its matte finish, or glittery, or even adorned with outstanding embellishments, this nail art is bound to stand out. It would surely match most outfits down your wardrobe, and you will surely please everyone with this deadly contrast.
Heartbeat Nails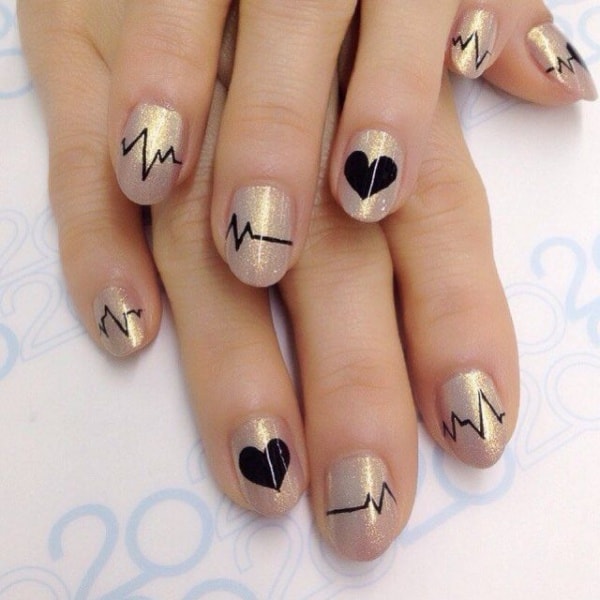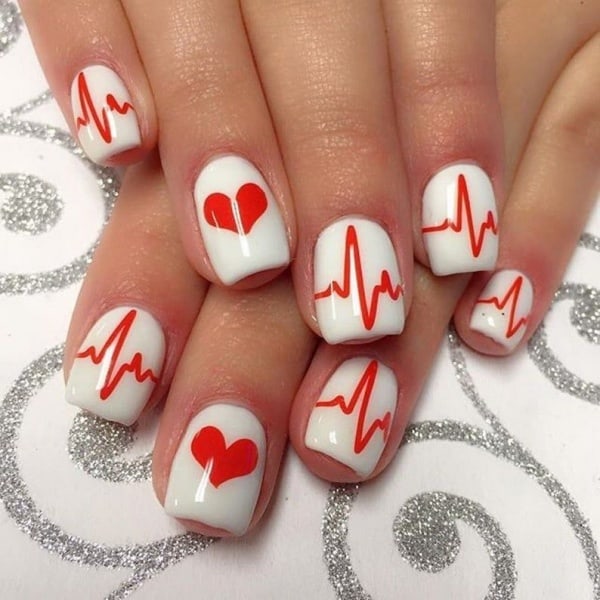 A heartbeat is constant, unlike most other things in life. So if you want to try these on your nails, then you are making an excellent choice. You can go on simply by painting your nails in subtle color and drawing contrasting-colored heartbeats over them. Then, you can recreate them by texts, scattered patterns, or ombre, and embellishments. The nails all over are shiny and beautiful, and the design is chic and cute to pull over.
Pearls And Studs Nail Mani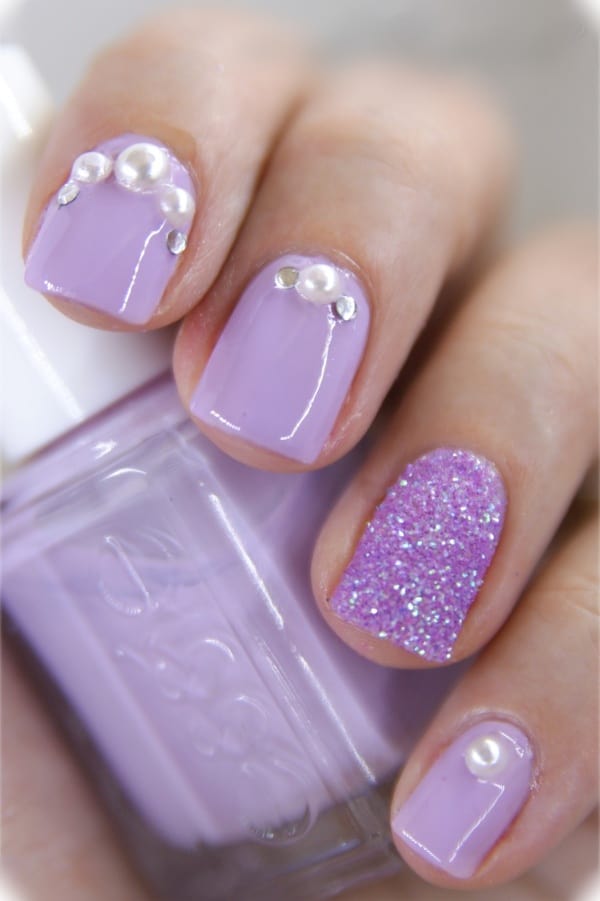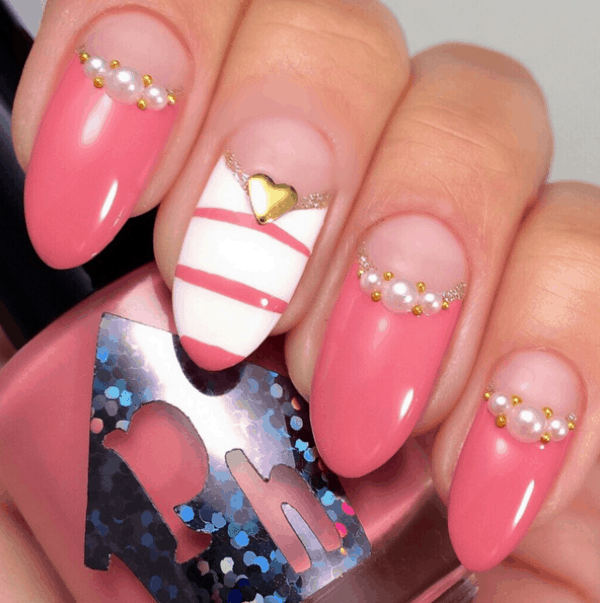 Pearl nail art belongs among the most incredible nail art trends for your valentine's day nail art designs. When added as an embellishment to your classic traditional manicure, pearls add a swift enhancement to the whole effect. There is no way your design can go wrong with pearl and studs mani. It would automatically charm your fingertips and add a sparkling addition to your look.
Owl Love Valentine's Day Nails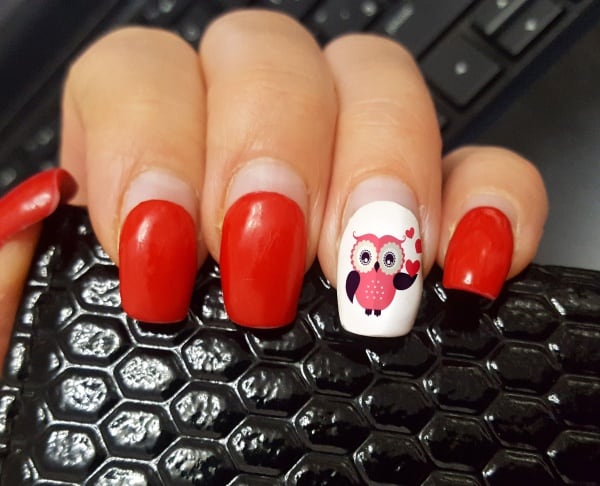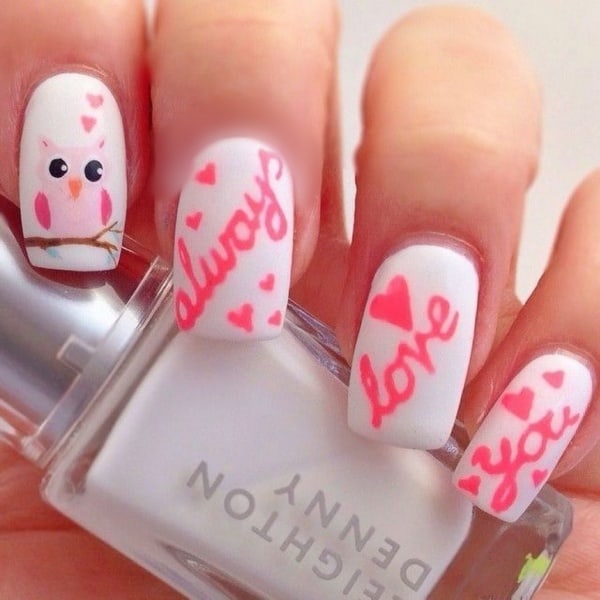 Who is not a sucker for cute owls? Owl-themed valentines are indeed created to melt hearts. If your heart skips a bit at their hoots, then this is a sure pick for you. Try water decals if you are not an expert painter. Also, try implementing scattered designs and stickers to recreate the look.
Rainbow Heart Nails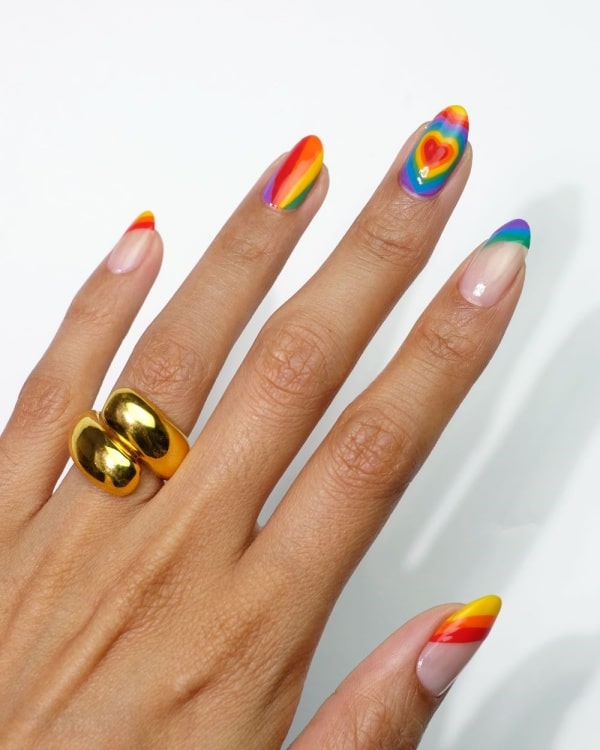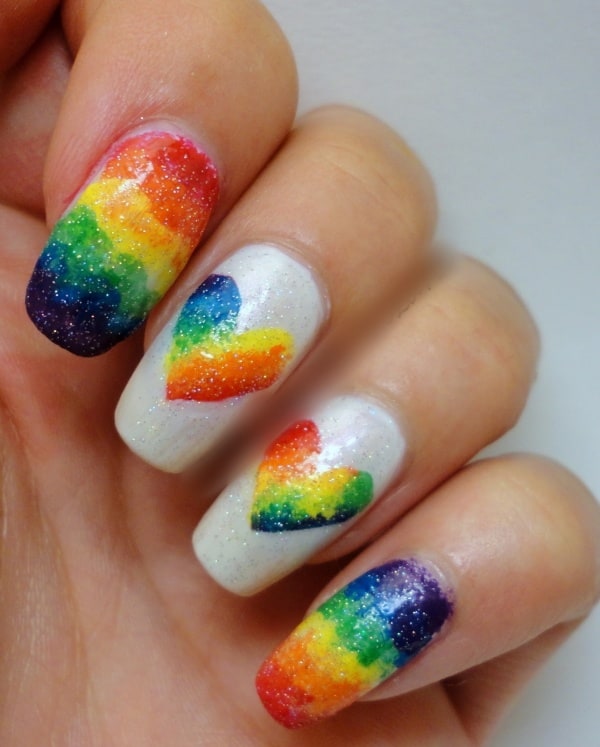 There is no prettier shade than a beautiful rainbow to celebrate the freedom of love. So, what can be better if you paint your fingertips with the same? Rainbow hearts over grey or white primary coat would be the best eye-soothing pick to try. Also, if your mood is craving for some pride-themed designs, then nothing can be better than some rainbow hearts on your fingertips.
Black Heart Nails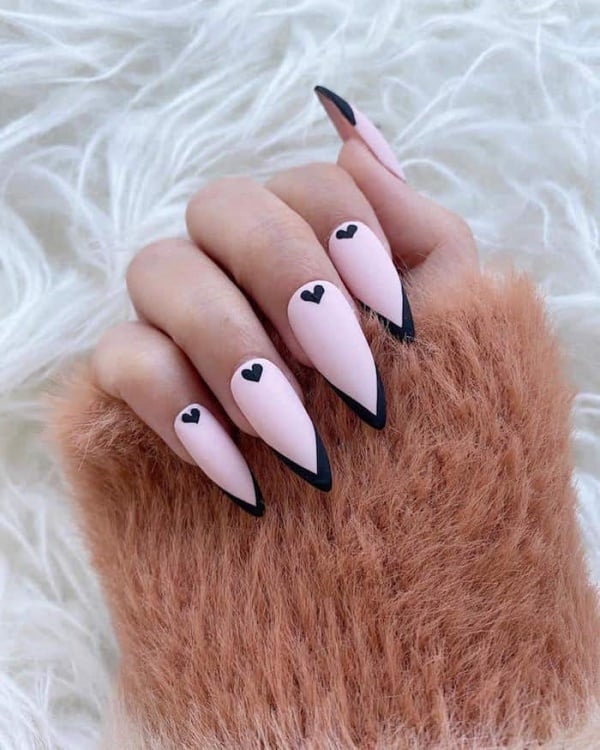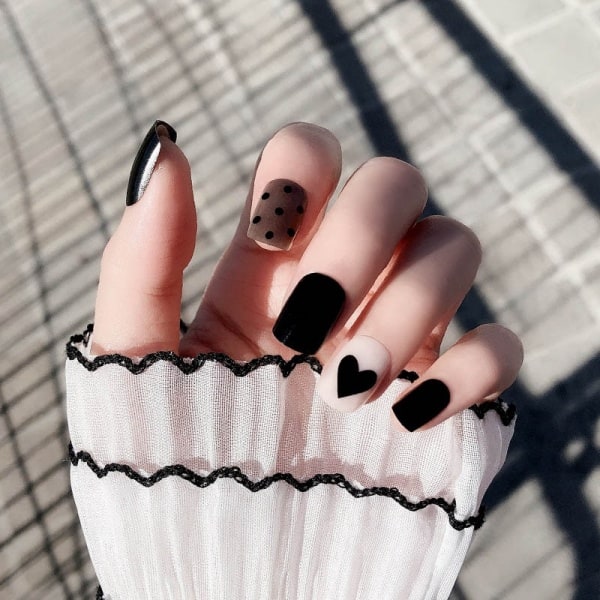 For goths at heart, nothing can be more suitable than black. Also, black lovers are the new trend. So, what can go wrong if you have painted some black hearts on your nails. It would be one of the simplest yet superb valentine's day nail art designs. All you need is to paint some black hearts, which can quickly be done with a dotter tool or even a thin brush. You can use embellishments to enhance the classic styles. However, be it matte or glittery finish, an all-black look can never go wrong, even be it for nails.
Negative-Space Moons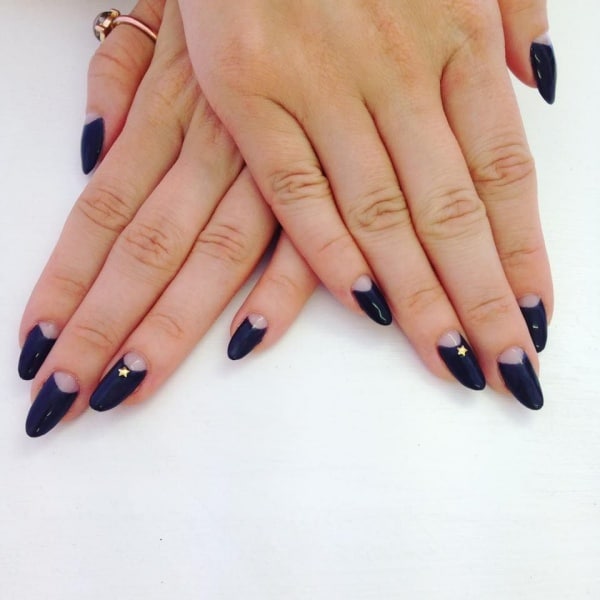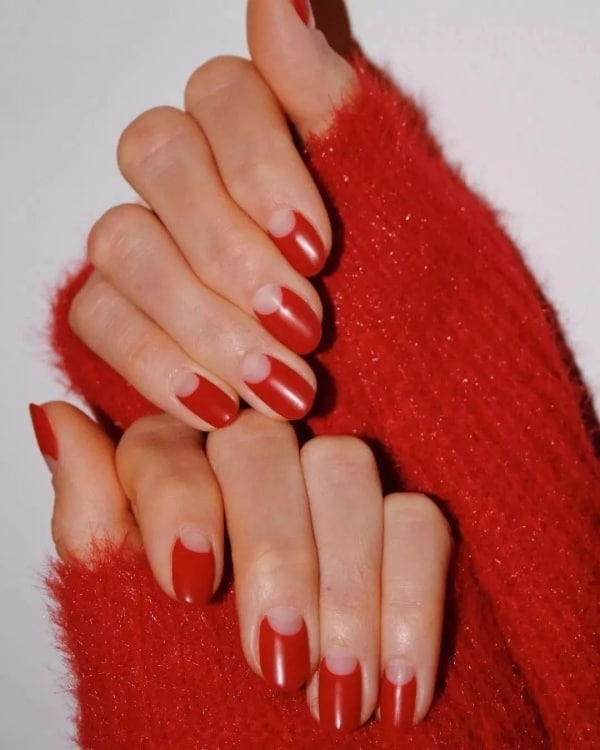 You will discover multiple ways in which you can stand out while doing negative-space moon nail art. It is best if pulled out by people who prefer less maintenance. As aforementioned, you can swiftly play with shades with this style. The implementations and embellishments would also look good on it. But it also stands out in its simple and basic formula. Not only for valentine's but negative-space moon manicures are perfect for any subtle lover and are quick and easy to pull over. It goes well with women of all ages and can look great with the outfit you choose for Valentine's. Try a range of colors starting from classic pink or red and pull over to unusual shades, but you are bound to look outstanding in this design.
Red Jelly Glitter Nails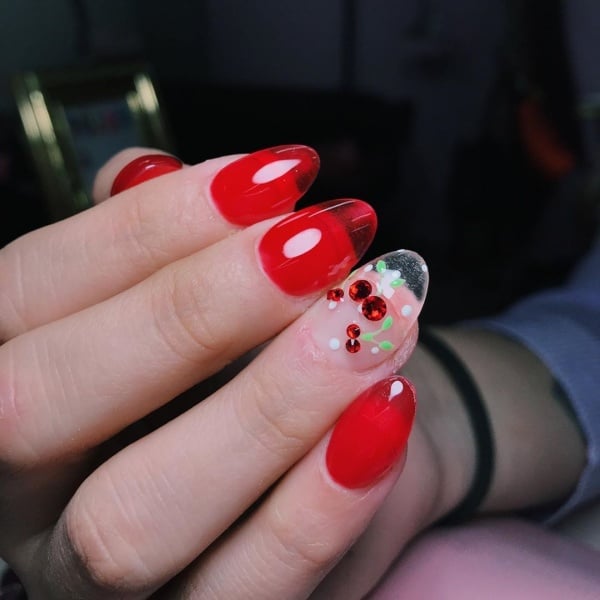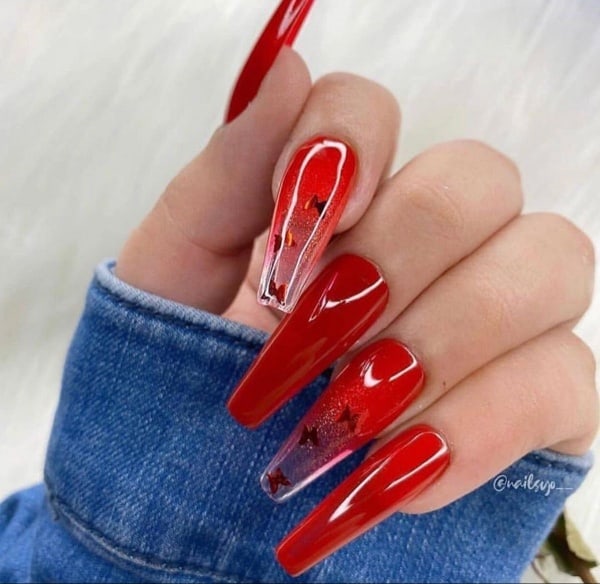 Red is a classic nail color that would never go out of style. With valentine's as the primary theme, red glittery nails can never really go wrong. It is a fantastic choice for people with long pointed nails but can also be pulled on with short nails. No matter what, it would look great with the shimmery red dress kept out of your wardrobe kept for Valentine.
Heart-Eye Nails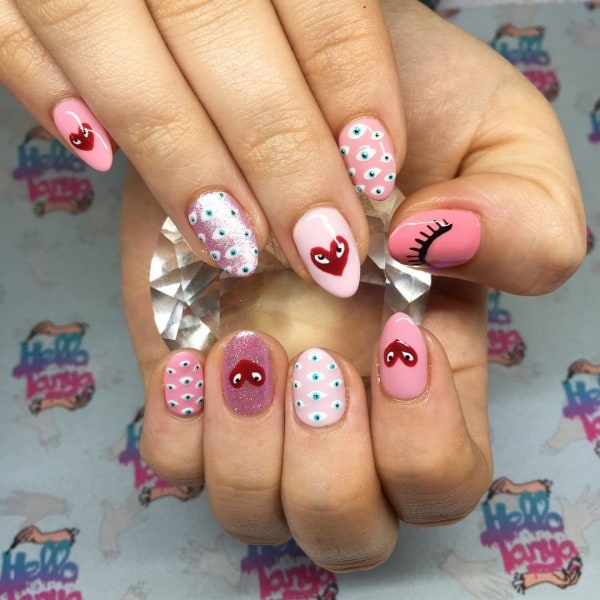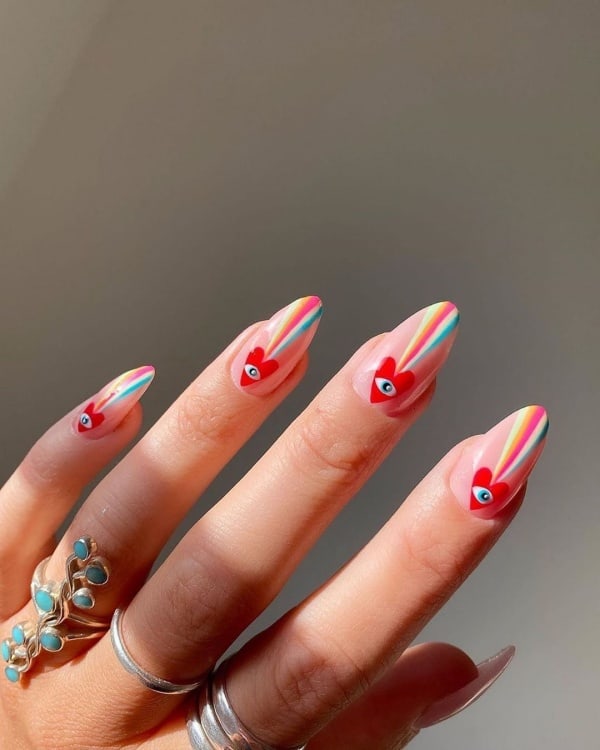 It is precisely made for you among the valentine's day nail art designs for someone down for a mix of spooky and lovely nail art. Paint your nails nude and try on these spooky heart eye prints. You can try on stickers if you can not bring on the details correctly.
Stained Glass Rose Nails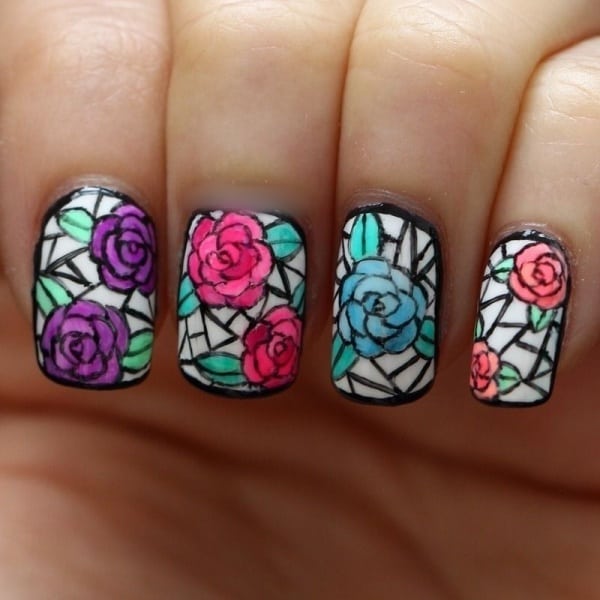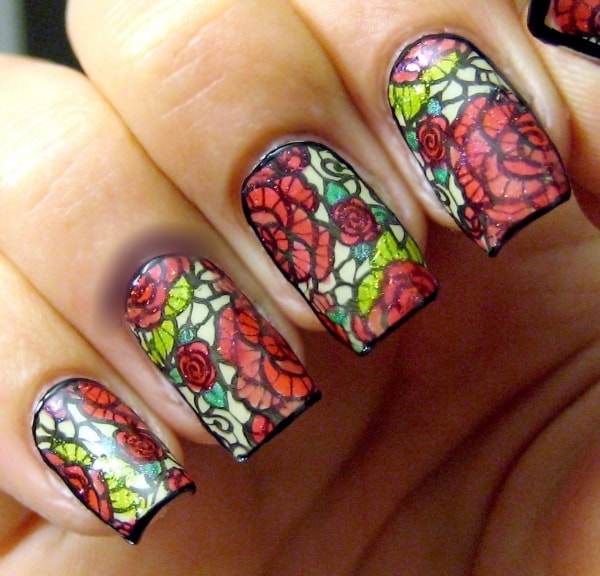 This design inspired by Beauty and the Beast stands out because the rose can never go wrong in a valentine's environment. Apply base coat and the 2-3 coats of a lighter shade (eg.-light green). Use red and dark green to draw the rose and let it dry. Fill in the details and finish off with the topcoat. You can even use glitter and stickers.
Beautiful Butterfly Nails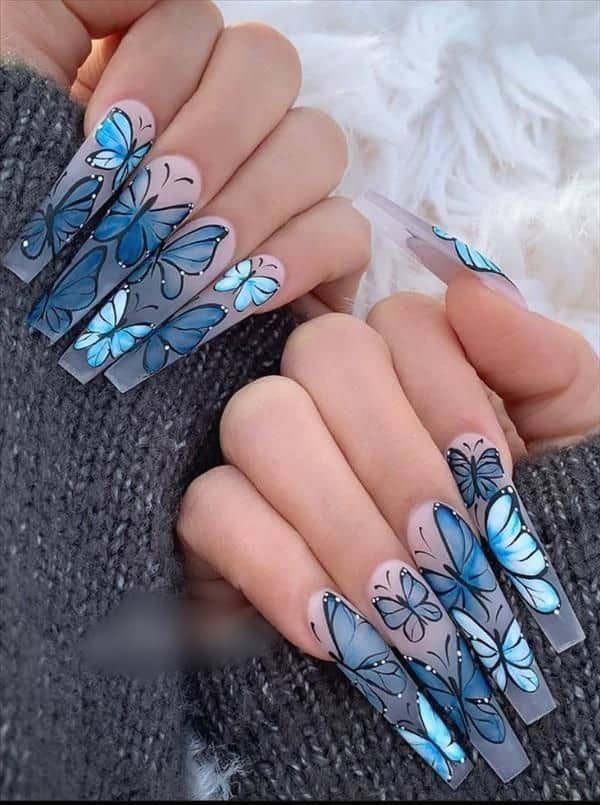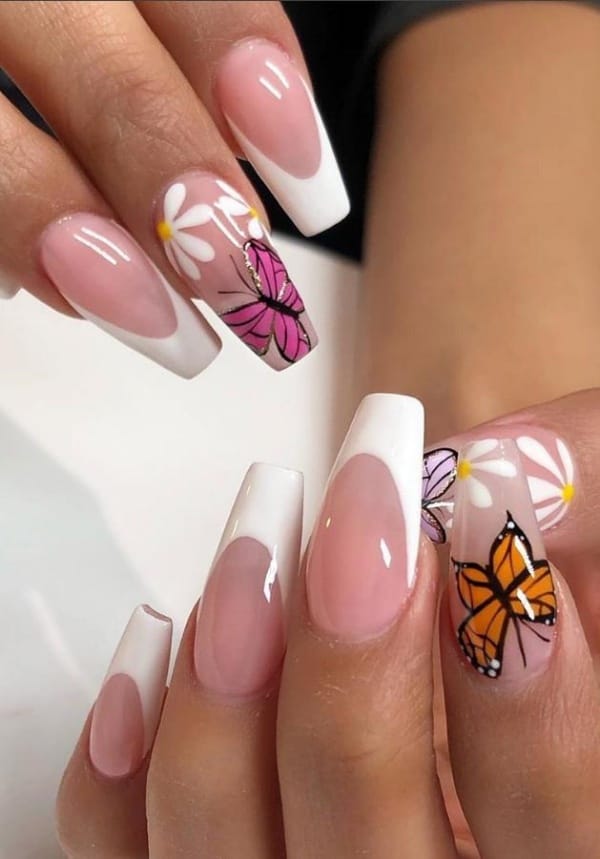 Butterfly nails are the exact pick if you want a stunning idea for your nails at your valentine's party. These pretty designs on your fingernails are bound to suit any outfit you pull over. But, if you are in the quest for something extraordinary and beautiful, you will not regret this choice. You can get creative or pull-on stickers for a new finish.
Envelope Nails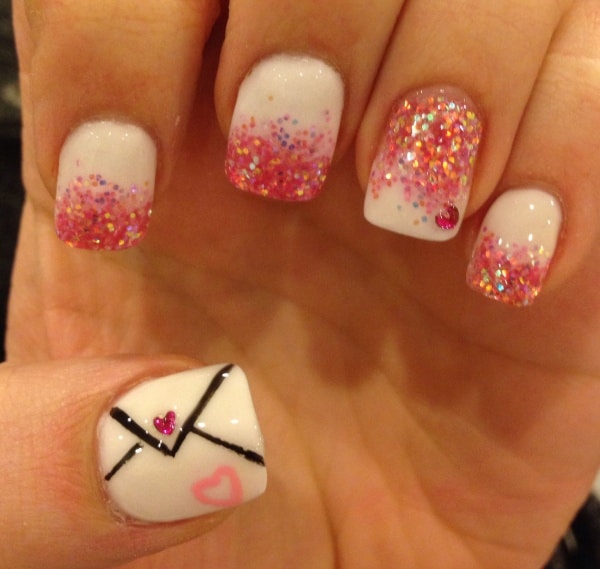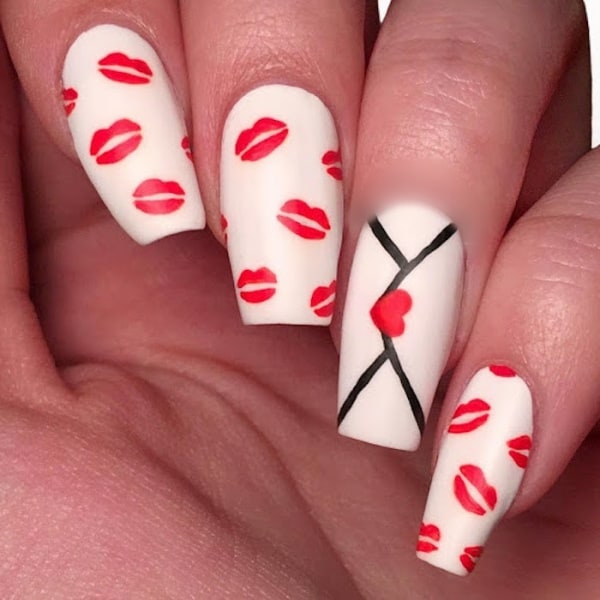 If you are looking for some romantic yet playful nails, envelope nails are just your exact pick. Envelope nails designed with pink or red hearts cannot go wrong with your Valentine's outfit. If you do not possess a steady hand at practice, get along with some pre-painted nails or stickers. However, these cute tiny envelopes are versatile enough to pull off any look.
Conlusion
If the romantic melody of February is making you dance yourself to its tune, then it is high time to start planning for your valentine's day outfit with all the motivation. While you pick up outfits carefully, don't miss out on your choosing your valentine's day nail art designs appropriately to uplift your this year's date look to a whole new level of beauty. The nail art designs can be done beautifully at your home too using the right equipment. So, apply these amazing designs to your nail and impress your beloved at the first sight.