What can be a better way to decorate your body than etching some trendy and good-looking tattoos on your different body parts? Tattoos are funky, cool, stylish, and all that you need to look highly fashionable. However, tattoos are about making a style statement, but nowadays, both youngsters and mature adults use tattoos to express their personality and individual choices. Be it quotes, signs, patterns, or words, every tattoo design conveys a deep meaning that helps us understand the person wearing it. Mom and dad tattoos are among the trendiest designs that have become a symbol of your love towards your parents.

These tattoo designs, which focus on the phrase "Mom and Dad," come in several gorgeous variations. However, while picking up a particular design, you should also consider the body part on which you will apply it. Although many people think tattoos are a cool thing to do, which still need to be done with caution. Especially some people are sensitive to pain; they have a painless tattoo option – custom stickers. It's the best of both worlds by transforming their favorite mom and dad tattoo designs into tattoo stickers that stick anywhere on your body. So, let's not go into unnecessary talking and start seeing what tattoo designs we have in store for us. Give the section below a read to know some more exciting things.
Touching Mom Dad Tattoo Designs and Ideas
Hearty Mom Dad Tattoo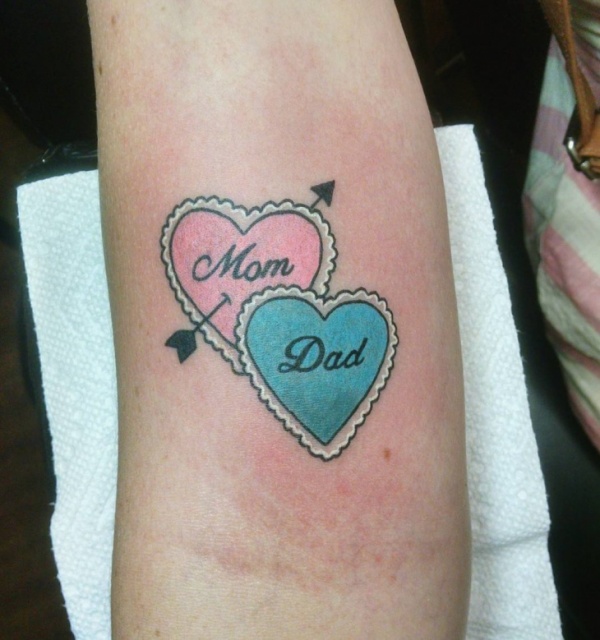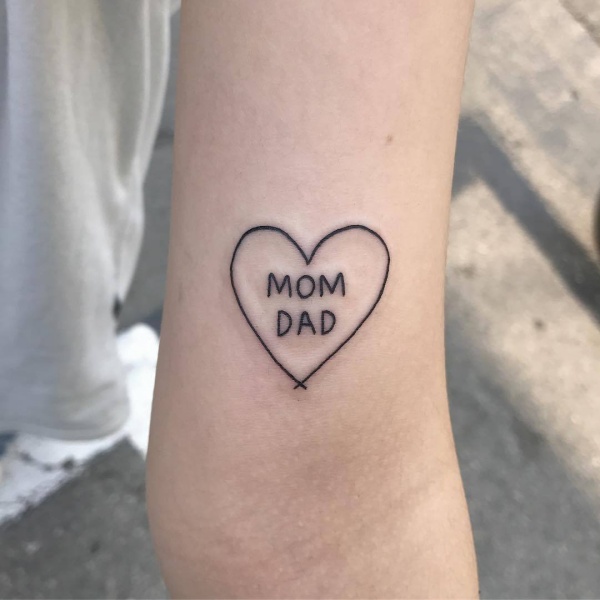 No matter how much you argue with your mom and dad, their place should always be in your hearts. The hearty mom and dad tattoo a sign of that immense and unconditional love that you hold in your heart for the parents. There can be countless ways to portray the hearty mom and dad tattoo. The most prevalent idea is where you draw two hearts side by side and write "Mom" in one and "Dad" in another. Use the deep shade of red to fill the inside portion of the heart. Apply the color black to etch the remaining portions of the tattoo and create a fantastic contrast-colored tattoo on your hand or any other suitable body parts. However, you can incorporate the red heart in your tattoo pattern in several methods as it is not always essential to write "Mom and Dad" inside the hearts.
Jesus Mom Dad Tattoo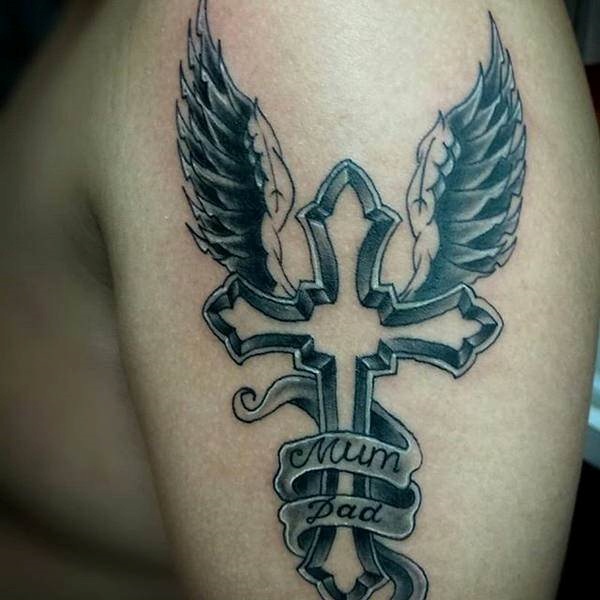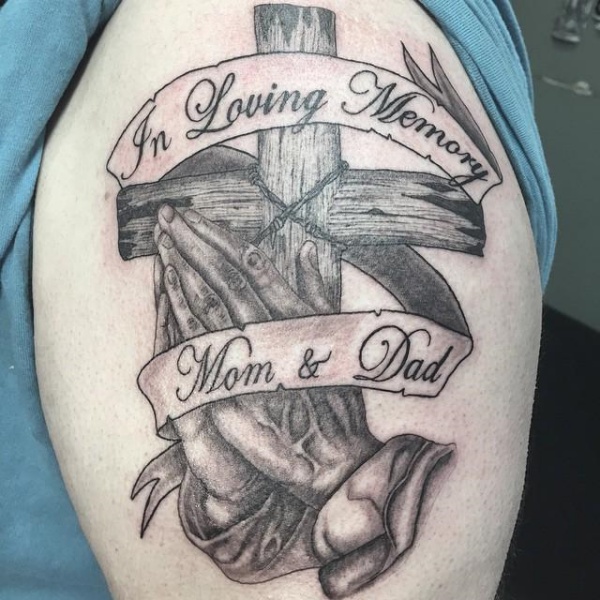 Are you a devoted Christian and have complete faith in God and his merciful nature? Then combining the almighty and your parents in one tattoo can be the most significant way to express your respect and love towards your parents. To inscribe this sacred tattoo on your body, you must draw a prominent cross in the middle of the design and use a leafy design over it to write "Mom" and "Dad." You can use shades like blue or grey to paint the cross and apply some darker shades, preferably black, for writing the lovely words "Mom" and "Dad."
Heartbeat Mom Dad Tattoo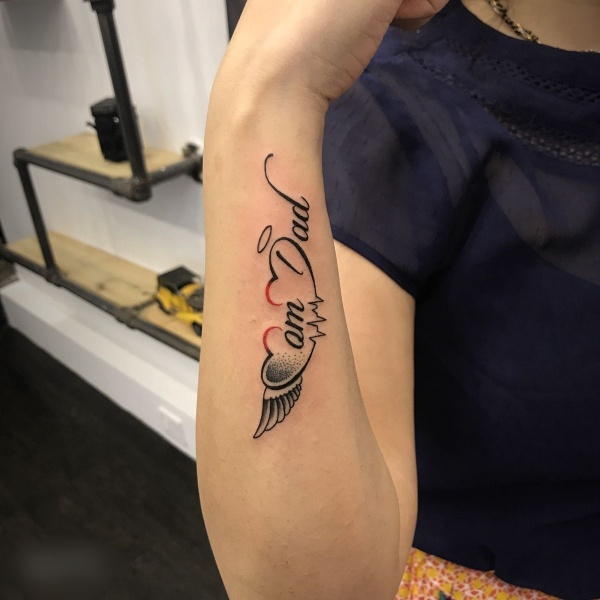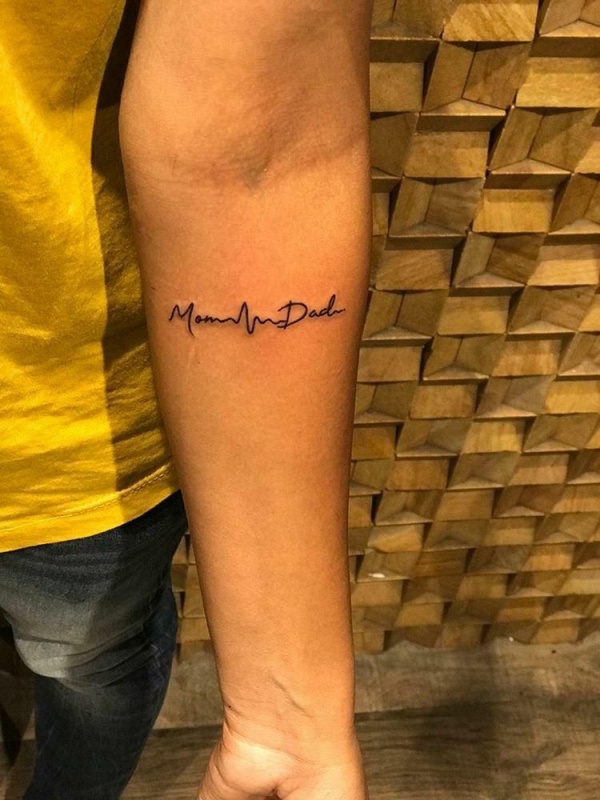 How much we owe to our parents cannot be measure in a particular amount. Their contribution and sacrifice for making our life comfortable and secure are endless. Therefore, our parents live in our eerie heartbeat. If you also feel indebted to your parents forever, then it is your time to show your gratitude through a fantastic tattoo design. In this pattern, the words "Mom" and "Dad" are linked using a heartbeat line to signify the innate bond you share with your parents. "Mom" and "Dad" are written in cursive style in this tattoo so that the connecting heartbeat line suits well with the design.
Crown Mom Dad Tattoo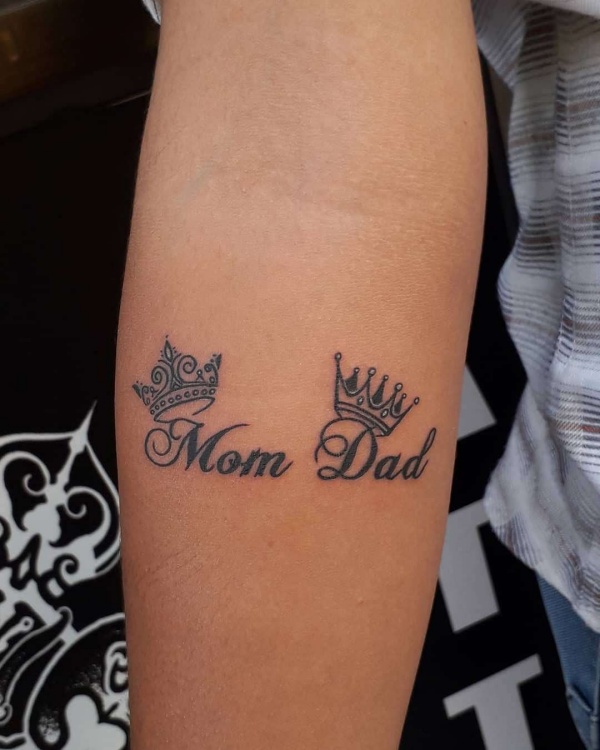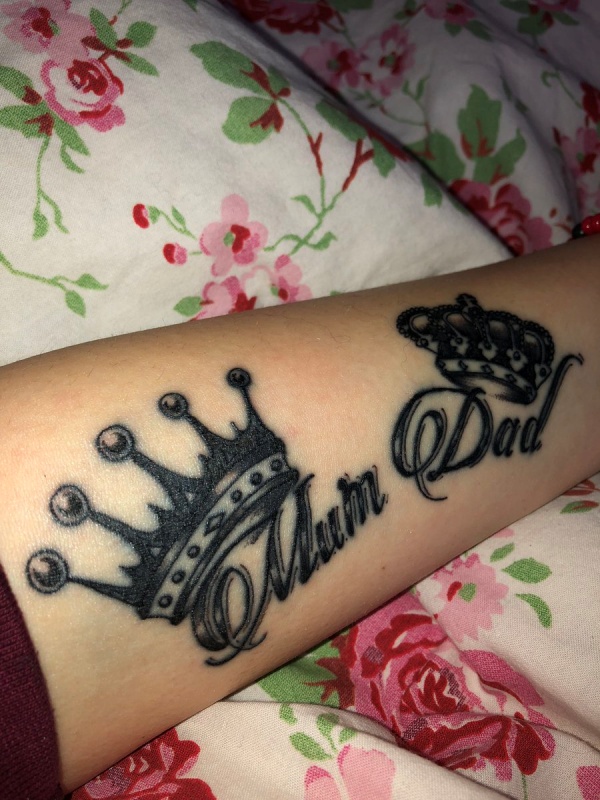 Do your mom and dad hold the position of king and queen in your life? It is time to exhibit your parents' role in your life through a gorgeous tattoo pattern. Inscribe "Mom" and "Dad" on your body in an aesthetic way. Once you complete writing the words, draw the crowns on "Mom" and "Dad," respectively. Ensure that the crown over mom is grand and queen-like, whereas the dad's crown ideally resembles a king's masculine crown. Don't hesitate to flaunt the pure love for your parents through this tattoo.
Anchor Mom Dad Tattoo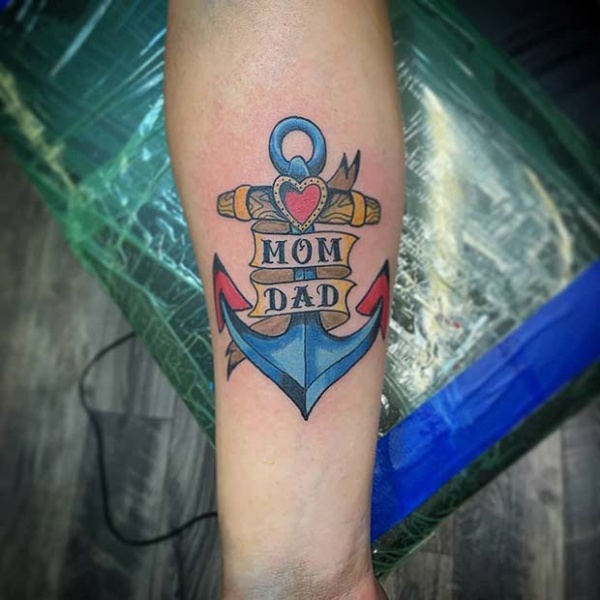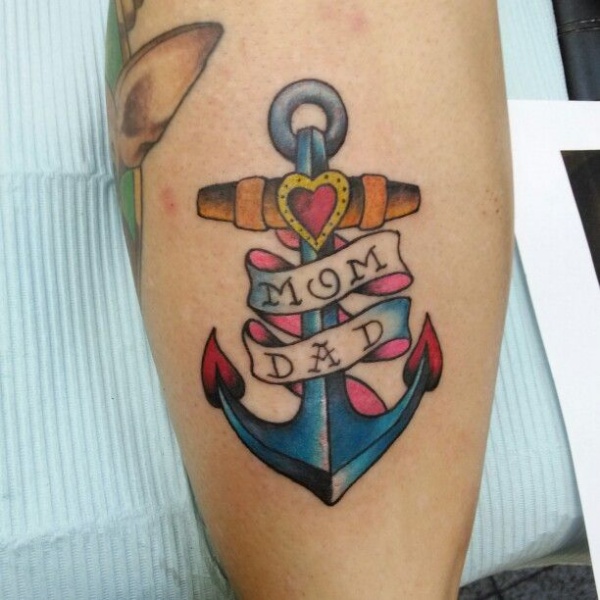 Just like ships and boats are anchored to offer safety and stability during a storm or a strong current, our parents are the anchors of our lives that shelter us at the time of adversities. Parents are the safe haven of our life to feel safe and secure during any problematic situation. So, this time, give your mom and dad the stature of an anchor in your life through one of the most amazing mom and dad tattoos. To give this tattoo a perfect look, sketch a well-designed anchor and write "Mom" and "Dad" in the middle or on the two sides of the anchor's rope.
Mom Dad Feather Tattoo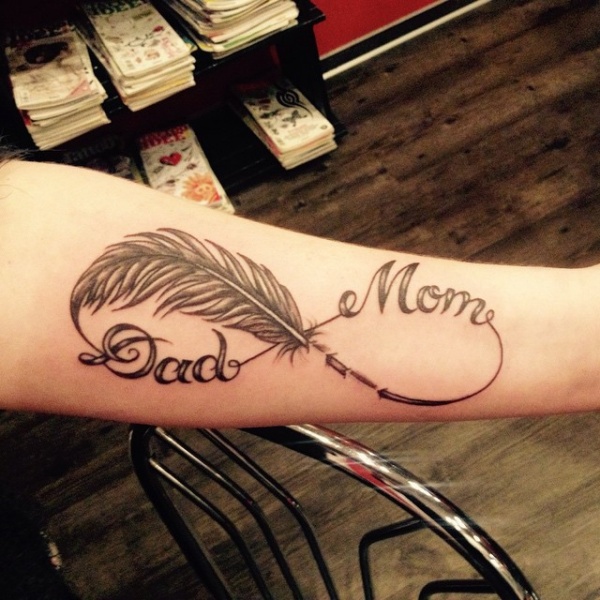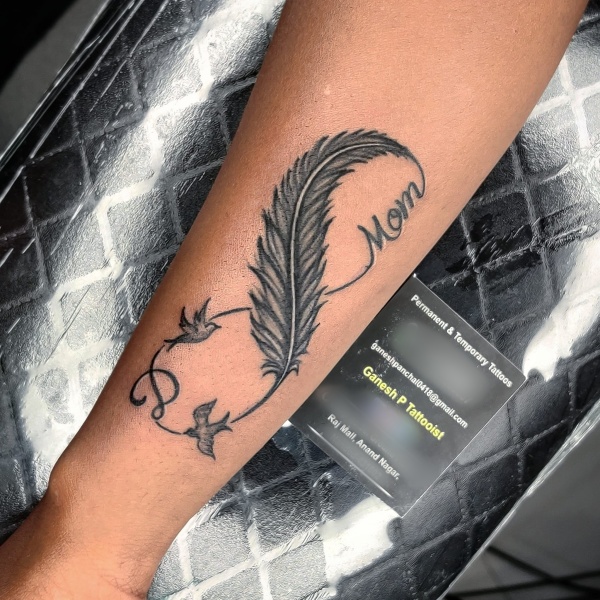 Tattoos with feather patterns are favored mainly by women who want to add a grand statement in their regular fashion. Now, you can include your affection for parents in your elegant feather tattoo with a few strokes. Etch "Mom" and "Dad" in two edges of the big feather design and indulge in its cover beauty. No doubt your parents are the source of courage, strength, and freedom of your life, just like the feather symbol. So, let your tattoo show the attributes of your relationship with your parents.
Mom And Dad Flower Tattoo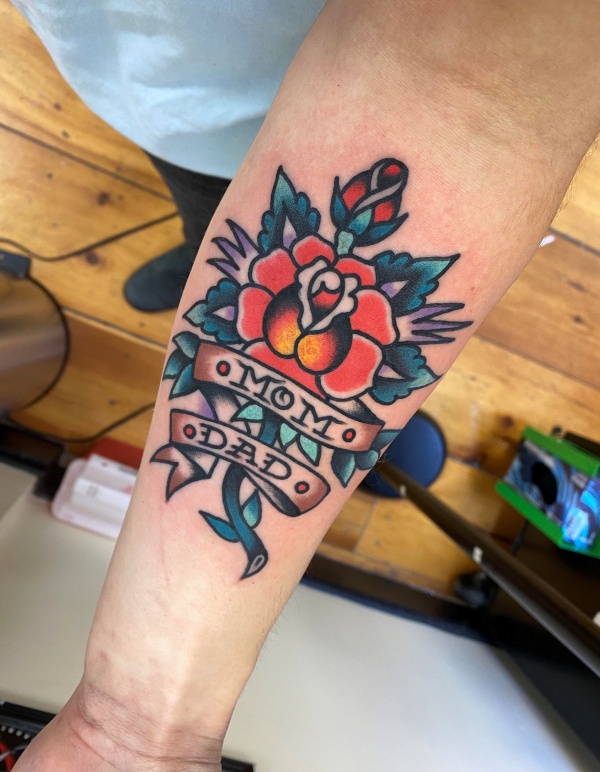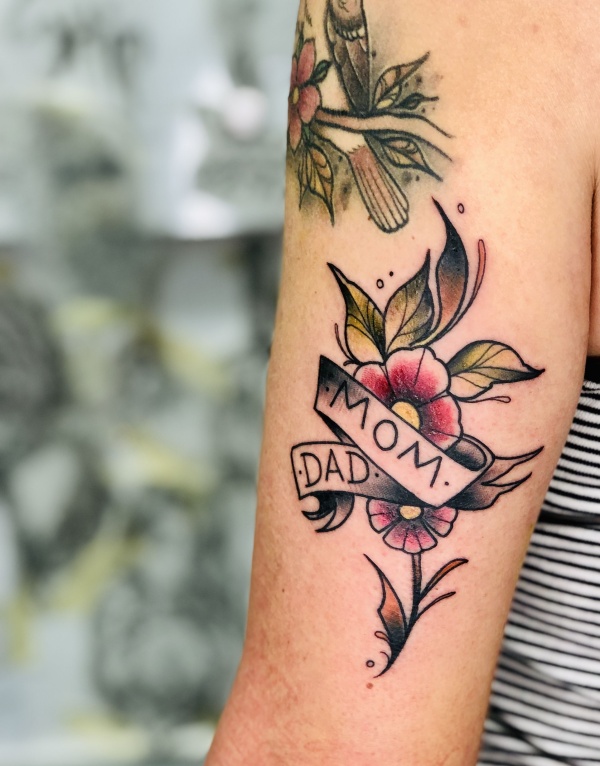 Amidst the changing weather of life, parents essentially play the role of blooming flowers. As flowers bear the scorching rays of the sun, the heavy downpour, and even the harsh wind, our parents pass through several difficulties to provide us with happiness and security. So, to show your love to the most beautiful flowers of your life's garden, try out a mom and dad flower tattoo on your hand. For sketching out this tattoo, you can paint two flowers and attach them with a ribbon in the middle. Write "Mom" and "Dad" on the ribbon, and your tattoo is ready to flaunt.
Goldilocks Mom Dad Tattoo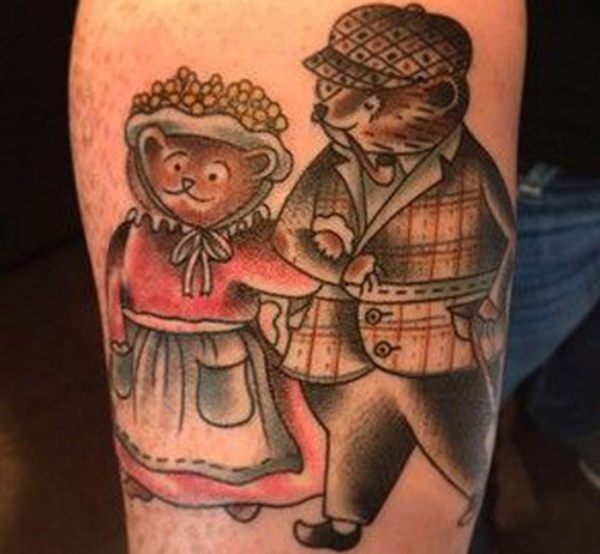 While growing up, we all must have listened to the English fairytale of "Goldilocks and The Three Bears." It is time to rejuvenate that nostalgic childhood story through mom and dad tattoos. In this design, portray a mamma bear and father bear, and on their top, write "Mom" and "Dad," respectively. If you want your Mom and Dad tattoo to appear cute, then this tattoo idea is the most suitable one to pick up. Also, don't skip applying different bright shades to draw this pretty tattoo.
Mom And Dad Butterfly Tattoo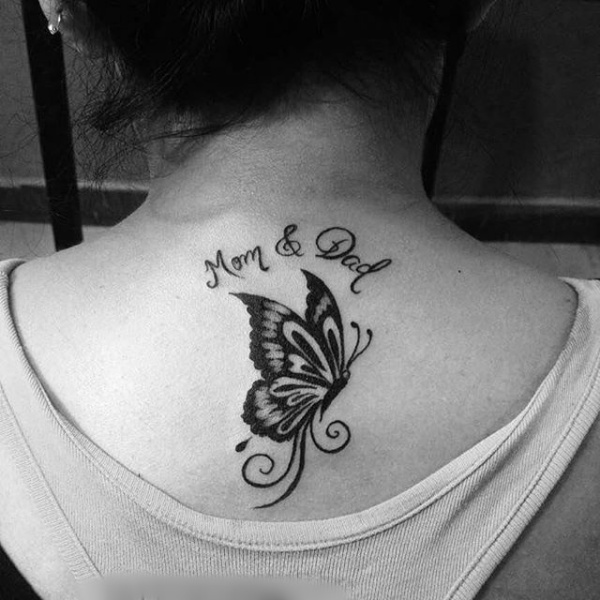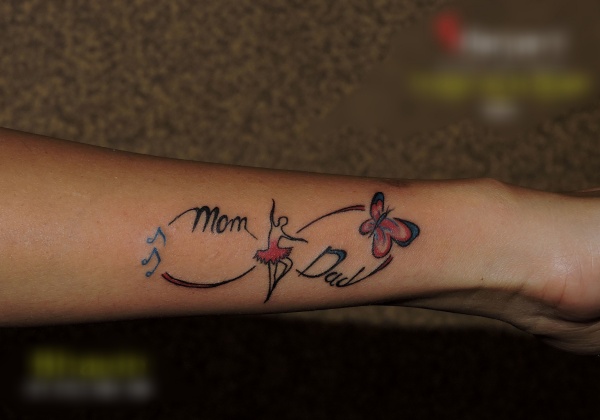 Our parents always encourage our qualities and give us the actual wings of a butterfly to achieve success and freedom. So, why not express to your mom and dad how precious they are to you? With the Mom and Dad butterfly tattoo, the love for your parents will get a new symbol. Draw "Mom" and "Dad" beautifully in italics and include some flying butterflies beside them to beautify your tattoo design in the most elegant way. Let the butterfly spread its magic in your overall appearance.
Mom And Dad Fingerprint Tattoo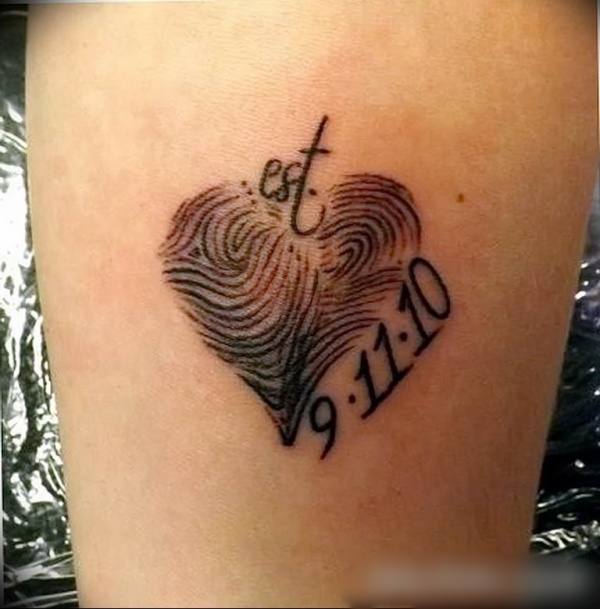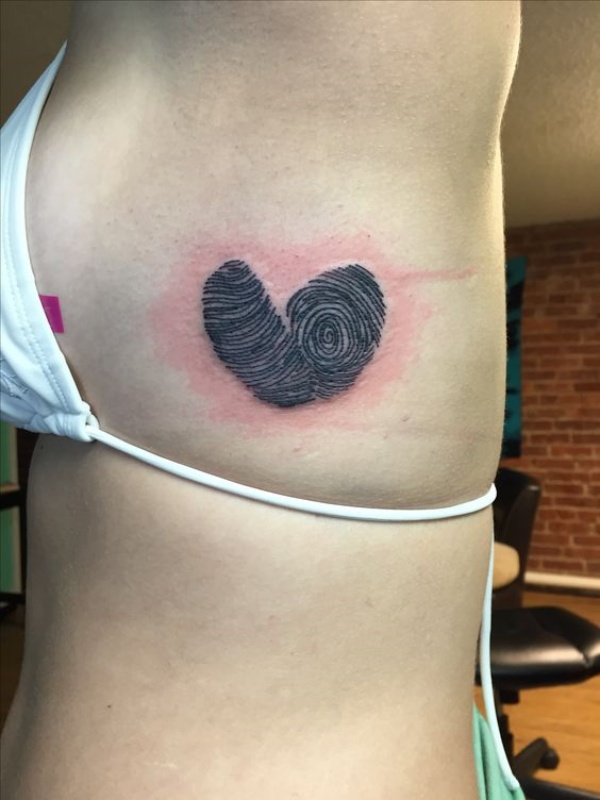 Carry the blessings of your mom and dad always with you through this unique fingerprint tattoo. In this design, the fingerprints of your mom and dad are combined to form a heart shape. Write "Mom" on the part of your mother's fingerprint and "Dad" on the side of your dad's fingerprint. Keep the fingerprint heart in red or black and use a contrasting shade for writing "Mom" and "Dad." It can be one of the unique mom and dad tattoos for showing your enormous love for your parents.
Mom And Dad Angel Wings Tattoo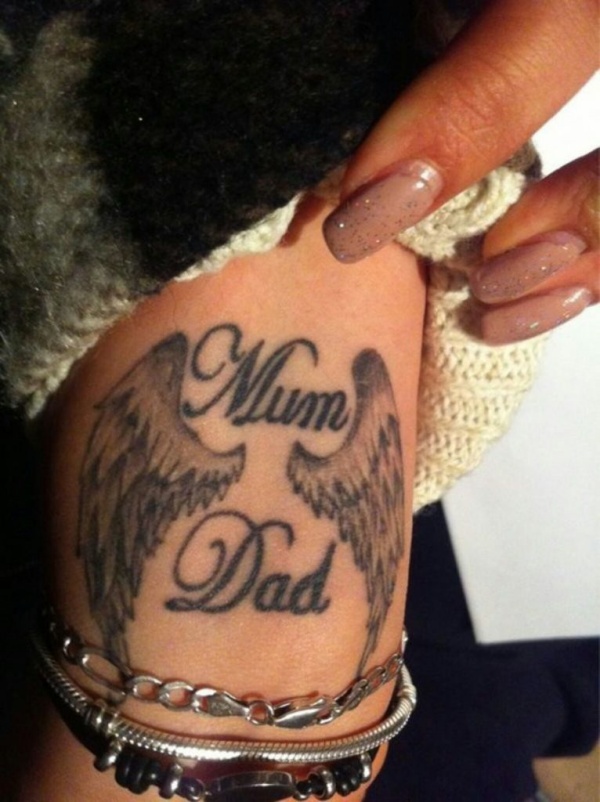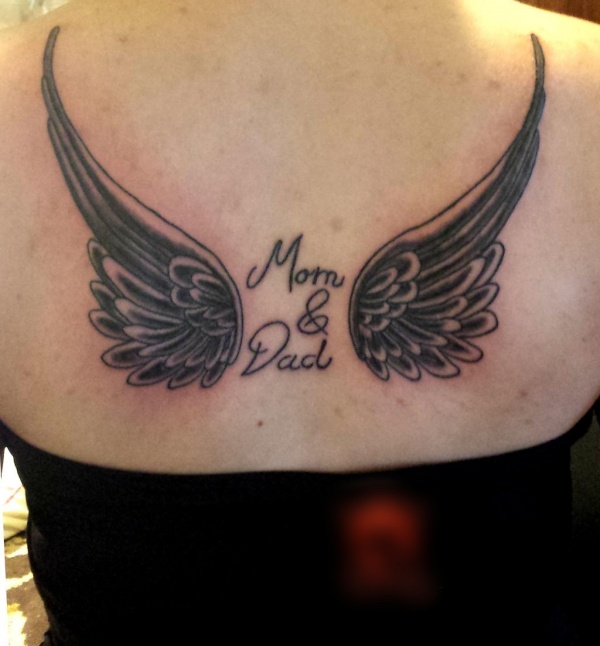 Who can be the guardian angels of your life if not your parents? To offer the angels of your life their due respect, wear Mom and Dad Angel Wings Tattoo on your hand. In this design, "Mom" and "Dad" are written in the middle. Then two angel wings are drawn on both sides of the writing. Over the "Mom" "Dad" writing, draw a divine angel ring to complete your tattoo. Let the angels of your life always accompany you in every obstacle.
Mom And Dad Infinity Tattoo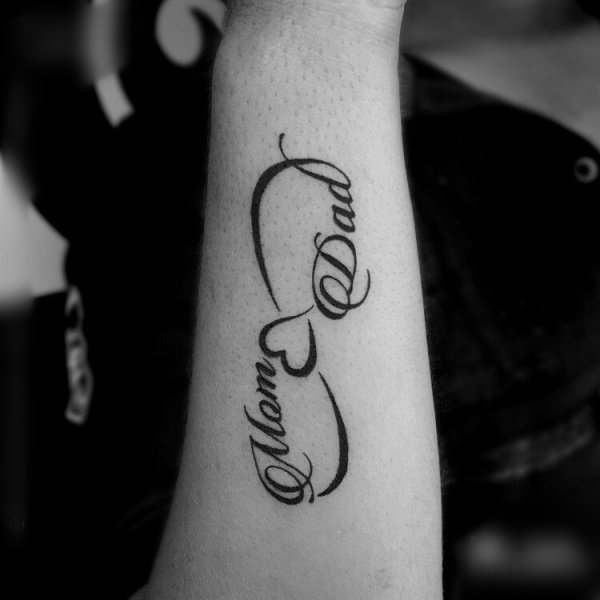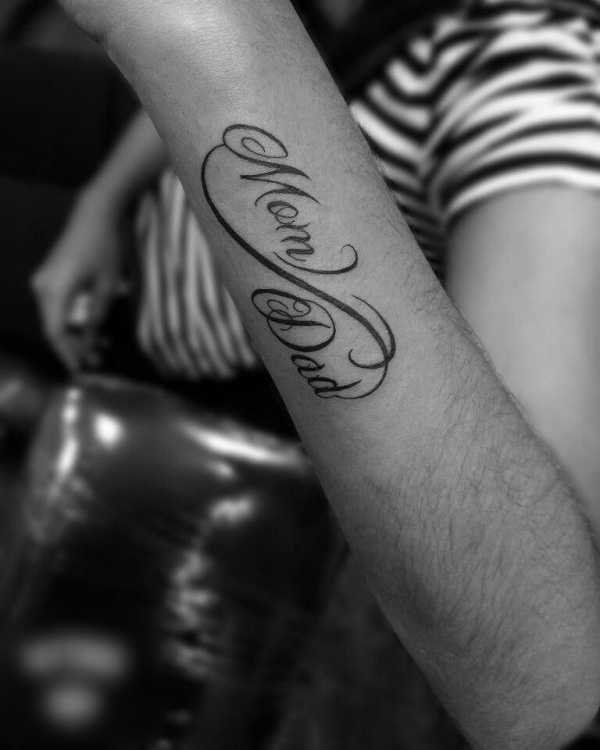 Does your heart hold infinite love for your parents? If yes, then it is time to perform a "Mom" and "Dad" infinity tattoo on your hand and express how much your parents mean to you. For designing this tattoo, sketch the infinity symbol and write "Mom" and "Dad" on two sides of the infinity sign to finish the design with utmost graciousness. There is no requirement to decorate the tattoo with too many ornamentations. Maintain simplicity and create your individual mark through this tattoo design.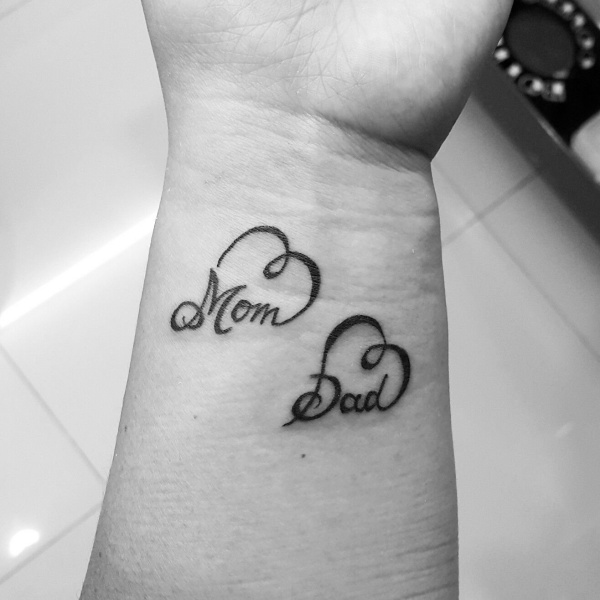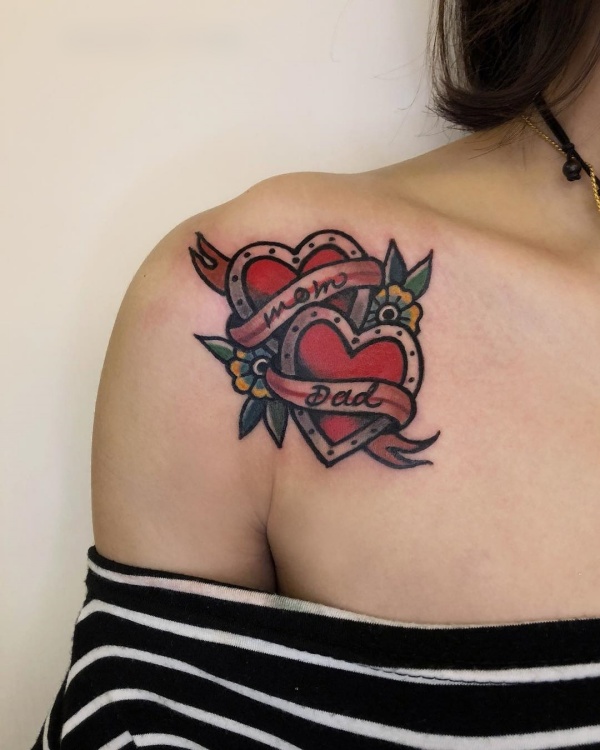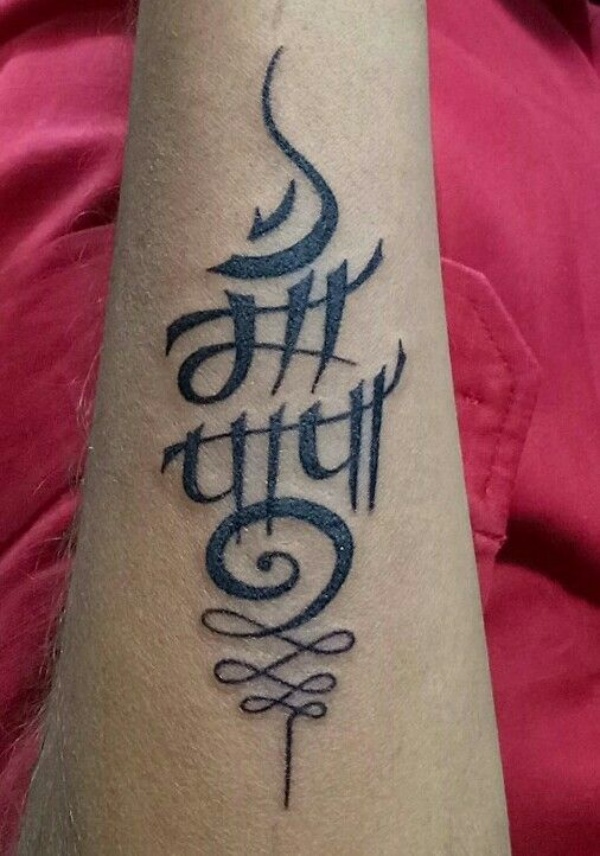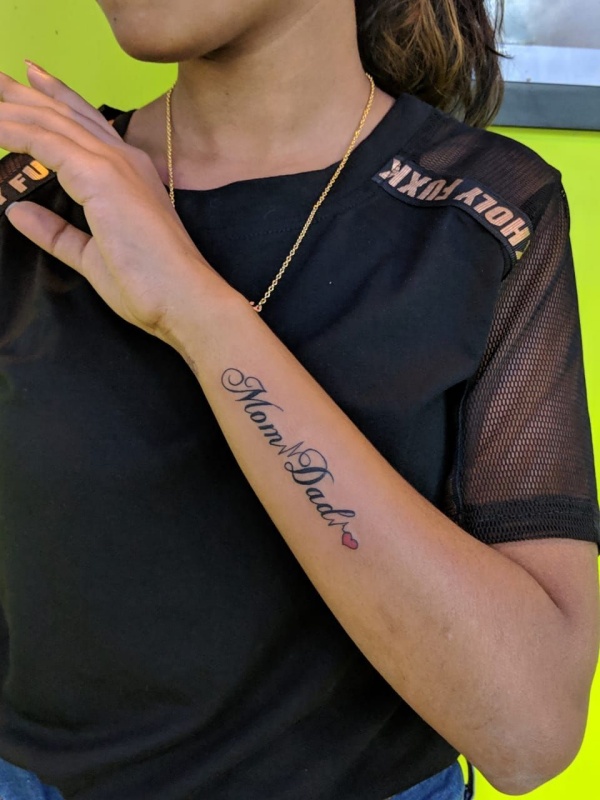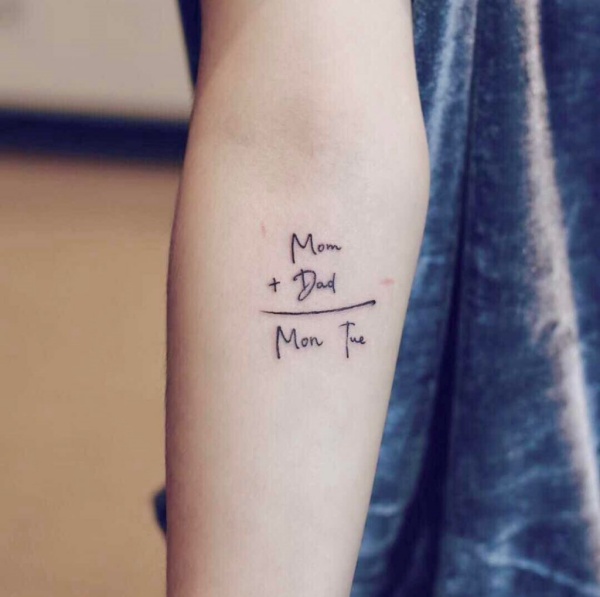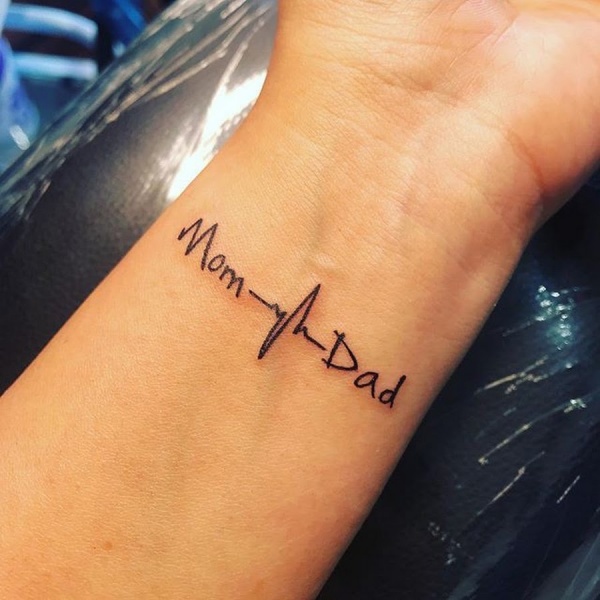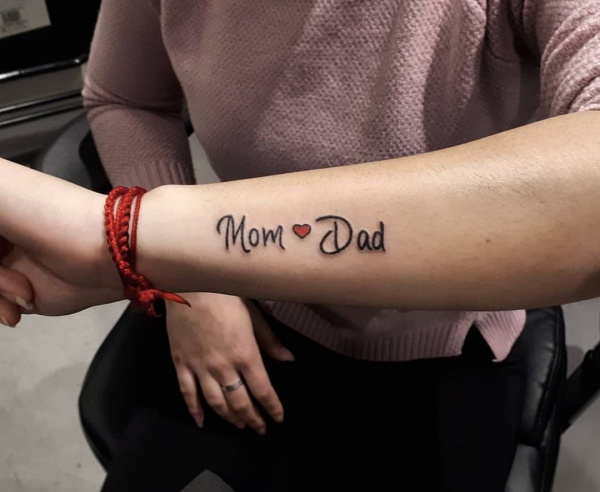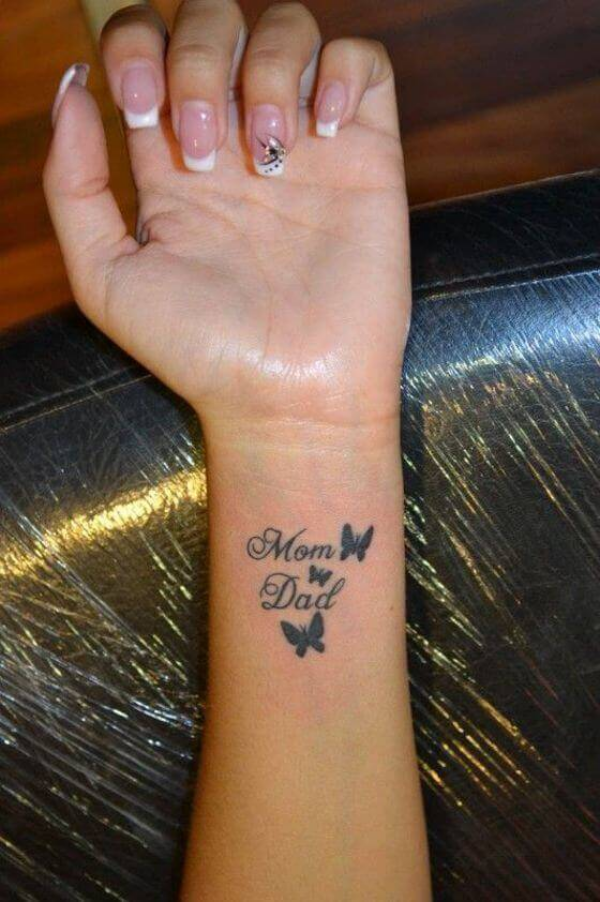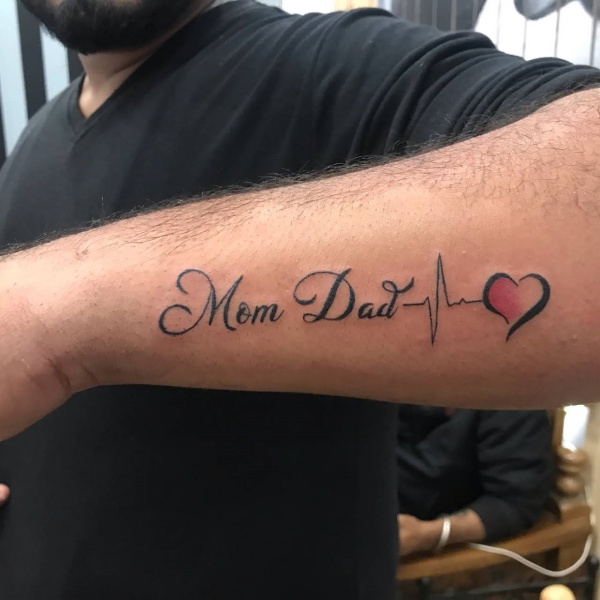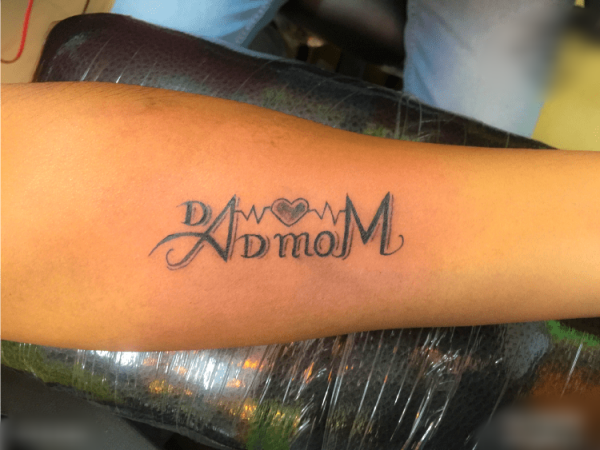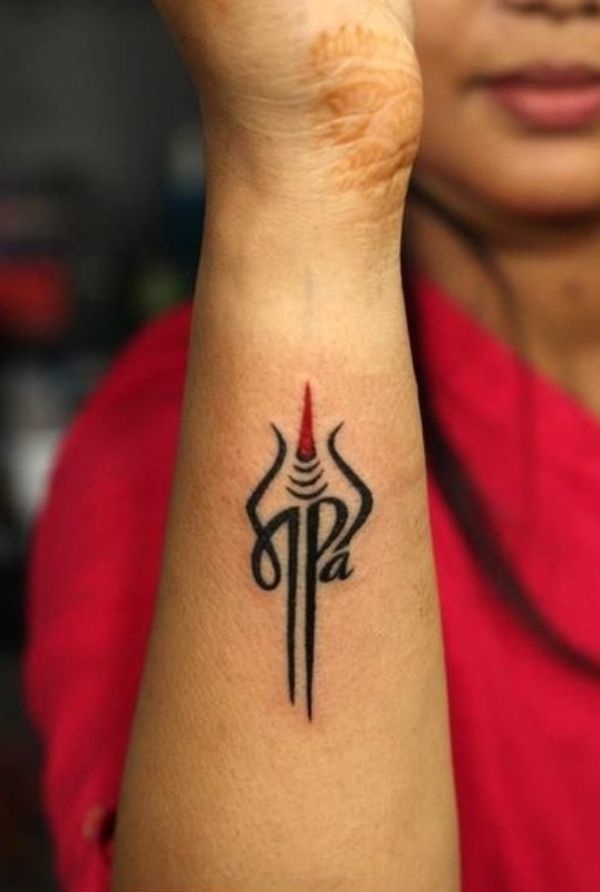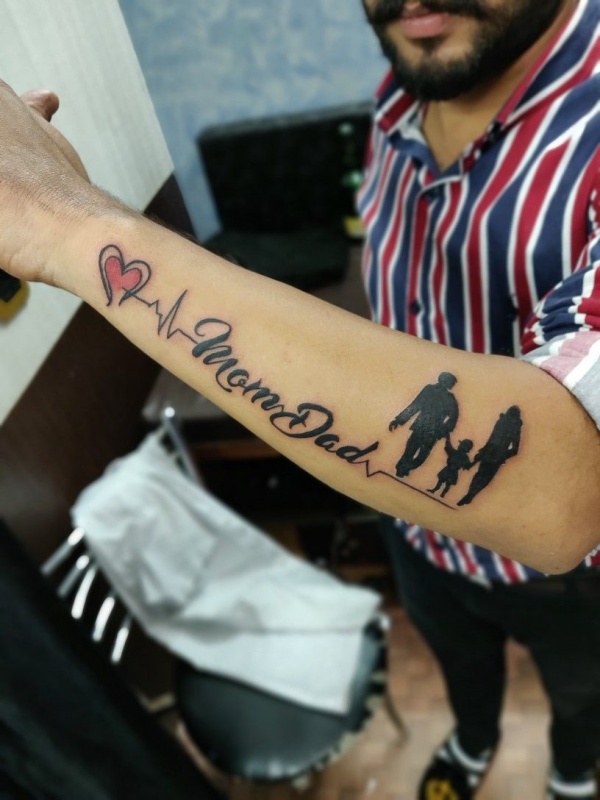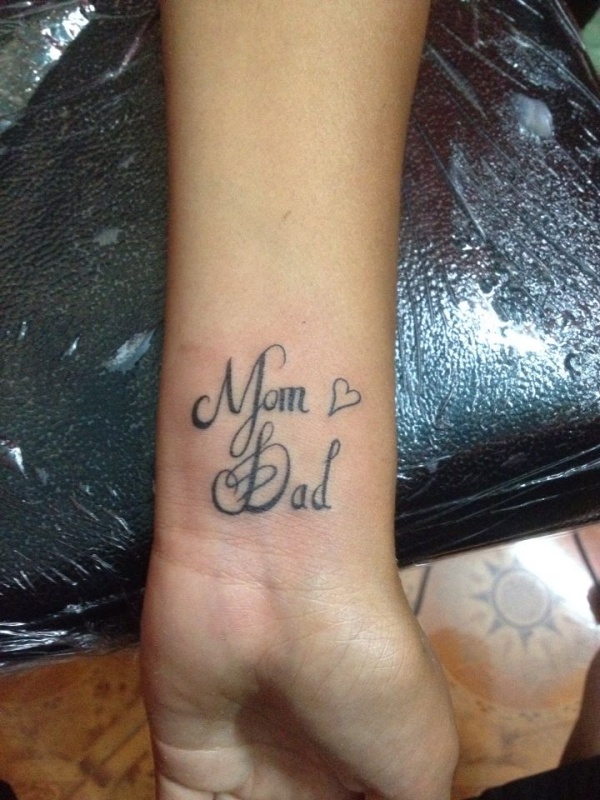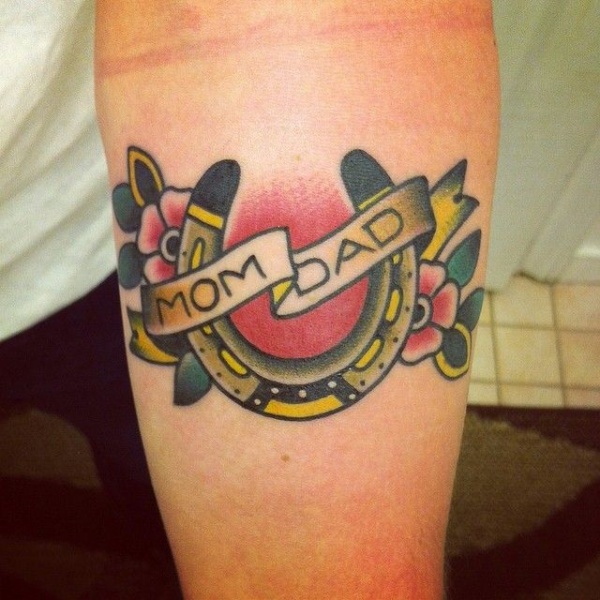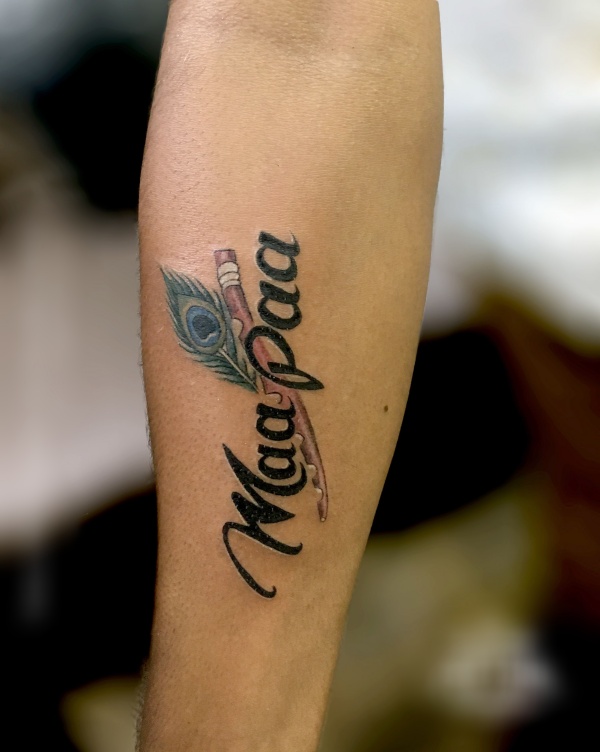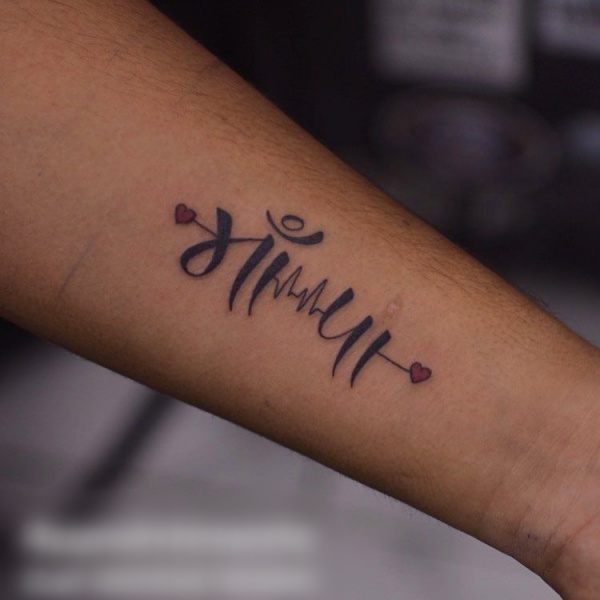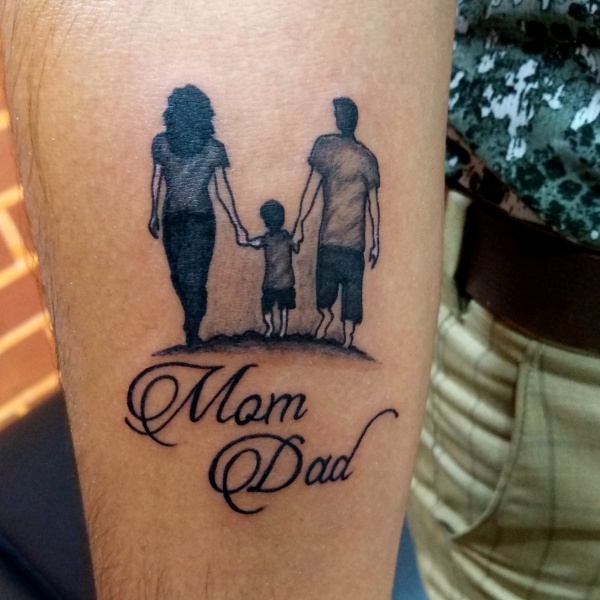 Conclusion
There are numerous designs for making tattoos on different body parts, but not all of them are as beautiful as mom and dad tattoo designs. The function of parents in our lives cannot be calculated in terms of numbers or amounts. The selfless sacrifices and countless contributions that our parents do shape our successful lives.
So, if you can show a little gratitude towards them through a tattoo design, then express it wholeheartedly. However, tattoo making is painful initially as the machine pierces through your skin to create the design. Even after the inscribing part is completed, you need to take great care of the tattooed skin to avoid infections. Give the wound some time to recover, but the appearance is incredible when it gets fully cured. Get hold of a skilled tattoo artist and inscribe one of your favorite mom and dad tattoos on your body to celebrate the eternal bond between you and your parents.
Related: Beautiful Small Tattoo Designs With Meaning