While bringing on the topic of fall fashion, many people are unsure about when to wear the clothes for the 'fall' season. However, mid-September or early October is the time when fall fashion works best. This is the best possible time when temperatures start to drop, especially during the nighttime, so it makes the most sense to flaunt your heavier fall essentials. While suggesting a good style statement rule during this transitional weather, we can only think of layers and more layers. Also, the fall outfits for women would include everything from oversized coats to your favorite colorful sweaters.

With this trend, the more out-of-the-box you would be, the better it would be for the fashion scenario. As the fashion theme suggests, the fall outfits denote all things bright. It's like a plethora of colors that are blended with perfect hues and tones to create a dazzling effect that's hard to get from any other line of fashion. To sum it up, how about a list that states of the variants of a fall fashion. For that, get your eyes glued to the list below. Browse through the list, and get your favorite fall fashion attire.
All set for the session? Let's start then.
Trendy Fall Outfit Ideas For Women
Leather Waistband Dress With High Boots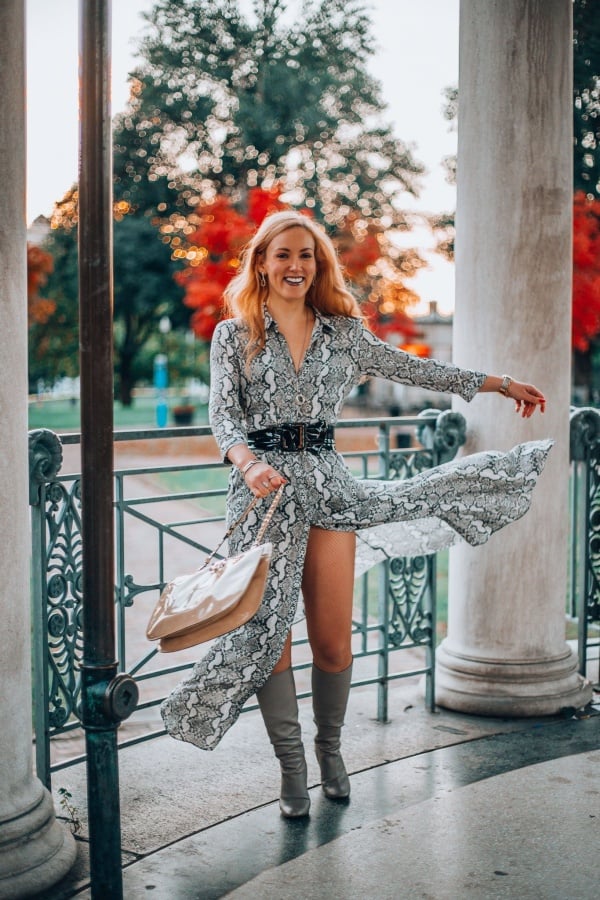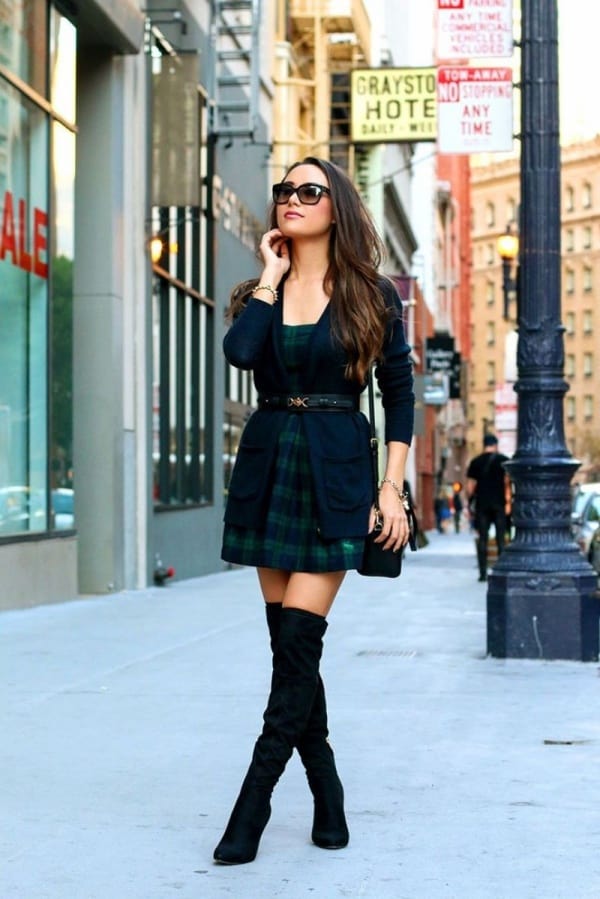 The knee-high boots are the greatest one to team up with dresses and skirts. Besides, the leather dresses are great to go with high boots. So, while pinning for this one think of an off-shoulder black dress. Trust me, it would be hard to find an alternative to this combo. It's like the deadly duo we all have been seeking for a long time to hit the party floors. To make yourself sultry, sexy, yet with a subtle tinge try the combo. Remember, to tone down the accessories, make the eyes bold, and lips red while thinking of makeup.
Silk-Satin Midi Skirt With Sweater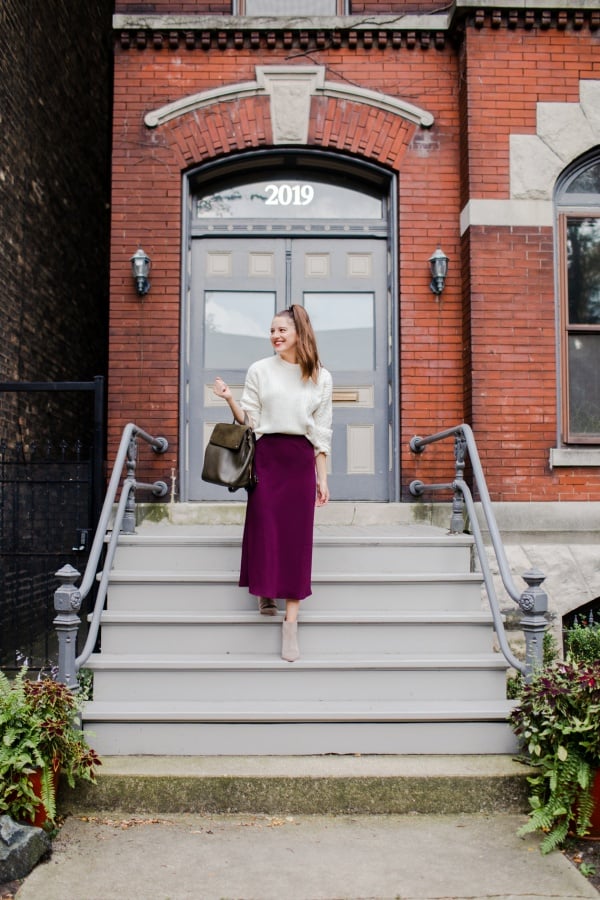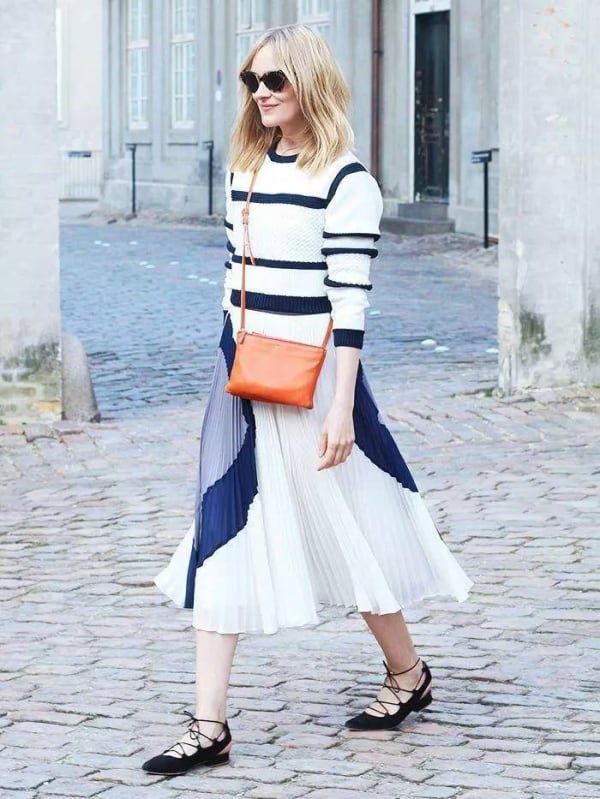 This is one of the fall outfits for women that gives a quick sneak peek into the Victorian age. Honestly, with a silk-satin midi skirt, you can think of a lot of combos to hit the fashion scene. Start the process with a simple cotton T-shirt and a pair of dad sneakers to achieve the perfect laid-back casual look. Then, quickly change on to the off-shoulder top and heels to make them look chic and suitable for the evenings. Here, style up the entire combo with a light-colored baggy sweater. The last resort is a cute lace top that looks feminine and classy and is certainly a part of your style.
Long Sleeve High Neck Dress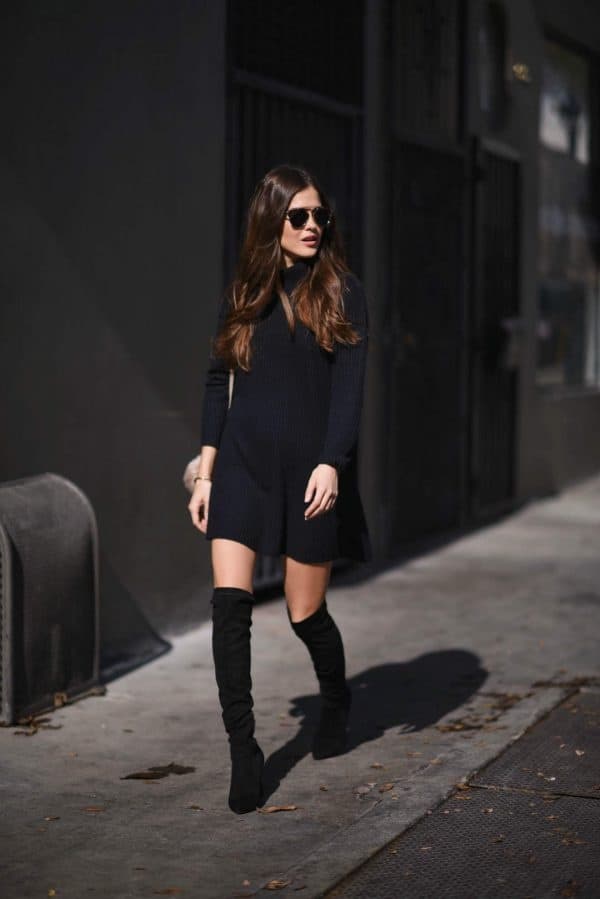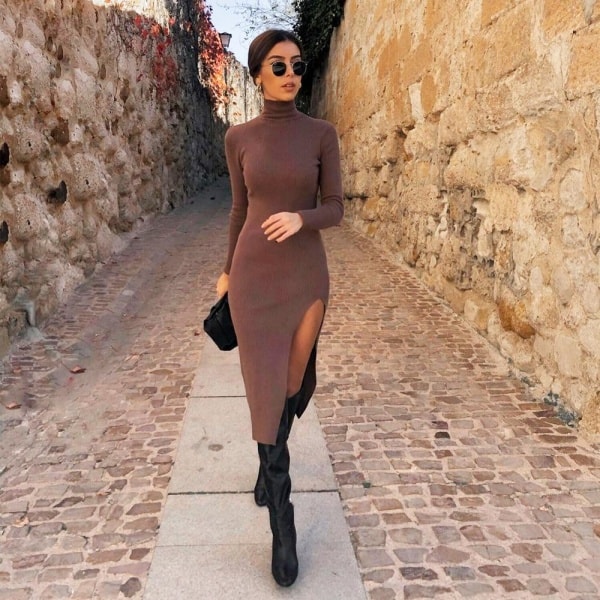 Certain dresses are specifically meant to be tailor-made for the fall season evening parties. Well, the long sleeve high neck dresses belong to the category we mentioned above. Besides, they are mostly worn as body-hugging gowns thereby, the figure looks impeccably perfect when worn with great style and elegance. Trying to be bolder? Think of a transparent lace gown with subtle makeup and red lip color. Apart from that, high-neck dresses are mostly thought to look good when worn in dark hues. Of course, don't miss out on the high-heels matched with the gown color to create an impactful look on the spectators.
Oversized Denim Jacket With Jeans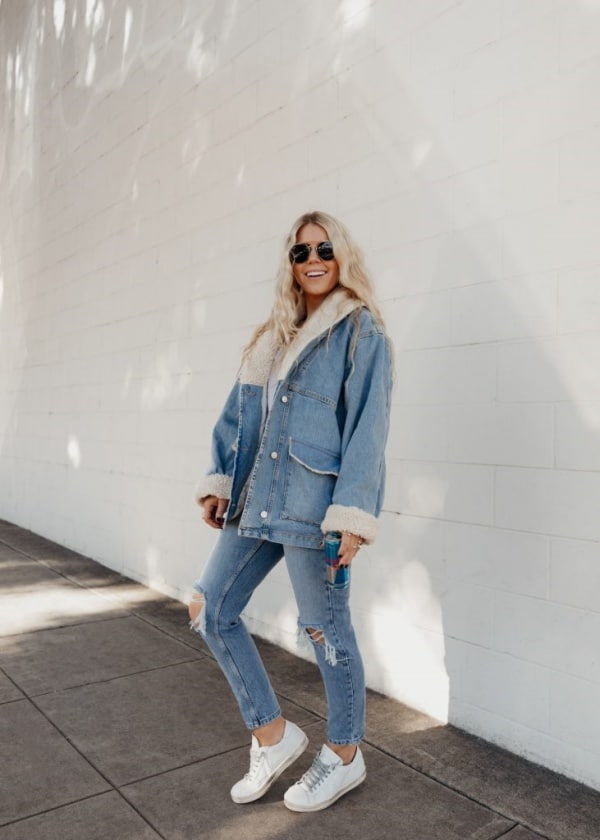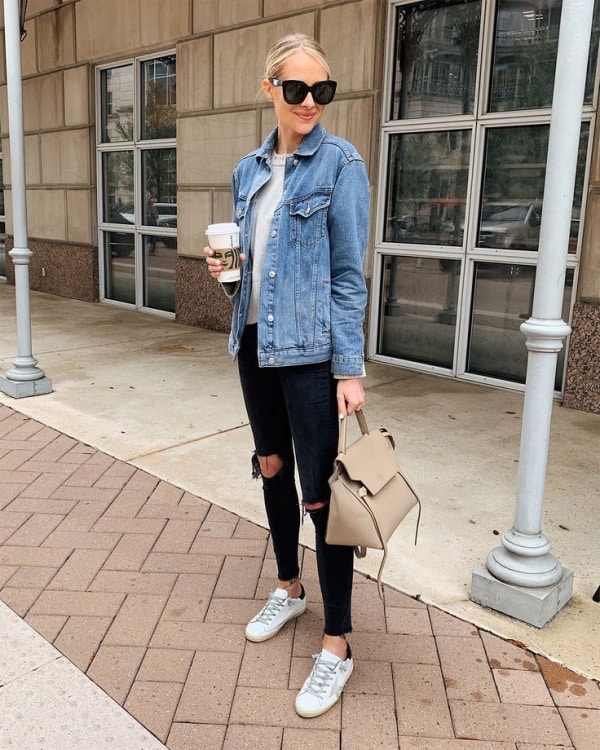 You don't need to think much about the attires if you have the oversized denim jacket as one of the accessories for the list of fall outfits for women. An oversized jacket should slope down the shoulders and the sleeves should finish right above the top of your wrist bone. You can never go wrong with a chunky, oversized jacket and a good pair of skinny jeans. Also, you would need chunky boots or shoes. To sum up, the combo of an oversized jacket, skinny jeans, with chunky boots would make a cute, stylish, and versatile fall outfit.
Black Blazer Outfit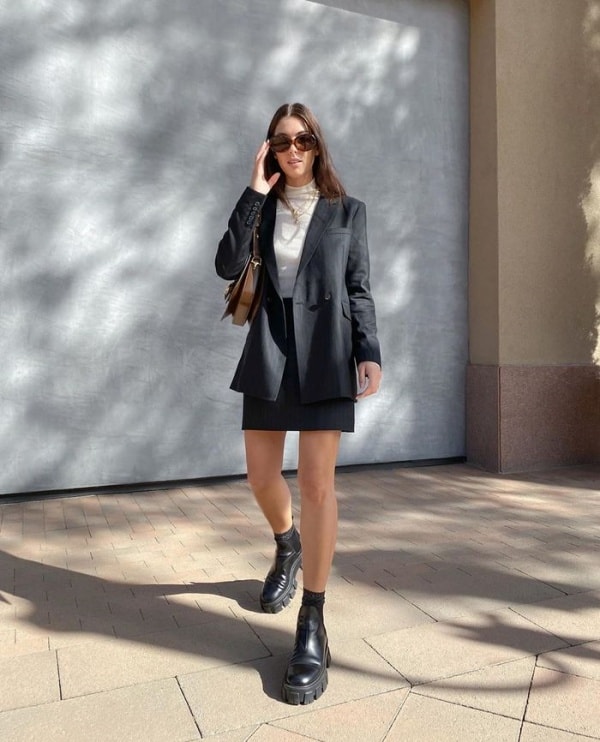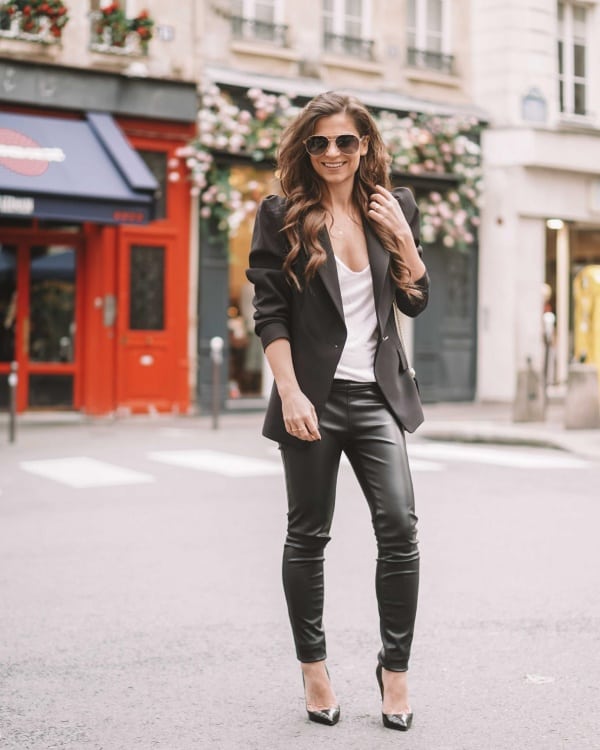 Similar to the denim jackets, a black blazer doesn't also have a host of options to go with. Let's say coupling a black blazer with grey pants and a white shirt works for a sophisticated outfit. For a semi-formal approach or smart casual dress codes, wear a black blazer with proper khaki trousers or jeans. You can also rock a black blazer with a blue shirt and a pair of black pants as the contemporary alternative to a standard black suit. So, it's like you would be spoilt with choices while coupling a black blazer with the various other accessories.
Faux-Fur Coat With Sneakers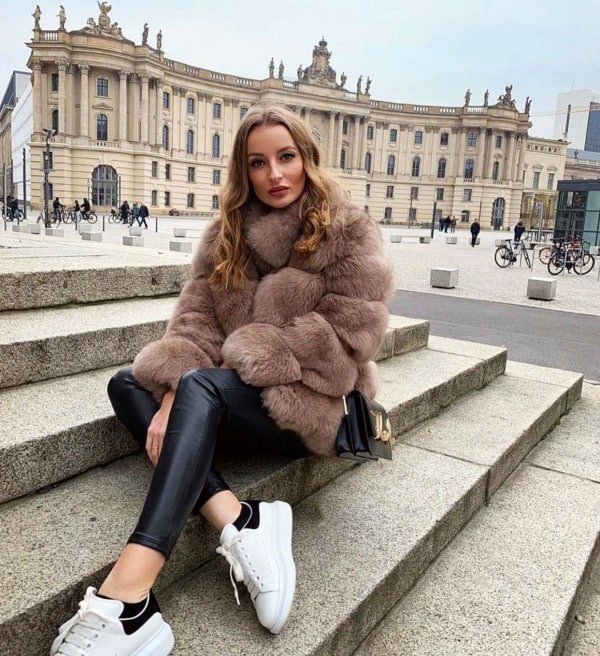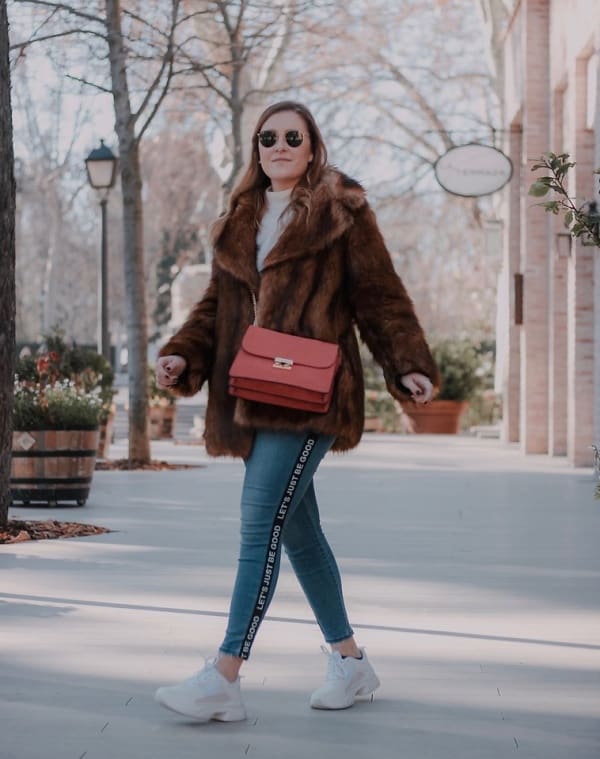 A faux-fur coat would be helpful to dress up the cool pieces like a cropped sweatshirt and a pair of patent leather pants. Thus, this becomes one of the most loved fall outfits for women due to its camel shade. To style yourself more on the casual side, you can also think of shorter heels and pajama pants with the faux-fur coat in public. Also, try to opt for neutral-colored or dark-toned shoes while thinking of coupling with the faux-fur coats. However, while aiming for the colors., think of the bright hues while choosing the faux-fur coats.
Jumpsuit With Coat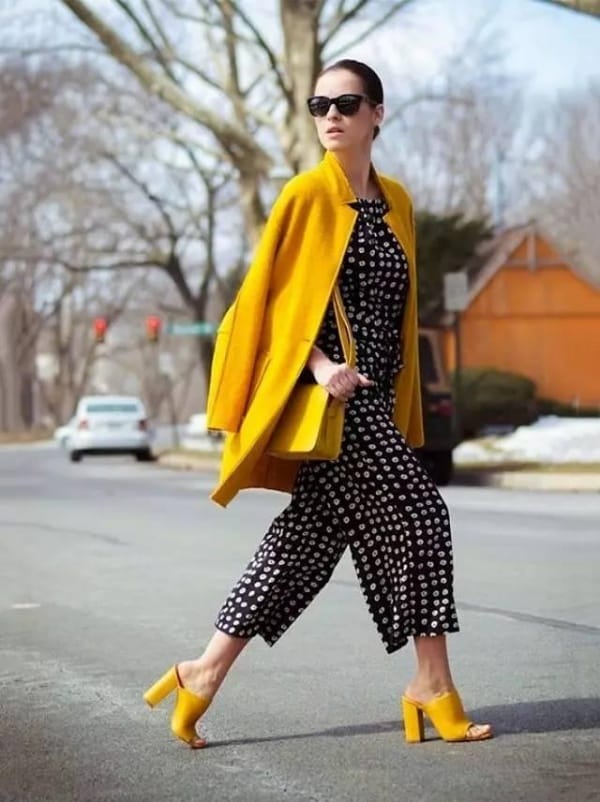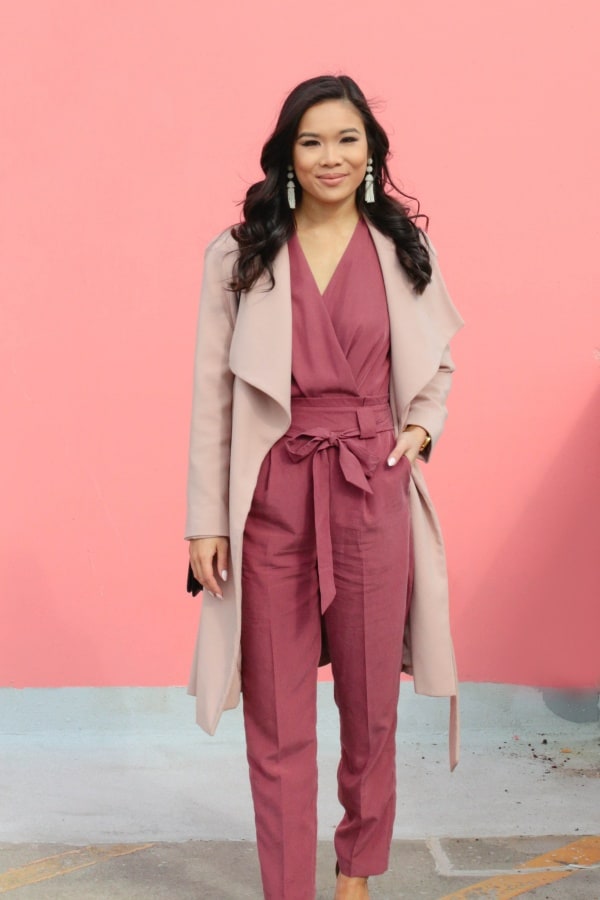 Jumpsuits look cool when worn alone, and when coupled with a coat are nothing less than a visual treat. However, the coupling of jumpsuits is also dependent on a lot of factors like the proper blending of colors, matching of jumpsuits with the coat, and finally putting all the other accessories. Let's start with a crimson red jumpsuit that would depend on a black coat. Yes, we would also need black shades with red heels, red lip color, and subtle eye-make-up. A sling bag would help to complete the show with ease and perfection. So, all set for this one?
Plaid Blazer With Tee And Cropped Jeans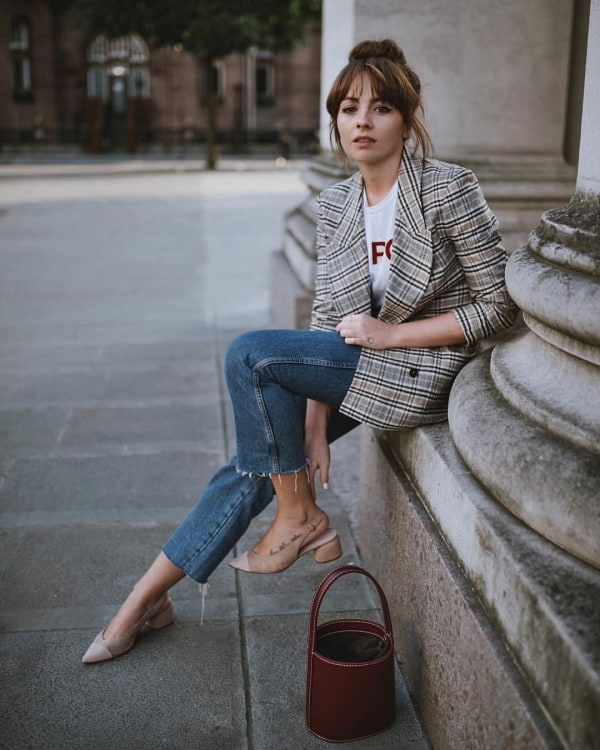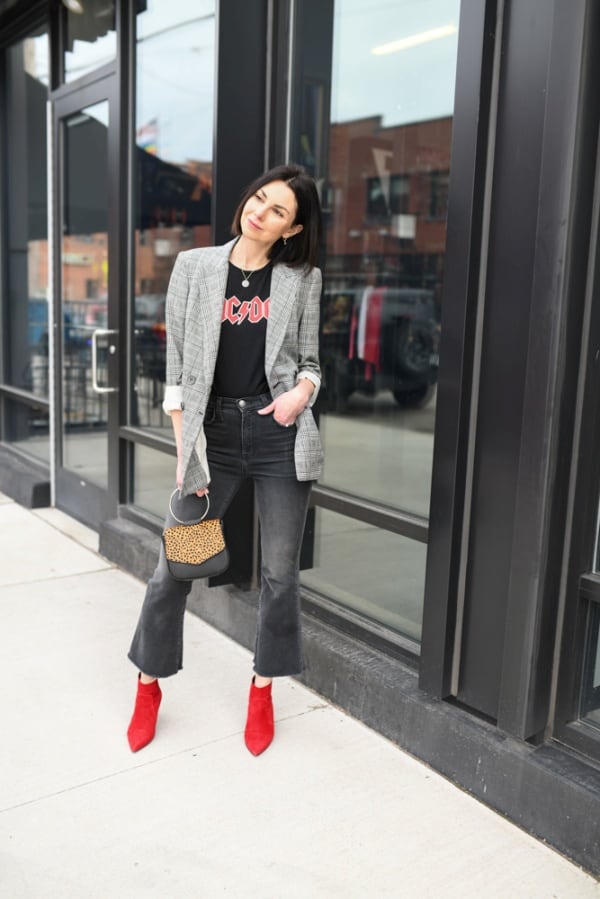 The plaid blazer works best with white tees, a silk neck scarf, and of course, a pair of black cropped jeans. This is supposed to be one of the perfect fall outfits for women due to the color combos and the style. For an effortlessly sleek outfit, you can also think of donning a navy plaid blazer with dark brown chinos as they play nicely together. If planning to go a bit out-of-the-track, spice up your outfit by rounding off the combo with dark brown suede tassel loafers. Also, you can channel your inner zeal and consider pairing a navy plaid blazer with navy jeans.
Hoodie Outfits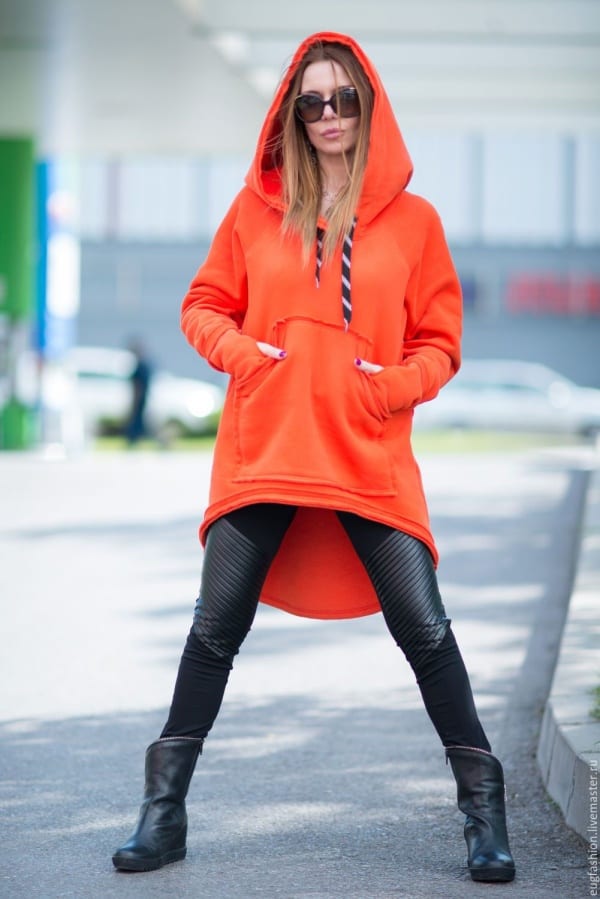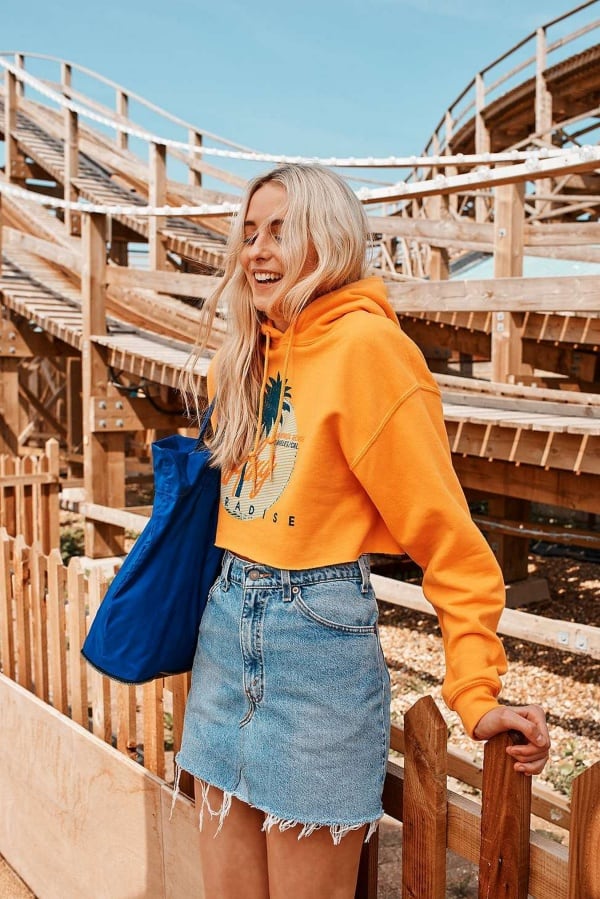 Partnering a hoodie with a leather or denim jacket for an edgy and stylish outfit looks best for the fall season. You can also try to combine a hoodie with a bomber jacket, parka, or peacoat for a contemporary, urban-chic look. The ending note of completing a hoodie outfit states of a pair of jeans with sneakers or boots. To learn more about the hoodie ensemble you can always pair a white hoodie with tan wide- leg pants. For a more glamorous approach, think of pairing the outfit with a pair of black chunky suede pumps. Lastly, a white hoodie with white fringe jeans comprises the ultimate cool and casual style.
Leopard Print Jacket Outfit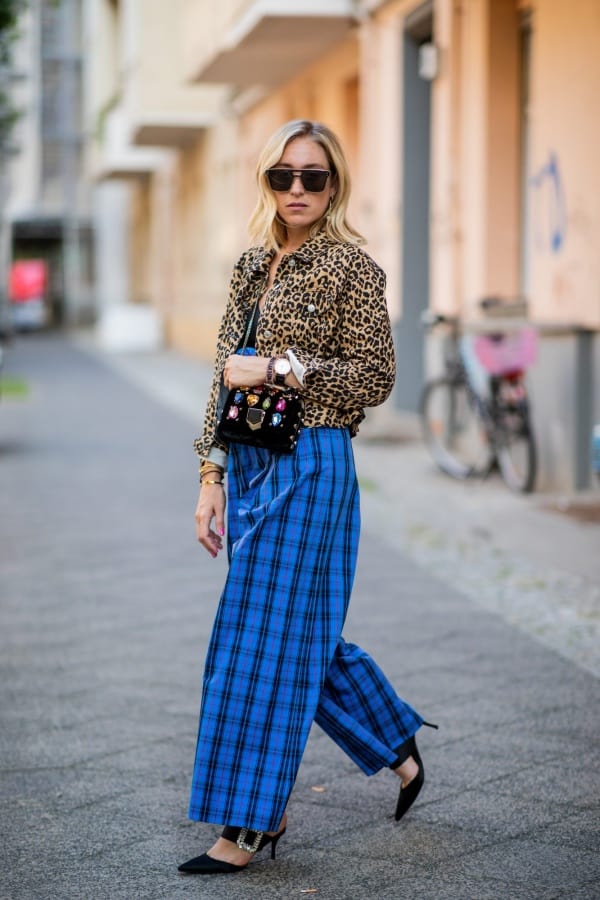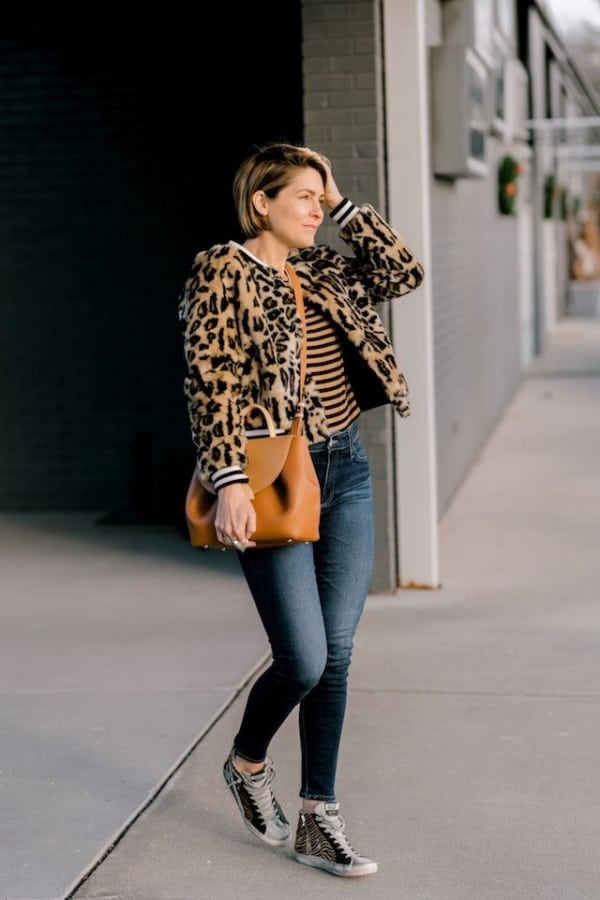 The leopard print jackets are the ultimate classy style statement that makes every outfit look fabulous and versatile. These were never out of the fashion, thereby you can wear them whenever you choose to. However, choose the colors well while thinking of getting a leopard print jacket. Here, we are specifically listing the colors like taupe, beige, blush pink, off-white, cream, white, pale grey, and pewter. These colors look best when worn alone or blended with the black, brown, or tan pieces. Thus, this becomes one of the timeless fall outfits for women.
Sexy V Neck Velvet Dress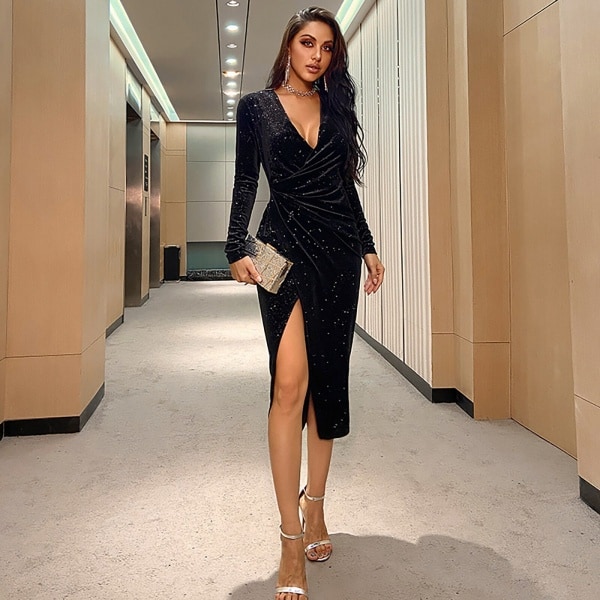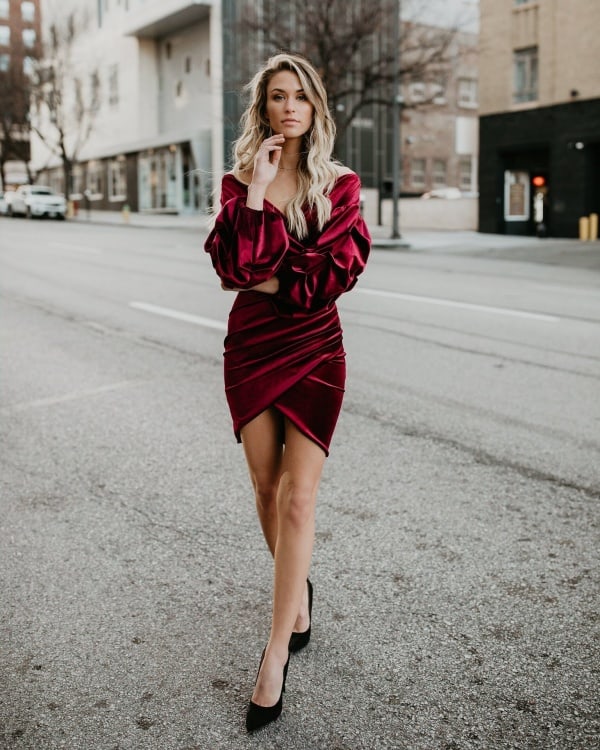 The deep-cut sexy V-neck velvet dresses are the best ones to be donned at parties. As the material suggests, velvet is a shiny and dazzling thing that looks best with smokey eyes, and shimmery jewelry. These dresses are mostly found handmade thereby have a beauty of their own. Also, this one is a great attire to be worn by women with a curvy body. They get clutched to the body and make it look slimmer than the usual size. To seal the last deal, try and opt for shiny heels to go with the dress.
Knitted Jumper Dress Outfit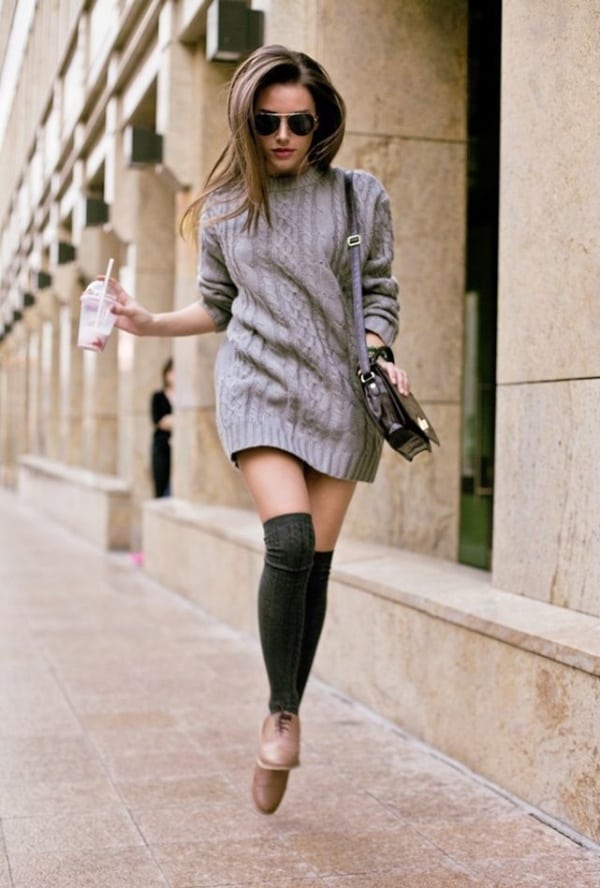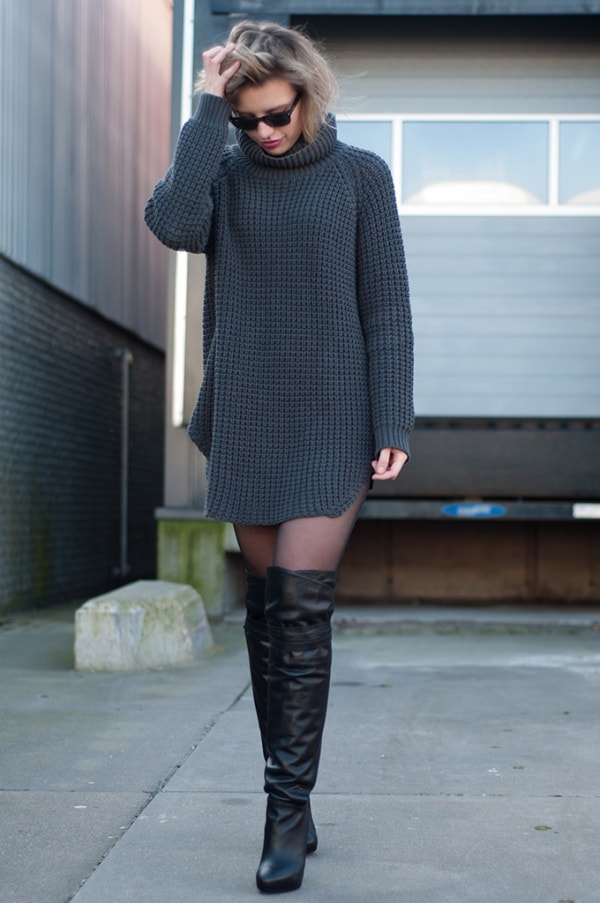 For the ones unknown, knitted fabric is made from one continuous fiber like yarn or thread, which is repeatedly looped and yearned to form a garment. If you ponder deep over a piece of knit clothing, you would see a pattern that looks like rows of fine braids placed throughout the material. So, the knitted jumper dresses are one of the fall outfits for women that have a host of combos to get it done with. You can always try them a shirt, or pullover, or maybe a pair of denim, and end the combo with high socks, sneakers, or ankle boots.
Leather Pants With Boots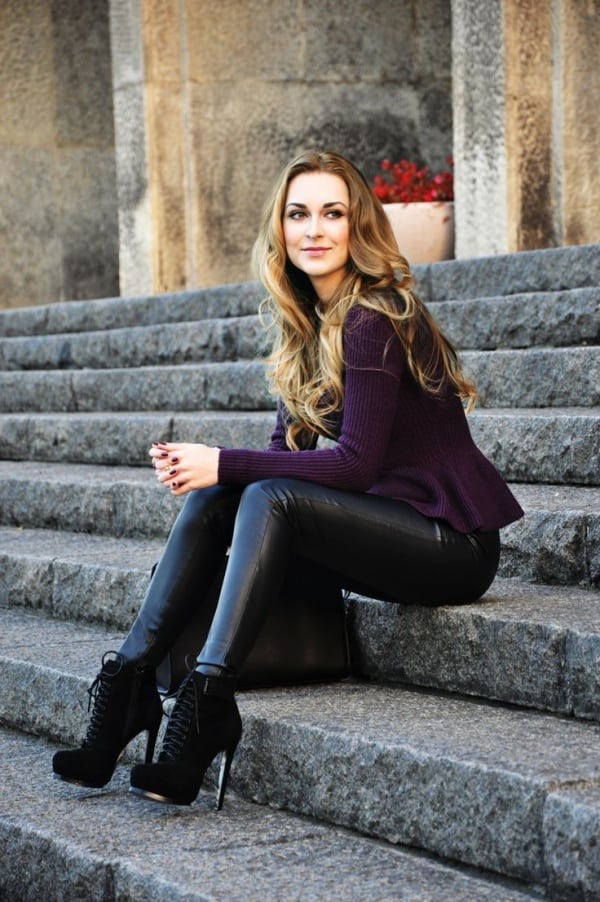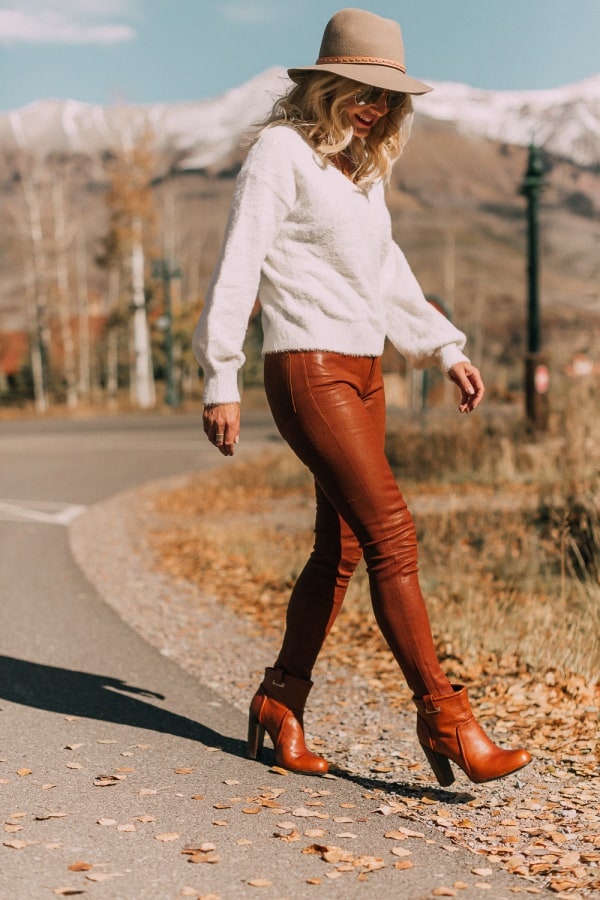 Yes, the combo of leather pants with boots is a great one and is quite a trending fashion. Since the leather is already structured and heavier fabric, pulling knee-high boots over them probably won't create much of a hassle. Besides, if you are also opting for the combo of a leather ankle boot with pants, you might essentially get the same vibe. Consider wearing pink- and pastel-colored tops with jackets to suit the style. You might as well try the suede leather shoes instead of the boots for a change.
Sleek Suit Look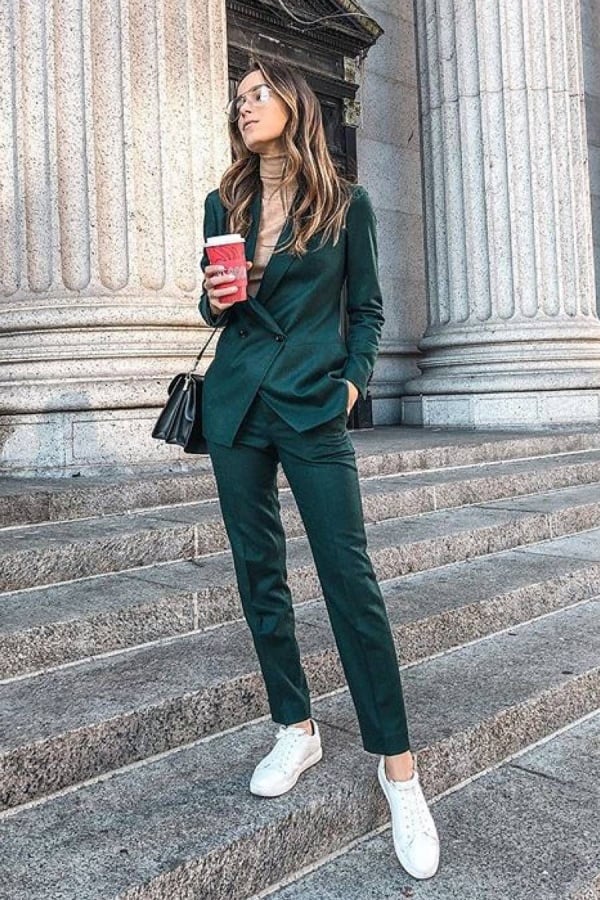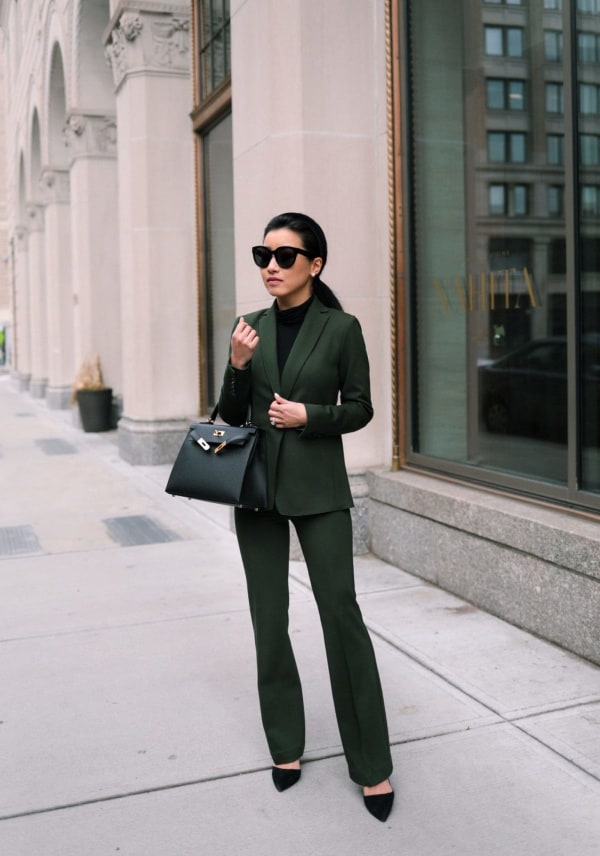 There's nothing like the essence of a sleek and sophisticated dressing code for contemporary women. The sleek suit look is one such stylish dress code that women would love to wear while hitting the office space, and also for the casual meets. They serve a dual purpose, and are thereby considered one of the favorites by women. Also, while thinking of the suit colors, think of the deep hues like purple, red, or navy blue to sink in with the mood. Adjust the heels accordingly, and yes you are all done.
Trench Coat Outfit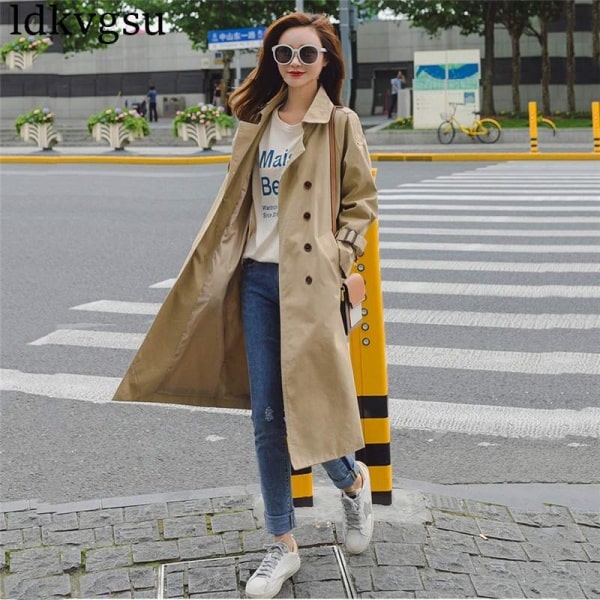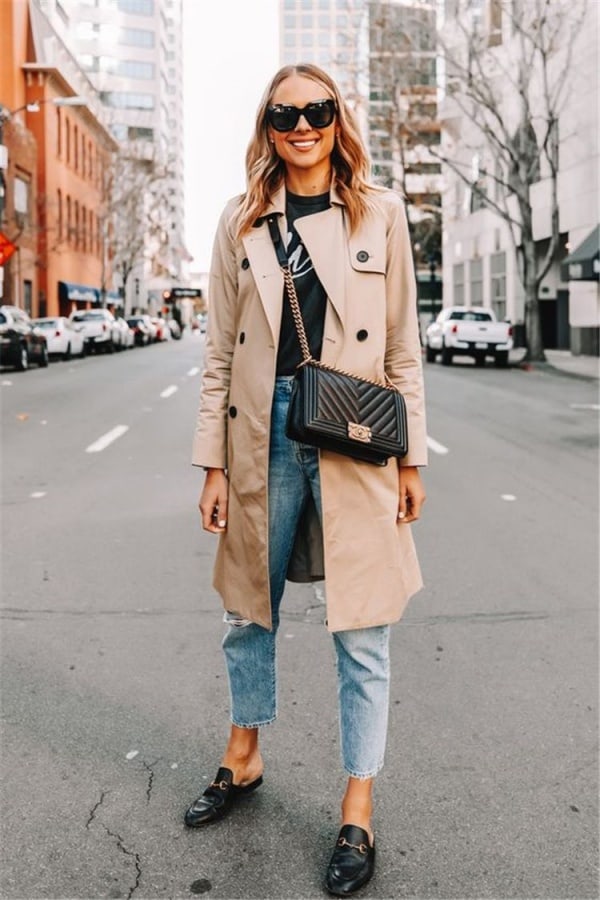 Trench coats look great when styled perfectly with jeans, a t-shirt, and/or a sweater. It's almost similar to a fashion blogger/model-off-duty favorite, so try it on your next off day. You can also play around with the top. Let's say dressing up the look with a slightly unbuttoned blouse or putting a spin on the Canadian tuxedo look by wearing a denim shirt. Give your creativity a boost by thinking of all the combos you can think of right now. Style well, and flaunt good.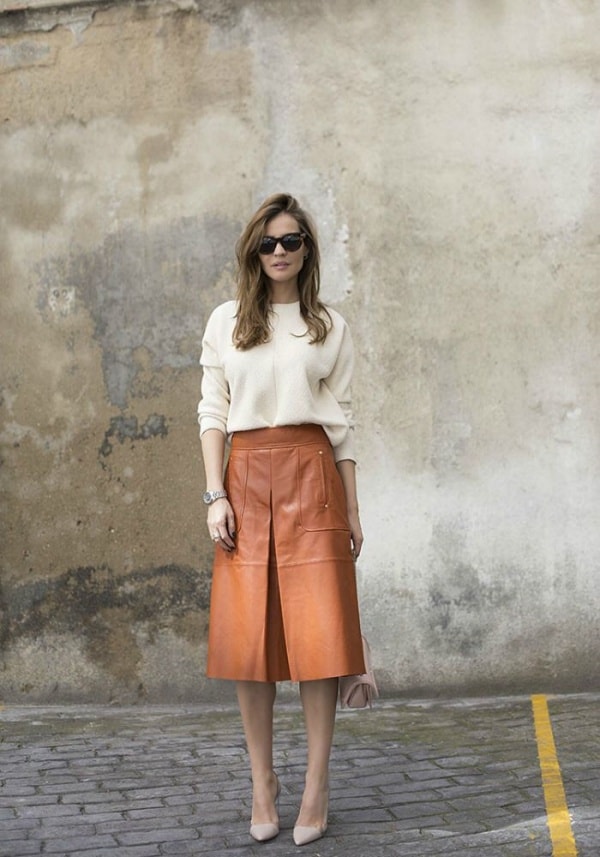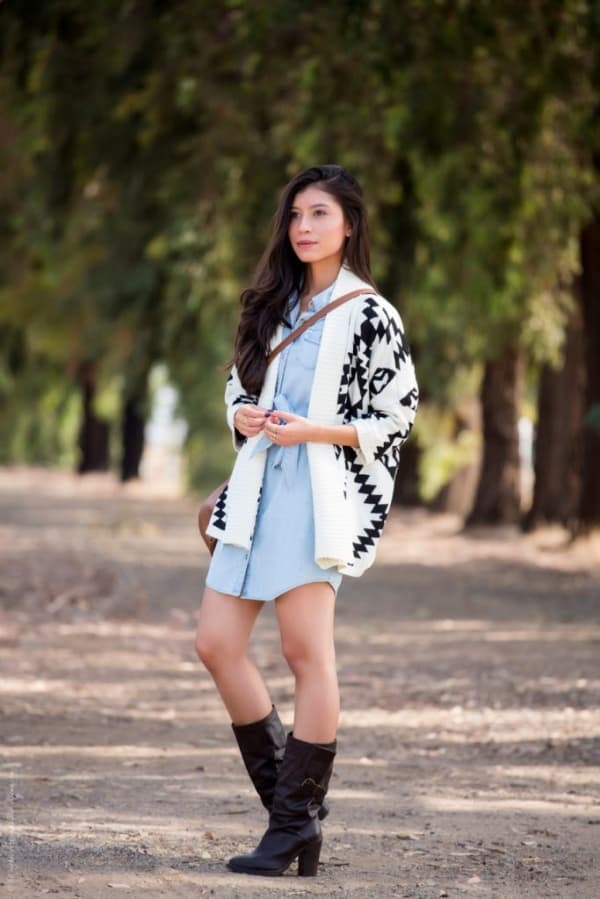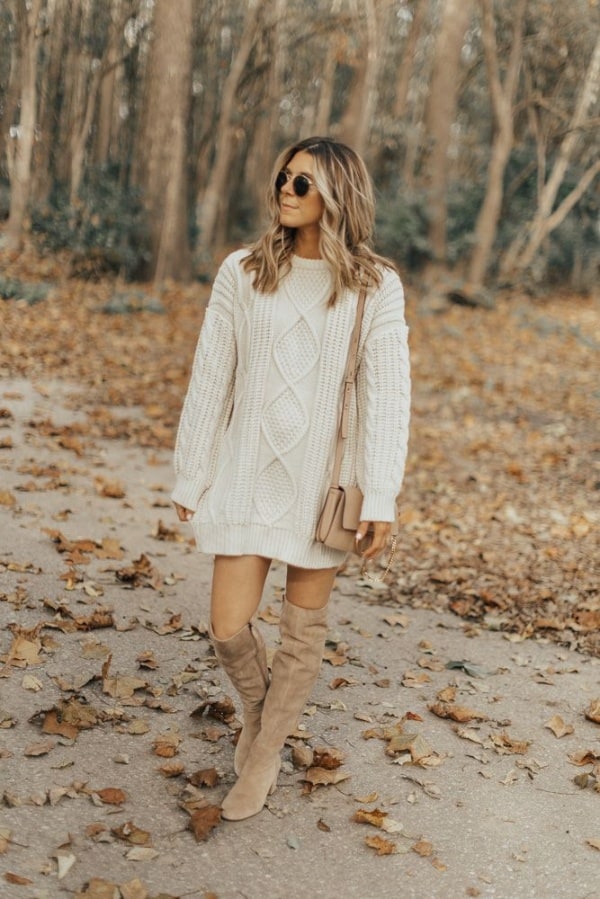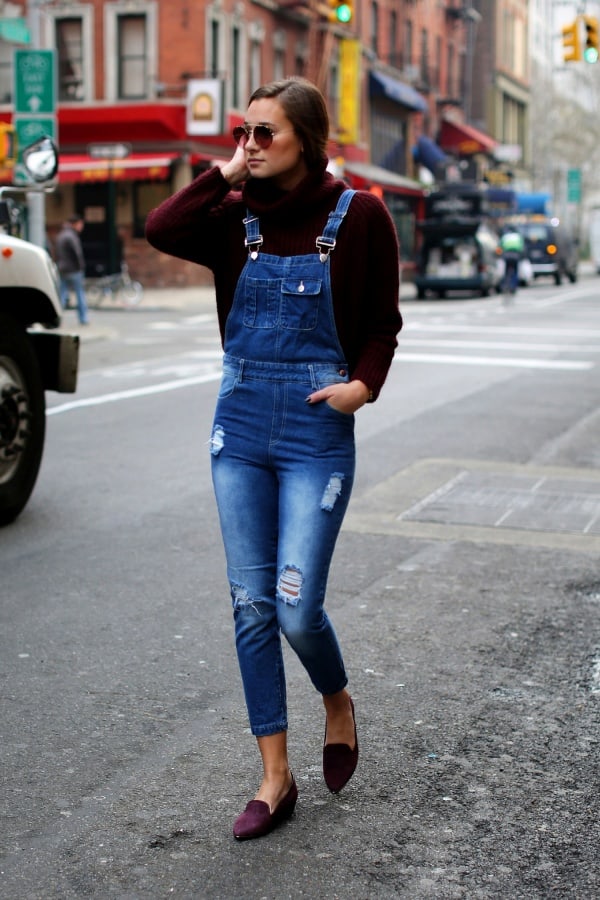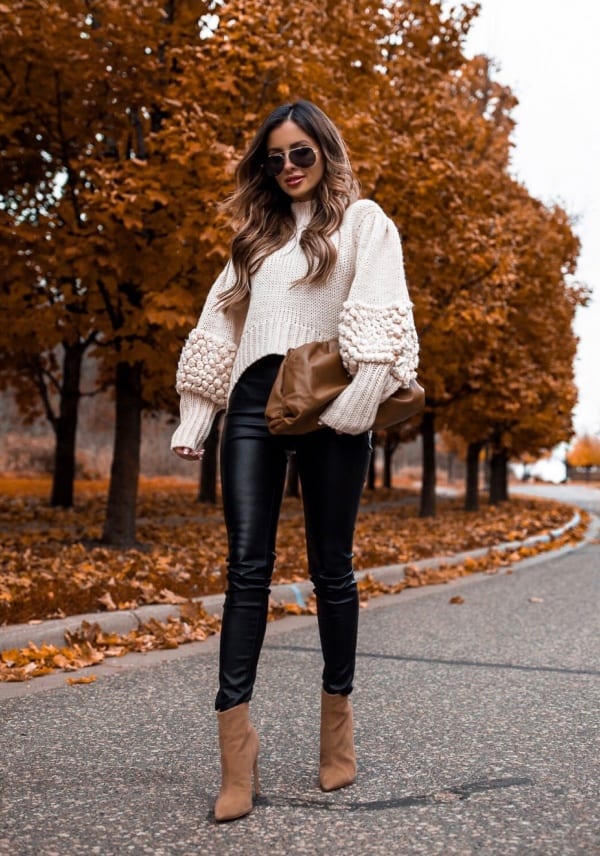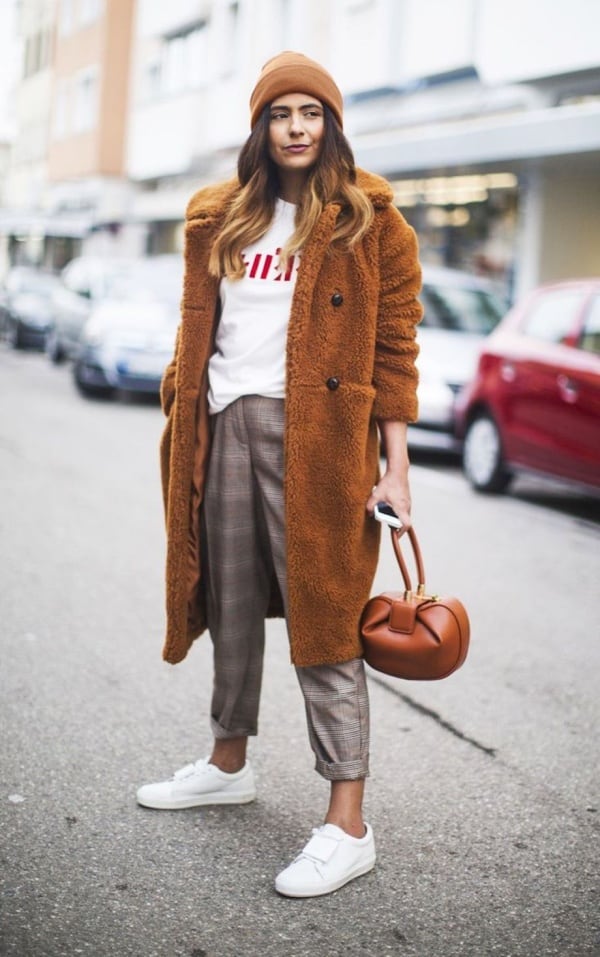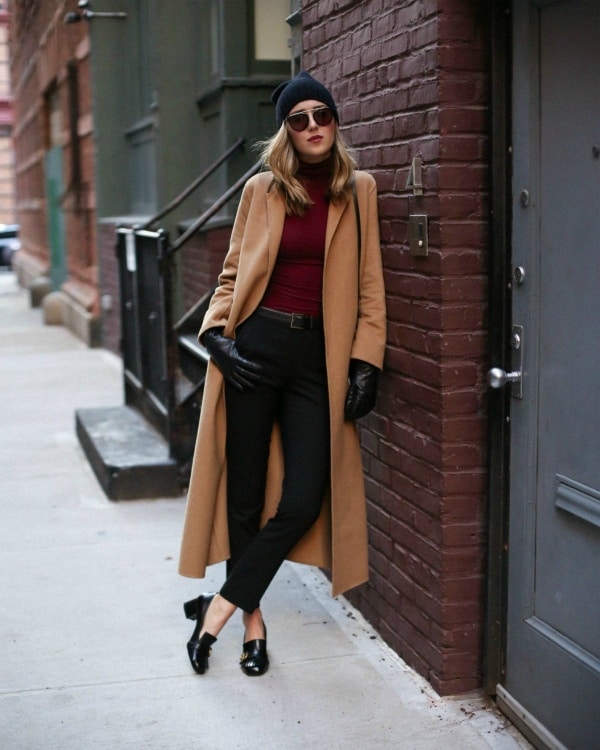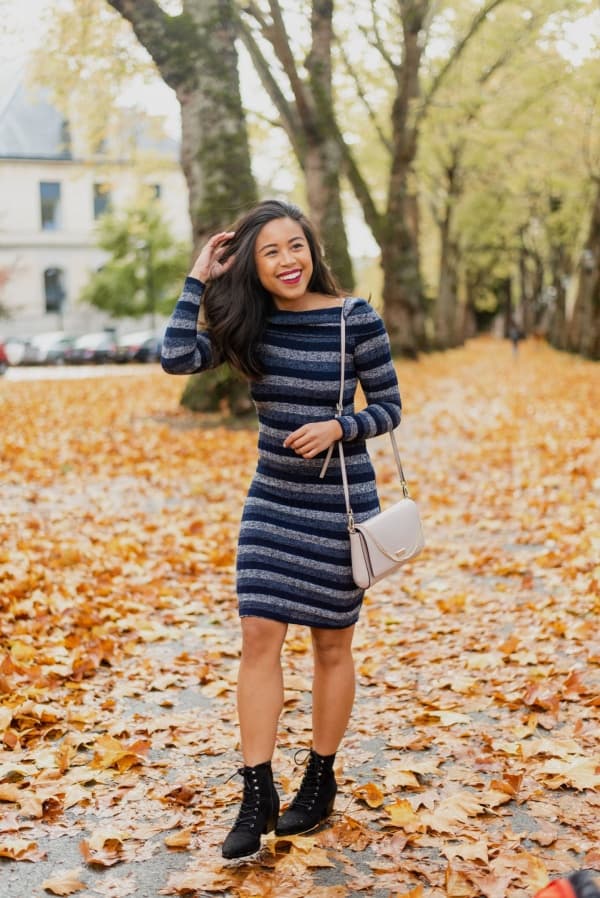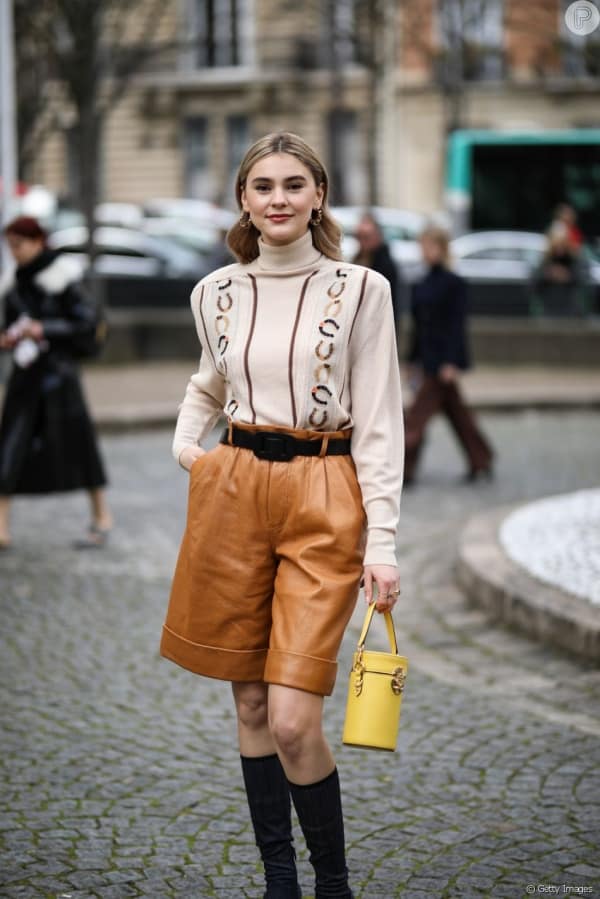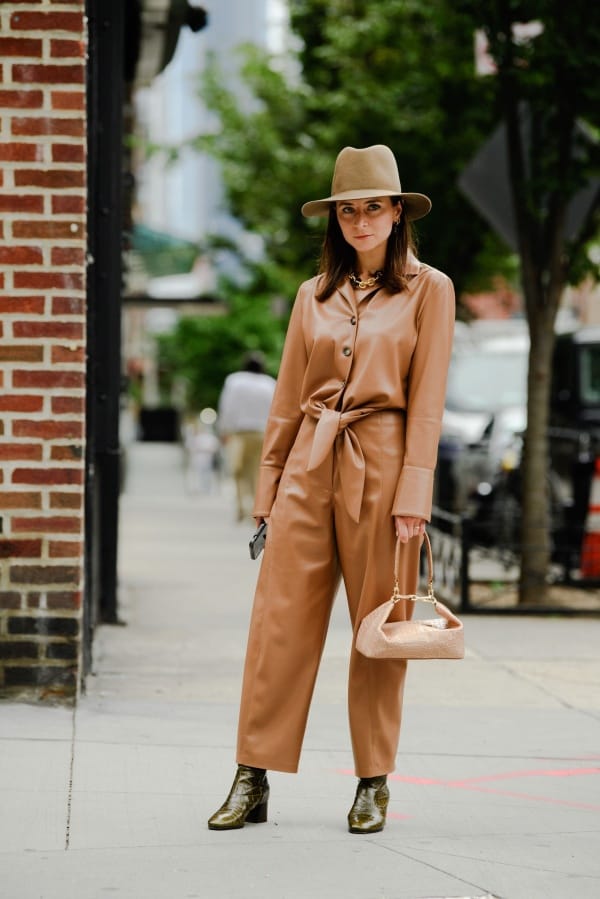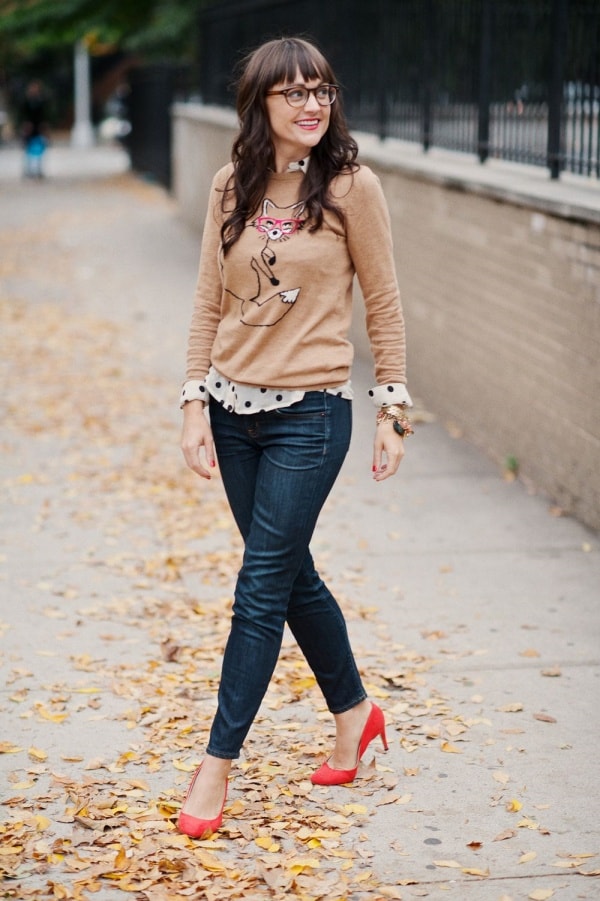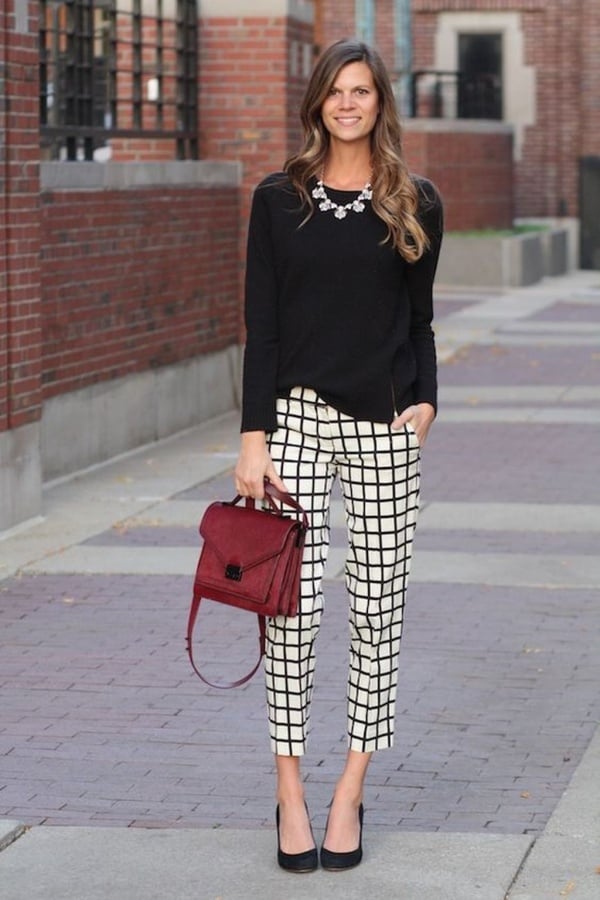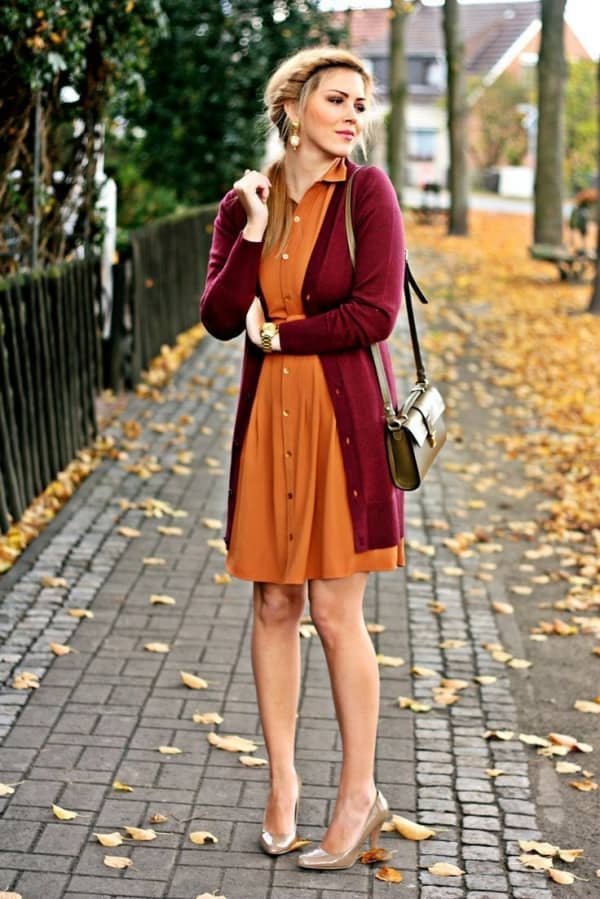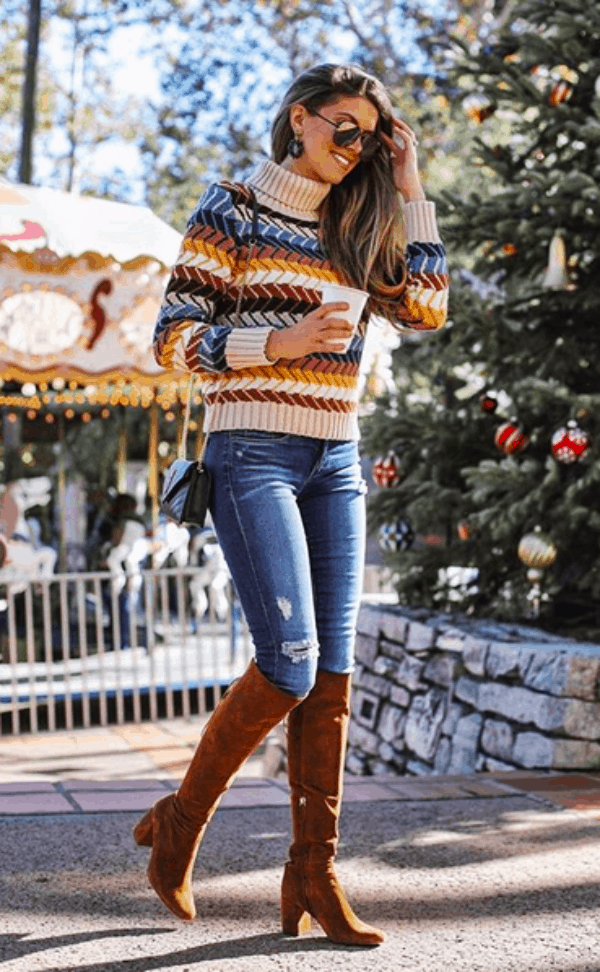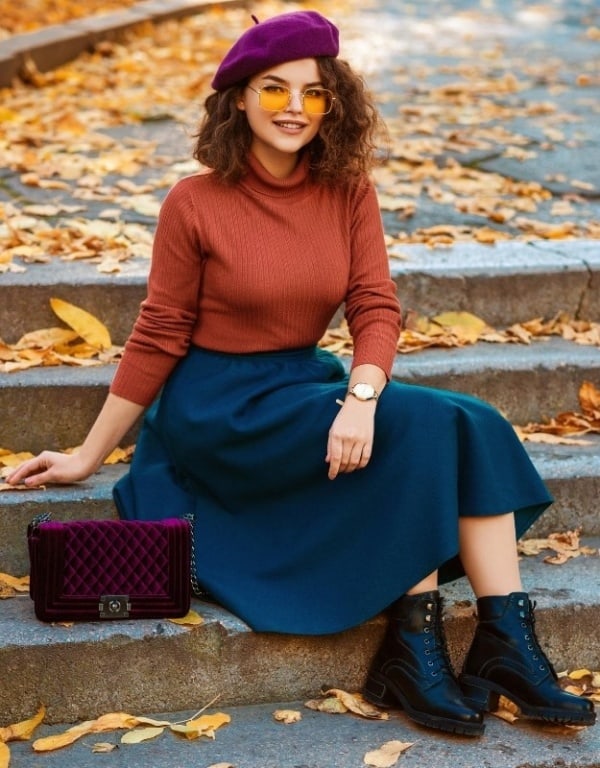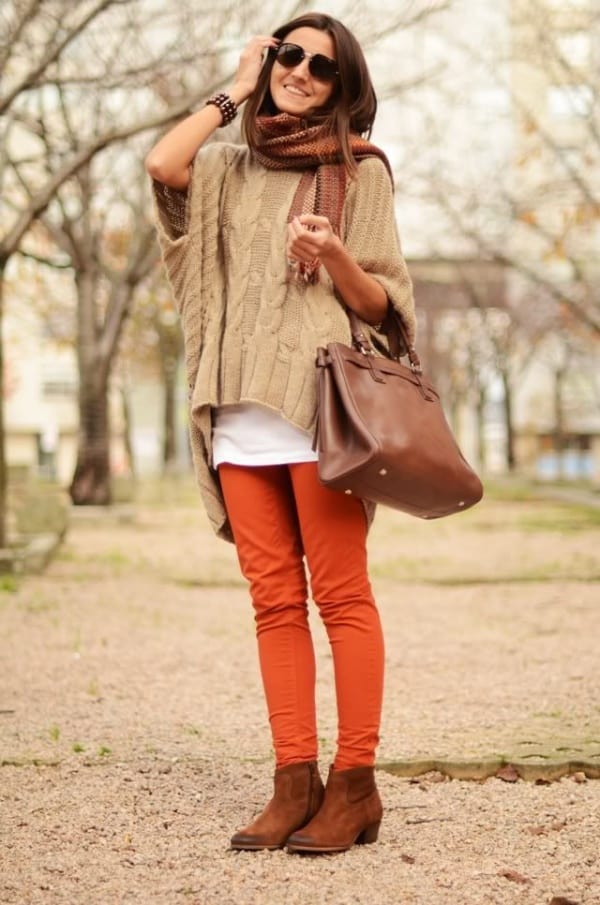 So, finally, we have concluded the fall outfits for women. The dressing is an art, that rejuvenates the soul, enhances beauty, and also makes you happier if found gloomy or dull. Thus, it's the wonder of the seasons that help to dress up uniquely for the times and the times that remain ahead. So, the focal point remains that rather than dress to impress it is all about dress to express your joy, happiness, and likings.
On that note, we also have the list here that states all the fall collections that you would love for sure. Did you pick your favorite yet? Rather, I am sure that you would love to try it all. So, try on all the dresses, and embrace the one which you think is the best. Also, don't forget the click in the end, and let the style shine bright amongst all. Last, of all you are welcome.
Related: