Your college is considered the prime time of your life. So, when the final day of your college arrives, it must be celebrated uniquely. It feels pretty exciting when you are finally going to receive your graduation degree. It is truly a remarkable moment that you would like to cherish throughout your life. In your dream, you must have thought a thousand times about how to dress up on that red-letter day. However, when the reality comes, you start feeling overwhelmed with numerous ideas of college graduation outfits. Though the college graduation ceremony is a formal occasion, there is no harm in adding a pinch of gorgeousness to your look with some stylish outfits.

While choosing appropriate attire for your college graduation ceremony, you should give your comfort the utmost priority. Then you should consider other factors like your stature, skin complexion, preference, etc. One thing that must be kept in mind that you cannot display too much extravaganza at your graduation. So, just try to keep it simple yet sophisticated. Here, we are offering you a list of 15 cute outfit ideas for your graduation ceremony. You can pick any of them based on your personal preference and impress some of the handsome attendees. 
Cute College Graduation Outfit Ideas To Wear
Wrap Dress With Heels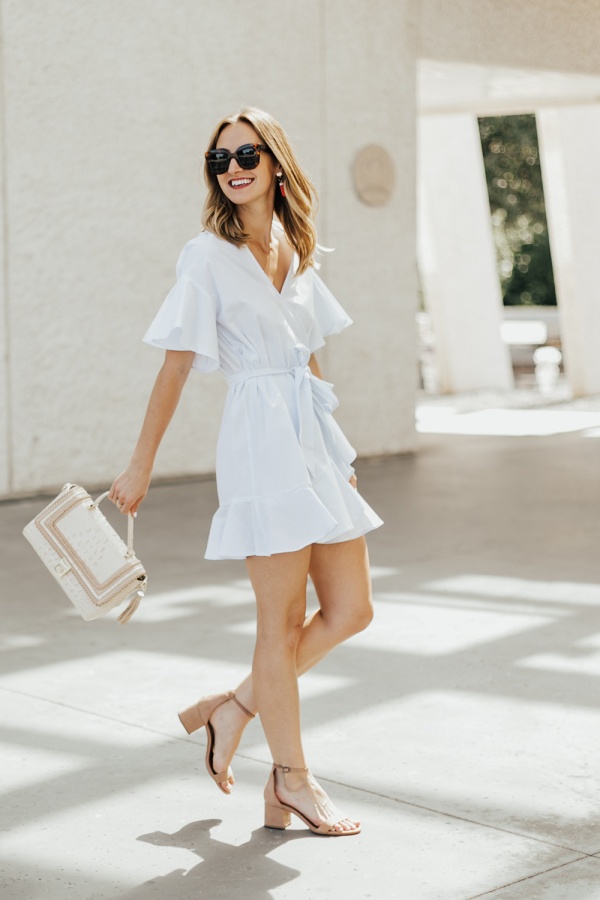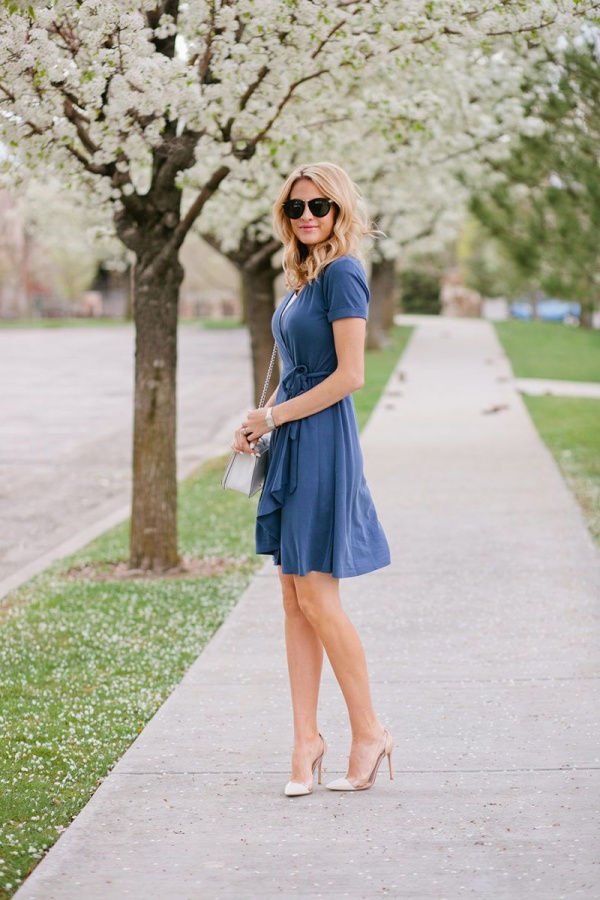 A wrap dress consists of a front closure created by wrapping one edge across another. The wrapping ties or fastening buttons are knotted accordingly. Therefore, a "V" shaped neckline is formed. Also, the dress perfectly fits the body curves of a woman. Suppose your body has an hourglass, apple, or usually a curvy structure. In that case, you should not have a second thought about trying this outfit as it will offer your waist a naturally perfect shape and highlight your bust area. So, your entire silhouette created by this outfit looks well proportionate. Wearing heels creates a balancing effect on your coverall figure by elongating your legs. This knee-length dress stands out throughout the ceremony day and even at the graduation dinner, giving you adequate comfort and appropriate style. So, don't delay in buying a light-colored wrap dress and comfortable heels for your big day.
Lace Dress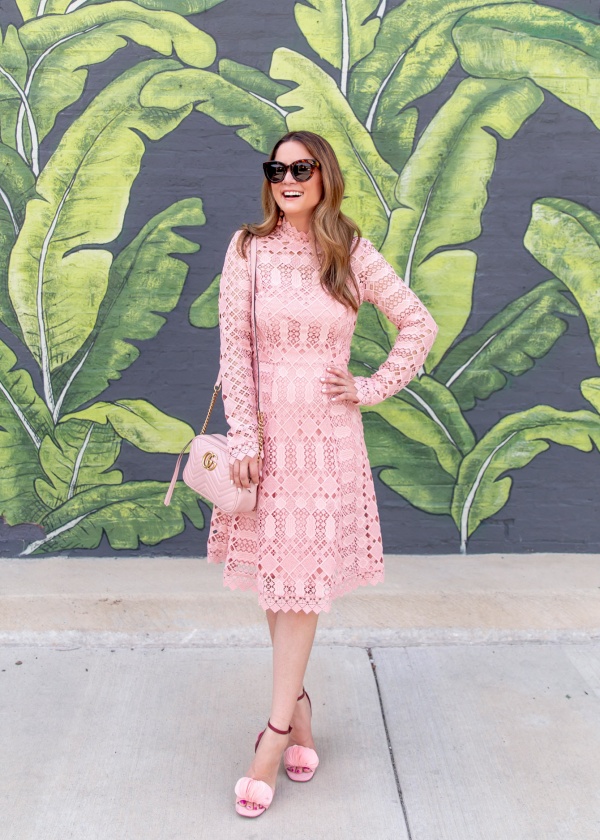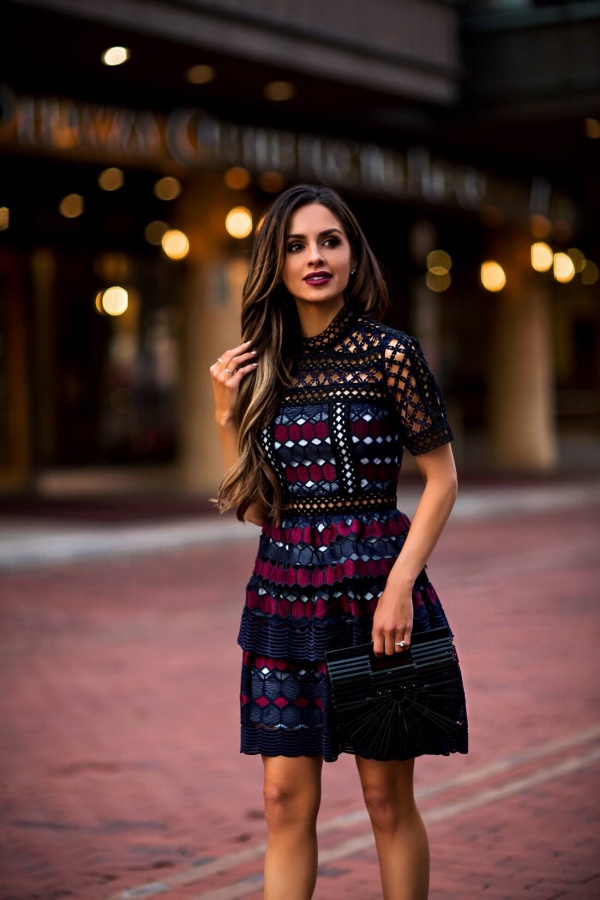 On semi-formal occasions like the college graduation ceremony, a lace dress will offer the much-needed cuteness that you could have asked for. Lace dresses are flowy and flared, which matches well with your hat and hood. You can use a pair of studs and sandals as the ideal accessories for your dress. Shades like light blue, pink, white, and lilac are suitable for your college graduation outfits. Do not put extra emphasis on hair and makeup. You can apply bright shades on your lips to lighten up your face, but an over-made-up look must be avoided. You can go for a ponytail or bun to complete the look with a touch of elegance. Knee-length or slightly above lace dresses go great with this ceremony. 
High-Waisted Pants And Blouse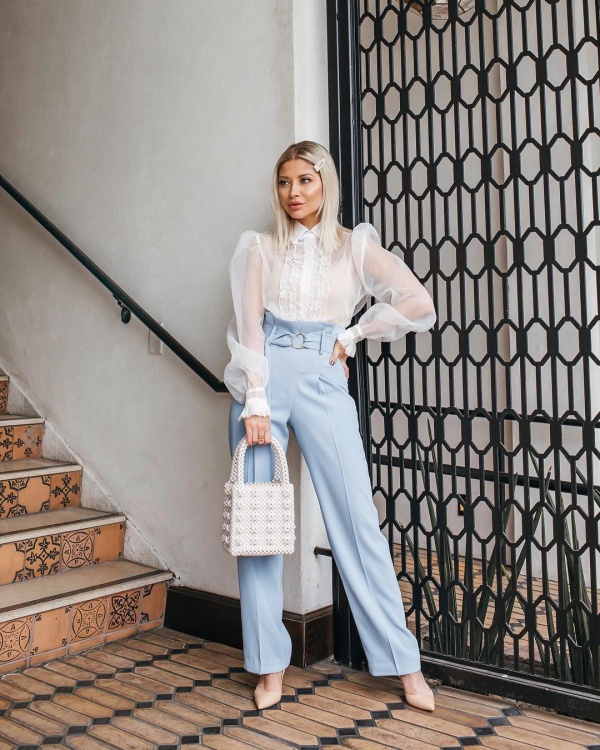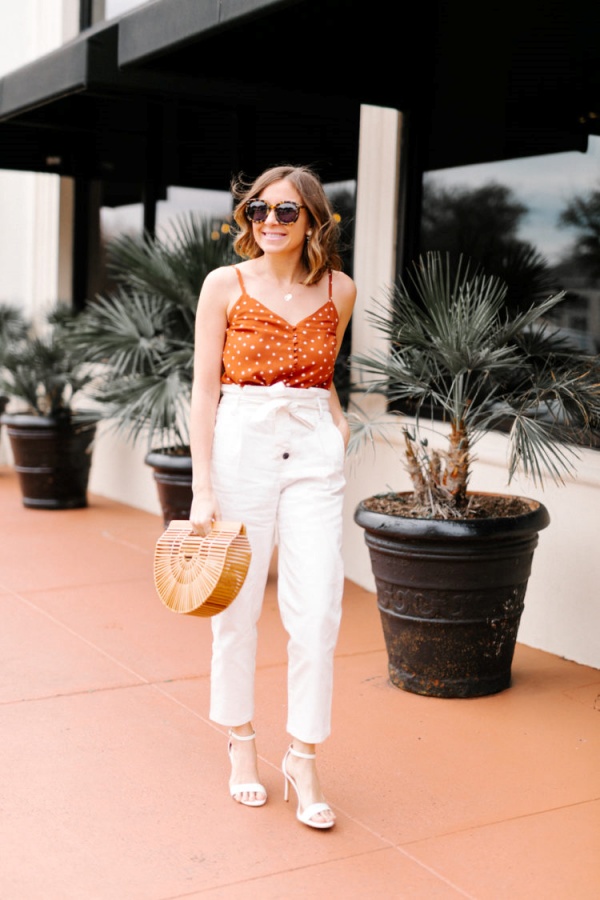 Are you not comfortable wearing a dress for your graduation day? You do not need to take too much anxiety as we have a great outfit option for the ceremony. High-waisted pants can be the perfect choice to nail your graduation look if you know the right tricks of carrying the costume. Solid color high-waisted pants offer a suitable appearance with white or softer shade blouses. Collared or high-neck blouses are more favorable options to try out. Go for full sleeve blouses rather than sleeveless or half-sleeve ones. To finish the look, wear heels to make your stature look more prominent and ladylike.
Satin Dress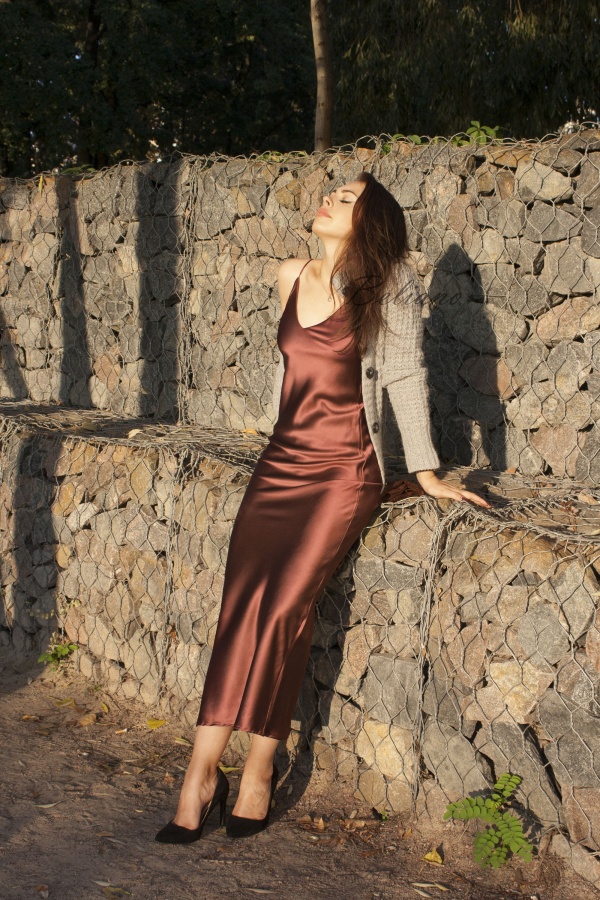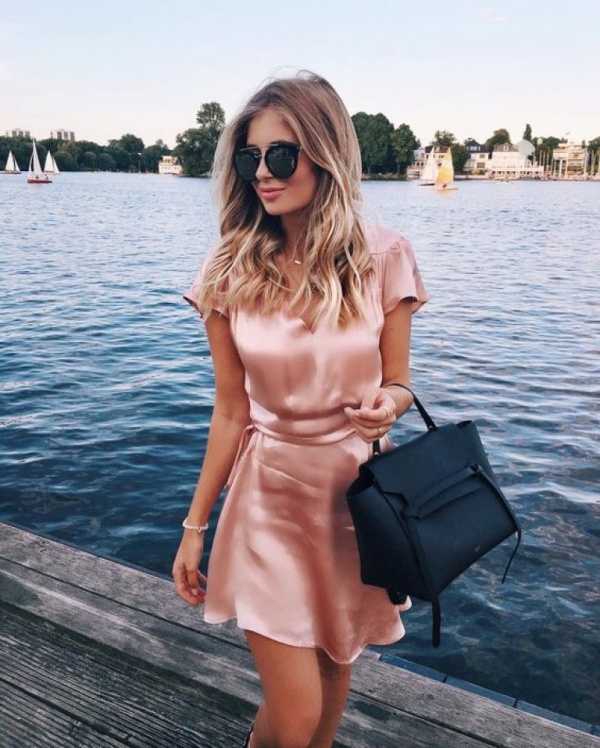 Both short and long satin dresses look appropriate for a college graduation ceremony. Due to the glossy appearance of the satin fabric, the dresses have a naturally gorgeous look. In the case of a satin dress, you can experiment with the neckline, shoulder type, and sleeves. Long sleeveless layered satin dresses look gorgeous and add a dramatic feel to your overall appearance for the graduation ceremony. Satin dresses do not demand excessive accessories and makeup. Bright lip colors, heels, and minimal jewelry are sufficient to finish the look. You can go for loose hair or tie it up in a bun according to your comfort.
Ruffle Dress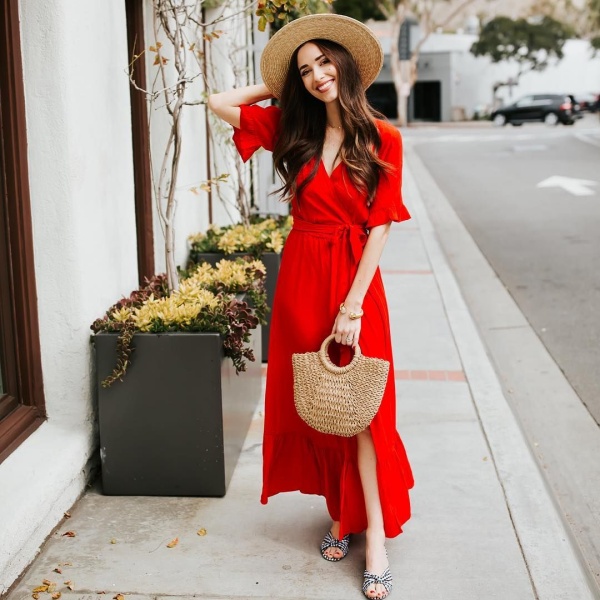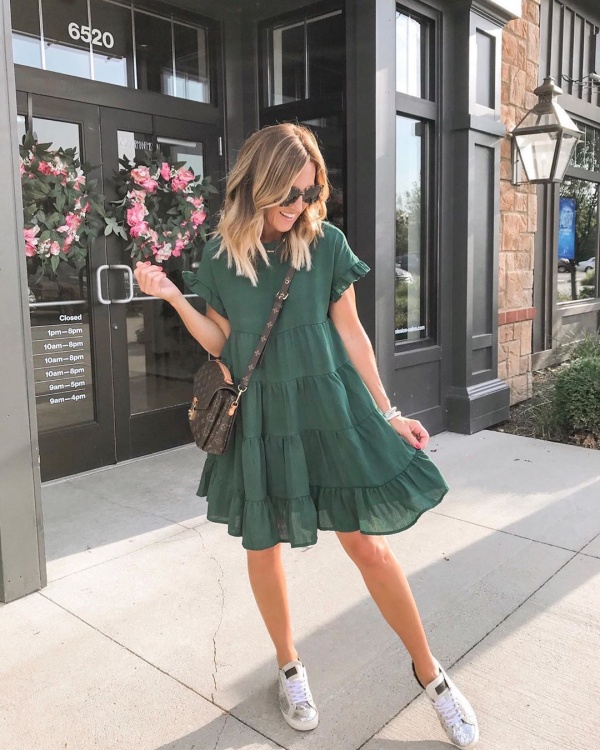 Ruffles dresses perfectly match the grandeur of a graduation ceremony. If your body has a curvy shape, a ruffle at the bottom of your dress can enhance the cuteness and confidence of a graduate woman. If your graduation ceremony is being held in the spring or summer season, a ruffle dress will be your ideal companion. Ruffle in the upper arms and shoulders also adds a feminine aura to the outfit. A comfortable heel can do justice to the appearance by highlighting your entire figure. To make it more glamorous, you can take the help of some sleek jewelry pieces.
An Easy T-Shirt Dress With Belt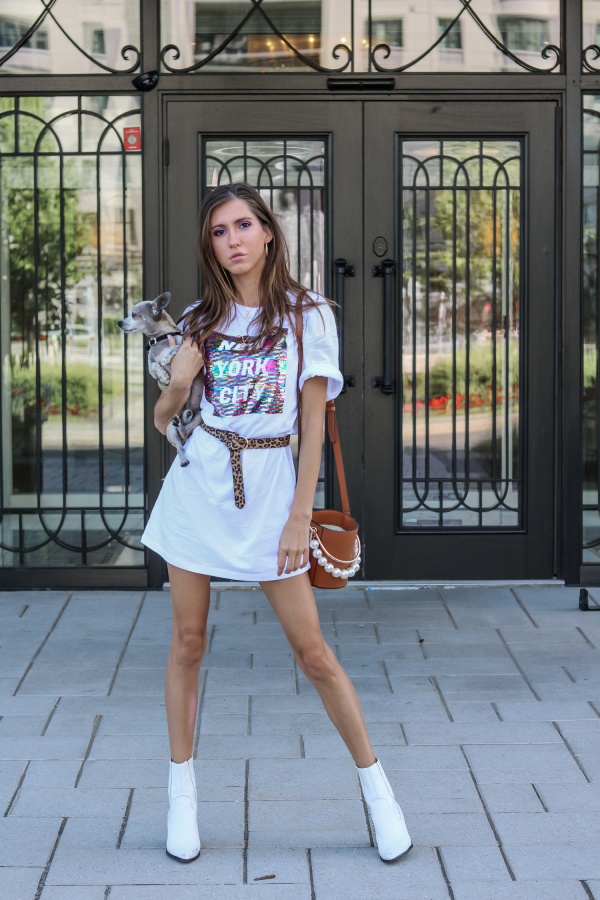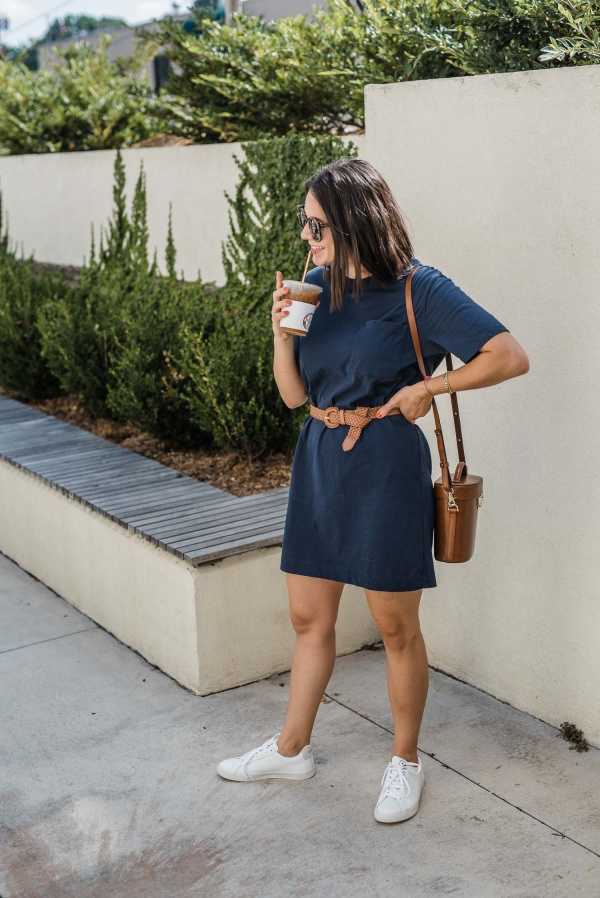 Not everybody is comfortable in a dramatic gown or ruffle dress. Some women love to keep it relaxed and simple in case of college graduation outfits. If you are one of those comfort lover women, you should go for an easy knee-length T-shirt dress. Some T-shirt dresses come with a belt, or you can add a belt of your choice as well. The belt adds a formal touch to the casual T-shirt dress. Accessories don't need to be incorporated in the look as a beautiful wristwatch, and heeled boots will be enough to uplift your appearance in the graduation event.
Balloon Sleeve Romper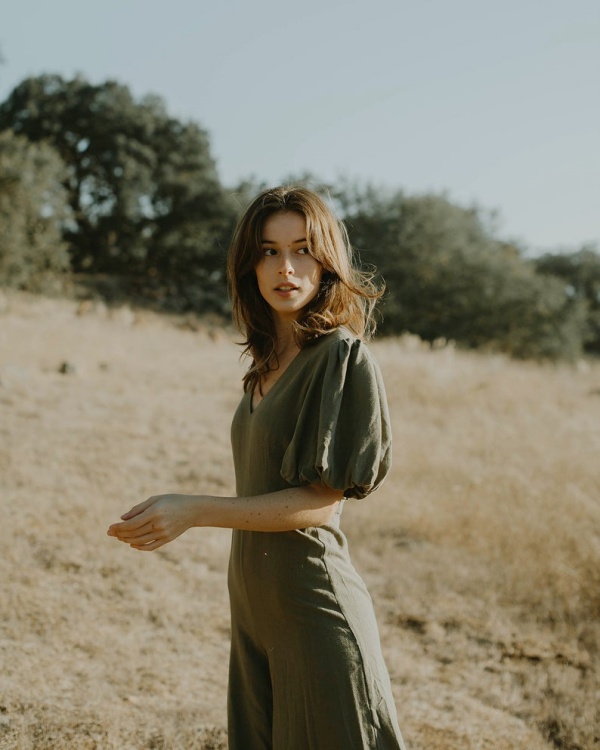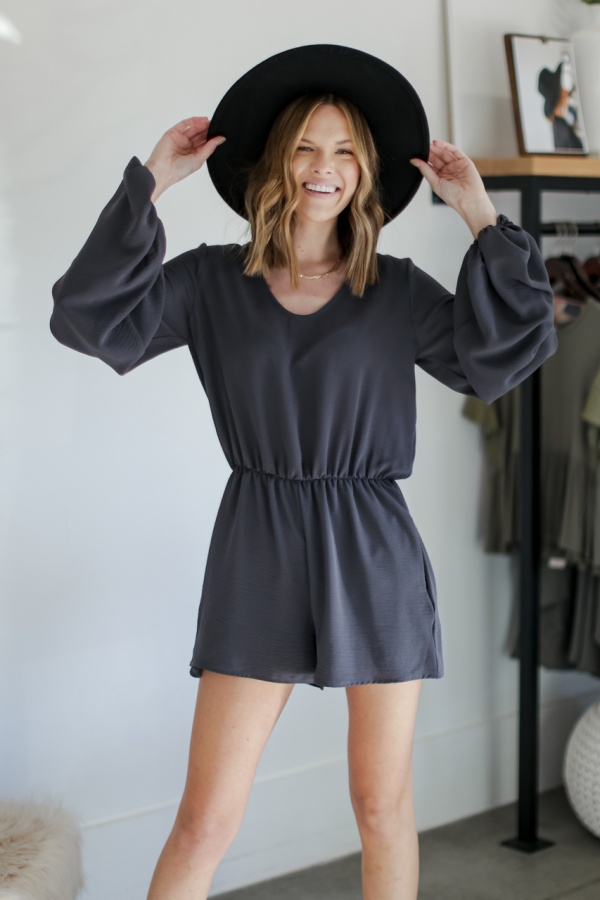 Have you planned for a late-night party after your graduation ceremony in the daytime? A balloon sleeve romper can accompany you all through the special day of your graduation. Rompers are one-piece short dresses but can be an appealing outfit option for your graduation day. Full balloon sleeves combine cuteness with the attractive appearance of a romper. Long high-heeled boots go best with rompers, elongating your legs. Loose hair and light makeup are the only requirements for styling up the romper for your graduation. Accessories are essential for this look.
Bright Colored Dress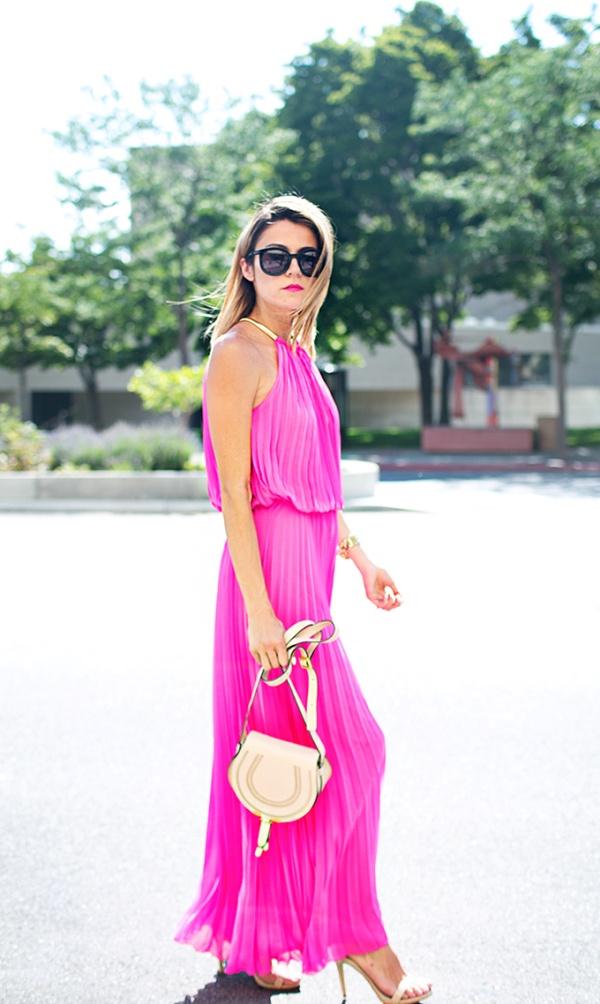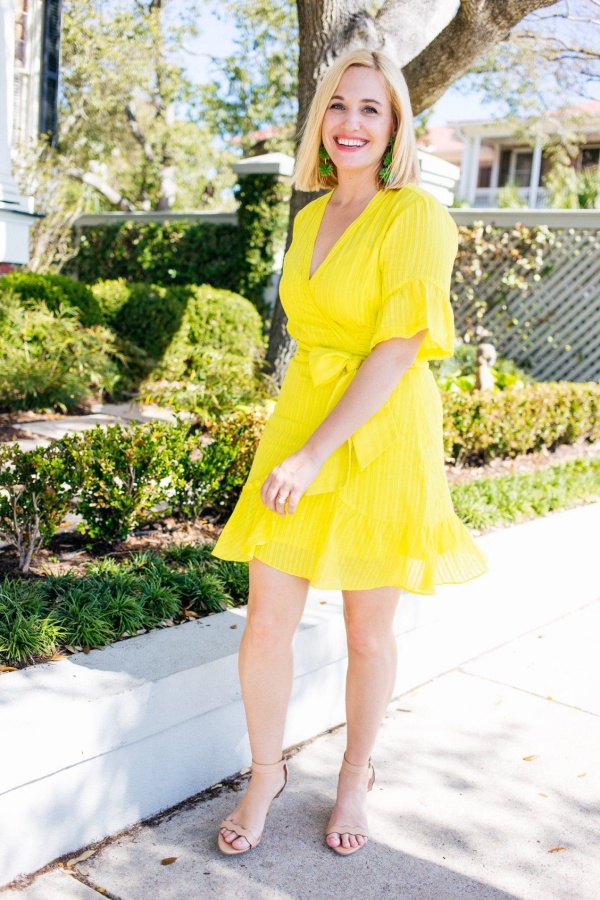 Through white and pale hades have been considered traditionally ideal for the graduation ceremony. It does not do any harm in trying out some bright-colored college graduation outfits for this occasion. Solid vibrant shades like yellow, red, blue, pink, and black should be on your priority list if you wish to rock your graduation ceremony with a bit of a unique style. If you are opting for a bright dress, leave space for your outfit to shine. Do not add extravagant accessories and makeup. Be it a knee-length or long dress, just combine your dress with a pair of smart heel shoes.
A Maxi Skirt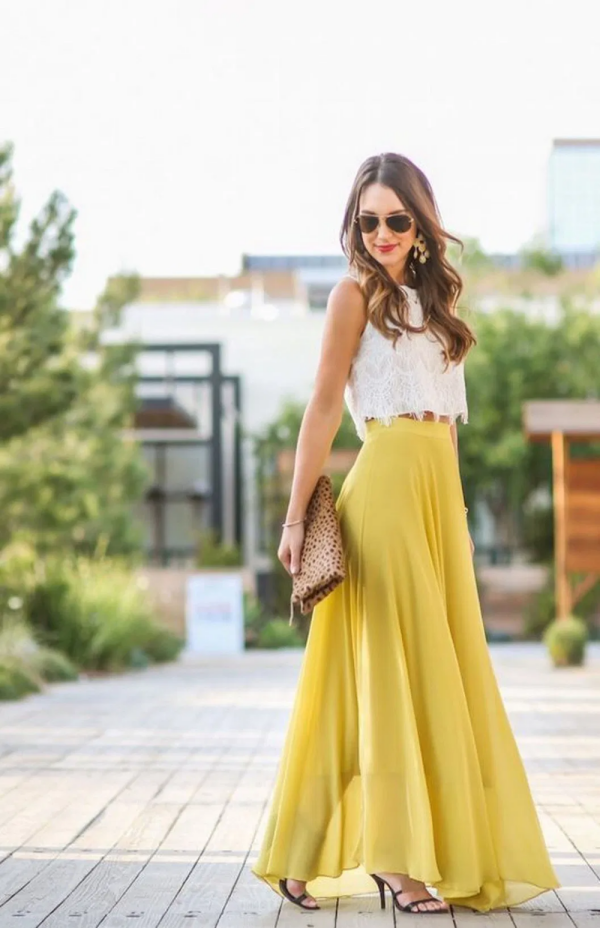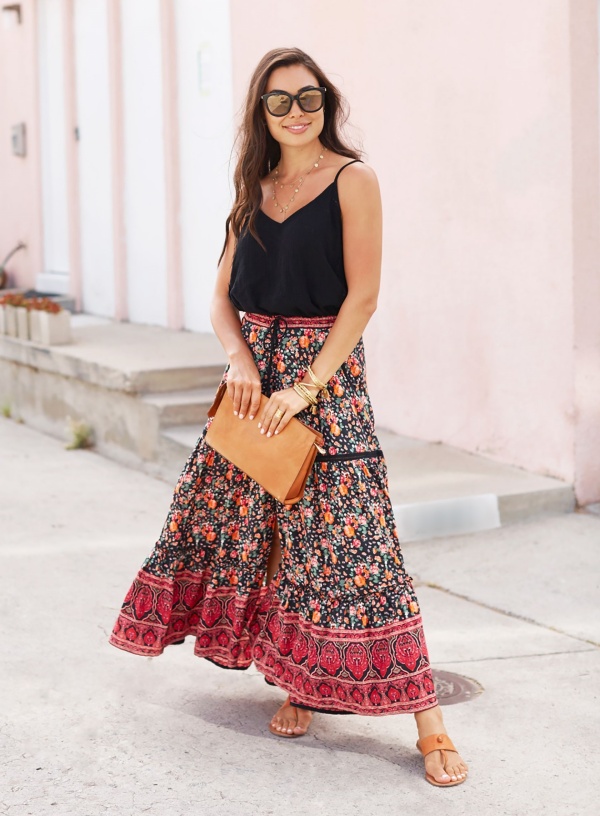 A maxi skirt never fails to impress if you are trying to look comfortably beautiful. Maxi skirt with layers and smooth flow look glamorous at a graduation ceremony. If you are experimental enough, don't hesitate to try out a maxi skirt with a slit. The right way to style a maxi skirt is by choosing the appropriate top. Pair your maxi skirt with button-down shirts, silk blouses, or ruffle top for a luxurious and elegant look. Take your time to play with some accessories like a bracelet, earrings, or a sleek neckpiece. You should put on heels and follow a simple ponytail or open hairstyle with this outfit.
Champagne Dress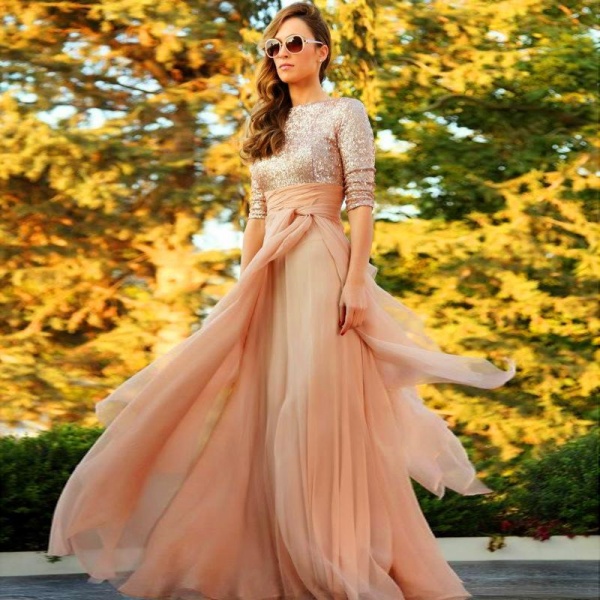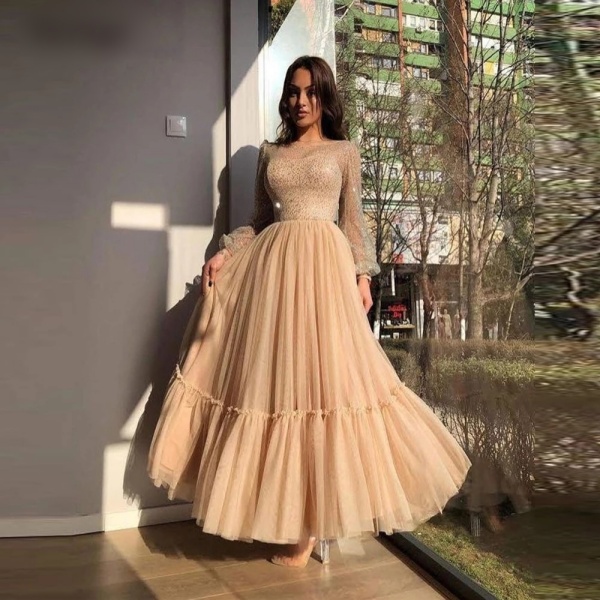 Champagne dresses come in neutral shades of gold, orange and yellow. These dresses give a classic and sophisticated look because of their softer hues and layered patterns. If you can find the right pieces of golden jewelry, champagne dresses are one of the must-try college graduation outfits. There can be countless variations in a champagne dress such as layered, ruffles, slit, asymmetrical, and many more. Wear sandal heels to carry the elegance of your outfit for the day.
Bow Dress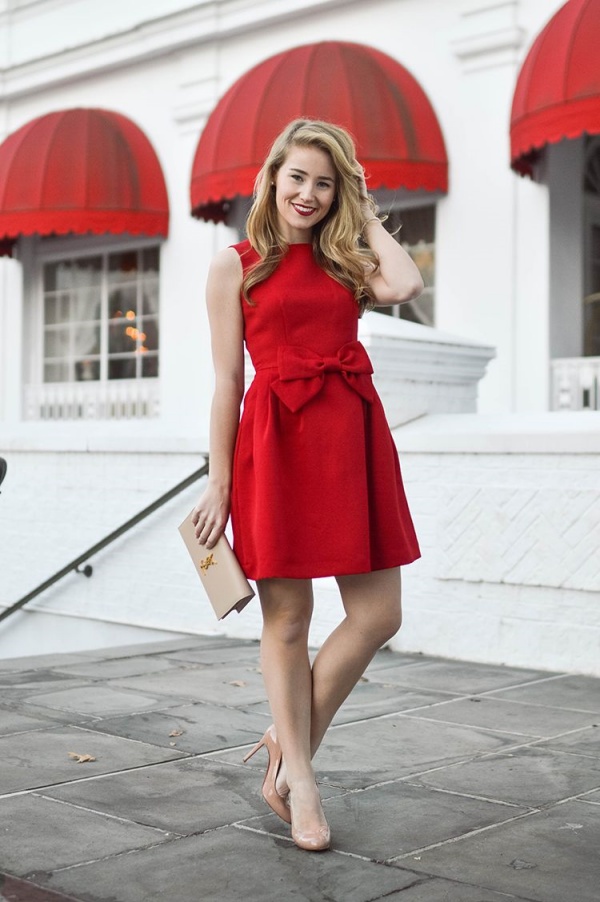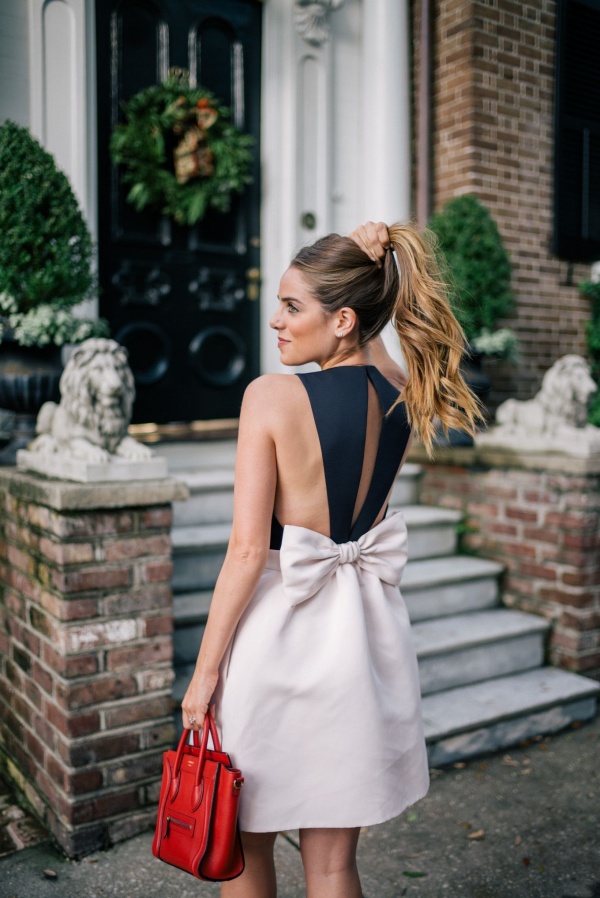 If you are a fan of those Disney princess stories, then you can feel yourself one by trying out a bow dress at your graduation ceremony. On this particular day, when you are excited enough to celebrate your success, along flowy bow dress will offer you the much-needed fairytale vibe. Knee-length bow dresses are also a preferable choice for this ceremony. White bow dress is a traditional preference for graduation day. However, nowadays, red, pink, and black bow dresses are also setting the trend for graduation ceremony fashion. Fine jewelry and high heels are the most suitable tricks to complement this costume.
Long Sleeve Dress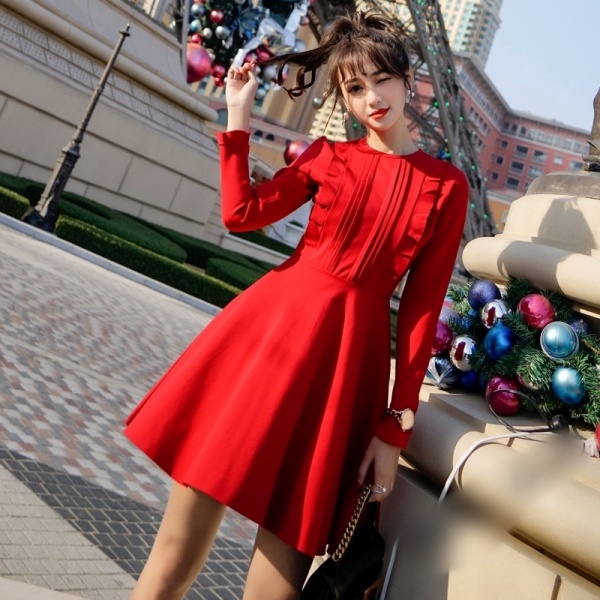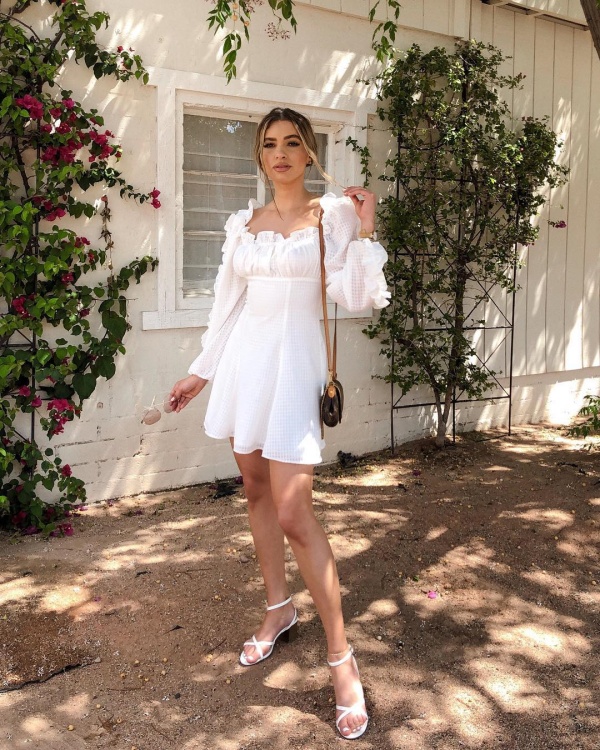 While opting for college graduation outfits, you should consider the size and type of the sleeves as crucial factors to define your appearance. Be it a romper, A-line dress, or gown; the long sleeves will always catch the spotlight at a graduation ceremony. Long sleeve dresses appear more dignified, elegant, and sophisticated on this semi-formal occasion. Long sleeve dresses are ideal if the weather is a bit cold. Also, this sleeve type eliminates the need for bracelets, watch, or neckpieces, giving you a more polished look. So take out a long sleeve dress from your wardrobe and create a graceful appearance on such an unforgettable day.
Pencil Skirt And Top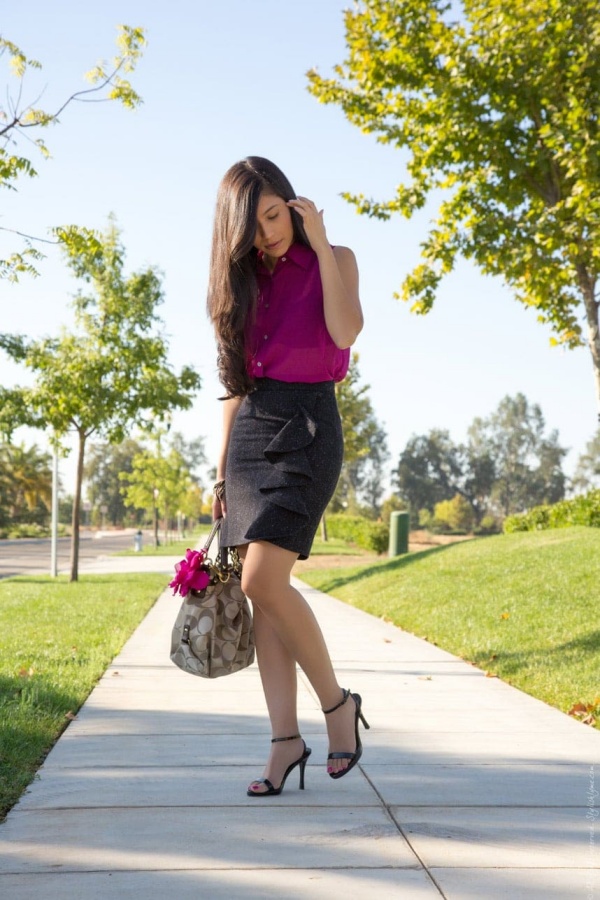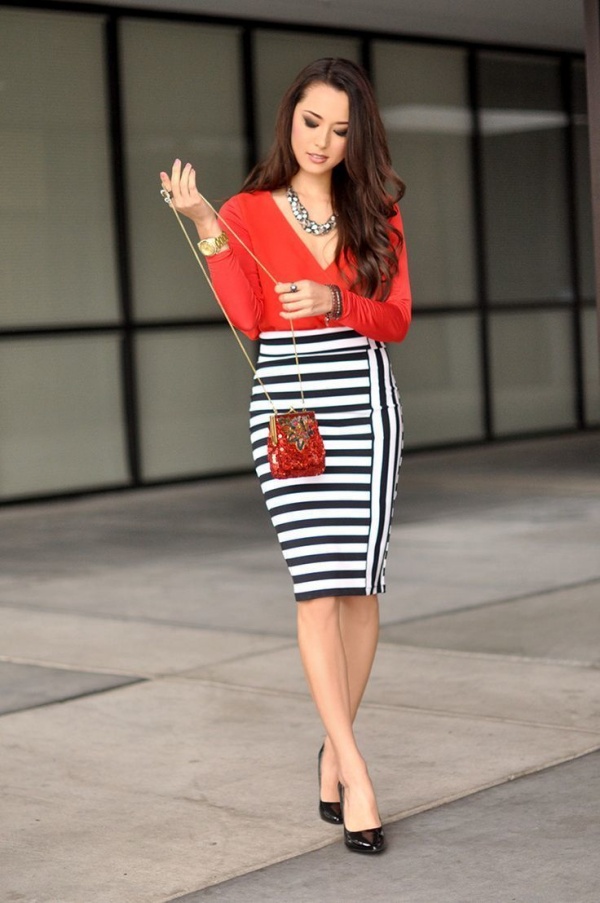 A pencil skirt is an iconic outfit for any semi-formal occasion, like a graduation ceremony. Pencil skirts emphasize the hourglass shape of a female figure, making it look attractive. On your graduation day, you can wear a combination of a black pencil skirt with a body-hugging white top for a perfect look. You may also get your hands on other neutral and muted colors for your outfit. Go for full-sleeve ruffle or half-sleeve body-hugging tops to define the look. Strappy sandal heels will make your legs appear toned with the skirt.
Lace Midi Dress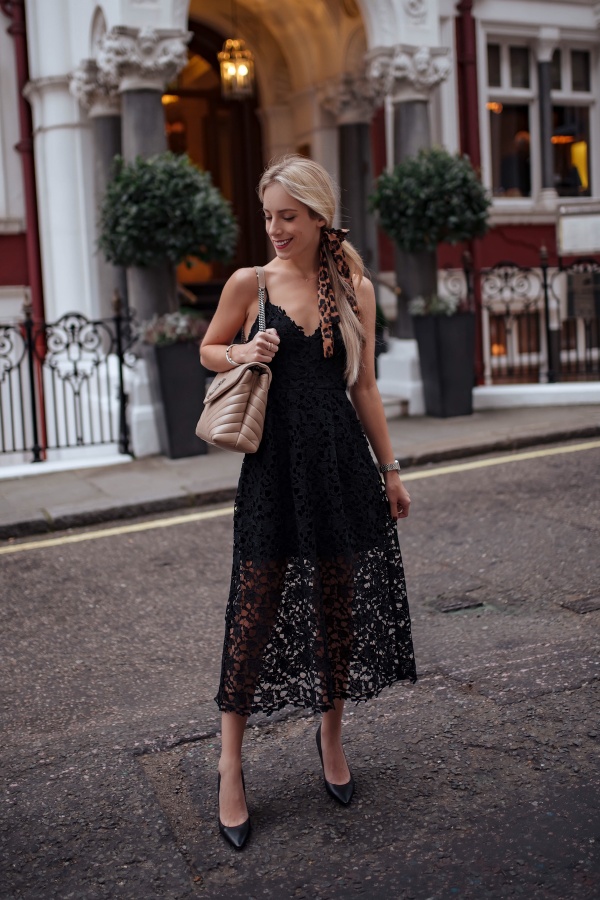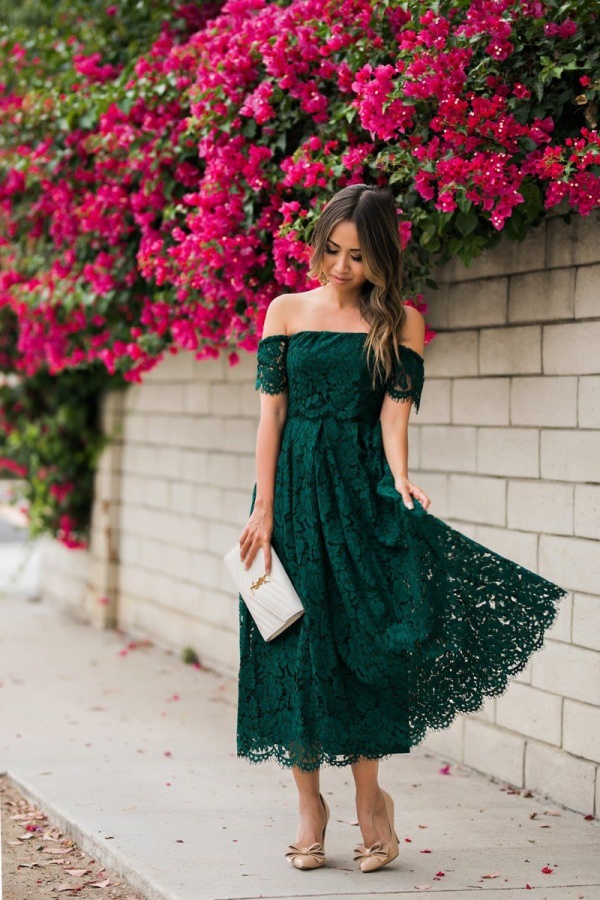 If you want to try out something that is both cute and attractive, don't leave the chance of wearing a lace midi dress at your graduation ceremony. Your toned legs will draw attention while wearing this dress. So, make them look elongated with suitable heels. You don't require putting on too many accessories; just looking after the hair and makeup will do.
An Off-The-Shoulder Jumpsuit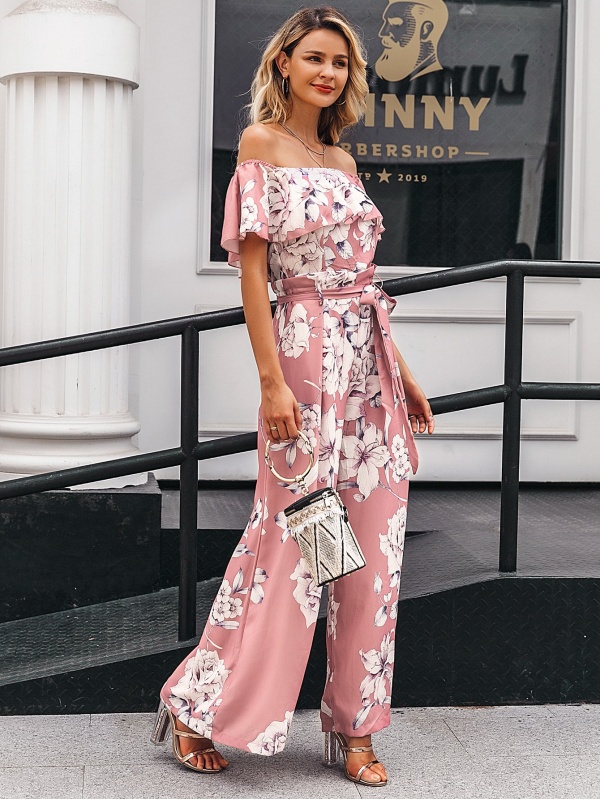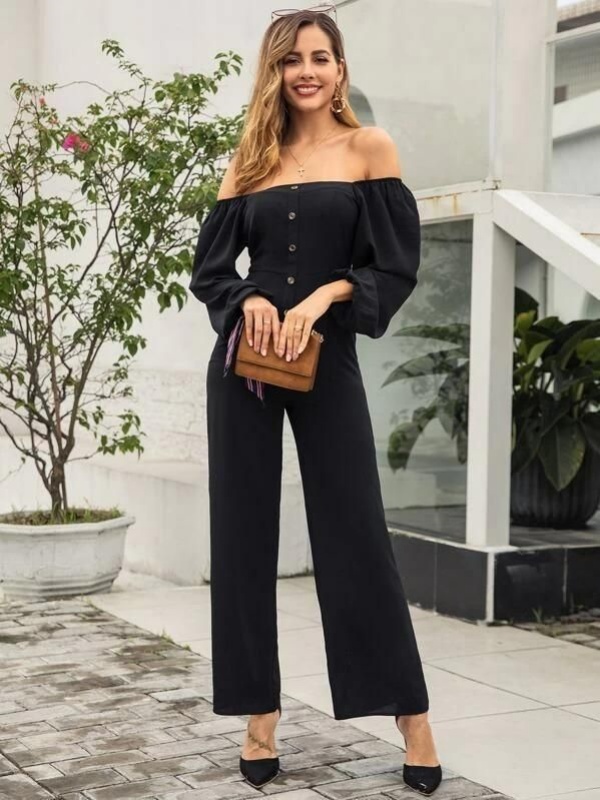 Are you bored of seeing pictures of women in long dresses or formal pants at their graduation ceremony? Do you wish to go beyond the patterns and try out something innovative? Then go for a jumpsuit with complete confidence for college graduation outfits. An off-shoulder jumpsuit will beautify your necks and collarbones while maintaining the decency of a graduation ceremony. There are various types of jumpsuits available in the market, but you should consider choosing light-colored ones for the event. Wear high heels with the jumpsuit for putting the look together in a graceful way. In the case of accessories, you can wear a wristwatch or carry a purse with the outfit. A jumpsuit does not require much effort on hair and makeup.
Conclusion
If your graduation ceremony is around the corner, don't waste time overthinking about what to wear for the event. Over-thinking will reduce your confidence for the day. You are allowed to wear any dress that looks decent according to the occasion. As you will be going to the college in the attire, you should not pick out college graduation outfits that are too vibrant and revealing. Try to balance appropriateness with style. So, it is wise to maintain an overall simple look with a tint of prettiness.
To create the perfect graduation day look, you can settle elegant dresses with minimal makeup and smart shoes. Be it a virtual or physical graduation ceremony, you should not miss the opportunity of dressing up for this special event. The 15 outfits for graduation mentioned above are carefully hand-picked for one of the most memorable days of your life- the graduation day. Based on your preference, you can opt for any one of them and make your appearance beautiful for the final day of your college. So, don't go brooding over; purchase the proper outfit and get prepared for the exciting day. 
Related: