For most women, the 30s may appear a bit intimidating to deal with. The 30's often come with their own set of social pressures and professional responsibilities. However, no matter whether you belong to your 30s or 20's, you should attempt to remain young and beautiful inside out. One significant aspect of being beautiful is to wear a suitable outfit that brings out the best in you. The figure, height, personality, and purpose are essential factors that need to be considered while selecting appropriate outfits for 30-year-old women.

Be it your 20s, 30s, or 40s, fashion always works like therapy for every woman. Adding the extra dose of cuteness in your everyday look becomes necessary to feel good in your 30's. Versatility is the key factor to create your individual fashion statement. Therefore, you should endeavor to try out different types of clothes to avoid being repetitive. Numerous brands have come up with stylish and adorable outfits that aptly fit the personality of a 30-year-old woman. So, it is not wise to be too anxious about how old you are. Instead, you put effort into keeping yourself adorable regardless of your age.
First, let us tell you the tricks of looking beautiful even in your 30's. Seems exciting enough? Then Check out the section below to enhance your fashion and beauty-related knowledge.
How Can I Look Younger And Beautiful At 30?
When a woman reaches 30, she develops signs of aging, such as fine lines, wrinkles, and few others. Also, your figure starts to go out of shape if not appropriately maintained. However, there is no need of being afraid of aging. You should accept your 30s as a sign of maturity and womanhood. Besides choosing the right outfits for 30-year-old women, some of the tricks that can keep your youth and beauty even at the age of 30 include
Reduce Wrinkles and Fine Lines: One of the biggest problems a woman faces is that the skin fibers, mainly elastin, and collagen, start loosening. So the skin elasticity gets affected and develops fine lines and wrinkles. You can use anti-wrinkle creams available in the market to get rid of these wrinkles. For home remedies, you can use lemon juice rich in vitamin C. Olive oil is also an ingredient that works to reduce fine lines and wrinkles if massaged on the skin properly. Every process mentioned in this segment increases collagen production to maintain the elasticity of the skin.
Consume a Healthy Diet: A healthy diet is key to look beautiful and fresh. A healthy diet includes a lot of fruits and vegetables. All these vegetables and fruits contain vitamins, minerals, and various nutrients necessary for the body. These vitamins, especially vitamin A, are responsible for the regeneration of skin tissues. Other than that, fish and peanuts containing omega-three fatty acids such as fish, peanuts, and foods like carrots and sweet potatoes containing beta carotene help reduce the chances of several harmful diseases and inflammation in the skin.
Exercise Regularly: Daily exercise is required to reduce the extra fat in the body. It will help you to wear some of the gorgeous and sassy outfits for 30-year-old women. The more confident you feel, the younger you will look.
Improve The Mental Health: Mental health can take a toll on your outside appearance. So maintain a good mental state. To reduce the amount of stress and anxiety, you can take the help of meditation or other activities that will calm your mind.
Take Skincare: The use of facial creams, lotions, and toners helps your skin feel moisturized and fresh. You should also start using face scrubs to exfoliate the skin. All these will eventually make your skin look younger.
What To Wear In Your 30s?
High-end Blouses With Ankle-Length Pants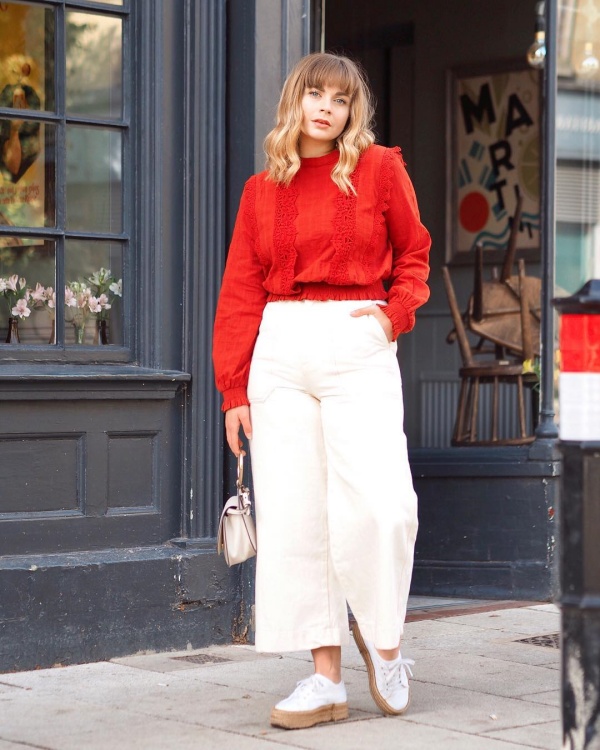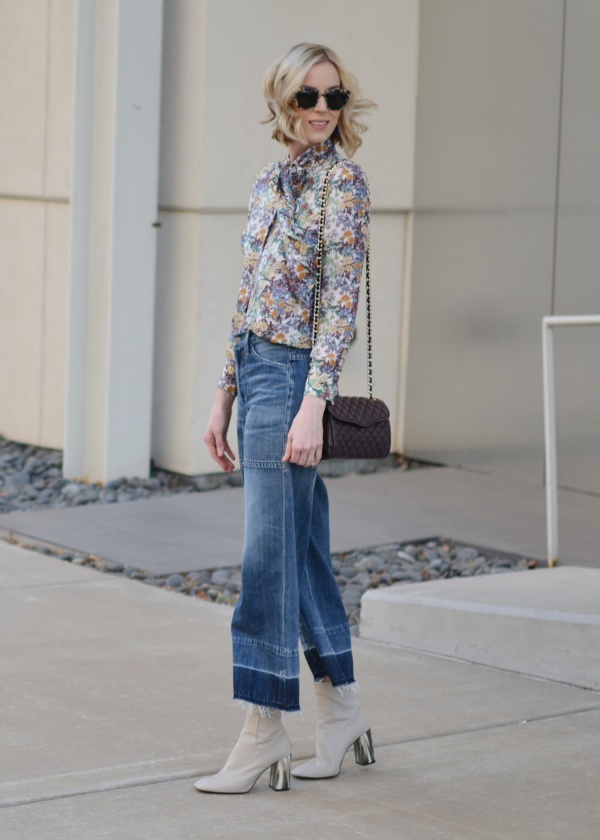 Being 30 is not about getting older. Instead, it is the ideal time to bring out the elegant women in you. High-end fashion is particularly recommended as the most suitable outfits for 30-year-old- women who want to express their sophisticated personality. Whether you are preparing for an office event or meeting friends for a casual dinner, you can pair your ankle pants with a fashionable high-end blouse for an appropriate look. The comfortable ankle pants add a formal touch to your appearance, whereas the high-end blouse enhances the outfit's gorgeousness. Blouses with ruffles, collars, and laces are perfect for achieving the top-notch look. Both checked, and solid color ankle pants go with high-end blouses. So try this outfit in your upcoming office or party event and catch some eyeballs with your killer attitude.
Structured Blazers With Fitted Jeans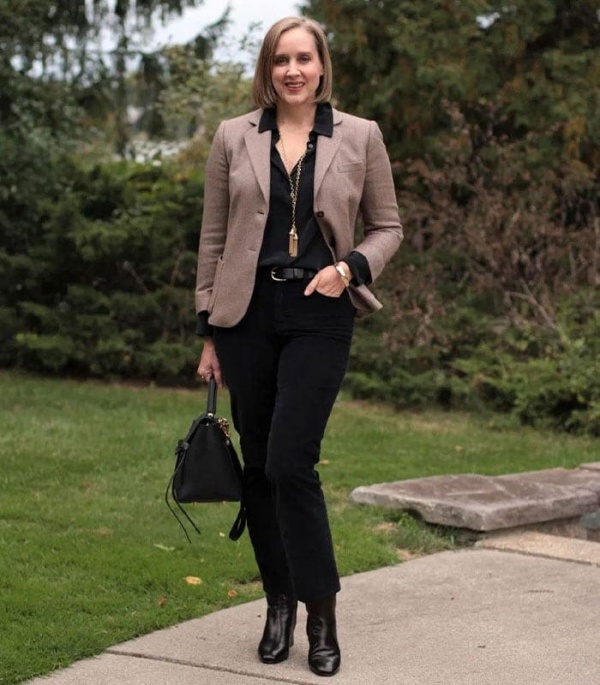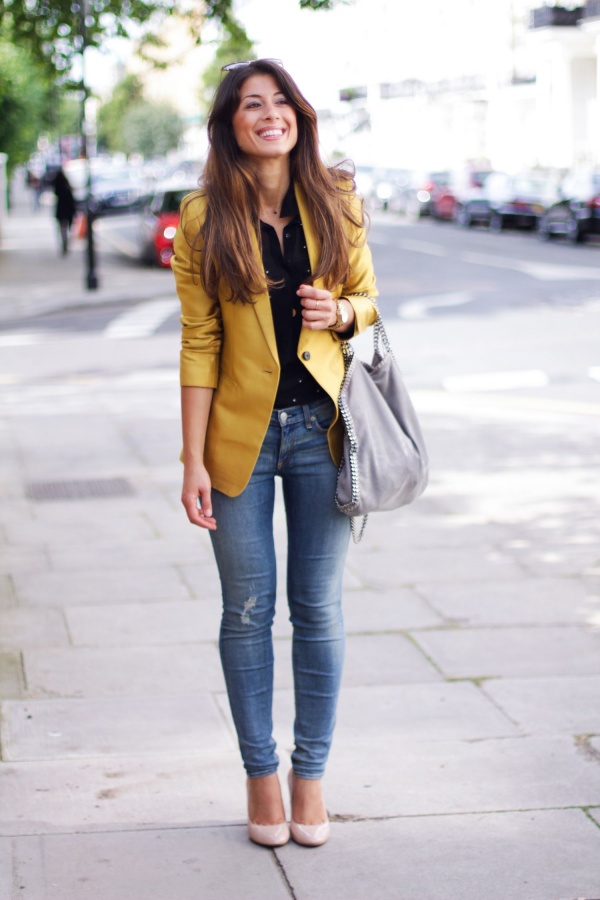 Are you bored of your regular outfit at work? How about a combination of casual and formal for bringing versatility to your everyday work outfit? Jeans and blazer is an excellent match for a 30-year-old woman at professional events. In the case of the blazer, you must make sure that it is neither too tight nor too loose in fitting. It is suitable to choose a regular fit blazer that feels comfortable in your body. Your blazer should have a streamlined or stylish design to give it an exciting look. You can go beyond the usual black or grey blazers and experiment with other shades to include a pinch of attractiveness in the look. The fitted jeans will highlight the beauty of your slim legs. The best idea is to try out dark-colored jeans with blazers for offering an appealing attitude to your entire appearance. The combination of fitted jeans and structured blazers is one of the most appropriate outfits for 30-year-old women at work. 
Fitted Top With Pencil Midi Skirt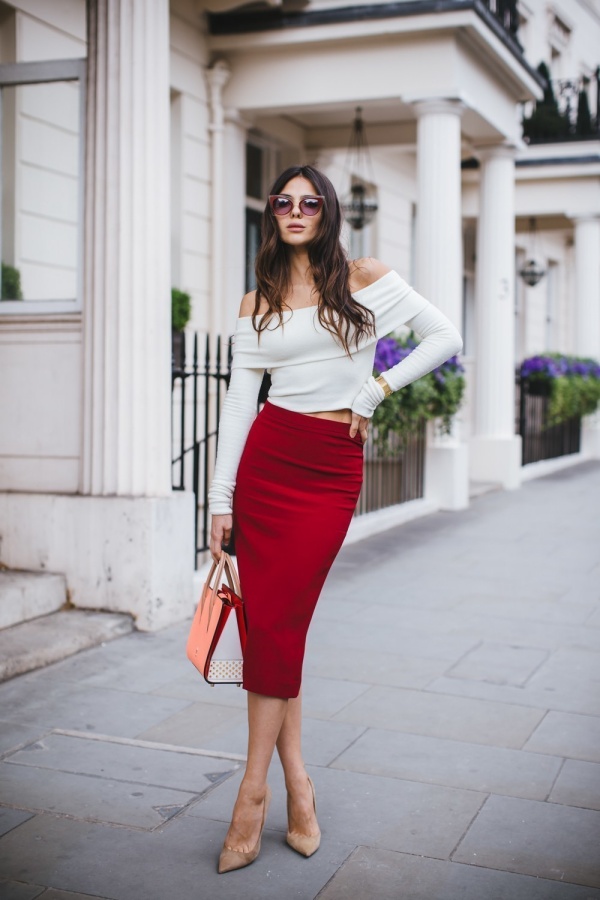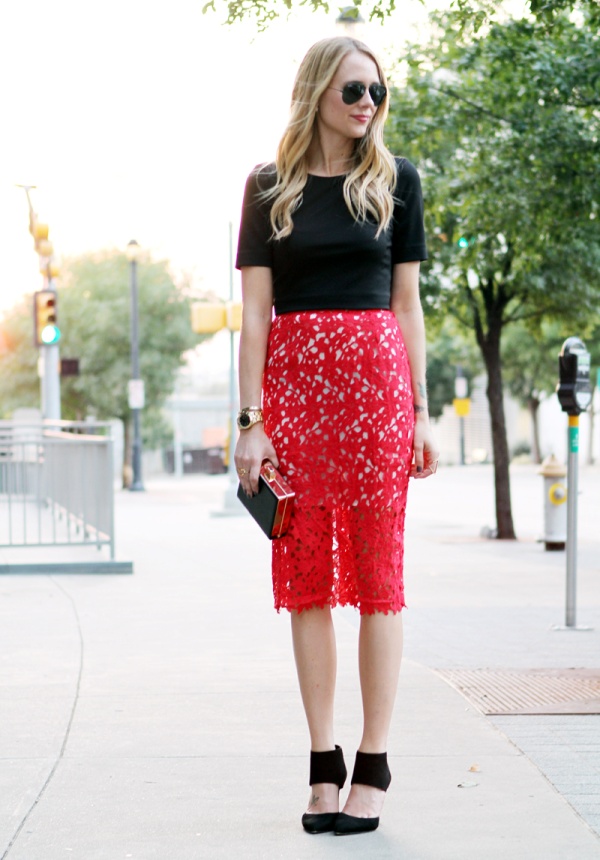 No matter what your age says, you are never too old to wear a stylish midi skirt. If you have managed to keep your figure in shape even in your 30s, then the figure-hugging pencil midi skirt must be in your wardrobe. While a pencil midi skirt focuses on the body's lower portion, there cannot be anything better than a fitted top to pair with the skirt for highlighting your upper body. Though the pencil midi skirt began its journey in the 1950s, it has gone through several stages of fashion evolution and emerged in different styles in contemporary times. Be it leather, denim, sequin, or floral print, a pencil midi skirt has more variations than you can even imagine. Get yourself a solid-coloured fitted top to enhance the skirt's beauty. It is good to ensure that the length of your skirt goes up to or below the knees for a sophisticated and trendy appearance. Heeled boots or high heels go perfectly with these skirts and emphasize your beautiful feminine figure.
Sheath Dress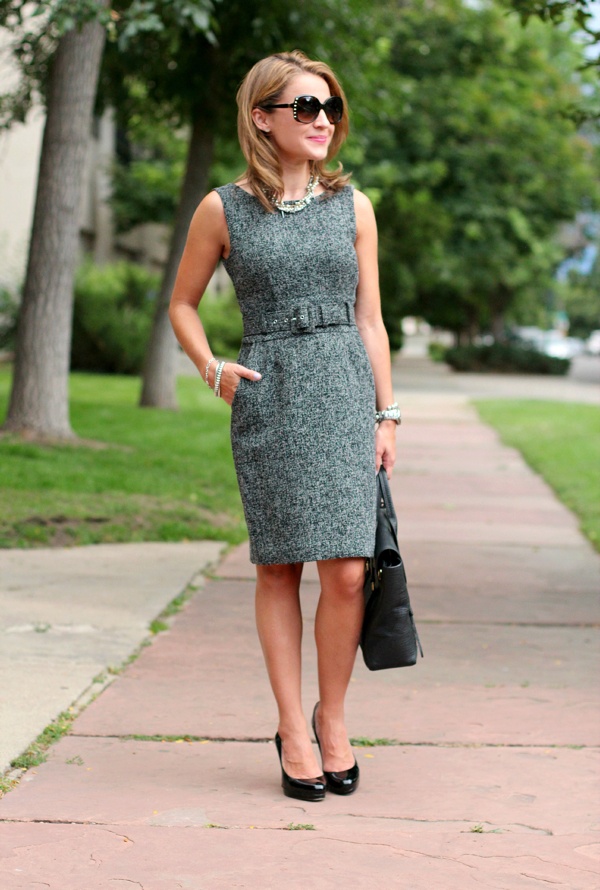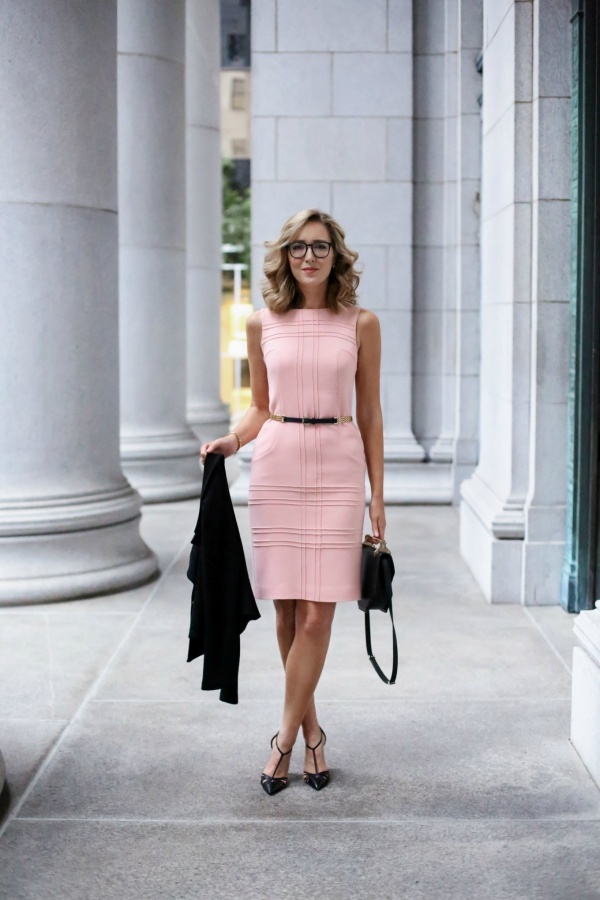 Are you tired of the daily formal pants and blazer at work? Why don't you break the monotony with a gorgeous sheath dress and look fabulous? Similar to the sheath of a sword, a sheath dress fits each point of your body and enhances their beauty. These dresses are especially suitable outfits for 30-year-old-women with hourglass or curvy body shapes. The slim waistline, bust area, and wide hips are highlighted by sheath dress, making it ideal for women of every age. This type of dress is available in various designs and lengths. In the case of neckline pattern, it can range from halter to "V" neck. Though most sheath dresses fall into the sleeveless category, they can also come in long sleeves, cap sleeves, short sleeves, and half sleeves. Layering is the best idea to add that extra edge to your look. You can put on a stylish leather jacket and ankle boots to complement the sheath dress. A belt can also be paid with the dress to highlight your waistline. Try out a long sleeve shirt or turtleneck t-shirt underneath your dress in winter for a more innovative style statement.
Button-Down Shirt With Maxi Skirt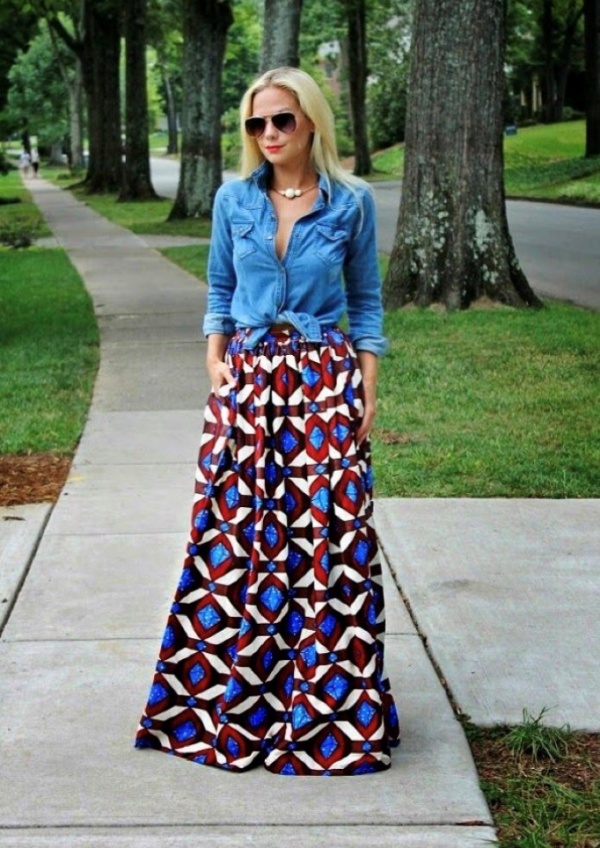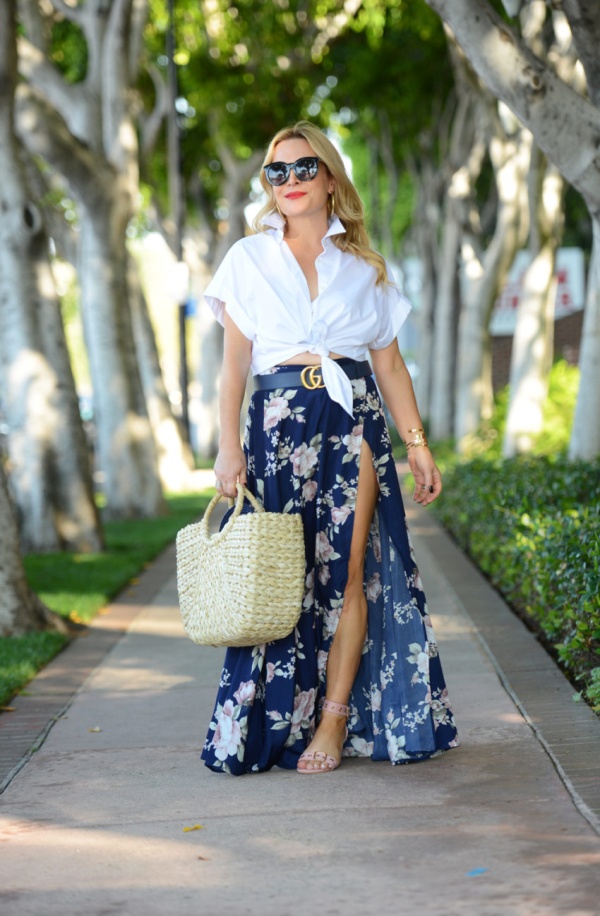 Who does not wish to try out unique combinations when it comes to outfits? Experimentation must not stop even if you have entered your 30s. A safe yet beautiful variety that increases your cuteness quotient is a button-down shirt with a maxi skirt. If you are done wearing button-down shirts with jeans, then it's time to change your fashion statement by pairing it with a maxi skirt. If you have a chubby shape and want to look cute in outfits for 30-year-old women, this attire should be on your priority list. You can pair printed maxi skirts with solid button-down shirts. On the other hand, if you select a pastel or solid coloured maxi skirt, you can experiment with different prints in your shirt. To complete the entire look, accessories like hoops, sandals, and clutch purse will work wonders.
Kaftans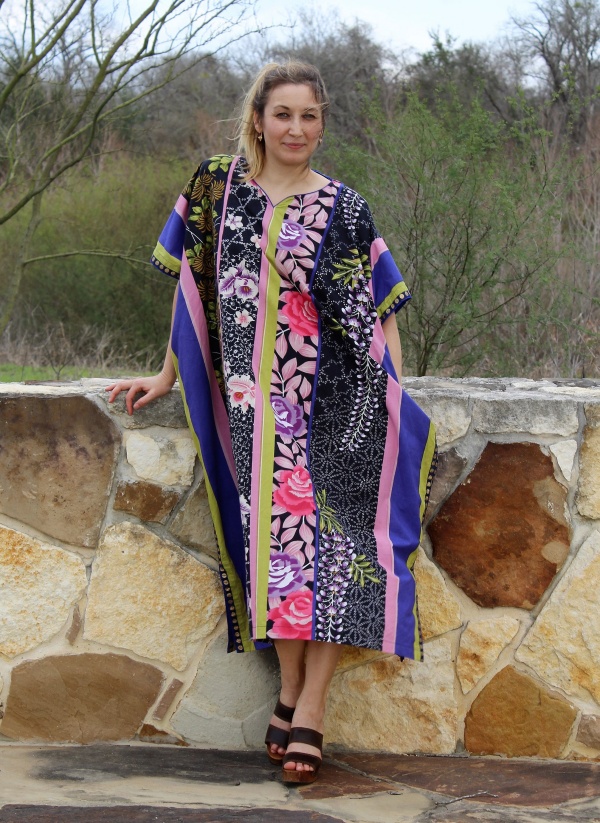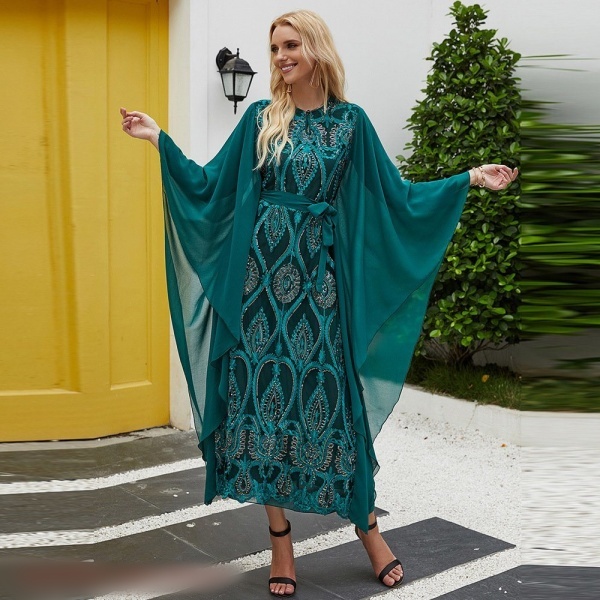 Inspired by eastern fashion, kaftans are loose-fitting coat-like garments woven with high-quality fabric. With graduation evolution, Kaftans are now sold in several variations like kaftan kurta, kaftan top, kaftan dress, etc. 30-year-old women who are not very slim can try out loose-fitting kaftans during the summer months. If you are an indo-western fashion admirer, you should opt for a kaftan top and denim pants. Short kaftan dresses are ideal for a beach vacation, whereas you can wear kaftan kurtas on traditional occasions. Usually, the kaftans contain unique prints and front tie-ups with colourful tassels to make the outfit look more vibrant and cute.
Lace Or Lightweight Tops With Palazzo Pants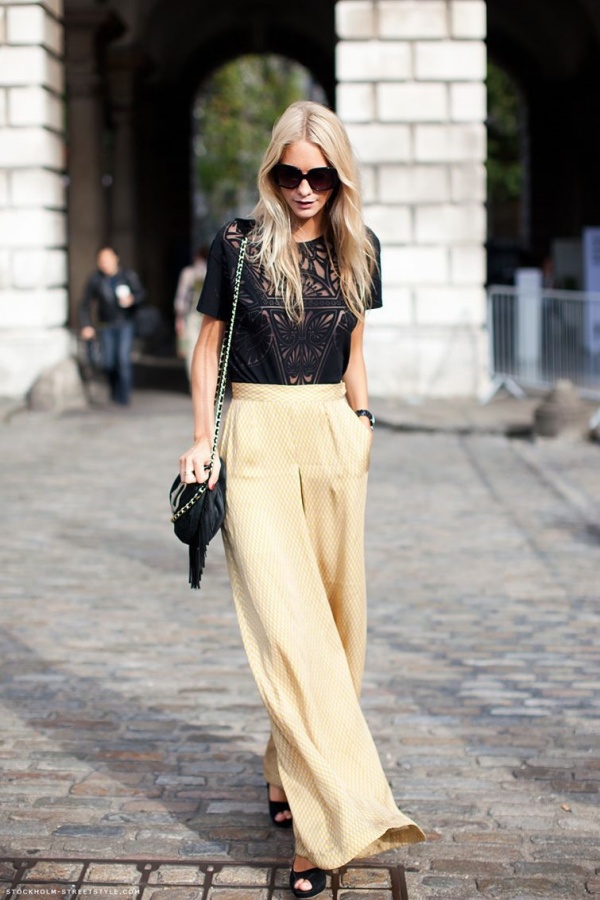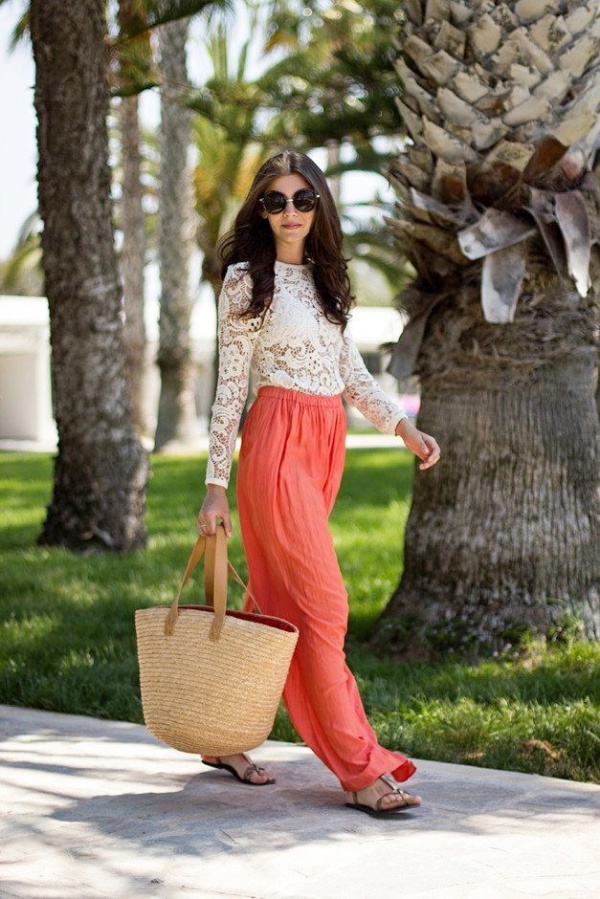 If you are not comfortable trying out short dresses in your 30s, then palazzo pants can be an excellent choice for offering you a comfortable and elegant look. The loose-fitting palazzo pants are usually made of breathable fabric so that you can wear them on sultry summer days. These pants include different patterns such as stripes, prints, solid colours, etc. If you are going for a casual hangout with your friends or a dinner party, you can pair your palazzo pants with a lace top for a simple yet pretty look. The lace top highlights the sassiness of your figure, whereas palazzos offer you comfort and flexibility. You can also wear lightweight breathable cotton tops with these pants for keeping your summer fashion at the top.
Jumpsuits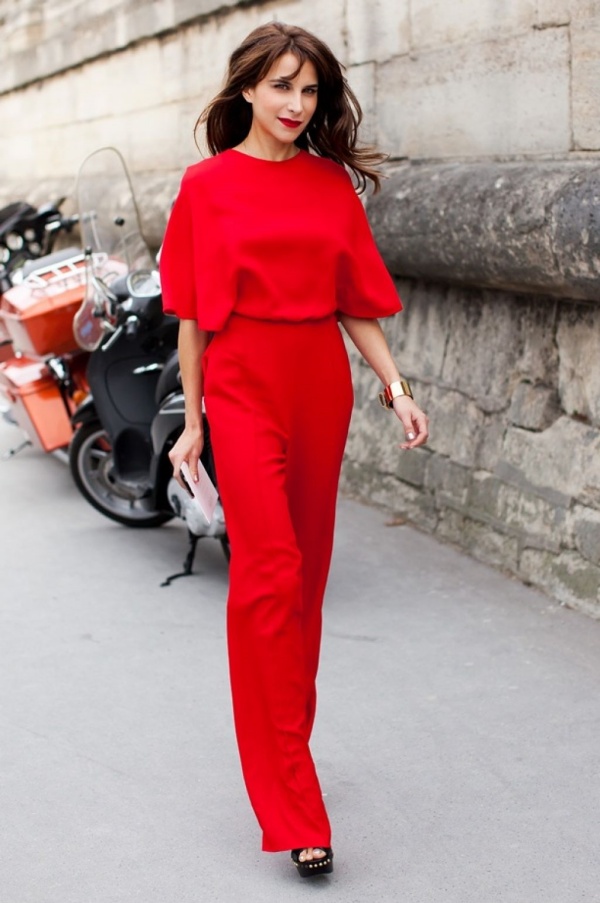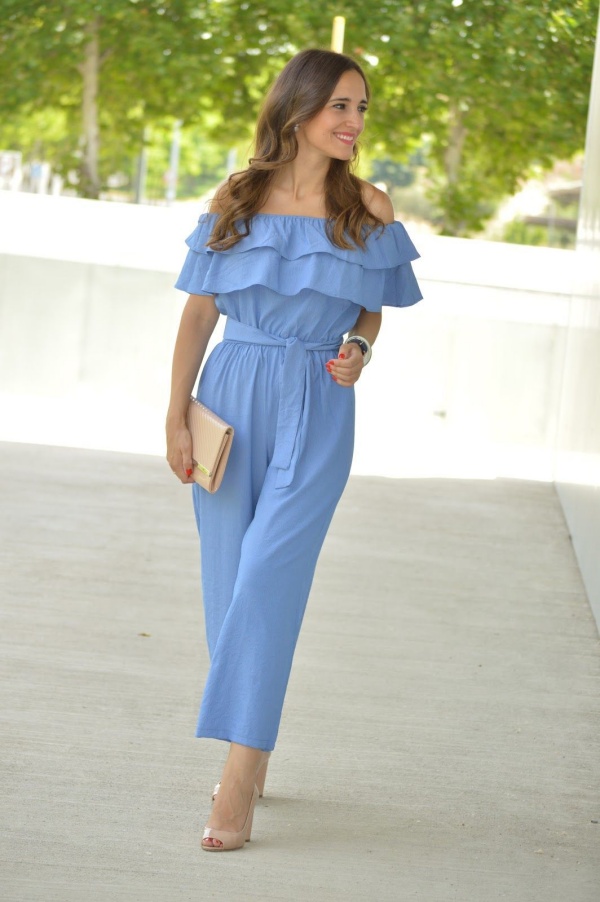 In the case of outfits for 30-year-old women, comfort comes before all other aspects of fashion. If you feel comfortable and confident in your outfit, you will not need to endeavour to make yourself look beautiful. So, be it the hot summer months or the soothing spring season, the jumpsuit is another name for comfortable fashion. Usually, solid-coloured and striped jumpsuits have set the market trend. However, there are a few charming printed jumpsuits that also draw the attention of women. Heels are the most suitable accessories to finish the look of a jumpsuit.
Culottes Outfit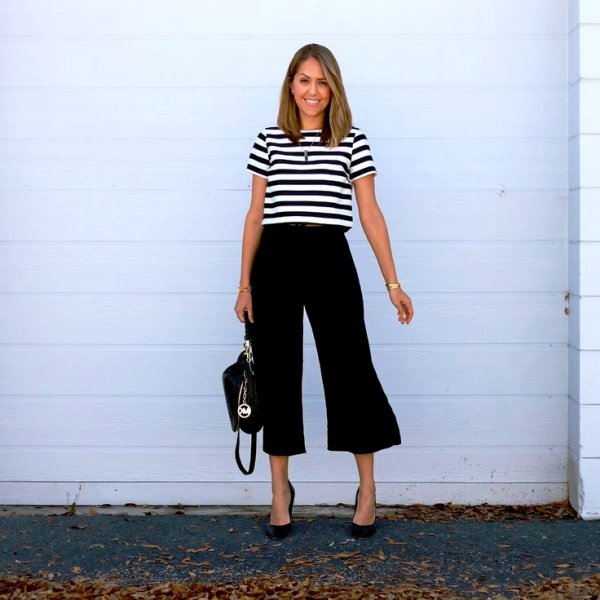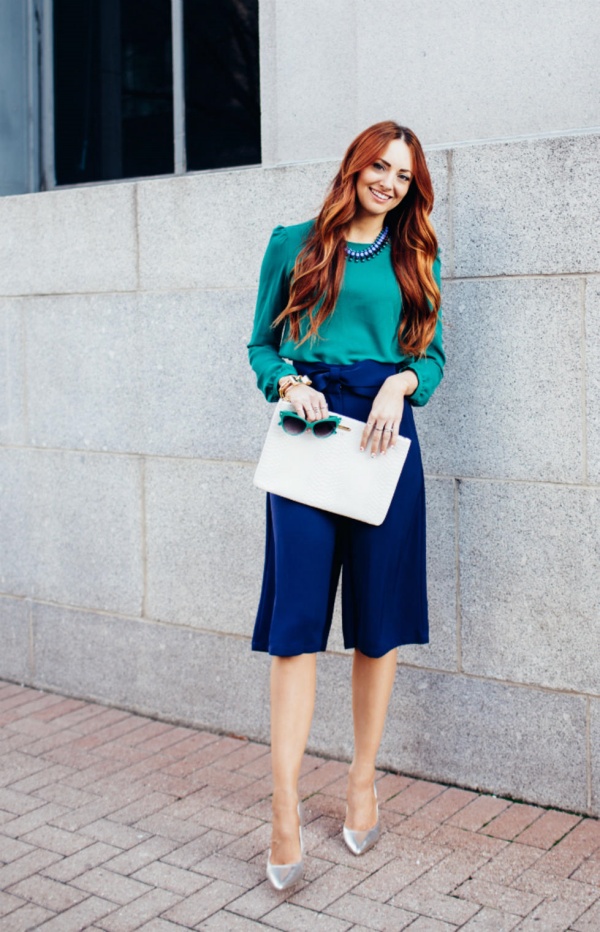 Culottes are such a type of outfit that can be styled in every season. If you are trying to find out safe options in outfits for 30-year-old women, you may purchase culottes as they go with all body types. The secret of looking cool in these plants lies in choosing an appropriate top. Slim-fit tops, a silky blouse, and refined tops offer a sophisticated appearance with culottes. For a casual and sporty look, you may try out button-down shirts or boyfriend t-shirts. Mules, sneakers, sandals, and loafers are some of the shoe types that match the style of culottes.
Boyfriend Jeans Outfit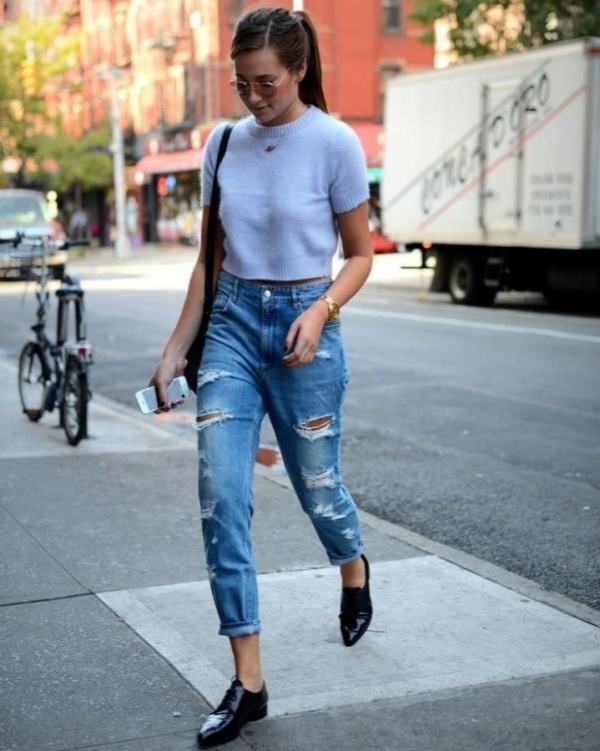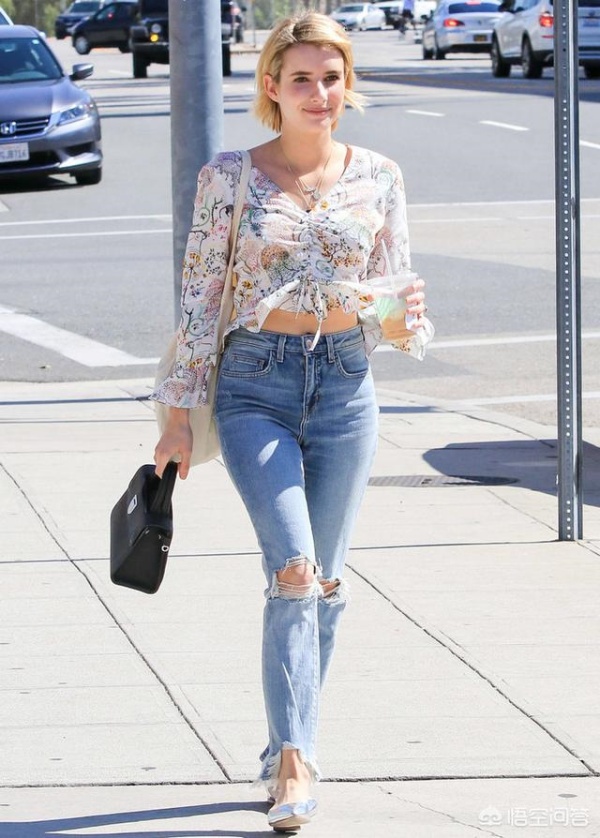 Though boyfriend jeans are more popular among teenagers and women in their 20s, you can also wear them in your 30s for a casual and comfy look. Boyfriend jeans have a loose fit and suits with every body type due to their comfortable appearance. You may combine your boyfriend jeans with a casual t-shirt, button-down shirts, slim-fit tops, and almost anything and everything. To give your look a more fashionable touch, get your hands on accessories like sunglasses, sneakers, wristwatches, and hats. During the winter months, your boyfriend jeans can be paired with pullovers and sweatshirts.
Trench Dress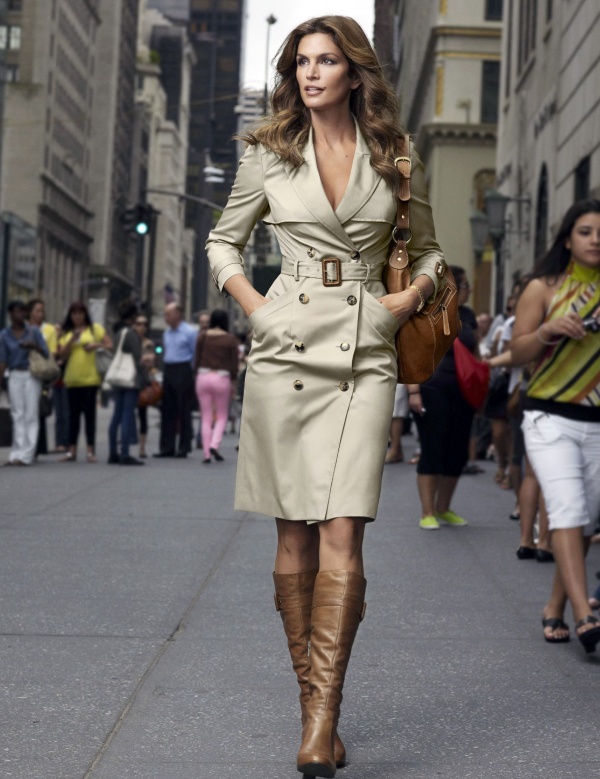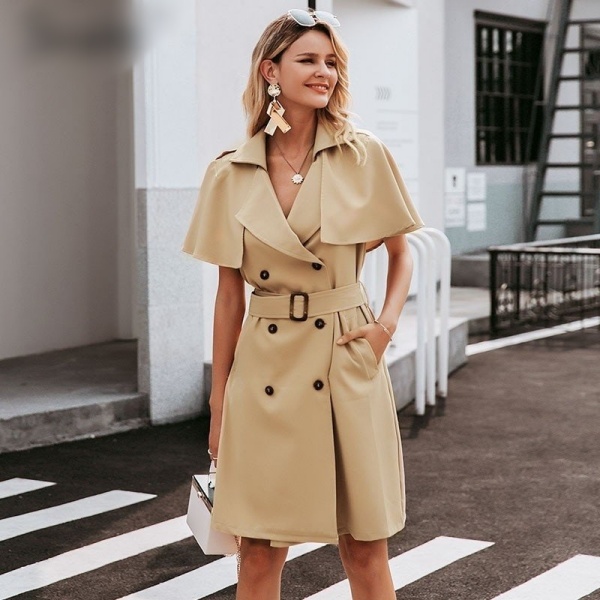 These coat-like dresses are one of the most stylish outfits for 30-year old women who want to achieve a classy look on formal and casual occasions. Trench dresses have an elegant appeal and different body types. To make your trench dress enjoyable, you can put it on with a white shirt or colourful sandals. You can alter the trench dress' belt with your preferable belt. Wearing some elegant gold jewellery can also add a more refined touch to your look.
All Black Outfit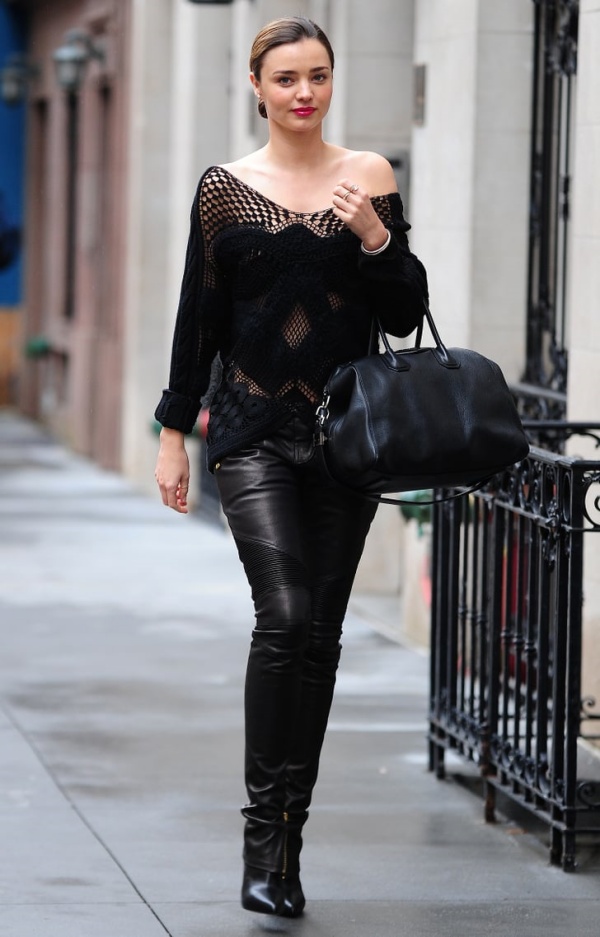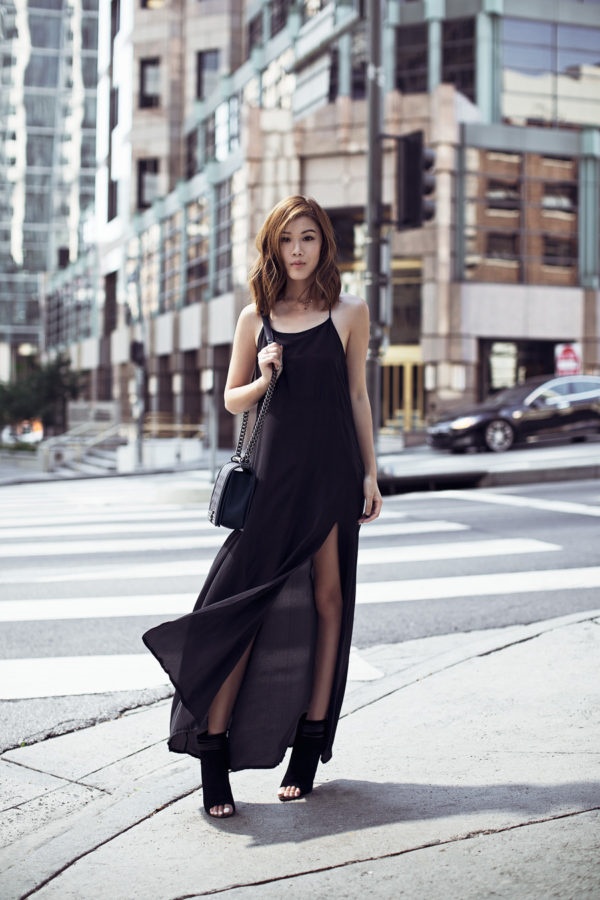 Black is such a color that looks suitable for women of all ages, skin complexions, and body types. Therefore, you should not refrain from trying out an all-black outfit while looking for ideal outfits for 30-year-old women. In summers, you can try out all-black cotton outfits, whereas the winter season is apt for putting on a long black coat with a pair of black pants. Accessories play a tricky role in defining the beauty of an all-black outfit. You can wear some silver or gold jewelry or try out sneakers for adding the X factor to your all-black outfit. A little black dress and black pants with a black top are now setting the latest trend.
Camisole Top Pair With A Jeans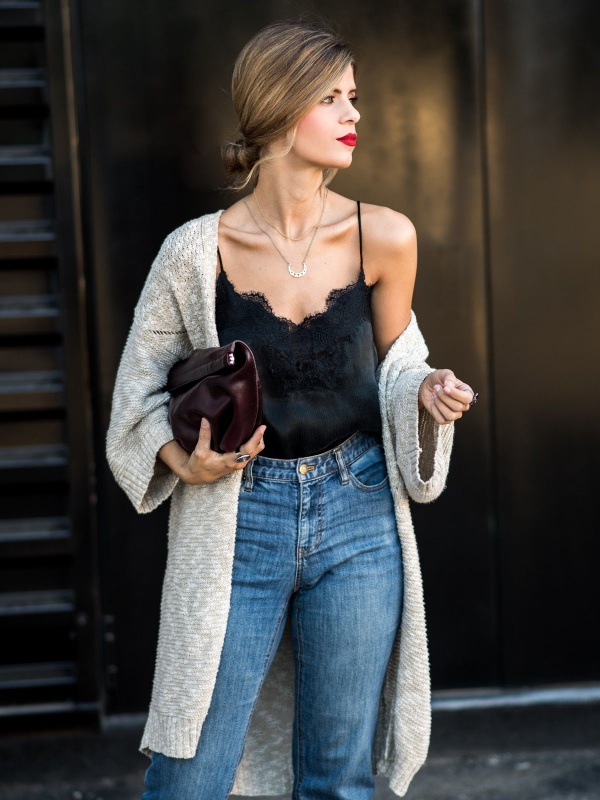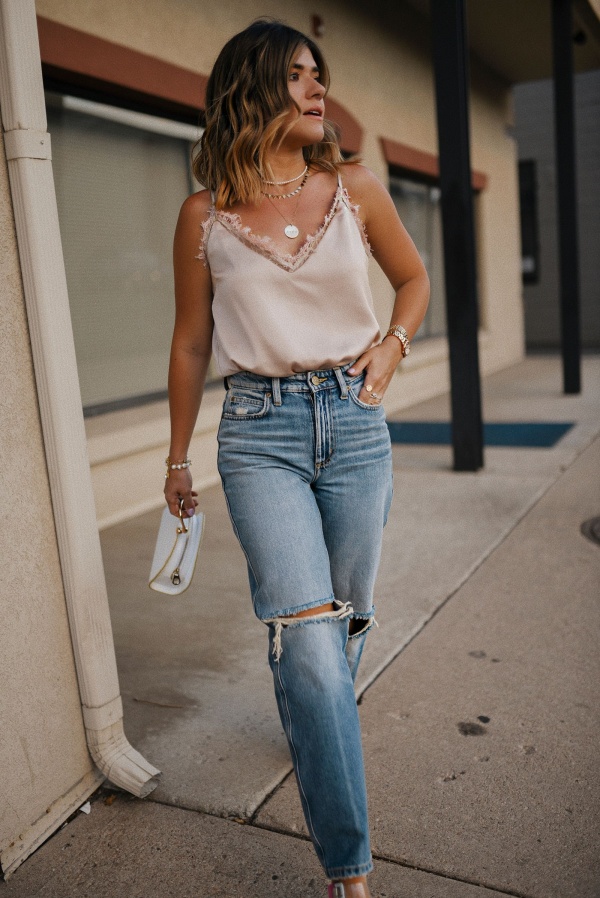 Camisole top with a pair of jeans can bring out your youth even in your 30s. There are a various ways to style a camisole with jeans, and you can pick any one of them depending on the occasion. If you are trying to achieve an effortless and minimal look, then the combination of a white camisole top with blue jeans should be your preference. You can purchase any solid colour or printed camisole top and wear it with fitted jeans or a jacket for an attractive look. A layered chain or chick scarf can be added to the outfit for increasing the style quotient.
A Bohemian Maxi Dress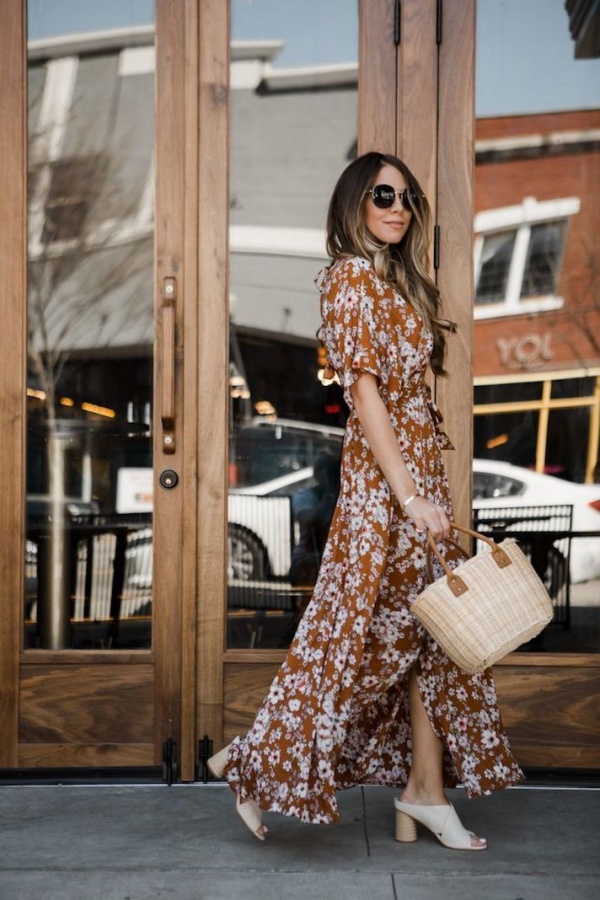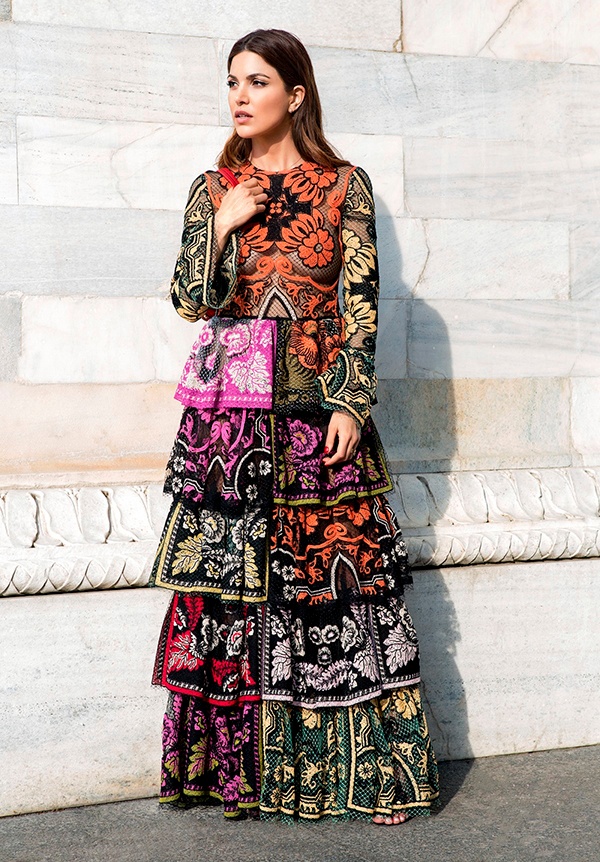 It is never too late to go boho. Bohemian Maxi dress fit in every body type and appear cute even on a 30-year-old woman. The styling can be done in different ways based on your choice. Scarfs, handbags, hats, and shoes are important factors while considering the look of a bohemian dress. These dresses should be your priority on occasion in the summer seasons. The flared and flowy look of the bohemian maxi dress makes you feel like those Disney princesses.
Neutral Coloured Tops With Printed Trousers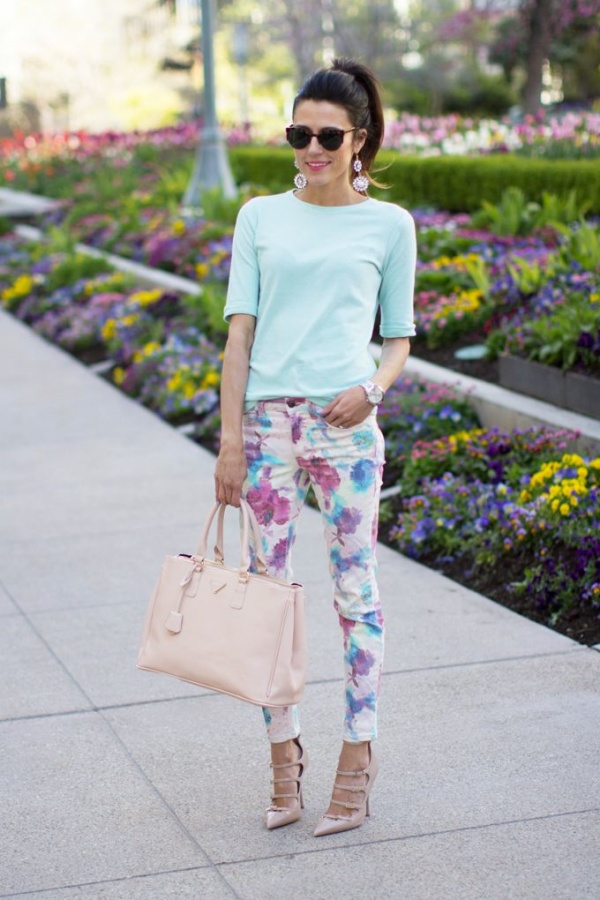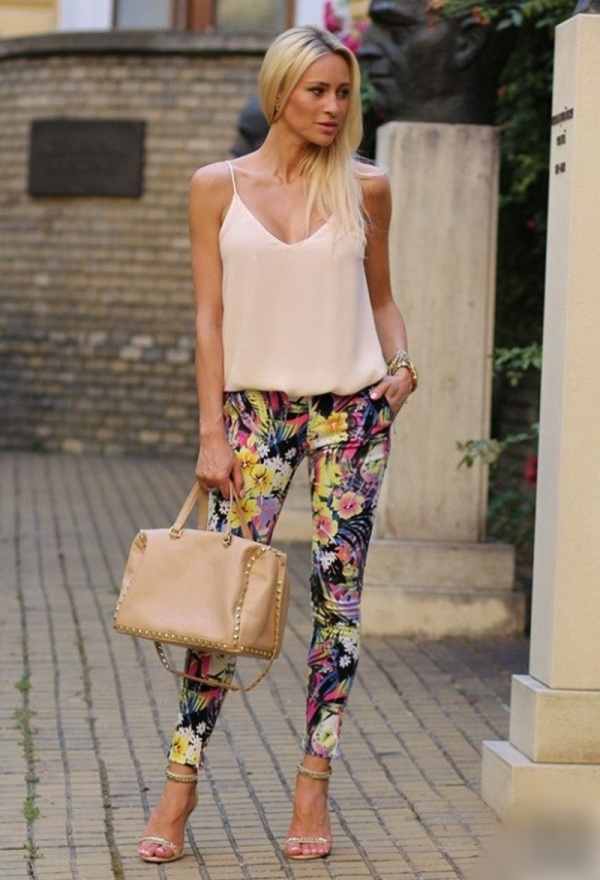 Are you in search of minimal outfits for 30-year-old women? Then you cannot avoid trying out neutral-coloured tops with printed trousers. As neutral-coloured pants are casual and straightforward, printed trousers are the best way to compliment them. This outfit is an excellent option for spring or summer fashion. You can use bright handbags, scarves, sneakers, loafers, and sunglasses for fulfilling the attire.
Denim On Denim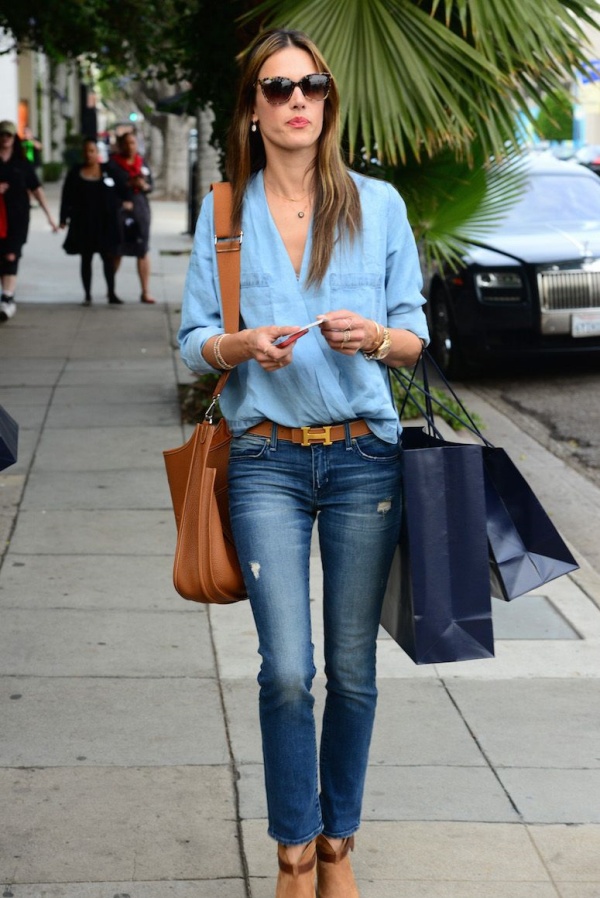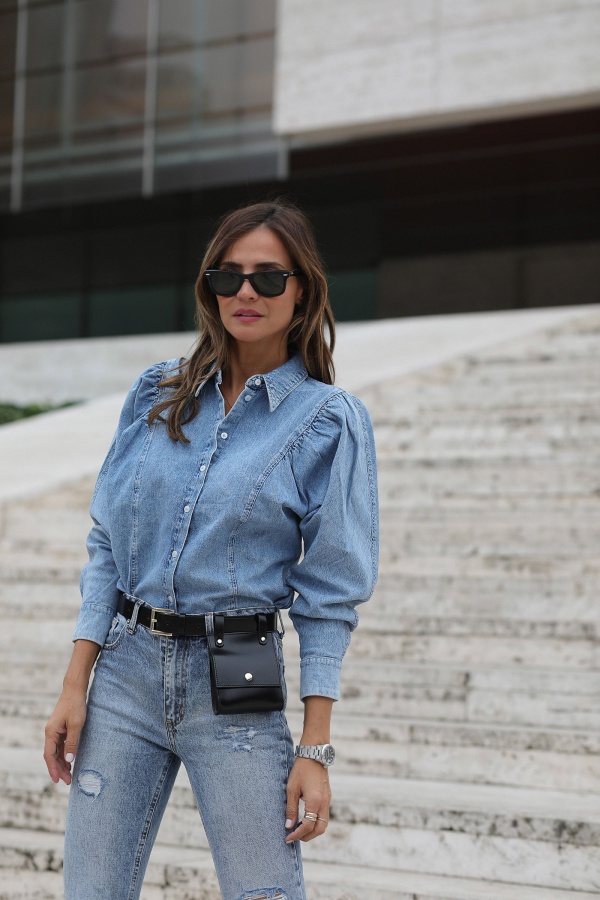 Denim on denim is the trendiest look in a casual fashion that has inspired the style statement of several celebrities and common women. You can pair your loose-fitting denim pants or joggers with a denim jacket or denim shirt to bring the look into reality. There is no need to overdo the look with too many accessories. A casual handbag and sneakers will do the job. Sunglasses are good in the scorching heat of summer. You can keep your hair in a bun or ponytail to make the overall appearance suitable with this outfit.
Striped Dresses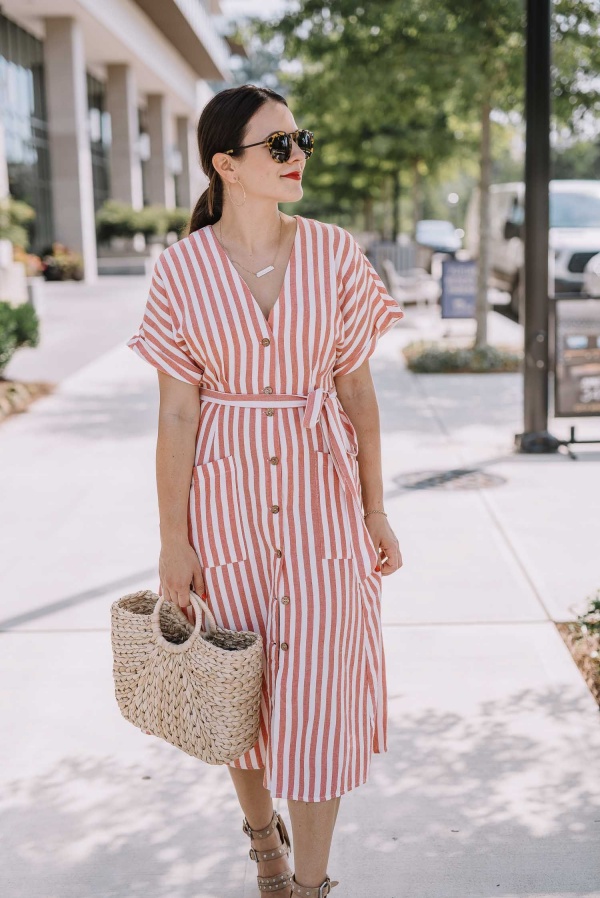 Striped dresses can be a favourable option to try while purchasing outfits for 30-year-old women. Striped dresses come in different shapes, including A-line, flared, maxi style, slit, and many more. You can wear cotton striped dresses of lighter shades with a hat and classic watch to achieve a cute appearance during the summer season. Put on a denim or leather jacket over your striped dress in light winter, and you are ready to rock.
Embroidered Top With White Jeans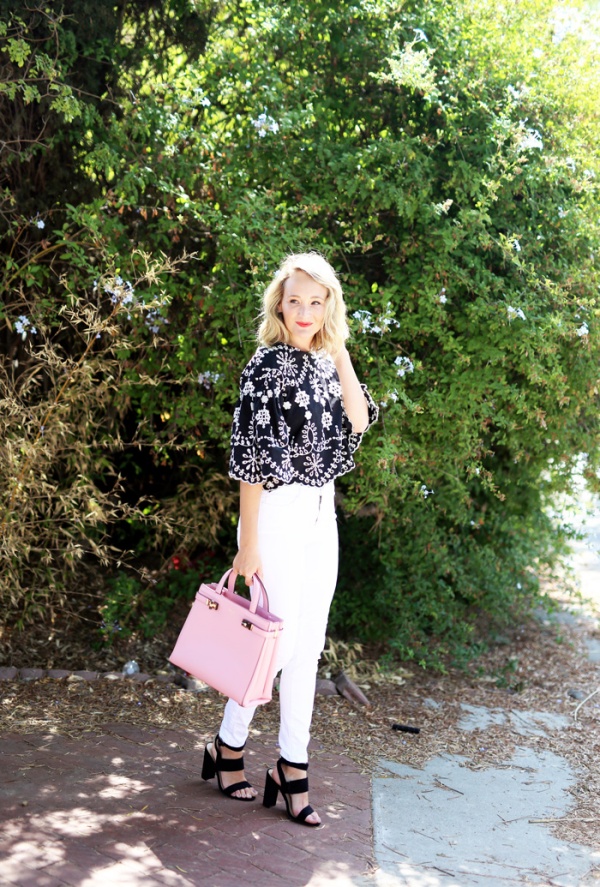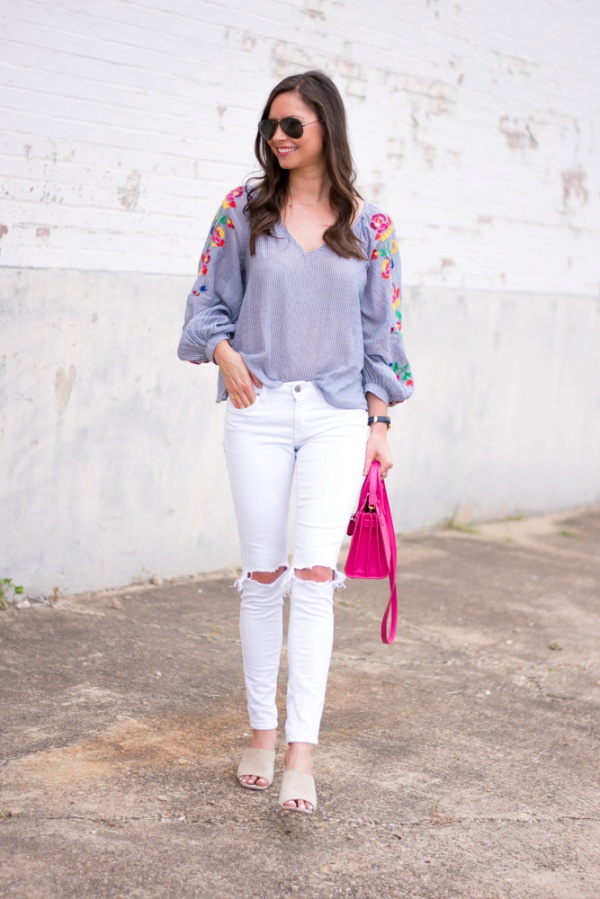 Are you shopping for an outfit for your next brunch? Then choose an embroidered top and a pair for highlighting the elegant women in you. To keep the soberness of your embroidered top intact, you should pair it with white jeans. Leave your hair open to enhance the outfit's beauty. You can try out light accessories like a wristwatch or a handbag, but don't make your outfit clumsy with many accessories and makeup.
A Midi Dress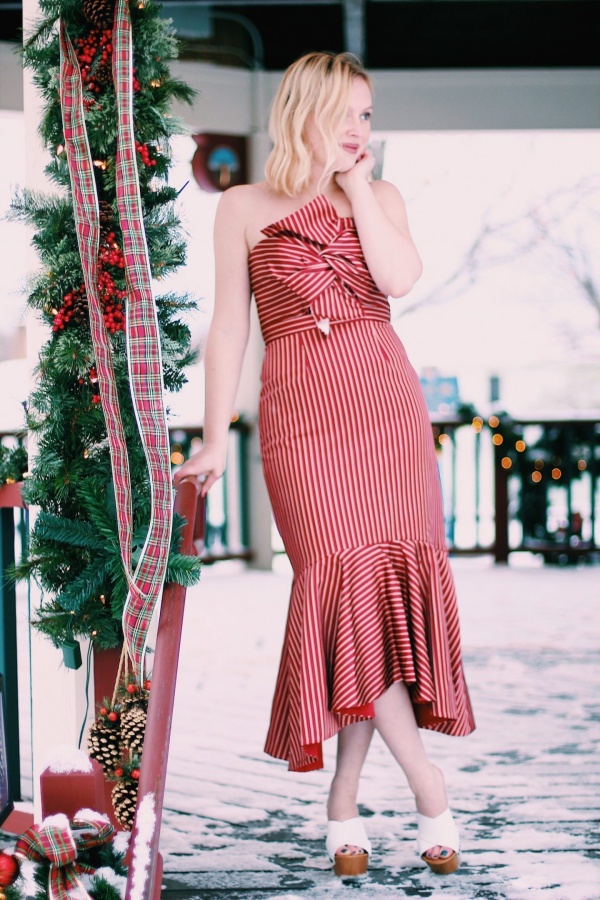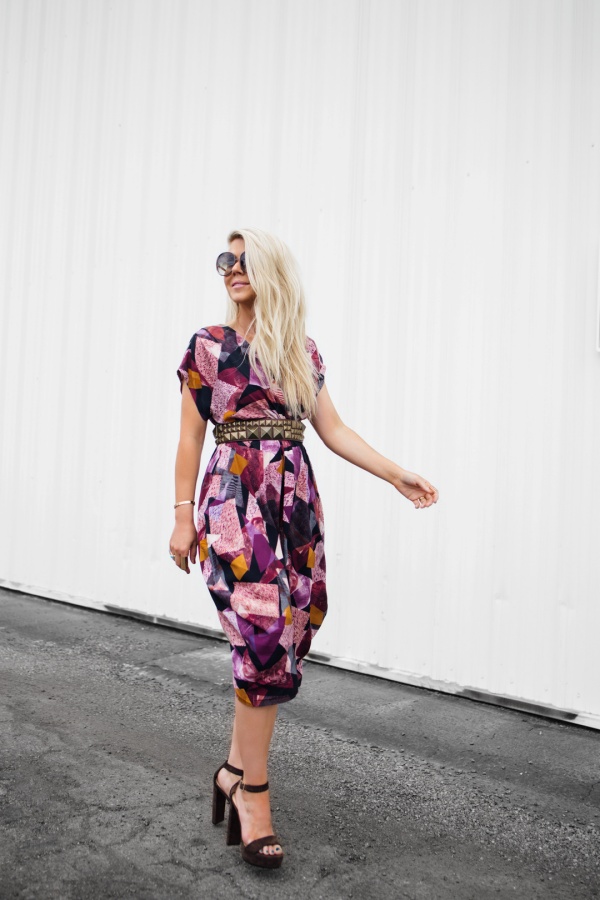 A midi dress can be considered as one of the most iconic outfits for 30-year-old women who want to look desirable at a cocktail party or a night out with friends. If you have toned legs and a well-shaped figure, then take your time to appreciate yourself in a midi dress. Choose the type of midi dress according to the event. You can opt for a lace or ruffled midi dress for the party look. On the other hand, floral and printed midi dresses are fabulous for a bright summer day look.
A Pair Of Chinos Teamed With A Tee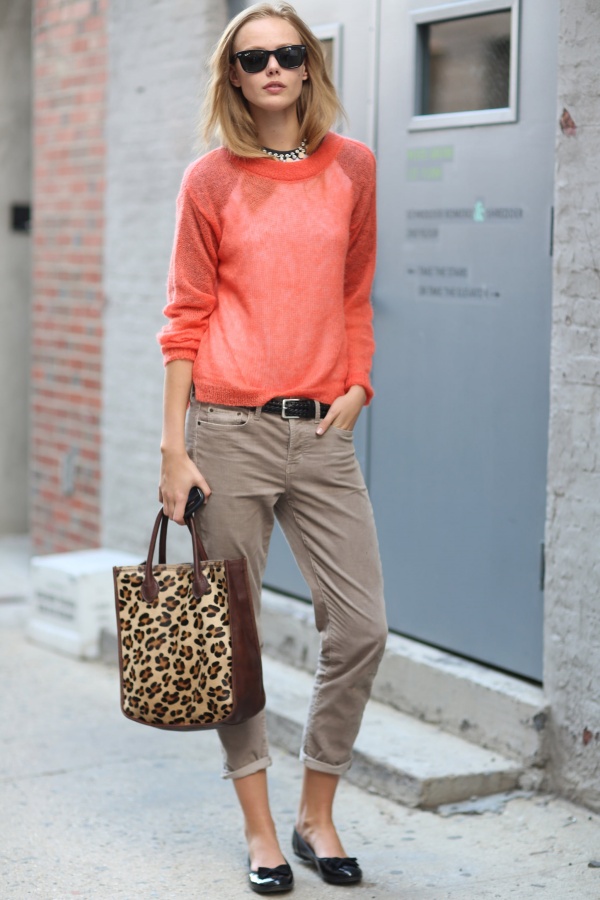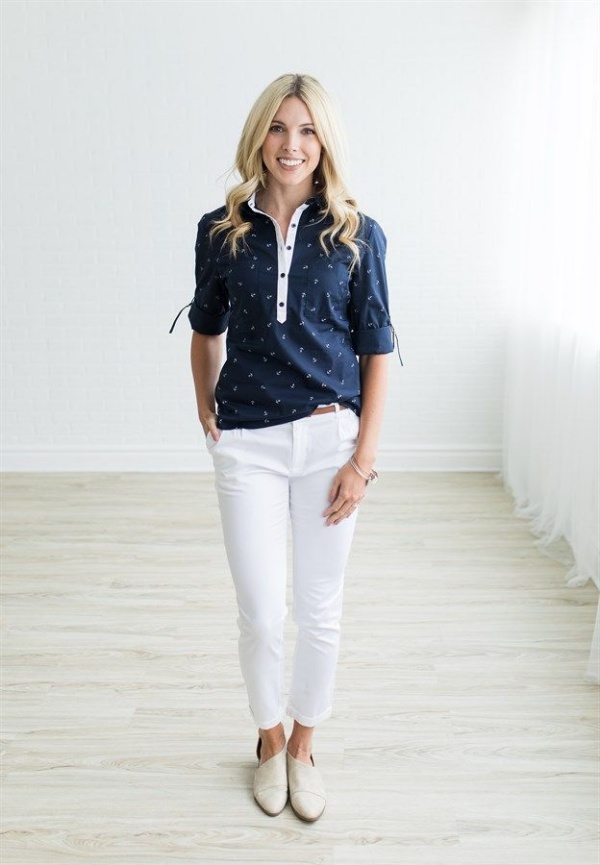 Is comfortable and sporty your favourite style statement? Then you should buy yourself pair of chinos. Chinos are slim fit, flexible and easy-going. So you can comfortably move while wearing them. To pair with the chinos, you can opt for a casual tee of your choice. Nowadays, there have been several variations in T-shirts like Graphic tees, Boyfriend-T-shirts, solid T-shirts, etc. Therefore, you can pick up almost any of them to wear with your chinos. This outfit does not need many accessories. A pair of sneakers and sunglasses are enough to complete the look. This outfit will make you look and feel like a teenager even in your 30s.
Conclusion
To look elegant in an outfit, you need to feel confident about it. Choosing a casual outfit for everyday use might seem easy, but several factors need to be considered in reality. No one wants to feel that they are getting older before time. On the other hand, we all know that aging with time is natural. However, aging can be delayed, or the signs of aging can be prevented as well. Here, we have attempted to give you some valuable ideas about the outfits for 30-year-old women, which help sustain youth and beauty. So, don't feel frightened of aging and embrace your 30s in style.
Related: