Halloween, the festival of the departed souls, is an integral part of western culture. To commemorate the dead, people of all ages participate in this festival on 31st October every year. One of the most significant Halloween activities includes going on Halloween costume parties where both adults and children dress up as ghosts and spirits. So, Halloween fashion essentially includes wearing dark-colored costumes and putting on gothic makeup to create an eerie appearance at the party. One thing that mustn't be ignored while finishing your dress-up is the Halloween nail art designs.

Long, ghostly, and dark-colored nails are something that you cannot miss out on while getting ready for your Halloween costume party. If your nail color does not match up to the standards of your attire, then your outfit will somehow remain incomplete. Therefore, this Halloween, experiment with nail colors and pick up a nail art idea that will be enough to frighten your friends.
Spooky Halloween Nail Art Designs
Nightmare Before Christmas' Nails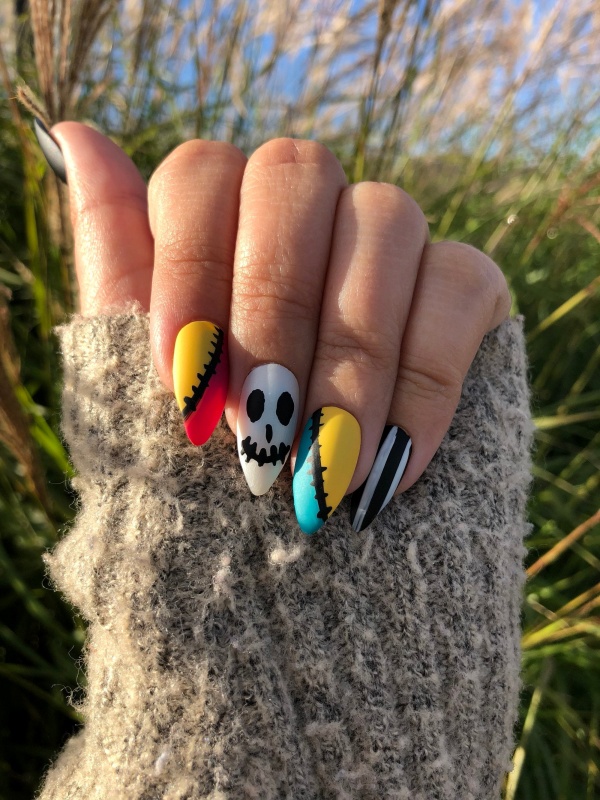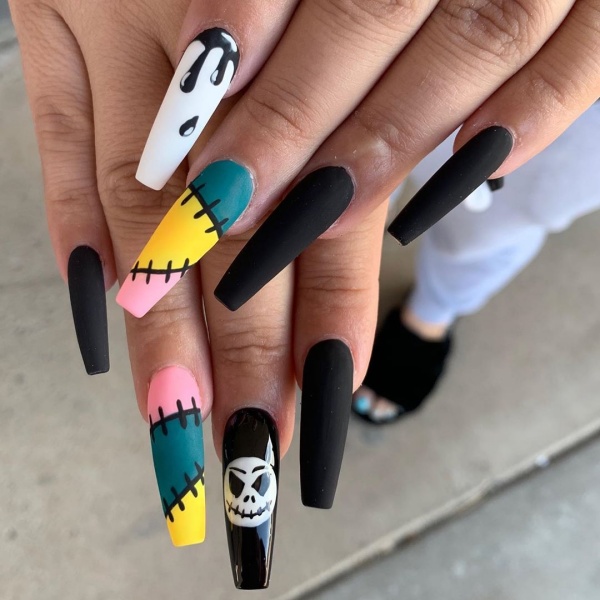 When Halloween is knocking at the door, most movie buffs are bound to remember the graveyard scene from Tim Burton's Nightmare Before Christmas. So, play the film on your laptop while putting the dark shades on your nail to create the design. First, make two thin coats of shimmering deep blue, and then use your hands to paint the bizarre scenes of the movie with acrylic color for a great finishing touch.
Snake Skin Nails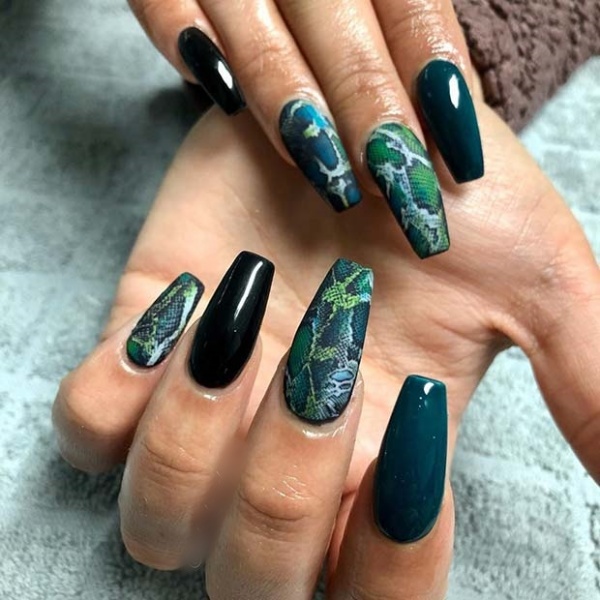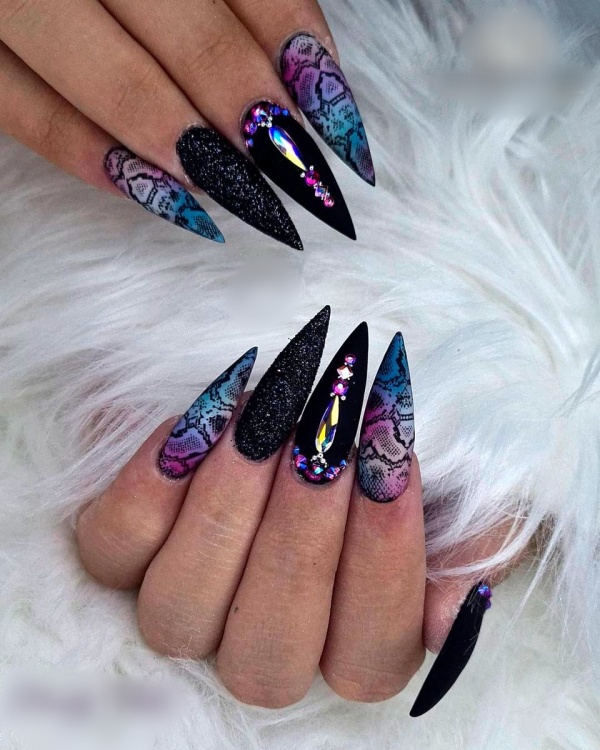 Do you remember the witches from Shakespeare's Macbeth who used to boil snakeskin in their cauldrons? This year, on Halloween, draw snakeskin on your long spooky nails with suitable nail paints. Preferably, use black color to make the base and let it dry for a while. Use lighter shades like golden, white, or green to make the pattern. Then lay out the lace on your nail and sponge the lighter tone on the top a little carefully. Keep your patience till it dries up a bit, and finally, flaunt your nails in style.
Floral Halloween Nails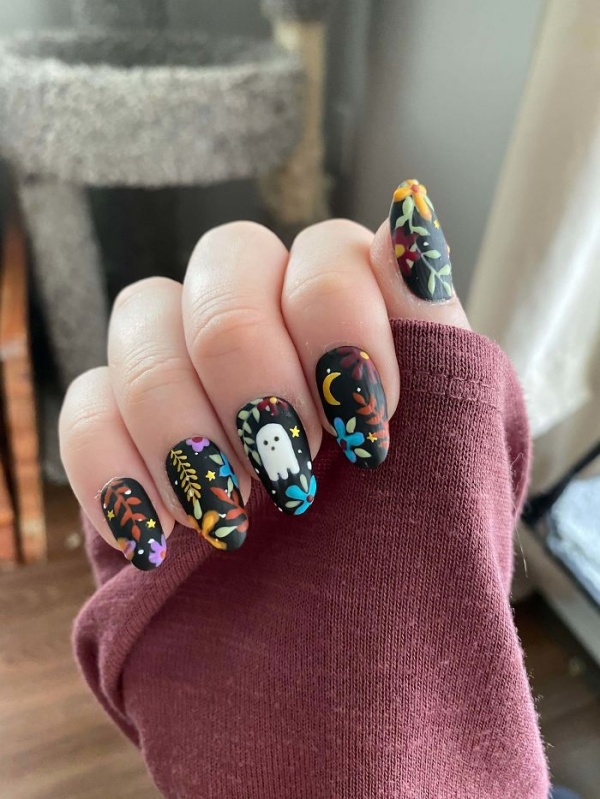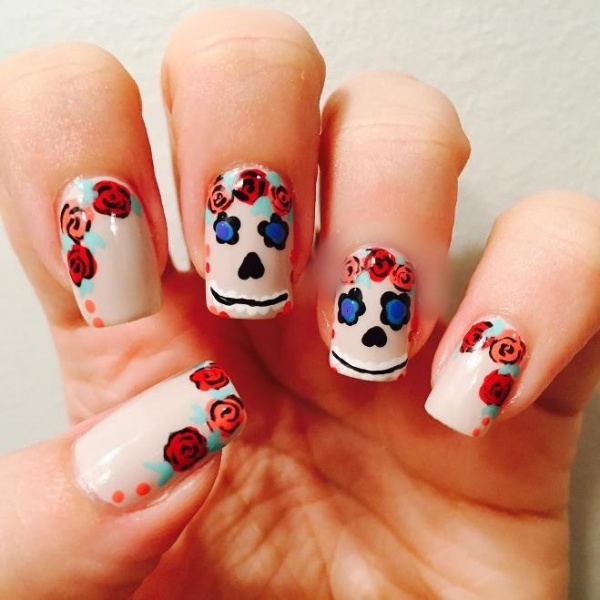 If you desire to go beyond the typical Halloween nail art designs, then paint your nails with floral motives in this spooky festival. Make the base coat with black color and then apply acrylic paint on the top to draw the flowers and leaves. These nail art designs have a unique and brighter get-up than the usual gothic nails for Halloween.
Black And White Ghosts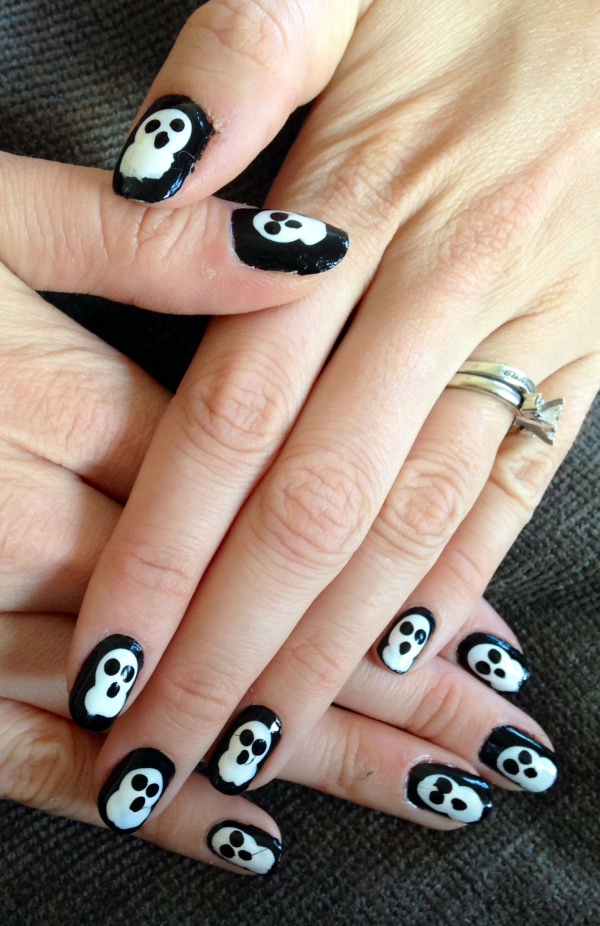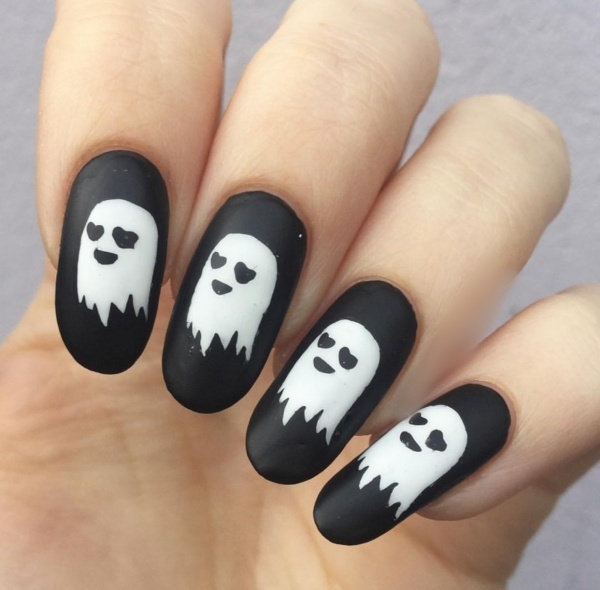 Nail art and fancy manicures are a fun way to add some Halloween spirit to your look. Along with your costume, makeup, and hair designed for Halloween, all you need is a spooky nail. Among the several other popular Halloween nail art designs, a paint of black and white ghost design can help you steal the spotlight in no time. Ghosts might sometimes feel scary, but they can even be designed to look cute if you prefer it. With Halloween o head, a classic ghost design with the hues of bold black and white can never go wrong.
Dainty Spider Web Nails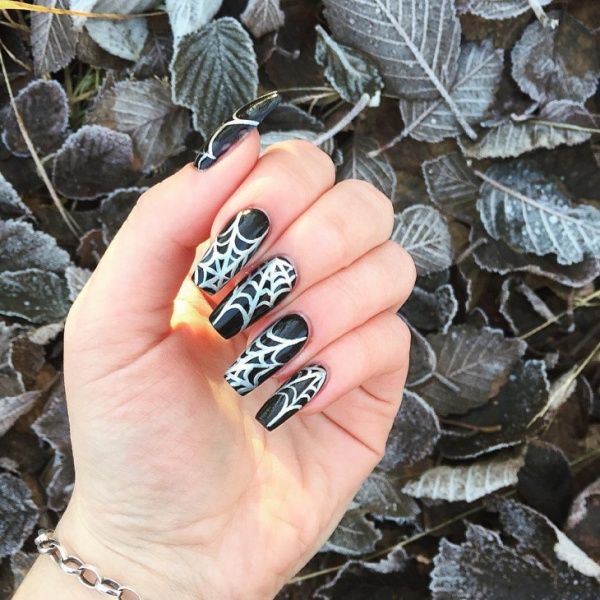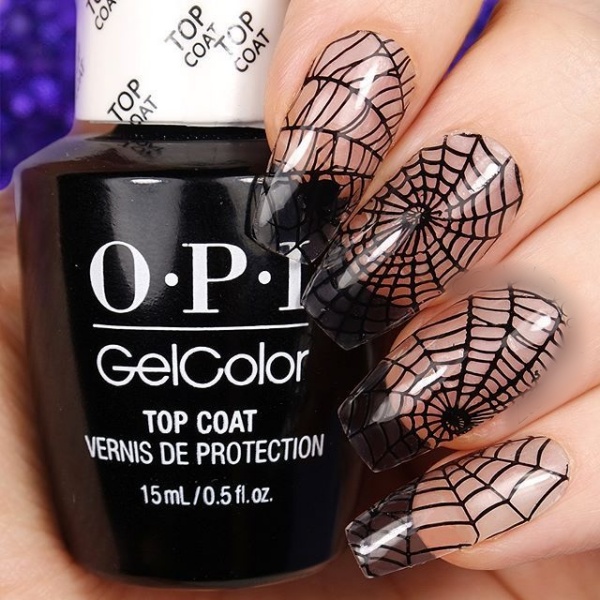 A thin dainty spider web dancing all over your nails would look more than just perfect when paired with a witch, warlock, or wizard costume. Spider web nails are one of the extremely funky looks for your nails. You can start off by painting with a base color. Use a contrasting color and draw thin oblique strokes with a very thin brush. Make convex semi-circles in between the strokes and continue filling the entire nail this way.
Glittery Ghosts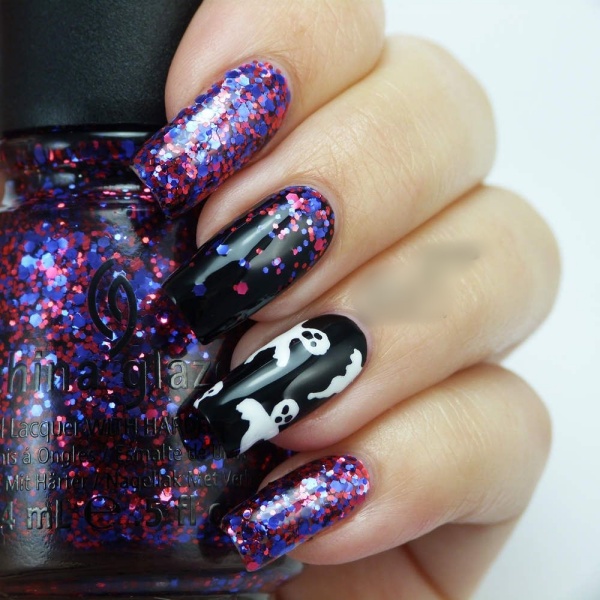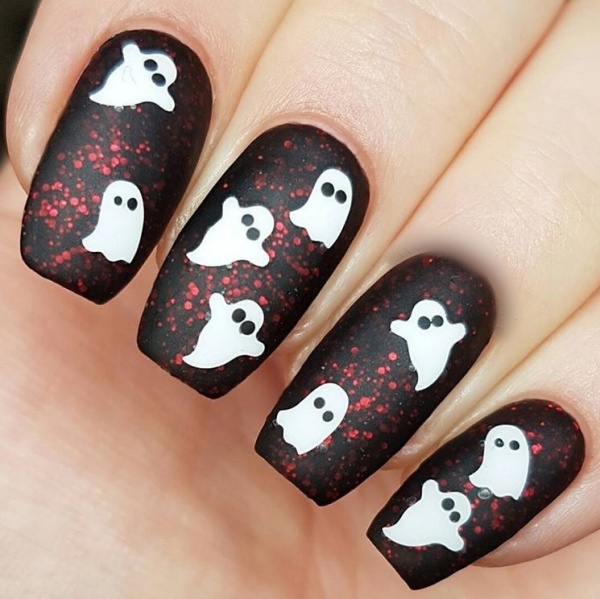 With the advent of Halloween, ghost nail art has turned quite popular. If you want to explore beyond the classic ghost designs for your nail art, the glittery ghost design ranks quite well among the preferred Halloween nail art designs. Ghost glitter can be hand placed into gel polish and carefully encapsulated. So, pastel goth ghost glitter sequin resin supplies are very popular for nail art. Dot glitters can even be stuck in pattern over the base coat so as to level up a basic ghostly nail art design into something glittery and showy.
Old School Tattoo Nails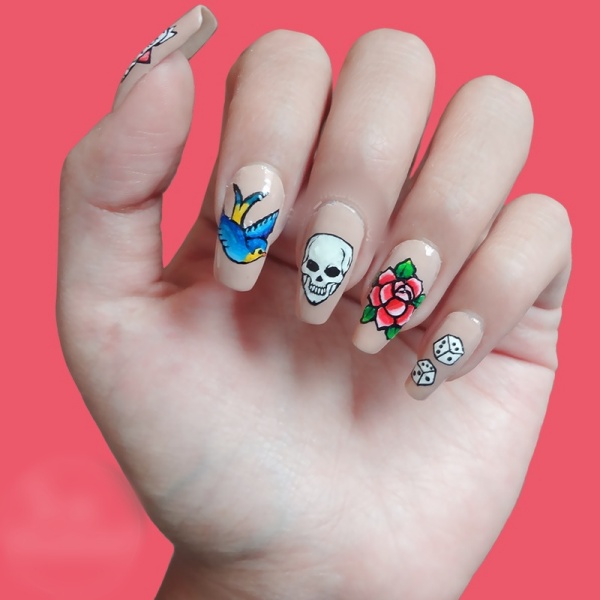 Nails are no exception when it comes to implementing some tattoo designs. You can elevate your spooky design for nails by giving a twist and painting some old-school tattoos. This tattoo-inspired nail art is for everyone and is super cute to match with any other costume you choose for Halloween. Get started with some gel polish and the base coat and draw in some classic old-school tattoos. You can even master this with a solid-colored base coat and a contrasting color on it for the designs. Both ways, it is bound to stand out because one can never go wrong with old-school yet classic styles.
Horror Movie Nails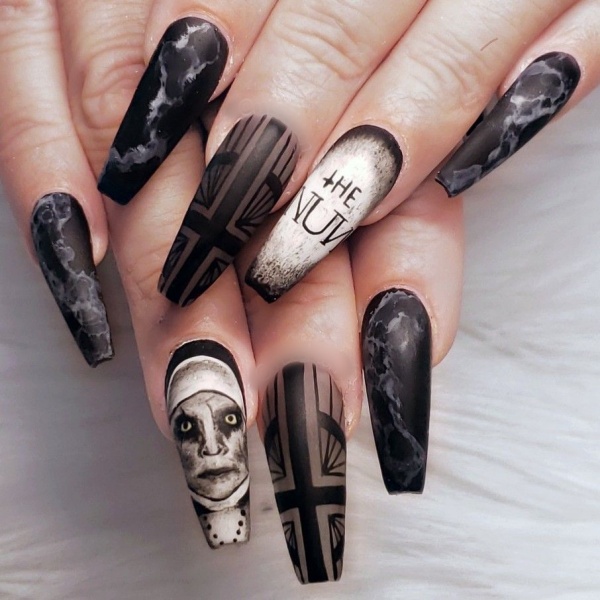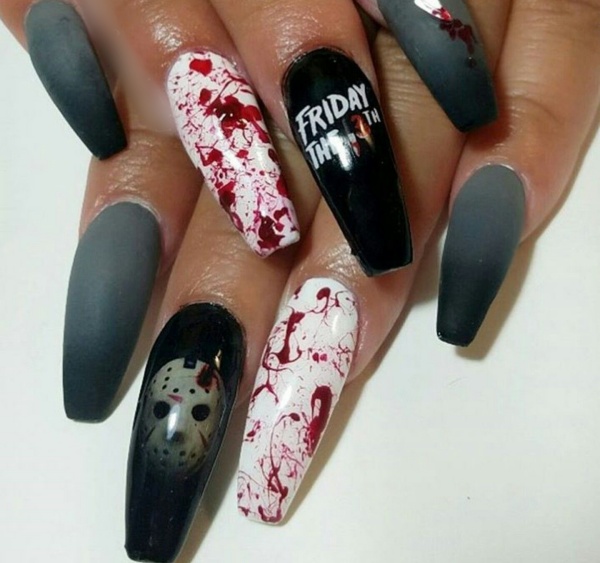 Halloween is practically synonymous with everything scary and what is more horrifying than your all-time favorite horror movie characters? If you are a cinephile and are already preparing to dress as a zombie princess for this Halloween then this design is just the exact pick for you. Startup with a bold base coat, probably black or red and paint your favorite spooky characters with matching and contrasting color. Scary movie nails are the exact frightening piece that was supposed to be added to your spooky costume to make it complete.
Corpse Bride Nails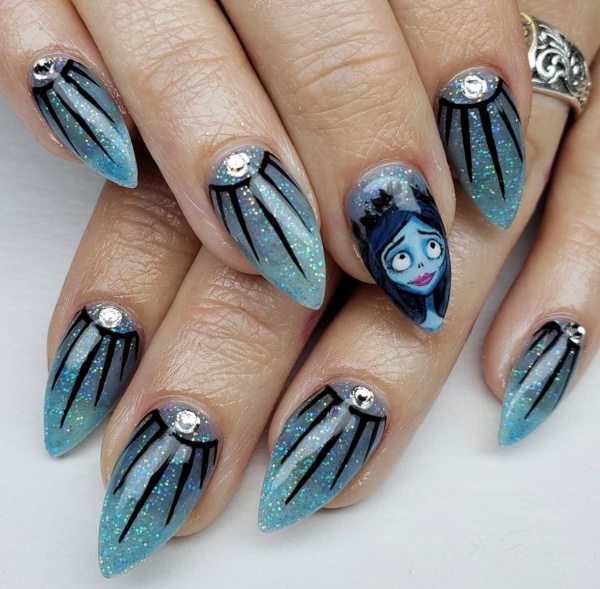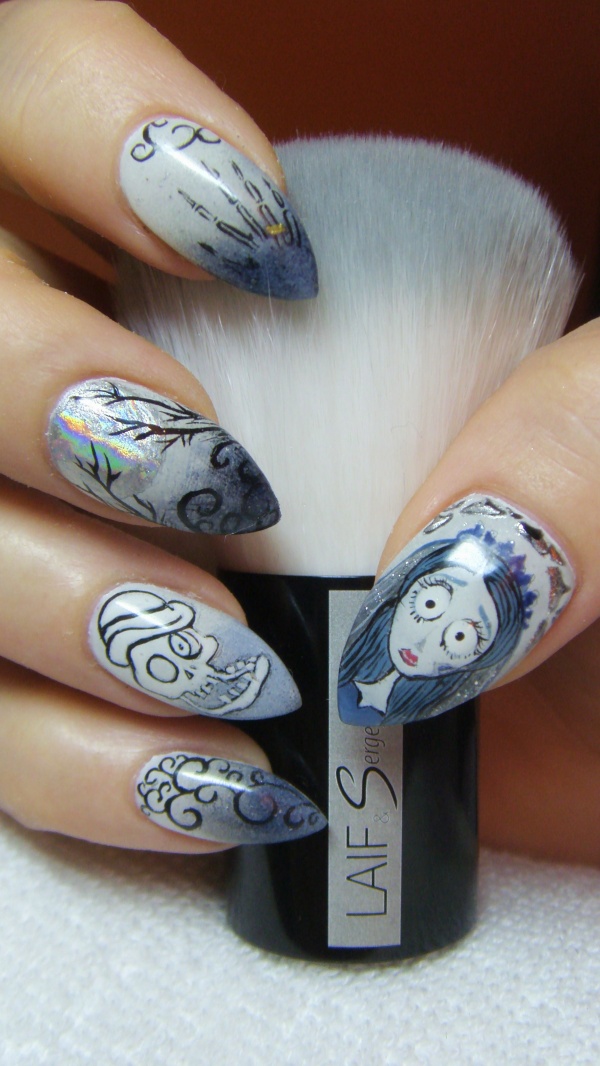 Let us all admit that we are in love with Tim Burton's beautiful creation of the Corpse Bride. It has got all elements that a perfect design idea for Halloween should have. So, what exactly is stopping you from painting this marvelous creation on your nails and turn it into one of a kind? This hand-painted nail art inspired by the Corpse Bride is bound to stand out because of its uniqueness. It actually one of the best ideas to pull out as Halloween nail art designs. Apply a base coat and show your skills by painting in a Corpse Bride design.
Green And Purple Oogie Boogie Nails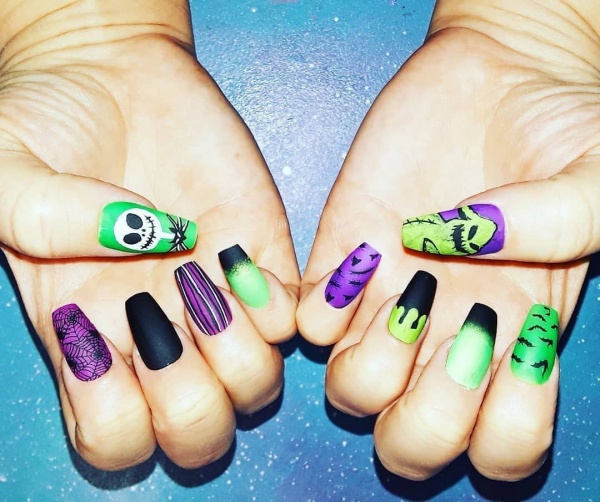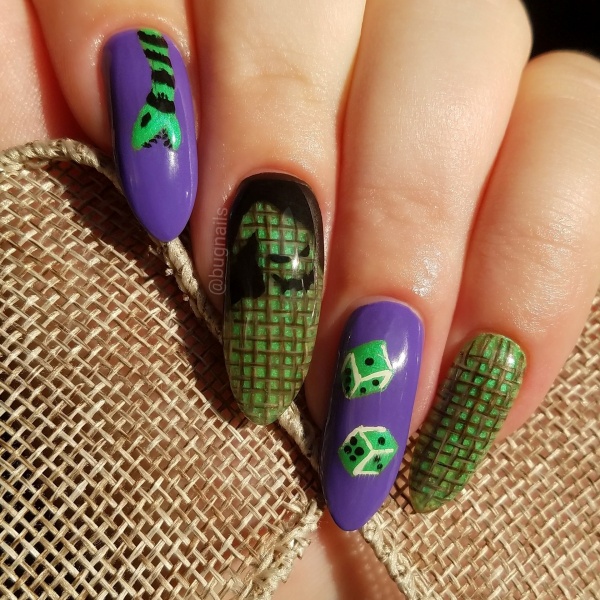 A scary, as well as cool creation, can be your green and purple Oogie boogie nails which is a tribute to one of the spookiest Halloween villains of all: the Oogie boogie man. The shades of purple and green polishes are a perfect choice for anyone who loves neon. Leave a top coat and let dry. Once the base coat dries, use a small nail art brush and a nail art tape and draw the outlines, smiling faces, and rest of the designs, according to preference. After the designs are done, pull off the tape and paint it with glow gel paint so as to make it look more stunning.
Ouija Board Nails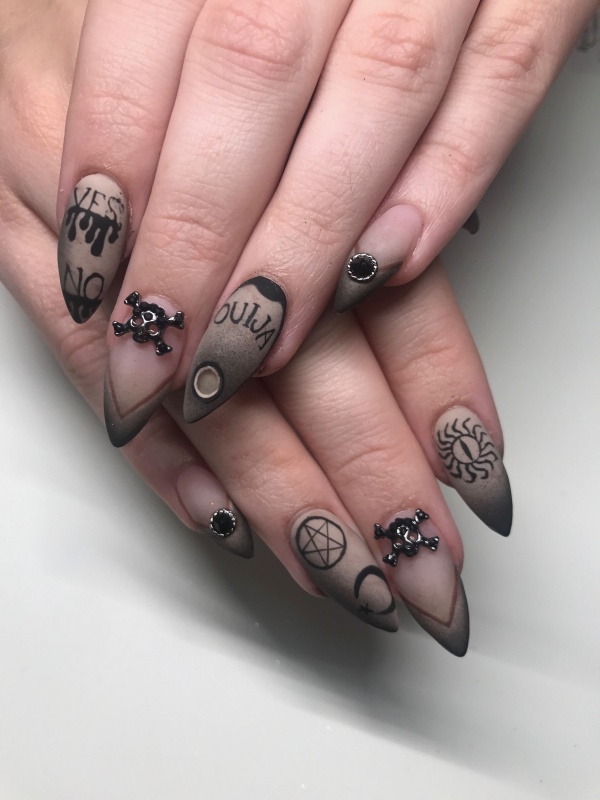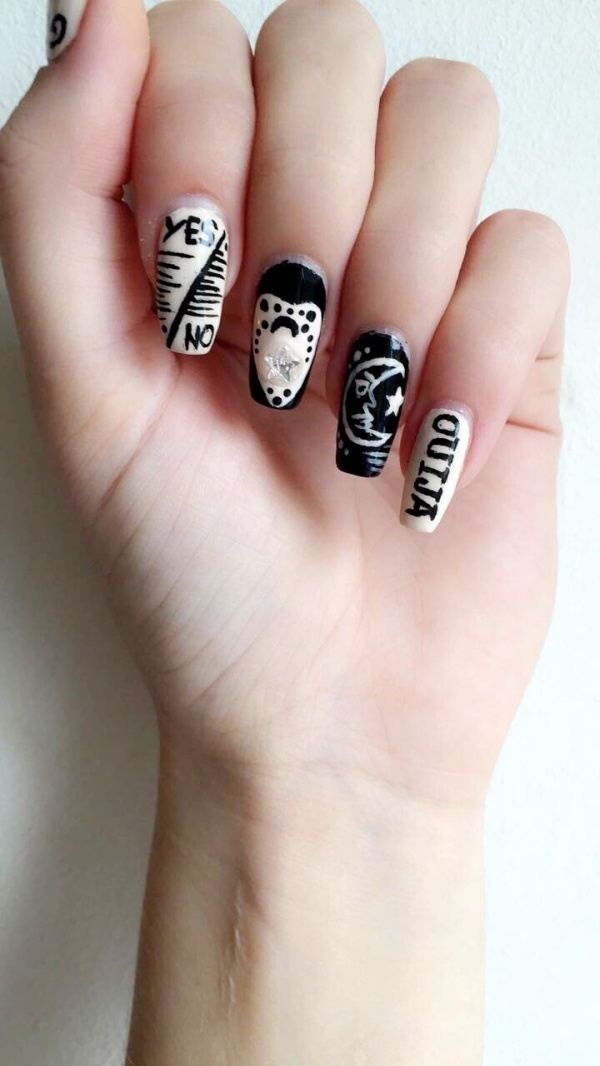 Nothing can get better if you use an Ouija board while wearing pairs of Ouija board nails. Use classic black nail polish and add the familiar symbols of the séance-inspired game over a lighter colored base. Finish it off with matte gold glitter for an eye-catching appearance. It is definitely the perfect idea for accessorizing your Halloween look with a touch of glamour.
Frankenstein's French Tips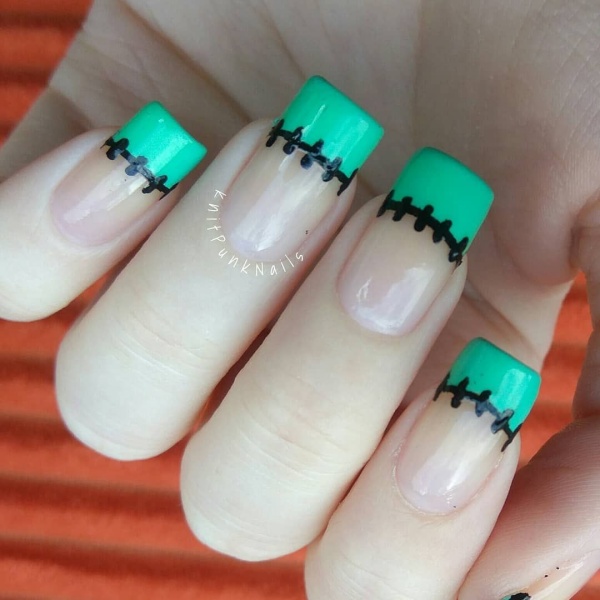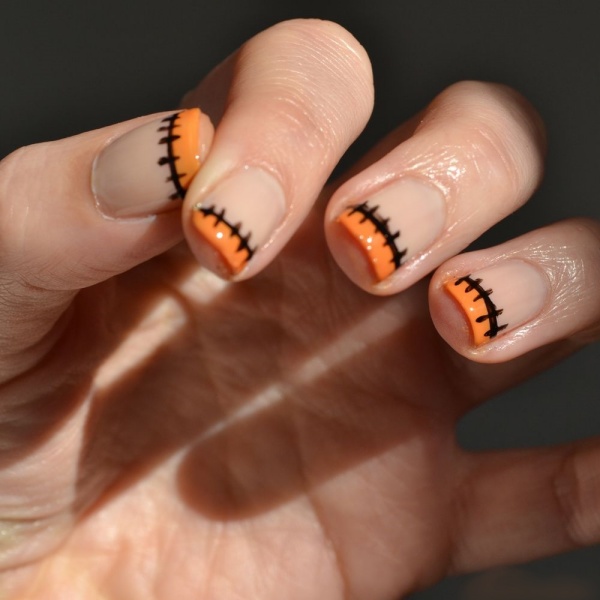 Did you read Mary Shelley's famous novel Frankenstein back in school days? If you are looking a similar monster-like Halloween nail art designs, then this is the exact pick for you. Frankenstein's French tips are one of the easiest manicures that you can achieve even while being home. Just apply your base coat and paint the tips with metallic green. Fill the inner edges with detailed designs of black. This can even be achieved with a spooky twist and play of several colors. But the easier, the faster. So, try on this easy handpicked design which is enough to stand out with any costume of your choice.
Red White Black And Scary Af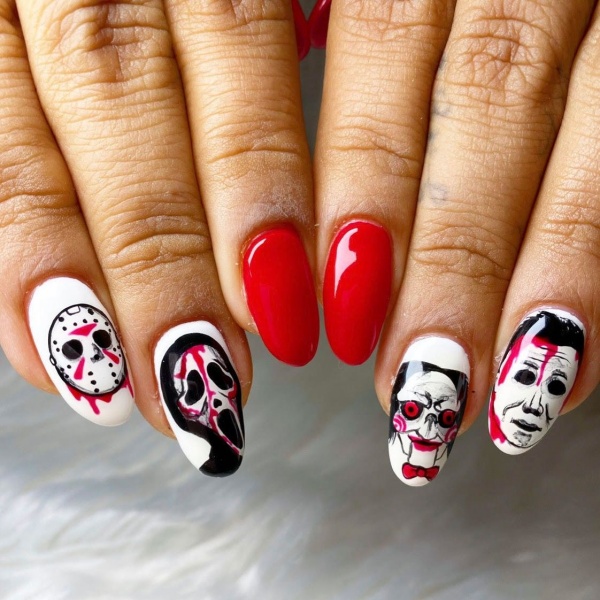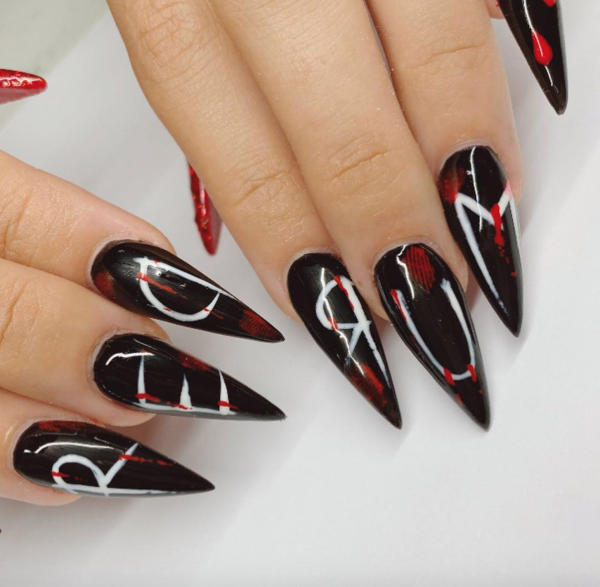 This intricated design also runs to draw inspiration from horror movies of the past. You definitely need shades of black, white, and red for this particular design. These creepy yet cute manicure ideas are so creative that they can suit anything irrespective of costume choice or the age of the person flaunting it. Once you are done with applying the coats with black or white, use a tiny thin brush and a dotting tool for creating the details with the bloody red color.
Glow-In-The-Dark Pumpkins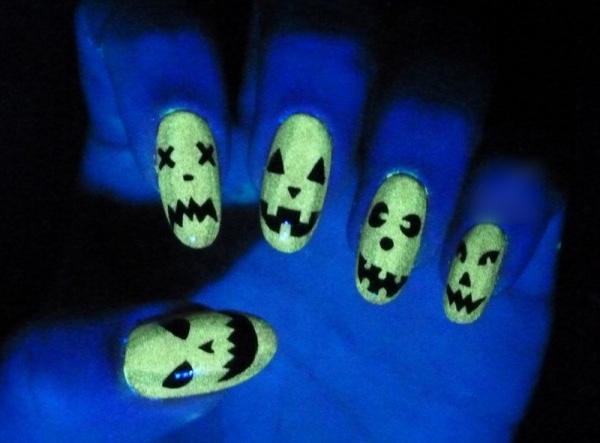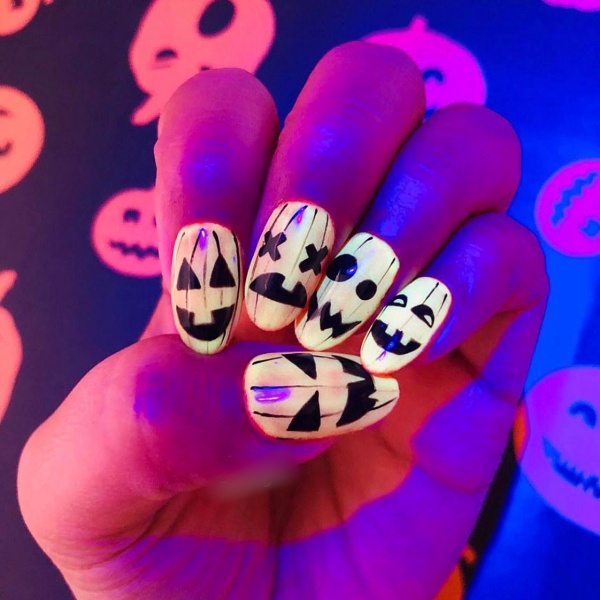 Pumpkins really add to the essence of Halloween preparations. So, a design featuring pumpkins is bound to stand out among every other Halloween nail art designs. This spooky glow-in-the-dark look which features all different pumpkin faces adds equal parts of fun and creepiness to the nail design. Create the base of your nail design in black. Then go on using a brush to draw the orange pumpkin faces. Be a little patient for the color to dry and finally show your new Halloween nail art to your friends and family.
Cherry Skulls Nails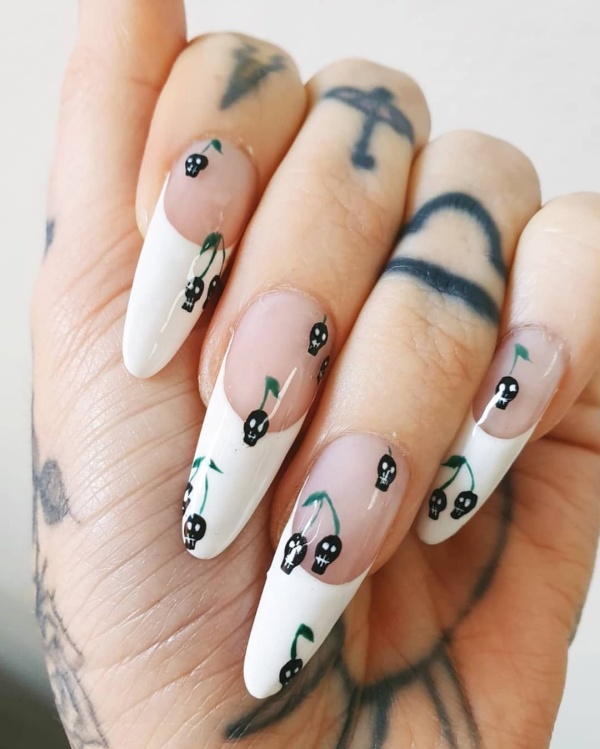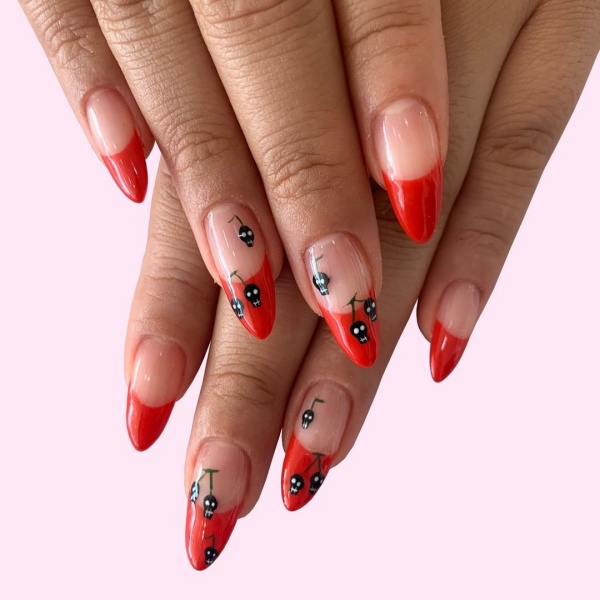 French tipped nails featuring tiny cherry details are quite common but have you ever thought of twisting it up with a spooky touch? An original Halloween twists to the look by replacing the cherries with itty-bitty black skulls. This is a nail wrap that you would never regret putting on.
Duo-Chrome Bats And Birds Nails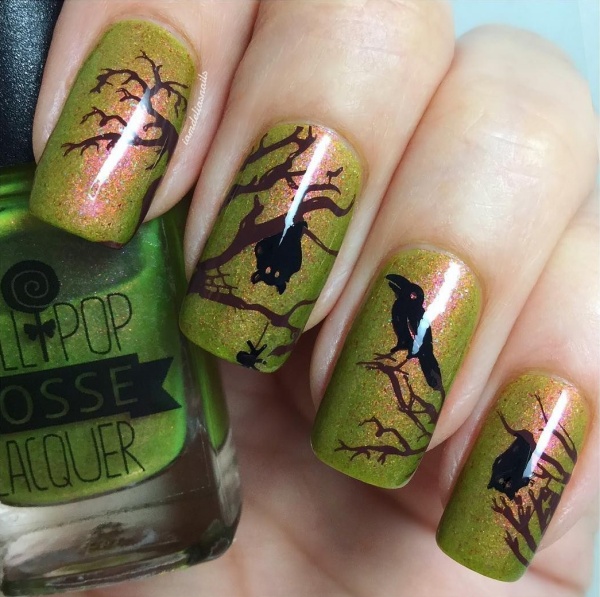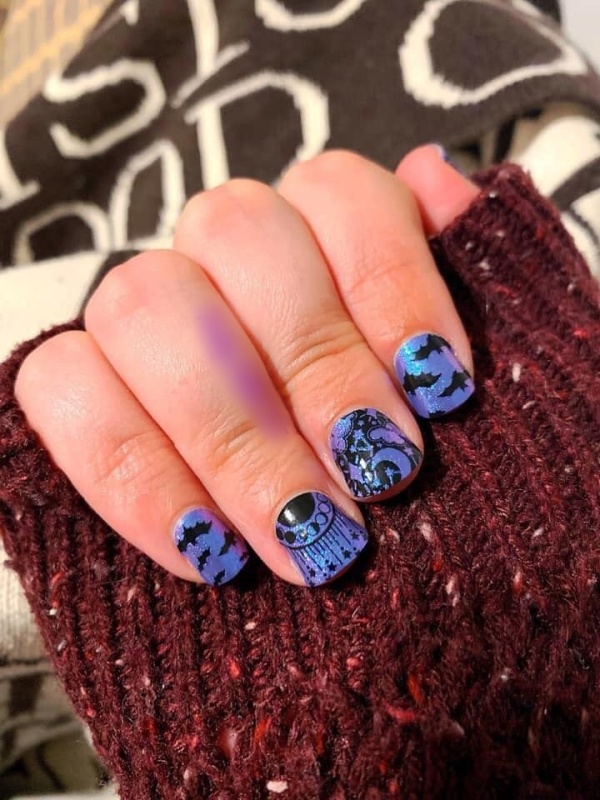 Crows and ominous trees are not really a popular choice for designs one chooses for manicures. A duo-chrome showcasing bats and birds is quite a risky yet worthy choice for a Halloween nail art design. You can use a polish that shifts between orange and olive green as the background for an eerie depiction of bats and birds hanging from branches. You can use stickers if you are a beginner, but this design can easily be pulled by a steady hand.
Glowing-In-The-Dark Ghost Nails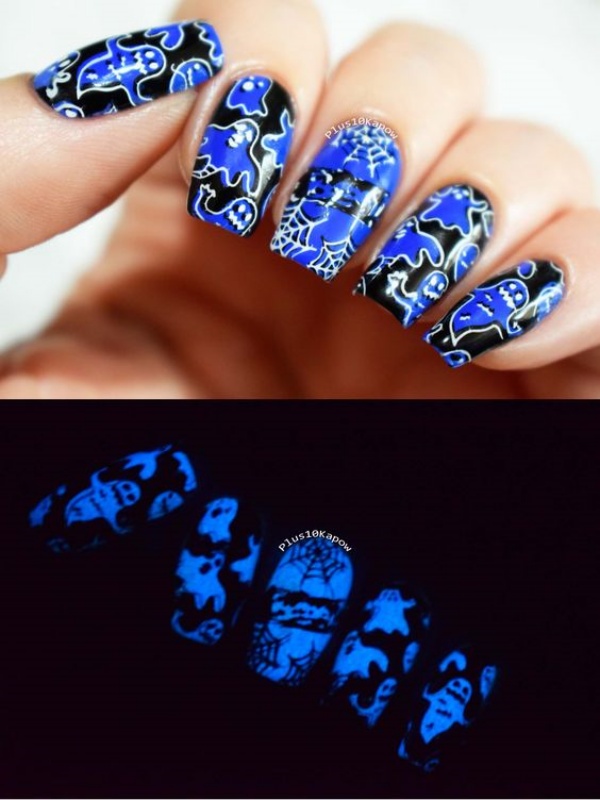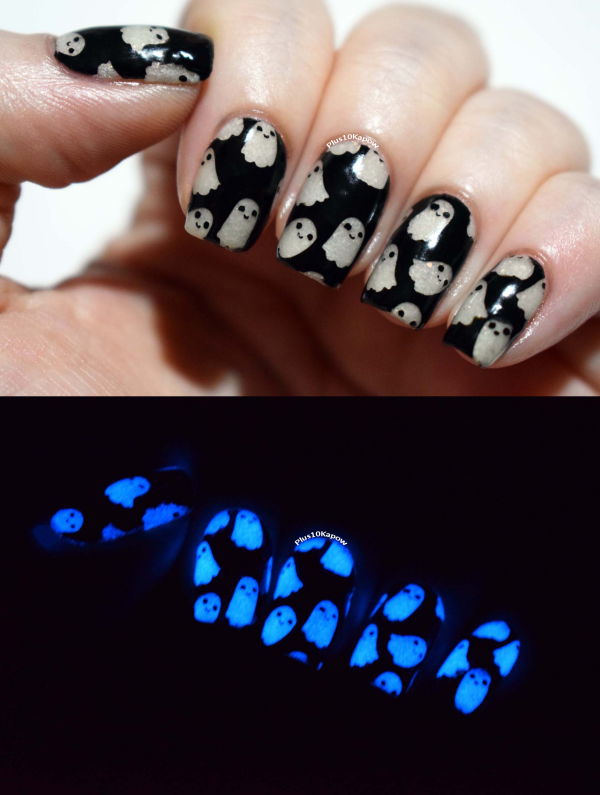 This glow-in-the-dark ghost look is quite creepy and scary but it is cute at the very same time. You can use some glowing ghost stickers, or try out designs using the glow pigment for pulling out this look. Simply place on a classic black nail paint and draw in the designs or place the stickers on top and you will be good to go.
Creepy Creatures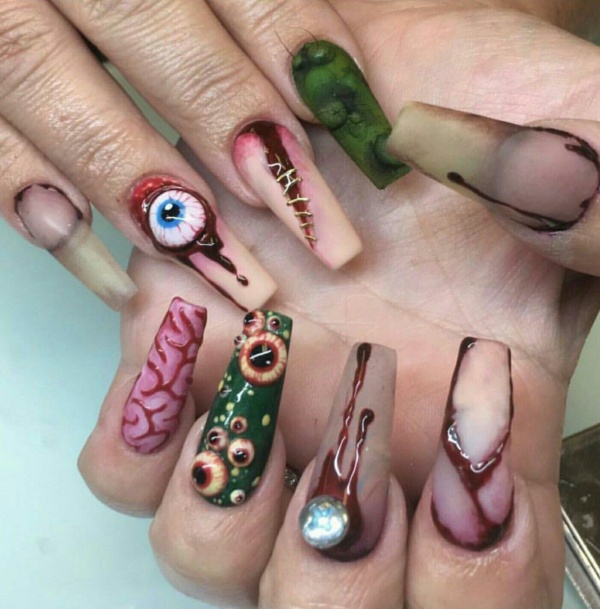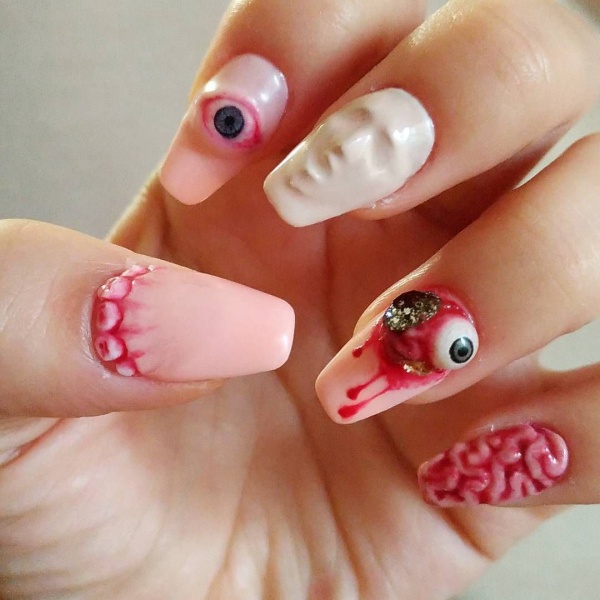 Creepy is the exact thought that comes to anyone's mind when they hear Halloween. Creepy creatures are the ultimate eerie Halloween nails. Halloween characters are a popular subject for nail art designs. Use your ordinary base coat and paint some crisp linework using a thin brush. For the full effect try filling your nails into some pointy triangular shape. Pullover any spooky outfit and this nail art is bound to stand out because creepy and spooky things and designs can never really go wrong in a Halloween environment. This crackle texture has a wonderfully spooky feel to it.
Red Rum Nails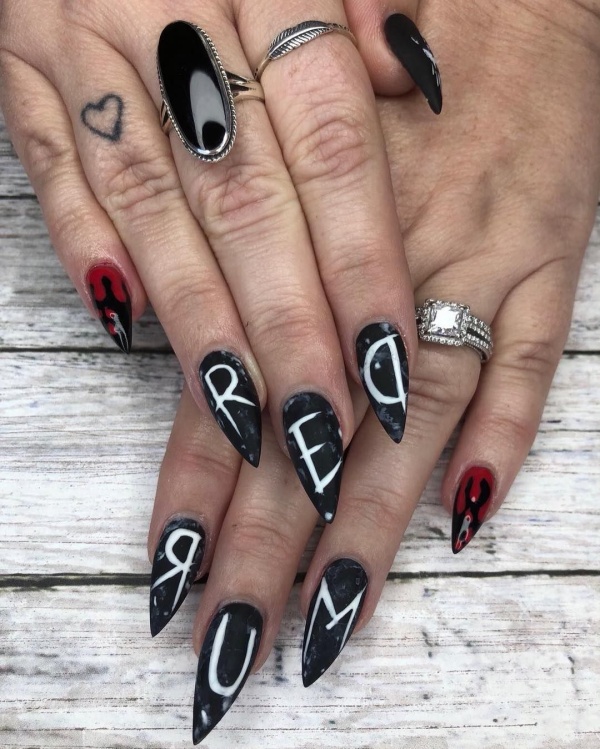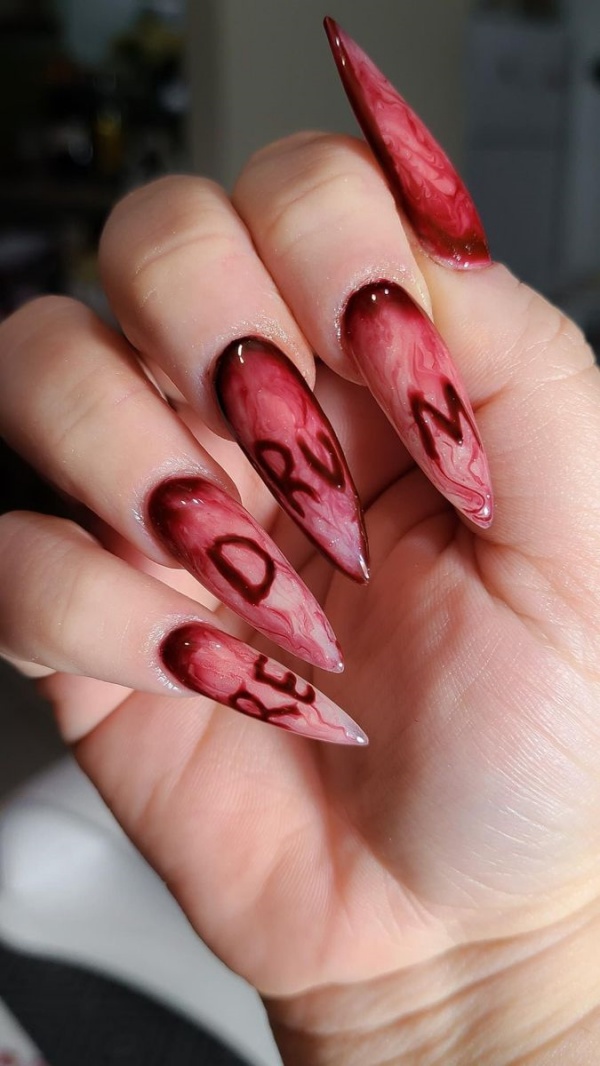 For someone obsessed with some rum down a glass in a classic horror movie scene, this is where to stop by. If you are up with some 80's horror flick, then this is the exact pick for you. Red and spooky is the exact pair you need to choose as your Halloween nail art design. This classic murder mystery manicure is the best to pull over with spooky Halloween stilettos. Apply your base coat and then apply two coats of red rum gel nail polish and top that with the base coat again.
Orange And Black Halloween Nails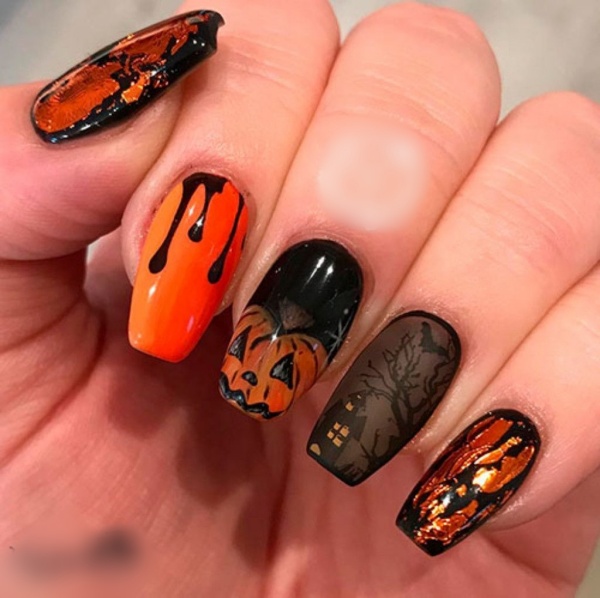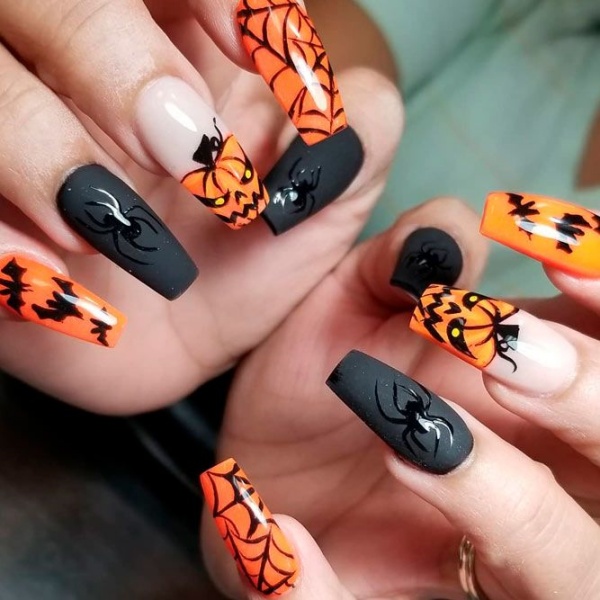 Orange and black is the classic color pair that most people choose the Halloween code. You can try this classic color pair in shades of neon or if you are up for some twists, then try the checkerboard pattern in shades of black and white and top it up with designs of pumpkin orange. As aforementioned, pumpkin orange shade and black can never stop standing out as a classic pair for Halloween, so this design is just beyond perfect for your nails. When stamped with some creepy creatures, the basic symbolics for Halloween, the whole design stands out to give spooky vibes because the orange and black color scheme can never go wrong.
Zombie-Esque Nails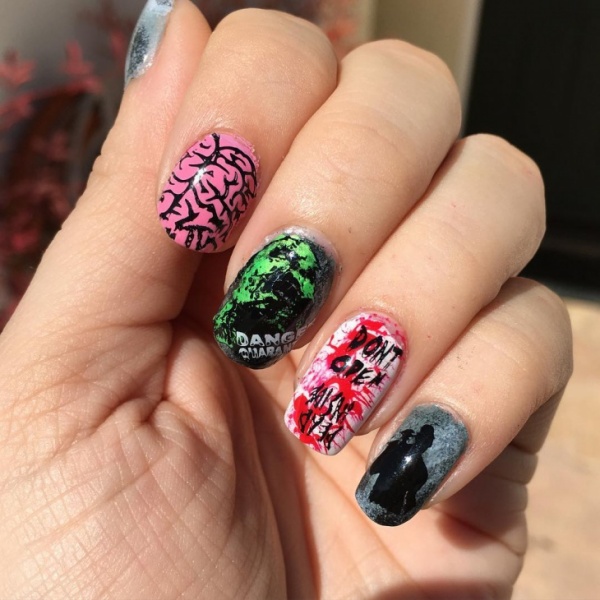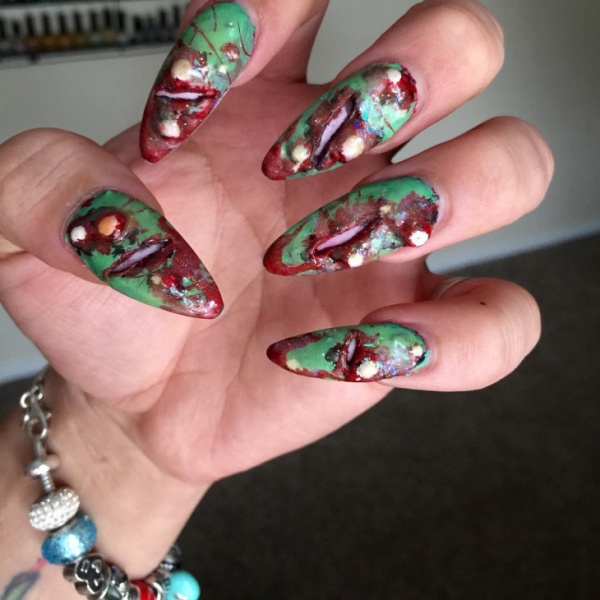 Are you among them who have spent a lot of their leisure time watching horror movies? Does the moment when the hands of the undead start emerging from the ground send chills down your spine too? Then, what are you waiting for? This art design is the exact way to put those moments into nail art by using a stamping plate, multiple green nail polish shades, and one black polish. You would sure look like someone just planted in a spooky murder plot with some haunting noises in an eerie background. The walking dead inspired zombie nails are so trendy and people have gone crazy over this, so surely it would be quite good if you pop up your nails in this zombie-Esque fashion for standing out at your Halloween party.
Bloody Vampire Nails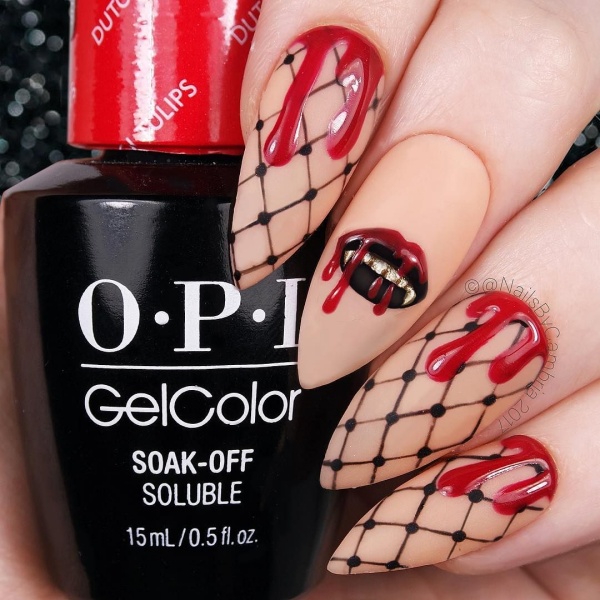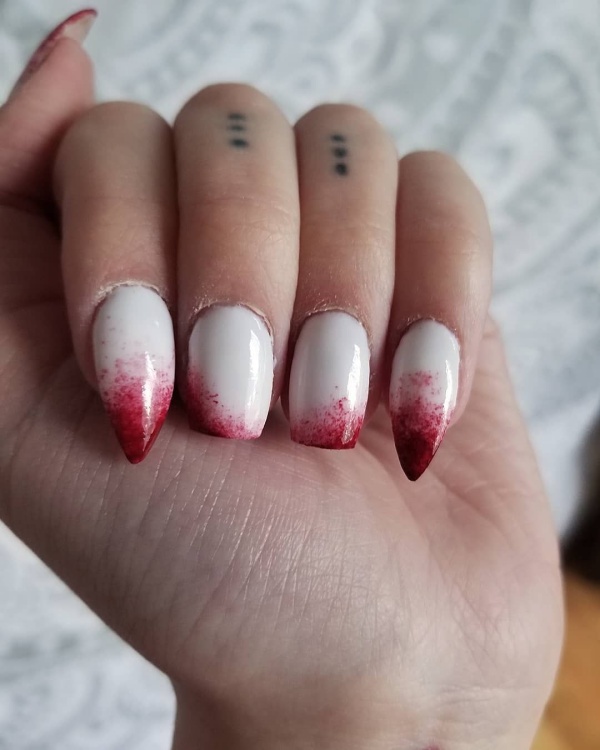 Halloween is fun because you have the scope to try and experiment with so many chic, sleek, spooky, cute, creepy, and scary designs. Vampires and Halloween stand a great bond because it is quite a preferred costume for many. Bloody nails will be perfect for any vampire costume you choose to pull over for Halloween. Vamp up your traditional black Halloween nails with this bloody French tip. You can easily create this unique design with the help of transparent nail extensions and a few shades of red. It exactly would look like blood dispersing through the water.
Blood Drip Nails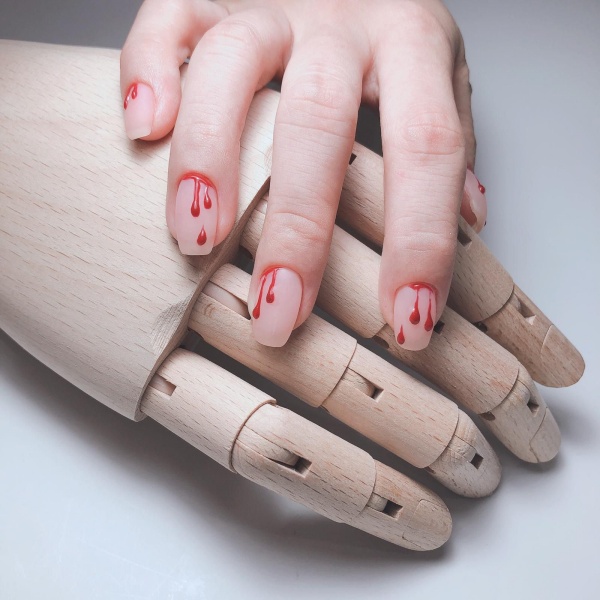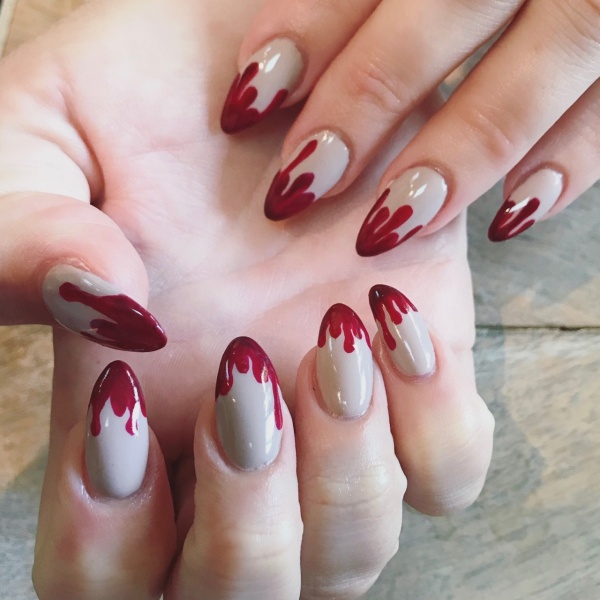 Halloween is definitely that time of the year when we go back to that scary classic horror where blood drips from the ghosts' neck or mouth. Would not it be amazing to incorporate some bloodshed into your nail art design for this Halloween? Blood drip nails would be the best to infuse Halloween spirit into your nail art design with blood-red accents on a white base. Prepare and paint your nails after filing them in the desired shape. Use a dotter tool to create the blood drips. Finish the look by imperfectly connecting the blood drops. These blood drip nails would be the most appropriate accompaniment and would definitely add a spooky effect to any costume you choose for Halloween.
Black Cat Nails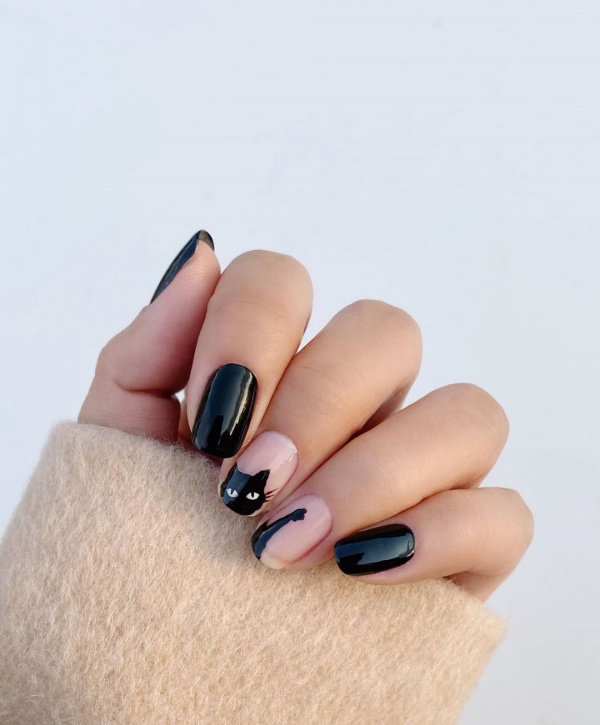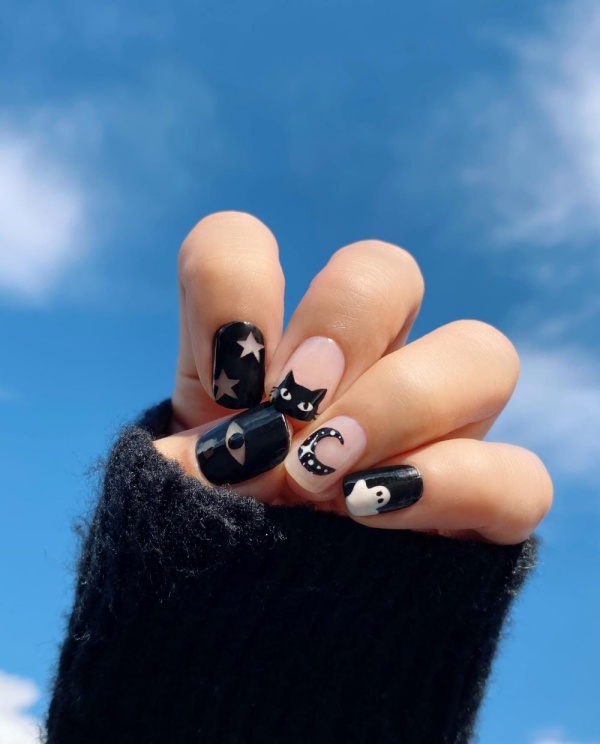 This is the exact design preferred by the Goths at heart because the bright oranges, purples, and greens which are primarily associated with the Halloween theme are almost over lively for them. This simple all-black design keeps things dark with an adorable black cat accent. These black-cat Halloween manicures can look really cute or really, really spooky. It all depends on how you pull over this simple yet crafty idea of Halloween nail art designs. This sleek and edgy nail art design is simple enough and can result in a home manicure.
Itty-Bitty Eyeball Nails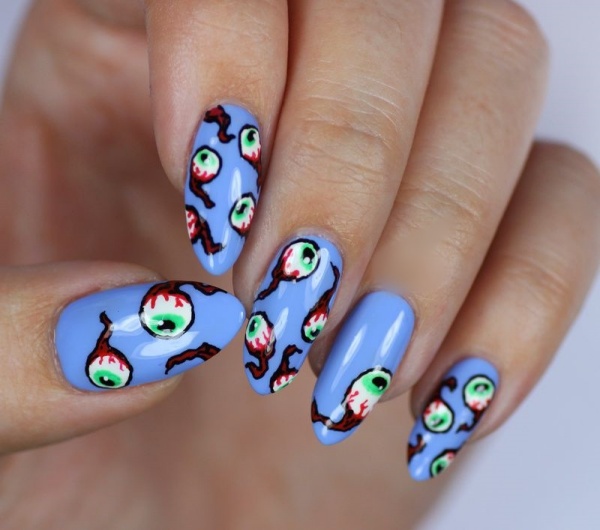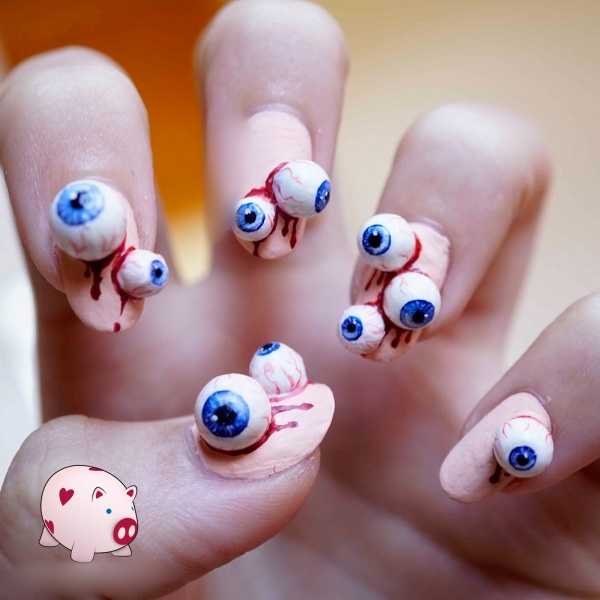 Eyeballs look good only when placed in someone's face, else they are quite creepy and unusual. What can be better than the itty-bitty evil eye wrapped up as a manicure design? Try this simple trick and paint bloodshot blue eyes at the base with a nearly-nude base. Use a thin brush for filling in the details and top off with the base coat once done.
Orange And Black Marble Nails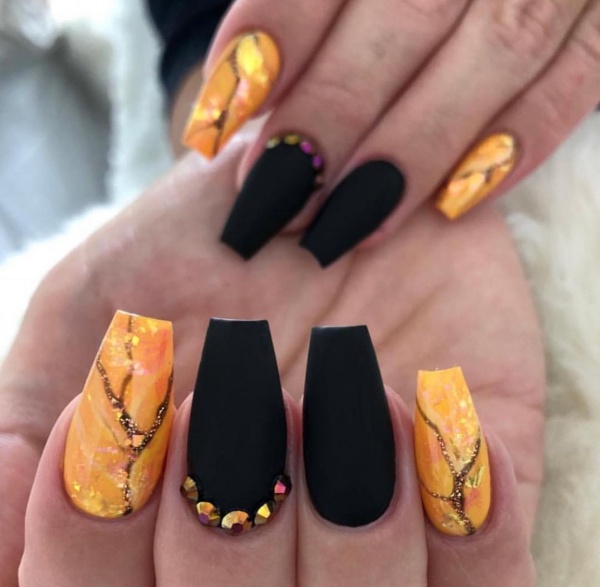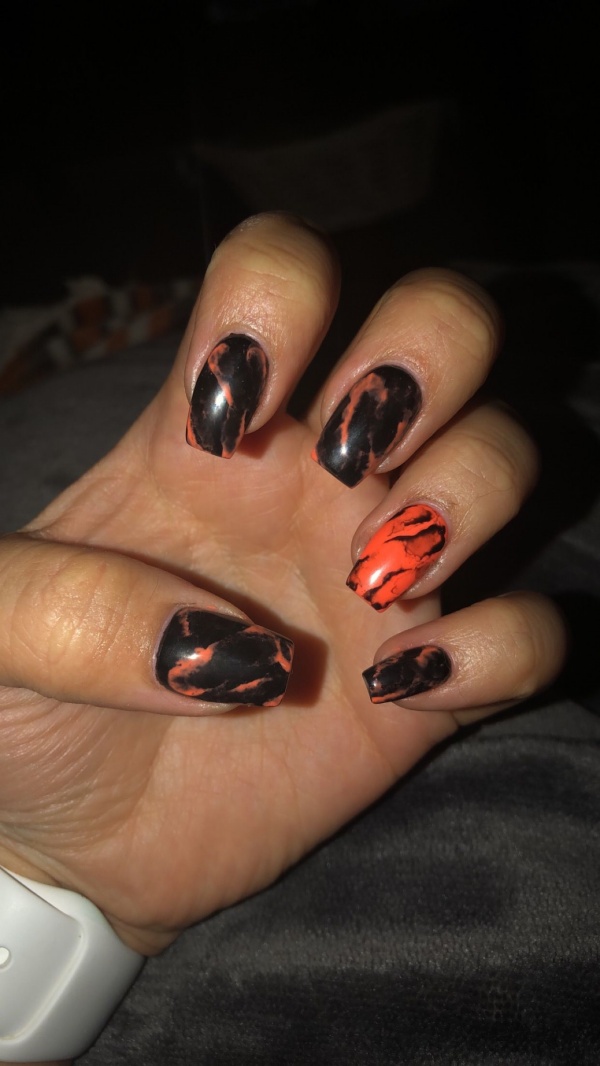 Contrary to popular belief, a marble effect is necessarily not limited just to the shades of grey and white. You can easily create a sophisticated yet spirited manicure with the traditional Halloween colors that are orange and black. A classic marble-styled nail with the traditional colors of Halloween is beyond perfect and can literally match up to any look or costume chosen. If you believe in the fusion of trendy and traditional, then don't hesitate from playing with this experimental nail art design.
Pumpkin Tip Nails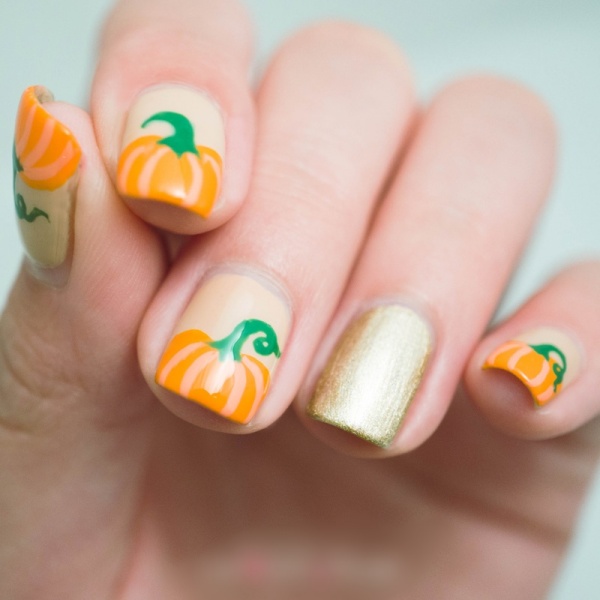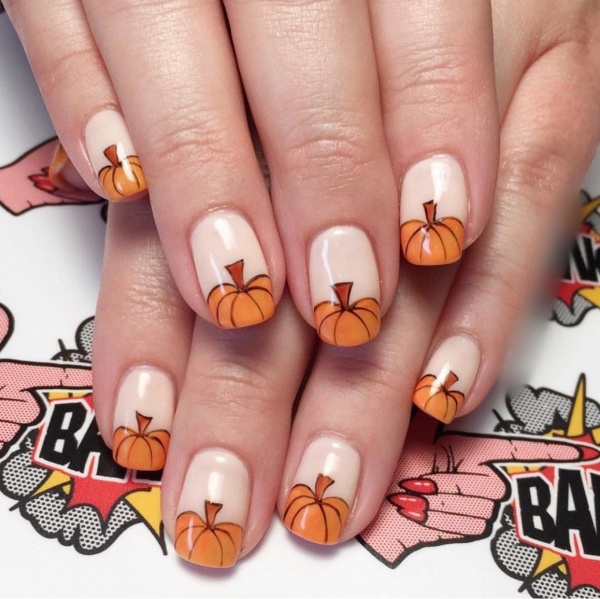 People preferring not-so-spooky styles, this is for them. This is a seasonal twist to traditional tips which is a quite common preference for all the above-average nail art designs. This showcases pumpkins atop a beige base. Paint your nail with a lighter shade and do the tips with pumpkin art shapes. Stickers can be easily used by beginners and stuck on top of traditional nail paint. This works beyond Halloween and thus is so popular among the designs preferred for nail art.
Blood Splatter Nails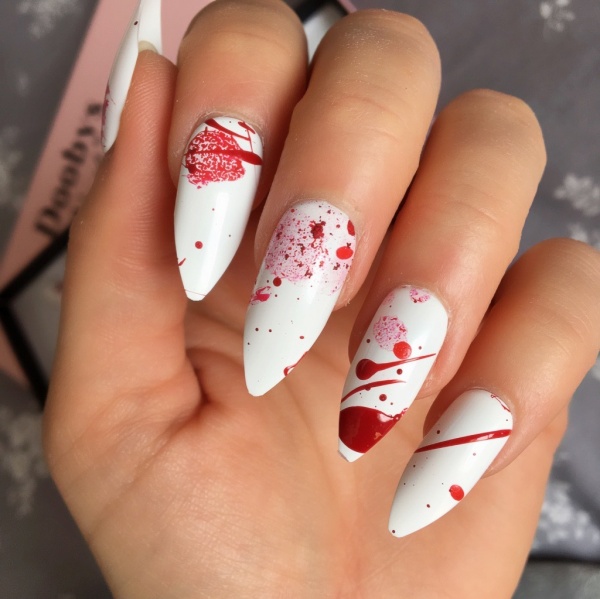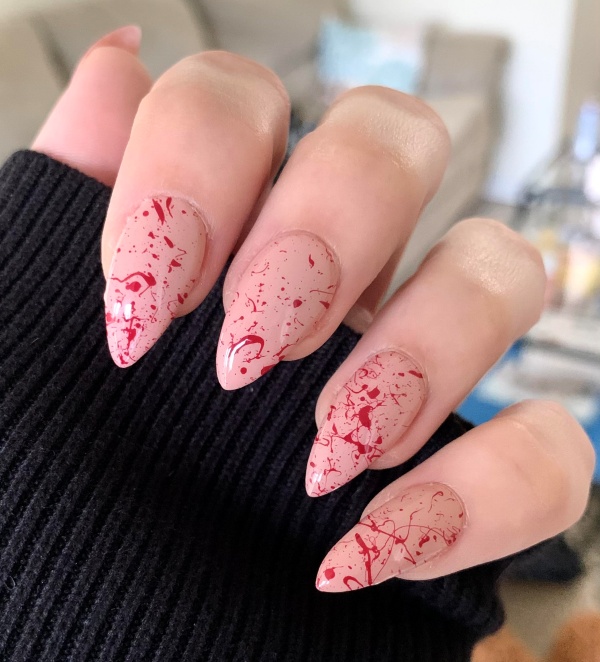 Bloodshed is the most evident symbol of our favorite horror movies and books. If you want to create some bloody murder-inspired nails, then the blood splatter nails would be the exact pick for you. Tape the skin around each nail with clear tape to protect the fingers from excess splatter. Place some drops of red nail polish into a bottle cap and mix some nail polish remover. Splatter paint with a cocktail straw and touch up the nails with nail polish remover.
Freddy Krueger Nails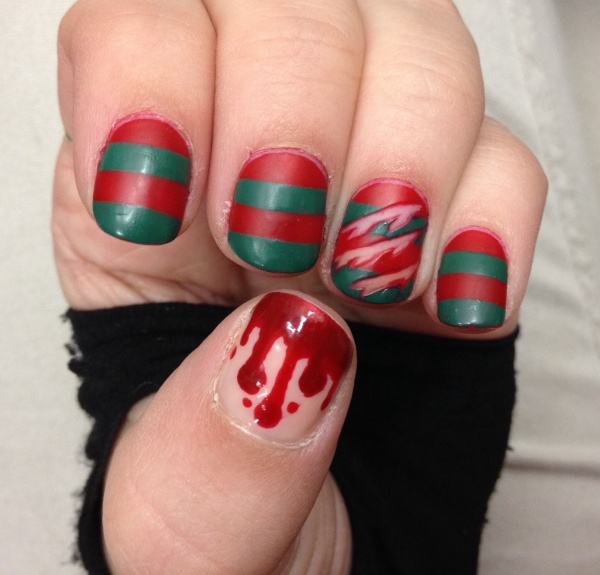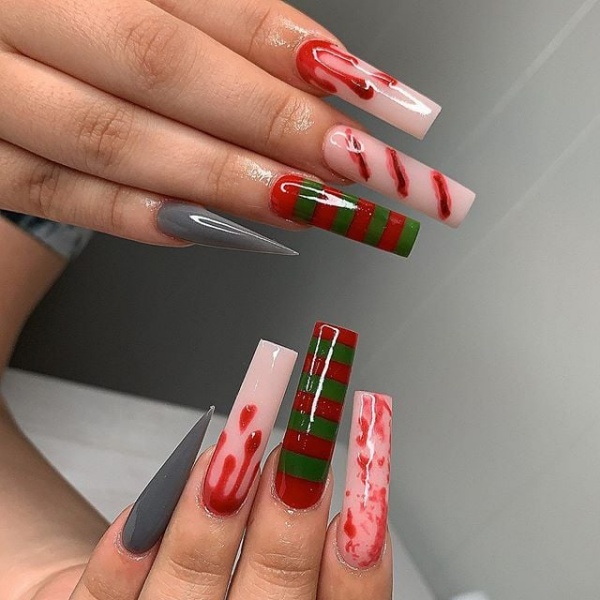 Why wear a glove to convey Freddy Krueger's infamous blades when you can just make them a part of your manicure? Yes, now your nails can be turned into those murderous blades with some play of colors. Firstly, trim, clean, and polish the fingernails. Paint a similar background color on the fingernails and wait until it gets dry. Cut the pattern and soak it into water. Moisten the fingernails and stick the patterns in position for achieving the ultimate appearance.
Scary Fang Nail Art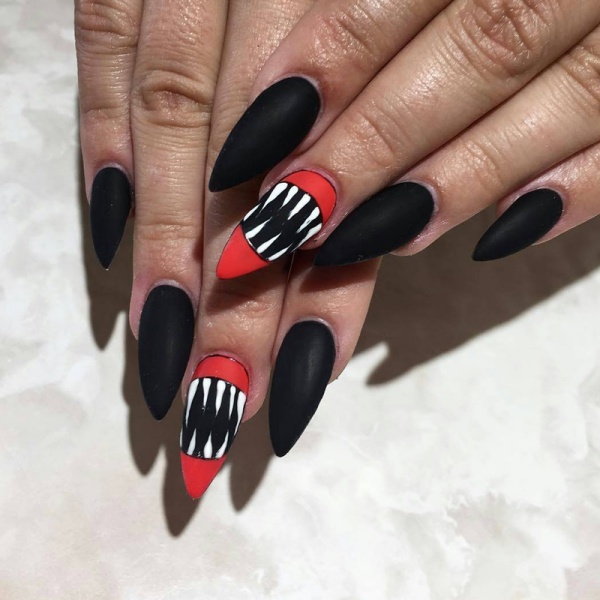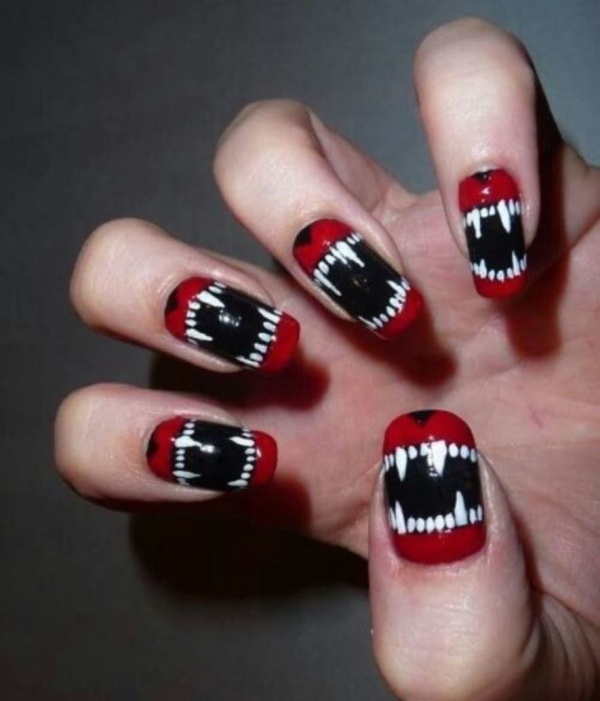 A little bit of scary and a little bit of cute choice for your nail art is here. When it comes to Halloween, we all expect scary, what if there is a cute twist to this spooky texture? You will surely want to sink your teeth into these gorgeous nails as this scary fang nail art is one of the best choices for Halloween nail art designs. Vampire fangs are the latest trend and the scary fang just adds another spooky twist added to it. These fellow goblins would just be the appropriate addition to your spooky costume and makeup for Halloween.
Unfinished Stitches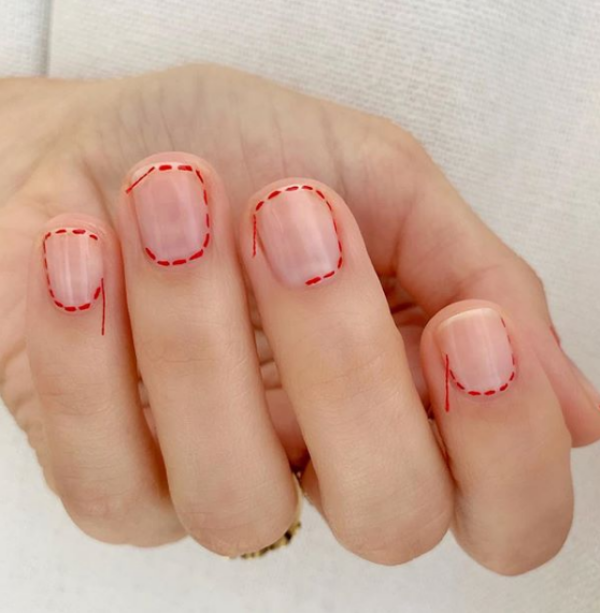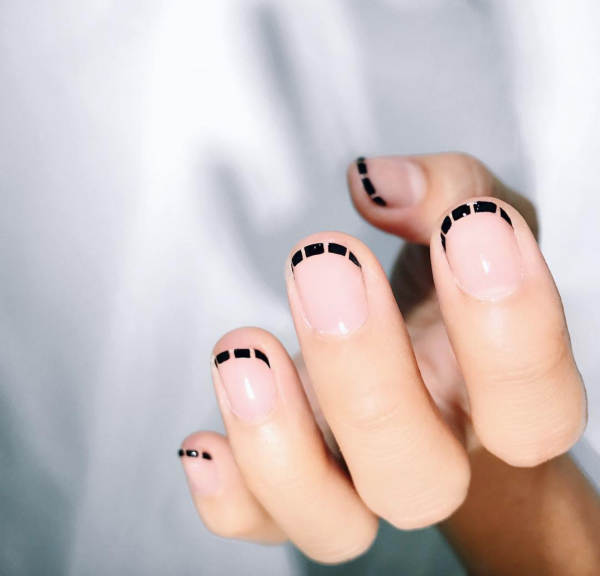 Whether you favor dark shades or tons of shine, this nail art pattern is just the exact pick for you. If you are searching for some cute designs for short nails, these unfinished stitches are just the appropriate pick for you. This old school and simple stuff work beyond Halloween and thus this is so loved. This is ahead of just creepy, cool, and downright unsettling nail art design. This modern and romantic nail art design idea is bound to suit any costume because of its subtle and cool look.
Phases Of The Moon Nails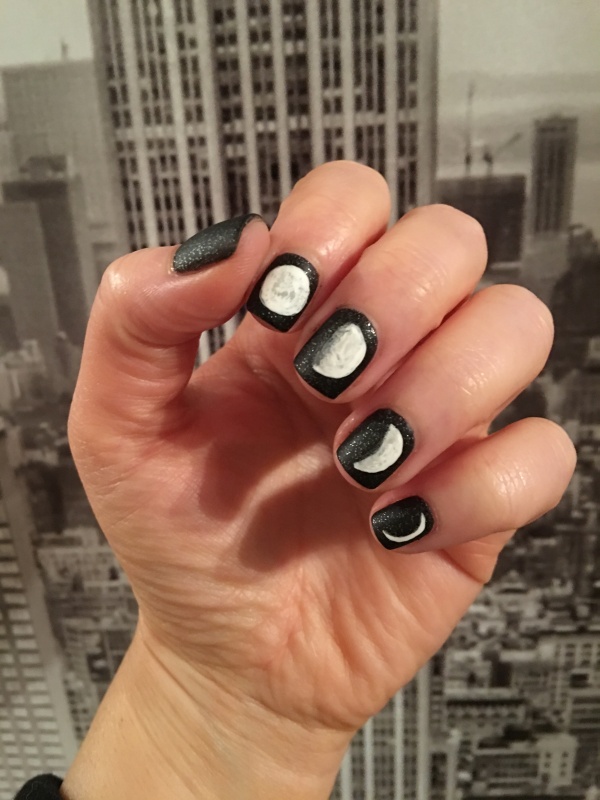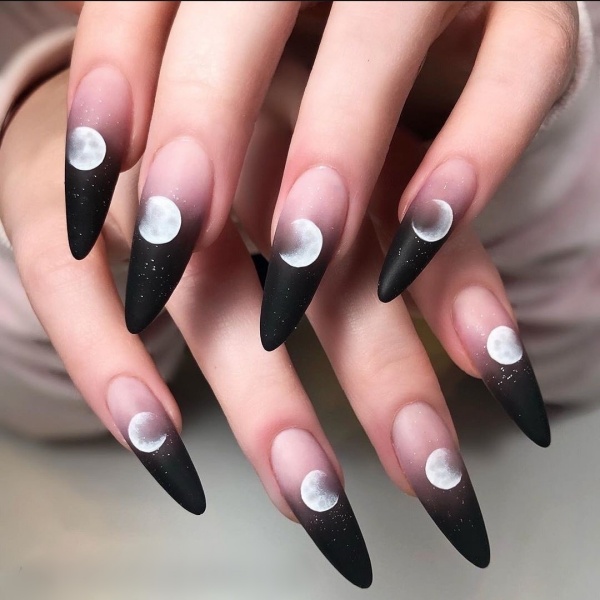 What is Halloween if it does not remind you of a full moon night with zombies around tombstones and vampires sucking blood? A full moon might be what brings out werewolves, but this beautiful manicure works for Halloween and every other non-monstrous day of the year. The black base and matte finish let the shading on the moons really stand out. Black matte designs never really go out of fashion. The phases of the moon nails is one of the most classic designs and is preferred as a Halloween look because it suits almost every sort of costume.
Mystical Flame Nails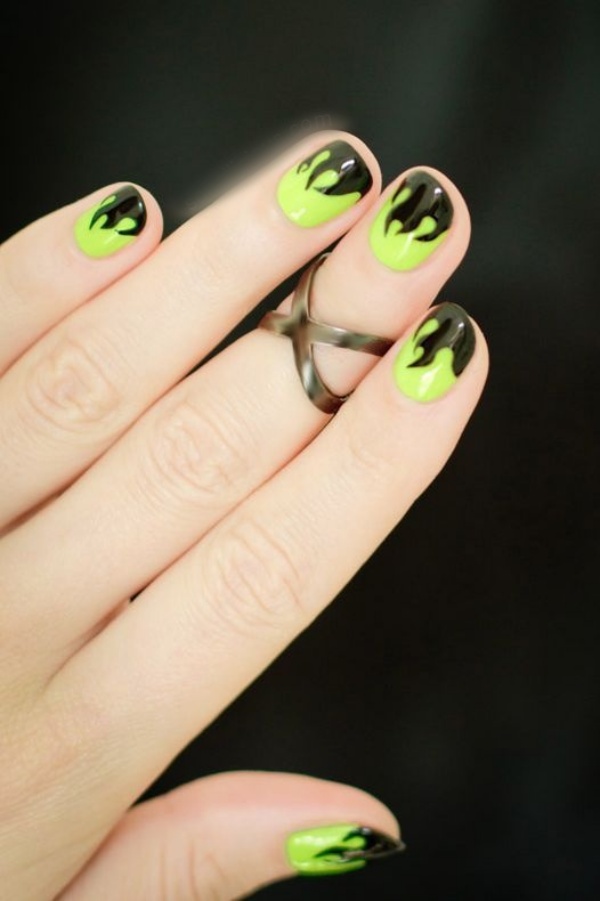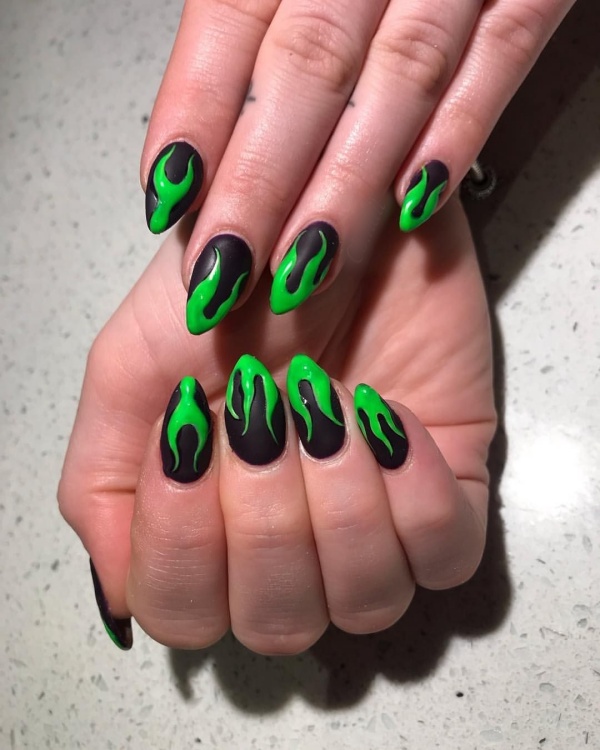 These sleek yet striking mystical flame Halloween nails are the best to trade in for this Halloween. Twist the traditional orange and black tips this Halloween and try some lime green nails with eerie flame silhouettes and voila! Your spooky look for Halloween is ready. This spectacular nail trend is one of the easiest DIY styles to try out for your Halloween nail art.
Striped Halloween Nails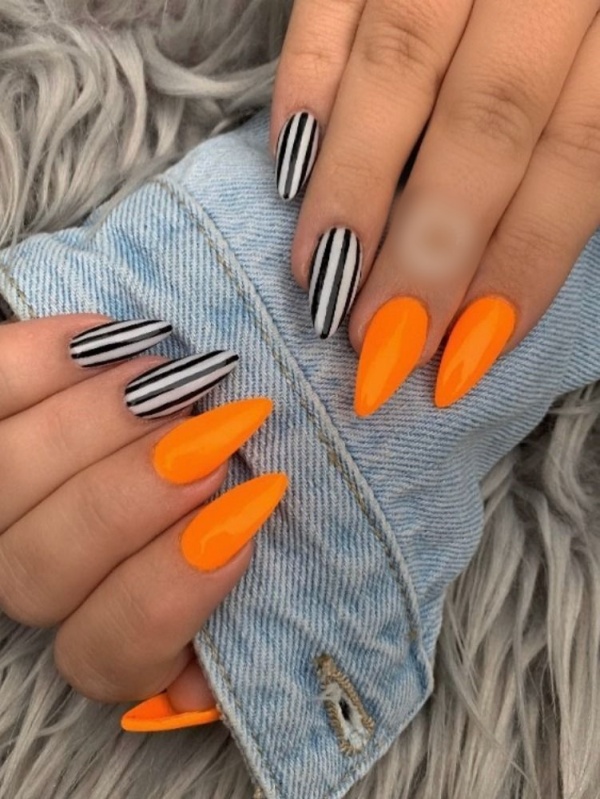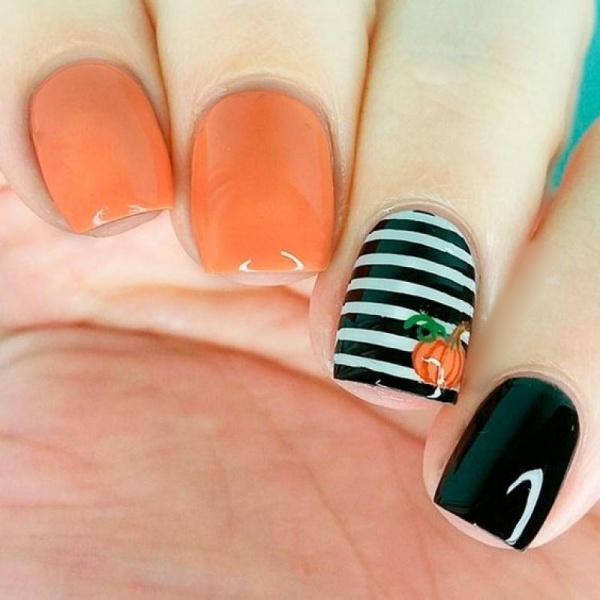 Striped nails are one of the styles which never go out of fashion. Black and orange pumpkin striped nails are the most preferred for a Halloween costume. However mixed shades never run out, so what is stopping you from experimenting? Bring on contrasting shades and try them over the black background. Putting on striped nails will not just enhance your costume but will level up your whole look. You can master this with black and neon-colored stripes or a cauldron and try fun experimenting with more shades.
Matte Candy Apple Nails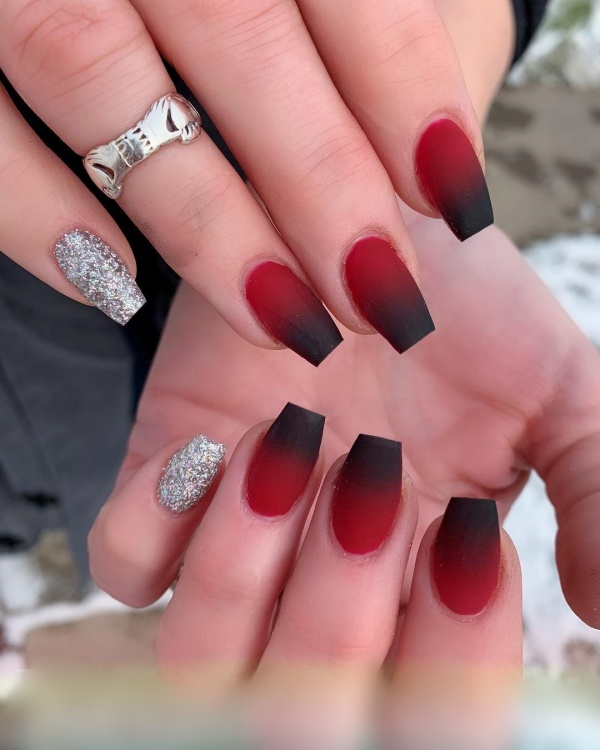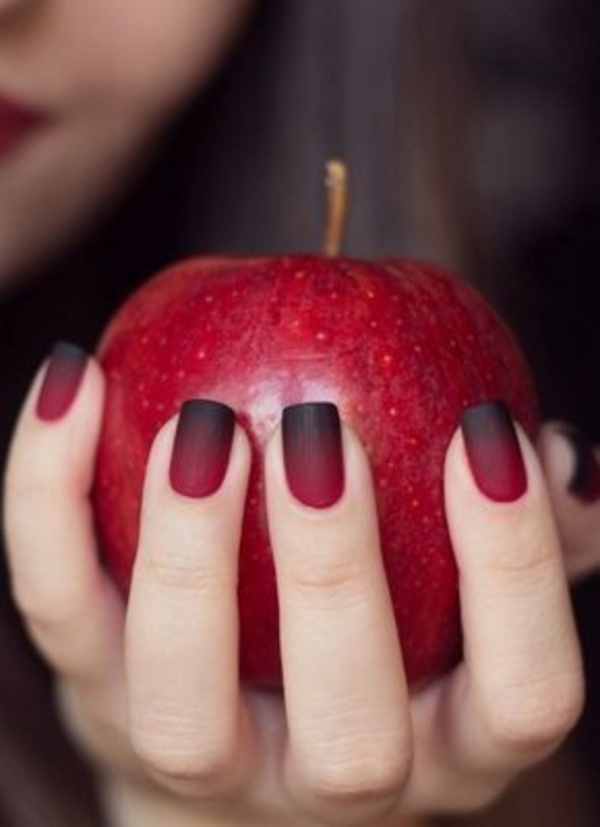 If you want to go on with some mysterious mattes to glossy finishes this black and red color splash is the best to proceed with for the matte ideas. This feature accent nails in a black color topped with an apple-colored shade. This would suit any traditional Halloween outfit and is good to go with spooky and creepy costumes.
Smoke Nails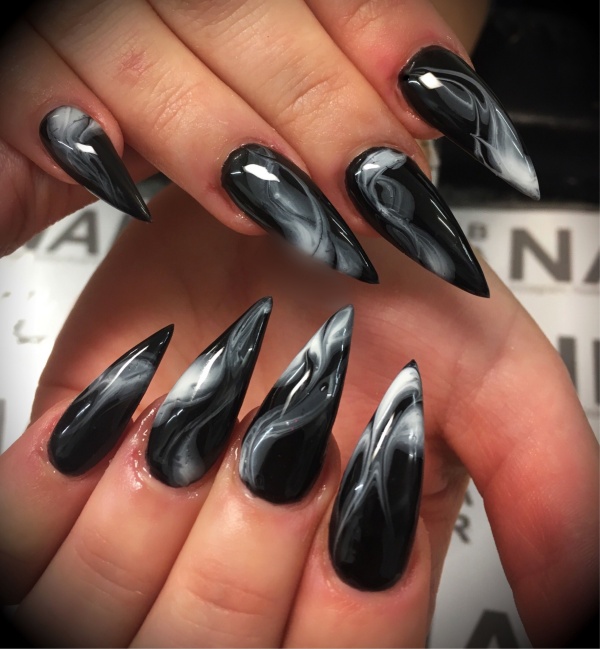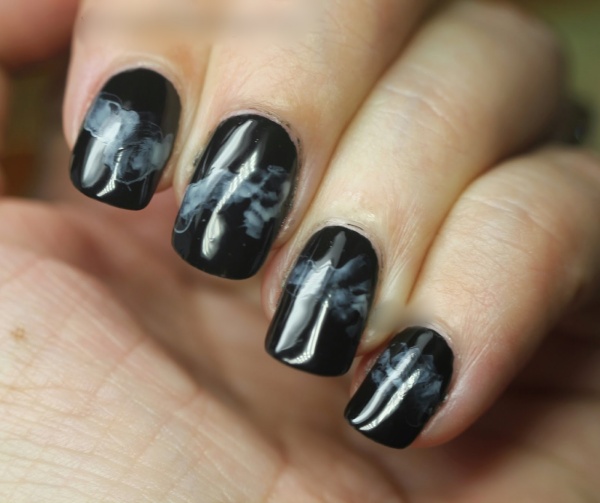 Are you looking for some spooky yet beautiful ideas for Halloween nail art designs? Check out the smoke nails, and it is obvious that it would please you because it stands out among the cutest and creepiest nail art ideas. the smoke nail designs look so amazing when they are enhanced with a mirror effect. This nail art idea is sure to bring on your outfit to the next level.
Green Gradient Nails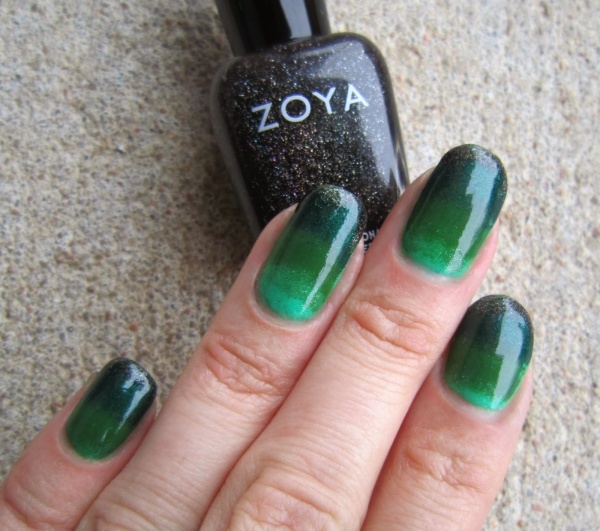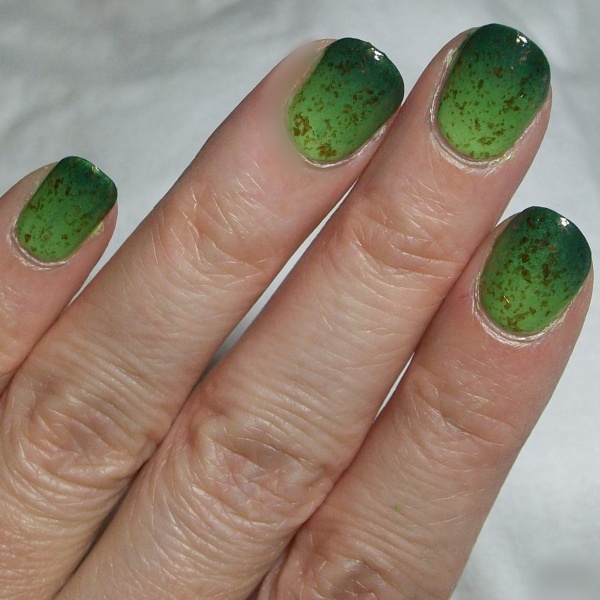 The ombre nails are one of the season's biggest nail trends. Try this with gradient green and this would just be the exact piece to go along with. You can even try this with some glowing glitter or stickers for redefining the traditional look. The next time you go to paint your nails, get along with a range of colors and not just a single one. Each nail getting a different shade creates a tiny gradient down your fingertips. This is so much in fashion outrunning the craze of monochromes and is thus one of the best pickups for you during Halloween.
Black Widow Chic Nails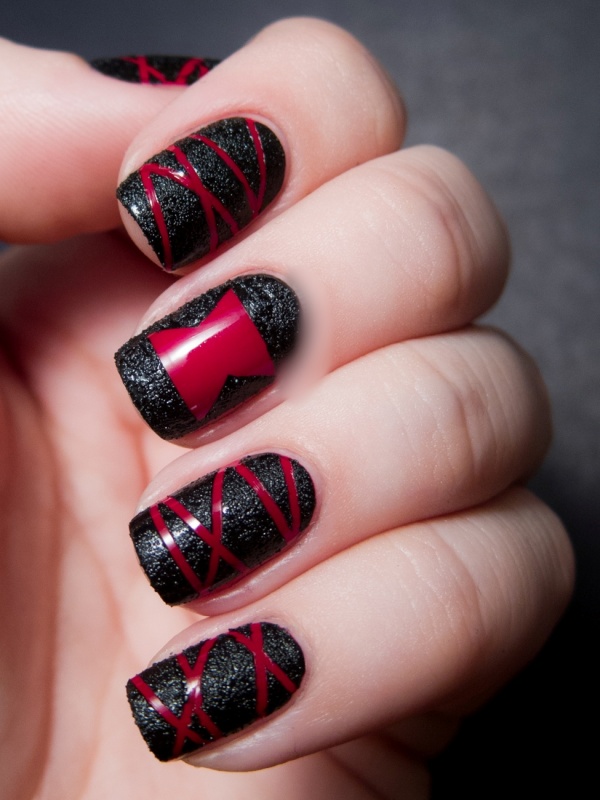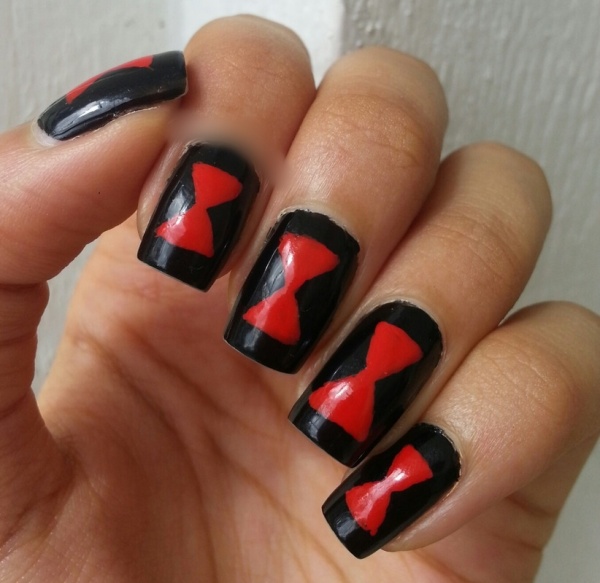 Halloween is all about creepy and spooky choices. What can go wrong if your choice combines both the vibes of being chic and spooky at the same time? Of course, your nail art choices need to match along with your sleek and chic outfit. Try out this black widow spider art tutorial, which combines sexy red nail polish with tough black textured nail polish. What more can a girl ask for if they have all the chic and spooky textures down their painted nails? This is the perfect Halloween-chic idea for nails that match with almost all the chic outfits you draw out from your wardrobe.
Liar Liar Nails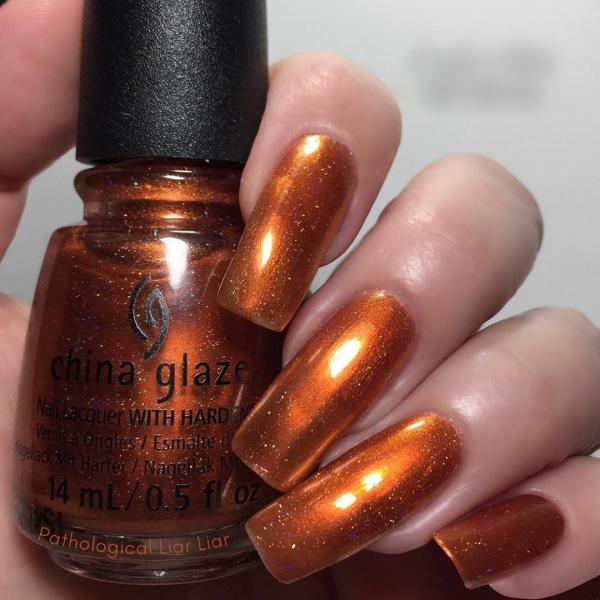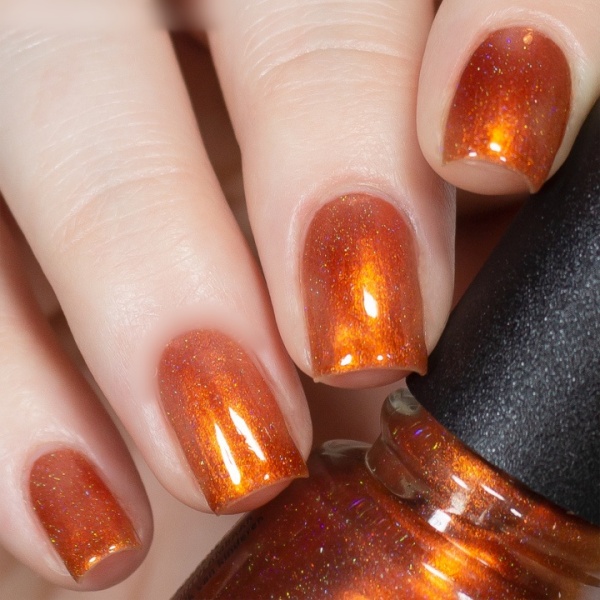 It is Halloween night and what can be more perfect for a perfect Halloween night with some glazed-looking nails? whether you want a tribute to your favorite scary TV show or simply want to passive-aggressively creep out friends, try this creepy nail painting with some shining silver or golden color. To substantiate this nail art, you can begin with creating a black base and gradually make the topmost design with shimmering colors.
Glittery Graveyard Nails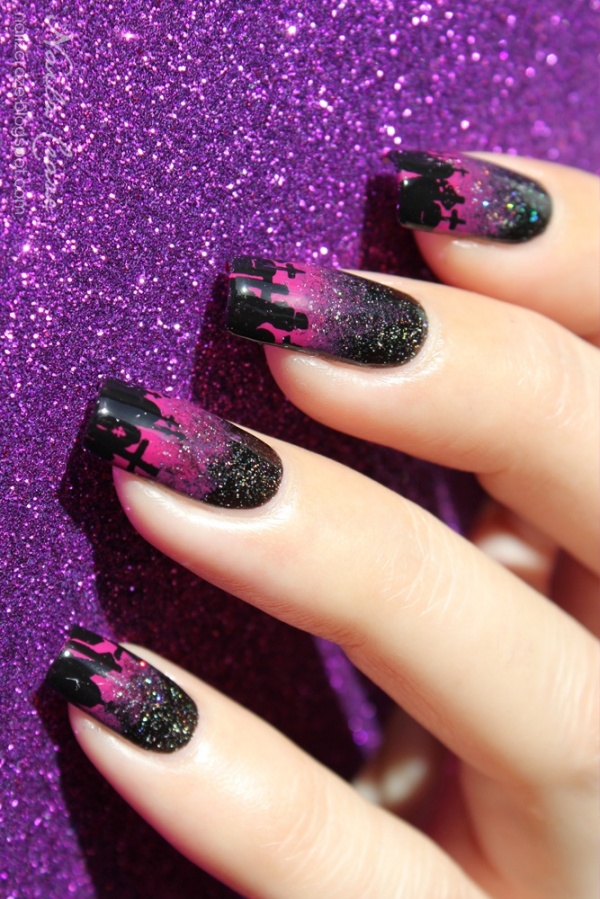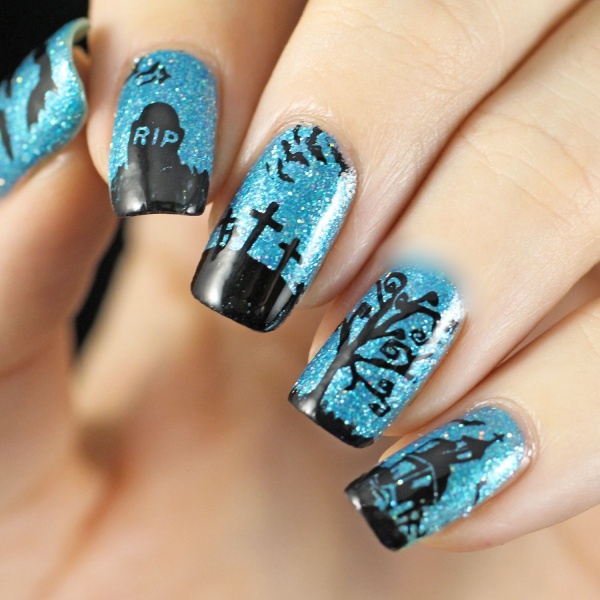 If you have a hard time finding what nails would go along with your spooky costume, the search ends here. Try along a blob of nail polish and stamp along with some graveyard designs on the primary coat. Get along with some glittery paint or simply stick small glitter pieces with glue. This spooky scary nail art is beyond perfect, because what can be scarier than an eerie graveyard? As along Halloween, the mood is all set for ghosts, tombstones, vampires, and zombies, this nail art idea can really not go wrong. These glitter nails are among the best Halloween nail art designs because they are spooky, scary, and creepy at the same time.
Conclusion
The spooky festival of Halloween has influenced Western people and adults and children around the world. The costume party is one of the most prominent reasons that has contributed to the globalization of this festival. The Halloween nail art designs mentioned in this article will deliver you some mind-blowing ideas to upgrade your look for this 31st October. For trying out these nail art techniques, you don't have to visit a beauty parlor as you can create them at your house using the correct tricks. So, apply these nail art designs to make yourself look hauntingly beautiful and set the trend in your coming Halloween party.
Related: