In this season, one of the most stunning and the hottest trending fashion, we have come across are the flawless fall nail designs that would be loved by all the fashionistas. It's time to kick all those bright and beach fingernail paint colors and cherish the fall umbrage like muted red, orange, brown, and even gold that are prominent choices for all fashion lovers.

The fall nails designs includes diverse and fascinating designs that are incredible to choose for the distinctive nail art. It is the latest fashion trend which is affluent and superlative. Add to your list for fall manicure design that would make you feel comfortable and extra voguish with the nail art effects.
In this article, we have rounded up 30 outright and best-loved fall nail designs for your outfit. So, what are you waiting for? Do plan your next action to endeavor the various fall nail designs that suit you the best and make you more fashionable and voguish with the trend.
Pretty Nail Art Ideas For Fall
Fall Leaves Nails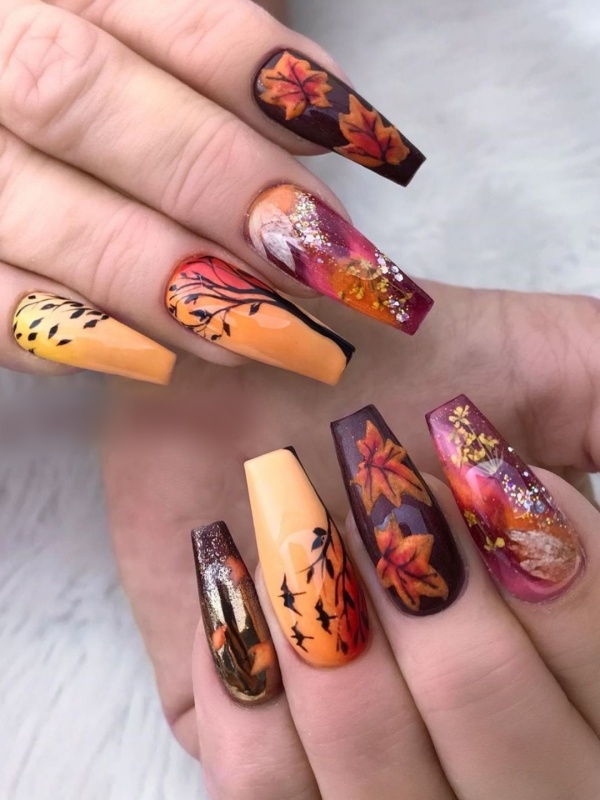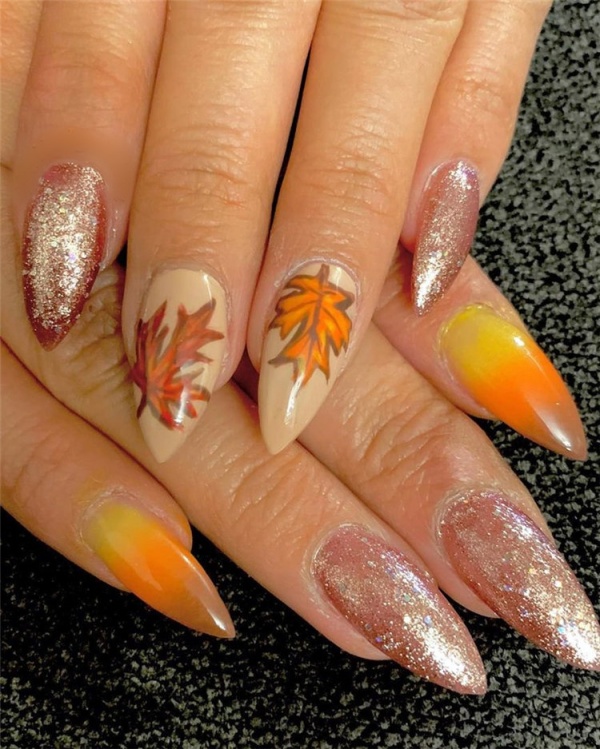 The super way to tune with the cooler season and remain stylish is to get your fingertip with this delicate artwork of fall leaves nail design. The falling leaves truly represent a fall with nature-inspired colors and add up a high fashion twist keeping you looking elegant. Fall leaves nails are always in trend with the falling season of leaves in 2022. This masterpiece of artwork is applied to the tips and ends of your nails with vibrant colors. So, it is the perfect time to try it.
Column Chart Design Nails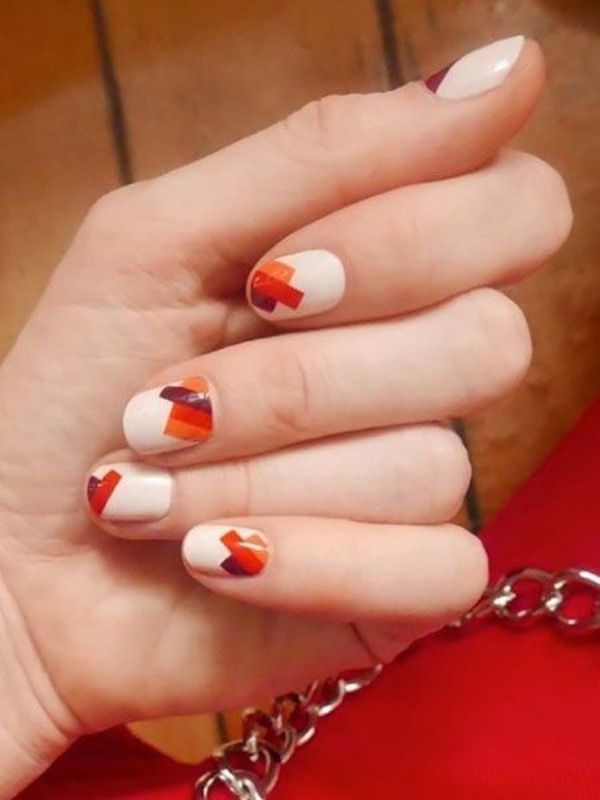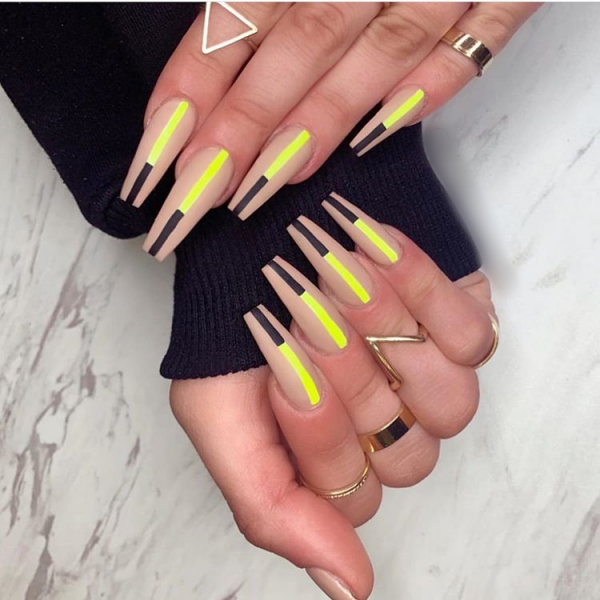 No matter what nail length and shape you have, this column chart design will surely be admired and match with all your stunning outfits. The jazzy and the spatial design are inspired by the column chart and the various shades to highlight it is best for this fall season. To add up more colors and design on this fall nail, use small nail tapes to place on the style of your choice and also change the position on each finger. Apply the fall colors with an extra coat to add a glossy and gleaming look to it.
Mustard Nails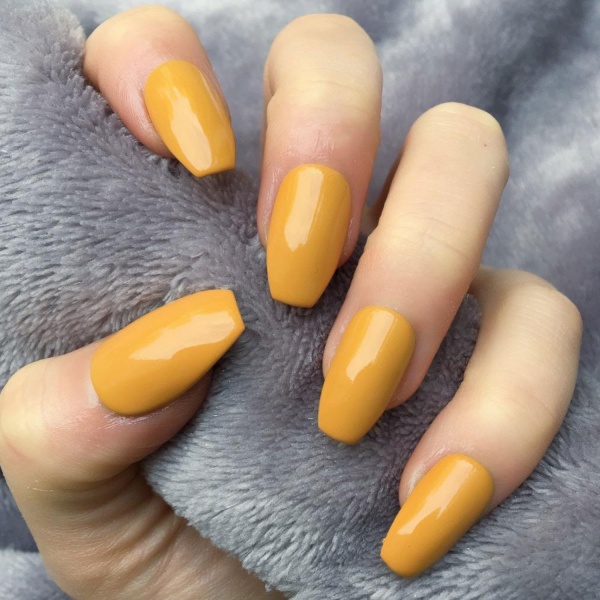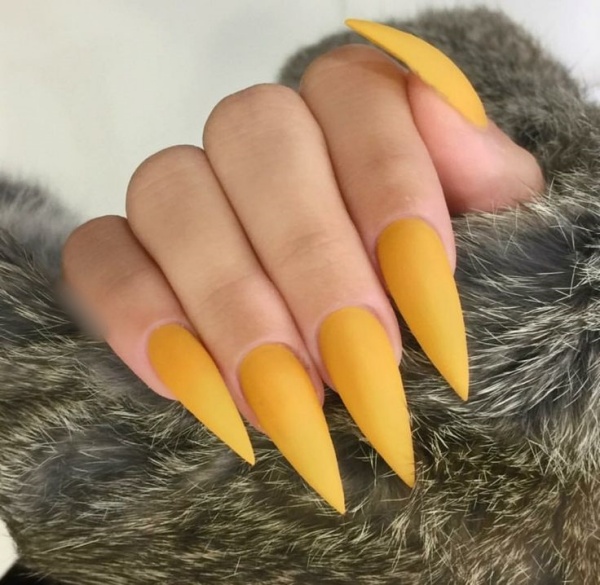 Though Mustard nails are elementary in design, it snaps perfectly on everyone. It is one of the most remarkable colors of the falling seasons and best suits all your wardrobe shades like grey, blue or brown. Among all the fall nail designs, this is quite simple to apply and also features the perfect shine that matches all the skin tones. Apply a top coat for an eternal effect. The fall nail designs have hit the fashion world and are sure to take place in everyone's heart.
Marble Effect Manicure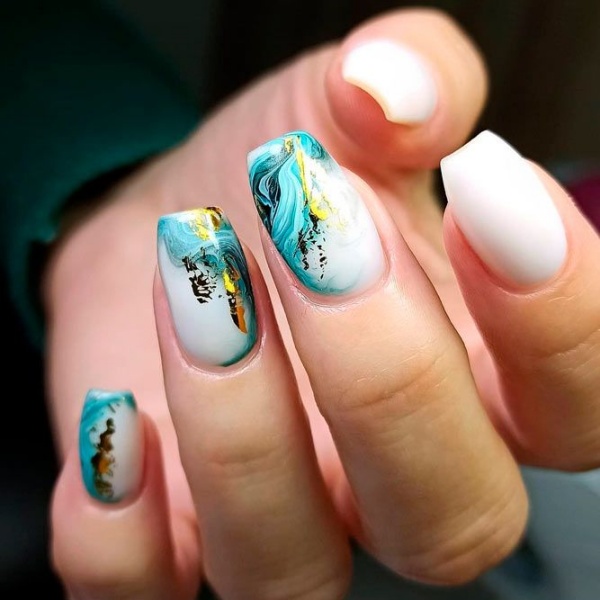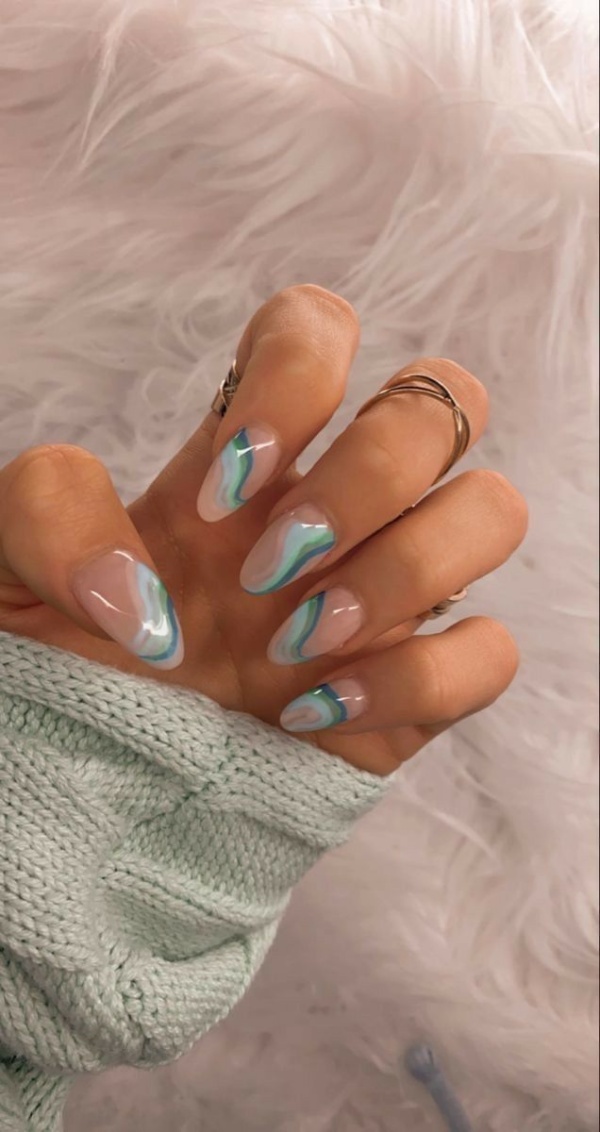 This is one of the coolest motifs from the range of the fall nail designs and of course the trendiest of the season. The marble effect manicure features outstanding fall colors including rich purple, warm oranges, and more which make it a perfect falling accessory. The swirls of the nail brush flow across each fingertip and leave the bare nail to the maximum for the natural effect. With the addition of pink and white shades, the nails look beautiful and extravagant when it is done accurately. This nail art design is perfect for any length and seems to alleviate the eyes.
Friendly Ghost Nails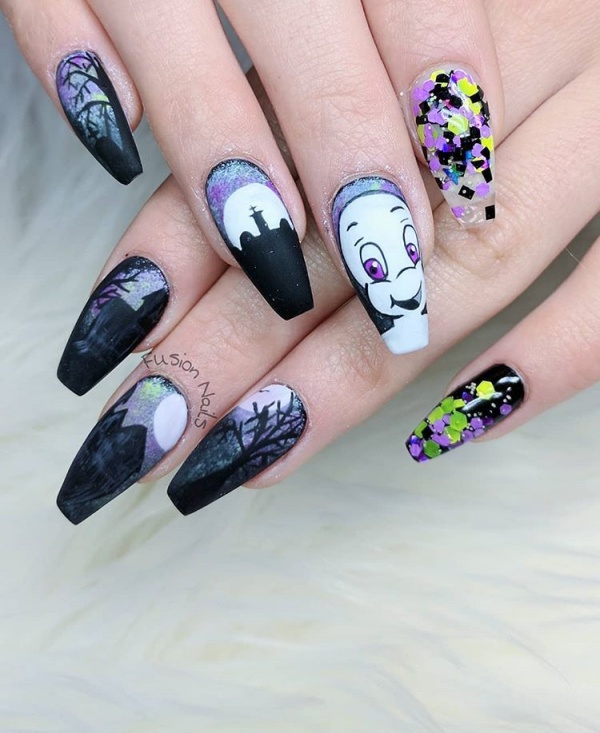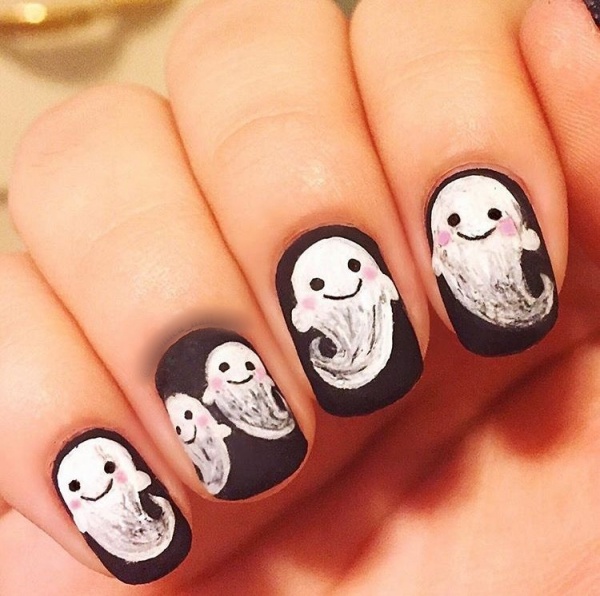 When you are all set for Halloween 2022 look, turn your fingernails with the ultimate friendly ghost nail falling design. This fall nail designs will surely elaborate your awesome outfit and make you look more frightening than the rest of the crowd. Paint your fingertips with a pink manicure along with the scary nail art that has a ghostly crumple. End the whole process of nail art with the topcoat that gives a perpetual effect.
Starry Nails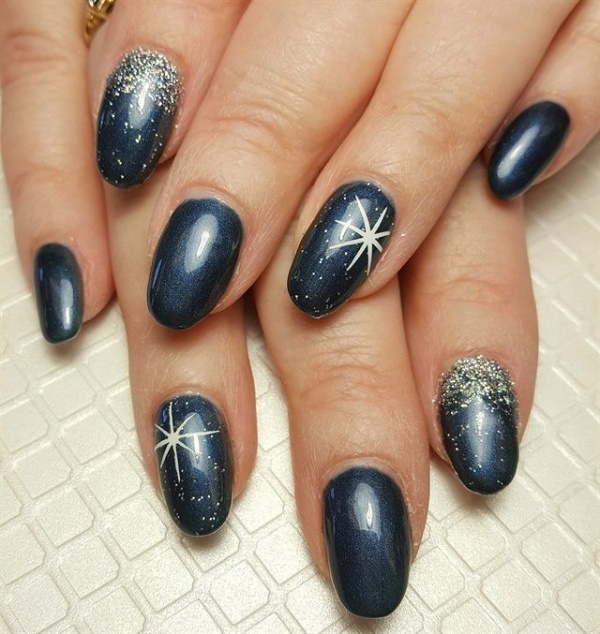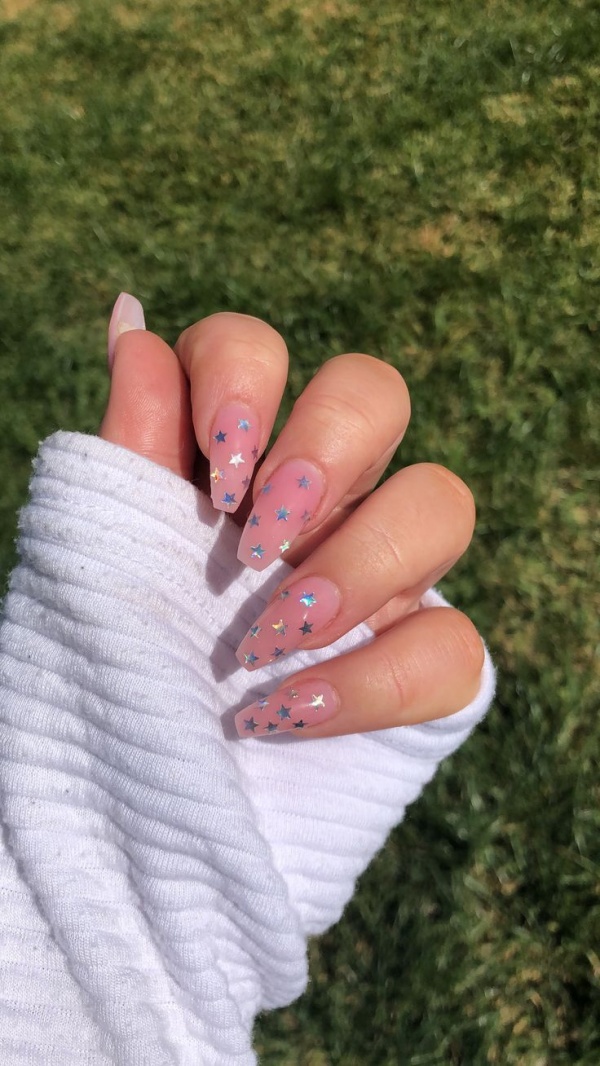 Starry nails are all-time popular from the list of fall nail designs. It will make you feel like a star with steady patterns that are extraordinarily dreamy and engrossing and you can easily pair up with your outfits. This masterpiece of art requires the least effort as it could be easily applied to your nails. The golden or silver stars look fabulous on the black or Navy-blue base that will make you stand out from the crowd. Make sure to keep your nails well-shaped and crystal clear before applying this artistic nail art.
Plaid Nails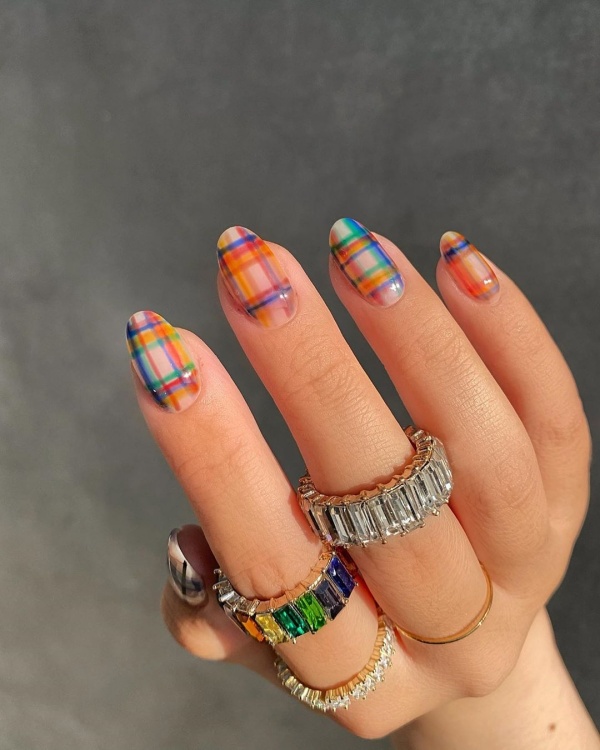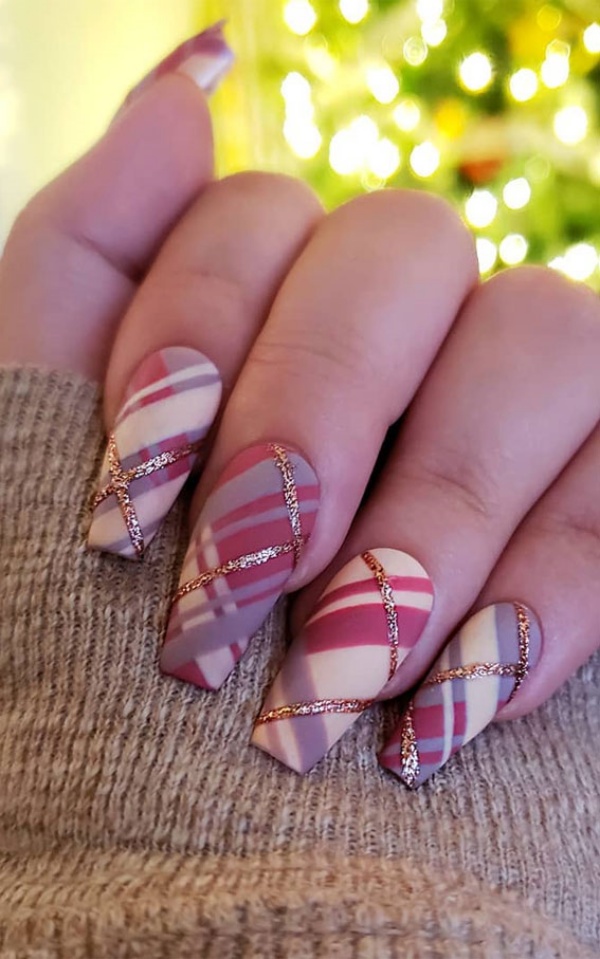 Throughout the year 2022 there have been many exclusive fall nail designs, where the plaid nails have made a place and perceive conventional too. Enjoy and allure the wide range of plaid with a twist on a classic. This hit nail art is impressively different and adaptable. The beautiful manicure has made itself one of the voguish names of the trending fashion, and is sure to retain its position for a long time. This style is also a great one to enhance your overall style and look.
Rainbow Stripes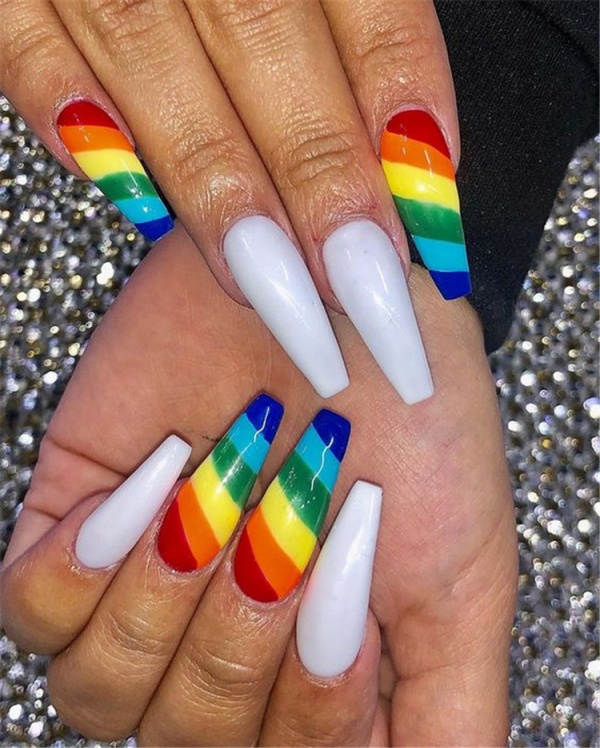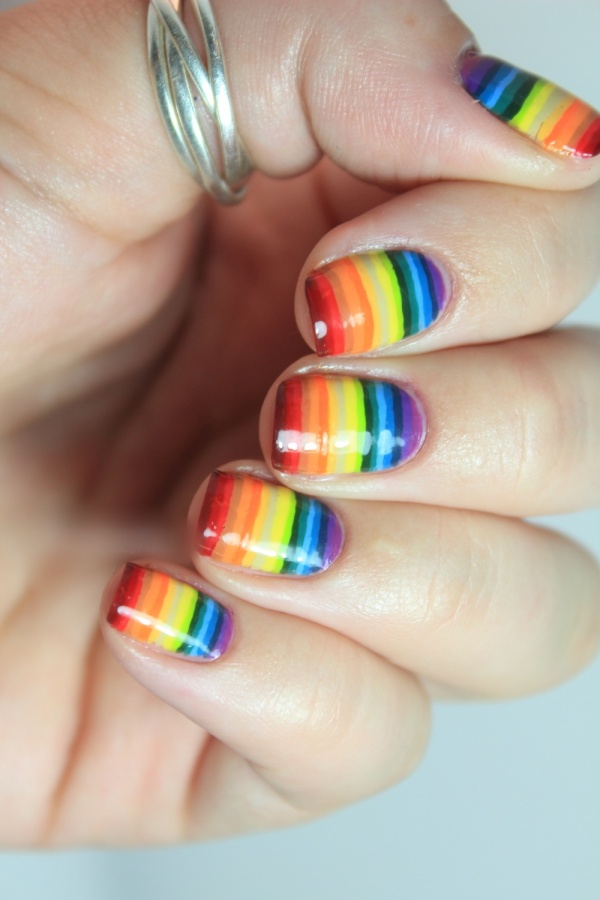 When the Sky is full of rainbow colors in this autumn season the perfect match to hit this season is the rainbow stripes from the fall nail designs that will look amazing on each fingertip. As per the name, it is the mixture of various colors on one fingertip that makes it more beautiful. This is a super cute manicure that is perfect for this falling season. To make it more appealing and alluring you can also apply some embellished stones or glitters that suit your style.
Metallic Gray Nails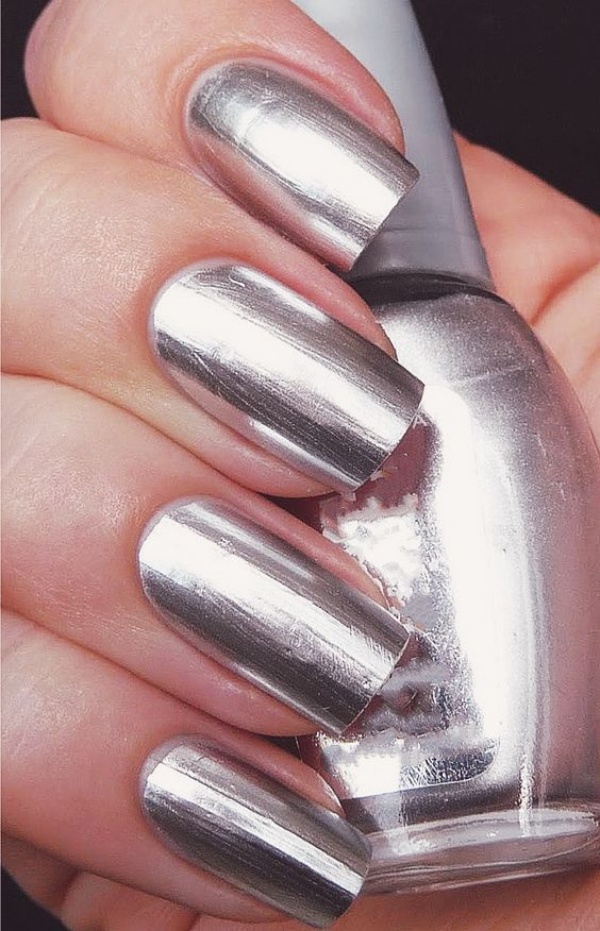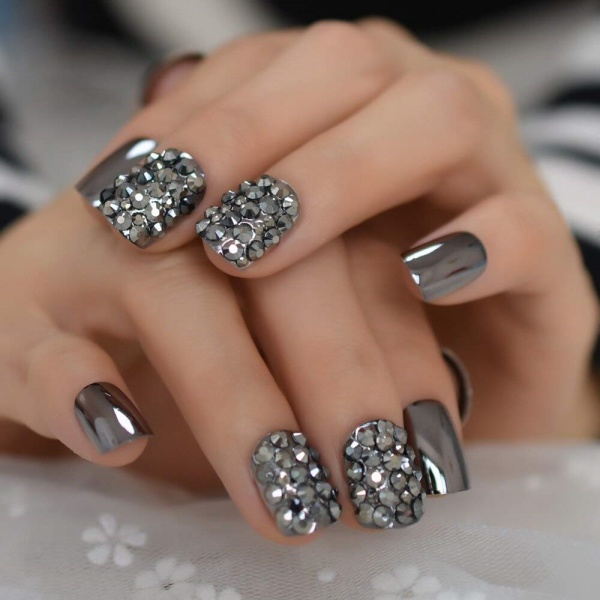 One of the most clarified Fall Nail Designs to hit the season is metallic grey nails. As the metallic grey color can be easily paired with any length and shape, this has gained popularity among nail lovers as it suits best to their style. Being glossy in nature, it will look elegant at a wedding or on any occasion. This manicure goes well with the almond design or squared nails. This cool and warm fall shade color would perfectly match all skin tones giving the best results.
Sparkling Navy Nails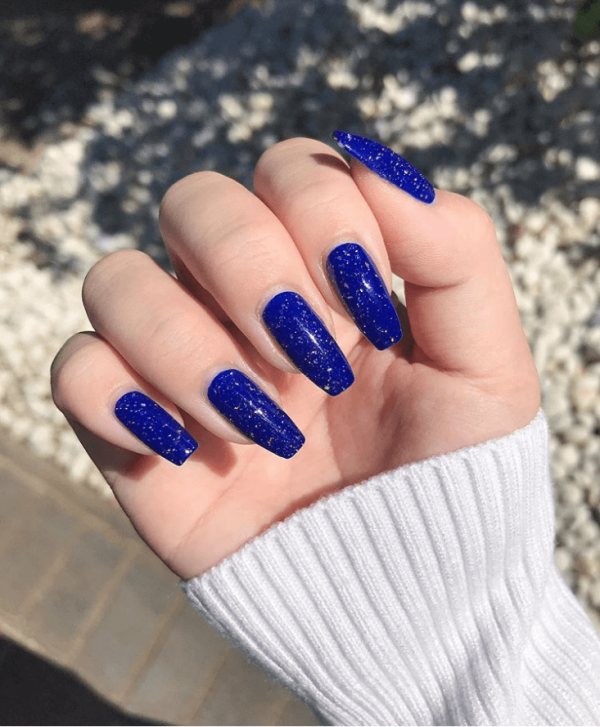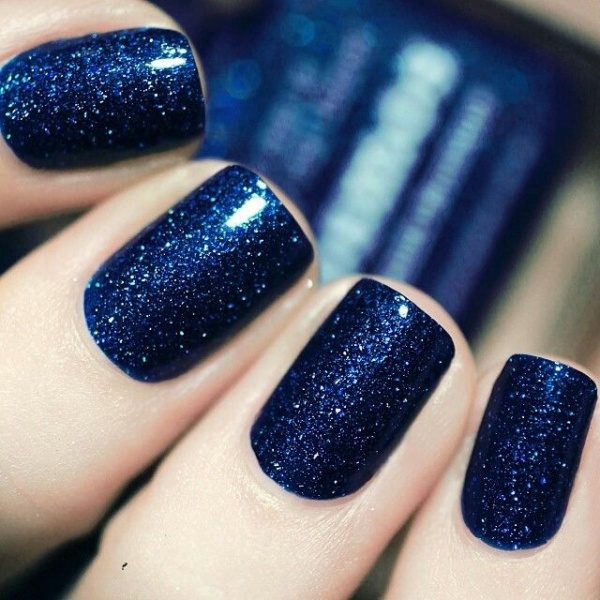 With this falling season, it is time to upgrade your regular navy nails with a sparkling and glitter nail polish that is applied as the topcoat. Sprinkle the sparkling glitter to spruce up your nails in a spectacular style and is a brilliant way to hit any festive occasion. Your jazzy nails with sparkling navy shade will dazzle brightly when teamed up with a stylish outfit. This nail art will surely add more glitz to your good times.
Crescent Moon Nails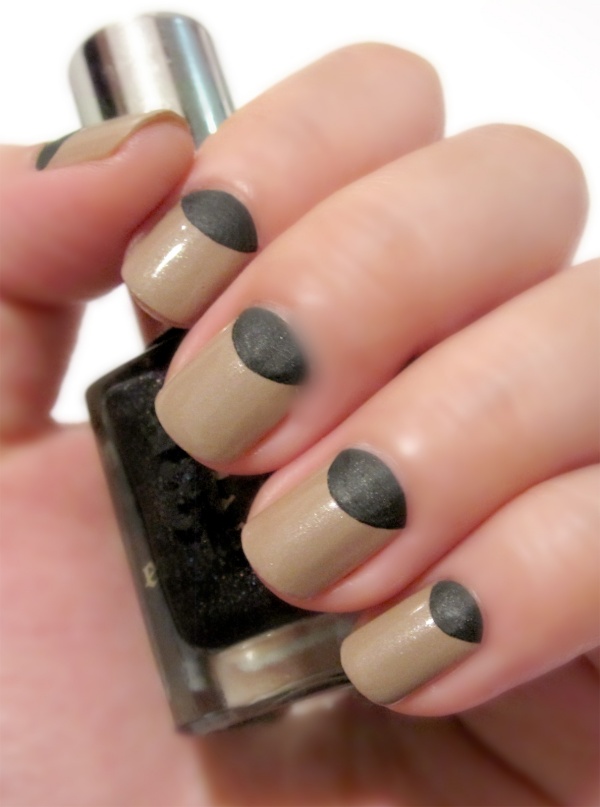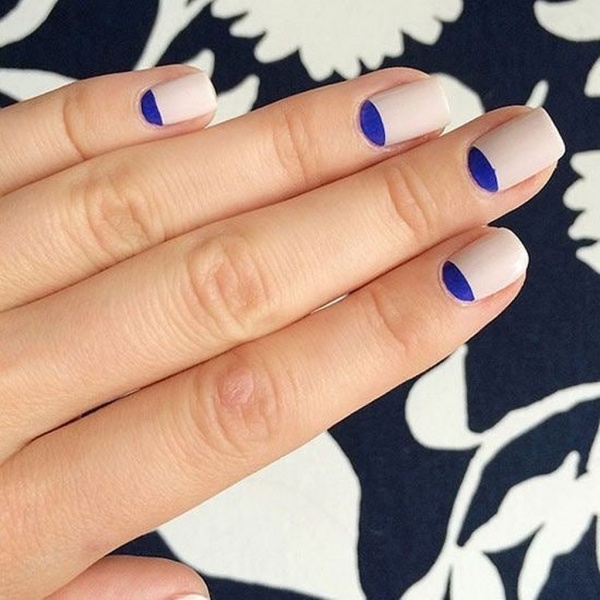 Crescent Moon Nails is yet another trend that will surely hit the fashion world with its fabulous and sophisticated design. This Nail art is perfect when grouped together with the latest designs like French nail tips, full nail art or you can simply try it with diamond crescent Moon Nails. You can also go for lines and patterns to give it an artistic look. As this nail art consists of two variant colors, make sure to get a good combination that gives a stunning, elegant, and glamorous look.
Gold Foil Nails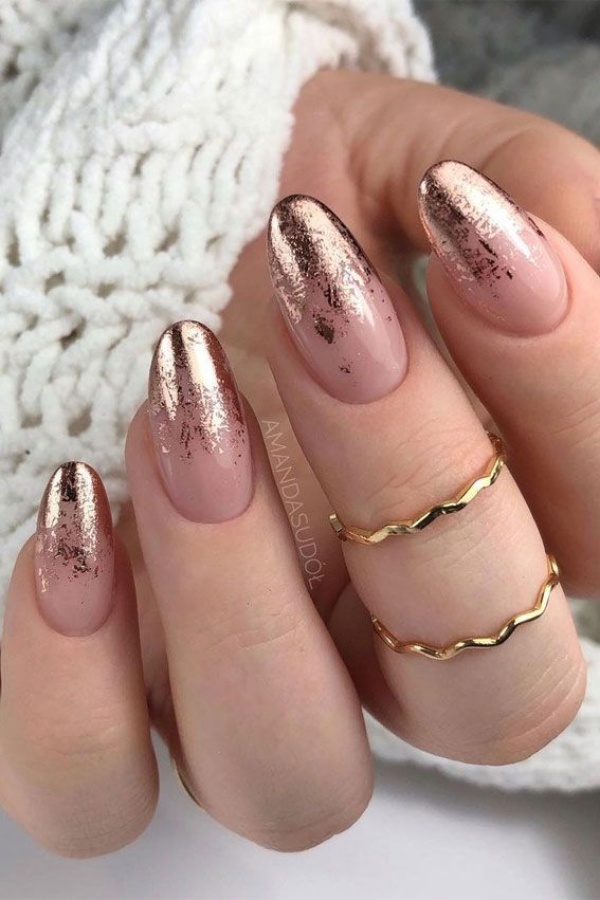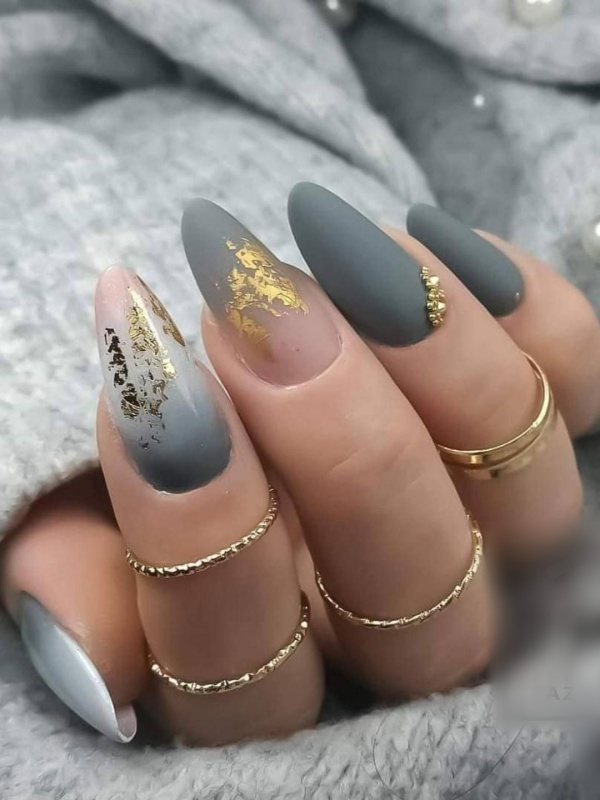 In this falling season transfer your manicure to the latest level of elegance with some gold foil ombre to your nails. This gold foil nail art is super bright and extravagant to enhance the beauty with the refined style. It is simple and easy to add the foils to your nails in light strokes that give a luxurious touch and stunning look. Apply a base coat on your nails and then delicately place a gold foil to the area on the nails and finish it out with a top coat to maximize the effect.
Rose Gold Chrome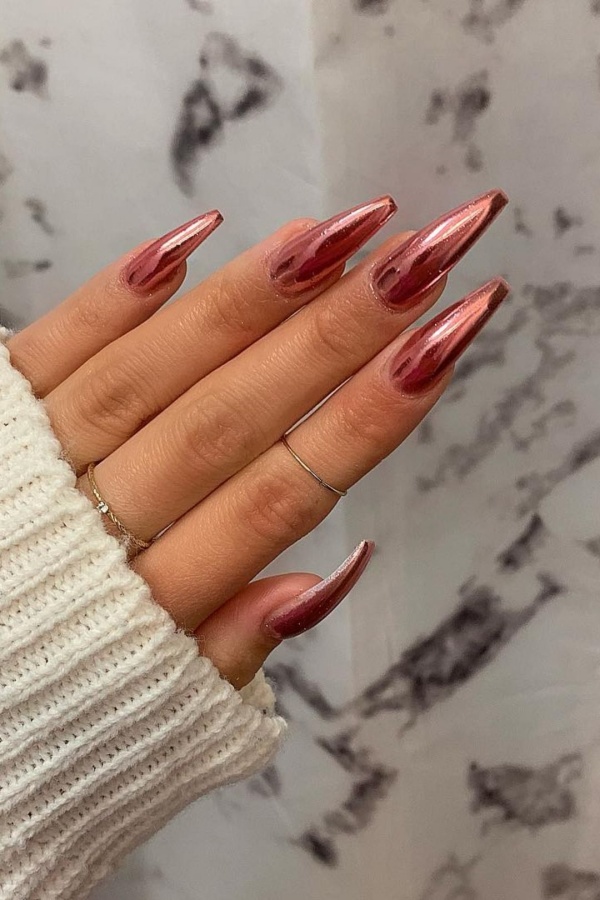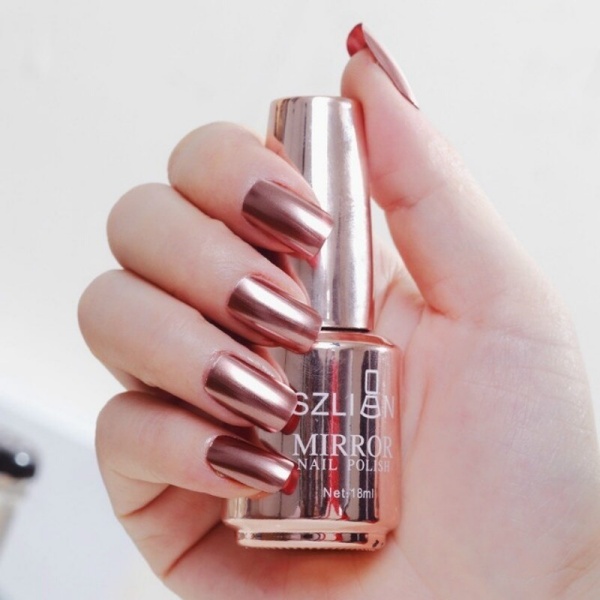 The everlasting rose gold chrome fashion trend has a unique place in the world of fall nail designs. It goes exceptionally well with all the different nail shapes that add sparkle to your daily look. The bold and the bright nails are created through the chrome powder that is applied to the base color that gives a shimmer effect. You can also sprinkle some golden glitter to enhance the glossy effect. Finish it out with a layer of topcoat that will make the nail look shiny and fresh.
Reverse French Tip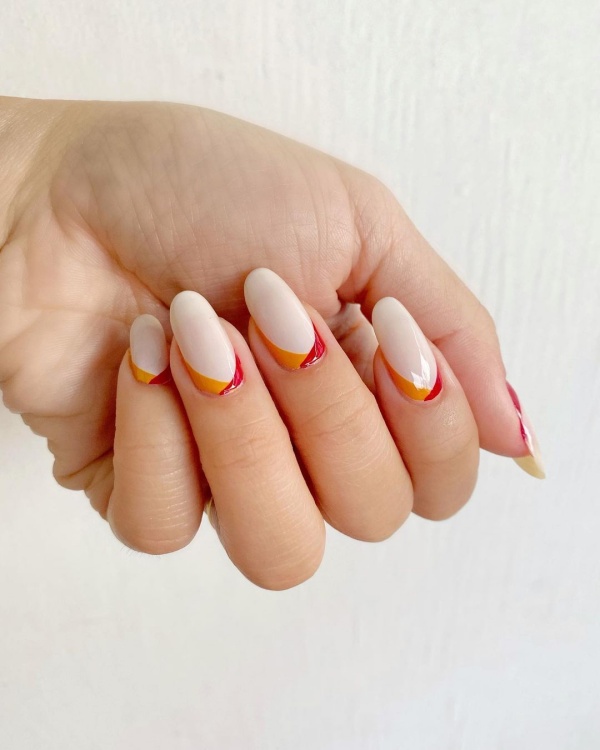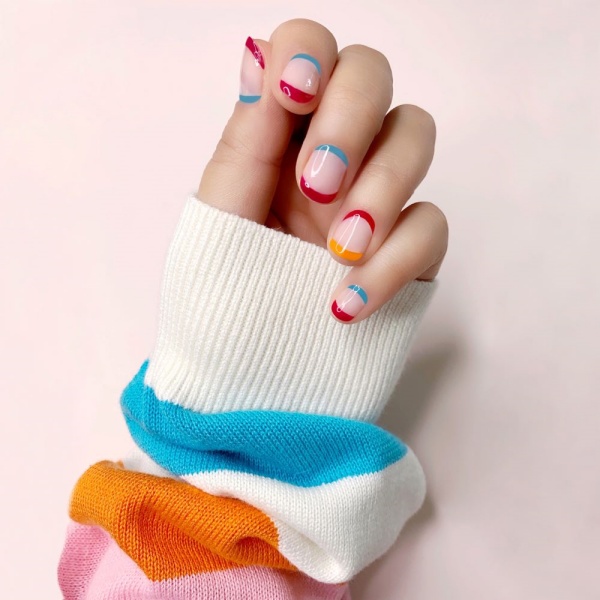 If you love the traditional french manicure then it's time to modernize your look with a twist of reverse. The modern design of the reverse french tip gives a monochrome look and is perfect to go with any outfit. It goes perfectly well with curved and pointed-shaped nails rather than square-shaped nails. This nail is simple and pleasing as the cuticle is painted with a solid fall color rather than the fingertip. One of the fantastic choices as it is easy to apply and flatter with all skin tones.
Single Stripe Nails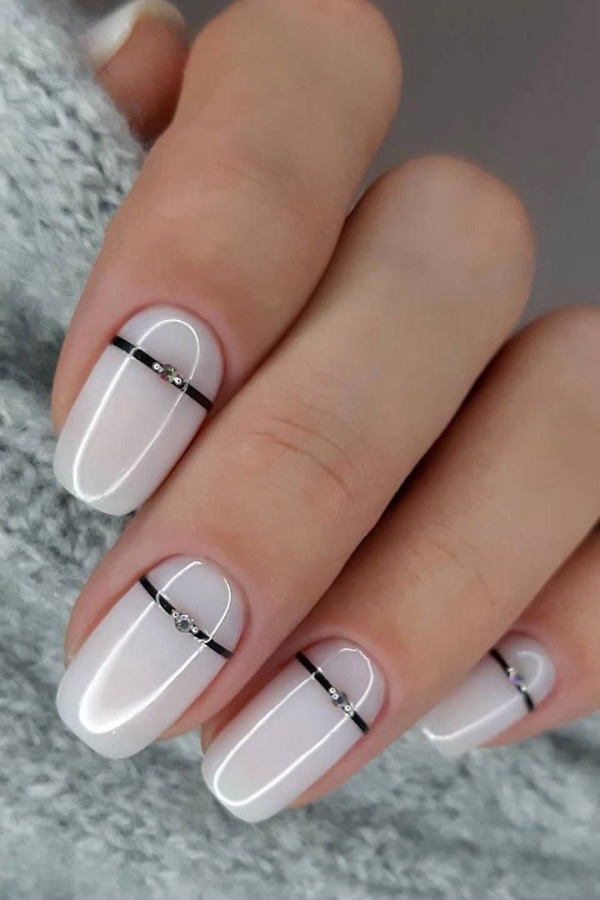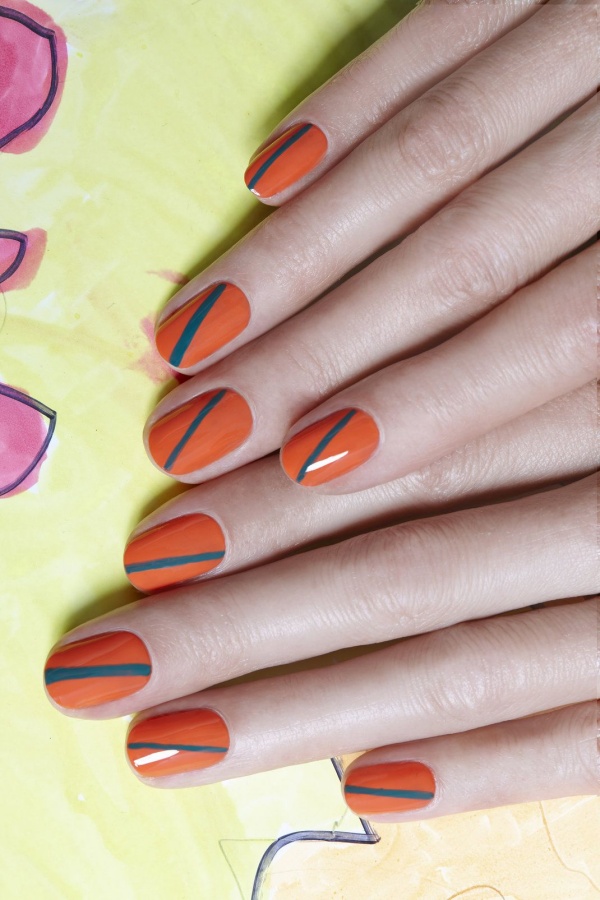 Make your fingertip with a minimalistic nail art look and allure the beauty of fall with this artsy single stripe manicure. The choice of color depends on your preference. To give a stunning look to your fingertips, this high design Nail art requires advanced techniques to combine the two favorite color elements. You can also choose your bare nails with the stripe of a single color at the fingertip to make them look simple and chic.
Tortoise Shell Nails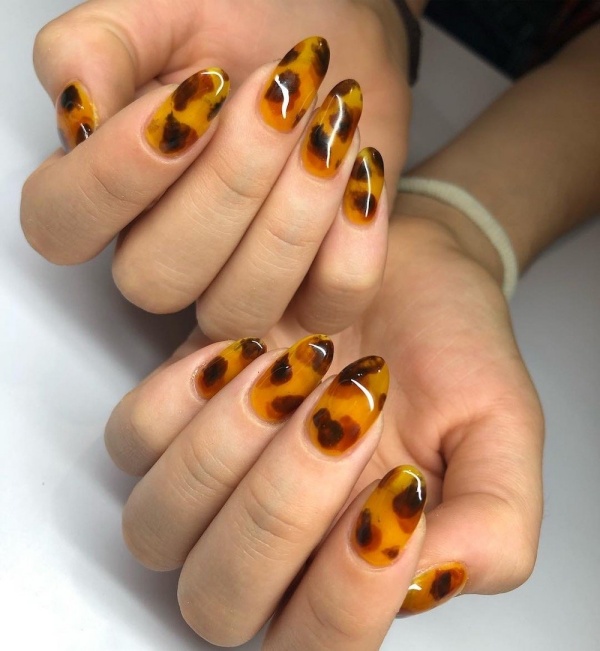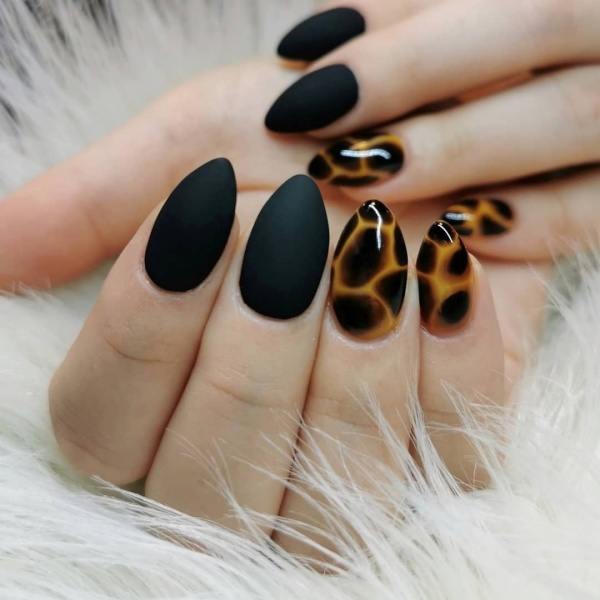 This is the most versatile and favorite fall nail trend in 2022 with its flecked caramel design. It will perfectly match all your wardrobe outfits. You can also opt for the glossy tortoiseshell that will give a high shine to your nails with a deep brown base. The fall nail design looks adorable on the long and almond-shaped nails. Lavish your fingertip with this on-trend tortoiseshell nail art one of the most refreshing manicures for fall.
Matte Ivy Nails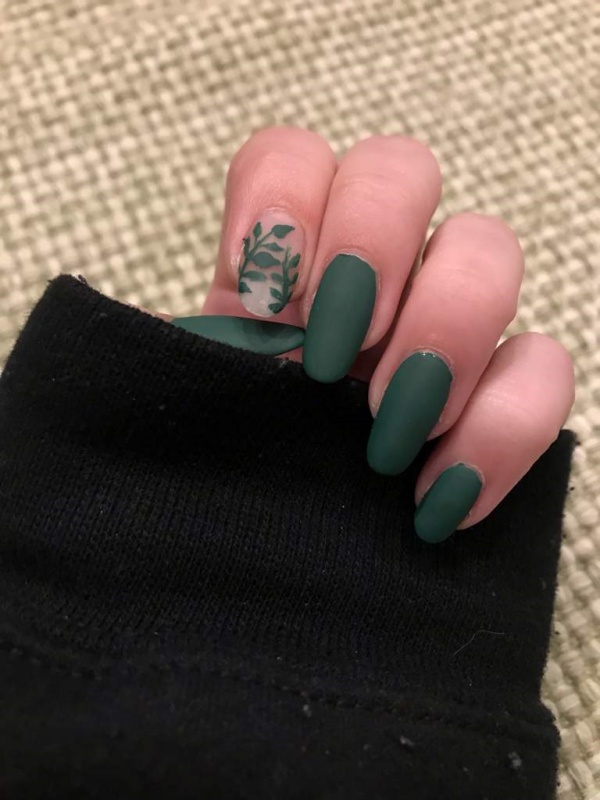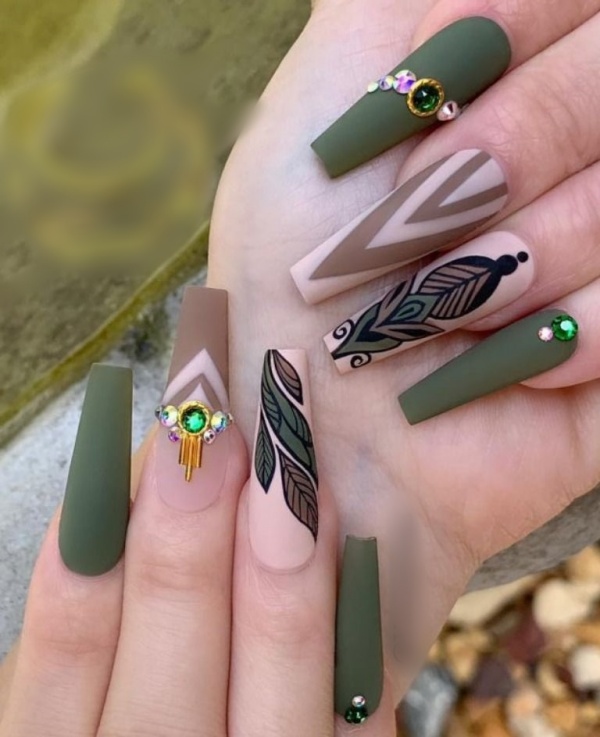 With the ongoing usual gloss finish nail manicure, it's time to try the matte ivy nails with the fall. It easily matches your workplace as this manicure is sleek and is much loved by all. It seems as this nail art has its best time in this fall season. Give your nails a perfect hue of deep jade. Don't forget to apply a matte topcoat to enhance the beauty of matte ivy Nails and give it an ultra-modern look.
Lime Jello Nail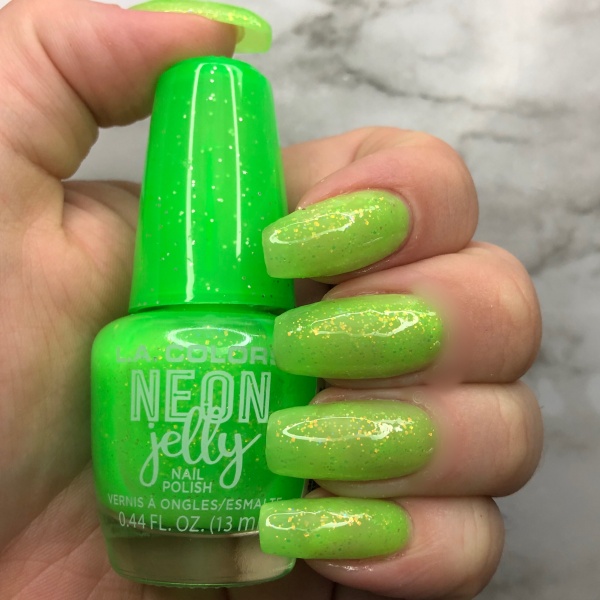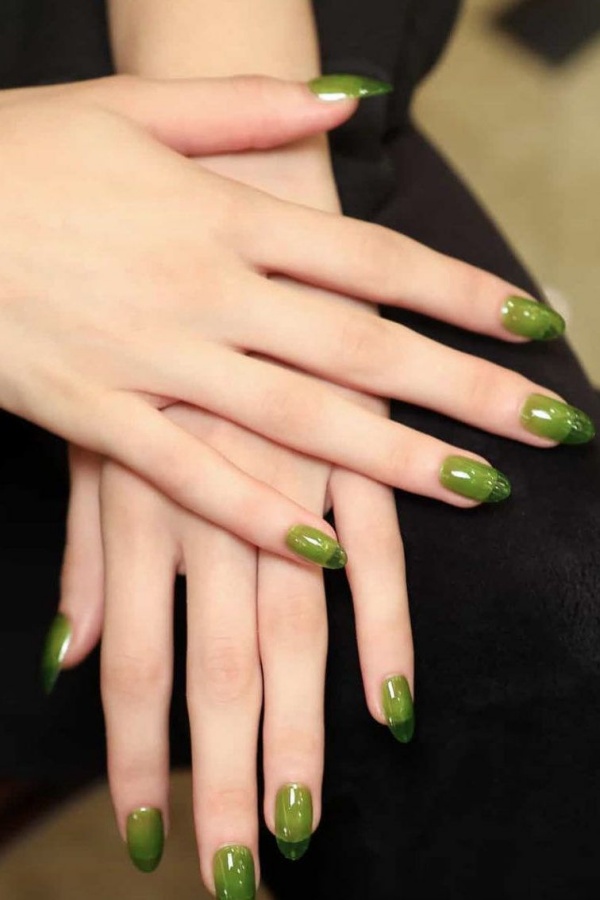 Get your nails with a sparkling lime Jello design this fall. The nails look vibrant and alluring. It seems like it merges with the season's bold design and color. You can choose between the glossy or the matte shades. It is just simple to try at your fingertip. If you love nature-inspired things, then let go try the fall shades of emerald green on your fingertips to make it the trendiest of the season. Seeking of the design to look glamorous? Well, this is the one. Besides, the lust color is the perfect one to suit your every mood and occasion.
Pastel Cow Print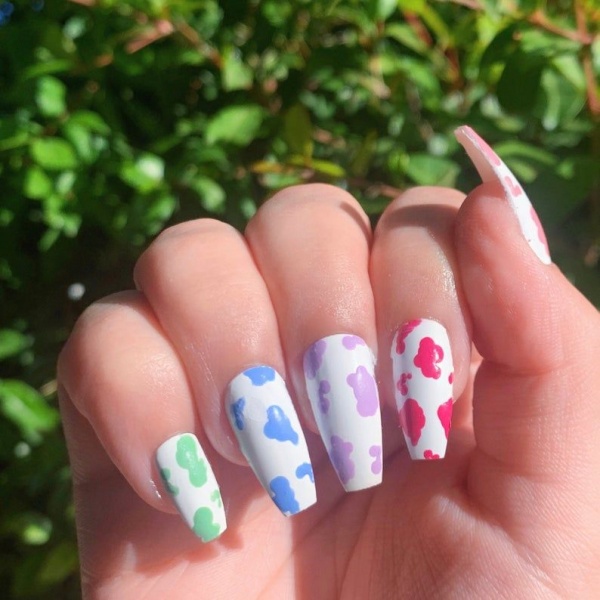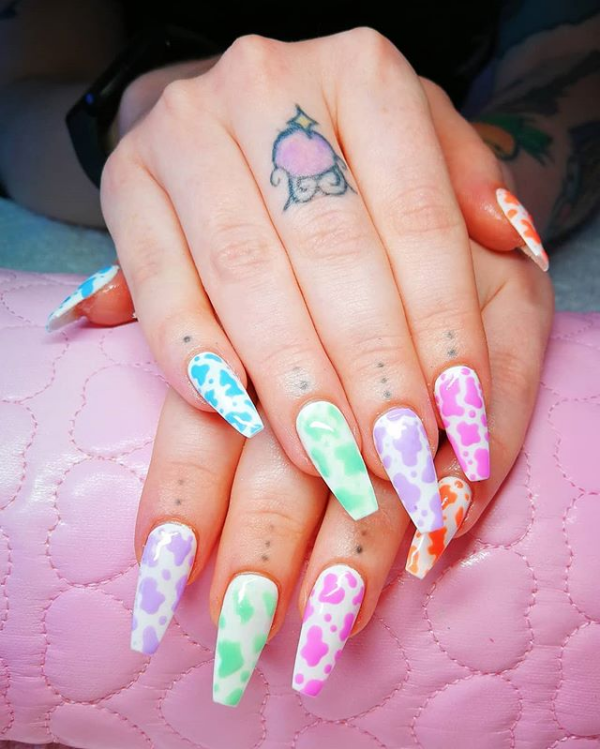 Animal print on nails is a passing trend and pastel cow print nowadays is on board to hit the latest fashion. They are so simple and easy to create the animal-inspired design into stunning manicured nails. Apply the white nail enamel as the base coat on the nails and add the cow print with the design tool. It gives an attractive look to your nails and is suitable for any length. Opt for the earthy tones colors like green, cream, and brown on the cow print that gives a feeling of fall.
Pearl Nails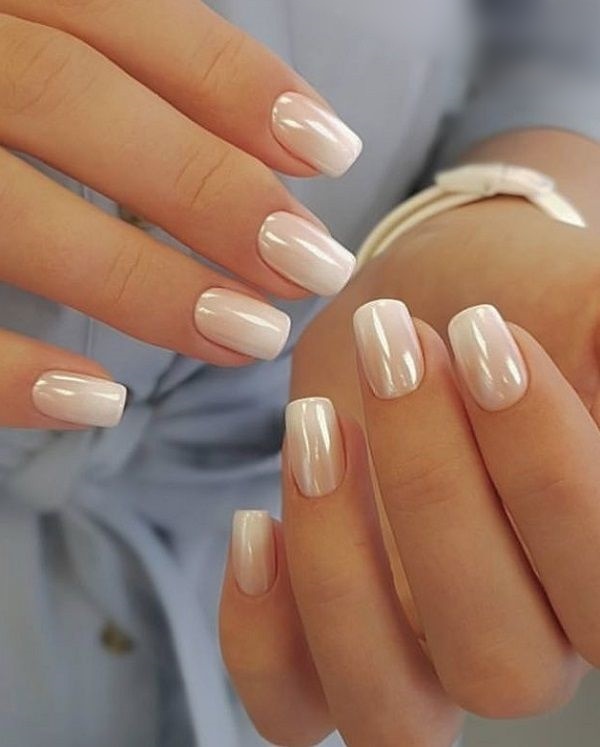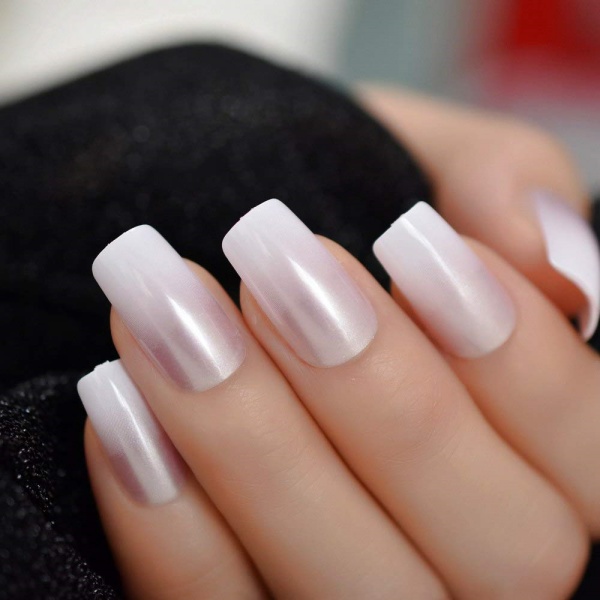 Pearls are the perfect elocution as it enhances a cool glance without being too obtrusive. Pearl's nails are truly inspired by the latest fashion trend and best suited for any occasion this fall. Its look is so magnificent and versatile. All you need is a small pearl that can be easily placed on the nail. With the paintbrush apply a sheer nude paint color to your nails and with the glue on the nail, you can place your pearls. Not to mention paint with the top coat to seal the pearls.
Tiny Daisies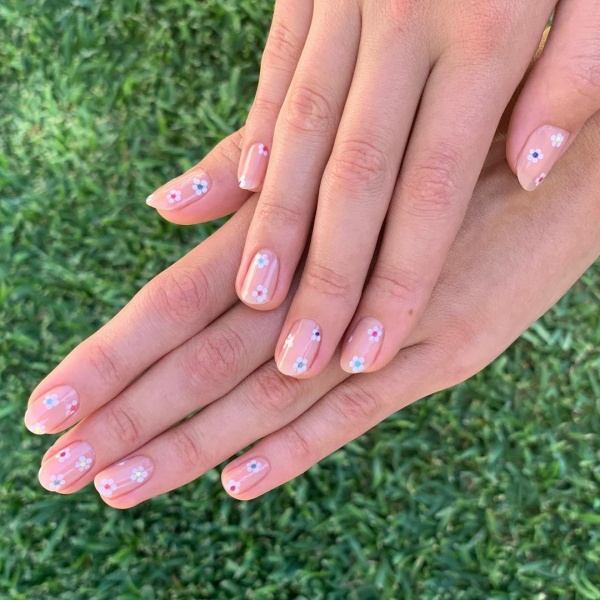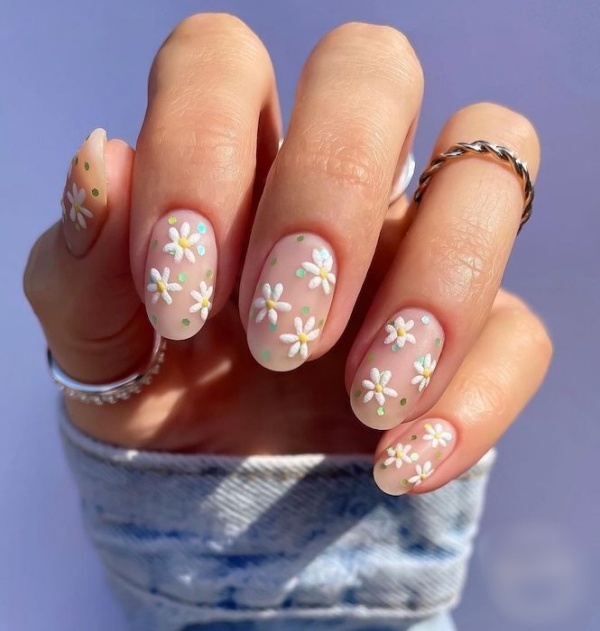 Tiny Daisies Nail art is among the top hits as it makes it feel like the freshest thing on the earth. This floral nail art with a print of Tiny Daisies is perfect for the falling season. These are so easy to make on the nails. Just go with the nude base color to be painted on the surface of the nails and then create flowers or Daisies with the dotting tool and bright colors. These miniature florals are too pretty to resist and give the nail art looks cooler.
Abalone Nail Art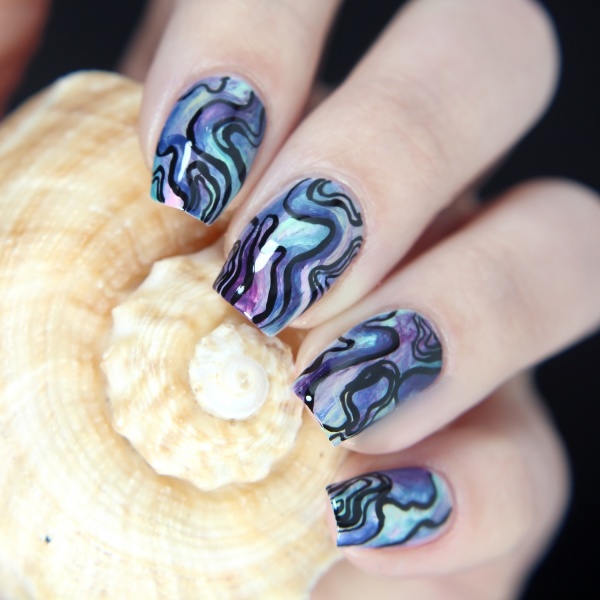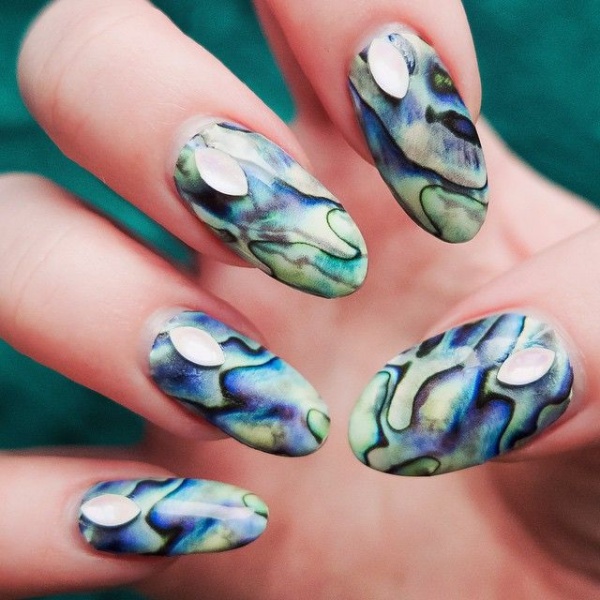 This nail artwork out for those who are ready to make a bold statement and want to be in limelight. Transform your manicure to the perfect fall nail art. It goes stunning with all nail lengths, shapes and works positively on most skin tones to show this cool and abstract nail art. This manicure not only elongates your nails but also makes you look elegant.
Apple Nail Art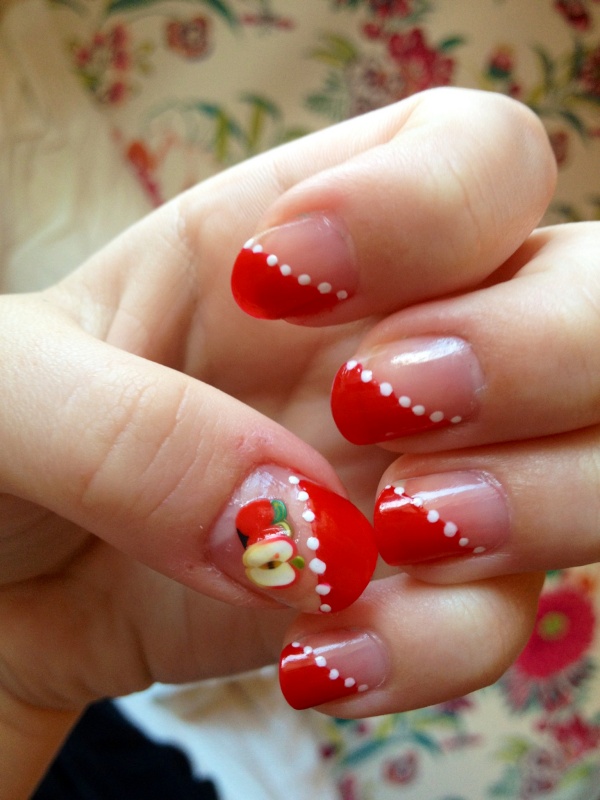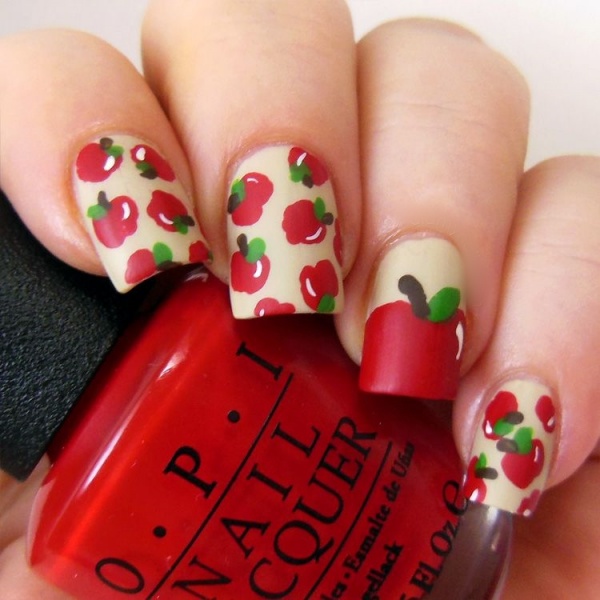 This super cute manicure on the surface of the nails with the mini apple nail art is perfect for this fall. With the fall, apples are round the corners of the market. Apply the nude base on the nail and then use the bright red color nail paint to create an apple nail art design. This design looks cute when you see the wild apples floating all around the surface of the nails. This manicure is the best choice for the fall season and is in the latest trend.
Raindrop Nail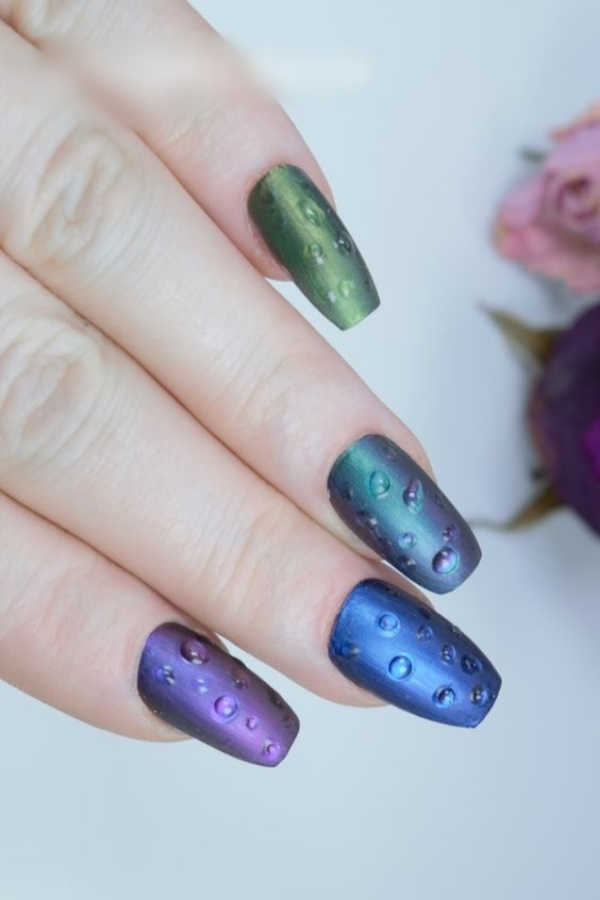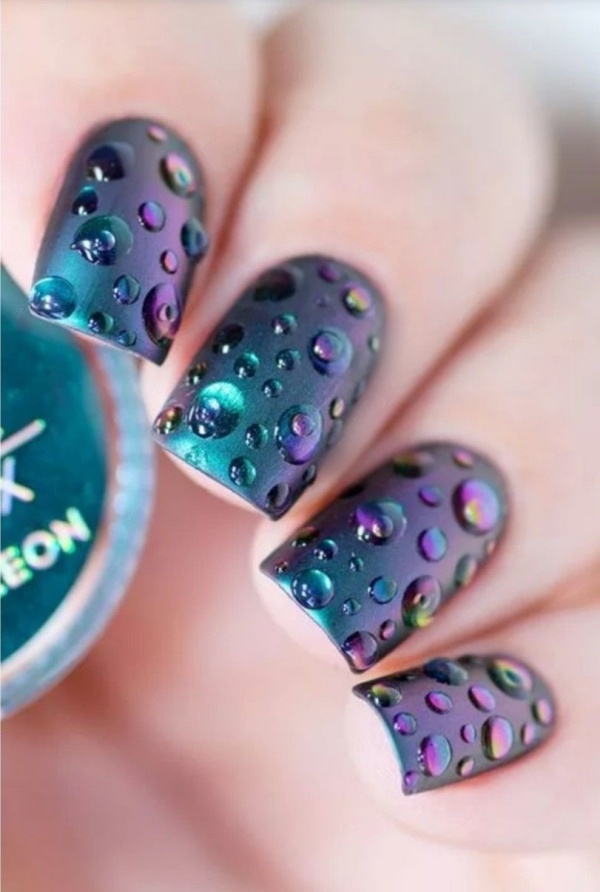 These manicures surely melt everyone's heart but the one which is killing one eye is the raindrop nail. This raindrop nail art when done artistically looks like a drop of water that is suspended on the surface of the nail giving it a realistic look as if your nails are dripping wet. It is an ideal mingle of austere and truly jaw-dropping. That is why this nail art style is in great demand in the fall season. Apply matte shade color to the base with the clear topcoat that looks like a raindrop.
Feisty Fox Nails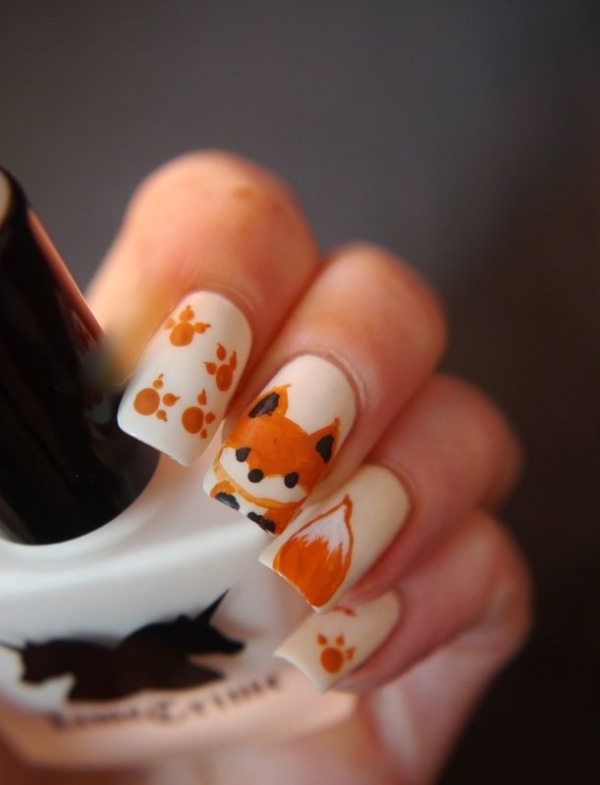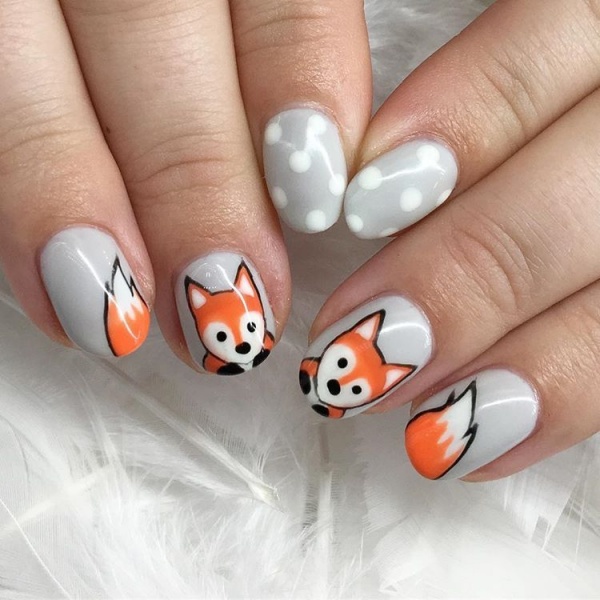 This Ultra adorable festive fox falls nail design has proved to be an elegant manicure with little embellishment. This nail art features a cute fox on the accent nail. This perfect artwork is combined with the thick acrylic paint that is applied on the nail as a base coat and with the nail brush the fox face is created with its facial features in a very innovative and artistic way. At last, there are two leaves are designed as hair accessory of the little feisty fox that is truly inspired by the falling season. This nail art goes well on square-shaped nails. Be ready to make everyone envy you when you make your style statement with these amazing and gorgeous fingernails.
Webbed Nail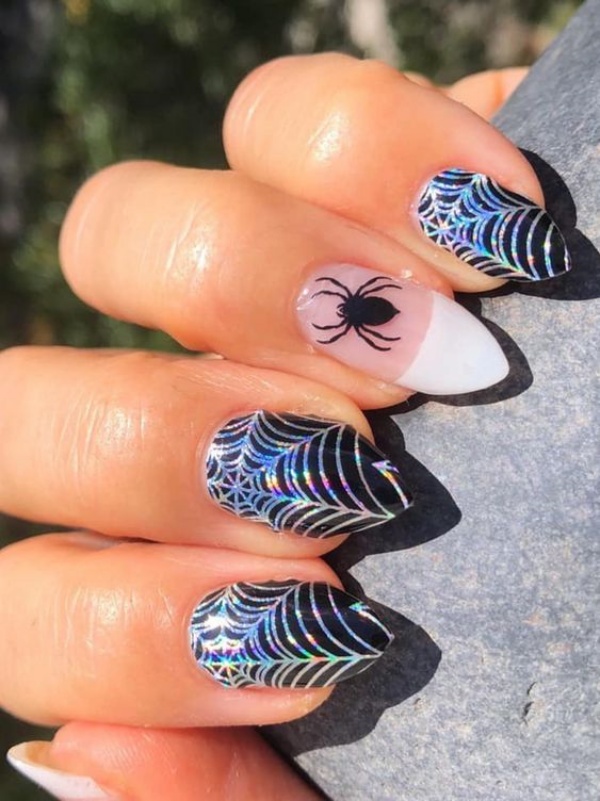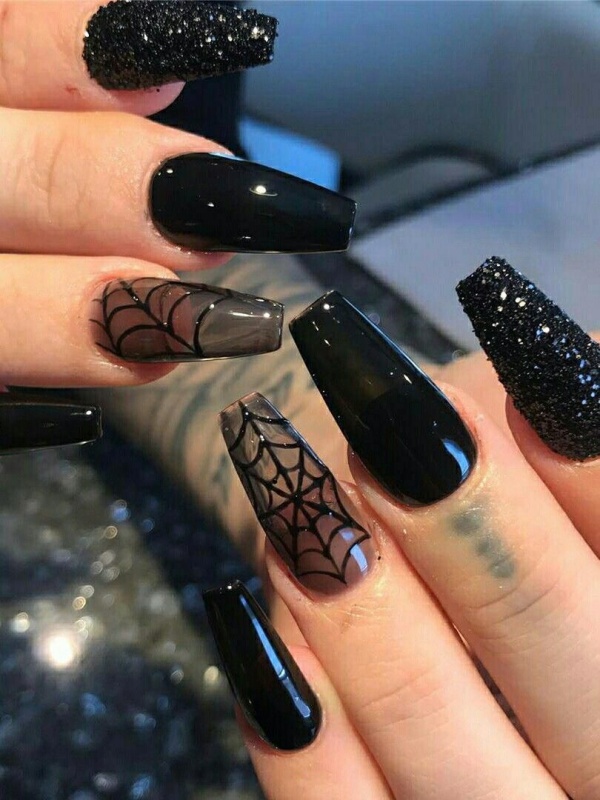 To get your nails of funky look go for a spider web nail art design. This nail art gives a classy and unique look to your manicure. First, paint your base of the nail with the falling color and then use another contrasting color so that both the colors are visible. With the thin brush put parallel stroking across the nails. Make a convex semi-circle all through the nails to draw a spider web. You can also use glitter nail paint to make your spider nail more attractive. Also do not forget to add the glossy finish touch for this nail art
Cafe Latte Manicure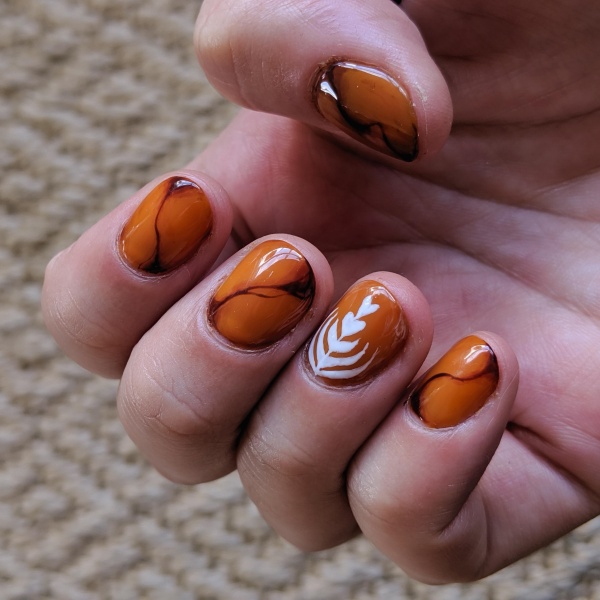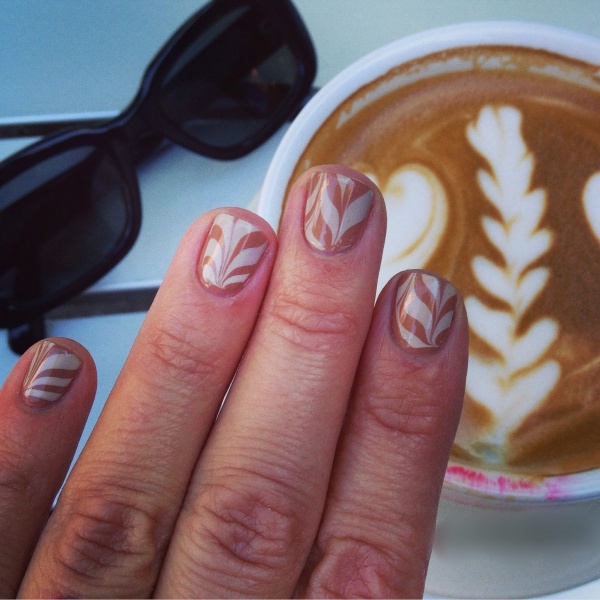 Nothing can change your mood like a cafe latte manicure. This artistic nail art features the falling shades of brown and is crowned with cream on top. You can also go for a change in the style of nail art by painting half the nail with the nude color and the other half with the chocolate color. This manicure is a quite playful design where the fall colors blend with each other and gain visual delight. With the combination of a dark and light color, it looks particularly striking and is among the most popular fall nail designs.
Shades of Grey Gradient Nails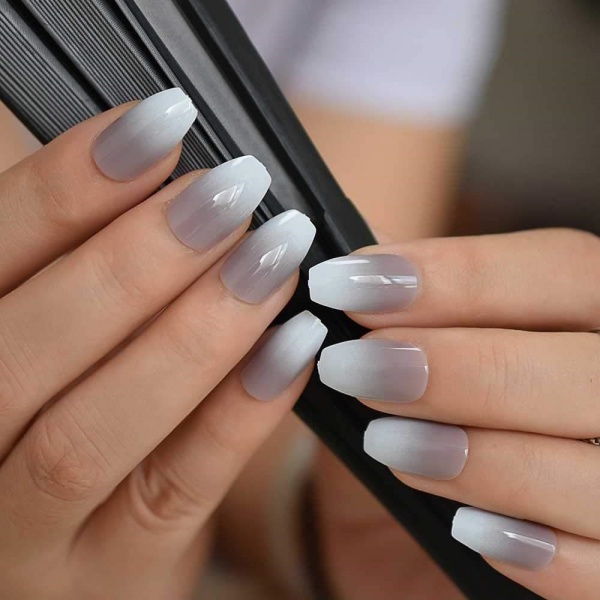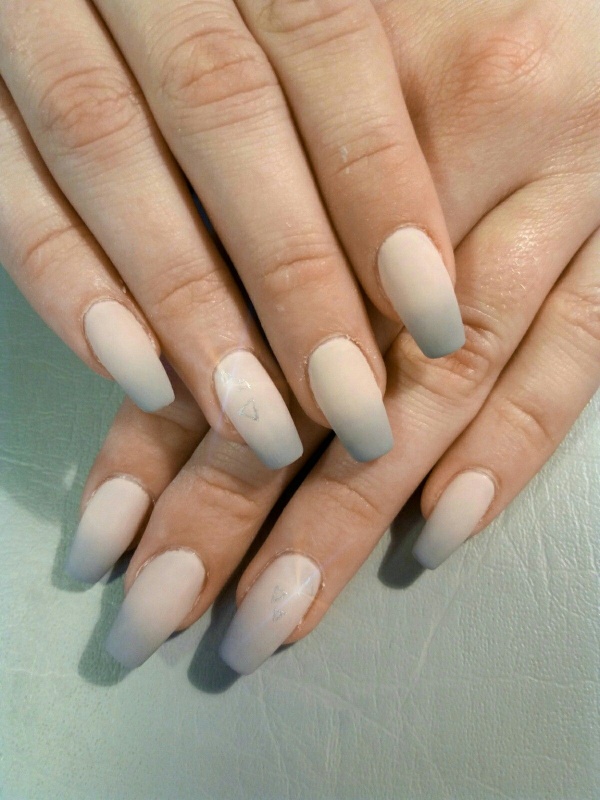 How about making your nails prettier with the help of a triumvirate? By this, I am pointing to the three-colors listing grey, black, and white. Yes, away from the hustle of all the other shades, here we get for you one of the fall nail designs that's dark and intense and is sure to rock the center stage. Either you can concentrate on one color, or get on to the blend of three colors together. The choice is yours but the pleasure is ours. Get on to the plunge, choose your designs and have a deeper look of how the monochromatic tones are able to fill in colors to your nails.
Smiley Nails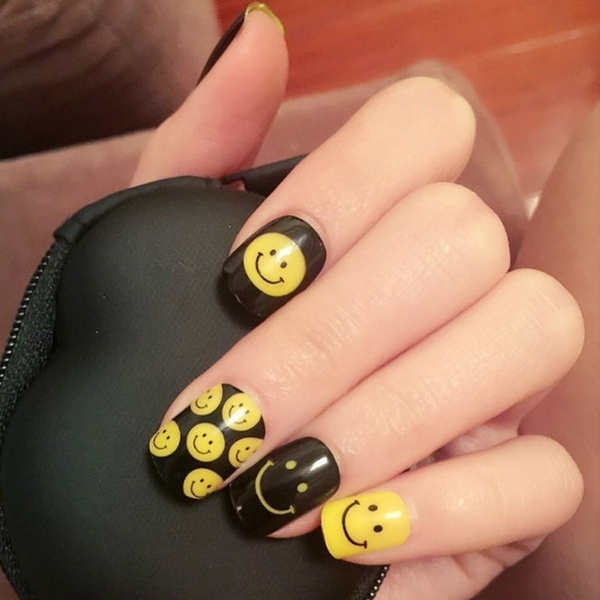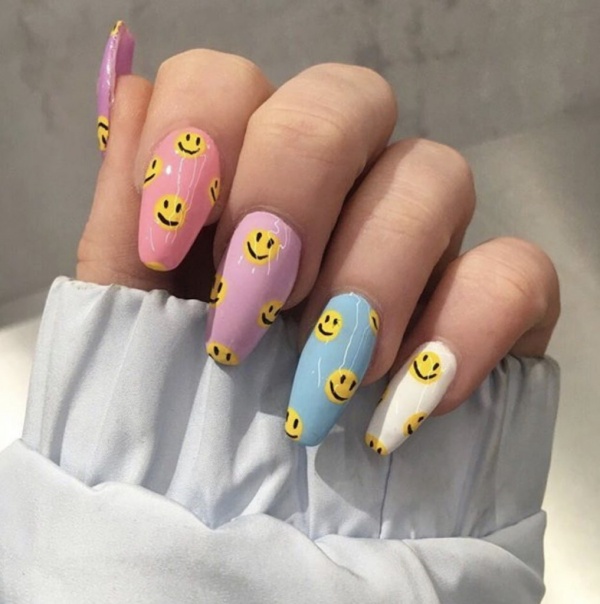 All we need in this chaotic life is as much positivity and happiness as Vibes. The one love inspired by the range of fall nail designs is the nails with an eye-catching design. Smiley nails on each fingertip give the flawless way to merge all the trends into one form. Furthermore, this nail art can be easily customized with a variety of shade colors, shapes, and details. Opt for the smiley on the pastel color nails with your favorite emojis that give a completely elegant look to your style.
Polka Dot Nails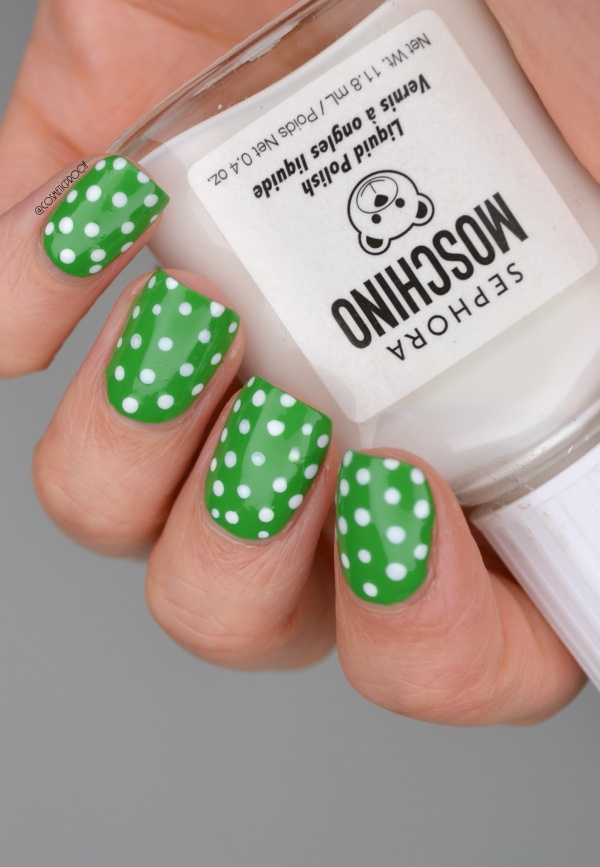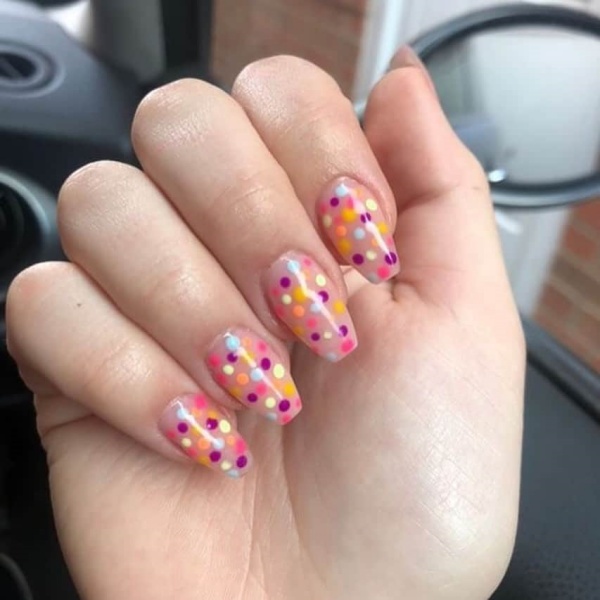 Spread some love with Polka dots on your nails. Although Polka Dot nail art is easy and fun to make but this is an ideal choice for the fall as it looks so adorable and alluring with the change in season. Polka Dot brings freshness and a stunning look for every woman. It brings out your artistic talent and saves money as well as time. Apply a light base color to the base and just scatter the bright dots to give a classy look. This stylish Polka Dot manicure gives retro-style nail art and is best suited for square-shaped nails.
Conclusion
At last, we have presented the list of the fall nail designs along with a detailed explanation of each nail art design. To make the nails look more attractive and eye-catching with amazing nail color we should take proper regular care of them. All the above manicure designs are unique and are up to the latest fashion trends.
The alluring and highlighted nail art not only boosts up one's self-confidence but also makes one's appearance more dazzling. Nail art is quite amazing as you can try various artistic designs for each fingertip.
One can try the above nail designs as a DIY technique. In case you find something going wrong, go through the description of each nail art which is explained clearly. Grab your trendy fall nail designs and work all day around with the inspiration you get from the falling season that is full of brightness, sparkling, and optimistic life.